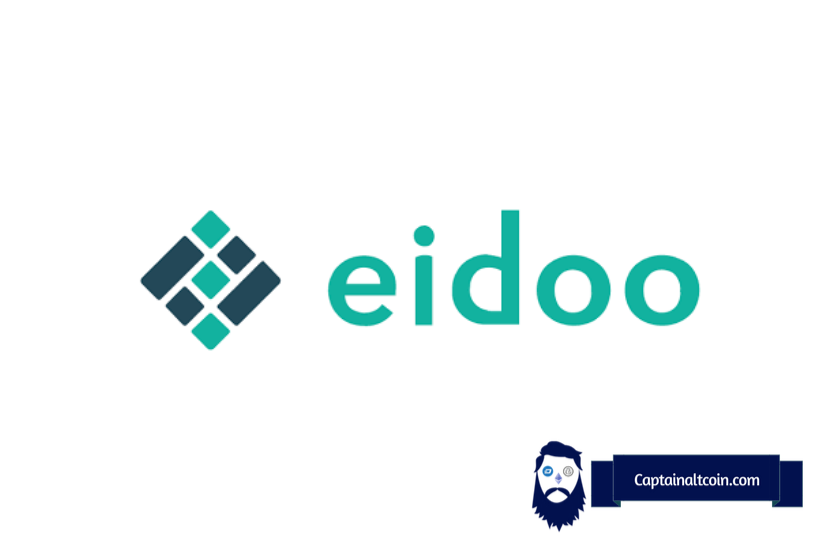 Eidoo is an online cryptocurrency wallet that lets you store a wide range of cryptos. It was created in August of 2017 and has experienced success in recent years. It has a core team of 25 members who are constantly working on and improving the multicurrency wallet, making new additions, and trying to set it apart from its competitors. The wallet address is available on iOS, Android, and Desktop devices.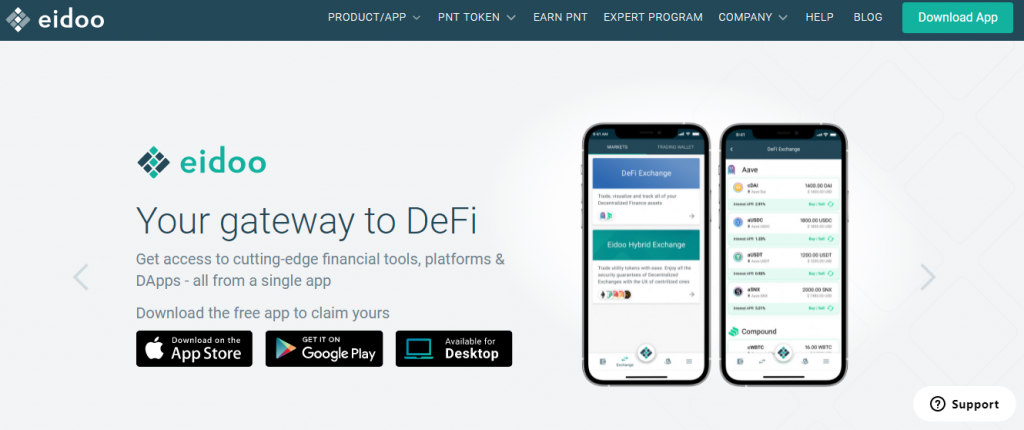 Eidoo Card Supported Currencies and Jurisdictions
---
Eidoo Wallet supports the use of Bitcoin, Ethereum, ERC-20 tokens, and ERC223 tokens.
As of December 31, 2020, the card is available to customers based in the UK and EU. You will need to fill out KYC regulations, supplying your identity and possibly more information.
Eidoo card is a VISA card. This is useful as it means your card is usable at any place that accepts Visa, which in the modern world, in most places.
Funding Sources
---
Funding your Eidoo account can be done in a number of ways. The first is through fiat methods, you are able to purchase cryptocurrency on their site using either a credit card, debit card, wire transfer, or SEPA transfer in certain circumstances. It should be noted that if you want to purchase your crypto with a wire transfer, you will need to confirm your identification. Once this is done you will be fine to transfer.
You can also deposit crypto into your account by sending it from an exchange, wallet, or more. You can use this method to fund your wallet or card, this is the easiest way if you already have some cryptocurrency purchased. This can be done easily by simply copying the receiving address in your Eidoo wallet, and then pasting it in as the destination wallet, in the sending screen of the wallet where the funds are stored.
Eidoo Card Account Tiers
---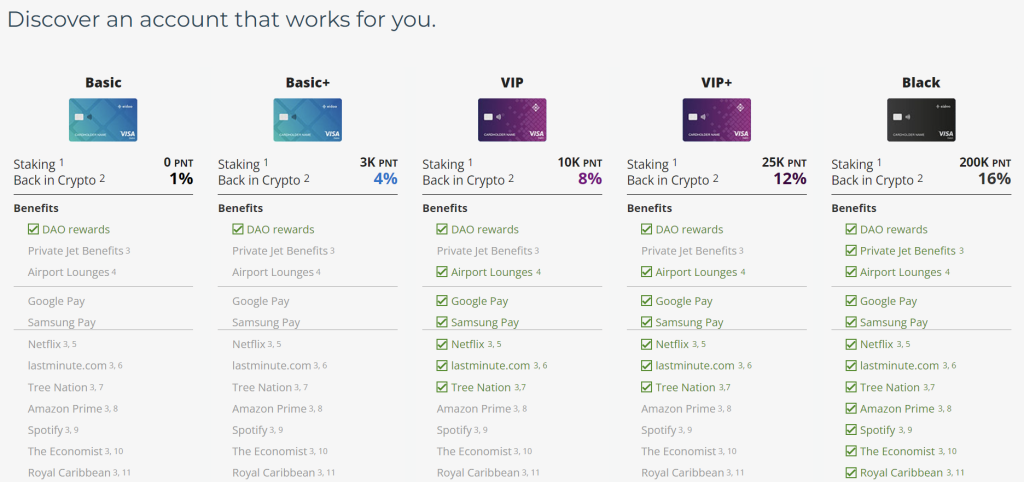 There are three different types of Eidoo cards available to consumers. The first of these is the Basic edition, you will need to stake 20 network tokens to be eligible for this card (27 USD at the time of writing). This card's benefits are quite poor, offering you up to 2.5% cashback and 42% DAO Rewards which is the same across the three cards.
Next, we have the VIP Card. This card gives you 2.5-5% cashback, along with a wide range of benefits, including Netflix. Though this card requires a lot more staking power, 25,000 PNT Tokens to be exact, which is currently around 34,000 USD.
Lastly, we have the "BLACK" card. This card is the most desirable of the three, offering up to 10% cashback, in addition to a wide range of benefits including amazon prime, the economist magazine, and more. Though as you can imagine with the price of the VIP card, it isn't acquired cheaply. The card requires you to stake 200,000 PNT tokens, roughly 260,000 USD at the time of writing.
Eidoo Card Fees and Limits
---
For a crypto card, Eidoo is quite generous with its fees. They charge no monthly fees, along with free ATM usage which is a great perk. Already a great start to the card's usage. The card requires you to burn 100 PNT in order to get the card, which is currently valued at over 100 USD due to its recent rise.
Eidoo card also appears to have no spending fee, which is another great part of the card.
Wallet Interface
---
Eidoo has a simple and helpful wallet design. At the top of the wallet, it shows you your total wallet value in USD, possibly changeable to other fiat and digital currencies. Below this, you can see a list of different major cryptocurrencies you have in the wallet. Then at the bottom of the screen, you have your options for transferring funds, changing your settings, and more.
Eidoo Wallet Fees
---
Rather than making you pay the transfer fees on the wallet with the coin you transfer, you can use their native Eidoo token. Eidoo charges 0.2 to 4.0 EDO as a transaction fee for withdrawal. This is currently worth 0.26 to 5.2 USD.
Eidoo Wallet Supported Coins
---
Eidoo supports a range of different coins and chains. These include BTC, ETH, and all ETH tokens (including ERC223 and ERC20).
Eidoo also has its own native token, which it unsurprisingly supports. It can be traded on popular exchanges including the well-known Binance.
Can I use Eidoo in an offline mode?
---
You are able to view your wallet in the state it was the last time it was connected to the internet. You will not be shown any updates in price, new transactions, or anything else that was previously not loaded.
Anonymity
---
With Eidoo you do not get much anonymity, using the wallet you have to comply with a few different rules and regulations that might involve showing your ID or other documents. In combination with the wallet collecting your IP Address and browsing data which can be used to track your online movements. Thankfully Eidoo works hard to ensure your data is secure, they make use of constant encryption, constant checks, and more to keep your information safe.
Security
---
Eidoo wallet's safety is one of its best features. It uses high-grade encryption to ensure that the user's information is safe from hackers and other malicious individuals. On your end, it is essential that you keep your wallet key safe and don't let it fall into the wrong hands. For safety purposes, your private key is not stored on the server so it is your responsibility. If you lose it you could lose access to your wallet.
Make sure to check out our guides on other cryptocurrency wallets:
FAQs
---
PROS
Eidoo supports a wide range of cryptos
Exchange integrated within the wallet
Easy to understand and use
Doesn't store users' keys
CONS
Relatively new and unestablished cryptocurrency wallet
Still in development
Desktop version has not yet been released
Will still not be as secure as a hard wallet.

CaptainAltcoin's writers and guest post authors may or may not have a vested interest in any of the mentioned projects and businesses. None of the content on CaptainAltcoin is investment advice nor is it a replacement for advice from a certified financial planner. The views expressed in this article are those of the author and do not necessarily reflect the official policy or position of CaptainAltcoin.com