LetsExchange.io Review – Fees, Supported Coins & Countries, Payment Methods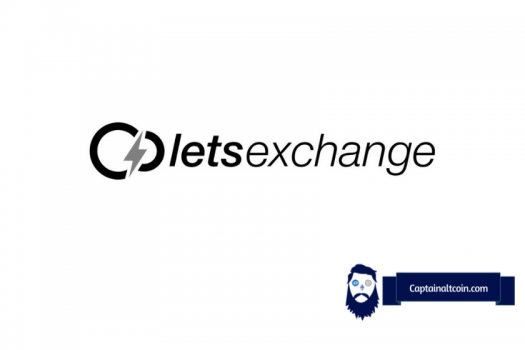 LetsExchange.io Review – Fees, Supported Coins & Countries, Payment Methods
No registration or KYC is needed
Straightforward and easy to use
Fast transactions
More than 350 cryptocurrencies supported
SmartRate technology
LetsExchange.io Review
---
Dealing with cryptocurrencies can prove to be quite time-consuming and tedious. Creating an account on the crypto exchanges and giving them your private information and losing anonymity just to later find out you want to switch to another one. If keeping your anonymity safe is your number one goal, look no further, LetsExchange is a crypto exchange for you.
They offer you a platform with no required registrations or KYC, letting you keep your privacy intact. If this caught your interest, we recommend you stay for the review, and without any more delay, let's begin.
LetsExchange.io Overview
---
LetsExchange is a relatively young crypto swapping platform founded back in 2020 with its headquarters in Seychelles. It is one of a kind crypto exchange platform offering instantaneous service when it comes to crypto-to-crypto exchanges. The platform has a very straightforward design that helps you to navigate around without any problems whatsoever.
What's best about the platform is that you can swap crypto with no registration required. The only thing you will need to use is your private crypto wallet allowing you to stay completely anonymous and secure. As we mentioned, there is no registration or KYC required on the platform, unlike most other crypto exchanges where trading comes at the cost of your privacy.
👉 LetsExchange offers you more than 350 different cryptocurrencies for you to trade with and a whopping 40000+ different crypto pairs. There is a receipt system that is very detailed which assists you with following and keeping information about your transactions on the platform. In addition, the SmartRate technology used on the platform carefully selects the best and most profitable rates for each individual swap from several top exchanges.
Services & Features
---
LetsExchange is a platform designed with one clear goal to have an easy, straightforward, private, safe, and most of all instant crypto exchanging service. With no necessary KYC and registration and with the SmartRate technology, you are guaranteed the best rates for every swap, making LetsExchange a solid choice.
The platform offers a lot of services and features to its users. Firstly, you have a vast array of different cryptocurrencies to choose from, more than 350 to be exact, so you will probably find what you are looking for without any problems. Secondly, you are not limited when it comes to trading. With its limitless trading, the platform offers floating as well as fixed-rate options with no upper transaction limits. That being said, the platform is appropriate for all kinds of traders with different preferences.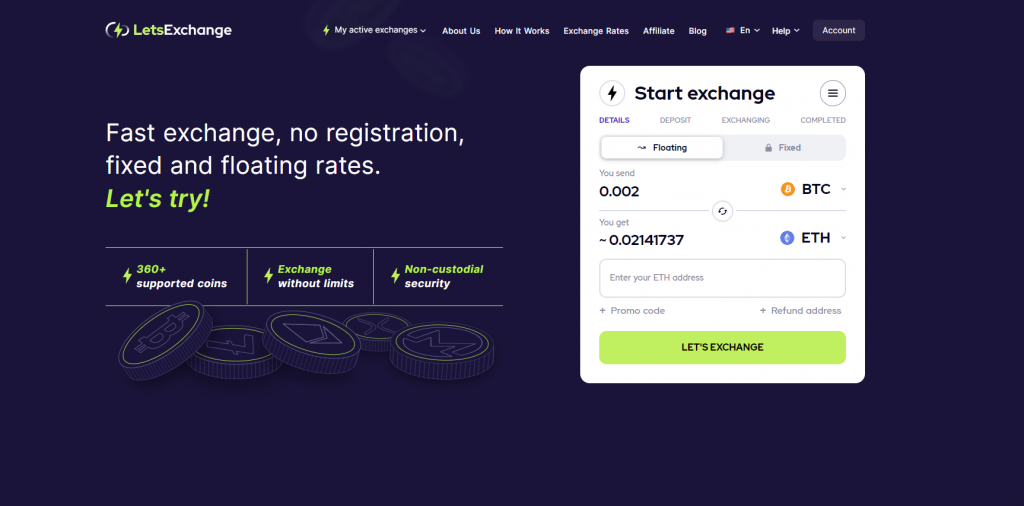 The platform offers solid security to its users. The non-custodial system of the platform means that your personal information and your assets are not being stored on the platform. All of the data is encrypted, and every coin is validated for maximum security. If this does not assure you, the platform also has DDoS protection as well as an SSL certificate.
Next is the SmartRate technology. As we already talked about, the platform's SmartRate technology makes sure your transactions are done with the best rates possible for you. It instantly chooses the best profit-making rate possible from several top exchange platforms. Lastly, it also has its own register of coins.
👉 The platform does not keep any information away from you. It operates with full transparency every step of the way, and you can ask for a receipt at any time that has complete details about your transaction.
Furthermore, with the fixed and floating rates both offered on the platform, users can opt to use the fixed rate and get the specific amount that is shown when they begin the trade. Additionally, what is available, as well as the classic exchange flow with the floating rates.
Last but not least, the platform offers 24/7 real-time support in the form of a chat bubble available to you on the blog section in the bottom right-hand corner. In the chat bubble, you will find a virtual assistant called Bella that is ready to answer all of your questions about any problem you might have, and if the problem is serious, it will pass on your question directly to the support team.
Buy & sell crypto for crypto
---
The platform's top selling point is its crypto-to-crypto swapping. This service is instantaneous and extremely straightforward, and easy to use. With no registration required and the automated process, the platform may not have a ton of special features, but the one thing that it does is done extremely well, with more features soon to come.
LetsExchange.io supported coins
---
LetsExchange supports a lot of coins. There are more than 350 to choose from, and here is a list of some of the coins on the platform:
0x Protocol, Bitcoin, Bitcoin Cash, Ethereum, Dogecoin, 1inch Token,Aave, Acute Angle Cloud Token, AION, Algorand, Aragon, Ark, Basic Attention Token, Binance Coin, Binance USD, Civic Coin, Curve DAO Token, Dai, Dash, Decentraland Token, DIA Token, DigiByte, Enigma Token, EOS Token, Fantom Token, FIO Protocol Token, Flamingo Token, Genesis Vision Coin, Hive Coin, Holo Token, HUSD Token, HyperCash Coin, Icon, IOStoken, Komodo Coin, Kusama Coin, Litecoin, LTO Network Token, Mithril Token, Nano, NEAR Protocol Coin, NEO Token, Oasis Network Coin, Ocean Protocol Token, Open Platform Token, Polygon Token, Polymath Token, Ripple, Solana Coin, Stellar, Swipe Token, Synthetix Network Token, Tellor Token, Terra Coin, Tether, Tezos, The Graph Token, The Sandbox Token, TokenClub Token, TRON Coin, TROY Token, TrueUSD, USD Coin, UTRUST Token, Velas Coin, Venus Token, VIDT Datalink Token, Wanchain, Waves Coin, WAX Coin, Wrapped Bitcoin, XYO Token, Zcash Coin, Zilliqa Coin and many more.
LetsExchange.io Deposits & Withdrawals
---
LetsExchange is very straightforward when it comes to deposits and withdrawals.
Fees
---
When it comes to deposit and withdrawal fees, the platform does not charge any. You can freely deposit and withdraw from the platform without any worries. The only fees that you need to pay as a user are network fees and processing fees.
Methods
---
When depositing to the LetsExchange platform, you need to link your personal crypto wallet to the platform and deposit that way. The platform does not support fiat currencies, and you cannot buy crypto straight from the platform. What you need to do is buy the cryptocurrency of your choice on another exchange and transfer them to the LetsExchange, after which you can begin trading.
The same applies to the withdrawal methods. All you need to do is link your private crypto wallet and withdraw your assets without any problems.
Limits
---
When it comes to deposit and withdrawal limits, the platform does not have any, so you can deposit and withdraw safely any amount you feel comfortable with.
LetsExchange.io Trading Fees
---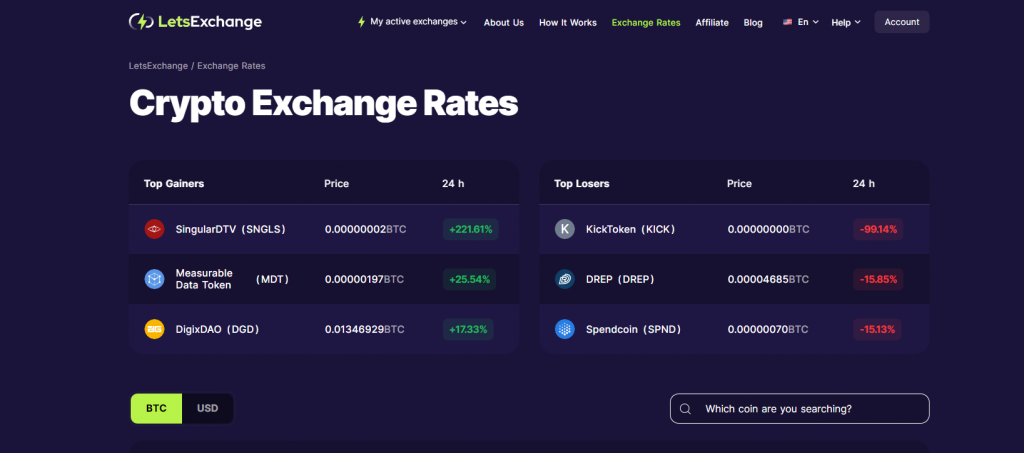 In the case of trading fees, LetsExchange only has floating and fixed fee rates. On the platform, the process of swapping begins when a user begins the swap and sends the crypto of their choice. After which, they get crypto in return.
The floating rate on the LetsExchange comes up to 1.70%, while the fixed rate is even higher, coming up to 2.15%. The good thing is that you do not have to worry about how high your fees will be or calculate yourself because the fees will always be calculated in the final amount, so no matter what, you will always know how much the fees will be.
Spot trading fees
---
The only fees that are mentioned on the platform are the floating and fixed fee rates, there was no information about spot trading fees, so we can not say anything with certainty.
Does LetsExchange.io require KYC?
---
No, LetsExchange does not require you to set up KYC.
LetsExchange.io supported countries
---
As LetsExchange does not require any registration or verification on your end, it is one of the best and easiest to use when it comes to exchanges that have instantaneous crypto trading. Additionally, without necessary KYC, the only possible limitations that might occur depend on where you live.
Depending on the jurisdiction of your country, you may or may not be able to use the exchange. However, in theory, everyone can use LetsExchange no matter where they live, making the exchange suitable for anyone who might have problems trading their crypto assets in some other way.
Are US investors allowed on LetsExchange.io?
---
Like we mentioned above, in theory, anyone can use the exchange. But US investors are not legally allowed to trade on this platform.
How to start with LetsExchange.io?
---
When it comes to registration on the platform, as we said during the review, there is no necessary registration or any means of verification involved when trading on the LetsExchange platform.
Does LetsExchange.io have a Native Token?
---
According to our research, the results have shown that LetsExchange does not have its own Native Token on the platform.
Is LetsExchange.io legit and safe?
---
LetsExchange is legit and safe. The platform has high security, and what is probably most important is that it does not store personal data or users funds on the platform because of its non-custodial system. As we mentioned before, all of the data is being encrypted as well as all of the coins validated before anything happens. Ultimately, what is also reassuring is that the platform also has an SSL certificate as well as DDoS protection.
Up until now, there have been no indications that the platform is a scam, so in that sense, it is safe to assume that the platform is safe and legit to use.
Is LetsExchange.io Regulated?
---
With no registration, KYC requirements, or verification needed, users might have some doubts and concerns about the regulation of the platform. This should not be a problem as the platform is adapting to any jurisdiction and any country that the user might be from without the need for any personal information.
The platform adapts to the regulatory systems of your country, and because of this, you do not have to worry and can begin swapping your crypto without any problems. With this, you do not have to share personal information go through KYC verification, or check if your country is on the supported list and can, without any problems, use LetsExchange and its services.
Conclusion
---
In conclusion, LetsExchange offers its services to everyone no matter where they are from. The platform is designed to be straightforward and easy to use, providing fast transactions with the SmartRate technology giving you the best rates possible. LetsExchange is a great option if you wish to keep your complete anonymity.
Furthermore, any problems you might have can be solved with their 24/7 customer support. Lastly, if you think that LetsExchange is what you were looking for, rest assured, as the platform will surely provide you with a comfortable and safe environment for you to trade cryptocurrencies without worries.
Read also:
FAQs
---
What fiat currencies does LetsExchange.io support?
---
LetsExchange does not support any fiat currencies, the platform only supports cryptocurrencies.
Does LetsExchange.io have Fiat Deposit?
---
No, LetsExchange does not have fiat deposits available on the platform, only crypto deposits are accepted.
Can I trade with leverage on LetsExchange.io?
---
LetsExchange does not have leverage trading.
Where is LetsExchange.io exchange based?
---
LetsExchange is based in Seychelles, East Africa.
How do I get crypto on LetsExchange.io?
---
To get crypto on the LetsExchange, you need to link your personal crypto wallet to the platform and deposit them that way. If you do not already possess cryptocurrencies, first, you need to find another exchange that supports fiat currencies and buy them on that exchange, after which you can transfer them to the LetsExchange platform.

CaptainAltcoin's writers and guest post authors may or may not have a vested interest in any of the mentioned projects and businesses. None of the content on CaptainAltcoin is investment advice nor is it a replacement for advice from a certified financial planner. The views expressed in this article are those of the author and do not necessarily reflect the official policy or position of CaptainAltcoin.com