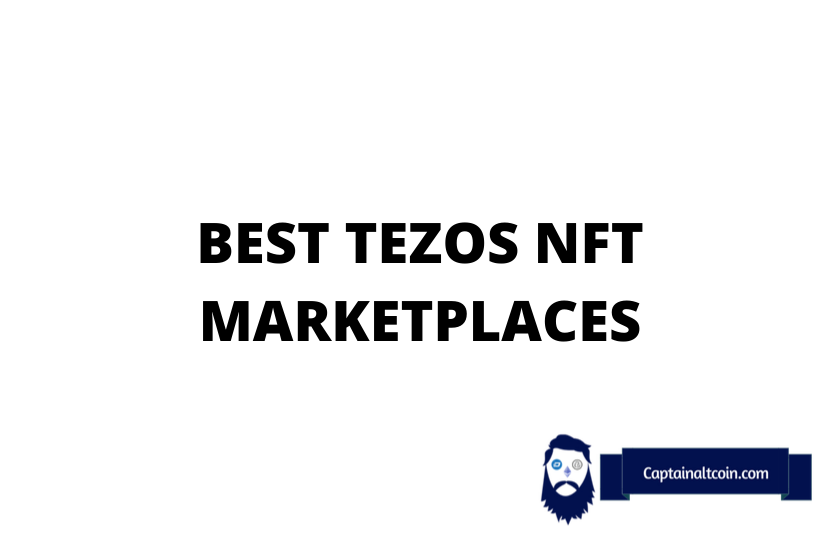 INTRODUCTION
---
Non Fungible Tokens are very popular in the Crypto world now. The NFT movement started in 2015 when the first NFT project was built on the Ethereum platform. Since then, the movement has extended to an increasing number of blockchains, with Tezos being one of them.
This article will address how to find the best NFT marketplaces on Tezos. To make you get the best of this article, I will provide a brief overview of what an NFT is and what the Tezos blockchain entails.
An NFT, as the name implies, is a non-fungible token on a blockchain. Fungible tokens are identical and can be interchanged with each other. For example, if you have a ten-dollar note, you can easily interchange it with another ten-dollar note, and it would retain its value.
The case is not the same with non-fungible tokens. Each NFT is unique and can not be interchanged. Thus, NFTs are used to claim ownership over exclusive items like artworks, certificates, contracts, title deeds, etc.
The Tezos blockchain was formed in 2014 by Arthur and Kathleen Breitman. It is one of the oldest smart contract platforms and employs a proof-of-stake validation system. It describes itself as smart money and focuses more on finance, with outreaches in the NFT and gaming sector.
Now that we know what NFTs and the Tezos blockchain are all about let us start talking about NFT marketplaces on Tezos.
WHAT TO CONSIDER WHEN LOOKING FOR THE BEST NFT MARKETPLACE
---
Just as it is for choosing the crypto exchange you would trade in, choosing an NFT marketplace for you requires that you put some factors into consideration. Some of those factors are:
The Base Currency: This differs from one NFT marketplace to another because they do not all run on the same blockchain. Thus, some marketplaces may allow fiat or use specific cryptocurrencies like ETH, SOL, BNB, etc. Also, some NFT marketplaces may require special wallets to function.
The NFT type: What type of NFT are you looking for? Are you looking for something in the gaming sector or a piece of art? Perhaps you are looking for a sports NFT or something collectible. Think about what type of NFT you want, as that would guide you to know the best place to get it.
Gas Fees: This is equally important as each NFT marketplace charges different rates in gas fees. You would like to choose the cheapest to maximize your profit.
BEST NFT MARKETPLACES ON TEZOS
---
Hic et Nunc
---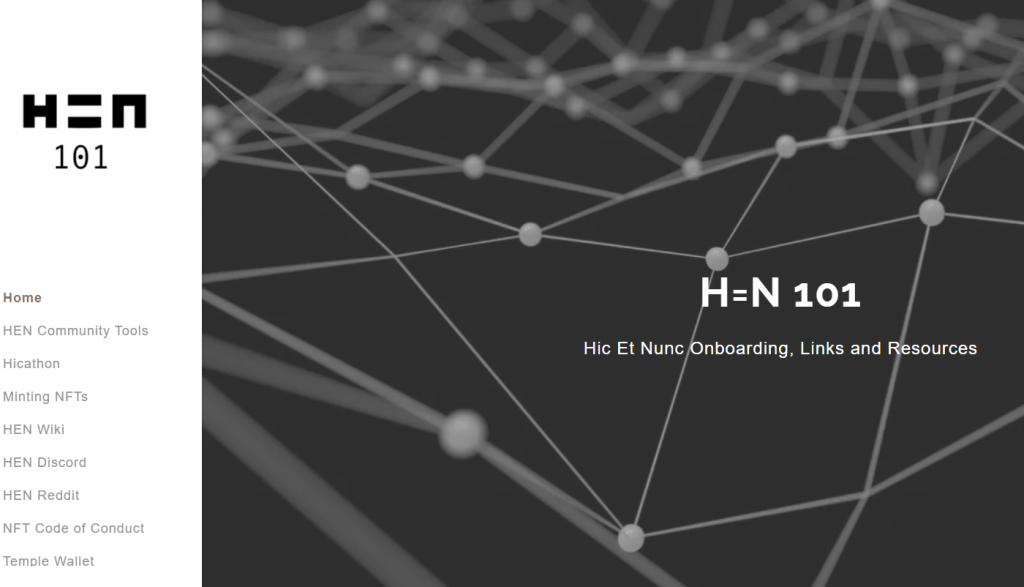 The Hic et Nunc (HEN) marketplace is one of the most popular marketplaces for minting and trading NFTs on the Tezos blockchain. It was created in March 2021 by Rafael Lima and has grown to become one of the top twenty NFT marketplaces in the world, according to DappRadar. The Hic et Nunc marketplace grew in popularity for the following reasons:
It thrives on the proof-of-stake consensus algorithm. In simpler words, it consumes less energy than other NFT marketplaces on the Ethereum network. Thus, it is often described as a green NFT.
It is very cheap. Transactions that would take around 100 dollars to approve on other marketplaces take only about a dollar on Hic et Nunc. Who wouldn't want that, right?
It protects the privacy of users. This way, attention is focused on the product and not the seller.
On November 14, 2021, an incident happened that further proved Hic et Nunc's tenacity as a prominent NFT marketplace. Its founder suddenly took down the website and posted on Twitter that the marketplace is now discontinued. However, the community rallied and took control of the marketplace to ensure its continuation.
The marketplace is now cheaper than ever, with a cumulative 1% fee deducted as platform fee instead of the 2.5% fee it was. Right now, it is the most prominent NFT marketplace on Tezos.
TEZOS.ART
---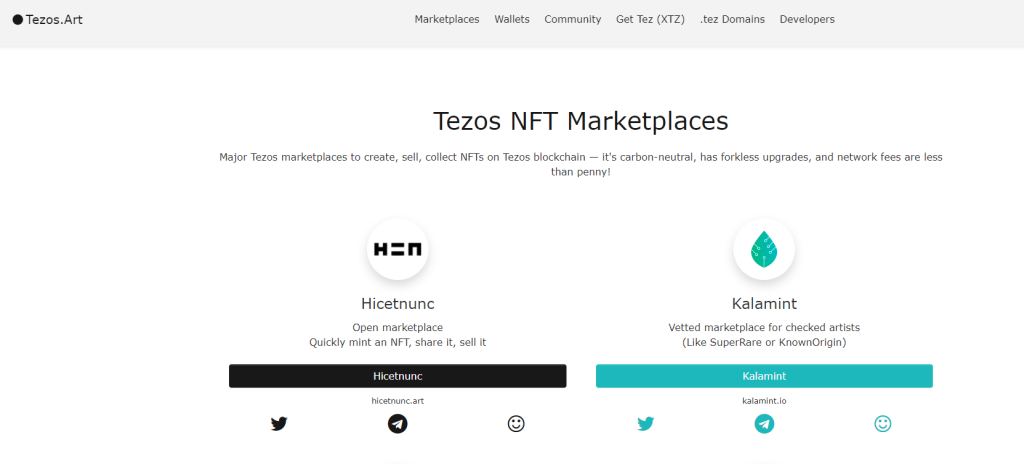 The Tezos.art website is not just another NFT marketplace. It is best described as a directory of sorts where you can get guides to the latest NFT marketplaces on the Tezos blockchain. Examples of marketplaces featured on the website are The Hic et Nunc marketplace; Kalamint, a marketplace similar to SuperRare; Bazaar, a place for 'charity NFTs'; ByteBlock, which offers gas rebates, etc.
Apart from directing users to Tezos marketplaces, the website also introduces users to the best Tezos-compatible wallets in the crypto society. Examples of wallets featured on the website are Galleon, a wallet that runs on desktop and mobile; Kukai, a wallet integrated with social media capabilities; Temple, a wallet similar in operations to Metamask; and Airgap, a wallet that excels in security features.
OBJKT.COM
---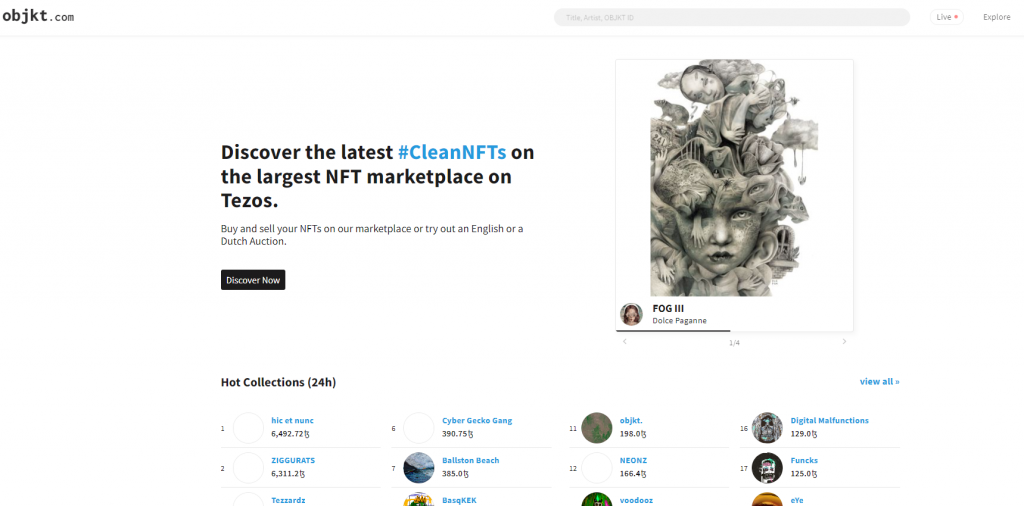 Objkt is a Tezos NFT marketplace that comes with a difference in the mechanism through which the tokens are sold. Tokens are traded on the exchange via auctioning on smart contracts. This peculiar method, coupled with the cheap transaction fees, makes it one of the top exchanges on the blockchain.
The Objkt platform is still dependent on the Hic et Nunc marketplace as only HEN tokens are put up for auction on the site. There is a fixed 2.5% fee on every successful transaction, be they auctions, listings, or offers. Also, the fee for listing an NFT on the site is at least 0.0011 Tez which is about 0.006 dollars at the current price.
There are two types of auctions on the Objkt platform. The first is the highest bid auction(or English Auction). This is the popular auction type where the highest bid wins. After the selected time for the auction has passed, the person with the highest bid can conclude it by triggering the sale.
The second auction type is a more peculiar type known as the Price Drop Auction. In this auction, the price is gradually lowered during a fixed time frame. During that time, it is available for instant purchase at the current display price. Once the item is purchased, the auction ends. Also, once the fixed time frame passes, the auction ends
BYTEBLOCK
---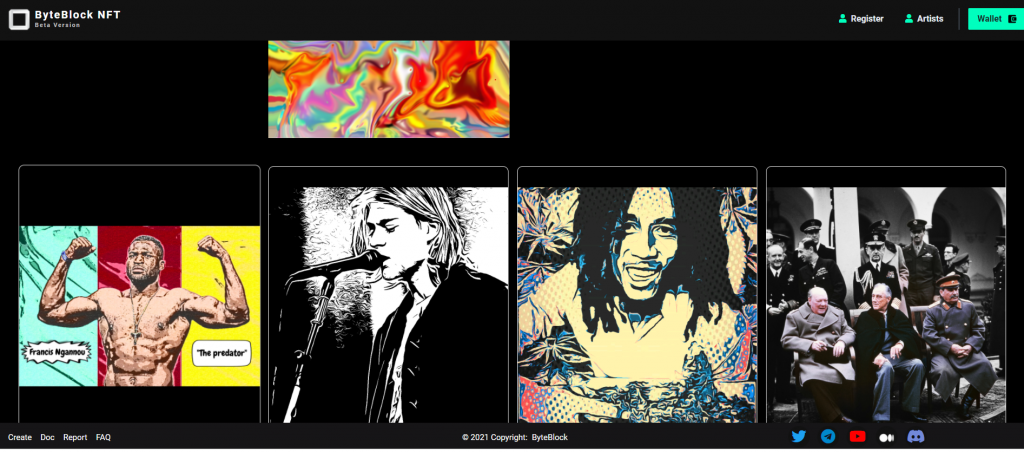 Byteblock NFT platform is an India-based platform created in April 2021 to empower artists in India and Southeast Asia. It is an open platform that focuses on supporting physical artists as they get acquainted with the NFT space.
The platform charges a 4% fee and offers free Tezos tokens for first-time NFT creators. In addition, just like Objkt, Byteblock offers two types of auctions through which users can gain instant value for their minted NFTs
The first type of auction is the Lazy auction and is done on Wednesdays on their discord page. It is called lazy auction because it is only text-based and settled after 16 hours.
On the other hand, there is another auction that takes place on Saturday. This auction is text and voice-based and is settled immediately between the buyer and the creator.
Apart from the fact that it is run on the Tezos blockchain and therefore benefits from the very cheap gas fee rates, it also does not require that artists get registered on the platform before they can mint NFTs. This makes it a very open platform and one of the most popular NFT platforms in Southeast Asia.
BAZAAR
---


Bazaar was created in the first quarter of 2021 and posited itself as a carbon-negative NFT marketplace. Being a marketplace on the Tezos blockchain, Bazaar takes it a notch further by donating to organizations that promote carbon-negative emissions. Thus it lives up to its words as a truly green crypto establishment.
To tackle the issue of plagiarism among NFT creators, Bazaar introduced a method of verifying NFT artists, using their social media accounts, to increase the trust that buyers have in a particular artist. Verification is not compulsory, though, but it makes a sale more authentic. Also, verified artists can lose their verification status if they are found guilty of undesirable activities like plagiarism, buying or auctioning their own art, etc.
On the Bazaar interface, there are two ways of selling NFTs. You can either sell at a fixed price or through auctions. Another exciting thing about the Bazaar marketplace is that it comes with a governance token. The token is called bDAO and is currently valued at 0.195tz or 1.04 dollars at the current price
MinterPop
---
MinterPop is an NFT marketplace developed by Interpop that focuses more on delivering NFT products that are authenticated. To accomplish this, the marketplace vets each artist and only allows verified ones to post products on it.
This process might be unappealing for some as it takes a little from the decentralization that crypto is supposed to be about. However, it fosters trust in buyers and ensures that the NFT products they purchase on the platform are authentic.
To make transactions on MinterPop, you need to create an account with them and simultaneously with their partner wallet, Kukai Wallet. After creating an account, you can buy or sell the NFTs through a fixed price or an auction. If you choose to buy at a fixed price, you can pay with a credit card or Tezos coins in your wallet. On the other hand, NFTs listed by auctions can only be purchased with Tezos coins in your Kukai Wallet.
Muralis
---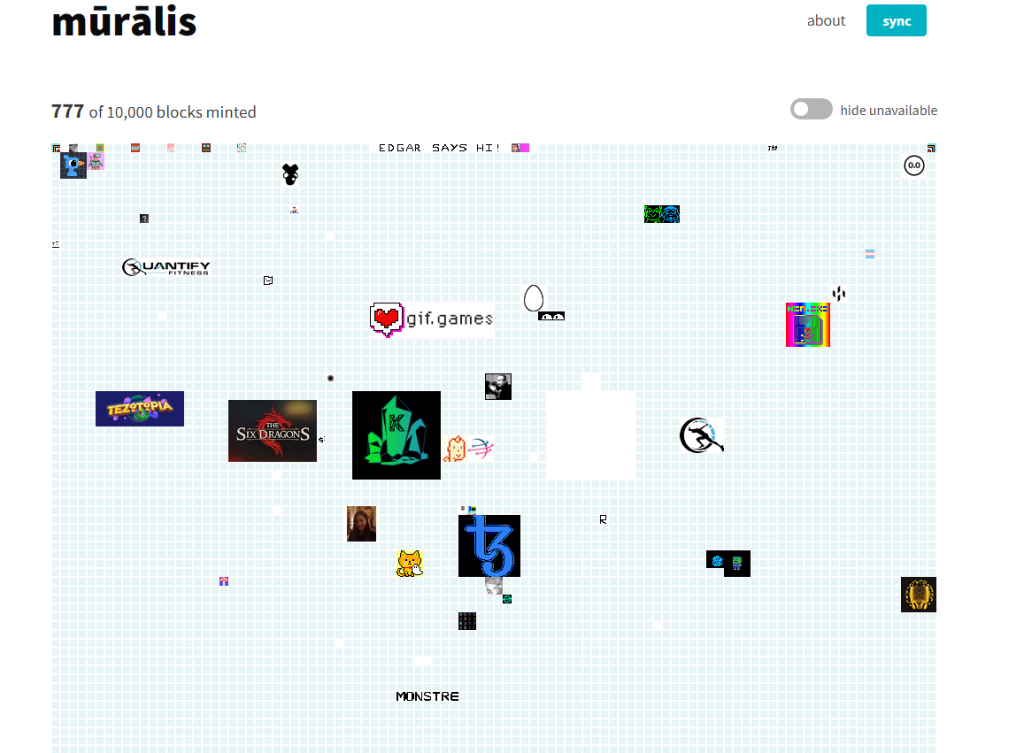 Muralis is an NFT marketplace that introduces a unique concept to the ecosystem in which NFTs are joined together to create a bigger NFT that can be sold at the Hic et Nunc marketplace. How does it work?
The final piece consists of 10,000-pixel squares which can be purchased at 1.1.tz each(equivalent to 5.9 dollars at the current price). Once a square is bought, it is permanently fixed on the mural and visible to everyone. It continues like that until all 10,000 pieces have been bought. The whole mural can then be sold at the HEN marketplace, and half of the profit is given back to the HEN community.
The Muralis NFT marketplace is still an experimental project; therefore, users should exercise caution when trading on the interface.
CONCLUSION
---
Non-fungible tokens are popular in the crypto society now. Everyone wants to have a piece of this pie. However, even though some NFTs are popular for being traded for hundreds of thousands of dollars, you don't have to break the bank before you trade NFTs. On the Tezos blockchain, you can mint and trade NFTs at cheap rates and in an eco-friendly environment.
I hope that this article has helped you to decide which of the best NFT marketplaces on the Tezos blockchain is best suited for your needs. However, I would like to point out that choosing which NFT marketplace to trade-in is your sole responsibility. Therefore, weigh it carefully and never forget the rule of crypto trading, which says, 'Never invest more than you can afford to lose.
Read also:
FREQUENTLY ASKED QUESTIONS
---

CaptainAltcoin's writers and guest post authors may or may not have a vested interest in any of the mentioned projects and businesses. None of the content on CaptainAltcoin is investment advice nor is it a replacement for advice from a certified financial planner. The views expressed in this article are those of the author and do not necessarily reflect the official policy or position of CaptainAltcoin.com