Binance Auto Invest Review – Is Binance Auto Trading Worth It?



Binance Auto Invest Review – Is Binance Auto Trading Worth It?
DCA is a very effective crypto strategy
Automatically puts your newly purchased coins to your savings account
BINANCE AUTO INVEST OVERVIEW
---
Binance doesn't need any introduction in the crypto world. It is one of the leading crypto exchanges with the most significant trading volume globally and has been there for a long time since its inception in 2017. In 2021 alone, it raked in a total of 76 billion dollars worth of trading volume from its 28.6 million users. That's impressive!
But this review is not really about Binance or any othe crypto exchanges out there; I'm sure you know a lot about it. Today, we will be talking about the latest addition to Binance's ever-growing range of financial products – the auto-invest program. What is it? Can it work for you? Stay tuned and find out. 
WHAT IS BINANCE AUTO-INVEST
---
Binance auto-invest is an automatic investment program that allows Binance users to earn passive income with little or no stress. It was launched on November 23, 2021, and runs on the Dollar-cost averaging investment strategy.
This strategy involves buying a specific amount of crypto at predetermined intervals regardless of the price. It is a well-known, less risky way of investing in cryptocurrencies over a protracted period.
Thus, the program allows users to purchase BTC, ETH, or BNB on a daily, weekly, bi-weekly, or monthly basis. For now, those are the only three coins that can be purchased with the program, and they can only be bought with USDT or BUSD. However, considering that the program is still in its infancy and that Binance keeps upgrading its product suite, it is safe to say that more options will be introduced as time goes on.
Once a purchase is made at the selected time interval, the purchased coins are transferred to your flexible savings account. This also ensures that your bought crypto continues to generate interest for you even without your supervision.
BENEFITS OF AUTO-INVEST
---
Effective Risk Management Strategy
---
Dollar-cost averaging has proven to be one of the best ways to manage the risk of cryptocurrency trading over the years. It works so well because it eliminates emotions from the trading process and protects users from extreme crypto market reactions. This is something each crypto trader likes to see.
Good Market Timing
---
Timing the crypto market well is a delicate process. No one seems to have an almighty formula on how to do it, especially as the market seems to develop a mind of its own at times. With Binance Auto-invest, this process is taken care of automatically.
Continued Earnings through Flexible Savings
---
Your purchased coins are deposited into your flexible savings account, ensuring that you keep earning on your crypto assets even after purchase.
Easy to Manage: You can easily edit, pause, or unpause the program whenever you like.
DRAWBACKS OF AUTO-INVEST
---
Sometimes, it gets the timing wrong is mainly because the market seems to rise upwards in the long term. Therefore, if you had invested a considerable sum of money in the cryptocurrency of your choice instead of dollar-cost averaging, it is more likely to be profitable in the long run.
For example, if you purchased BTC with 100 dollars when it first crossed $1 on February 9, 2011, you would have 100 BTC, which would currently be worth about five million dollars at the current price. Meanwhile, if you had used that same amount to purchase BTC over ten years, buying with ten dollars every day, you would not have up to half that number of BTC.
You could catch a falling knife: Catching a falling knife in the crypto investments world simply means buying a coin that will keep going down. If for some reason, a coin has lost its footing and is getting massively dumped, you could keep buying all the dumps and eventually end up as a bagholder(an owner of a lot of coins with negligible value).
Your money would be idle, gathering 'dust': Fiat tends to lose its purchasing power over time due to inflation.
HOW TO START EARNING WITH BINANCE AUTO-INVEST
---
The first step towards this would be creating a new Binance account and completing the required verification procedures. You can also download the mobile application for easier navigation. Once that is done, follow the outlined steps below:
Log into your account and click on Finance at the top of the website. If you're using the mobile application, open the app and click on services on the front page
From the Finance tab, you will be introduced to a number of finance products. Click 'Auto-invest.'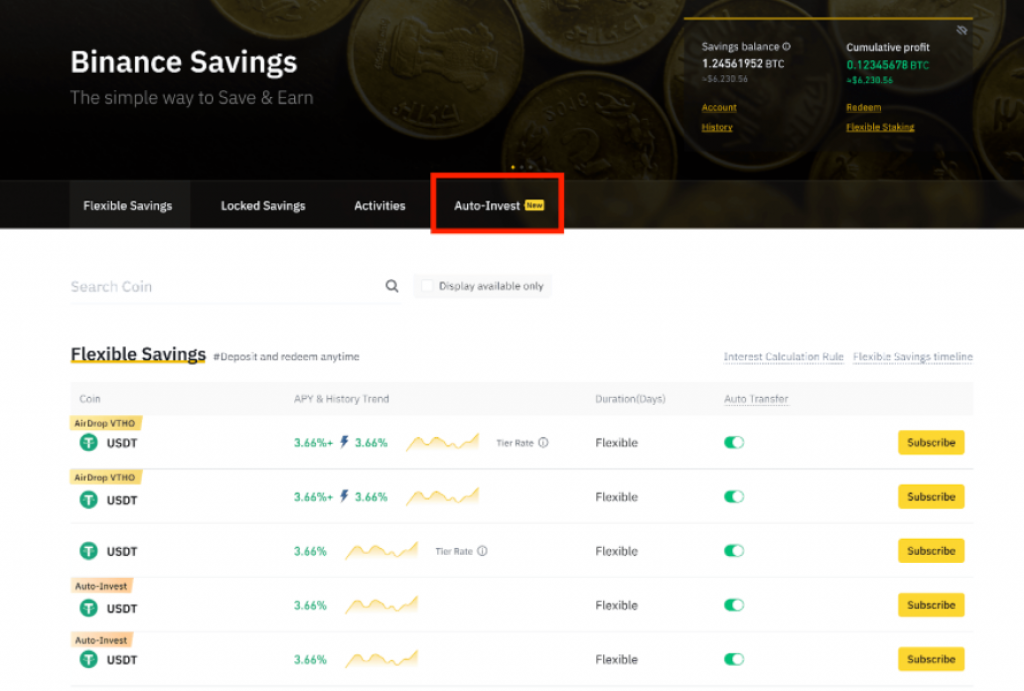 Here, you will see the coins available under this subscription. For now, only three are available, namely BTC, ETH, and BNB. The Auto-invest page also shows how much you would have gained(or lost) if you had used Auto-invest for a stipulated timeframe.
On the Auto-invest page, select the coin you want to invest in and click 'Create a plan.'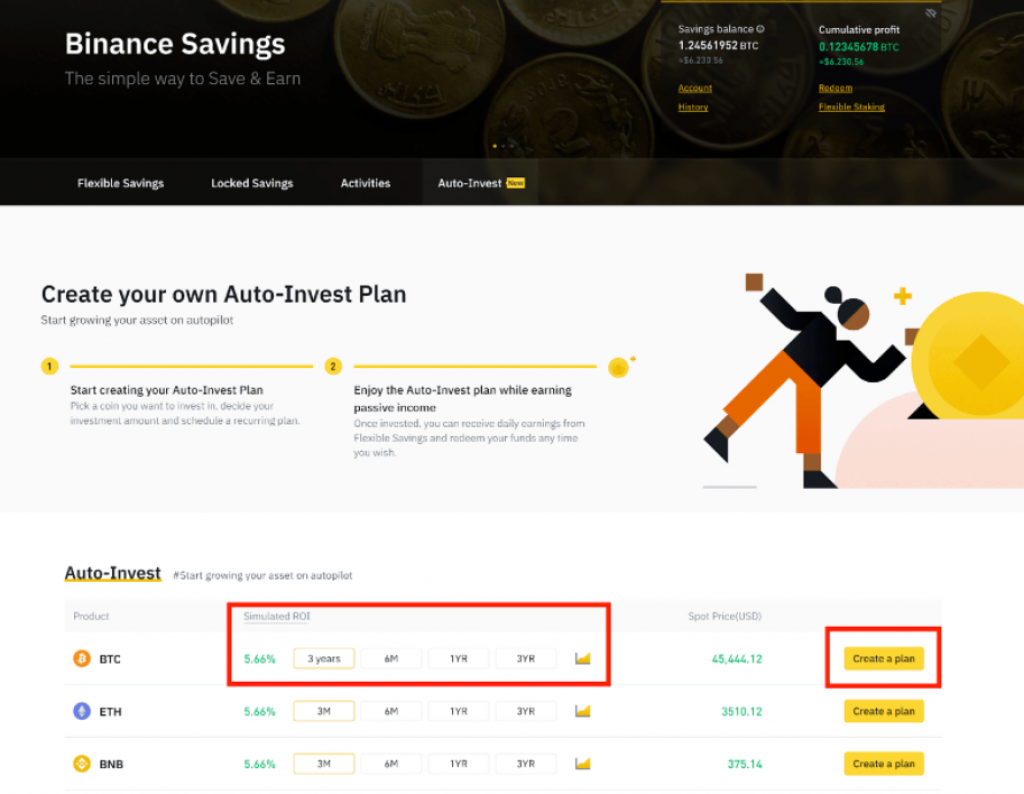 A window pops up requiring you to enter the number of dollars you want to invest at your selected interval. The minimum amount you can enter is 10 units of either USDT or BUSD.
Select your recurring cycle. It could be daily, weekly, bi-weekly, or monthly. Select the repeat time or date.
Lastly, select if your flexible savings balance should be used when your spot balance is insufficient.
Review and click 'Confirm.'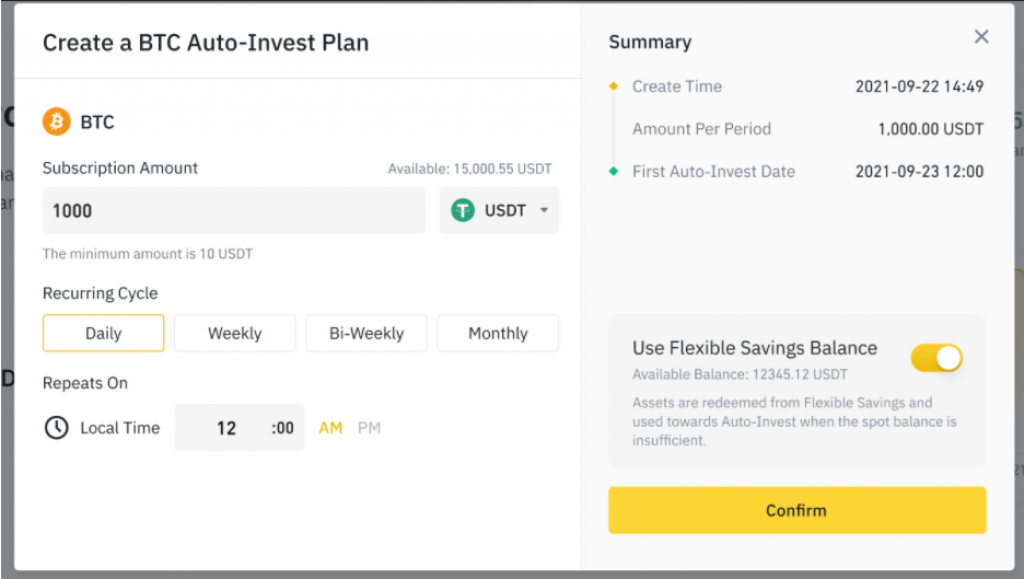 You can view and manage your Auto-invest plans under 'My Auto-invest plans' under the Binance savings tab.
FREQUENTLY ASKED QUESTIONS
---
Read also:
PROS
DCA is a very effective crypto strategy
Automatically puts your newly purchased coins to your savings account
CONS
Catching a falling knife (buying the dip while the coin keeps dipping more in price)

CaptainAltcoin's writers and guest post authors may or may not have a vested interest in any of the mentioned projects and businesses. None of the content on CaptainAltcoin is investment advice nor is it a replacement for advice from a certified financial planner. The views expressed in this article are those of the author and do not necessarily reflect the official policy or position of CaptainAltcoin.com