CoinMetro Review – Fees, Supported Coins & Countries, Deposits & Withdrawals


CoinMetro Review – Fees, Supported Coins & Countries, Deposits & Withdrawals
24/7 Support Service
Easy-to-use
Variety of features and services
Attractive trading fees
Transparent policy
✅ Large range of payment
✅ Excellent functionality
When trading digital assets, finding an appropriate exchange can turn out to be a real struggle. This is because the crypto industry is full of numerous exchange options, and picking the right one can sometimes be a problem even to those who have spent years in the crypto world. 
In this review, we are going to talk about CoinMetro, a scaling cryptocurrency exchange service in the crypto community. Transparency, safety, and solidity are some of its main principles, and because of that, they have gained a large following over the course of the last year. 
What is CoinMetro?
---
CoinMetro is a crypto exchange established in Estonia. The graphic displayed on their website displays a truly modern and stylish design that almost immediately appeals to its users. In the last few years, CoinMetro has gained a lot of good reputation, and the biggest reason for this is their focus on transparency.

They provide information on all members of their team and offer a 24/7 support function to help resolve any problems. It is considered to be a safe and reliable platform, and because of this, it is continuously growing.
One of the unique features of CoinMetro is that it is well-suited for all types of traders. Whether you are a beginner, amateur, pro, or you are looking to purchase your first cryptocurrency, CoinMetro is adaptable for almost anyone. The dashboard is simple to understand, and it makes the whole trading process incredibly easy.
Services & Features
---
CoinMetro provides a variety of different services and features for its users, so let's dive into the most popular ones so you can choose which one fits your needs best.
Spot Exchange
---
One of the most popular services CoinMetro offers is the spot exchange. The spot exchange is particularly popular among beginner traders due to its simplicity. 
Spot exchange essentially means buying and selling financial instruments (in this case, cryptocurrencies) in real-time. The delivery of the asset that you have bought or sold is practically immediate.
Spot exchange happens in spot markets which are either between two individual traders or, in this case, exchange-based (via CoinMetro). When using spot exchange, traders can use only assets that they already own. The general idea behind spot exchange is for traders to buy digital assets that they believe will rise in price so that they can sell them later and make a profit.

Margin Trading
---
Margin trading is known as a higher-risk type of trading; offering high rewards and gains but can also lead to bigger losses. Margin trading is when the traders can trade borrowed assets while using leverage. This means that traders can use values that are larger than their available funds. CoinMetro has a really solid margin trading platform that has gained praise from many experienced crypto traders.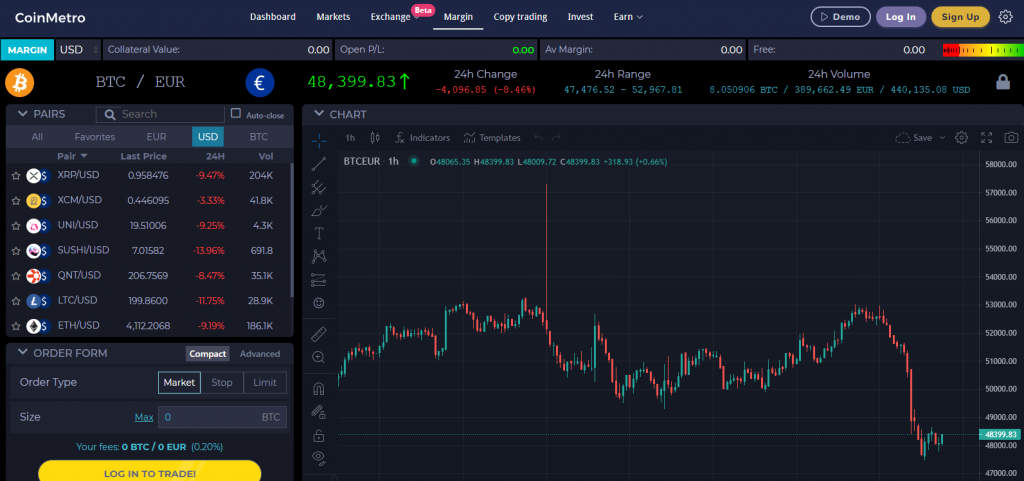 To give you an example of how margin trading works, let's say that you have $100 of available funds and you see an open position at 2X leverage. The "lender" adds another $100, making it a total of $200. With margin trading, you are given the opportunity to short assets that you don't directly own.
Copy Trading
---
Copy trading has gained huge recognition over the last year on crypto exchanges, including CoinMetro. Copy trading is a form of trading where traders invest a certain amount of money into "mimicking" the trades of other, more experienced traders. 
Copy trading is appealing to many beginner traders because they don't have to have extensive knowledge of crypto; their profits rely on the professional trader that they have chosen.

However, although you don't need to know much about crypto for copy trading, it's important that you carefully choose the trader that is going to handle your money.
CoinMetro provides information for each professional trader on their platform, and you can analyze their win/loss ratio, trading history, and general qualifications, so make sure to carefully examine all of it before making your choice. 
Earn (Staking, Bug Bounties)
---
CoinMetro also offers an "Earn" service to its users, where they can earn money by staking or by bug bounties.
The first-ever Quant staking platform was initially released on CoinMetro in December of 2020. The platform uses QNT (Quant's Network's native token). By depositing Quant into their main wallet, users can start earning Quant staking rewards without having to opt-in or lock something. The rewards for this are paid out in XCM, which is the native token of CoinMetro exchange. Users can withdraw/deposit QNT at any time. 
A bug bounty is another feature on this exchange platform that allows its users to collect rewards. A bug bounty is essentially a program that provides financial rewards to those users who are able to identify any kind of security flaw or vulnerability in the organization of the platform.
Invest in Digital Securities
---
When it comes to digital security investments, CoinMetro is the first platform in Europe to provide this service. Security tokens (digital securities) are investment products. With these assets, investors are given a stake in the issuing company (like rights to profits and dividends). Companies use these digital securities to issue debt and gain access to financing while offering investors handsome returns.
Digital securities are considered to be better than traditional securities since they allow immediate settlement and free access to interesting projects.
Coinmetro Supported Coins
---
Here is a list of CoinMetro supported coins: Basic Attention Token, Bitcoin, Bitcoin Cash, CoinMetro Token, ChainLink Coin, EncrypGen Token, Enjin Coin,Ethereum, Flux Coin, Hathor Coin, Kadena Token, Litecoin, Ocean Protocol Token, OmiseGo Coin, Parsiq Token, Ripple, Stellar, Quant Token, Tezos, and USD Coin. 
CoinMetro Deposits & Withdrawals
---
Fees
---
CoinMetro deposit and withdrawal fees are considered to be more than reasonable compared to other crypto exchanges.
CoinMetro integrates a withdrawal fee based on percentage, which means you are charged a percentage of the amount you withdraw from the platform. The charged fee is 0.15%. This might be an unusual type of billing, but it isn't that uncommon. 
If you are using the USD deposit method, there is a $5 ACH fee. The same rate is for withdrawal, with domestic wires being charged $20 and international wires being charged $50 (same rate for withdrawals). 
If you are making deposits and withdrawals on the CoinMetro platform, you will be charged a SWIFT fee of $5 and a SEPA fee of $1 if you want to deposit. When it comes to withdrawals, there is a $50 fixed SWIFT charge.
Also, keep in mind that depositing cryptocurrencies on CoinMetro isn't charged except withdrawal charges for Ether. 
Methods
---
Users of CoinMetro are allowed to deposit assets in a variety of ways. This includes wire transfer, SEPA transfer, UK faster payment, instant ACH, debit card, or by simply depositing crypto assets. CoinMetro is regarded as an "entry-level exchange" because fiat currency deposits are allowed on the platform. This makes it much easier for crypto-investment beginners to step into the crypto world and start trading assets. 
CoinMetro Trading Fees
---
Trading fees exist on every exchange platform. Each time a user puts an order on the platform, the exchange charges a fee. Generally, the trading fee is a percentage of the actual value of the ordered trade. Coinmetro divides between "takers" and "makers." Takers are those who place an order from the order book. There are several different trading fees, depending on the type of trading you are conducting on the website.
Spot Trading Fee
---
On CoinMetro's platform, the spot trading fee for makers is 0%, while the taker's fee is 0.1%.
Margin Trading Fee
---
When using margin trading features, the platform charges a 0.1% fee and an interest rate that changes every 4 hours (gets recalculated). The swap fee isn't charged (0%). 
Copy Trading Fee
---
Users who make a profit with copy trading are charged with a 0.1% fee for the exchange, a 5-25% fee for the trader's work, and a 1-5% fee for trading effectiveness. 
Does CoinMetro Have Mandatory KYC?
---
In the world of finance and banking, KYC (Know Your Customer) is hard to avoid. It is a process used for identifying and verifying users from all over the world. The idea behind KYC is to prevent money laundering, identity theft, financial fraud, and terrorist financing. Companies use KYC to make sure that the information the users are providing is real and legit. 
CoinMetro isn't any different than these other companies, and it also implements a mandatory KYC. Using KYC only shows that a company is reliable and that it looks out for itself and its clients. 
CoinMetro Supported Countries
---

CoinMetro has an EU license for crypto exchange and is actively registered with regulators in the USA and Australia. CoinMetro is also supported by more than one hundred countries. 
Are US Investors Allowed on CoinMetro?
---
US investors are allowed to trade on CoinMetro, and they can deposit or withdraw USD and trade with 14 USD pairs.
Does CoinMetro Have a Native Token?
---
CoinMetro's native token is the XCM token. The XCM token can be stored in a user's CoinMetro account, but it can also be withdrawn to an ERC-20 wallet. The purpose of this token is to provide certain benefits and have value to users who use CoinMetro. All of the current and future products on CoinMetro are related to the XCM token. The most important feature of this token is that it is directly linked with the exchange platform, and it mechanically contributes to XCM demand. 
Is CoinMetro Legit and Safe?
---
CoinMetro is a fully licensed, fully regulated, and compliant crypto exchange platform that has built a reputation of being safe and reliable. The huge amount of positive feedback by its users is another reason to assure you that CoinMetro is a legit and safe crypto exchange.
Conclusion
---
In a relatively short amount of time, CoinMetro has gained a huge amount of success, and because of its high functionality, it isn't a surprise that this exchange platform is getting more and more users each day. The exchange is still evolving, and it will be interesting what it will grow into in a year from now. No matter if you are a beginner trader or a professional one, CoinMetro is definitely a platform worth checking out. 
FAQs
---
If you are not fond of CoinMetro, here is a list of other crypto exchanges that can be good alternatives:
PROS
24/7 Support Service
Easy-to-use
Variety of features and services
Attractive trading fees
Transparent policy
✅ Large range of payment
✅ Excellent functionality
CONS
Not a huge variety of cryptocurrencies compared to some other exchanges
Lack of built-in analytics

CaptainAltcoin's writers and guest post authors may or may not have a vested interest in any of the mentioned projects and businesses. None of the content on CaptainAltcoin is investment advice nor is it a replacement for advice from a certified financial planner. The views expressed in this article are those of the author and do not necessarily reflect the official policy or position of CaptainAltcoin.com