BitForex Review – Is BitForex Legit & Safe To Use?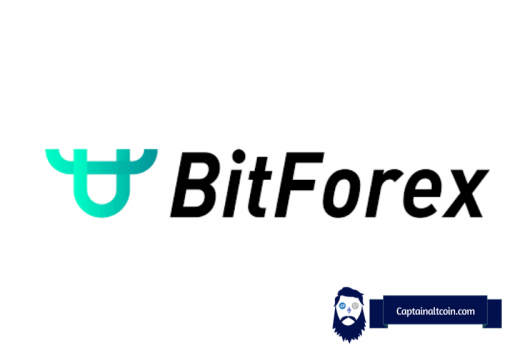 BitForex Review – Is BitForex Legit & Safe To Use?
What is Bitforex
---
Bitforex is an emerging crypto exchange that offers spot trading, margin trading, perpetual contracts with leverage up to 100x, and a Social Trading platform. There are over 300 trading pairs and 163 cryptocurrencies available, with services being offered in more than 180 countries.
It all works with the Bitforex trading engine that takes up to 1.6 million orders per second. The CEO of the exchange is Jason Luo.
The company also received funding as a startup from giants such as Crypto Capital, Block VC, Genesis Capital, Node Capital, and TRON which invested over $20 million.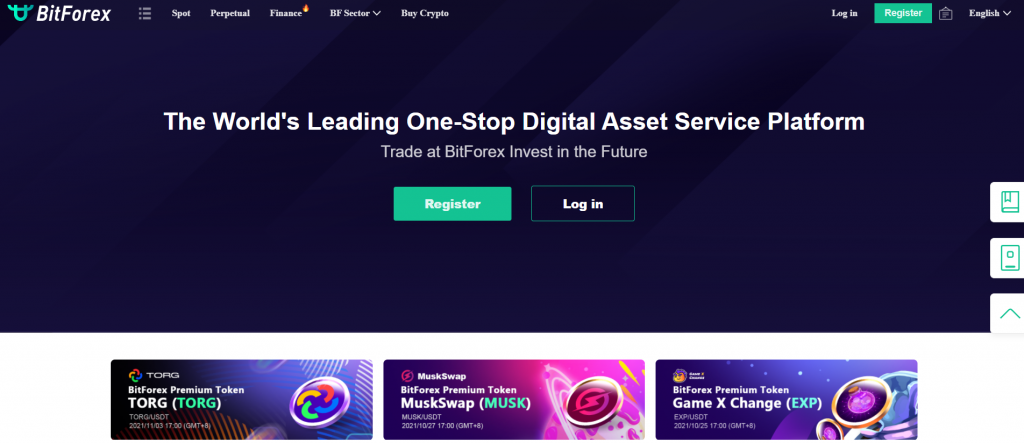 How to sign-up on Bitforex?
Signing up for BitForex is as easy as it gets, and fortunately, KYC isn't even compulsory.
Once you're on the BitForex website, click on the 'register' button you'll find in the top right corner of the page. Then you'll enter your email id and choose a password for the account. All you have to the at this point is enter the verification code and an invitation code and just like that you are registered.
When will KYC be required?
---
KYC will only be asked if accounts have some sort of abnormal behavior or if daily transactions exceed $10,000.
How to Deposit Crypto at Bitforex?
---
Steps to deposit cryptocurrency into BitForex are:
Click on the 'Assets' button on the top right corner of the page to access your wallet.
Click on 'Deposit' on the menu bar on the left.
Choose your preferred crypto coin and Transfer it from your wallet using the given wallet address.
Bitforex Minimum Deposit
---
Bitforex does not set a minimum limit for deposits. It takes 1 confirmation for the deposit coin to arrive and 3 confirmations for withdrawal.
Crypto can directly be bought with a Simplex credit card. Traders can invest in Bitcoin, Bitcoin Cash, Ethereum, Litecoin, and Stellar Lumens directly with a credit card.
For all other coins you can easily swap them with EazySwap, but more on that later.
How to trade on BitForex?
---
To trade on BitForex follow these steps:
Enter how much crypto you want to buy or sell.
Set the order price or spot trade.
If wanted, choose the leverage.
Select either Buy / Long or Sell / Short.
After execute an order, the live trade will be available on the bottom of the screen. BitForex also offers users a view:
Margin
Quantity
Value
Liquidation price
Entry Price
Current price
Realized P&L and
Unrealized P&L
BitForex also lets you share your positions with your friends. This feature is useful in particular if you are a crypto influencer or have a paid crypto trading group.
Steps for spot and perpetual trading at BitForex:
---
Fund your BitForex.
Choose the trading pair you want to use.
Insert the order size, and price.
Confirm the order, and once your order is executed, your funds will get credited to your exchange wallet.
Your order can be found in the Order History tab.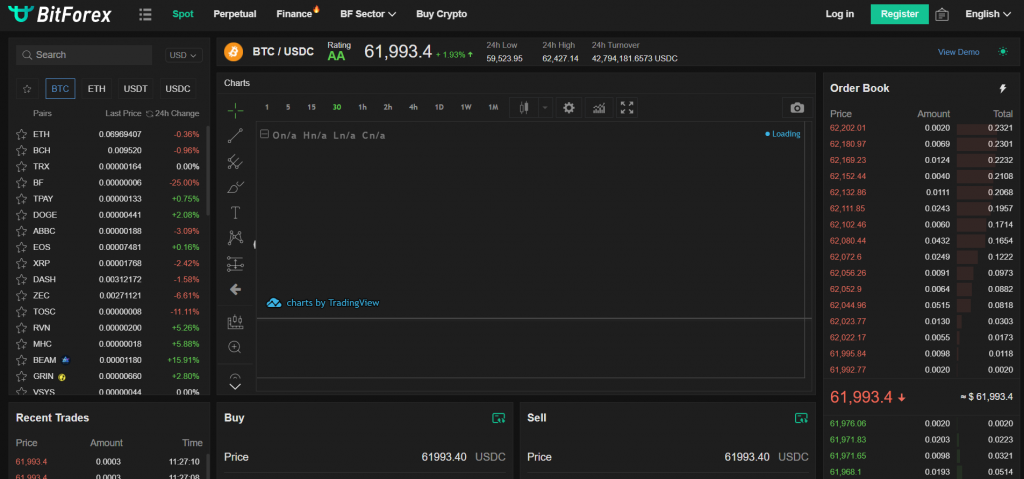 What are Spot Trading and Perpetual Contracts?
---
Let's just take a minute to explain the difference between these 2 terms. Trading on the spot means that assets are exchanged immediately. Alternatively, futures contract trading is trading an asset on a future date. With futures, you'll speculate on the price fluctuation.
Perpetual contracts are similar to futures contracts, the only difference being that they do not have an expiry date. And perpetual trading makes up for around 70% of the total volume of cryptocurrency trading in BitForex. All in all, these are advanced trading tools and strategies.
Why is the Perpetual Contract used?
---
For example, if you think that the price of BTC/ USD will go up, then you can long or buy expecting the increase in price. Similarly, if you think the BTC/ USD cost might decrease, you can sell or short a position.
Fees
---
All trading cryptocurrency exchanges should have reasonable fees, or they'll risk eating up your profit.
Deposit fee
---
You are not charged any deposit fee on BitForex, which a good competitive advantage
Withdrawal fee
---
The withdrawal fee on BitForex changes depending on the crypto asset. Looking at Bitcoin, for example, traders will be charged a 0.0005 BTC withdrawal fee. BitForex here comes in at slightly less than the global industry average.
Spot Trading fee
---
For trading, BitForex opts for a flat fee of 0.1% for both makers and takers. For comparison the average for cryptocurrency exchanges is 0.25%, again BitForex proves its worth.
Perpetual Trading fee
---
BitForex takes another approach for perpetual trading, charging for BTC and ETH and maker fee of 0.04% and a taker of 0.06%. For crypto other than BTC and ETH the maker and taker fee will be 0.06%.
MT5 fee
---
BitForex charges you an additional fee every time you buy or sell a product on the BitForex MT5 platform.
You'll be charged 10 USD for trading Forex/ Commodity/ Metal/ Index. While 0.08% for cryptocurrencies trades,
Although, you won't have to pay any trading fee if:
You have a 30-day trading volume of more than 1,000 BTC and,
You hold a minimum of 50 BTC with the exchange.
USD Withdrawal
---
BitForex has a daily withdrawal limit of BTC daily withdrawal limit is 0.0001 BTC, and a maximum is 100.
But if you withdraw more and exceed the limit you will be required to do two-factor authentication before going on.
The other exception is changing the password, as you will have to wait three days before taking out your funds.
List of different fees:

BitForex Withdrawal Fee Review
Mobile App
---
Bitforex also offers a mobile app available for both iOS and Android operating systems. The app with its easy-to-use interference allows for a simple approach to trading. Via the app you'll be able to access all features available on the web interface, anywhere you are.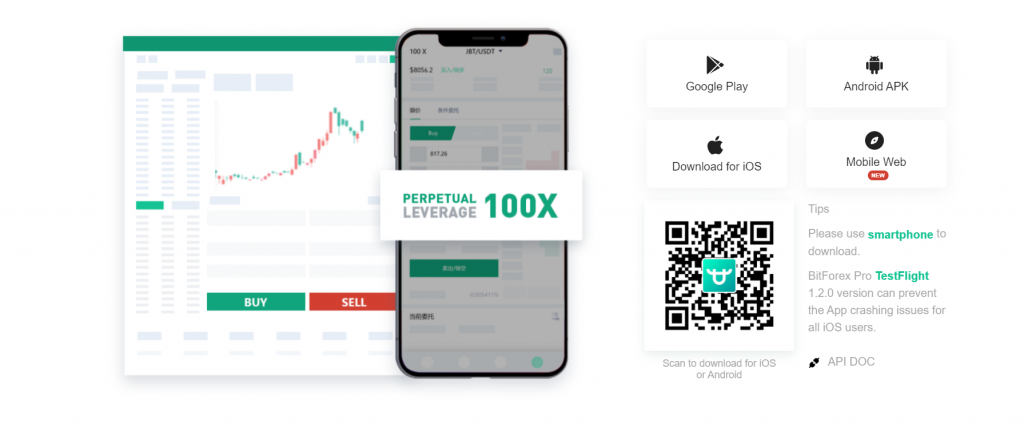 Bitforex Exchange Features
---
Trading Interface
---
Think about all of the time you'll spend looking at the main trading interface. It becomes essential that it fits all the needs a trader has. Of course, liking or not the design of an interface is purely subjective. On Bitforex the order book is present on the right side. The price charts are in the middle, while the sell and buy options are at the bottom of the page.
Trading Chart
---
BitForex uses TradingView for live price charting. The charting interface is known for its quality as it is smooth, simple to use, and intuitive charts. It also lets traders take a deeper look and maximize profits by using advanced trading tools and indicators provided by the platform.
With TradingView users can also view a wide array of time frames and draw trend lines, and add chart patterns and indicators. It also offers chart indicators such as Relative Strength Index, Simple Moving Averages, Bollinger Bands, Average True Range, Ichimoku, and many more. The provided advanced trading tools and indicators help you perfectly time your trade using limit, stop, or market order.
Trading Pairs
---
Traders have 163 cryptocurrencies tradable on the spot market at disposal and nine perpetual contracts with high leverage. Trading includes:
Bitforex Leverage
---
On BitForex users have 100x leverage when trading perpetual contracts. That's way higher than some competitors who due to the increased volatility risk opt for not allowing high leverage.
This is a shame as leverage trading is a great way to amplify your gains. Letting traders take advantage of even the smallest price movement, with, of course, a lot higher risk.
How does it exactly work?
---
BitForex puts down part of the total amount you want to trade, and loans out the rest allowing for a bigger position that does not take up your capital.
Of course, as we mentioned earlier, it also exponentially increases maker risk. As the bigger the leverage the more you'll have to pay back. BitForex offers the following leverages:
| | |
| --- | --- |
| Perpetual Contract | Leverage |
| Bitcoin | 100x |
| Ethereum | 100x |
| Bitcoin Cash | 100x |
| Litecoin | 100x |
| Binance Coin | 100x |
| EOS | 50x |
| Ripple | 25x |
| Beam | 10x |
| Grin | 10x |
Exchange Products
---
BitForex offers many products on the exchange. Let's jump right in.
BitForex MetaTrader 5 (MT5)
---
BitForex also offers the trading platform a wider choice of options when token trading traditional financial products.
MT5 has over 300 trading pairs and offers up to 200x leverage. You also get the facility to do Contract for Difference trading, aka CFD trading.
In short, by trading CFD exchange directly with a broker instead of doing it via the spot market.
The CFDs for different products are as follows:
Cryptocurrencies and Forex- over 100 CFDs
Commodities- over 20 CFDs
Indices- over 10 CFDs
The fees are pretty low.
Another interesting option is that users can fund their MT5 account via their wallets. The biggest advantage of MT5 is that it provides traders with more advanced tools for technical analysis. With the Over 30 technical indicators, timeframes, and interactive charts traders can take the profession to another level.
Social Trading Platforms
---
BitForex takes a unique approach to combining copy trading with social trading. Investors share their trading strategies, conditions, and situations by using their Social Trading Platform. Traders are also additionally rewarded for subscribing to the platform.
On BitForex you can look up any Social Trader, allowing for users to learn from each other. There's also the option to copy a Social Trader influencer. The following trader's portfolio will automatically be copied to yours. What sets the BitForex social trading platform apart is that it can all be done without having to pay any additional fee. Truly something rarely found with other competitors.
BitForex Turbo
---
On BitForex traders can look for upcoming IEO projects to find the diamond in the dirt. Without a doubt the other option that sets the exchange apart, not many other competitors offer similar services.
BitForex's Turbo is essentially an IEO listing platform. Allowing you to view and track information on upcoming as well as completed CEOs. This includes viewing trading pairs, total allocation, start/ end times, and more.

BitForex Turbo Review
BitForex Capp
---
With BitForex's Capp function users earn access to a vast array of Blockchain dApps. In fact, Capp is an acronym for Crypto Application, also referred to as the "Capp Town". It also offers other applications such as entertainment (i.e., Twitch), finance (i.e., Matrix Port, Paxful), and information (i.e., CoinGecko). You can even apply for space on Capp through BitForex.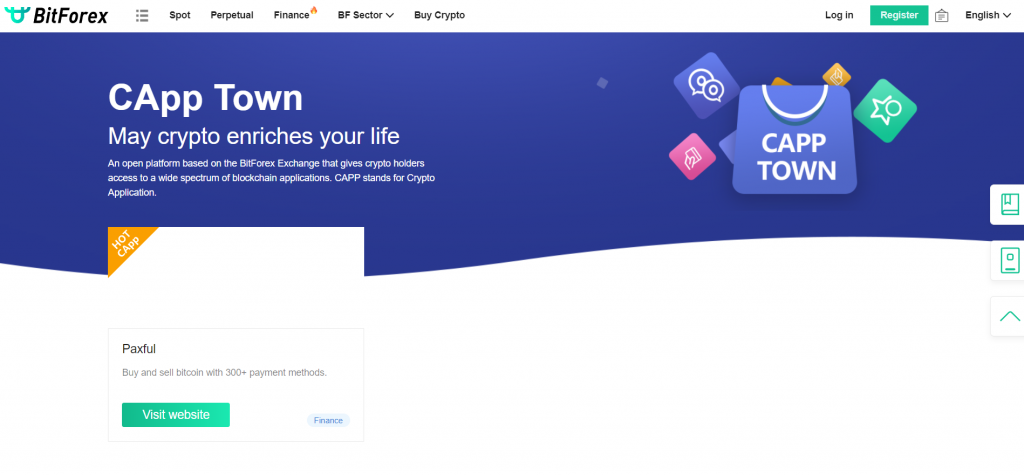 BitForex review: BF Sector
---
BitForex also has a native BF coin that allows for exclusive benefits such as trading bonuses, airdrops, and IEO discounts and also with the BF ecosystem.
BitForex Review: Easy Swap
---
EazySwap is a CeDeFi meaning semi-decentralized matching protocol, working on ETH as AMM. With the trading platform, you can trade and swap over 980 different ERC20 tokens.
The advantage of EazySwap is using liquidity pools instead of centralized traditional AMM.
One issue I found with EazySwap is that it only supports ERC20 tokens, although fortunately there's some indication that it may offer other tokens soon.
Their CeDeFi architecture allows for zero gas fees, instant matching, and low slippage. And the liquidity pool providers on EazySwap are rewarded with 100% of all trading fees as a reward. With EazySwap you'll also be able to see all the data on the blockchain.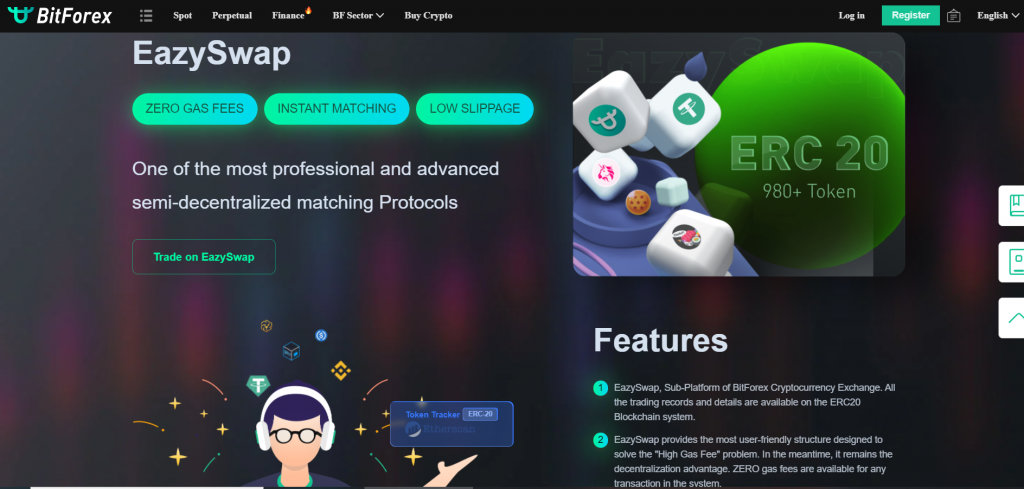 But of course, there's a catch. On first impression, Eazy swap is a great option but unfortunately, it is not completely decentralized. The CeDeFi architecture allows for a smoother trading experience, but it leaves investors open to a lot of potential institutional abuse. That being said, CeDeFi is always better than CeFi but not than DeFi.
ETH 2.0 at BitForex
---
BitForex also offers Ethereum 2.0 staking, letting users become node service providers.
All you need to start staking is just 0.1 ETH compared to the 32 needed if you were to do it independently. Of course, your rewards will be given in comparison with the amount you staked.
Deposit methods
---
BitForex is an "entry-level exchange" as it supports FIAT payments such as Wire transfers, cryptos from other exchanges, credit cards, debit cards, cash, and bank account transfer.

BitForex deposit methods review
Is BitForex safe?
---
BitForex keeps users' funds safe in a hardware wallet. In fact, the company stores 98% of all funds in a multi-signature cold wallet. This means that to withdraw funds you first have to request approval from BitForex itself.
The hot wallet stores 0.5% of the total funds, as the company uses them only when necessary, in cases like fulfilling withdrawals and so on.
Bitforex also offers 2 Factor Authentication, SMS verification, and DDoS Protection as security. And security-wise BitForex excels as it hasn't had any security breaches or hacks.
The biggest risk for your funds comes from centralization. I go by the rule that no keys no, no coins, and giving your funds to a third party is never a good idea. It opens traders up to a world of abuse as they could choose to freeze or similar, that's why for big amounts you should always opt for a decentralized hot wallet.
Referral program
---
Another interesting BitForex product is its referral program. As making successful referrals allows for daily settlements. Traders will also receive 30% of the trading fee commission that referred users make, that's higher than most competitors.
Supported Countries and Coins
---
BitForex has a policy of "No geographic restrictions". So theoretically you can trade anywhere you are, although officially BitForex works in 163 countries.
On the exchange, traders can buy 163 major coins and altcoins such as BTC, ETH, BCH, DOGE, MATIC, XRP, and GRIN, with 300 trading pairs. The platform also supports USD and EUR for payments.
Customer Support
---
Even though BitForex is relatively new to the crypto scene, customer support is already making headlines. The company prides itself on being both efficient and quick in responding. Users are given a ticket system that lets you get in touch with them directly, offering responses in under 24 hours.
BitForex site also has a complete FAQ section that perfectly explains all you have to know to use the platform. Their knowledge base aims to address your problem and solve your queries.
The platform is easily contacted through their Live-Chat service. Another option is joining their Telegram channels where help is found in nine languages making it accessible to all users.
The Verdict
---
BitForex, is a relatively new crypto exchange, that only has grown to over 3 million users. And that's no surprise given how interactive and innovative the platform is with the wide selection of products we covered earlier
Furthermore, BitForex hasn't suffered from any security breaches or hacks, and even stores the vast majority of funds in cold storage.
Although it is to be noted that BitForex isn't the best when it comes to transparency, which is a shame as it appears less trustworthy. Another issue I found with the platform is that the EazySwap is only available for ETC-20 tokens. Hopefully, both issues will be resolved soon
However, other than some minor cons BitForex appears all around a good platform
If you are not fond of Bitget, here is a list of exchanges that can be good alternatives:
Frequently Asked Questions
---

CaptainAltcoin's writers and guest post authors may or may not have a vested interest in any of the mentioned projects and businesses. None of the content on CaptainAltcoin is investment advice nor is it a replacement for advice from a certified financial planner. The views expressed in this article are those of the author and do not necessarily reflect the official policy or position of CaptainAltcoin.com