BitKub Review – Fees, Supported Coins & Countries, Payment Methods, KYC



BitKub Review – Fees, Supported Coins & Countries, Payment Methods, KYC
It is duly registered under the law in Thailand; therefore, users can have implicit trust in it.
It has a mobile application that runs on Android and iOS, making for an intuitive mobile experience.
It has a customer support team that responds fast to complaints.
It is integrated into many of Thailand's local banks and makes it easy to convert fiat to crypto
Even though it is based in Thailand, people from other countries can still partake of its services.
The website interface is pretty impressive.
Bitkub is a popular name among crypto enthusiasts in Thailand. It was created in February 2018 and is currently the second-largest exchange in Thailand in trading volume. It is owned by Bitkub Capital Group Holdings, an organization that has successfully raised over ten million dollars in funding rounds over three years. BitKub is a part of the new generation digital platform.
In this article, we will review salient points about the exchange and guide you in determining if it can work for you. Are you ready to take in more knowledge? Let's start.
OVERVIEW
---
It is the second-largest crypto exchange in Thailand by trade volume.
It is deeply incorporated into the Thailand banking system, making it easy to convert fiat to crypto.
It has a referral program in which it rewards referrals with 20% cashback
It is one of the first two crypto exchanges to be officially licensed by the Thailand Government. The second is Satang Pro.
The only fiat currency accepted is the Thailand Baht (THB).
Even though it is based in Thailand, its services are available to traders worldwide, as long as you're comfortable trading with the Thailand Baht as a fiat currency.
SERVICES AND FEATURES
---
BUYING AND SELLING CRYPTOCURRENCIES
---
The exchange allows users to buy more than fifty coins directly from their bank accounts which are considered a part of advanced cryptocurrency exchange services.e The process of buying crypto is very straightforward. Users simply need to register their bank accounts with the exchange platform and perform a wire transfer to the exchange's account. Once that is done, their crypto account will be credited with the selected coin in the corresponding amount.
SPOT EXCHANGE
---
This section is where the supported coins can be traded against THB, the main currency. The spot trading interface consists of detailed charts sponsored by TradingView and analytics that offer expert opinions on market events. There are three main order types on the spot exchange interface.
They are the limit order, the market order, and the stop-limit order types. The stop-limit order type is not available for all coin pairs. It is only reserved for those with the most liquidity, like Bitcoin and Ethereum.
BITKUB SUPPORTED COINS
---
There are currently 58 coins listed on the Bitkub exchange. They are Bitcoin, Ethereum, Wancoin, Decentraland, the Sandbox, Axie Infinity, Balancer, Litecoin, Ripple, Bitkub Coin, Bitcoin Cash, Binance Coin, Tether, Stellar, etc.
All the coins listed on the exchange are traded against THB on the spot market. Some coins are listed on the exchange but are not traded because of liquidity. The coins are Donnie Finance(DON), Cortex Coin(CTXC), Boba token, Illuvium(ILV), Songbird, and GuildFi.
BITKUB'S DEPOSITS AND WITHDRAWALS
---
The only accepted method of fiat deposit on Bitkub is wire transfer. To facilitate seamless conversion of fiat to crypto, the exchange has partnerships with almost every bank in Thailand. All that is needed from the users is to register their bank accounts with the exchange and become authorized to transact via wire transfer. Once that is done, deposits and withdrawals are a piece of cake.
Fiat Deposit Methods
---
There are two main methods of depositing THB into your Bitkub account. They are:
Bank Transfer Method: The minimum amount for deposits using a bank transfer is 40,000 THB, while there is no maximum amount. This method usually takes about three working days before the deposit is credited to your account. However, certain rules must be followed to ensure smooth deposits. The rules are:

The name of the account holder you're depositing from must match your registered name on the Bitkub exchange. Third-party deposits are not allowed.
After payment, you have to upload proof of deposit. It should be clear and contain the exact amount you claim to have deposited.

QR Code Method: This method is faster, with a processing time of 24 hours or less. It also allows for deposits as low as 40 THB while there is no maximum amount.
Deposits do not attract fees except the processing fees paid to the involved banks.
Fiat Withdrawal Methods
---
Bitkub has a special arrangement with Kasikorn bank. Thus, if you choose to withdraw through that bank, you can withdraw a maximum of 5,000,000 THB at once, as opposed to a maximum of 2,000,000 with other banks. The withdrawal fees also vary. For Kasikorn bank, the withdrawal fee is a flat 20 THB regardless of the amount you want to withdraw, while the following rates apply for other banks:
| | |
| --- | --- |
| THB AMOUNT | WITHDRAWAL FEE |
| 0 – 100,000 Baht | 20 Baht |
| 100,001 – 500,000 | 75 Baht |
| 500,001 – 2,000,000 Baht | 200 Baht |
Cryptocurrency and digital assets withdrawals and deposits follow the standard industry procedure.
BITKUB TRADING FEES
---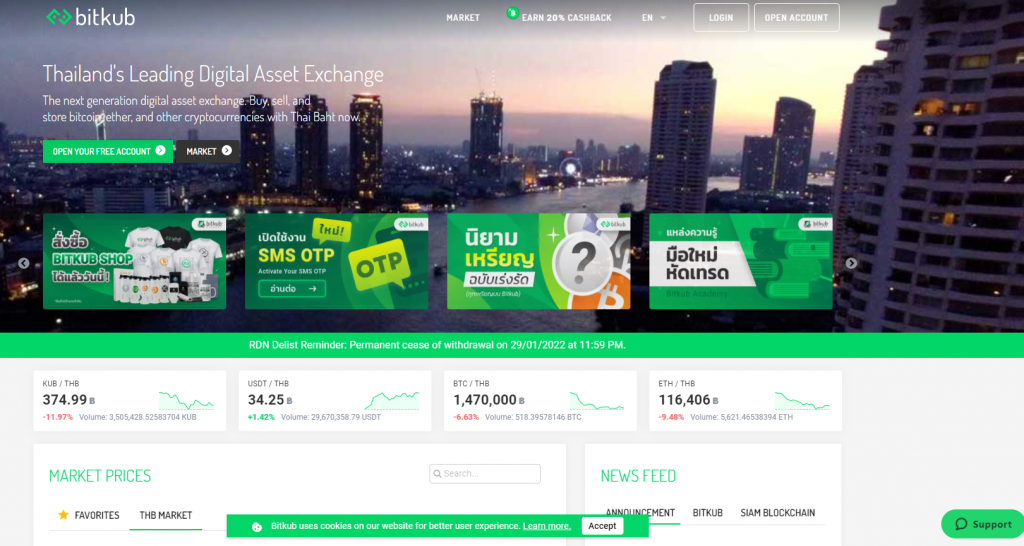 Bitkub charges a flat 0.25% fee across all maker and taker orders on the exchange. Even though this rate is standard for all trades, Bitkub offers ways to cut back on the fees. One of such ways is by referring someone to the exchange. When you refer someone, you get 20% cashback off any trade they make.
Another way Bitkub reduces trading fees is by giving fee credits from time to time. Fee credits are trading fee discounts given to certain users from time to time. They are not useful for any other activity except as discounts. Bitkub gives these out to participants in periodic trading events and to other users who meet the criteria.
DOES BITKUB REQUIRE KYC?
---
Yes, Bitkub requires that users complete KYC before trading on the platform. Without the KYC verification, you can't make deposits of any currency, either fiat or crypto. Also, the process is not only open to Thai citizens but also to foreign nationals. As we move on in our discussion, we will consider the step-by-step verification process.
There are four levels of verification:
Level 0: This is the first level that only requires verification of your email address. If you stop at this level, you will not be able to perform trade or deposit functions on the exchange.
Level 1: This requires submitting your ID documents (for Thai citizens) or your International Passport (for foreign nationals). In addition, you will submit a selfie video of you holding the documents and some other identification documents. This level opens you to a maximum fiat deposit and withdrawal of 2,000,000 THB and a maximum coin deposit of 1.81 BTC.
Level 2: This level requires you to submit additional verification documents to increase your limits. The documents required are bank statements or any other document that verifies the address of the users. This increases the deposit and withdrawal limits of the user to a massive 50,000,000 THB while the max coin withdrawal limit is increased to 45.45 BTC.
Level 3: The last level allows users to extend their withdrawal limits to whatever figure they want. However, they would have to chat up customer support concerning the requirements and how they can apply.
BITKUB SUPPORTED COUNTRIES
---
Even though Thailand is the main supported country on Bitkub, residents from other countries can still trade freely on the exchange. The following countries are listed on the website as countries with available SMS OTP services:
Afghanistan, Albania, Belgium, Bulgaria, Canada, Chad, Czech Republic, Denmark, France, Germany, Georgia, Hungary, Hong Kong, Ireland, Israel, Kazakhstan, Kenya, Japan, Malta, Mexico, Nigeria, the United States, Norway, Paraguay, The United Kingdom, Portugal, Romania, Singapore, Slovakia, South Africa, Spain, Sweden, Ukraine, Yemen, Venezuela, and 52 other countries.
HOW TO START WITH BITKUB
---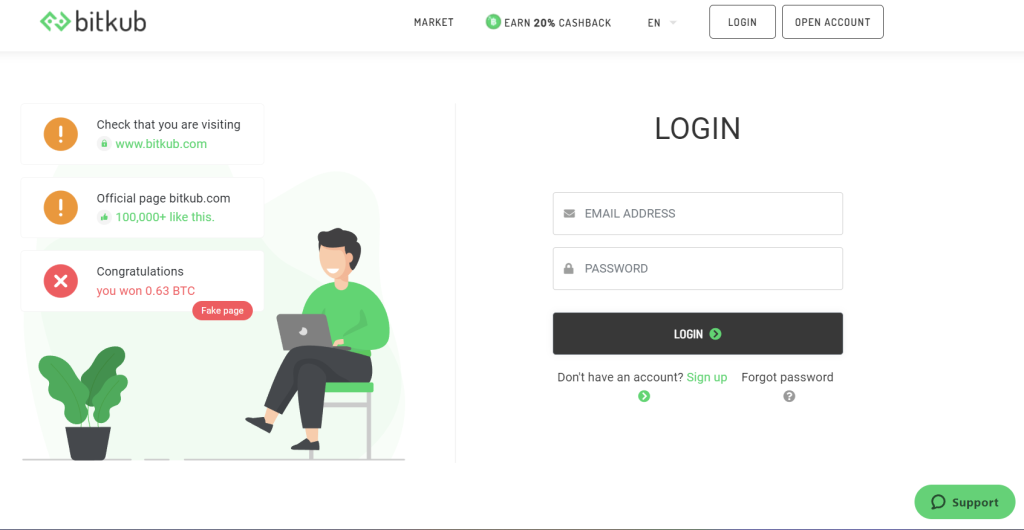 The first step, of course, is registration. As you'll find out, this is a straightforward process. To start the process, click on the 'Open Account' tab at the top of the website. This will lead you to another page where you will be required to enter your email address and a strong password to open your account. After that, click 'Join Bitkub.' To complete the registration process, you will be asked to verify your email address by clicking on the link sent to it. Once that is done, you're good to go!
VERIFICATION: The verification process is for both Thai citizens and foreign nationals. To verify your account, log in to your account and click on 'Account Verification' on your dashboard. From there, follow the prompts as they guide you through the verification process.
DOES BITKUB HAVE A NATIVE TOKEN?
---
Yes, Bitkub has a native token called KUB. It is used to provide fee discounts and credits on the Bitkub cryptocurrency exchange. Also, it gives staking rewards for holders and is used as a gas fee in the Bitkub chain ecosystem. It has a maximum supply of one trillion coins and was trading at around ten dollars in the crypto markets when this article was written.
IS BITKUB LEGIT AND SAFE?
---
Being a reputable exchange in Thailand, Bitkub has employed many security protocols to ensure the safety of users' funds. Some of those protocols are:
Each customer is required to enable two-factor authentication on their account. This is to secure their account from unauthorized entry.
There is a five-minute withdrawal suspension after login
They have a physical address located in Bangkok, Thailand, where customers can reach out to them
They regularly post-security tips and updates to guide users from fraud and hackers.
Their website servers are protected with encrypted technology.
IS BITKUB REGULATED?
---
The answer is an emphatic YES. Bitkub is fully regulated by the Thailand Government. In fact, it states on its website that it has a fully paid registered capital of 290 million THB, making it one of only two crypto exchanges that did that in the early days of 2019.
CONCLUSION
---
It is clear now that Bitkub is one of the major crypto exchanges in Thailand. It offers unparalleled fiat-to-crypto conversions and provides security features that put the mind of investors at ease. Why not consider if it could work for you. If not, check out other crypto exchanges reviewed on this website.
Read also:
FREQUENTLY ASKED QUESTIONS
---
Deposits & Withdrawal Methods
7
PROS
It is duly registered under the law in Thailand; therefore, users can have implicit trust in it.
It has a mobile application that runs on Android and iOS, making for an intuitive mobile experience.
It has a customer support team that responds fast to complaints.
It is integrated into many of Thailand's local banks and makes it easy to convert fiat to crypto
Even though it is based in Thailand, people from other countries can still partake of its services.
The website interface is pretty impressive.
CONS
The only fiat currency is THB. This brings about some restrictions.
It doesn't support a lot of cryptocurrencies.

CaptainAltcoin's writers and guest post authors may or may not have a vested interest in any of the mentioned projects and businesses. None of the content on CaptainAltcoin is investment advice nor is it a replacement for advice from a certified financial planner. The views expressed in this article are those of the author and do not necessarily reflect the official policy or position of CaptainAltcoin.com