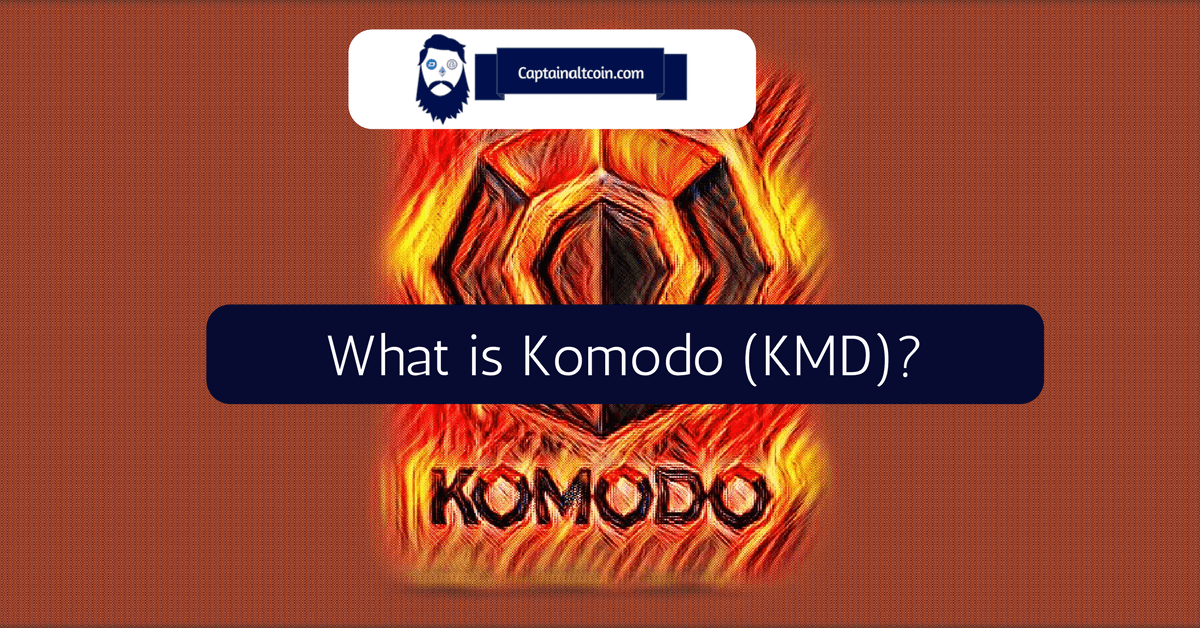 The cryptocurrency market is booming, and we cannot ignore the fact that there are over 850 different alternative cryptocurrencies in the market today. Every day, a new crypto-coin is being introduced in this space and it is difficult to predict which among them could actually leave a good impression in the coming future. Nevertheless, there are still many that are showing promises due to their insightful and practical roadmaps.
Komodo (KMD) is one such cryptocurrency. It has quietly risen quietly to the top 50 list of cryptocurrencies by market cap this year. In the last six months, Komodo prices have surged more than 2200%.

What is Komodo (KMD)?
Komodo (KMD) is a decentralised, open-source cryptocurrency. It was launched in September 2016 and has evolved from BitcoinDark (BTCD) and is developed by the same developer ("jl777"). However, the underlying software was forked from Zcash. The new cryptocurrency runs on the SuperNET platform, using SuperNET's infrastructure and software applications.
The Komodo blockchain platform uses Komodo's open-source cryptocurrency for doing fungible, private, anonymous, and transparent transactions, which are then made ultra-secure using Bitcoin's blockchain via a Delayed Proof of Work (dPoW) protocol. It is important to note that cryptocurrency platforms attaching themselves to Komodo blockchain benefits from much lower transaction fees than that of Bitcoin.
Understanding the Komodo Platform
You should know about these three things to understand the Komodo platform – Zcash, Delayed Proof of Work (dPOW), and SuperNET.
Zcash– This is an open cryptocurrency project that uses the sk-SNARK protocol (a technology that hides the information about the sender, receiver and the amount).This technology is used to ensure that no double spending can take place.The same protocol is also being used by Komodo to make anonymous and private transactions.
Delayed Proof of Work (dPOW)– This new protocol is developed by Komodo developers and it offers better security to Komodo Platform while making allowance for other third party blockchains looking for an additional security layer. It is a consensus mechanism that uses the regular proof of work (POW) protocol (just like Bitcoin). However, it does it a bit differently. dPoW involves a mechanism that notarizes the blocks on the blockchain. This ensures total immutability and gives the transactions a second layer of security. The 64 pre-selected notary nodes do this notarization work and mitigate the risk of immutability, which means that if some attacker wants to change a historic Komodo transaction, then he/she has to first change the Bitcoin blockchain. But we already know that this is not possible.

SuperNET – SuperNET is a project that intended to build services on top of the NXT cryptocurrency platform and also facilitate cooperation with other blockchain projects labeled as corecoins. The SuperNET team has been developing various components required to create an end to end cryptocurrency ecosystem since the successful ICO in 2014. Some of the products built so far by the team includes SuperNET lite client multi wallet and InstantDEX, a decentralized trading layer between centralized and decentralized exchanges; Multi-Gateway, a decentralized exchange for trading custom tokens on NXT Asset Exchange. The Komodo cryptocurrency is the official currency of SuperNET, and Komodo project is designed to fill in the missing pieces of the SuperNET ecosystem, which is not dependent on NXT anymore.
The Team behind Komodo
Almost all of the Komodo team members use pseudonyms because they believe in privacy protection, which leads many people to think that this operation is shady, but it really isn't.
Here are some of the key players:

Total Fixed Supply of Komodo
Komodo has a total fixed supply of 200 million coins, out which 100 million were pre-mined and distributed in the ICO, and out of this 100 million, 10 million were kept aside for future development and marketing of the Komodo platform, and 90 million were distributed to investors.
The remaining 100 million coins are still being mined via the POW algorithm.
The Komodo ICO period was October 15, 2016 – November 20, 2016, during which 2639 BTCs were raised (worth $1,983,781 at the time).
Komodo holders receive 5% annual percentage rate (APR) revenue, and this 5% APR will remain until the max supply of 200M KMD is reached (this is expected to be reached in approximately 14 years). It is important to note that only Komodo holders who have addresses starting with 'T' will receive the APR.
Komodo Currencies
The Komodo coins are usually transformed into 32 different currencies, which are linked with the local ones maintaining a stable value in the market. Each of the currency derived has its own block chain. This means that it tends to behave like any other cryptocurrency.
Market Cap of Komodo
According to CoinMarketCap, the total circulating supply of Komodo is 100,945,510 KMD. The current price of each unit is $2.21, which makes its market cap approximately $223 million.
Komodo Coin Price Prediction
The project is still alive and kicking. The team behind the project seems to be competent, at least technology wise. However, lack of marketing shrewdness and overall slump of crypto market led the the demise of KMD.
Right now, the project is essentially on life-support; similar to many other smaller projects.
Is Komodo a good investment?
It good be, potentially but right now it is not. It would be too risky to invest in Komodo since its future is still questionable.
What is realistic price for Komodo in 2025 -2030?
That is very hard to predict but if the project lives long enough to see these years, you could expect it to be much higher than its current price.
Komodo (KMD) Price Prediction for 2021
The future outlook of Komodo is a cause of disputes among crypto fans, however, most of them agree that the project is promising and could survive the crypto winter. Komodo has a classic cryptopunks ethos – they respect basic principles of digital money, namely anonymity, decentralization, and accessibility with a high level of security.
As we can see below, Komodo cryptocurrency has something going for it, even though it is not much. KMD may become successful in several years. Let's
#1. DigitalCoin Bullish Price Prediction for 2021
According to DigitalCoin source, the Komodo coin price will go up to $1.4. In 2021, the average rate of the coin will be above $1.
#2. TradingBeasts KMD Coin Price Prediction 2021
The Komodo price is forecasted to reach $0.8663483 by the end of 2021.
#3. WalletInvestor Bullish Price Prediction for next year
The price of Komodo is predicted to be 1.28 USD by the end of 2021.
#4. CryptoGround Price Prediction for Komodo 2021
In one year's time, Cryptoground sees no major changes for KMD. The price will hover around the same levels as now – predicted to be around $0.94.
How to Purchase Komodo Cryptocurrency
Purchase Komodo from Cryptocurrency Exchanges
Here is a list of established and trustworthy cryptocurrency exchanges listing Komodo:
Purchase Komodo from ShapeShift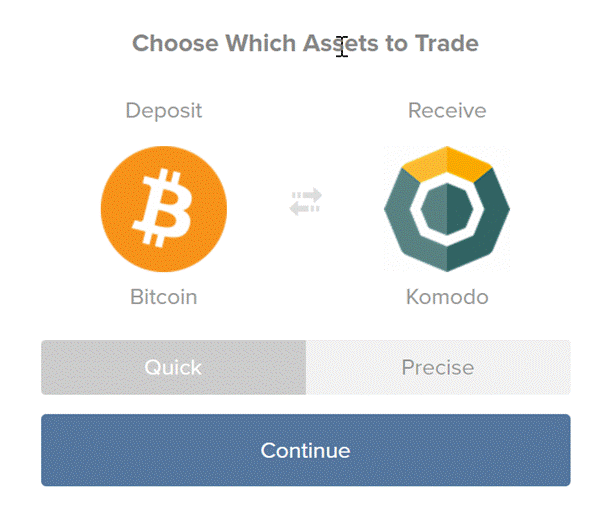 It is important to note that purchasing Komodo directly in fiat currency is a little difficult. However, you can exchange your other coins, such as ETH, LTC, or BTC in exchange of Komodo tokens on ShapeShift and the procedure is very simple.
In order to purchase Komodo, you will need the following things:
Some bitcoins/altcoins to exchange for Komodo tokens.
Your Komodo address where you would like to get your Komodo tokens.
The Most Popular Komodo Wallets
Ledger Nano S – The safest way to store your KMD currency is the Ledger Nano S, because your private keys never leave the device. Komodo can be bought from anywhere and then transfered to your Ledger address. It is important to note that the Ledger Nano S doesn't allow its users to claim the 5% bonus for holding Komodo, and that's its only downside.
Purchase the Ledger Nano S here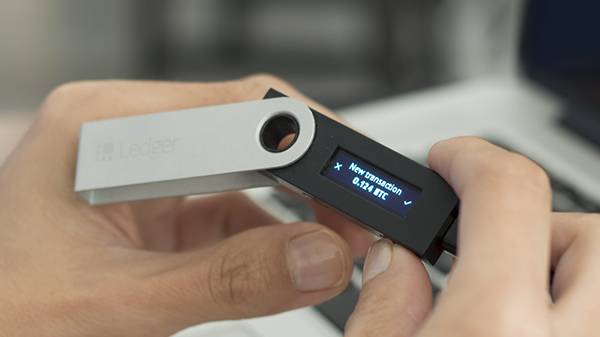 Komodo Paper Wallet – This wallet is a piece of paper that has both the private and public keys printed on it. You can follow this link and make one for yourself if you are comfortable using paper wallets. Also, when making a Komodo paper wallet, you can use this video guide to help you.
Komodo Swing Wallet – Komodo Swing Wallet is the official Komodo GUI wallet developed by Komodo developers. It is also the most basic wallet available, and even Komodo developers recommend using this wallet over Agama.
Komodo Swing Wallet is available for Linux, Mac, and Windows operating systems.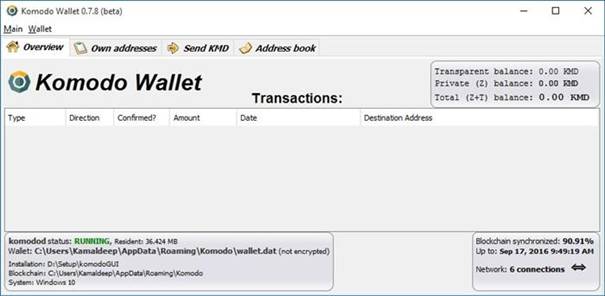 Agama Wallet – Agama Wallet is also the official desktop wallet developed by Komodo developers. This wallet has a privacy-enhancing feature called Jumblr, an inbuilt exchange and a multi-coin wallet that supports KMD and other supported currencies. However, this wallet is still being developed. It is only available in a Beta version, which contains a fair amount of bugs.
Agama Wallet is available for Linux, Mac, and Windows operating systems.

The Future of Komodo
Komodo has given a significant return to its investors since the ICO, and I believe this high return will continue as the team is going to refine and strengthen their marketing/development efforts.
Apart from this, Komodo is officially part of the SuperNET project, which is developing multiple standalone projects that will come together around the Komodo Platform. These projects are meant to improve, not only Komodo but the entire cryptocurrency ecosystem as a whole.
Among these projects is the Iguana Multi-wallet. This is a GUI implementation in which users can access Komodo and other cryptocurrencies. Users will be able to access all the basic functions of Komodo. They will also be able to access some of the advanced features like private transactions. It is important to note that other blockchains that do not have a GUI implementation can also use Iguana.
There are two decentralized exchanges within the Iguana multi-wallet – PAX and EasyDEX.
The PAX (Pegged Asset Exchange) – This exchange allows users to exchange national currencies in the form of assets issued on the Komodo network. These assets are protected by the same zero knowledge proofs as Komodo. This means that they can be exchanged and transferred anonymously.
EasyDEX (Easy Decentralized Exchange) – This is a fully decentralized exchange for cryptocurrencies, which allows users to exchange cryptocurrencies without the need to entrust a third party service. Trades are performed directly on the coins held. EasyDEX differs from other decentralized exchanges because it provides liquidity and speed. These are two key components that have been missing from almost every centralized exchange.
Users can also have access to a decentralized coin mixing service for other cryptocurrencies through EasyDEX. They can be exchanged for Komodo with privacy, and then sent to the destination in the form of the original coin. This service is known as Jumblr.


Many good things will happen for the Komodo community (including a surge in price) as the tools in this image keep on developing and getting mass adoption.
Official Komodo Resources
Here are some links that will help you keep updated about Komodo:
How to buy it?

Where to store it?

CaptainAltcoin's writers and guest post authors may or may not have a vested interest in any of the mentioned projects and businesses. None of the content on CaptainAltcoin is investment advice nor is it a replacement for advice from a certified financial planner. The views expressed in this article are those of the author and do not necessarily reflect the official policy or position of CaptainAltcoin.com