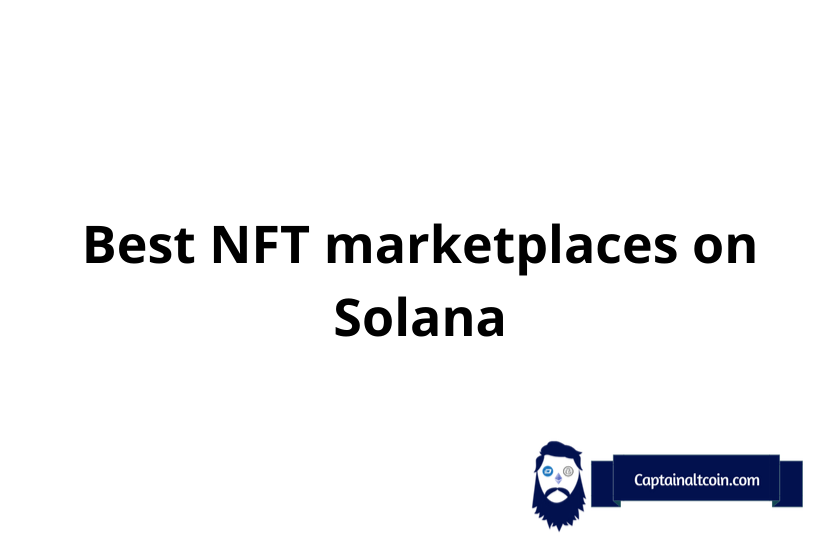 NFTs Are All the Rage. Here's Where to Buy and Sell Them
---
$69 million for a piece of digital art? If that doesn't stop you and make your head turn, I don't know what will. NFTs – Some may call them a hype bubble, some may call them the next big thing in the world of blockchain, but with everyone from big celebrities to an average Joe talking about them, one thing is certain- NFTs are here to stay.
Non-Fungible Tokens or NFTs as they are called in short are a class of digital assets that prove the ownership of something – be it digital art, video games or even real estate. Think of them as digital certificates of ownership where the information is stored on a blockchain. NFTs, unlike currencies, whether fiat or crypto, are non-interchangeable.
They are unique. They can be traded for some other NFT but that other NFT would be completely different.
So you've been hearing about NFTs from everyone around you, and now you want to dabble in it too. Great! But how? Where to buy and sell them and what if I want to create my own NFT? I can hear you asking. Keep on reading.
NFTs are bought and sold on platforms called marketplaces. Marketplaces are like Amazon for NFTs where they are displayed and traded. Some marketplaces also allow the creation of new NFTs with a process called minting.
There are a few prerequisites before you can begin your NFT journey. You'll need:
A wallet that is compatible with the blockchain where your NFT of choice resides.
Supported coins in the above wallet for buying, listing or minting NFTs.
Up until very recently, the Ethereum blockchain saw the majority of NFT activity. Ethereum blockchain can have a prohibitively high network fee, which stopped many from considering NFTs. That is changing, however, with the growing number of competitors that have a much lower fee. Binance Smart Chain, Solana and Polkadot to name a few.
In this article, we'll be looking at some of the best NFT marketplaces for the Solana network. While NFTs on Solana are still in their infancy, the ecosystem is evolving rapidly with new projects emerging daily.
Keep in mind that with things changing rapidly, anything written here can get outdated between me writing and you reading it.
Read also:
Solanart.io
---
The OG one. This is the first fully-fledged NFT marketplace on Solana and home to some of the first NFT projects including Degen Ape Academy, SolPunks and more.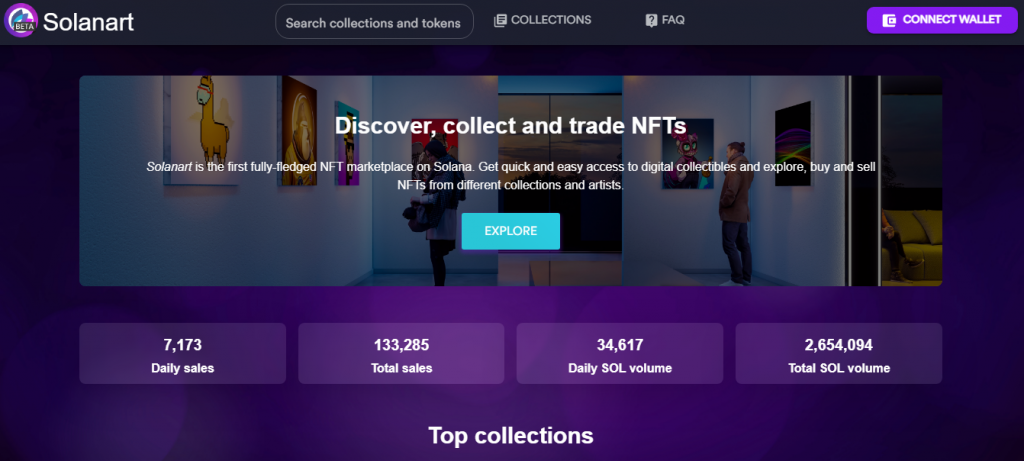 Connect your Sollet, Phantom or Solflare wallet to get started. The homepage lets you explore the listed projects from where you can buy or sell your NFTs.
When NFTs are put up for sale, they are stored on a temporary account owned by the marketplace program and when someone buys, they are sent to the buyer once the SOL amount is transferred to the seller. The marketplace takes a 3% commission apart from the creator's fee. There's also a 0.02% listing fee.
Note that Solanart is still in beta as of writing this. Creators can get their NFT projects listed by filling out a Google form available on their Discord server. However, minting is not available currently.
DigitalEyes.market
---
Barely 10 days old as of writing this and having crossed $21 million in sales volume in just 4 days from launch, DigitalEyes seem to have a strong start with a big community to back them. This is the first open marketplace for NFTs on Solana and with the team working 18 hours a day, there is some great potential. This marketplace is still in the alpha phase with daily improvements being made to enhance the experience.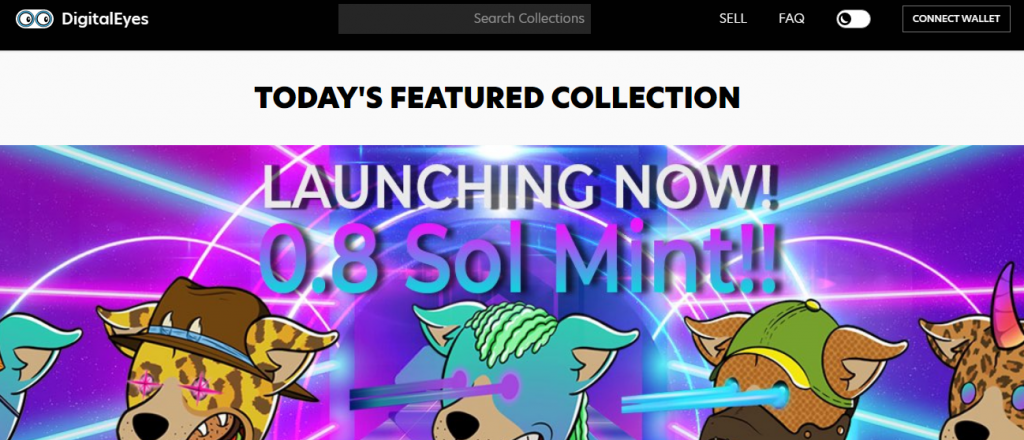 Listings get a "VERIFEYED" badge if the NFTs are authenticated by the team. There is a guide on DigitalEyes' Discord server for creators to get their collection "VERIFEYED". Anything not "VERIFEYED" has a risk of being fake, so proceed with caution.
DigitalEyes supports Phantom, Sollet, Solflare and Solong wallets. They have a 2.5% service fee on top of the royalty % set by the creator. There is a non-refundable listing fee of 0.01 SOL.
Sollectify
---
Sollectify developers have stopped the development and made the code open-sourced on GitHub.
It is a creator-centric marketplace for NFTs of digital content like artworks and games. It is built through Project Serum – the world's first completely decentralized derivatives exchange with trustless cross-chain trading.
Sollectify held some promise, but as it stands right now, its future seems to be uncertain.
Solible
---
Solible was the first NFT exchange to launch on the Solana network and Project Serum in October 2020, with the help of Bonfida – a full product suite aiming to bridge the gap between Serum, Solana and the user.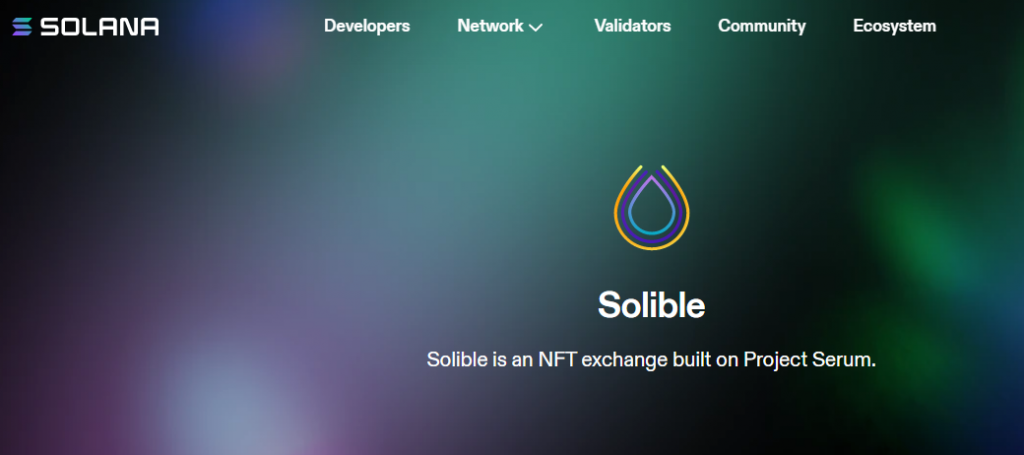 It is an open-source NFT exchange with the repository available on GitHub. Anyone can submit a pull request to get their NFT listed.
Creators can list their NFTs by minting their custom SPL tokens and creating a Serum marketplace where that token will be traded. The artwork is hosted on InterPlanetary File System (IPFS) – a protocol and peer-to-peer network for storing and sharing data in a distributed file system. The main advantage of IPFS over traditional hosting being that the files can't be modified and have the same URL, thus guaranteeing the originality of the artwork. Listing is free on Solible.
Solsea
---
Solsea is another open NFT marketplace on the Solana network. It is the first NFT marketplace on Solana that allows creators to embed copyright licenses directly in the NFTs. Another unique feature of Solsea is the support of multiple currencies like USDT and USDC apart from SOL – the native token of Solana. There is also support for FTX-Pay.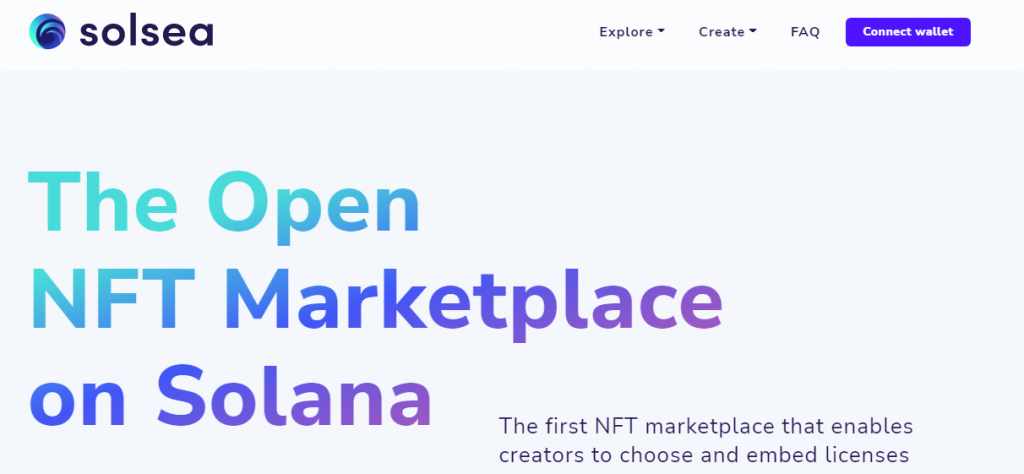 Solsea supports Phantom and Sollet wallets and lets creators mint NFTs directly by uploading their artwork. Listings can either be made public or kept private. Solsea is developed by All-Art Protocol – a protocol that provides constant liquidity for NFTs. The rarity index provided for verified collections will let you know the traits and rarity of the NFT.
There is a 3% marketplace fee that occurs on every transaction. Artists can also decide their own creator's fee.
Solsea has had a bit of a rough start with bugs and fake NFTs being marked as verified. But they seem to be doing their part fixing the issues. Their website is under maintenance as of writing this and they have announced reimbursements for those scammed.
If they manage to fix the issues, Solsea seems to be on the path of becoming big with a well-designed website and all the unique features they have.
Metaplex NFT marketplace
---
Metaplex has an aim – to place creators and artists above the influence of traditional gatekeepers. Metaplex is an open-source project built for and by creators.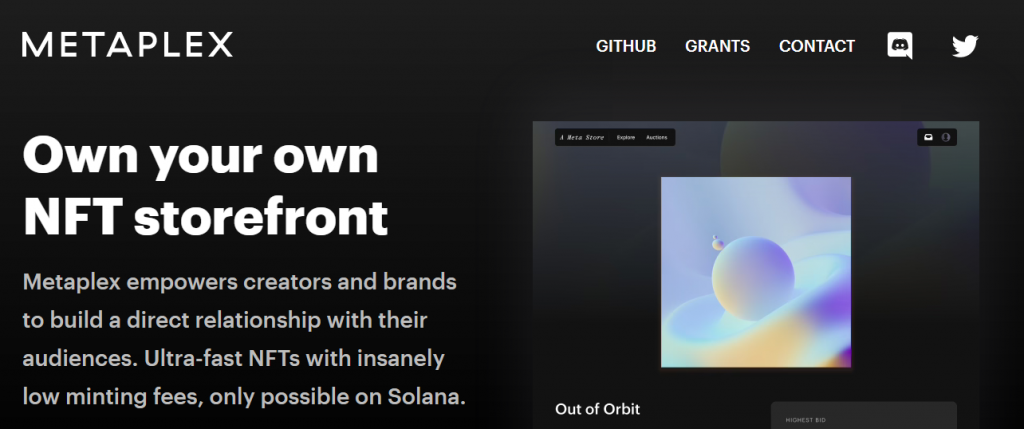 The Metaplex marketplace lets artists and creators launch their own self-hosted storefront for NFTs and hold online auctions. Metaplex allows artists to create NFTs with a drag and drop tool and ensures a low minting cost (on average less than a dollar). Using Metaplex, multiple creators can easily collaborate and have the royalty split among them. This creator split can be hardcoded into the NFT.
It uses Arweave to store the artwork permanently on the blockchain, no centralized servers that could fail.
"Metaplex will do for NFTs what Shopify did for commerce, but takes it one step further by not acting as the middleman." Musician RAC said.
Metaplex Foundation is looking into partnerships to build immersive storefronts using VR/AR.
Read also:
FAQs
---

CaptainAltcoin's writers and guest post authors may or may not have a vested interest in any of the mentioned projects and businesses. None of the content on CaptainAltcoin is investment advice nor is it a replacement for advice from a certified financial planner. The views expressed in this article are those of the author and do not necessarily reflect the official policy or position of CaptainAltcoin.com