CoinOne Review – Fees, Supported Countries & Coins, Deposits & Withdrawals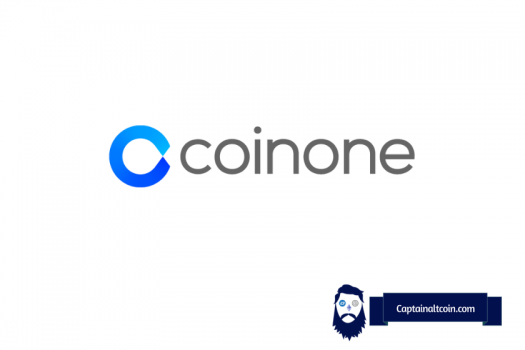 CoinOne Review – Fees, Supported Countries & Coins, Deposits & Withdrawals
It is a solid exchange that has stood the test of time.
It is duly registered and overseen by South Korean Authorities
For users who have accounts with the South Korean bank Nonghyup, deposits and withdrawals are seamless.
It offers a smooth trading experience with a friendly interface
It offers staking services.
In the realm of digital currency exchanges, Coinone has emerged as a significant player, attracting attention from both seasoned traders and newcomers alike. This South Korean-based platform has been making waves not just in its home country, but also in the USA, with 'Coinone USA' becoming a trending search term among crypto enthusiasts.
The Coinone app, renowned for its user-friendly interface and robust security features, has been a game-changer for many traders, allowing them to manage their digital assets with ease. However, as with any platform, potential users often find themselves asking: Is Coinone legit?
In this comprehensive Coinone review, we aim to answer that question and more. We'll delve into the platform's features, its accessibility for users in the USA, the functionality of the Coinone app, and most importantly, the legitimacy of Coinone. We'll also shed light on the Coinone fees structure, a crucial factor for any trader considering a new platform.
Stay tuned as we unpack everything you need to know about Coinone, helping you make an informed decision about whether this platform is the right fit for your trading needs.
Quick summary: Coinone app
| 📝 Topic | Details |
| --- | --- |
| 💰 Pricing | Trading fees for makers can range from 0.1% to 0% and for takers from 0.1% to 0.02% depending on the trading volume for 30 days. The withdrawal fee for Bitcoin is 0.0015 BTC. |
| 📋 Features | Coinone offers a user-friendly interface, a quick trade execution time, and a variety of staking options. It also provides a mobile app and has stringent security measures. The platform supports over 190 virtual currencies. |
| 👍 Pros | The platform trades a majority of major crypto projects and has an outstanding security system. It offers a smartphone app with an easy-to-use UI and several staking schemes to select from. For margin trading, leverage up to 1:4 is possible. |
| 👎 Cons | Only Korean WON is offered as fiat currency. There is no referral scheme and there aren't enough demo profiles or guidelines for newcomers. |
| 🔒 Security | Coinone stands out as one of the safest and most reliable crypto trading platforms, backed by its history of no hacking incidents since its inception. The platform adapts to stringent security measures to keep up with its goodwill in the market. |
OVERVIEW
---
Coinone exchange is one of the few exchanges that has survived the test of time and is still going strong. It was established in 2014 by Myunghun Cha and focused predominantly on users from Asian territories. It is registered in Seoul, South Korea, and offers its proprietary trading terminal different from the popular TradingView interface.
Ranked among the top 20 crypto companies at the time of writing, Coinone is a Korean cryptocurrency exchange that serious crypto traders should know about, even if they won't use their services. This article will provide an in-depth review of the exchange and how it benefits its users. At the end of the article, you will know if you can try out if you haven't already done that.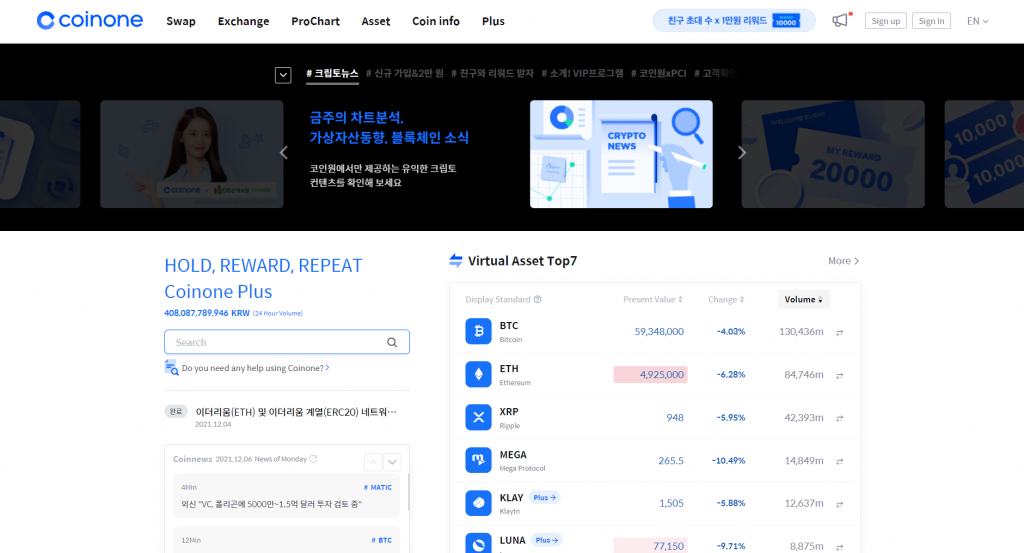 SERVICES AND FEATURES
---
SWAP
---
The Coinone Swap feature is a concise package that makes it easier for traders to make trading decisions and follow through without delay. It was introduced to decongest the trading interface by providing users with only three pieces of information: the current price of the coin, the maximum amount that can be bought, and the user balance.
Not all coins are supported with this Swap feature, but users can choose from a list of coins supported. Also, like decentralized exchanges, the swap is instant, and the price is reset every ten seconds so that you know exactly what you're getting and at what price.
EXCHANGE
---
The exchange feature on the Coinone website is their premier feature for more advanced traders. Unlike the Swap, which features only the essential information, the exchange features more details like a trading chart, an order book, the various coins and markets on the exchange, the price and volume changes over a 24-hour period, and others.
There is also a chat feature for verified users and a section for you to buy and sell. The website is outlined in two languages, Korean and English. Users can easily toggle between the two.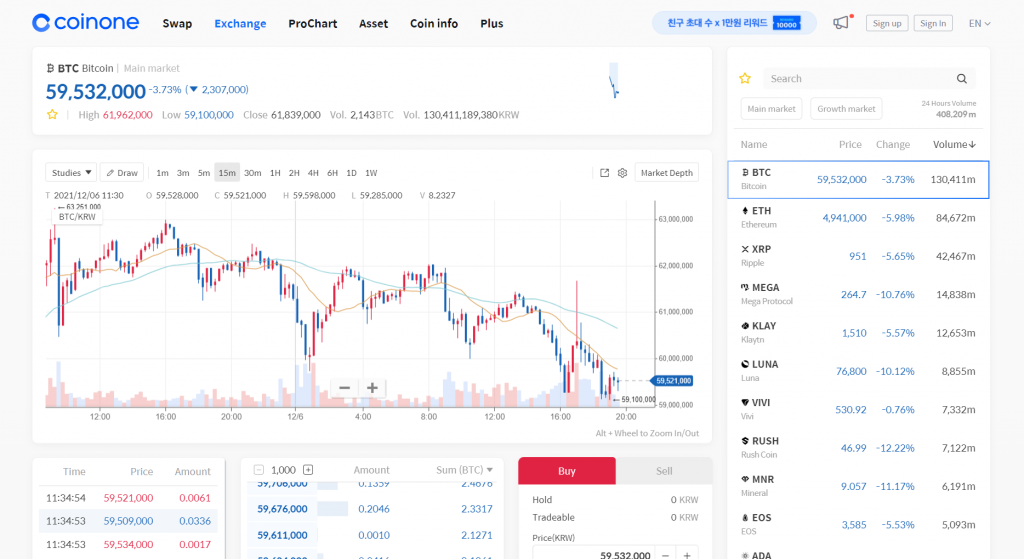 COINONE PLUS
---
Coinone Plus is Coinone's dedicated DeFi interface where users can get rewards on staking a host of cryptocurrencies. There are three staking types with this feature: node staking, daily staking, and the lock-up staking service. It was established on the back of stricter regulations from the South Korean Government, which forced the exchange, as well as others in South Korea, to look into other crypto ventures.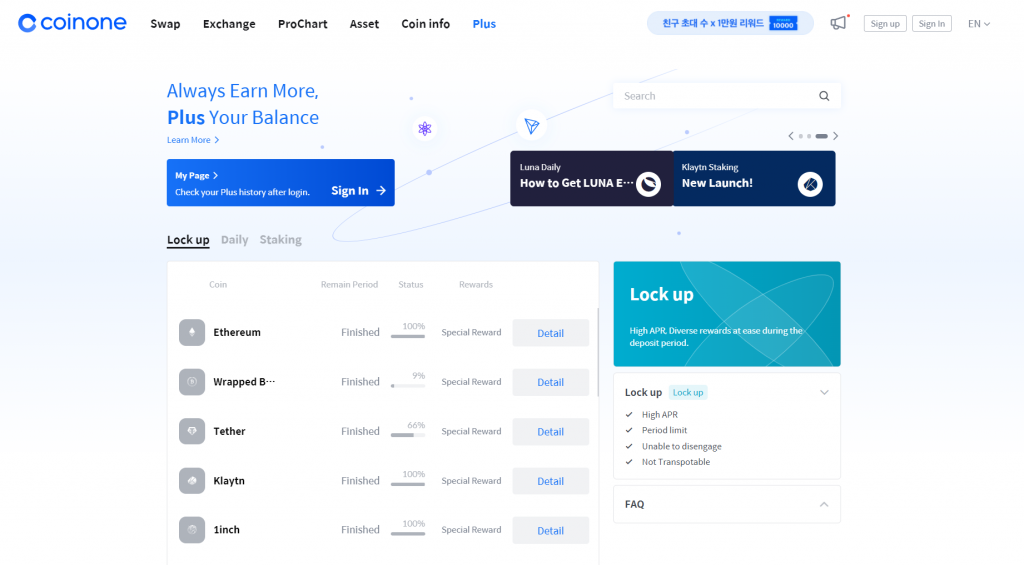 COINONE SUPPORTED COINS
---
At the time of writing, the Coinone exchange supports 187 cryptocurrencies in 186 markets. It also supports only KRW as the fiat currency of the platform.
Examples of supported coins are major ones like Bitcoin, Ethereum, Ripple, Litecoin, Ethereum Classic, Bitcoin Cash, Tron, Dogecoin, Avalanche, Terra, The Sandbox, Tezos, Matic, EOS, among others. It also supports lesser-known coins like CelebPlus, Klaytn, Natural Farm Union Protocol, etc.
DEPOSITS AND WITHDRAWALS ON COINONE
---
DEPOSITS
---
Method: The only fiat deposit accepted in the Coinone exchange, for now, is the Korean Won(KRW). Deposits of KRW can also only be made via bank wire transfer; no credit card or debit card are allowed. Also, Deposits are made from verified accounts users have with the Nonghyup bank.
Cryptocurrency deposits are also accepted on the exchange. After getting a deposit address from the business for the specific coin, paste it in the sender's column on whatever exchange or type of multi-signature wallets you're sending from, and you're good to go!
Fees: Cryptocurrency deposits are free, but you'll have to pay the network fees of the coin to the miners. For wire transfers, the exchange is not transparent on if there are processing fees attached, but it seems likely there would be.
Limits: As far as we know, there are no limits for deposits made to the exchange.
WITHDRAWALS
---
Methods: The only accepted fiat withdrawal currency is Korean Won (KRW) through wire transfer. Withdrawal is also only enabled to a Nonghyup bank account that has been verified.
For the first withdrawal after opening an account with the exchange, the user has to pass verification with the Coinone PASS app before funds can be released. Also, funds are locked for 72 hours after the first deposit. All these measures are to ensure the safety of users' funds.
Withdrawal Fees: Crypto withdrawal attracts standard fees that vary from coin to coin. Fiat withdrawal attracts the payment processor fee for wire transfers. On most exchanges withdrawal fees vary from coin to coin
Limits: There is a withdrawal limit of 100 million KRW per account, which can be raised to 500 million KRW after performing some verification exercises. Also, withdrawal of crypto assets is limited to a maximum of 20 million worth of KRW per transaction, which can also be increased to 500 million.
COINONE TRADING FEES
---
Coinone charges a flat fee of 0.2% across all maker and taker orders in spot and margin trading. On the exchange, it is stated that this rate is for Main market orders while it is reduced to 0.1% for Growth market orders.
The rates for spot and margin trading can be further discounted under certain conditions if a user applies for the market maker or VIP program. To apply for the VIP program, a user must average 3 billion KRW monthly trading volume (about 2.5 million USD). He can then get a discounted trading fee of 0% for maker trades and 0.01% for taker trades.
The eligibility criteria for the market maker program is not clearly stated on the website. Still, it opens professional traders to the same fee discounts as the VIP program but with additional benefits.
DOES COINONE REQUIRE KYC?
---
Coinone exchange doesn't require KYC regulation before signing up and depositing crypto on the platform. However, after joining the exchange as a user, there is a need for verification processes before you are allowed to peruse certain exchange functions.
For example, your first withdrawal process cannot go through unless you are verified through an application dedicated for the purpose, the Coinone PASS app.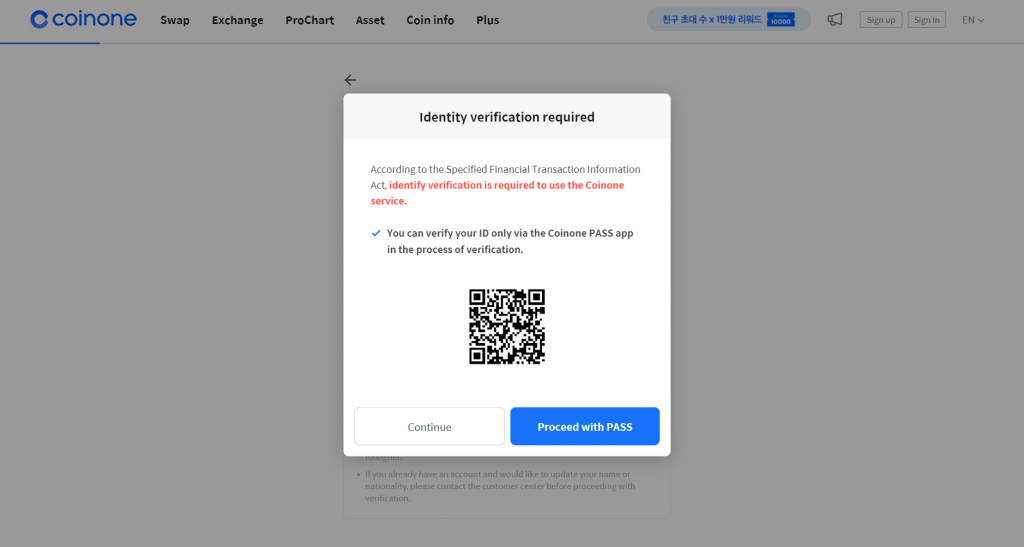 In addition, extending withdrawal limits on the exchange requires that you pass four different levels of verification, namely:
Email Authentication
One-time Password (OTP) verification
Proof of your cell phone number.
Bank account verification.
The last one, bank account verification, is also required for you to participate in the chat feature on the exchange's website.
COINONE SUPPORTED COUNTRIES
---
Coinone exchange predominantly supports South Korean residents. Even though users can come from other Asian countries, they need to have South Korean roots to enjoy the full services of the exchange. For example, they need to verify their bank accounts before proceeding with withdrawals, and the only accepted bank is the Korean-based Nonghyup bank.
In addition, investors from the United States of America are not allowed to participate in the exchange at all.
HOW TO START WITH COINONE EXCHANGE
---
To start trading on the exchange, you first need to sign up on the website. When you click the signup button on the website, an agreement form comes up, which you must tick before proceeding. The form basically asks you to sign that you allow the website to collect and process your personal information, that you are 19 years of age or older, and that you agree with their general terms and conditions.
After going through the above process, you are asked to provide your email address, password, and invitation code (if any). Once you've done that, your account is set, and you're ready to go through with verification to unlock more account features.
DOES COINONE HAVE A NATIVE TOKEN?
---
Coinone does not have a native token. It uses the Korean Won as the main currency on the exchange. It is pertinent to note, at this point, that the Coinone exchange discussed in this article has no affiliations with CoinOne Swap, whose native token is CONE.
IS COINONE EXCHANGE LEGIT AND SAFE?
---
The Coinone exchange is a registered exchange in South Korea with the business registration number clearly stated at the base of its website. This gives users some confidence in it as a Korean exchange. However, it may not be a good choice for users in other parts of the world as it is focused primarily on South Korea.
It is also good to note that the exchange has never reported any hacking since it came into operation in 2014. Thus, it has been tested by time and seems to hold up pretty well. Of course, this doesn't mean it is a hundred percent safe, but it has held its own over time. You can add two-factor authentication (2FA) to your account.
Also, it is one of the four South Korean crypto exchanges that remained after the government gave them all a deadline to comply with the latest regulations. About sixty cryptocurrency exchanges had to stop working because of the new rules. The only crypto exchanges that were left were Coinone, Bithumb, Upbit, and Korbit. This gives more credibility to Coinone as a solid exchange.
CONCLUSION
---
Are you a resident of South Korea who is looking for a reliable exchange to trade crypto with? Then the Coinone exchange is worth looking at. It is one of the best in South Korea and offers easy deposits and withdrawals via bank transfer.
If you are from other countries, it may be better to look for other cryptocurrency exchanges more suited to your needs as you may find it challenging to cope with the Coinone exchange.
Bear in mind that cryptocurrency trading carries many risks, and some of that risk lies with the exchange or medium you choose to interact with. That's why it's essential to make the right choice. We trust this article has helped you in that regard.
The exchange essentially bans anyone who is not from Korea to take part on their platform. They also have limited deposit methods and a terrible customer support. Be BEWARE of this.
Read also:
FREQUENTLY ASKED QUESTIONS
---
Deposits & Withdrawal Methods
7.5
PROS
It is a solid exchange that has stood the test of time.
It is duly registered and overseen by South Korean Authorities
For users who have accounts with the South Korean bank Nonghyup, deposits and withdrawals are seamless.
It offers a smooth trading experience with a friendly interface
It offers staking services.
CONS
It is focused only on residents of South Korea, thereby essentially blocking out residents of other countries.
It does not have many deposit methods.
The customer care support is terrible. Their FAQ articles are poorly detailed, and they do not offer much online presence.

CaptainAltcoin's writers and guest post authors may or may not have a vested interest in any of the mentioned projects and businesses. None of the content on CaptainAltcoin is investment advice nor is it a replacement for advice from a certified financial planner. The views expressed in this article are those of the author and do not necessarily reflect the official policy or position of CaptainAltcoin.com