Korbit Review – Fees, Supported Coins & Countries, KYC, Payment Methods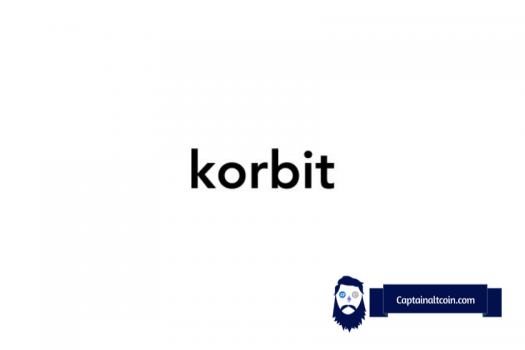 Korbit Review – Fees, Supported Coins & Countries, KYC, Payment Methods
No deposit fee. Withdrawal and trading fees are below the market's average
Security of users is on a high level
Exciting innovative features such as Piggybank or ETH 2.0 staking
Provides a service to buy crypto with local cryptocurrency
Korbit Overview
---
The Crypto industry is growing rapidly in Asia, and therefore, more and more crypto platforms emerge and become exciting for a lot of crypto investors and traders. In this article, we will take a close look at one of the pretty popular exchanges in Asia, Korbit.
As the name suggests, Korbit is a cryptocurrency exchange based in South Korea. The name comes from the country where the exchange is based and the main cryptocurrency, Bitcoin. Korea + Bitcoin = Korbit.
The exchange is owned by Korbit Inc., a company located in Gangnam-gu, Seoul, South Korea. It was launched back in 2014, so the Korbit is not a new player on the market and is considered the first Korean-based cryptocurrency exchange. The exchange secured huge investment from various venture capitalists in Korea – $3.6 million was raised.
Korbit is widely considered the largest cryptocurrency exchange in South Korea.
Korbit exchange offers various services and features to its users, but probably the most important one is that it allows the local currency (South Korean Won – KRW) for crypto transactions. This is a particularly important feature since South Korea is a pretty big crypto market filled with local players and Chinese companies which moved there during the "China crypto" ban.
The first impression I got from Korbit is that the whole trading platform is mainly suitable only for Koreans. When you open their website, everything is in Korean, so I had to use google translate to investigate the trading platform. For most people outside of Korea, this would probably be a dealbreaker.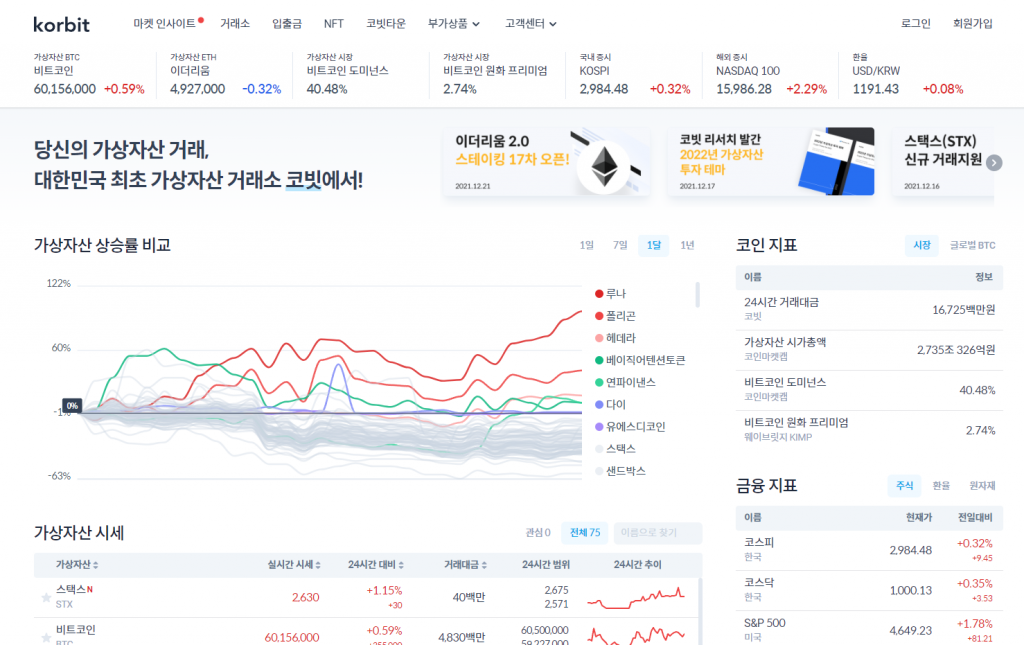 However, the exchange itself is pretty well organized and offers some exciting features to investors. We will break down the most important parts, services, and points of the Korbit exchange in this article. So, without further ado, let's jump into details.
Services & Features
---
As already mentioned, Korbit exchange offers a variety of features to its users such as buying and selling crypto, exchange, NFTs marketplace, ETH 2.0 staking, and Piggybank challenge. So, let me break each one.
Buy & sell crypto
---
With Korbit, you can buy and sell cryptocurrencies. The platform first started with Bitcoin-only transactions but has later expanded to Ethereum and altcoins as well. If you want to buy crypto on Korbit, go to the "Deposits and Withdrawal" option on the top corner of the homepage. Here you can first register a bank account, then deposit KSW and then buy crypto. The process is pretty straightforward.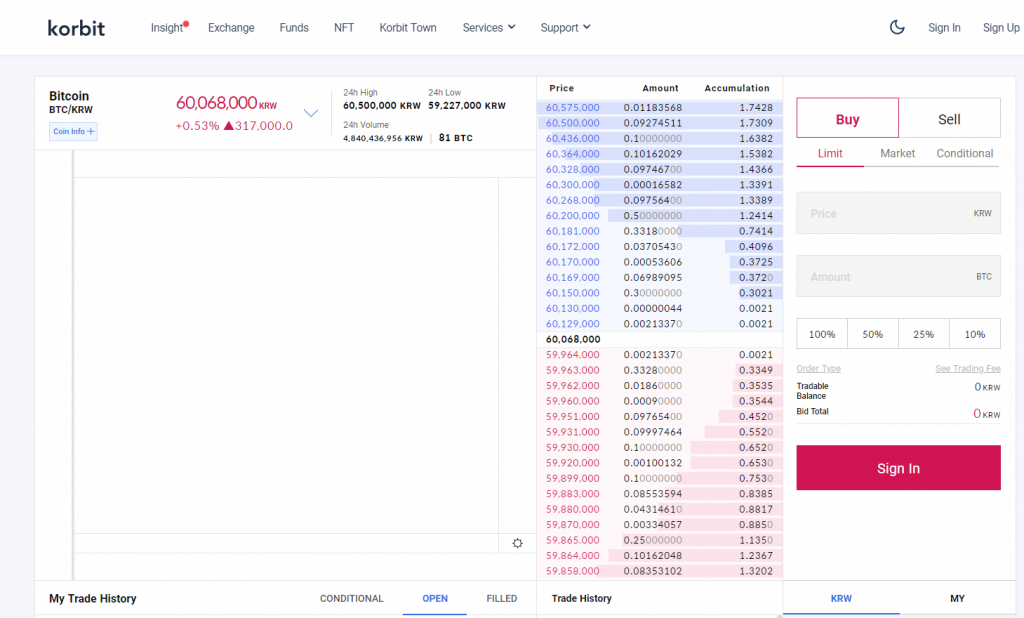 Spot exchange
---
The main feature of Korbit is the exchange section. It is easily accessible from the top corner menu of Korbit's homepage. You can BTC price against KSW, charts with the price movements in the selected period of time, and trade history. The crypto exchange looks pretty well organized. However, the big downside is that Korbit focuses too much on the Korean market. I would not suggest it to international investors, to be honest.
Furthermore, you can select various coins here (not only Bitcoin) and check their prices against KSW. The order types which are featured on the Korbit platform include:
Limit orders (Buy/Sell)
Stop orders (Buy/Sell)
OCO (Order Cancels the Other)
Market Buy/Sell
NFT
---
Yet another exciting feature of Korbit is its NFT marketplace. The section is easily accessible on the top corner of Korbit's homepage. Most of the NFTs you can buy on Korbit's NFTs marketplace are digital paintings. Below each painting, you can see the price (shown in ETH) and the time left until the end of the auction.
If you have some exciting pictures, you can make them an NFT, post them on Korbit's marketplace and try to sell them.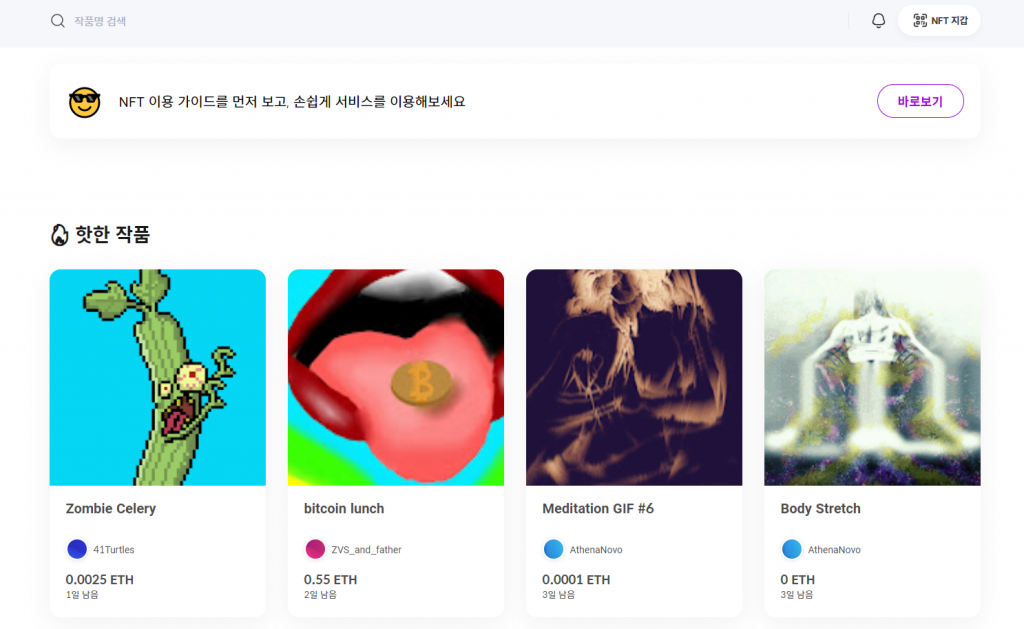 ETH 2.0 staking
---
Korbit is the first cryptocurrency exchange in South Korea that allowed ETH 2.0 staking. In fact, what Korbit offers to its users is Ethereum staking until Ethereum 2.0 is launched. APR (annual percentage rate) goes up to 5.2%.
You can access ETH 2.0 staking feature from the "Additional product" button on the top corner of Korbit's homepage. There are many ETH staking recruitments here and the maximum of ETH staking per recruitment is 320. Below is what the information about one recruitment looks like:

Korbit Piggy bank
---
Piggy bank is Korbit's virtual asset reward service where you can complete quests and receive virtual assets in Korbit piggy bank. The feature is interesting, but keep in mind that you need to have a balance of KRW 100,000 (around $85) or more that can be withdrawn. The digital assets are rewarded immediately once you successfully complete a quest.
There is also an option to move your assets from Piggy bank to your wallet. Follow these buttons from the Piggy bank section – Additional Items – Piggy Bank – View My Piggy Bank menu, click the [Move to My Assets] button. Once you go through these steps, make sure to check your deposit history to be sure that assets are moved.


Korbit supported coins
---
Korbit supports various coins such as Bitcoin (BTC), Ethereum (ETH), Litecoin (LTC), Ripple (XRP), Wemix (WEMIX), BitTorent (BTT), The Sandbox (SAND), Solana (SOL), Cardano (ADA), Dogecoin (DOGE), Stellar (XLM), Basic Attention Token (BAT), Bitcoin Cash (BCH), Polkadot (DOT), Sushiswap (SUSHI), Algorand (ALGO), and many others.
Korbit Deposits & Withdrawals Methods
---
As already mentioned above, Korbit offers fiat deposits. Methods that you can use to deposit KSW are credit cards and Korean bank transfers. Therefore, Korbit is suitable for beginners in the crypto world since you can use the platform even if you have not previously held any crypto asset.
Crypto deposits are available as well such as BTC, or ETH. Based on the information available on Korbit's website, withdrawals are available not only in crypto but in KRW as well. Withdrawal limits differ based on the level of your account. For example, if you are level 3, the withdrawal limit is for crypto is 10,000,000 KRW and 20,000,000 KRW for fiat withdrawals.
Fees
---
Deposits are completely free of charge, so you will not pay any fees while depositing. This is a plus, but not an innovative thing since most crypto exchange does not charge any deposit fees.
When it comes to withdrawal fees, those differ from coin to coin (again as on many other crypto exchanges). For example, the BTC withdrawal fee is 0.001 BTC and ETH withdrawal is 0.01. These fees are pretty competitive compared to the market's average (the average for BTC withdrawals is 0.006 BTC).
Limits
---
Below you can find withdrawal limits based on the level of your Korbit's account:
| | | |
| --- | --- | --- |
| Membership level | Daily Withdrawal Limit | Duration applied by membership level |
| 2 | 10 Million KRW | 48 hours |
| 3 | 30 Million KRW | 24 hours |
| 4 | 500 Million KRW | 24 hours |
| 5 | 1 Billion KRW | 24 hours |
Keep in mind though in order to be level 4 or 5, you have to provide the requested ID document in order to maximize the verification of your account.
Korbit Trading Fees
---
Korbit, like any other exchange, charges maker and taker trading fees. For those not familiar with these terms, maker fees are the fees paid by the traders who make a new trade entry in the order book. Taker fees are charged to traders who seek to enter at the best available entry price.
Below you can see maker and taker fees based on your trading volume on Korbit:
| | | |
| --- | --- | --- |
| 30-DAY TRADING VOLUME | MAKER FEE | TAKER FEE |
| < 100m KRW | 0.08% | 0.2% |
| >100m KRW but <200m KRW | 0.05% | 0.2% |
| >200m KRW but < 500m KRW | 0.03% | 0.2% |
| >500m KRW but < 2bn KRW | 0.02% | 0.2% |
| >2bn KRW but < 10bn KRW | 0.01% | 0.15% |
| >10bn KRW but < 30bn KRW | 0.00% | 0.1% |
| >30bn KRW but < 50bn KRW | 0.00% | 0.05% |
| >50bn KRW but < 100bn KRW | 0.00% | 0.02% |
| ➢ 100bn KRW | 0.00% | 0.01% |
As you can see from the table, higher volume = low fees. This is a pretty standard process on most exchanges.
Does Korbit require KYC?
---
Korbit does have a KYC (Know Your Customer) verification system. In order to be level 4 or 5, you have to provide the requested documents. In Korbit's FAQ section you can find all details on how to go through the requested verification process. Please check it out here. KYC should be a straightforward process that is done within 24 hours.
Korbit supported countries
---
I have not found any restrictions when it comes to Korbit's availability to countries outside of Korea. However, as already mentioned above, Korbit is suitable only for Korean investors since the main language is Korean and the main fiat currency on the exchange is KRW (Korean national currency, South Korean Won).
Are US investors allowed on Korbit?
---
When it comes to investors from the US, I have not found any restrictions for them to use Korbit. However, please do your own research to find out whether Korbit is available in the US or not.
How to start with Korbit? (steps like registration, activation, verification, etc).
---
If you want to get started with Korbit exchange, you have to go through 3 simple steps:
Registration
Activation
Verification
The registration process is done within a few minutes. You have to enter your email, a strong password and accept the terms and services of Korbit.
The platform will send a verification email to your inbox. Make sure to click on the link in order to verify and activate your account. Once you are done with this, the exchange with prompt you to set up some of the additional security measures such as 2FA (2-factor authentication).
Verification is done by providing some specific ID documents, as described above.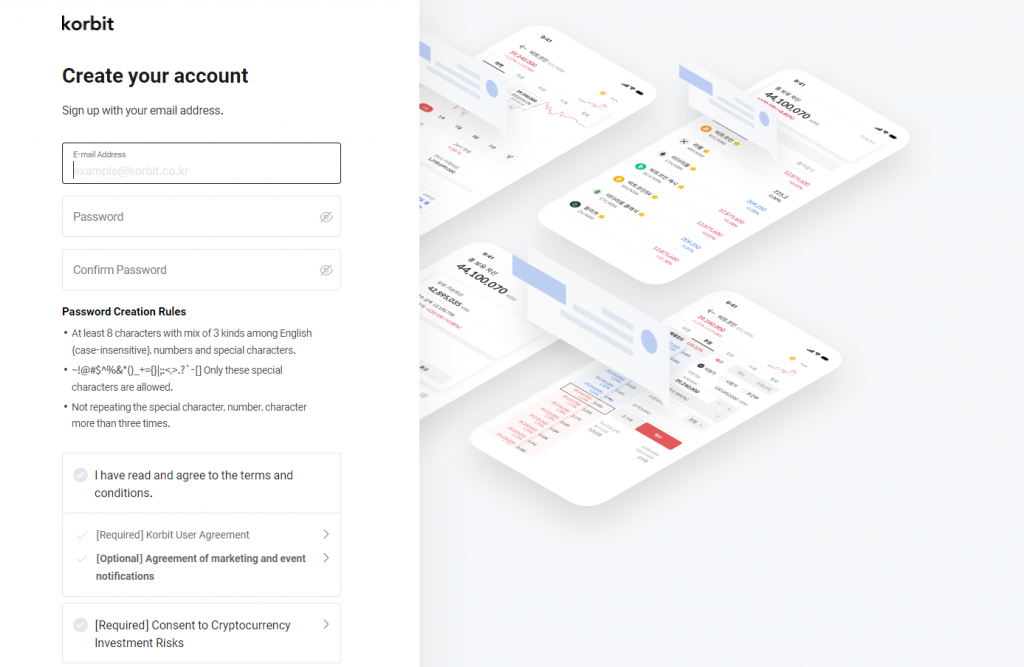 Does Korbit have a Native Token?
---
No, Korbit does not have a native token.
Is Korbit legit and safe?
---
Well, for Korean investors, it is pretty legit and safe. However, if you are a foreign investor, not sure Korbit is the right place for you.
To be precise, I have not found any accusations when it comes to Korbit's safety. The platform is doing everything it can to protect its users such as 2FA, phone verification, and 24/7 monitoring, and instantly places restrictions on the ones with several login attempt failures reported. You can check more details about it here.
Is Korbit Regulated?
---
No, Korbit is not a regulated exchange. Crypto exchanges are not regulated in South Korea.
Conclusion
---
Korbit was the first cryptocurrency exchange in South Korea that allowed fiat deposits and buying of crypto assets such as Bitcoin or Ethereum and therefore it deserves a lot of credit. It has been around since the beginning of 2014, so Korbit has established its position in the crypto market.
However, it seems to me that the platform focuses too much on local investors. I am not saying it cannot be used by foreign investors and traders, but for some people, this could be a dealbreaker.
Keep in mind that these are only my opinions based on my thorough investigation of the exchange. Please do your own research before deciding whether you want to use the Korbit exchange or not.
At this point, it is good to note that all opinions and suggestions written in this article are not considered financial advice.
You need to know Korean in order to use it so that drops most of the world out of the pool of potential customers.
If you are not fond of the Korbit exchange, make sure to check out our guides on other cryptocurrency exchanges:
FAQs
---
PROS
No deposit fee. Withdrawal and trading fees are below the market's average
Security of users is on a high level
Exciting innovative features such as Piggybank or ETH 2.0 staking
Provides a service to buy crypto with local cryptocurrency
CONS
It looks suitable mostly for Korean investors. Investors outside of Korea would have difficulties trading on Korbit
Trading charts could offer more information

CaptainAltcoin's writers and guest post authors may or may not have a vested interest in any of the mentioned projects and businesses. None of the content on CaptainAltcoin is investment advice nor is it a replacement for advice from a certified financial planner. The views expressed in this article are those of the author and do not necessarily reflect the official policy or position of CaptainAltcoin.com