MXC Exchange Review – Is MEXC Legit & Safe To Use?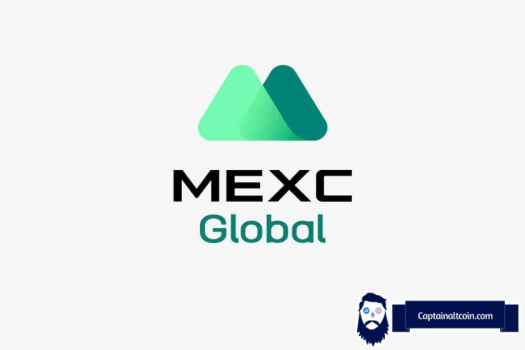 MXC Exchange Review – Is MEXC Legit & Safe To Use?
It supports a large number of cryptocurrencies. It holds the record as the third-largest exchange in terms of supported cryptos, with 667 coins traded
Most of the products it offers are DeFi-based. In fact, you can get a hint of the next crypto gem by looking at the new projects listed on it(not financial advice)
It has a user-friendly website interface
It occasionally offers crypto education using tutorials
It's one of the few crypto exchanges that offer ETF(exchange-traded funds) indexes.
It has a mobile app that's easy to use
MEXC (Previously MXC) crypto exchange was founded in April 2018 and has grown to become one of the top 100 crypto exchanges with a spot trading volume of close to $500 Million. With around five million users in more than seventy countries worldwide, it is a crypto exchange worthy of note. Let us now review some of the exchange's essential products.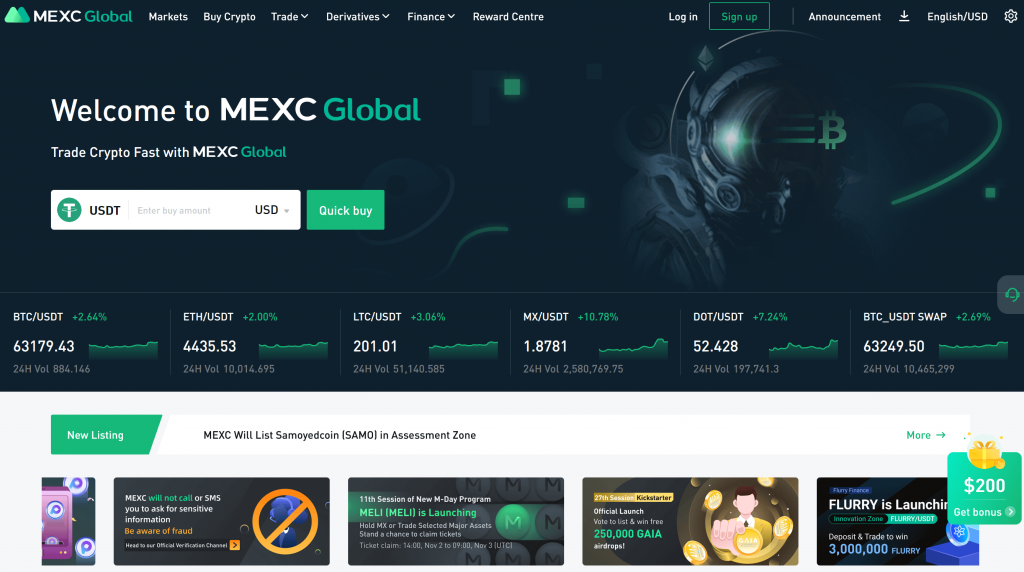 This article should not be considered an investment advice.
KEY PRODUCTS
---
Trading:
---
This goes without saying. After all, what good is an exchange if you can't trade on it?! We will now explain individual trading features on the MEXC Global exchange: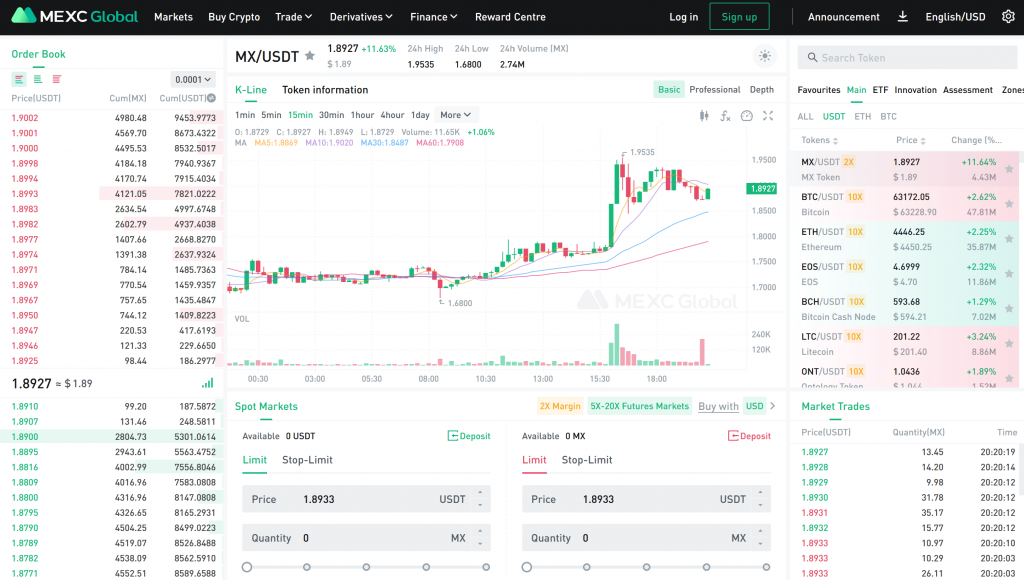 Spot trading: Spot trading is a term used to describe the direct purchase or sale of a financial asset. It is a popular trade mechanism in financial markets where you only use assets you own without borrowing or leveraging. On the MEXC exchange, spot trading is offered for hundreds of coins and trading pairs with the obvious front runners of BTC, ETH, LTC, MX, among others.
Apart from spot trading, margin trading is also offered on the exchange. It is a trading mechanism in which you borrow funds from a third party for trading. It's prevalent in low-volatility markets like Forex as it allows crypto traders to benefit from even tiny price changes. On the MEXC exchange, you can margin-trade up to 72 coins with varying degrees of leverage(from 2x to 10x).
Derivative trading: Put simply, derivatives trading is a financial method in which an asset is traded based on the value of an underlying asset. It's a relatively new mechanism in the crypto world but is fast gaining traction as it can be very lucrative. It can also be used to speculate on the future prices of crypto assets. There are three types of derivatives trading offered on the MEXC exchange. They are:

ETF Index: ETF stands for exchange-traded funds. It's an investment tool that allows investors to buy into an asset without actually owning it. It does this by closely mimicking the price and general performance of the attached asset or group of assets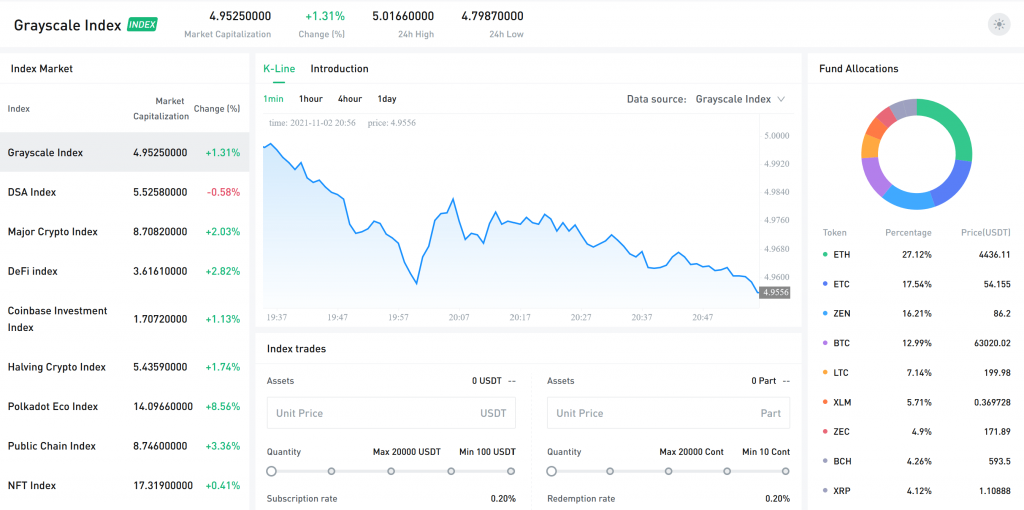 Thus, with ETF indexes, crypto can be freely traded on traditional exchanges without the hassles of going through complex regulatory procedures. On the MEXC exchange, the only ETF index listed for now is the Grayscale index.
ETF Trading: This is also known as leveraged ETF. It is traded like spot assets but multiplies the yield rate of the underlying asset by a given number(usually three).
For example, BTC3L(or BTC3x long) is a spot-traded asset but offers triple gains on Bitcoin's price changes, i.e., if BTC increases by 5%, it increases by 15%.
There are no liquidation risks with this trading method because the price will never approach zero, theoretically. Currently, the MEXC exchange offers 3x long and 3x short ETFs for a few coins.

FUTURES TRADING: This is the most popular derivatives tool. In Futures trading, you do not own the underlying coin, but you can speculate on the coin's price in any direction, either up or down. Since you do not own the coin, you cannot enjoy any intrinsic benefits for holding such a coin, like voting and staking. However, on MEXC, you can enjoy up to 125x leverage on either USDT-margined or coin-margined futures.
P2P TRADING(PUSH): P2P(Peer to peer) transactions are important in the crypto world. It is an important feature because it helps to foster decentralization which is one of the hallmarks of blockchain finance. On MEXC global exchange this feature is known as PUSH.
On PUSH, the buyer first releases his purchase orders(which can only be canceled when unfilled or partially filled). Then the seller makes a bid by entering the amount he wants to sell and the preferred price.
FIAT BUYING:
---
MEXC exchange allows you to buy fiat using credit cards such as Visa and Mastercard. You can also use bank transfers or Alipay to buy the supported fiat currencies. The supported fiat currencies are VND(Vietnamese Dong), RMB(Chinese Yuan), AUD(Australian Dollars), GBP(British Pounds), PESO(Philippine Peso), USD(US Dollars), and EUR(Euro).
FINANCE:
---
Just like most other crypto exchanges, MEXC offers some complementary financial services. They can be found under the Finance tab on the homepage. Some significant examples are: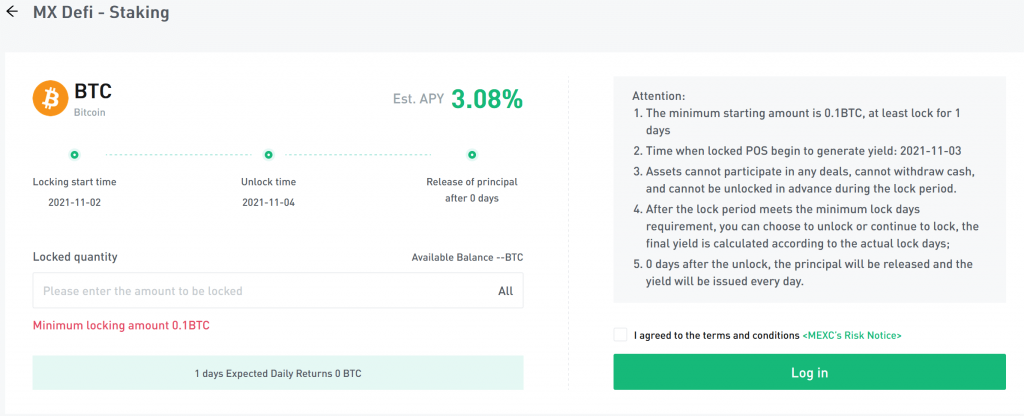 Staking: This is also known as the PoS(proof of stake) mining pool. It's a process in which you deposit specific coins to a pool and get rewards of that token depending on the stated APY. On the MEXC exchange, there are two staking products:

Flexible staking: where your coins are not locked, and you can withdraw and deposit them anytime you like. There are currently 26 coins listed under this feature

Fixed staking: where your coins are locked for a specific period(usually a minimum of one day). It usually has higher APY than flexible staking. There are currently seven coins listed under this feature on the MEXC exchange.

MX Defi: It's similar to staking as it also involves adding coins to a yield mining pool. However, in MX Defi, you can stake coins to earn other coins as rewards. For example, you can stake DOT to earn Safemoon. It also has a feature where you can earn the same tokens you stake, but there is usually a more extended locking period involved.
Kickstarter: The Kickstarter campaign on MEXC is a launchpad of sorts where users of the MEXC exchange vote for projects to be added to the exchange and get tokens of the new project as airdrop rewards.
Users vote by staking required coins on the Kickstarter page. If the target number of voters is met, the project is launched, and successful voters are rewarded. If the target is not met, the launch is canceled, and the voted coins are returned to their respective owners.
ETH2.0: It's a familiar term in the crypto environment that describes the last of four stages of the Ethereum platform development where Ethereum moves from a PoW(proof of work) mechanism to a PoS(proof of stake) model.
On MEXC, interested users can stake their ETH into the mining pool for a fixed period of 1-2 years and get BETH in return in a 1:1 ratio. The staked ETH cannot be redeemed until ETH2.0 transition is complete. However, the corresponding BETH can be traded for USDT or staked on the PoS staking feature to get rewards.
IS MEXC EXCHANGE LEGIT AND SAFE?
---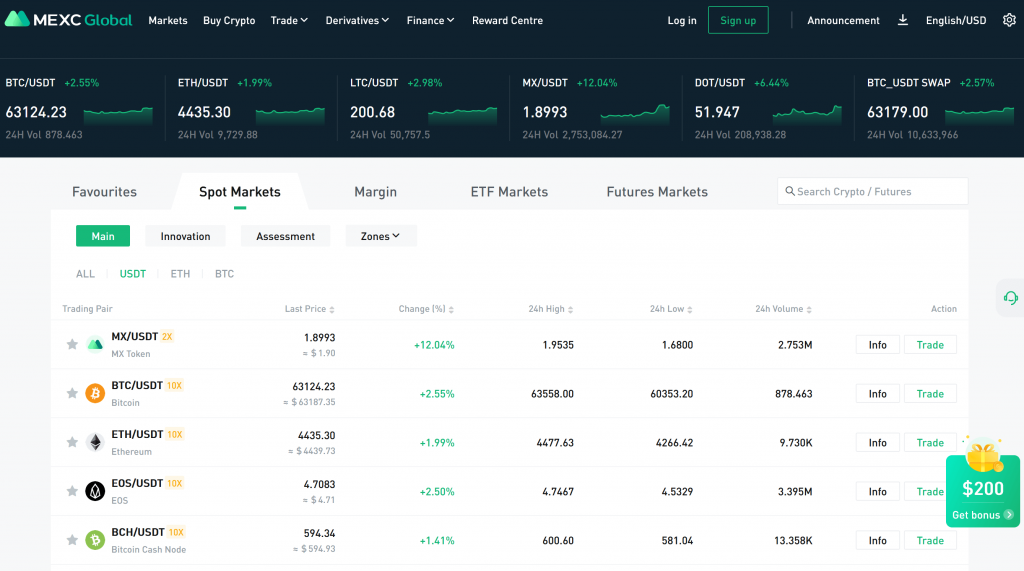 To a certain extent, we can say yes to both questions. Why? Consider:
Is it legit? The exchange is duly licensed in Singapore. It has also applied for licenses in four other countries, namely Canada, Switzerland, Australia, and the United States.
In addition to that, it has a 'law enforcement request' button on its homepage where any accredited law enforcement agent can request its registration documents. That could mean they have nothing to hide.
Is it safe? The MEXC exchange treats users' funds with care. They have a high-powered cold-storage wallet where they keep a significant chunk of the exchange's digital assets. Cold wallet is the most secure in the crypto world because it is not connected to the internet
In addition, MEXC trains users to be safety conscious by encouraging them to perform google authentication, cellphone binding, email binding, and anti-phishing measures on their accounts.
SUPPORTED CRYPTO ASSETS
---
MEXC exchange currently supports six hundred and sixty-seven(667) different cryptocurrencies on its trading platform. The supported coins are traded in seven hundred and seventy-one(771) markets. This feat is even more impressive when you consider that the exchange is the third-largest in the world regarding the number of coins supported. Only Hotbit and Gate.io support more coins than the MEXC exchange.
PAYMENT AND WITHDRAWAL OPTIONS
---
You can pay into your MEXC account using any of the supported fiat currencies by means of bank transfer, Alipay, or credit cards. You can also deposit coins directly by going to the deposit function on the homepage, selecting the coin you want to deposit, and pasting the address in the sender's wallet
To withdraw coins, you must first complete two-factor authentication by binding your cellphone or your google authentication device to your MEXC account. When that has been successfully done, the rest is pretty straightforward.
TRADING FEES
---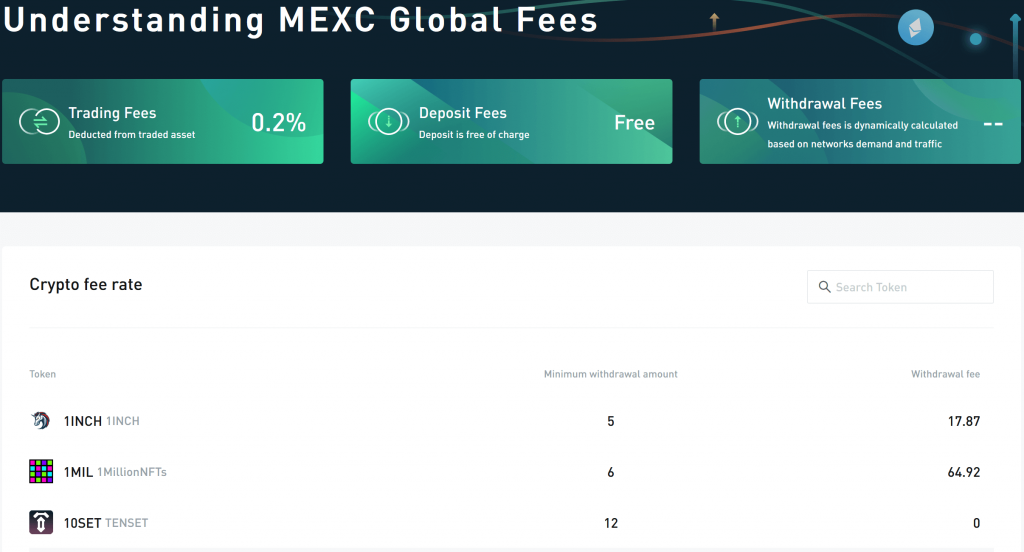 MEXC exchange charges a flat fee of 0.2% across all maker and taker orders on its spot and margin trades. The same fee is also charged for trading its index products. You can get a 20% discount on this by holding MX, their in-house token
However, the story is different with perpetual trading. It charges a maker fee of 0.02% and a taker fee of 0.06% for its perpetual trading contracts. The exchange also offers trading discounts for perpetual contracts based on the 30-day USDT trading volume or the total USDT balance of the account.
Lastly, credit card trading (i.e., buying crypto directly with credit cards) attracts an additional fee charged by the payment processor. Left to MEXC, deposits are free, and withdrawal fees vary depending on the coin in question and the network congestion at the point of withdrawal.
CUSTOMER SUPPORT
---
Customer support is well represented in the MEXC exchange, with various features employed to guide users through the usage of the website and cryptocurrencies at large. Some of these features are:
A well-detailed help section at the bottom of the website leads to a list of articles written on different topics. When writing this article, there were six sections in the help section(excluding announcements), with ninety-nine articles in all.
They have a presence on most of the crypto-related social media platforms. These include Telegram, Twitter, Facebook, Discord, Medium, Reddit, LinkedIn, Instagram, and Btok. All the social media links on their website work properly.
The website is available in eleven different languages.
There is a section on the website where you can mail complaints and suggestions to a provided email address.
There is also an online live chat. This feature is only available in the English language.
MX TOKEN
---

The MX token is an Erc-20 token that serves as the community token of the MEXC platform. It is a pretty solid coin, already audited by Slowmist and with a market cap of around 150 million dollars. It has a maximum amount of one billion coins, of which 100 million are currently circulating.
The MX token can be used for:
Trading fee deduction. If you hold MX tokens, you can get a 20% deduction on trading fees
Subscription to SpaceM. This is another finance product of MEXC where holders of the MX token get access to project launches
M-Day event. Here you can win free airdrops by trading and holding MX tokens
Referral Reward. The number of MX tokens you hold increase the ratio of your referral rewards
Ecological funds. This amounts to 25% of the total MX tokenomics and is released gradually.
Offline consumption payment.
SUPPORTED COUNTRIES
---
According to the 'About us' page on their website, MEXC is currently licensed to operate in four countries, namely Canada, Australia, Estonia, and the United States of America, in addition to its initial license in Singapore. However, it has users from over 70 countries, as the website shows.
FREQUENTLY ASKED QUESTIONS
---
CONCLUSION
---
Choosing a cryptocurrency exchange to trade with is a serious endeavor. You have to consider several things, like how user-friendly the website interface is or how much of your preferred cryptocurrencies are listed. You will also consider if the exchange has an active customer support mechanism and how secure your funds are under them. It is after you have put all these into consideration that you can decide if an exchange is worth your time or not.
Do you think the MEXC exchange is worthy of holding your hard-earned funds? Do not make a decision hurriedly. Take time to go through this article and consider the facts. You'll be glad you did.
In case you are looking for more derivatives exchanges, below is our list of reviews:
PROS
It supports a large number of cryptocurrencies. It holds the record as the third-largest exchange in terms of supported cryptos, with 667 coins traded
Most of the products it offers are DeFi-based. In fact, you can get a hint of the next crypto gem by looking at the new projects listed on it(not financial advice)
It has a user-friendly website interface
It occasionally offers crypto education using tutorials
It's one of the few crypto exchanges that offer ETF(exchange-traded funds) indexes.
It has a mobile app that's easy to use
CONS
Its in-house token(MX) has no distinct whitepaper yet. This makes it less professional in outlook
The identities of the founders and executives are vague
It hasn't formed any solid partnerships.

CaptainAltcoin's writers and guest post authors may or may not have a vested interest in any of the mentioned projects and businesses. None of the content on CaptainAltcoin is investment advice nor is it a replacement for advice from a certified financial planner. The views expressed in this article are those of the author and do not necessarily reflect the official policy or position of CaptainAltcoin.com