Hotbit is a crypto exchange launched in January 2018 that does not work with fiat currency, which means that it only offers coin-to-coin trading. Its domicile country is unclear. However, seeing as the company owning and operating the crypto exchange is called Shanghai Gametree Information Technology Co. Ltd., a reasonable conclusion is that the exchange is from China. The exchange is registreted both in Hong Kong and Estonia. Currently, the Hotbit platform supports 6 languages (Chinese, English, Russian, Korean, Thai, and Turkish) and the exchange had listed 547 trading pairs in total and was ranked No. 3 among all exchanges regarding the number of types of cryptocurrency projects listed.
After a successful launch two years ago, Hotbit has been steadily growing, and the platform currently boasts 540,000 registered users from more than 170 countries and areas all over the world, among which 90% of registered users are non-Chinese users.
👉 This freshly launched digital crypto exchange offers a digital asset exchange platform that is well designed, intuitive to use and claims to provide a "built-in artificial market-maker digital engine that meets the standard of Wall Street industrial standards" and access to hundredths of cryptocurrencies. Hotbit has partnerships with a variety of organizations, including The Blockchainer, MyToken, and Wandarin. However, we have not found any information detailing what these partnerships are made up of, so the statements regarding partnerships have not been possible to verify.
The exchange employs anywhere from 51 to 200 employees (they have started with just 16 employees), and they all have experience in the cryptocurrency industry as well as the traditional financial industry. The team at Hotbit firmly believes that decentralized crypto assets are to fundamentally reform the global financial system, which will lead to increased transactional efficiency, fewer barriers in place to stop transactions, and eventually, a large impact on the global economy. The people behind Hotbit outline on their website that they are highly ambitious, aiming to become the Amazon of the blockchain industry.
👉 Hotbit has also adopted advanced technologies such as hot wallets featuring offline private keys, cold storage locations, distributed storage, global server load balancing, distributed server clusters, and the high-speed memory-based trading engine, all backed up at multiple machines.
One more thing worth noting is that Hotbit exchange has a mobile trading app that can be downloaded from the website and supports iOS and Android devices.
Hotbit promotes four things in particular as reasons to choose them as your trading platform:
offers multi-currency support, which means that you can trade a lot of different cryptocurrencies here
has high liquidity
provides 24-hour customer service 7 days a week
promotes that it is "secure and steady"
Like many other leading crypto exchanges, Hotbit has its own native exchange token called Hotbit token (HTB), which has the general purpose of building the exchange ecosystem. HTB tokens are rewarded to the contributors of Hotbit ecosystem building.
HotBit does not have affiliate programs.
HotBit Account Registration
---
Registering on Hotbit is quite easy. You just have to land on the homepage, and then click the "Register" button at the top-right corner of the home page. You will be asked to enter your email and then click agree to the terms and policies. After completing this process you will receive a confirmation email from Hotbit and you will need to confirm your account with the key code you receive in your email. From there, you will go to 2FA, with your choice of Google Authenticator or Mobile Text Message for authentication, and you are done.
How to Trade on HotBit?
---
The process to start trading with HOTBIT is pretty simple. All trading with Hotbit is done via the "Exchange" page, which is clean, well laid-out, and beginner-friendly. The charts are provided by TradingView. They are well known for their smooth, intuitive, and clean charts, which allow traders to use advanced trading tools and indicators to refine their trading edge in maximizing profits and minimizing risk. Simply follow the steps below to get started with trading:
Select the crypto pair you wish to trade on the left side of the screen
Scroll down slightly to the buy/sell section immediately below the graph. The price is automatically filled in at the market level, with plus and minus buttons for you to adjust the figure to your chosen price.
Then, either enter the amount of the crypto you wish to buy or sell or select a percentage of the total amount in your account, and the total in the target currency will automatically update
It's important to note that all trading pairs on Hotbit involve either ETH or BTC since those are the two most popular cryptos.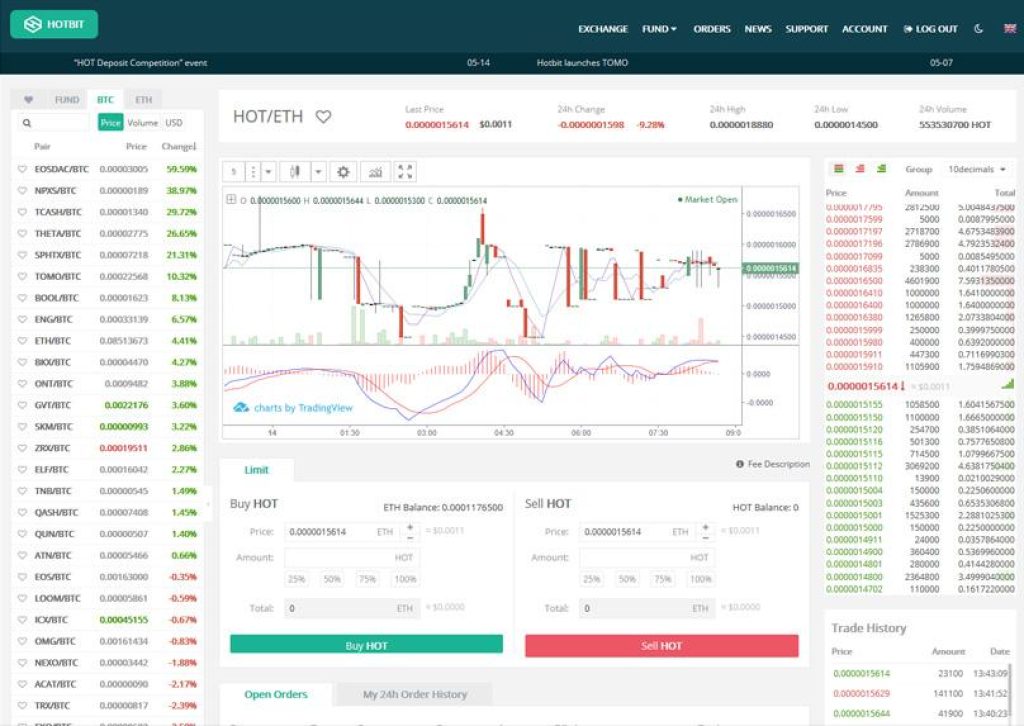 This chart has numerous options for customization, including the option to change the intervals displayed, with options including 1, 5, 15, and 30 minutes; 1, 2, and 4 hours; and 1 day. There is also the choice of a bar graph, candles, hollow candles, Heikin Ashi, line graph, or area. The graph can also be customized in terms of colors, price line thickness, scale location and type, backgrounds, and time zone.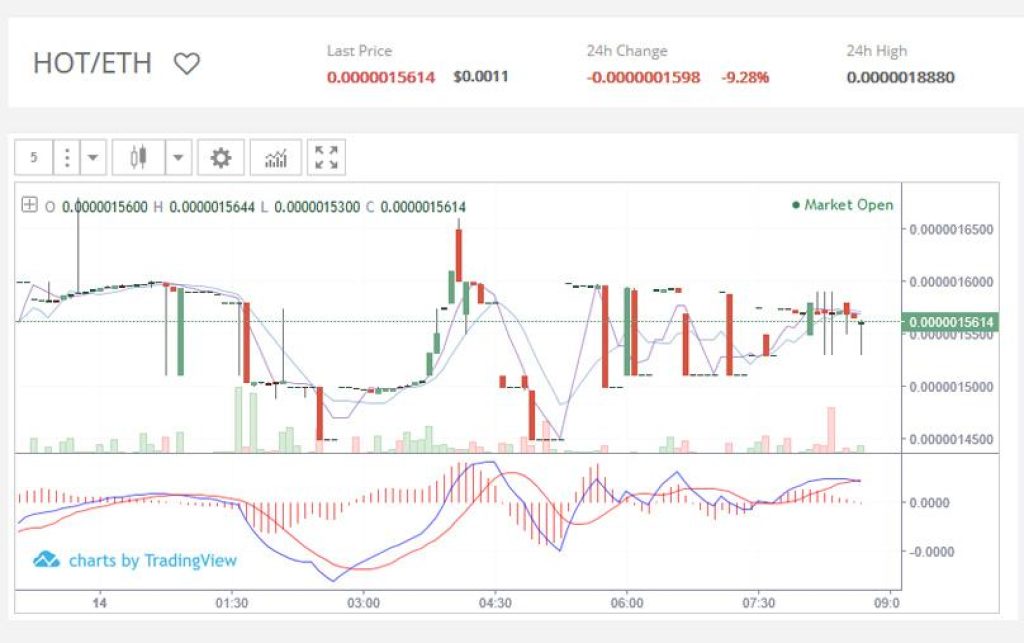 To the right of the graph, you will find the order book, and below the order book is the trade history.

There is also the section for placing orders, under the graph, with your personal order history and open orders directly below it.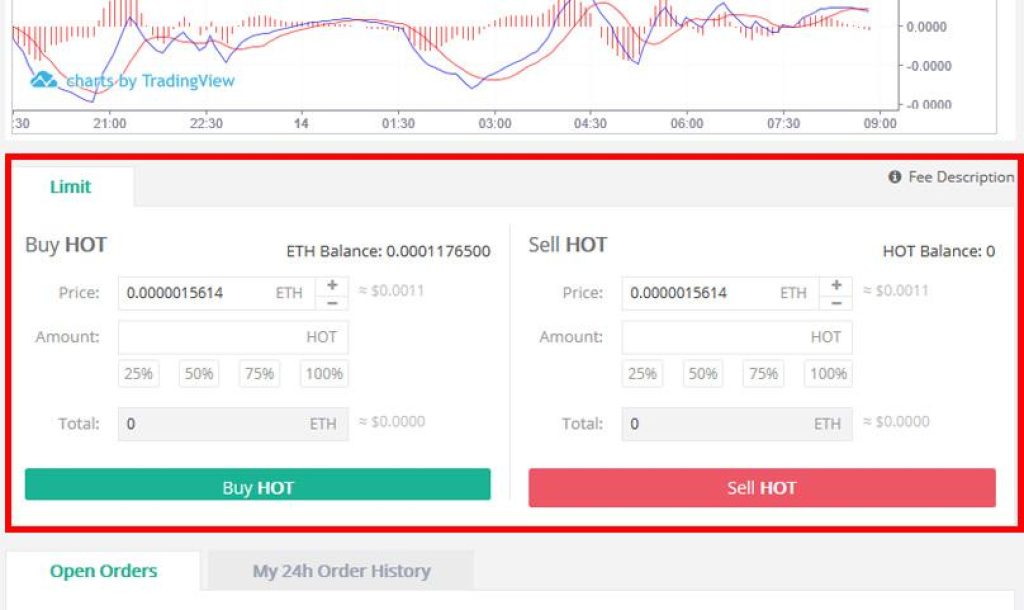 Crypto pairs supported by Hotbit can be found along the left side of the "Exchange" page. If you want to adjust all the charts, graphs, and 24-hour information, just click on any of these crypto pairs.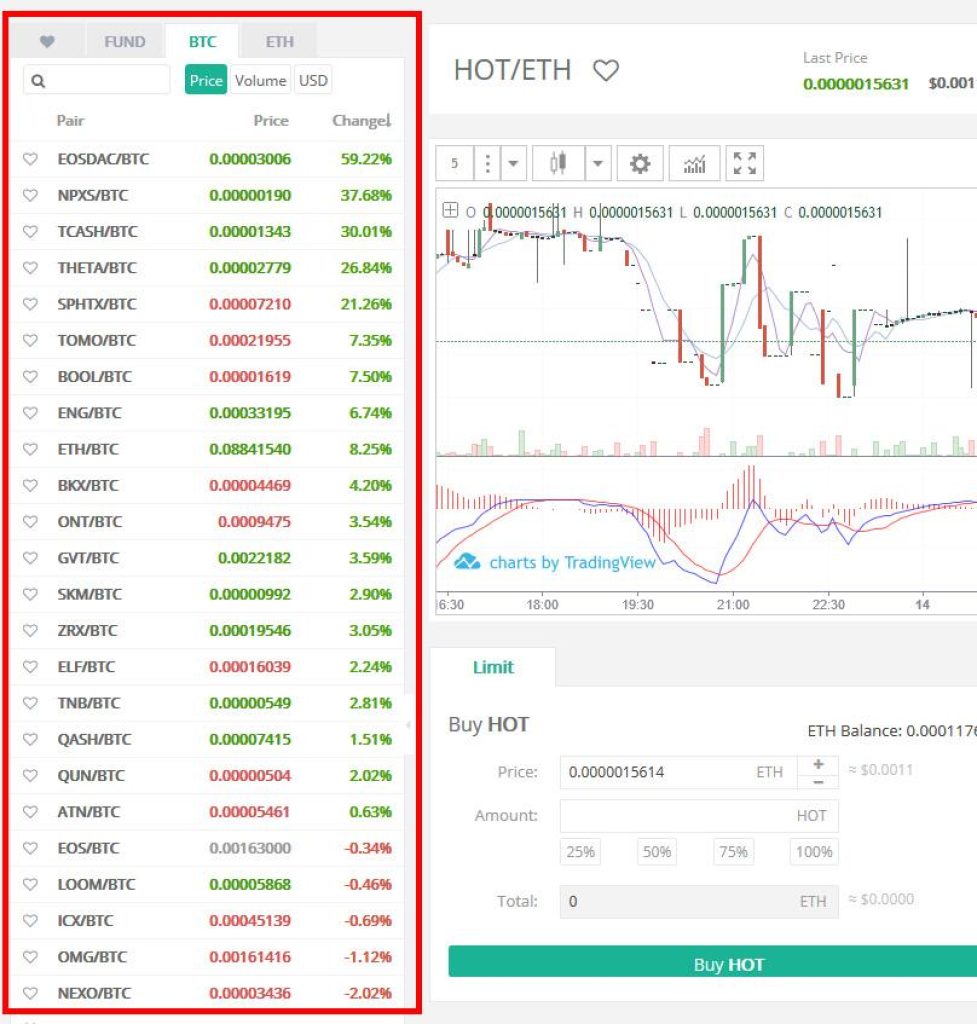 HotBit does not offer margin trading.
HotBit Fees
---
When selecting a cryptocurrency trading exchange, exchange fees are an important consideration and they become even more critical when trading larger position sizes.
Deposit Fees
---
There are no deposit fees on blockchain transfers to Hotbit, making it possible to deposit without concerns about your token quantity decreasing. This is pretty much the norm in the sector. However, there are some crypto exchanges that charge you when you send coins to them. Hotbit currently allows deposits in 22 different cryptos.
Withdrawal Fees
---
There are minimal withdrawal fees, which are determined by the network cost, not the platform. For instance, when withdrawing Bitcoin, Hotbit charges a withdrawal fee amounting to 0.001 BTC, which is in line with the industry average, albeit slightly on the high end.
Trading Fees
---
Hotbit makes its profit via transaction fees and follows a maker-taker model for determining trading fees which are 0.1% (maker) and 0.01% (maker). It's important to note that the trading fees are slightly higher compared to other exchanges in the cryptocurrency trading industry.
To our understanding, if you hold the platform's native token, Hotbit Token (HTB), and pay trading fees with that, you can reduce the transactions fees of any maker and (or) taker orders to only 0.05%.
One more thing worth noting is that all deposit and withdrawal transactions are processed automatically and are therefore rather fast, which is another plus for Hotbit. For example, the BTC transfer confirmation process normally takes less than or a couple of hours, while for ERC20 tokens, this process usually takes a couple of minutes to less than 1 hour.
Cryptocurrencies That HotBit Supports
---
One of the key selling points of Hotbit is the fact that the exchange offers more than 156 pairs that can be traded by its users using a secure, stable, and reliable platform. There are many altcoins listed on the platform, including exotic ones. Currently, there are 28 supported cryptos listed on the fees page:

Hotbit has also announced support for additional cryptos, including ENG, LOOM, NEXO, SKM, SS, and ZRX. Based on the news page, it is clear that Hotbit is actively working toward expanding its cryptocurrency offerings, which could provide a competitive edge in the market for experienced crypto traders. Click here to check the full list of trading pairs.
One especially useful section of Hotbit is the "Coin Information" page, where you can find detailed information about most of the cryptos the exchange supports. If you want to learn about any of the coins that the platform supports, just click on it and you will see the trading features of the project, the token distribution and status, and useful links, such as to the token's website and/or whitepaper.
HotBit Security – Is Hotbit Exchange Safe?
---
Hotbit prides itself on providing the highest level of security features to protect its user's funds from compromise. The exchange offers 24/7 customer service through multiple channels, such as submitting a support ticket, Hotbit's official Chinese WeChat group, Hotbit's official Chinese and English Telegram channels, Hotbit's official Twitter account, Hotbit's official Facebook account, etc. The platform provides the following security measures: multi-level firewall system, cold wallet storage solution, and 2 Factor authentication. However, the exchange does not require KYC to register an account, trade, deposit, or withdraw funds.
It's also important to note that Hotbit has also established strategic partnerships with two top audit teams in the industry, namely SlowMist and Beosin. These two companies provide cybersecurity audits and protection for leading digital asset exchanges, crypto wallets, public chains, and smart contracts. Also, Hotbit holds a zero loss record for any of its user assets.
Hotbit also has a FAQ section where you can find the particularly useful link – the "New User Guide," which is available both via a help article and a video tutorial to accommodate all learning styles. This section has a reasonable number of questions and answers, and there is the option to submit additional questions or to search the FAQ section. At the top-right corner of the Support page, you will find a button to "Submit a request," which is pretty is straightforward. You just need to include your email address, the request type, a description, and the option of an attachment.

Overall, the information on the platform security is brief compared to other crypto exchanges and we even could not find the name of the company owning Hotbit on its website.
ABBC Listed in HotBit
---
Alibabacoin dubbed ABBC is a cryptocurrency business approach by Alibaba, a Chinese multinational technology company that specializes in e-commerce, internet, and technology founded on 4th April 1999 in Hangzhou, Zhejiang. The ABBC team continuously strives to bring the ABBC Coin value into its customers seamlessly and for Alibaba, it is a strategic partnership with HotBit as it is standing as one of the world's leading cryptocurrency trading platforms.
To cater to the convenience of crypto users, Hotbit developers launched a service called LazyMode which intends to instantly exchange two types of tokens.
Conclusion – Hotbit Review
---
Hotbit is still a relatively new cryptocurrency exchange, which offers spot trading in Bitcoin, Ethereum, and ERC20 tokens, including some rather interesting ones. The exchange supports a massive list of trading pairs and the number of cryptos they have added within the last few days indicates a genuine effort towards expanding the offerings.
The exchange is simple and intuitive to use and the trading interface is well designed for desktop and mobile apps for crypto traders and crypto investors. Trading fees are reasonable and the exchange does not charge deposit methods. On the other hand, withdrawals fees are not low.
The website of the exchange provides no information about the company that owns it, which is our major concern with Hotbit. It is important that centralized exchanges, such as Hotbit, provide as much information as possible about their trading platform and the company. You are trusting them with your funds so it's essential to feel secure in the platform you are using. This is definitely something we would like to see improved in the near future.
Hotbit is not as established as some other bigger exchanges and that certainly poses a risk for their users. However, they are known to be very quick in listing low-cap coins before they are known to the wider crypto audience. This makes Hotbit a must-have tool in the toolset of gem hunters and full-time crypto guys.
Overall we would recommend testing out HotBit. However, we recommend not keeping a large balance on the exchange because the platform is yet in the stage of developing its vision and scope.
HotBit Alternatives
---
Other crypto exchanges to check out:
PROS
Competitive trading fees
Fast deposits and withdrawals, no deposit fees
A huge array of altcoins listed, including exotic ones
Advanced platform with mobile apps
CONS
No info about the company
Leverage not available
No fiat deposits
Not beginner-friendly
There is no testnet or demo account
Withdrawal fees

CaptainAltcoin's writers and guest post authors may or may not have a vested interest in any of the mentioned projects and businesses. None of the content on CaptainAltcoin is investment advice nor is it a replacement for advice from a certified financial planner. The views expressed in this article are those of the author and do not necessarily reflect the official policy or position of CaptainAltcoin.com


HotBit Exchange Review – Is HotBit Safe & Legit?