Azbit Review – Is Azbit Exchange Legit & Safe To Use?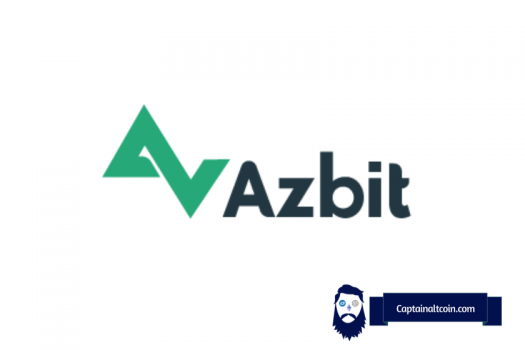 Azbit Review – Is Azbit Exchange Legit & Safe To Use?
Low and competitive fees 
Various services and features are available 
US investors allowed on the exchange 
More than 100 supported cryptocurrencies 
KYC verification and Two Factor Authentication (2FA) systems are available 
Azbit Overview
---
We can all agree at this point that the crypto financial markets are growing rapidly. News that the market passed $3 trillion in value is the fact that made all crypto investors happier. More and more investors and traders are entering the market, and some of them have to decide what kind of exchange is most suitable for them.  It's not easy as it sounds, trust me. 
There are a ton of cryptocurrency exchanges nowadays and in my opinion, it is not an easy task for crypto traders and investors to decide which one to use. In this article, I am going to take a close look at one of the legit exchanges you can use in the crypto world. The name of the exchange is Azbit.
Azbit is a centralized cryptocurrency exchange based in Seychelles. It was launched back in 2019 so it is still a new player on the market. What is interesting about Azbit is that the platform has all the important features you need to be a successful crypto investor. I will break each one of them later in the article. A variety of different features on the exchange shows how serious the team is about the project, at least in my opinion.
Creating an account on Azbit crypto exchange is super easy. All you need to do is to enter your email, password and then verify an email via the link they send you. Once you finish this process, all features on the platform are available to you. 
User interface and design in general look pretty nice, with the combination of green and dark gray colors. Furthermore, the website is easy to navigate and it is not laggy which is always a good first impression for all users. To be honest, if I see a laggy website with slow buttons and navigations, it is a big red flag for me. With Azbit, you should not have this issue.
Another big plus about Azbit is that it is supported by the famous Bitcoin and Bitcoin-related startups investor, Roger Ver.  Looks like the team around Azbit crypto exchange is very proud of Roger's support as they show his name on the homepage of the platform.

Azbit shows more than 330,000 users of their website and more than 100,000 transactions per day. This kind of information was more than enough for us to decide to dig into Azbit and see what the exchange offers.
Services & Features
---
As already mentioned above, I will break each exciting feature on Azbit crypto exchange. So, bear with me, and let's go!
Exchange
---
The exchange tab seems pretty well organized. You can compare BTC, ETH, TRX, USDT, and BNB value against all significant coins and look at the charts to see the trends. Charts look pretty clear and you should not have issues looking into them, even if you are a complete beginner.
Below the charts, there are "Open orders" and "Open History" tabs and on the right, you can see the "Cancel orders" button. All of these are pretty much self-explanatory, to be honest. Basically, you can see here your pending orders, all orders you did in the past and you can cancel the pending ones if you wish.
Earn
---
Yet another exciting feature on Azbit crypto exchange is the "Earn" tab or soft staking. Soft staking is a still relatively new term in the crypto world and we can define it as a new way to earn rewards from staking coins while keeping control over them. It gives investors the best of both worlds, the benefit of earning passive income and the ability to react to a volatile market. 
In the "Earn" tab there is the "Check announcements" button, but once you click on it, literally nothing happens. Confusing, and a big minus to be honest. It is not clear what this button functionality is.
Currently, you can stake AZ (Azbit native token, more about it later in the article), USDT, and WSBT on Azbit. Azbit shows annual returns for all these tokens in the "earn" tab, as seen below.

On the right side of the "earn" section, you can see the "deposit" button, so the exchange tries to make it as easy as they can for you to deposit funds.
Azbit supported coins
---
Azbit supports various crypto assets such as Bitcoin (BTC), Ethereum (ETH), Litecoin (LTC), Chainlink (LINK), Bitcoin Cash (BCH), Dogecoin (DOGE), Tron (TRX), Hex (HEX), Sushiswap (SUSHI), Shiba Inu (SHIB), Tether (USDT), and many others. There are literally more than 100 supported coins on Azbit which is a big plus for the exchange. 
When you click on the "assets" tab on the top right corner of the exchange, you will see the "buy crypto" button as well. However, when you click on it, the platform will direct you to cryptocoin.pro website, which probably means Azbit has some sort of collaboration with them.
Azbit deposits & withdrawals
---
The only way to deposit funds to your Azbit account is if you own some cryptocurrency (supported by the platform of course). In other words, if you do not own any cryptocurrency yet, you can't use Azbit's features and services.
However, if you indeed like Azbit and you wish to use it, but do not have any crypto yet, you can buy crypto via some exchange that does support regular money deposits and then come to Azbit and deposit those crypto funds there.
In order to deposit funds to your Azbit account, click on the "Assets" button and then select the cryptocurrency you wish to deposit. Once selected, the platform will show you an address where you need to send it from your wallet or exchange.
Fiat deposits and withdraws are not available on the Azbit wallet. However, the button "Fiat" is visible everywhere, you just can't tap on it. This most likely means that the exchange plans to implement fiat deposits and withdraws sooner rather than later.
Withdraw Fees
---
Withdraw fee on Azbit vary from coin to coin, for example, for Bitcoin it is 0.0001 BTC which is more than fair when compared to the average (around 0.0006 BTC).
Azbit Trading Fees
---
Each time you place an order or try to trade, Azbit will charge you a trading fee. Most of the time, the exchanges divide trading fees between takers and makers and call them trader and maker fees.
On Azbit, both of these fees are the same when it comes to spot trading – 0.10%. Again, these fees are below the world's average, so Azbit Global is definitely competitive in that sense. Furthermore, Azbiit seems to have lower fees than most of its direct competitors, such as Hotcoin Global.
Azbit has similar trading fees like the bigger part of other major exchanges.
Does Azbit have a mandatory KYC?
---
No, Azbit does not have a mandatory KYC (Know Your Customer) verification system. It does exist though, just click on the profile icon on the top right corner of the website, and then a button "KYC verification" appears. 
Even though it is not mandatory, if you want to use the exchange long-term, I strongly suggest verifying your account since it Increases the withdrawal limit to 100BTC and Increases the deposit limit for fiat channels.
Azbit supported countries
---
Azbit should be available in more than 200 countries.
Are US investors allowed on Azbit?
---
A big part of the crypto exchanges does not allow US citizens to use their platform due to the SEC (the Securities Exchange Commission). However, Azbit is one of those exchanges that is available in the US since their citizens can freely open the website, register, and start trading.
Keep in mind that the US market is the biggest crypto market in the world as more than 60 million people in the US own some form of cryptocurrency. A big plus for Azbit.
Does Azbit have Fiat Deposit?
---
No, Azbit does not support direct fiat deposits. As mentioned above, the only way to deposit funds to your Azbit account is if you own some cryptocurrency.
Does Azbit have a Native Token?
---

Yes, Azbit exchange does have a native token. At the time of writing, Azbit's (AZ) price is $0.000019 USD with a 24-hour trading volume of $1,441.94 USD, as per Coinmarketcap. 
Furthermore, Azbit (AZ) is one of the tokens you can stake on the Azbit exchange and earn rewards.
Is Azbit legit and safe?
---
I think it is safe to assume the Azbit exchange is safe and secure to use. There are a few reasons I believe this is true:
Thousands of users on the platform every day
No heavily negative reviews of Azbit by their former or active users
KYC verification system available which always increases security and decreases the number of scammers
Azbit offers Two Factor Authentication (2FA) system which is useful for withdrawals and security modifications
When the exchange is available in the US (biggest crypto market in the world) it makes the platform even more legit, at least if you ask me.
Conclusion
---
Azbit is a cryptocurrency exchange with a lot of existing services and features. I would say that if you are an experienced crypto investor and trader, it is worth trying out the platform.
The safety and security of the platform seem to be on a pretty decent level (due to KYC and 2FA systems) which is always a good sign. If you are deeply into the crypto staking business, I would not suggest Azbit since the number of cryptocurrencies available for staking is pretty limited. 
Furhtermore, Azbit Global supports alhorithmic trading and algo market support announcement.
What I also like about Azbit is that they are still a new platform (the official launch happened in 2019) and the results they show after only 2 years are pretty decent. Furthermore, it seems that the platform is serious about what they offer to their users. However, please do your own research before actually using Azbit.
At this point, it is good to note that all opinions and suggestions written in this article are not considered financial advice.
If you are not fond of Azbit exchange, make sure to check out our guides on other cryptocurrency exchanges:
FAQs
---
Let's look at some frequently asked questions when it comes to the Azbit exchange.
PROS
Low and competitive fees 
Various services and features are available 
US investors allowed on the exchange 
More than 100 supported cryptocurrencies 
KYC verification and Two Factor Authentication (2FA) systems are available 
CONS
No standalone mobile app available on iOS or Android ("coming soon" as per Azbit's website)
A limited number of tokens available for staking 
No margin or leverage trading feature is available on the platform 
No Fiat deposits or withdraws 

CaptainAltcoin's writers and guest post authors may or may not have a vested interest in any of the mentioned projects and businesses. None of the content on CaptainAltcoin is investment advice nor is it a replacement for advice from a certified financial planner. The views expressed in this article are those of the author and do not necessarily reflect the official policy or position of CaptainAltcoin.com