ACDX Review – Is ACDX Exchange Lefit & Safe To Use?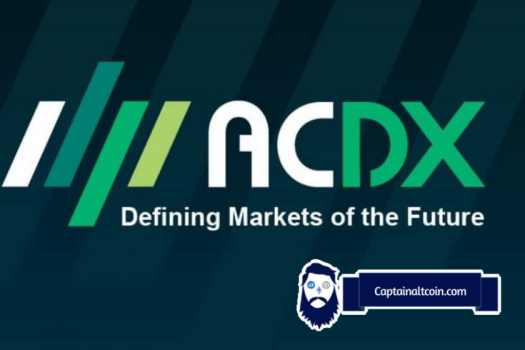 ACDX Review – Is ACDX Exchange Lefit & Safe To Use?
Various cryptocurrency structured products
Moderate fees with discount options
Up to 200x leverage
24/7 dedicated customer support
Accepts various crypto deposits
Allows crypto withdrawals
ACDX Overview
---
ACDX is a cryptocurrency derivatives exchange founded by Andy Cheung in 2020. Andy is a serial entrepreneur and the ex-COO of OKEx where he helped the company reach the top of the exchange ranking by trading volume within a year from its launch; today, he is the founder, leader, and chairman of ACDX.
The company describes itself as a next-generation cryptocurrency derivatives trading platform with cryptocurrency structured products that the industry has not yet seen, such as callable bull/bear contracts, warrant contracts, accumulator/decumulator, etc.
It was founded upon realizing how despite its growth, the cryptocurrency derivatives market was still in its infancy, falling way behind traditional derivatives. Aiming to facilitate the growth of crypto, ACDX was born to offer new and innovative trading products that were built with the knowledge and experience of both cryptocurrency exchange officers and traditional quantitative traders.
Supported Cryptos
---
The number of supported cryptocurrencies varies depending on the type of trade involved; there are currently a total of 12 supported coins/tokens for spots and futures and 22 underlying assets for Bull/Bear Strike Tokens.
For spots and futures: ACXT, DGCL, BTC, ETH, XCH, SOL, DOT, KSM, BNB, FTT, CLIQ, and USDT.
For Bull Bear Strike Tokens: 1INCH, ACXT, BADGER, BTC, BNB, COPE, DOGE, DOT, ETH, FTT, KSM, TRU, OKB, OXY, RAY, REN, ROOK, SHIB, SOL, SRM, SUSHI, and XCH.
Leveraged Trading
---
ACDX currently offers up to 200x leverage. Users can adjust their maximum leverage level under account settings, and additionally, they can choose how much effective leverage to employ by sizing their positions appropriately.
Contract specifications for the supported coins can be found here.

Is ACDX Safe?
---
ACDX does not guarantee absolute security, and takes a realistic stance on the matter, citing the advancement of cryptography, code-cracking, AI, and quantum computers as a potential threat to not just themselves, but also to any and all online platforms.
Their platform is built on open-source software, which can be a double-edged sword. On one hand, independent entities can analyze the code and report weaknesses, but on the other hand, those who discover vulnerabilities may choose to exploit them instead of reporting back to ACDX.
That being said, they do store 95% of their assets in cold storage – the most secure form of crypto storage. Additionally, they use BitGo multi-signature technology and encrypt personal information. These security practices are up to standard.
ACDX Exchange Trading Fees
---
Makers: 0.015%
Takers: 0.050%
On ACDX, makers pay a fee of 0.015% and takers pay 0.050% regardless of the contracts and markets involved. However, accounts using leverages of 50x or above will be charged an additional fee of 0.035% for makers and takers alike; the additional fees are injected into the insurance fund to address the account's higher risk of liquidation.
Trading fee discounts:
| | |
| --- | --- |
| Amount of ACXT Held | Fee Discounts |
| $100 | 2% |
| $1,000 | 4% |
| $5,000 | 8% |
| $10,000 | 10% |
| $50,000 | 15% |
| $100,000 | 20% |
| $200,000 | 25% |
| $500,000 | 30% |
Users who hold the native token ACDX receive discounts on their fees depending on how much they hold in USD equivalent.
ACDX Exchange Withdrawal Fees
---
| | | |
| --- | --- | --- |
| Coin/Token | Minimum Withdrawal | Withdrawal Fee |
| ACXT | 100 | 50 |
| BTC | 0.002 | 0.0006 |
| ETH | 0.1 | 0.02 |
| USDT | 20 | 10 |
| MUSD | 20 | 10 |
| USDC | 20 | 10 |
| TUSD | 20 | 10 |
| BUSD | 20 | 10 |
| PAX | 20 | 10 |
| DGCL | 400 | 200 |
| CLIQ | 600 | 300 |
Note: If the withdrawal volume exceeds the trading volume, an additional withdrawal fee of up to 0.10% can be applied; users affected by this will be notified by ACDX in advance.
Deposit Methods
---
Currently, ACDX does not accept any fiat deposits regardless of the currency, including but not limited to USD, EUR, GBP, JPY, AUD, CAD, etc. All deposits are done using crypto, on which there are no deposit fees whatsoever. That being said, network fees (also known as gas fees) may still apply and are independent of ACDX.
Accepted crypto: BTC, ETH, USDT, MUSD, USDC, TUSD, BUSD, and PAX.
⚡How to deposit on ACDX
Go to the wallet page under Account Settings.


Choose the token you'd like to deposit.


Copy the deposit address or scan the QR code.


Use your wallet to perform the transaction.
The deposited funds will be available for trading after 1 confirmation for Bitcoin, and 12 confirmations for Ethereum.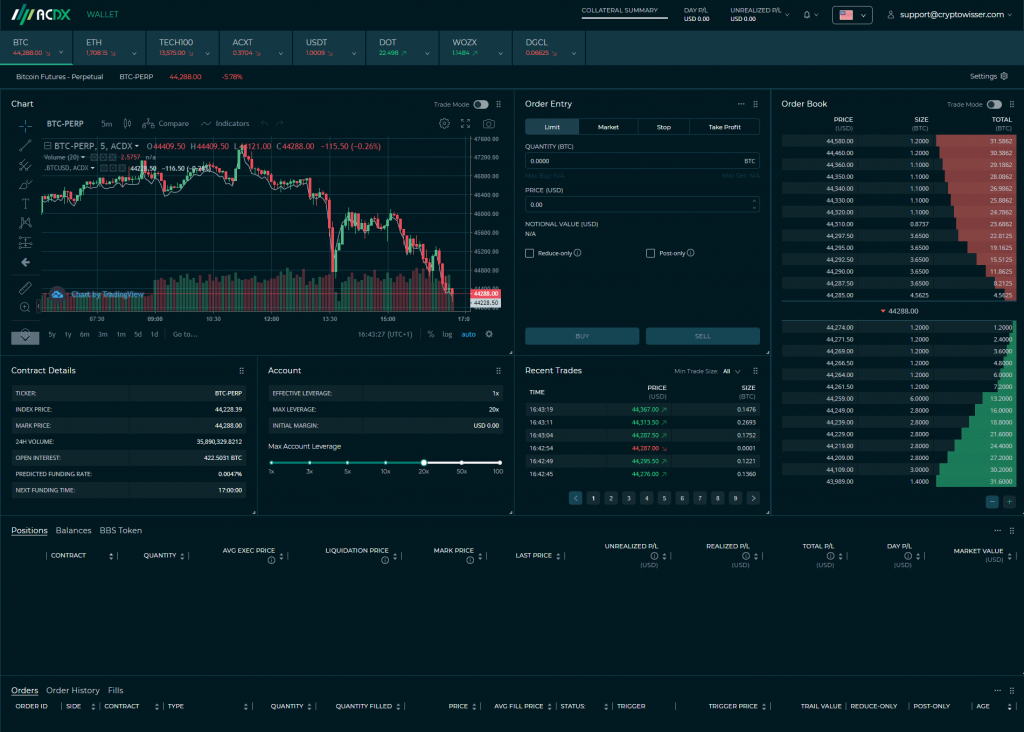 What Countries Are Supported?
---
ACDX supports all countries in the world except for the following:
Hong Kong, Cuba, Iran, North Korea, Crimea, Sudan, Syria, United States of America [including all U.S. territories like Puerto Rico, American Samoa, Guam, Northern Mariana Island, and the US Virgin Islands (St. Croix, St. John, and St. Thomas)], Bangladesh, Bolivia, Ecuador, and Kyrgyzstan.
Are US-Investors Allowed?
---
No, ACDX currently does not support the United States, including all of its territories such as Puerto Rico, American Samoa, Guam, Northern Mariana Island, and the US Virgin Islands.
According to ACDX support:
"ACDX will not initially be offered to citizens and residents of the United States.
We may not make all of the Services available in all markets and jurisdictions and may restrict or prohibit the use of all or a portion of the Services from Restricted Locations, which at this time include… the United States of America [including all U.S. territories like Puerto Rico, American Samoa, Guam, Northern Mariana Island, and the US Virgin Islands (St. Croix, St. John, and St. Thomas)]…
The content of the terms shall not be excluded from the laws of the country or region under which the User belongs. As a result, if You do not meet these eligibility requirements, do not use our services."
Does ACDX Have KYC?
---
Yes, ACDX has a KYC process that is required to fund and trade with an account. There are two types of KYC processes: one for individuals, and one for institutions.
⚡For individuals
---
A government-issued ID (such as a passport or driver's license) with a picture of the individual in it
A clear and in-focus photo of the individual holding their ID, with the entire face visible and lacking any accessories
First, middle and last names
Date of birth
Country of residence
Identification number
⚡For institutions
---
In order to register as an institution, they must first register an individual account and then email the following documents to ACDX requesting verification as an institution:
1. Name, address, and country of incorporation
2. Name and address of any Beneficial Owner
Each individual or entity which directly or indirectly owns 25%+
A single individual with significant responsibility to control the legal entity
The trustee, if a trust owns the entity

Is ACDX Regulated?
---
ACDX has stated that it will maintain a strict KYC compliance and AML program, as well as a focus on anti-fraud, transaction reporting, and cybersecurity with a market surveillance team to prevent and combat any financial crimes.
Besides the above-mentioned practices, the company has not yet named any specific regulations it adheres to, or any regulatory bodies it works with.
Conclusion
---
ACDX may not be the biggest exchange in the world, but considering their early launch, they've made quite a progress, which is not surprising considering their team. Among the team members are quantitative traders, exchange operators, market makers, and technology engineers. Some of them have working experience in financial and technology companies including but not limited to Merrill Lynch, Lehman Brothers, Standard Chartered, Citigroup, OKEx, and Bittrex.
With a focus on providing cryptocurrency derivatives products, they're certainly playing a role in a market that needs innovation and variety; from callable bull/bear contracts to warrant contracts and accumulator/decumulator. With up to 200x leverage, speedy trades, and up-to-standard security, it's an option worth looking into for those interested in trading cryptocurrency derivatives.
All in all, crypto will be seeing far more of these platforms as it grows, but whether or not they will catch on depends on exchanges like ACDX who have been there from an earlier point, being the first at providing certain crypto derivatives products. It still has room to improve in some regards, and definitely a lot of room it can grow into, but for now, remains a worthwhile option as a crypto derivatives exchange.
ACDX Alternatives
---
If you are not fond of ACDX reviews, here is a list of potential crypto exchanges that can be good alternatives:
PROS
Various cryptocurrency structured products
Moderate fees with discount options
Up to 200x leverage
24/7 dedicated customer support
Accepts various crypto deposits
Allows crypto withdrawals
CONS
Not currently available in the US
Requires KYC verification
No fiat deposit options
Not a lot of supported coins/tokens

CaptainAltcoin's writers and guest post authors may or may not have a vested interest in any of the mentioned projects and businesses. None of the content on CaptainAltcoin is investment advice nor is it a replacement for advice from a certified financial planner. The views expressed in this article are those of the author and do not necessarily reflect the official policy or position of CaptainAltcoin.com