FTX.US Review – Fees, Supported Coins, Payment Methods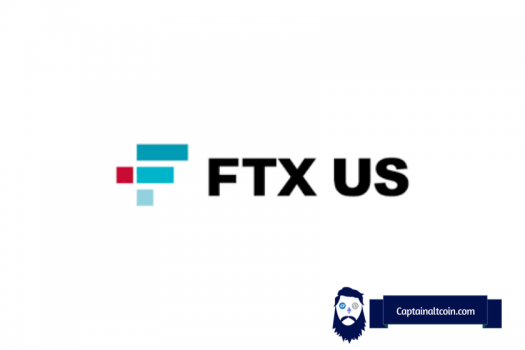 FTX.US Review – Fees, Supported Coins, Payment Methods
Available for US users
Licensed & regulated
Good customer support
Easy to use
Low fees
Ftx.us is the US-specific variant of the FTX exchange customized to meet the stricter regulatory requirements of trading crypto in the United States of America. It was launched in May 2020 and joined Binance US, Kraken, and Coinbase in their elite group as top Crypto exchanges in the US.
This article will review the features of the crypto exchange, including its pros and cons, to help you determine if it's a good choice for you. Let's go for a ride.
Visit Ftx Now Visit Ftx.us Now
KEY FEATURES
---
It offers low fees for trading, deposits, and withdrawals
There are currently twenty-four coins supported on the platform
The supported currencies are the US Dollar(USD), Australian Dollar(AUD), Euro(EUR), Canadian Dollar(CAD), Pound Sterling(GBP), and Singaporean Dollar(SGD).
It accepts deposits via bank transfer (fiat currency), wire transfer, and cryptocurrencies.
It has a sophisticated yet easy to use interface
It has a mobile app for both Android and iOS operating systems.
WHO IS FTX.US BEST SUITED FOR?
---
The exchange is best suited for crypto traders who live within or are indigenous to the US and would like to hedge their positions with margined leverages.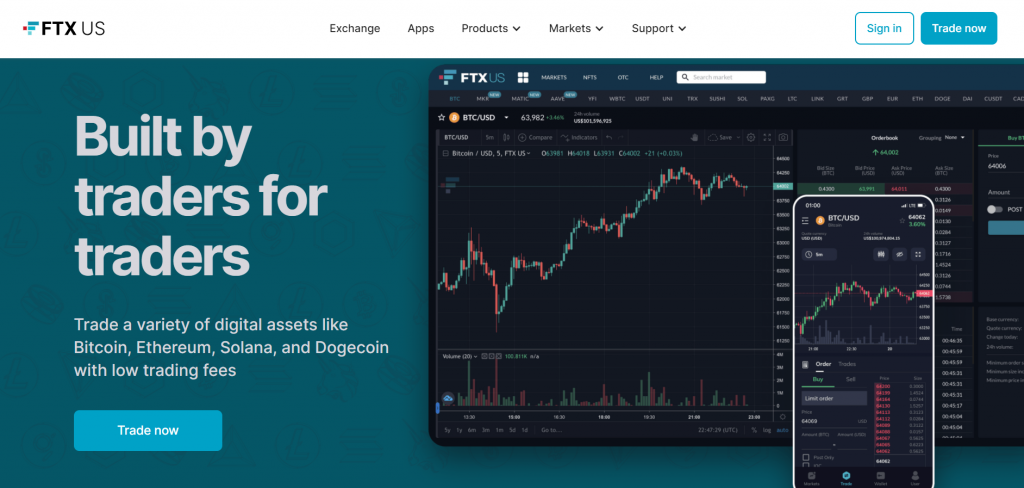 It comes in handy because most US residents suffer from the strict regulations of crypto trading and usually have to go to great lengths to get or trade their desired coins. With Ftx.us, the process is much simpler, even though only a limited number of coins are still available for now.
In other words, the platform offers services to experienced traders.
A trustworthy cryptocurrency exchange, FTX specializes in trading leveraged token that may be exchanged on margin as well as derivatives, indexes, and futures.
BACKGROUND
---
Ftx.us was founded on May 22, 2020, by Sam Bankman Fried and Gary Wang, who are wall street and silicon valley experts. It was founded in Berkeley, Calif, and describes itself as an exchange for crypto traders by traders.
With its headquarters in San Francisco, California, it showed right from the start that it meant business, acquiring the needed licenses to operate in all 50 US states and incorporating even some international jurisdiction.
It didn't stop there. In a bid to enable margin trading for its users, Ftx.us acquired LedgerX(a United States derivative company) in August 2021, becoming one of only two exchanges that support leveraged trading in the US.
TRADING EXPERIENCE ON FTX.US
---
The FTX exchange is one never shy of spending money on quality. This trait spreads to its US-variant as a lot of funds were invested in ensuring that users take delight in trading. The aesthetic design of the website, combined with the user-friendly interface, makes this exchange stand out.
In addition, there are Android and iOS applications that provide a mobile experience. Also, you have a wide range of options when choosing what or how to trade. You could trade spot markets or engage in derivative trading. You could also decide to go with Over-the-counter(OTC) trading or partake in their Non-fungible token(NFT) marketplace.
For experienced traders, FTX supports the trading of futures, stocks, and leveraged tokens.
AVAILABLE COINS AND CONTRACTS
---
There are one hundred and thirty-six(136) NFTs currently traded on the Ftx.us NFT marketplace. The floor prices are measured in Sol, and they go up or down based on the supply/demand structure.
In addition to that, there are 24 coins traded in the exchange in 48 markets altogether. Those coins are Bitcoin(BTC), Solana(SOL), Ethereum(ETH), Litecoin(LTC), Chainlink(LINK), Sushiswap(SUSHI), Polygon(MATIC), Bitcoin Cash(BCH), Dogecoin(DOGE), Uniswap(UNI), Wrapped Bitcoin(WBTC), The Graph(GRT), Basic Attention Token(BAT), Tron(TRX), Tether(USDT), Aave, MakerDAO(MAKER), Yearn Finance(YFI), DAI, Compound USDT(CUSDT), and Pax Gold(PAXG)
LEVERAGE AND MARGIN TRADING
---
The recent acquisition of LedgerX by ftx.us has made it possible for them to broaden their products to include leveraged trading. However, there are still some things required from users before they are allowed to trade margin on ftx.us. Those requirements are:
They must have at least $100,000 worth of digital assets on the exchange
They must have passed KYC (know your customer) regulations
If they are an entity, their net worth must be at least $1M
If they are individuals, their net worth must be at least $5M
They must attest that they'll only use ftx.us leverage and margin trading to hedge.
Hedging, in this case, is different from speculating. Speculating is the most common form of leveraged trading in which you put down your digital assets, betting for the crypto market to go in a particular direction(either long or short).
Hedging means going long to protect against short exposure or going short to protect against long exposure. That is the only accepted form of leverage trading on ftx.us.
Also, you must keep in mind that the maximum leverage allowed is 10x leverage.
FTX uses a leveraged token to enable users to make quick profits.
TRADING FEES
---
Ftx.us fee structure is tiered based on the volume of funds traded in 30 days, as is popular with most exchanges. The table below itemizes it:
| | | | |
| --- | --- | --- | --- |
| TIER | 30-DAY VOLUME(IN USD) | MAKER FEE | TAKER FEE |
| 1 | 0 | 0.1% | 0.40% |
| 2 | > 100,000 | 0.08% | 0.30% |
| 3 | > 500,000 | 0.06% | 0.20% |
| 4 | > 1,000,000 | 0.05% | 0.15% |
| 5 | > 5,000,000 | 0.04% | 0.1% |
| 6 | > 10,000,000 | 0.03% | 0.08% |
| 7 | > 15,000,000 | 0.02% | 0.07% |
| 8 | > 30,000,000 | 0.01% | 0.06% |
| 9 | > 50,000,000 | 0.00% | 0.05% |
For users that trade in large volumes, FTX has reduced trading fees.
Leveraging 50x could result in a 0.02 percent increase in trading fees
DEPOSITS AND WITHDRAWALS
---
DEPOSITS
---
There are five ways to deposit on ftx.us. They are wire transfers, cryptocurrencies, ACH(Automatic Clearing House), Silvergate Exchange Network, and credit or debit cards.
For wire transfers, there is a 1% fee which can amount to a minimum of $5 and a maximum of $35
For cryptocurrencies, the deposit fee depends on the transaction fee you pay to miners
ACH deposits attract a standard fee of $0.5, which can be waived under certain conditions.
Silvergate exchange network enables near-instant funding to and from your bank account. However, you have to activate it both on the ftx.us interface and with your bank.
Credit and debit card deposits attract the usual payment processor fees.
If you deposited any of USD, USDC, TUSD, PAX, BUSD, or HUSD, it is credited to your account as USD stablecoin and can be withdrawn independently. What that means is that you can deposit PAX and withdraw it as BUSD since they are all of the same value.
Lastly, the deposit limit is based on the KYC tier your account belongs to. Those who are in tier 1 can only deposit a maximum of $10,000 daily and $300,000 in a lifetime, while there is no limit for those in tier 2.
Withdrawals
---
There are four ways of withdrawing on the ftx.us exchange. They are wire transfers, crypto withdrawals, ACH withdrawals, and Silvergate exchange network withdrawals.
Wire withdrawals attract a 1% few with a minimum limit of $5 and a maximum limit of $35
Crypto withdrawals are free, except for Erc20/Eth withdrawals and Omni token withdrawals.
ACH withdrawals attract the $0.5 standard fee, which can be waived under certain conditions
Silvergate exchange network withdrawals are connected directly to your bank account.
A leveraged token is an ERC20 token that has an inherent 3x exposure to the underlying asset.
No deposit or withdrawal fees are charged by the platform.
SECURITY AND TRUSTWORTHINESS
---
Not only is ftx.us one of the top exchanges to trade crypto in the US, but it is also one of the top ten crypto exchanges worldwide. That in itself shows how credible it is. That, coupled with the fact that it is regulated by FinCen, one of the top monetary regulating bodies in the US, makes a strong argument for its credibility.
In addition to those mentioned above, consider the following security protocols the exchange has in place to ensure the safety of funds:
Users are required to set up a password to access their accounts. Also, they need to perform a mandatory 2fa setup to prevent unsolicited access.
There is a separate password and 2fa setup required for withdrawals. This is different from the main one used to access the account.
After the 2fa is removed or the password is changed, there is a lock on withdrawals for 24 hours.
Users are notified immediately if there is any suspicious activity on the account.
There is a sub-account login function in which a user can allow others to access his account with configurable permissions. The permissions allow the other person to create sub-accounts, to only view the account information without making changes, or perform withdrawals
Specific IPs and wallets can be whitelisted, allowing for withdrawals without having to load the withdrawal information every time.
INSURANCE FUNDS
---
Users' funds are insured at US banks with the FDIC(Federal Deposit Insurance Corporation)
KYC REQUIREMENTS
---
KYC registration is required to access all the features on the exchange. Without it, users can only explore the website without performing any functions. There are two tiers of KYC registration with different requirements for each. If you're an individual, you'll need to submit the following information for KYC:
Your full legal name as shown in your ID documents
Your address
Your date of birth
Your government-issued identification document
Your social security number
A document to prove your address
A selfie was taken with your ID document to confirm your identity, and
A document showing your source of funds.
For Corporate users, they need the following:
The Business name
The main office address
Tax identification number/Entity identification number
The formation documents
A list of all the major stakeholders
Government-issued identity documents
Social security numbers
Beneficial ownership documents
Proof of address
A selfie was taken with the ID to confirm the identity
A document showing the source of funds.
SPECIAL FEATURES
---
VIP PROGRAM
---
There are two VIP levels on ftx.us:
VIP 1: This level is for users with a 30-day trade volume of at least $150M or a 30-day maker volume of at least $40M. They enjoy a discount of 0.04% on taker fees
VIP 2: This is for users that contribute at least 5% of the 30-day exchange volume. They enjoy a discount of 0.025% on taker fees and 0% on maker fees.
There are also three market maker levels on the exchange:
MM1: They contribute a maker volume greater than or equal to 0.15% of the exchange volume. These enjoy -0.0025% fees.
MM2: They contribute a maker volume greater than or equal to 0.5% of the exchange volume. These enjoy -0.005% fees.
MM3: They contribute a maker volume greater than or equal to 2.5% of the exchange volume. These enjoy –0.01% fees.
(The negative value before the fees is not a mistake, it means there are rebates on the fees)
In addition, there is a $1,000 prize per market for the largest market maker in that market.
For all spot markets, FTX US fees have a tiered structure that includes maker and taker fee
OTC PROGRAM
---
OTC(over-the-counter) trading refers to a private deal between two parties to exchange crypto. It is different from exchange trading, in which bids and asks are placed and executed by the exchange. Ftx.us has a dedicated website where users can get instant OTC quotes for significant coins.
If you are not fond of the ftx.us exchange, make sure to check out our guides on of wide range other cryptocurrency exchanges:
THE FTT TOKEN
---
FTT is the native token of the FTX exchange. Staking it on the exchange offers various features like:
Increased referral rewards
Increased airdrop rewards(SRM)
Free FTX swag NFTs
Rebates on trading fees
Waived blockchain fees when withdrawing Erc20/Eth or Omni tokens
Initial exchange offering tickets
Bonus votes on community protocols.
Unfortunately, at the moment, FTT can not be traded on the ftx.us exchange. However, as the exchange keeps making strides in acquiring licenses in the country, this may soon change.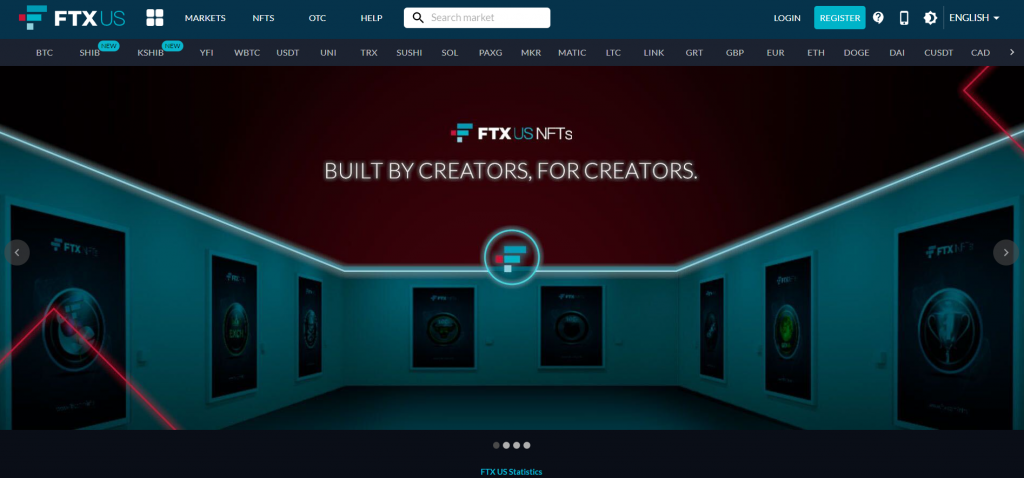 CUSTOMER SUPPORT AND EDUCATION
---
As is expected of a reputable organization, ftx.us doesn't joke with customer support and training. There are training resources on the website, consisting of a blog and a help center at the bottom of the website's home page. The help center directs users to about fifty well-written articles that explain different aspects of the ftx.us operation.
In addition to that, the exchange also shows its presence in major social media platforms, namely Facebook, Instagram, Twitter, Medium, and Telegram.
PROS
Available for US users
Licensed & regulated
Good customer support
Easy to use
Low fees
CONS
Less features than its mother company FTX
Less listed coins

CaptainAltcoin's writers and guest post authors may or may not have a vested interest in any of the mentioned projects and businesses. None of the content on CaptainAltcoin is investment advice nor is it a replacement for advice from a certified financial planner. The views expressed in this article are those of the author and do not necessarily reflect the official policy or position of CaptainAltcoin.com