Stex.com Review – Is STEX Exchange Legit & Safe To Use?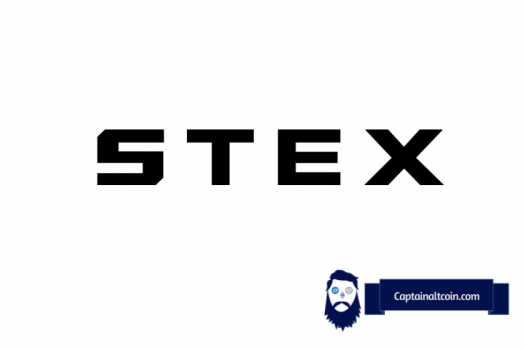 Stex.com Review – Is STEX Exchange Legit & Safe To Use?
Low trading Fees
Low Withdrawal Fees
No withdrawal limits
Top-notch security
Instant login with Google, Microsoft, and Linkedin accounts
Lightning-fast orders processing
Highly configurable notification settings
Price notifications
Profitable referral program
Quick support response
Detailed documentation
Fiat gateway
Email encryption
Web authentication with security key
Trading views world-class advanced charting
Streaming API over WebSockets
Robust rest API
Mobile Application for Android and Ios
Over the last couple of years, the number of cryptocurrency trading platforms has increased. This can be attributed to the fact that, in recent years, more and more information regarding cryptocurrency has been made accessible to the public. Although all of the various trading platforms claim to be the best, not many are as unique as Smart Token Exchange, commonly referred to as STEX.COM.
About the Company
---
Founded in 2017, STEX.COM has proven to be one of the most reliable cryptocurrency trading platforms globally and one of the most exciting crypto exchanges. As a result of its reliability, the company, based in Estonia, has earned plenty of cryptocurrency traders' trust and loyalty. According to the company's website, the company has over 300,000 registered users. It's impressive a high number of users goes to show just how reliable and fantastic the trading platform is. If you're looking for an online trading platform that you can easily earn a lot from, STEX Exchange is the right place for you.
STEX.COM has a trading volume of over $18,000,000 at the time of writing. More than respectful trading volume if you ask me.


Currencies Exchanged at STEX.COM
---
In the past, many cryptocurrency traders complained of lacking an online platform where they could exchange an unlimited number of various cryptocurrencies. However, since this beautiful trading platform's formation, the number of such complaints has reduced remarkably.
STEX.COM's trading platform allows for various cryptocurrencies to be exchanged. In total, the company allows for the trade of over 500 cryptocurrencies and a wide range of trading pairs. There aren't many trading platforms that allow for such a high number of cryptocurrencies.
Fees
---
One of the primary goals STEX Exchange aims to achieve is to offer a conducive trading environment. In order to achieve this goal, the company offers its clients the chance to trade at reasonably competitive rates. Here's some more information regarding the company's fees.
Trading Fees
---
Many trading platforms tend to charge different fees between the makers and the takers. However, this doesn't occur at the STEX cryptocurrency exchange. Unlike such trading platforms, this magnificent company previously charged a flat fee of 0.20% of each trade. In January, the company lowered its trading fees to 0.10%. This fee is significantly lower than the industry average, which stands at 0.25%.


Withdrawal Fees
---
---
Before STEX.COM's founding, many experienced traders complained about the existing trading platforms' high withdrawal fees. However, since its founding, such complaints have been a thing of the past. This is because when a trader using STEX.COM as his/her trading platform of choice wants to withdraw, he/she will be subjected to a withdrawal fee ranging between 0.001 and 0.002 BTC. As such, this company's withdrawal fees are also significantly lower than the industry's average, which stands at 0.000812BTC.
Deposit Methods
---
---
STEX.COM prides itself on having a wide variety of depositing methods that can be used to make fiat deposits. Although one can't deposit via bank transfer, he/she can deposit using Ciphertrace, Yubico, VISA, Mastercard, Bancontact by Batos, Satos, iDeal by Satos, SEPA by Satos, Skrill, and ADVCash. One can also deposit using RAPID Transfer, PAYEER, EPay, Coinify, CoinTracking, Koinly, Fractal, Smart-ID, Cryptonomica, Zelcore, and FMZ Quant. The number of methods almost makes Stex an all-in-one payment method.
From this long list, it's pretty clear that by simply using STEX.COM as your trading platform of choice, you can rest easy as depositing funds is evidently not an issue.
Available Countries
---
---
Although cryptocurrency trading is a fast-growing sector, not all countries have fully allowed it. STEX.COM aims to cater to millions of users in a number of different countries. As such, the company has, over the years, expanded its reach to several countries. However, a significant concentration of its users is within Europe, which is not at all surprising considering the fact that its parent company is based in Europe.
To check whether the company operates in your region, all you've got to do is to try and download the app on your device. If it successfully downloads, then your country of stay allows for its use.
Withdrawal Limits
---
---
Before settling on a given online trading platform, it's in your best interest to learn about your preferred online trading platform's withdrawal limit. Many have complained of being barred from withdrawing their funds due to exceeding their trading platform's withdrawal limit on numerous occasions. By selecting STEX.COM as your online trading platform of choice, you need not worry about facing a similar predicament as the company has no withdrawal limits.
Security
---
---
On quite a good number of occasions, many have invested their hard-earned money on trading platforms only to realize that those platforms are scams. Before settling on a given trading platform, you must ensure that it is licensed to operate. It's also essential that you ensure that your trading platform of choice has a clean background prior to choosing it.
It's also critical that you go through your preferred trading platform's past clients' reviews. STEX.COM is a licensed trading platform that boasts a squeaky clean background. Judging by its fantastic reviews, it's quite clear that this trading platform is pretty dependable.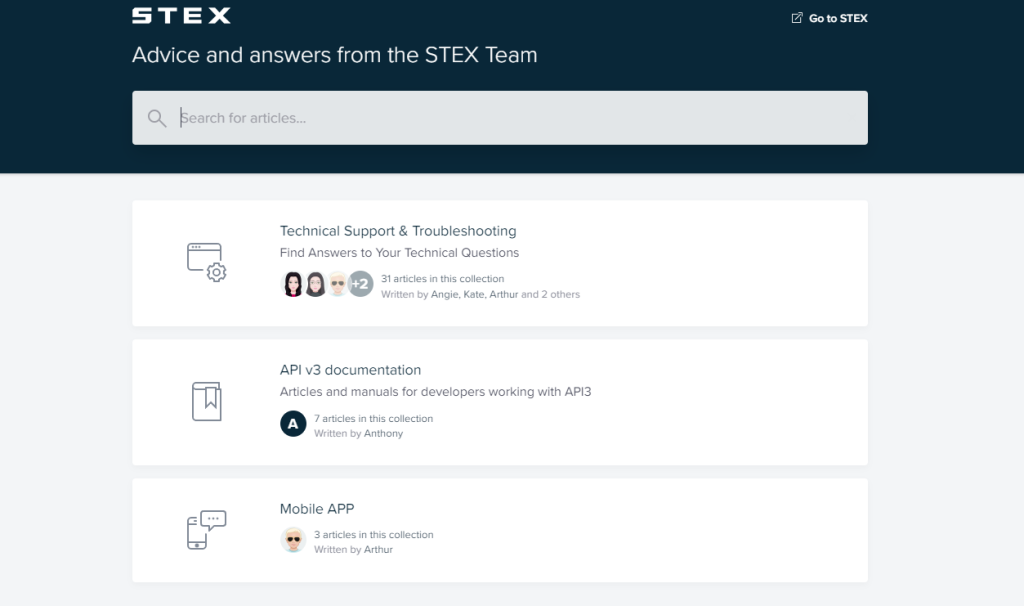 STEX.COM takes the security of its clients quite seriously. When its customers register their accounts, they're required to set up two-factor authentication (2FA). 2FA is an additional security level that sends a unique code to the account owner's phone every time he/she wants to log in, trade, or withdraw funds. Although it's optional, STEX.COM advises each of its new customers to make use of it.
It's worth noting that STEX.COM makes use of the CryptoCurrency Security Standard (CCCS) to protect accounts. An industry standard for major trading platforms, CCCS has proven to be quite an efficient security tool.
Many trading platforms are usually subject to hacks. STEX.COM has never been hacked. This can be attributed to the fact that the company's cloud cluster is physically hosted in several different countries. Thus, the company is a challenging target for hackers and cannot be shut down by a foreign entity.
Given that all of the company's systems are highly encrypted, they cannot be opened without the company's personnel's authorization. As its assets are stored in cold wallets, you can rest assured you won't lose your funds to internet fraudsters.
Going by all the security measures STEX.COM has put in place, it's pretty evident that it's entirely secure.
Customer Support
---
---
STEX.COM has a pretty informative FAQ section. Here, most of the typical customer questions are answered. If you've got a query that isn't answered in the company's FAQ section, worry not, as the company also boasts of having an excellent message box. At this message box, clients can ask all of their unanswered questions. Given that the support staff members are usually relatively rapid in response, the clients' issues are usually sorted out in a matter of a few hours.
Not many online trading platforms have Twitter accounts. STEX.COM has one. Although it is primarily for keeping customers updated, clients can simply comment under a tweet, and they will be directed as to where they should file their complaints.
All in all, STEX.COM has proven to offer superb customer support and brilliant customer care. By becoming one of its customers, you can rest assured that you'll be catered to accordingly if ever you come across an issue that you require professional help solving.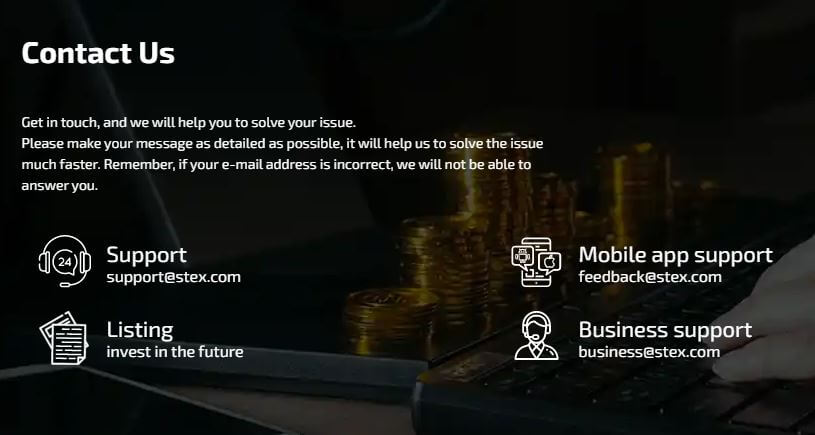 Alternatives to STEX.COM
---
---
There are plenty of crypto trading platforms that are nearly as fantastic as STEX.COM.com. Listed below are some of the notable ones.
Other crypto exchanges to check out:
Final Review
---
---
STEX.com is quite a good cryptocurrency trading platform. Given that it is pretty secure, its customers get to enjoy peace of mind. Although it needs to improve its customer support area, this company is quite advantageous to trade-in with a significant trading volume. If you're a first-timer cryptocurrency trader, this is not the right website for you. However, if you've got adequate cryptocurrency trading experience, this trading platform is worth a try. The fact that the firm supports crypto-to-crypto and fiat-to-crypto trading with no withdrawal limits is a huge plus, as not many trading platforms can do this.
All in all, STEX.com is genuinely an outstanding cryptocurrency trading platform. If you're an experienced cryptocurrency trader, I'd advise you to select STEX.com as your trading platform of choice. You won't regret making this decision
PROS
Low trading Fees
Low Withdrawal Fees
No withdrawal limits
Top-notch security
Instant login with Google, Microsoft, and Linkedin accounts
Lightning-fast orders processing
Highly configurable notification settings
Price notifications
Profitable referral program
Quick support response
Detailed documentation
Fiat gateway
Email encryption
Web authentication with security key
Trading views world-class advanced charting
Streaming API over WebSockets
Robust rest API
Mobile Application for Android and Ios
CONS
The company website lacks a customer care number through which one can reach out
There have been few complaints of the mobile application hanging
Some customers have experienced the slow withdrawal of funds
The 2FA system has made it difficult for some customers to gain entry into their accounts
Not for beginners. For one to trade on this platform, he/she must have quite a lot of experience.
It doesn't accept bank deposits

CaptainAltcoin's writers and guest post authors may or may not have a vested interest in any of the mentioned projects and businesses. None of the content on CaptainAltcoin is investment advice nor is it a replacement for advice from a certified financial planner. The views expressed in this article are those of the author and do not necessarily reflect the official policy or position of CaptainAltcoin.com