We point to the internet in SouthEast Asia to take a look at Indonesia's Tokocrypto exchange as part of the big blockchain technology world where you can trade a digital asset. It was founded back in 2017 and two years later achieved regulatory approval from the Indonesian commodities and futures regulators, the BPPBK. This was a very progressive move for a country with a large population that remains two-thirds unbanked. 
The world's largest crypto platform, Binance, has partnered with Tokocrypto. That alone makes it noteworthy, so let's take a look at what Tokocrypto has to offer, who can use it, and why they might. 
Tokocrypto Overview
---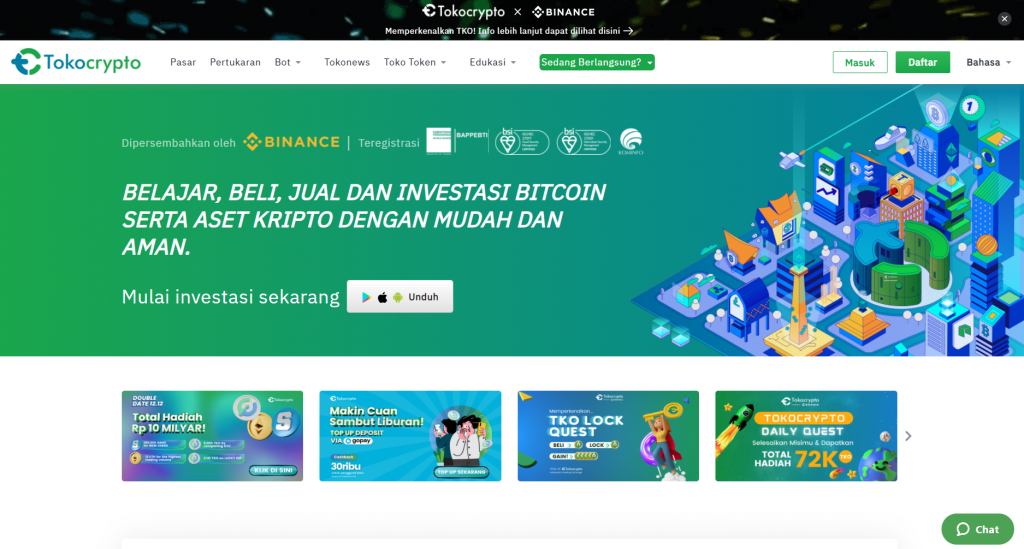 Tokocrypto offers a broad spectrum of services and features. It's trying to appeal to the mainstream retail crypto holder, so it has a little bit of everything. There's the obligatory proprietary token (TKO), the crypto trading bot, launchpad, NFTs, BIDR stablecoin, ETFs, education resources, online community, etc. 
Tokocrypto's stated aim is to become the biggest crypto platform in South East Asia. It took a great step towards this goal by linking up with Binance, the world's biggest crypto exchange. There's more to Tokocrypto than first meets the eye. Below we review the features and get a feel for the platform as a whole.
Services & Features
---
Exchange
---
The cryptocurrency exchange looks pretty standard with charts, trades, orderbook, open orders, and trade history. I prefer it in night mode, but there's nothing radical about it to dislike as a crypto trader. You can select between FIAT, BNB, BTC, ALTS, and ETFs, then search for your desired token. There's a great selection of crypto assets, but they're almost all familiar. Again, it's aimed at the widest possible target audience. 
Launchpad
---
The launchpad assists in getting new crypto projects to market through funding and development. I would like to tell you more, but the TOTO LAUNCHPAD page was not available at the time of writing, which is disappointing for a serious platform. 
Learn & Earn
---
The Kotocrypto academy, the "Kriptoversity," encourages you to earn Tokocrypto native token Toko Token (TKO) while you study crypto assets. Reading the user comments, I could see that there have been problems with people not being able to access their earned coins or even sign up for the project. Since most of the comments, there has been a new release of the software, so we'll wait for the reviews. 
You can download the Kryptoversity app here for Android and the Kotocrypto Bitcoin app here for both Android and Apple devices.
Tokocrypto Supported Coins 
---
There's a massive roster of tokens to trade, including various stablecoins. This is important as not all stablecoins are as stable as they claim. There's even a stable-Rupiah, developed in conjunction with Binance, the BIDR. TKO and BIDR are an essential part of the roadmap for Tokocrypto. The hope is that in the future, TKO will graduate from being an exchange token to become the vehicle for financial inclusion for the 160 million hitherto unbanked Indonesians. 
As you would expect, there's support for BNB (Binance's exchange token) and BUSD (Binance's dollar-pegged stable coin). According to CoinMarketCap, there are about 350 tokens and coins on the roster, so all your favorites are there. It looks like everything listed on Binance is available, but that's just a theory that would take too much time to confirm. 
How to get started with Tokocrypto?
---
The signup process is standard with s minimum age requirement of 17 years. You enter your email, choose a password, and click the terms of use agreement, which you can totally ignore here. There's the usual to and fro of confirmation emails before you can log on and get started. Next, 'Load' your E-Money wallet via bank transfer or credit/debit card. Note that at this point, your fiat money will change into E-Money and thus won't be protected against loss by the regulators. 

You can access all the Tokocrypto services with this E-Money account and when it comes time to cash out, you can turn your E-Money wallet balance back into fiat. The withdrawal will be sent back to the account that is associated with your Tokocrypto account.
There's a disclaimer that checks and controls may be performed to ensure you're not involved in any money laundering, fraud, terrorist financing, or any other financial crimes. This is where the DeFi vs CeFi dilemma kicks in. Anything that you wish to keep private should NOT be done on Tokocrypto – or any other centralized crypto exchange, for that matter. 
Does Tokocrypto Require KYC? 
---
Yes, it does – there's an Indonesian language KYC video here with English subtitles. This tells us that all our trade data, personal data, and financial information is available to the authorities and that Tokocrypto is in no way a part of decentralized finance. Moreover, you have to provide an identity card to verify your account.
Tokocrypto Supported Countries 
---
I couldn't find an explicit list of countries from where you can access Tokocrypto services, but I read this in the small print. You are out of luck if you reside in, Iran, Sudan, North Korea, Cuba, Syria, or other countries with which the US & UK have an ax to grind. It's all very US compliant and friendly. 
TKO and BIDR Tokenomics
---
Almost every platform has its exchange token these days. Tokocrypto's ambition for TKO is that it will go on to support a revolution in personal finance. People who hold TKO hope that as the platform grows, the coin will rocket to the moon. Whatever the intention, Binance has already proved that an exchange coin can become one of the largest cryptos ever. Will TKO be the Indonesian BNB? 
About TKO
---
TKO or Toko Token is the working token required for participation in Tokocrypto products, including their crypto exchange, NFT marketplace, and DeFi applications. It was launched in April of 2021 so has had little time to prove itself. Recent movements suggest that the Toko Token TKO price is blown about by the general crypto market.
Is Toko Token TKO worth holding? As I've said with all exchange tokens, if you believe the volume of business is going to increase, then you should hold some. The potential gains are tied to the growth of the platform. As it stands, Tokocrypto looks uniquely positioned to capture a great deal of business in the near to medium term, so I'd be happy holding TKO, medium to long term. 
BIDR
---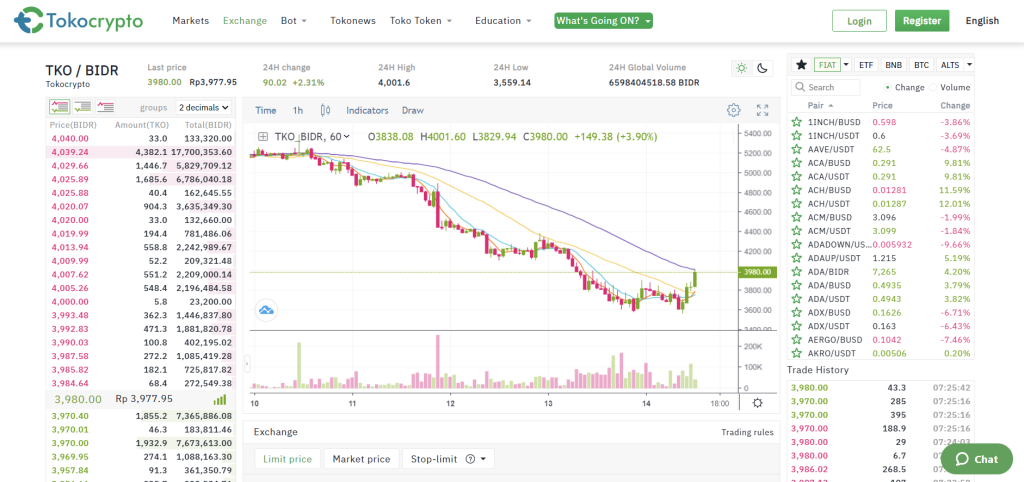 Stablecoins are usually denominated in US Dollars, but BIDR is based on the Indonesian Rupiah (IDR). As always, with stablecoins, it's important to choose one that is both well-backed and not likely to be targeted by financial authorities. BIDR was created in partnership with Binance and is regulated by the Indonesian authorities, so it ticks all the boxes. 
Looking at the CoinMarketCap chart for BIDR we see that it has lost nearly three percent over the past week. That would be very scary for s USD-backed stablecoin. However, this is due to the fluctuating foreign exchange rates, so it depends on how you value your portfolio. 1 BIDR still equals 1 IDR, but the IDR has fallen against the dollar. 
One day, I'm sure there will be a DeFi Forex market for stablecoins. Anywhere there's an opportunity, a market will break out – you heard it here first.
Conclusion
---
Tokocrypto sits in pole-position in the massive SouthEast Asia crypto market. They're properly regulated in a country with tens of millions of unbanked potential customers. They're backed by the largest crypto exchange in the world and are making all the right moves.
Given the recent success of Binance, FTX, and Blockchain.com, I think the future looks amazingly bright for Tokocrypto, TKO, and the Indonesian crypto industry in general.
Read also:
FAQs
---
Deposits & Withdrawal Methods
8
PROS
It has a partnership with Binance
Innovative features such as Learn & Earn and Launchpad
CONS
Native language of the platform is not English
Focused mostly on Indonesian traders

CaptainAltcoin's writers and guest post authors may or may not have a vested interest in any of the mentioned projects and businesses. None of the content on CaptainAltcoin is investment advice nor is it a replacement for advice from a certified financial planner. The views expressed in this article are those of the author and do not necessarily reflect the official policy or position of CaptainAltcoin.com


Tokocrypto Review – Fees, Deposit Methods, Supported Coins