BigONE Review – Fees, Deposit Methods, Supported Coins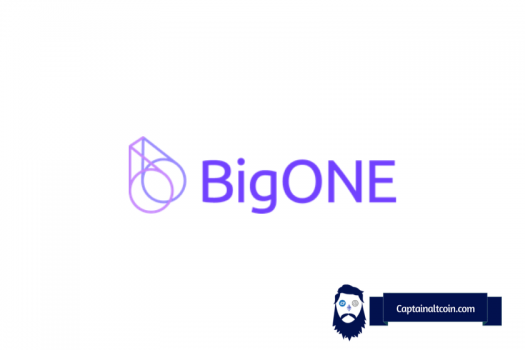 BigONE Review – Fees, Deposit Methods, Supported Coins
Multiple coins and tokens are offered to trade.
Competitive 0.2% trading fee.
Easy trading interface.
BigONE Overview
---
The cryptoverse is full of exchanges. And not only is it full, but thousands of new cryptocurrency exchanges are also joining each year. In the chaos, each trader has to find the platform best for him.
You should be looking for an exchange that is convenient, safe, and offers a selection of coins that suits you best. Of course, that's easier said than done, but that's why we're here, to help you, the trader, make the right choice.
So today we'll be looking at BigONE, a new and emerging cryptocurrency exchange.
BigONE offers multiple crypto exchange trading options on its platform including a native token. In this review, you will look into all you need to decide for yourself.
Summary
---
BigONE is a cryptocurrency exchange platform launched in 2017
The platform differentiates itself by having a user-friendly trading interface that allows users to easily navigate.
BigONE is supported by the company Blockchain.
On the exchange, you'll find a lot of crypto-assets and numerous trading pairs such as BTC, ETH, EOS, etc.
BigONE offers margin trading and Perpetual Futures.
The platform does not accept Fiat payments.
Download the BigONE app and trade wherever you want. Furthermore, the mobile app is compatible with multiple devices.
To increase security, T+1 is placed on all OTC withdrawals.
BigONE charges a fee of 0.20% for all orders. But there are no deposit fees, and a withdrawal fee of 0.0005 BTC every time.
BigONE supports both cold and hot wallets to store customers' digital assets securely.
BigONE Exchange Summary
---
| | |
| --- | --- |
| Headquarters | Singapore |
| Found in | 2017 |
| Native Token | Yes |
| Listed Cryptocurrency | 140+ |
| Trading Pairs | 170+ |
| Supported Fiat Currencies | Yes |
| Supported Countries | Worldwide |
| Minimum Deposit | Depends on Currency & Payment Methods |
| Deposit Fees | Depends on Currency & Payment Methods |
| Transaction Fees | Depends on the Membership Level |
| Withdrawal Fees | 0.0005 BTC |
| Application | Yes |
| Customer Support | FAQs and Support Centre |
What Is BigONE Exchange?
---
BigONE is a cryptocurrency exchange that lists over 140 cryptocurrencies including of course all the big names like BTC and ETH. BigONE is a crypto-to-crypto trading platform based in Singapore founded in 2017.
BigONE lists Integrity, Professionalism, Win-Win, and Safety as their ethos, let's take a look if that holds true.
The company operates all over the world with offices in Russia, Brazil, Vietnam, Seychelles, Singapore, Japan, and Indonesia.

How Does BigONE Exchange Work?
---
Payment methods, withdrawals, and trading all work smoothly without particular security issues. The services are available in four languages: English, Japanese, Chinese, and Korean. But unfortunately, BigONE is not available for US customers. The whole platform seems to be geared toward East Asian customers.
Their native stablecoin is called BitCNY and is tied to the Yuan China's national currency.
Crypto Selection
---
On this point, BigONE goes above and beyond offering over 140 cryptocurrencies and more than 170 pairs including BTC, ETH, EOS, and ZEC. The selection is satisfying as it offers both big names and smaller altcoins, ideal for both rookies and beginners. Most other emerging crypto exchanges lack on this point and do not offer enough choice.
BigONE Features
---
BigONE offers users more than enough choice when it comes to features, these are:
Spot Trading
---
The website accepts BTC, ETH, BCH, and over 140 tokens for spot trading, with BTC, ETH, BCH, and EOS supporting margin trading.
PoS Mining Pool
---
BigONE offers a mining pool for 14 coins with among the highest returns in the industry.
BigONE Perpetual Futures
---
With the BigONE perpetual futures, you can leverage up to 100x expanding to long or short any coin.
BigONE Loans
---
Users can get a loan approval of 10000 USDT at the interest rate of 1 USDT.
Each of these is accessible to all users, and there are no premium features. The selection is good but still, far from perfect, BigONE is in fact missing staking. Nowadays that's not something that we can just overlook, more and more investors are looking to hold crypto for the long term and earn passive interest when doing so, just like with a savings account. Not having this feature means users will have to send their coins to another staking platform, and that's unfortunate.

Registration Process With BigONE
---
The exchange offers a relatively easy and straightforward registration process. Firstly visit the BigONE website, then click on the registration button to begin the process. From here you will be sent to the registration page. Users will then be asked to fill in their details.
Once done, users can log in with their ID and password. An authentication code is sent to the registered mobile number to confirm the user.
BigONE verifies users in two ways:
Know Your Customer
---
BigONE uses the Know Your Customer (KYC) policy to check users' IDs and comply with regulations. With KYC, there's no anonymous trading and it can all be traced to a person in any region of the world.
On BigONE all customers are made to provide identification information. During the registration procedure, clients must provide contact information, proof of identification, and a valid picture.
KYC compliance is obligatory for all centralized exchanges by law, but it has its cons, lot's of them. Of course, it all means you do not have privacy, and malevolent actors such as overreaching governments can easily track all your transactions. If this point bothers you, you can always go for a decentralized exchange.
Two-Factor Authentication
---
Another step is the Two–factor authentication (2FA) integrated into the BigONE exchange platform's security system used to secure logins, withdrawals, deposits, and password changes. The 2FA prohibits unauthorized access to a client's trading account without the account holder's permission.
BigONE Fees
---
BigONE charges a lot of different fees based on trading activities. BigONE charges a flat trading fee of 0.20%. The fee is around the industry average. BigONE then charges an additional taker and maker. The taker fee is 0.06% while the maker fee is 0.02%. All around a fair fee is in line with what you would expect from a cryptocurrency exchange.
Withdrawal Fees
---
All withdrawal fees cost 0.0005BTC, which is lower than the industry average of 0.0006BTC.
BigONE Accepted Payment Method
---
BigONE accepts both debit cards and credit cards for the payment process. Users can buy both Bitcoin and BigONE tokens in an instant with their FIAT token.
BigONE Supported Currencies and Countries
---
The BigONE crypto exchange platform is available in 69 countries, excluding the United States. It can be said that the platform is tailored for East Asian investors.
BigONE Exchange API
---
When it comes to the user-interface simplicity of navigation, and design, of trading platforms every trader, has his preference. Every exchange is different and other than some sense there's no right "formula", it's all up to individuals. Other than subjective design choices you should look out for what essential trading tools are incorporated in the API.
---
Clients of the BigONE exchange will not be disappointed here. The trading platform is both easy to use and intuitive, for rookies and non.
The user interface includes an order book, buy and sell boxes, order history, and a price chart for all coins.
On top of that BigONE also has a mobile app compatible with Android and iOS smartphones. To trade anywhere you are on your smartphone all you have to do is install the BigONE App.

BigONE Exchange Security
---
BigONE excels at keeping your funds safe. The often-overlooked security factor is essential, as hacks and scams are unfortunately quite common in the crypto market.
BigONE uses Multiple Signature Cold wallets, 2-Factor Authentication, and Know Your Customer (KYC).
We've already touched on KYC and 2-FA so let's look at Multiple Signature Cold wallets.
Multiple Signature Cold Wallets
---
The BigONE crypto exchange uses both cold and hot wallets to store users' funds. On the platform around 98 percent of the total digital assets are in secure cold wallets. This makes your funds untouchable by any malicious actor as not being stored online means they cannot be hacked.
The remaining 2% of digital assets is on the other hand stored on hot wallets and used in daily trading activity.
To add another layer of security, the BigONE exchange platform only allows selected authorities to manually access the cold wallets of course if the legal processes have been followed and satisfied.
But this grants another question, who protects us from those who should protect us? Giving your keys and coins to a third party is risky, as it opens the door to a world power trip in some cases even from the ever more controlling government. So always keep that in mind, and act accordingly.
BigONE Exchange Customer Support
---
When it comes to money, customer support is essential. Whether you're calling because of a problem or just to ask for some information you want customer support is ready to answer you. BigONE exchange offers online assistance open 24/7, although it does not have a hotline which is a shame.
Questions can also be sent to the support email address listed on their respective websites. Alternatively, you can also contact BigONE via their social media pages.
At this point, you'd honestly expect better. An emerging crypto exchange should always at least offer a live hotline.
How to start trading at BigONE?
---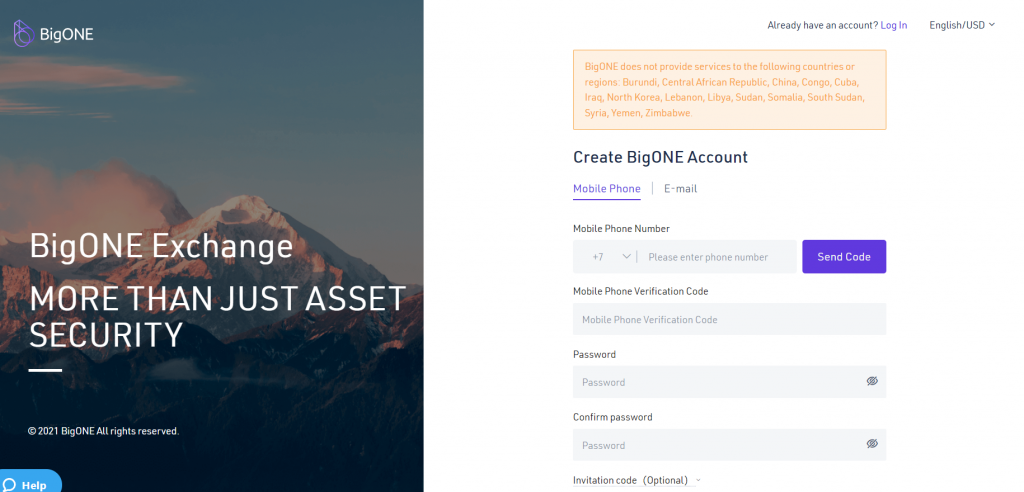 1: Create an Account
---
Visit the BigONE website.
Sign Up for a new account using your mobile number or email address
2: Verification
---
Login in again with your Password and Email.
Enter the Authentication code sent by Google to your email.
Complete the KYC process (Know-Your-Customer) and wait for confirmation to get over.
3: Start trading
---
Once the platform completes your KYC verification process you can begin your trading journey.
4. BigONE withdrawal
---
Log into your BigONE account and head over to the withdraw section from the Assets dropdown tab in the header.
Secondly, choose the asset you wish to withdraw and enter the withdrawal address.
Transfer your funds to the destination address.
This process can only happen after the completion of KYC verification process.
Verdict
---
There are a lot of emerging cryptocurrency exchanges on the crypto market, too many to keep count. Some are good and others are well, not. But BigONE is without a doubt one of the best options I've seen recently on the crypto market. Oftentimes small emerging crypto exchanges lack coin selection but not BigONE with over 140 available and 170 pairs it has some real promise.
The fees are also relatively competitive in pair with what you would expect. The trading interface is easy to navigate, but nothing special. Unfortunately, we just cannot ignore the fact that there's no staking service available on BigONE, investors need that nowadays. That being said it's also true that when it comes to smaller exchanges a lot still today do not have staking. But if BigONE wants to compete with industry leaders like Binance, staking is a must.
Even though BigONE is relatively small in size the many positive reviews prove that it's both safe and legit, therefore you shouldn't worry about getting scammed. There are better options with even more choice and staking service like Binance for example, but for some BigONE might be enough. So if it floats your boat and you find the trade interface design and coin selection satisfying go ahead and join!
Read also:
FAQs
---
PROS
Multiple coins and tokens are offered to trade.
Competitive 0.2% trading fee.
Easy trading interface.
CONS
No margin trading for experienced traders.
A quite new trading platform.

CaptainAltcoin's writers and guest post authors may or may not have a vested interest in any of the mentioned projects and businesses. None of the content on CaptainAltcoin is investment advice nor is it a replacement for advice from a certified financial planner. The views expressed in this article are those of the author and do not necessarily reflect the official policy or position of CaptainAltcoin.com