WhiteBIT Review – Fees, Supported Coins, Payment Methods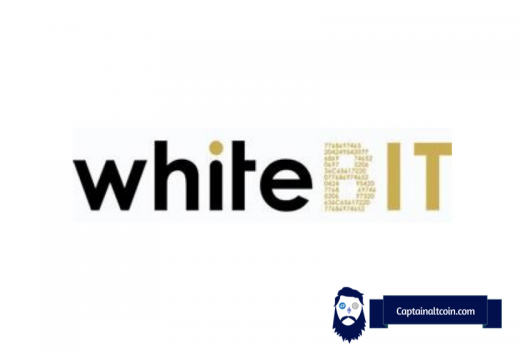 WhiteBIT Review – Fees, Supported Coins, Payment Methods
Low fees
Registered in EU
WhiteBIT is an Estonian-based crypto exchange regulated by the European Exchange and Custody license. Its claim to fame is partnering up with a lot of different blockchain projects, such as Dash and Tron, which have got them over 500 thousand users in Europe and Asia.
The platform is tailored to both the new and professional crypto traders. The platform also offers a customizable interface, and instant orders, with its trading engine performing 10,000 trades per second. In addition, competitive fees and a stable API.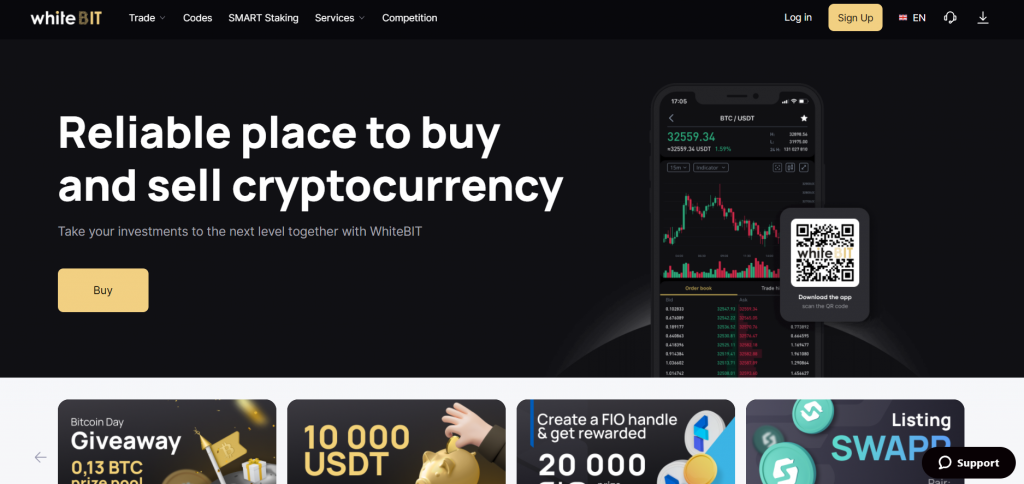 Location
---
Let's start with the biggest issue, WhiteBIT is not available for US investors. As the exchange is not regulated by the SEC. However, the exchange is available in most other EU and Asian countries.
Tools
---
WhiteBIT, of course, offers Limit and Market Orders; on top of that also Stop-Limit, Stop-Market, Conditional-Limit, and Conditional-Market Orders on Spot trading. Margin trading includes Limit, Market, and Trigger-stop-market orders.
Margin trading on WhiteBIT is available with a leverage of 5X, a lot less than what you would expect from a reputable crypto exchange.
Stop-Limit and Stop-Market Orders, in particular, are great tools as they prevent traders from losing big in times of market volatility.
And with conditional orders, users minimize the risks by monitoring the market that affects the currency they're interested in.
WhiteBIT also has a native Demo Token, a free tool used to learn the basics of trading crypto and test their strategies with the DBTC/DUSDT pair. I haven't seen too many exchanges offer a token for such a purpose, which is a shame as it's badly needed. Fortunately, WhiteBIT does not let us down.
All of it is also available on the WhiteBIT mobile app, as you would expect with a decent crypto exchange.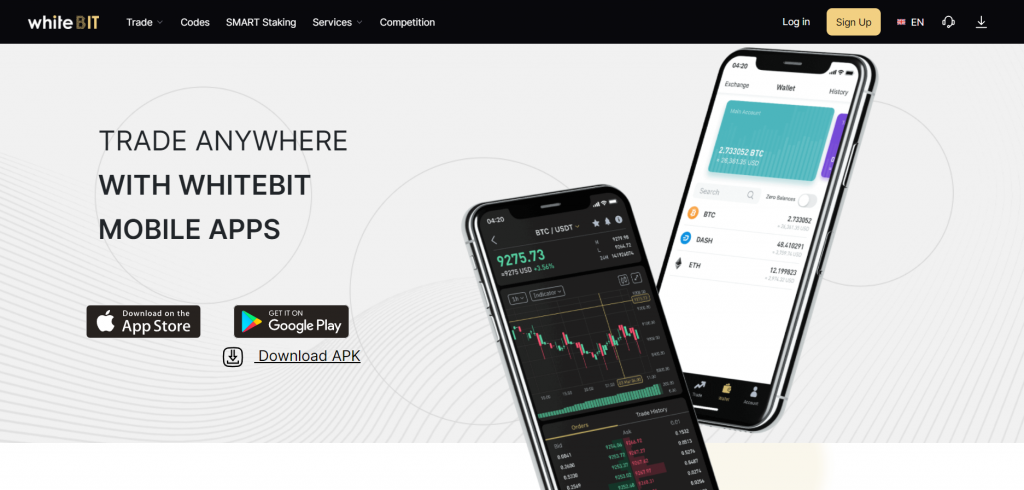 Supported Coins
---
WhiteBIT supports all major coins, including Bitcoin, Ethereum, Chainlink, Polkadot, even Monero, and a lot more. For the rookie/intermediate user who isn't looking for speculative microcap altcoin investing, WhiteBIT offers enough options. Giving investors almost anything they need, with the exception of Cardano for some reason.
Functionalities
---
API
---
On WhiteBIT, users can access both public and private REST APIs. Public REST APIs provide market data, including current order book, recent crypto trading activity, and trade history. While private REST APIs allow you to manage both orders and funds.
SMART Staking
---
WhiteBIT also includes SMART Staking, which allows users to earn returns of 30%. The exchange currently offers USDT, BTC, ETH, DASH, BNOX, XDN, and many more. The interest rate is sent to the holder at the end of the holding period.
Staking on WhiteBIT works great; each currency will tell you the minimum and maximum available deposit and period. It automatically calculates the return rate of all staked coins. All you have to do is insert the amount without even having to deposit, and it will tell you exactly how much you're going to make.


The pool works for almost all altcoins and tokens, and it's regularly updated. Placement is for a period from 10 to 180 days.
The platform does not even charge user fees for using its staking service. All it does is transfer after the end of the active program, together with the return of the deposit in the previously invested currency. The transfer is made through a particular investment account linked to the main account. The interest earned can quickly be withdrawn anytime you wish.
WhiteBIT's affiliate program
---
Another exciting aspect of WhiteBIT is its affiliate program. All you have to do to participate in it is register and verify and click on the "Referral program" section. Then click on the "Get a link" button.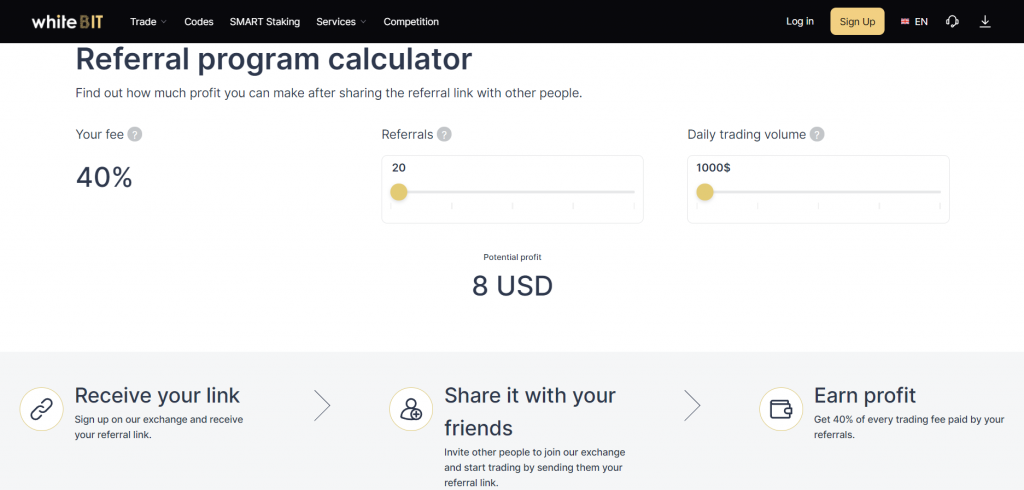 That's how easy it is. Now you'll receive a personal referral link that you can paste anywhere without restrictions. Anyone who follows the link becomes your referral, so once he registers, goes through all the necessary steps, and starts trading you'll earn income from his trades. The referral link owner receives 40% of all the trading commissions.
The program doesn't have a maximum amount; you'll earn income as long as trades are made on the trading platform.
The affiliate function isn't that unusual among crypto exchanges, and truth is told, WhiteBIT does not offer anything out of the ordinary in this context. But it is still good to see.
WhiteBIT TradingView
---
The trading view is a fundamental part of any crypto exchange. Each trader should find the one that suits him best; there are few objective criteria in this case as it all depends on personal preference. This is the Basic trading view on WhiteBIT:

The spot trading view:

Margin trading view:

WhiteBIT Fees
---
WhiteBIT Trading fees
---
The WhiteBIT exchange does not use the traditional taker and maker fee structure, but ops for a "flat flee model." The WhiteBIT flat fee starts at 0.10%, a lot less than the industry average of 0.25%.
Although some trading fees offer even lower fees, displayed on the Live Trading page each time an order is placed.

WhiteBIT Withdrawal fees
---
Let's take a look at the withdrawal fees then. Withdrawing BTC costs you 0.0004 BTC. Quite a lot under the industry average.
Withdrawal limits vary depending on the user's account. New and Basic Accounts have a limit of $500 (or equivalent) per day, while enhanced accounts are $100,000 (or equivalent) per day with two-factor authentication enabled. But keep in mind that KYC compliance will be required for withdrawals of more than 2 BTC per day.
All in all, the fees are very competitive, setting the WhiteBIT exchange apart from similar platforms.
Deposit Methods
---
Experienced traders can access 160 trading pairs of both crypto and FIAT, such as BTC/USD, BTC/USDT, BTC/RUB, and BTC/UAH. Deposits and withdrawals are made with Visa and MasterCard, as well as Advcash, Qiwi, Mercuryo, Geo-Pay, Interkassa, monobank, and Perfect Money.
By supporting FIAT deposits the WhiteBIT exchange sets out to be an "entry-level exchange", as it allows newbies to take their steps in the emerging world of cryptocurrencies.
WhiteBIT Security
---
The WhiteBIT exchange takes security seriously, storing 96% of all crypto assets in cold storage. Making it almost impossible for hackers to find access to users' funds as they aren't stored on a cloud but in hard physical form.

Like with most crypto exchanges, WhiteBIT also offers a two-factor authentication log-in if needed. There are also IP-detection features, biometrics confirmation, and more. All in all, WhiteBIT seems to focus on security.
The exchange is 5AMLD compliant. It is safe to say that WhiteBIT takes security as it should, very seriously. The exchange comes out on top when compared to competitors.
Another great feature about WhiteBIT is that it allows for withdrawals of up to 2 BTC ( or the equivalent in any other crypto) a day without any KYC requirements. Which is a lot more than most competitors; Binance, for instance, has the withdrawal limit without KYC set at 0.06 BTC. Not being regulated by US agencies is, in this case, a big pro for WhiteBIT as it has more room to move.
But let's not forget that decentralization is the ethos of crypto. Not your keys, not your coins, that's the painful truth. Leaving your funds in the hands of a centralized exchange opens you up to a wide range of institutional power abuses; keeping the funds yourself does not. That's why I personally would advise against leaving too much of your holdings in the hands of a centralized exchange as you never know.
Read also:
Customer Support
---
WhiteBit's customer support is available 24/7 and 365 days a year, including holidays. The exchange offers a live chat, where users can directly communicate with WhiteBIT employees and receive answers in seconds. This crypto and trading platform also includes a comprehensive FAQ section that contains all the information you'll need to use the exchange.

Verdict
---
The WhiteBIT Crypto exchange offers users a web terminal and mobile application, both simple to use and functional and simple to use. The exchange lists all the most popular coins and tokens and also includes FIAT currencies.
Traders have many trading tools available but only with a maximum of 5x leverage which is a real shame.
Additionally, the exchange also offers rookies a demo token used for training and testing strategies.
Fees and commissions are well below the industry average. Lastly, security is top-notch way beyond most competitors.
Overall it's safe to say that WhiteBIT is a good cryptocurrency exchange, that comfortably fits in the top 50.
PROS
Low fees
Registered in EU
CONS
Not available in the US
Lower liquidity

CaptainAltcoin's writers and guest post authors may or may not have a vested interest in any of the mentioned projects and businesses. None of the content on CaptainAltcoin is investment advice nor is it a replacement for advice from a certified financial planner. The views expressed in this article are those of the author and do not necessarily reflect the official policy or position of CaptainAltcoin.com