Bitget Review – Is This Crypto Exchange Safe & Legit?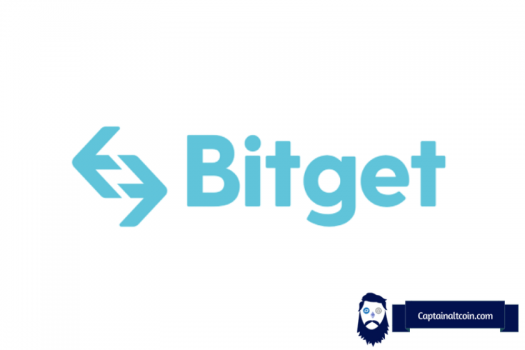 Bitget Review – Is This Crypto Exchange Safe & Legit?
24-hour customer support.
Small transaction fees.
Excellent and super easy copytrading feature
Professional traders get 10% of their followers' profit after a successful trade.
Acquired licenses from Singapore, Australia, the USA, and Canada.
Unified Contract Feature.
In the realm of digital asset trading, one name that has been gaining significant attention is Bitget. This Bitget review aims to provide a comprehensive analysis of the platform, addressing key questions such as that are often on the minds of potential users, such as "Is Bitget legit?"
We'll delve into the specifics of this increasingly popular exchange, scrutinizing its features, security measures, and legal standing, particularly in the US market. So, if you've been seeking an in-depth Bitget exchange review, you've come to the right place. Stay with us as we unravel the offerings of Bitget, and help you make an informed decision about this cryptocurrency platform.
Managing to live up to its tagline "better trading, better life," Bitget has established itself as one of the prime cryptocurrency exchanges. With its drastic increase in the number of users, this crypto exchange is only getting more and more popular by each day. Bitget's biggest advantage is the huge variety of services it offers. These services include Copy trading, Future trading, Unified contract, and many more.
In this review, we are going to go over all of the basics of Bitget, so you can get a better idea of exactly how this crypto exchange works.
Quick summary: Bitget Exchange Review
| 📚 Topic | 📝 Summary |
| --- | --- |
| 🔒 Safety and Security | Bitget prioritizes user security by adopting industry best practices. The majority of user funds are stored offline in cold storage, minimizing the risk of hacks. Additionally, it provides two-factor authentication to enhance account security. |
| 💰 Low Fees | Bitget offers competitive fees for spot and derivatives trading. For spot trading, the platform charges a flat 0.1% maker/taker fee, which can be further reduced to 0.08% when paid with Bitget's native token, BGB. Futures trading fees are 0.02% for makers and 0.06% for takers. |
| 🌐 Wide Range of Cryptocurrencies | Bitget supports over 100 cryptocurrencies for trading and storage. This extensive selection allows users to access a diverse portfolio of digital assets. |
| 📈 Copy Trading | Bitget offers a copy trading feature that enables users to follow and replicate the trading strategies of successful traders. This feature can be beneficial for inexperienced traders who want to learn from experts and potentially generate profits. |
| 📞 Multilingual Customer Support | Bitget provides 24/7 customer support via live chat and email in multiple languages. The platform also offers a comprehensive FAQ section and a feedback channel for users to submit their queries and suggestions. |
| 💲 Pricing | Bitget's fee structure is transparent and competitive. As mentioned earlier, the platform charges a 0.1% maker/taker fee for spot trading, with a reduced fee of 0.08% when paid using BGB. Futures trading fees are 0.02% for makers and 0.06% for takers. It's important to note that fees may vary based on specific promotions, trading volumes, or membership levels. |
| 👍 Pros | Competitive trading fees compared to other platforms. User-friendly interface accessible on various devices. Regulated licenses in multiple countries, ensuring compliance and security for traders. Wide range of cryptocurrencies available for trading, providing ample choice for users. |
| 👎 Cons | Withdrawal options are limited to cryptocurrencies, which can be less convenient for users who prefer traditional fiat withdrawals. Some users have reported slow responsiveness from customer support. While Bitget offers a wide range of cryptocurrencies, the selection might not be as extensive as other platforms. |
Summary (TL;DR)
---
Main selling point of Bitget exchange is its great CopyTrading feature with a powerful and detailed leaderboard of top traders whose moves you can copy.

Other attractive features include a built-in grid bot which can be setup to trade certain crypto pairs automatically.
The headquarters of Bitget are located in Singapore, while the app was launched in 2018.
Trading on Bitget can be done through either the mobile app or web app.
It has built a reputation of being a safe, dependable, and valid platform.
Compared to the most popular crypto exchanges, Bitget has by far the lowest transaction fees.
The crypto trading platforms are easy to operate, making the deposit and withdrawal process very straightforward.
Bitget features some unique services such as Quanto swap and copy trading.
You have several traders to choose from, and once you have made your choice, you can copy their trades with a single click.
Bitget guarantees the safety of your funds.
No prior experience or distinct knowledge of trading is needed for Bitget (with the exception of derivative trading).
There is 24-hour multilingual customer support to help resolve any complications.
What is Bitget?
---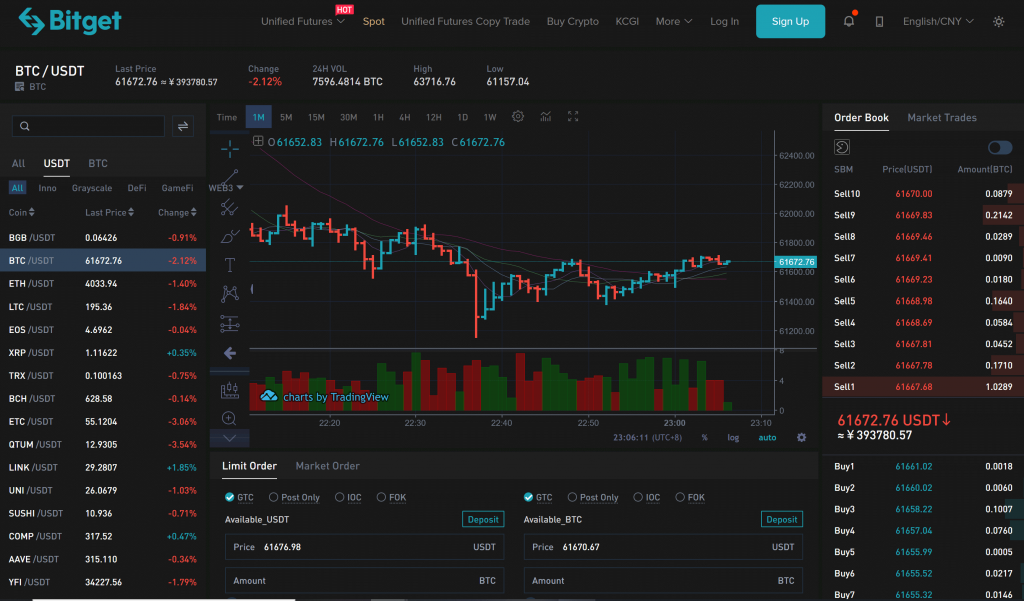 Bitget is essentially a crypto exchange launched in 2018 and registered in Singapore. Although it offers its users both derivatives trading and spot trading, the main focus is on derivatives trading. A derivative serves as an instrument based on the price value of some other asset (such as a stock or bond). In the crypto world, they derive the price values of certain cryptocurrencies. Bitget has acquired licenses from the USA, Australia, Canada, and Singapore, meaning that users from these countries are legally permitted to trade.
What is Bitget Copy Trading?
---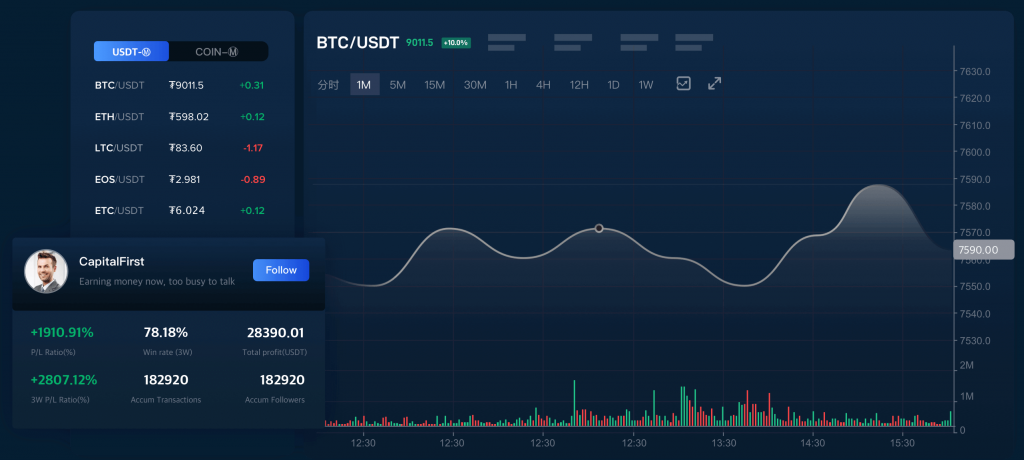 Copy-trading represents one of the most popular functions used on Bitget exchange. The concept behind copy trading is fairly simple, you allow the selected professional trader to develop a strategy that you can directly copy and make the exact same deals as they do in real-time. The benefit of this is that you don't have to constantly monitor the crypto market activity and make deals, your chosen trader does this for you.
Bitget Copy Trading Review
Bitget offers a popular copy trading function for its users.
Copy trading allows users to directly copy the trading strategy of selected professional traders in real-time.
This feature is especially useful for users who lack the time or experience to constantly monitor the crypto market and make trades themselves.
To start Bitget copy trading, users need to pick a professional trader based on their preference, and review their page and trading history.
After selecting a trader, users can confirm the copy trade and proceed to the settings.
Users then need to select the contract, follow mode, and proceed to a unified setting or respective setting based on the contract.
Users can adjust other settings as needed.
Bitget's copy trading feature is designed for beginners to follow experienced traders and open positions with one click.
Beginners can earn passive income, while experienced traders can share their strategies and earn a small part of their followers' profits.
The copy trading feature on Bitget has attracted more than 17,000 traders worldwide since its launch, with a total of 20.45 million orders on the platform.
Traders can earn up to 8% profit from copy trading on Bitget.
What should you do Before Starting Copy Trading?
---
Exploring and reviewing the copy-trading page is the first step new traders should take before starting to copy trade. This type of trading can be beneficial only if you choose a professional trader to do the work, whose trades are based on knowledge and not on luck. You can get a better picture of a certain trader by going through their profile and reviewing their trading history.
How to Start Bitget Copy Trading?
---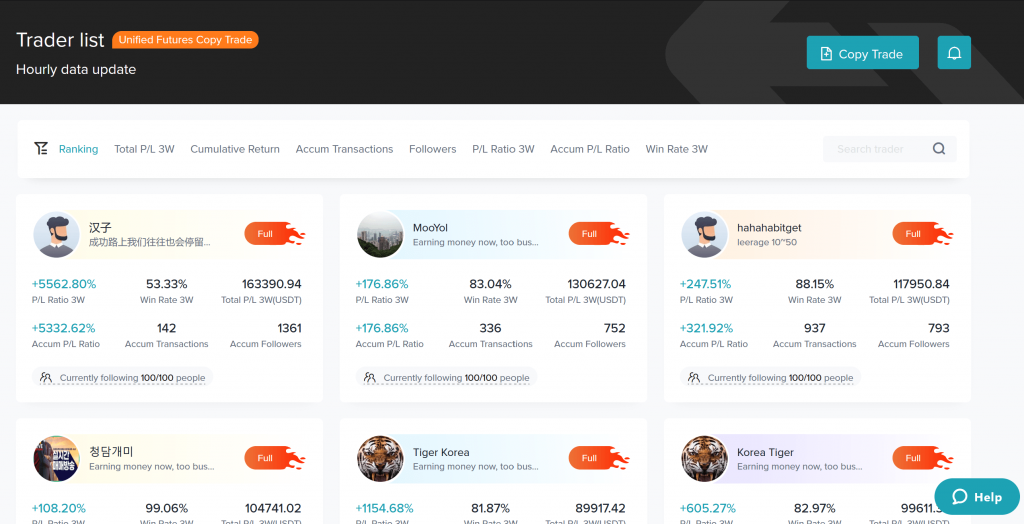 Here are a few steps you should follow in order to start Bitget copy trading:
Open the official Bitget homepage.
On the top navigation, click on copy trade.
Pick the ranking item from the list.
Pick a professional trader based on your preference. Remember to first review the trader's page and trading history.
After picking a trader, confirm copy trade and proceed to settings.
Select contract, follow mode and proceed to a unified setting or respective setting (based on contract). After that, you can adjust the other settings as you want.
Confirm the copy trade information by clicking next.
Copy Trading Benefits
---
Let's take a look at the two copy trading benefits and show you a little review of both.
Followers Benefits
---
Having a reputation of being a secure and trustworthy platform, Bitget carefully supervises all traders and their transactions.
Bitget also offers complete transparency of data, and there are hundreds of professional experienced traders that can be chosen by users.
If you follow a few different traders simultaneously it will become easier to minimize risks and maximize profits.
Followers can adjust capital allocation by withdrawing their profits and terminating losses whenever they want.
Traders Benefits
---
Traders who are a part of the Bitget platform get a 10% share of their followers' profit on each successful trade.
They are also given the opportunity to maximize their profits and build their reputation in the crypto community.
What is Quanto Swap Contract?
---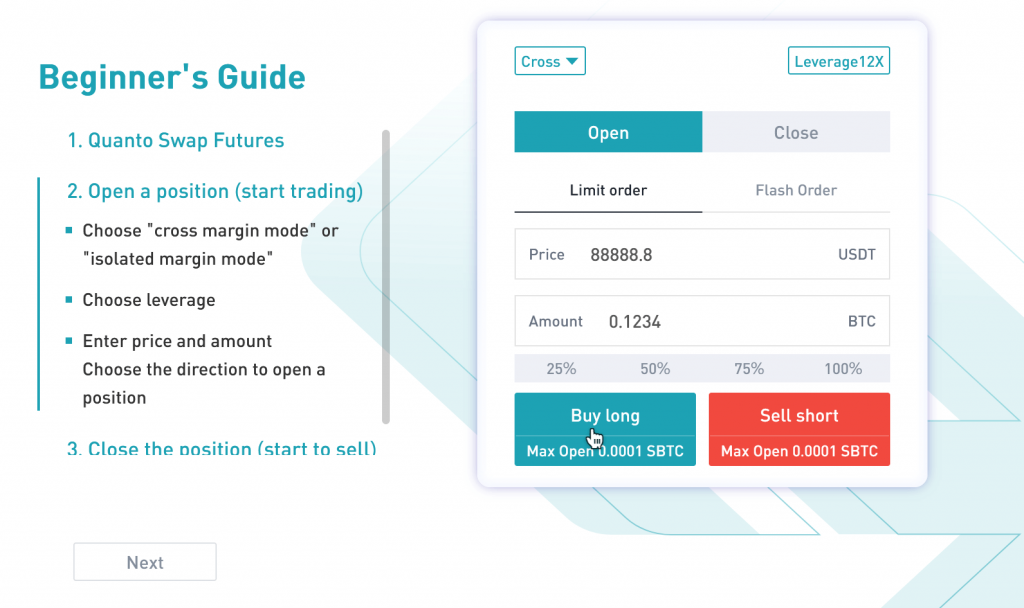 The Quanto Swap Contract is a unique feature provided solely by Bitget. This feature allows users to use numerous different crypto assets that they hold as collateral and then perform on margin trading with various trading pairs. The main benefit of Quanto is that it can retain your exchange fees on coin-to-coin while also allowing you to gather the profits that were earned through the increased price of the margin-coin.
Let's say that you own ETH and BTC. By using them as collateral, you are permitted to trade on EOS/USD, BTC/USD, and ETH/USD. The profits and losses are then calculated, and you are rewarded in both BTC and ETH.
How to Use Quanto Swap Contract?
---
To start, sign-up on Bitget or log into your account.
If there are zero funds in your Quanto Swap Contract account, you can use the "Transfer" button to transfer the desired amount of funds.
Next, go to the section "Unified Contract" and proceed to the Quanto Swap Contract trading page.
Choose the trading pair, margin trading mode, order type, and leverage that you want.
Type in the quantity and order price, and follow up with choosing the direction of your order.
Keep an eye on the PnL in the "Position" tab.
In the end, to close a position you should place a limit price. You can also use a Flash close option instead to close the position without putting down the price.
Supported Cryptos (17)
---
The list of supported cryptos on Bitget includes: Adventure Gold Coin, Bitcoin Cash, Cardano Coin, ChainLink Coin, EOS Token, Ethereum Classic, Ethereum, Filecoin, KNCL Token, Litecoin, Polkadot Coin, Ripple, SushiSwap Token, Tether, Tezos, TRON Coin, Uniswap Token, yearn.finance Token, and Yield Guild Games Token.
Bitget Trading Fees
---
When using Bitget, it's very important to split up spot buying and selling from contract trading. When using spot buying and selling, the exact price is: 0.20%. This is for both the taker and the maker. This rate can be reduced to 0.14% if you use BFT (Bitget DeFi Token), the exchange's local token, to pay for the trading prices.
Bitget Withdrawal Fees
---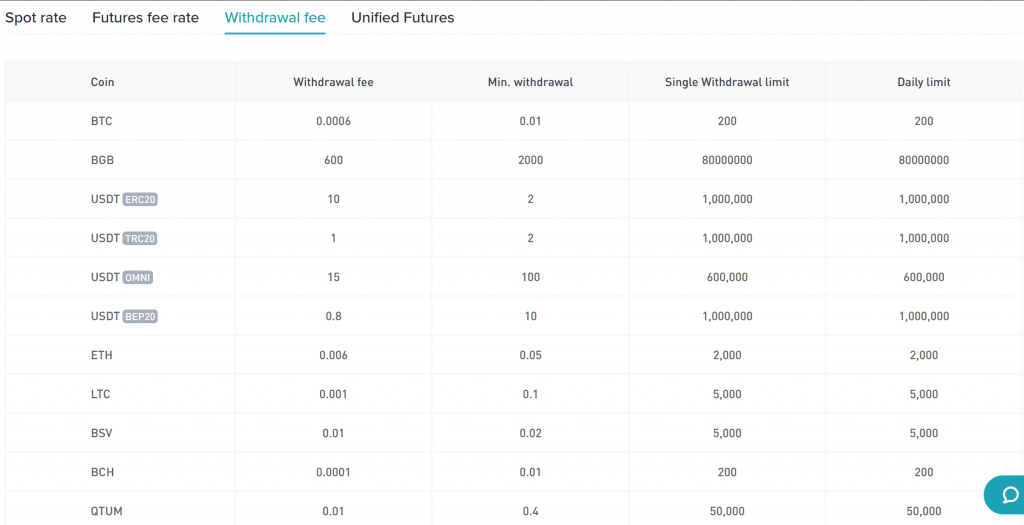 The withdrawal fee in Bitget is percentage-based, and it is charged with 0.05%. This is around 0.0006 BTC per BTC-withdrawal. Compared to the global industry, Bitget's fee is a bit higher since the current average is around 0.00057 BTC per BTC-withdrawal, according to the latest reports and studies.
Deposit Methods
---
Aside from allowing you to deposit cryptocurrencies on Bitget, the platform permits its users to deposit fiat currencies. However, this can only be done through a wire transfer (not by debit card or credit card). Considering the fact that fiat currency deposits are permitted on the platform, Bitget qualifies as an "entry-level exchange". This means that it is considered to be an exchange that welcomes beginner investors in crypto to step into the invigorating world of crypto and start their trading journey. Bitget does not charge any deposit fees.
Derivatives Trading
---

Basically, derivatives serve as contracts that derive their value from a basic asset. The assets could be stocks, currencies, exchange rates, commodities, and many more. Derivative trading consists of buying and selling these financial contracts in the stock market, and profit is made by predicting future price movements.
Leveraged Trading
---
One of the features Bitget offers is leverage trading. However, the platform only offers perpetuals (futures that don't have expiration dates). The highest leverage level is 100x (hundred times the relevant amount). However, new crypto traders should be very careful when approaching leveraged trading. Although this type of trading can lead to massive returns, it can also cause massive losses, especially in inexperienced traders.
Features of Bitget Perpetual Contracts
---
Perpetual contracts represent one of Bitget's prime products. Because of this, the platform has put a lot of thought into the development of the contracts. Investors are given a choice to buy a long-term commitment or to sell short a contract (this earns them a virtual digital currency gain). Perpetual contracts operate in almost the same way as margin-based spot markets. The main feature of Bitget Perpetual contracts is the Funding Cost mechanism that makes sure the underlying price index is being tracked.
How to Start Trading on Bitget?
---
Go to the official Bitget website or app and register by clicking the "Sign Up" button.
Type in your email address and a secure password.
Next, agree to the terms and conditions of the Bitget platform and finish up by clicking "Register Now".
Check your email for a verification code and verify your account.
After verifying your account with the code, you can log in into the Bitget platform and start trading immediately.
How to Transfer Funds at Bitget?
---
You can choose to either deposit funds or withdraw them.
Deposit Funds
---
If you are interested in depositing funds, click "Assets" in the right corner of the website.
Choose the currency you wish to deposit on the asset page and confirm by clicking "Deposit" on the right side.
Click the plus icon and copy the address. Paste that address on the corresponding platform at the withdrawal address. Also, a QR code is featured, so you can deposit currencies that way as well.
Withdraw Funds
---
Go to the "Funds" section at Bitget and press the "Withdraw" button.
Provide your wallet address information and the amount you want to withdraw.
Press "Submit".
If you need an internal fund transfer you have to enter your phone number or email address, and then the amount.
Press "Submit". The internal transfer should arrive in a matter of seconds without any additional fees.
Mobile Apps
---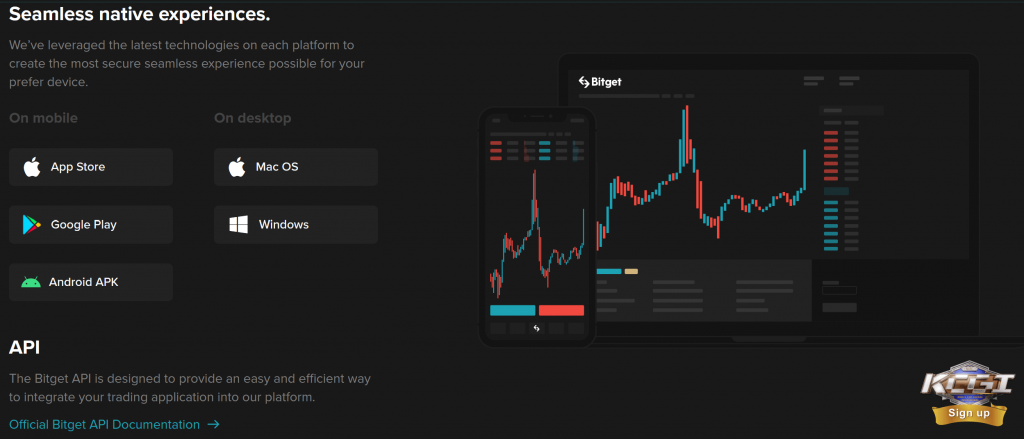 Although the majority of crypto experienced traders prefer to use desktops due to the bigger screen, there are those that utilize mobile trading option as well. Luckily for these traders, the Bitget trading platform is also available on mobile apps. The mobile app is very similar to the web app and it offers its users almost all of the features that the platform provides. The mobile app is available for both iOS and Android users.
Is Bitget Legit?
---
The short answer to this question would be: Yes. Bitget is legit. The domain name was created almost two decades ago and the website integrates a completely valid HTTPS connection, which means all of the information and traffic between the users and the site is encrypted. The significant traffic makes Bitget one of the most popular crypto exchanges, adding more reason for reassurance. Google Safe Browsing doesn't list Bitget as suspicious, and thousands of satisfied experienced traders and followers have nothing but positive feedback for this platform.
Bitget has a native token as well.
Frequently Asked Questions
---
If you are not fond of Bitget, here is a list of exchanges that can be good alternatives:
PROS
24-hour customer support.
Small transaction fees.
Excellent and super easy copytrading feature
Professional traders get 10% of their followers' profit after a successful trade.
Acquired licenses from Singapore, Australia, the USA, and Canada.
Unified Contract Feature.
CONS
Copytrading can be a trap as past results don't guarantee future success

CaptainAltcoin's writers and guest post authors may or may not have a vested interest in any of the mentioned projects and businesses. None of the content on CaptainAltcoin is investment advice nor is it a replacement for advice from a certified financial planner. The views expressed in this article are those of the author and do not necessarily reflect the official policy or position of CaptainAltcoin.com