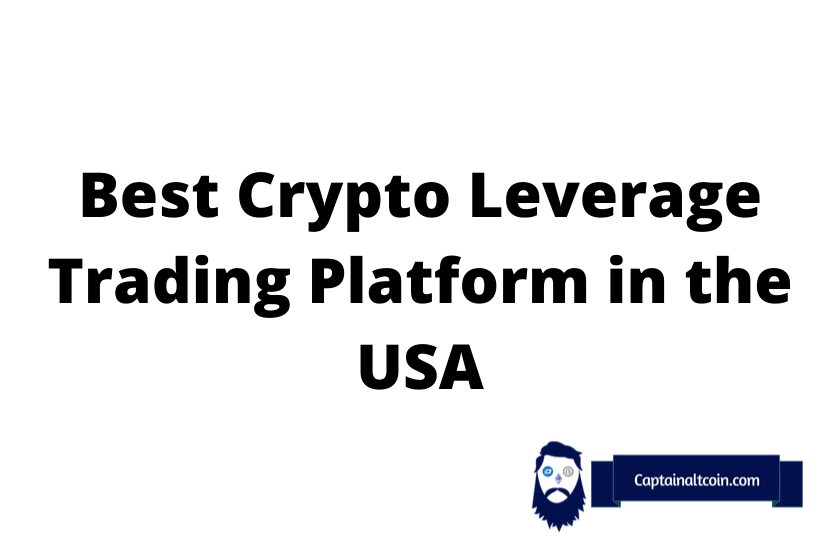 Leverage trading is a powerful tool in the arsenal of the top crypto traders. However, many of the exchanges they use are not an option for US residents due to the strict regulations. This article will list those exchanges for trading with leverage where a US crypto trader is allowed.
Crypto leverage trading USA TLDR:
A few trusted options are available to leverage trade crypto in the US. Some of them are:
1. Kraken: Kraken is a popular cryptocurrency exchange that offers leveraged trading for selected assets, including cryptocurrencies. Kraken currently offers up to 5x leverage for US customers. However, starting June 23, 2021, Kraken will phase out availability of its margin trading program for US clients who do not meet certain requirements.
2. Kucoin: KuCoin is a global cryptocurrency exchange that supports margin trading with up to 100x leverage for US users. However, the maximum leverage for non-KYC users is only 5x.
3. Bybit: Bybit is a crypto derivatives exchange that offers up to 100x leverage for US users. However, Bybit now uses KYC and asks for ID, so it may not be suitable for non-KYC users. You need VPN to use it.
4. TradeOr: TradeOr is another option for US traders that offers 100:1 leverage on crypto. However, it's important to do your own research before using any exchange and to be aware of the risks involved with leverage trading.
5. CoinMetro: CoinMetro is a fully compliant US exchange that offers leverage trading for US citizens. They have a great selection of tokens to trade on leverage (XRP, BTC, ETH, etc) and the benefit of 24/7 live support. The only caveat is they don't cover NY, Washington, or Hawaii.
It's worth noting that leveraged trading is a risky strategy and should only be attempted by experienced traders who understand the risks involved. Additionally, some exchanges may freeze accounts if they detect that a user is trading with a VPN, so it's important to be aware of the regulations in your country and to use exchanges that are compliant with those regulations.
Is Crypto leverage trading in the US allowed at all?
---
Margin trading represents the borrowing of money from brokerage companies to trade. At the very beginning, traders have to deposit money that acts as collateral for the loan and then regularly pay interest. This loan assistance increases the purchasing power of the trader. Still, it is also perilous to trade in this way.
If you are wondering why it is risky, simply put, you can lose a lot more than you invested. Let's explain with a simple example – you have your 10k USD + 10k USD that you borrowed and bought 2000 shares for 10 USD. If the share price drops by 50%, it means that you have lost all the money, plus commissions and interest.
That is why it is important to be well acquainted with this and possess specific knowledge before engaging in this type of trade. On the other hand, not to be negative, if you invest wisely and make smart moves, the money invested can bring huge profits. So, if you have not sufficiently understood the operation mechanism of margin trading, it would be better to wait until you are ready before embarking on this business.
As for the USA, we must emphasize that trading margins are prohibited in the USA because this type of trade mainly refers to CFDs, and CFD trading is not allowed in the USA. However, trading in American assets and their derivatives with leverage on trading platforms is permitted as long as American citizens do not do so. So, for example, brokers who trade in American derivatives have their platforms outside the borders of America and a license from, let's say, the UK's FCA or the competent authorities of other countries.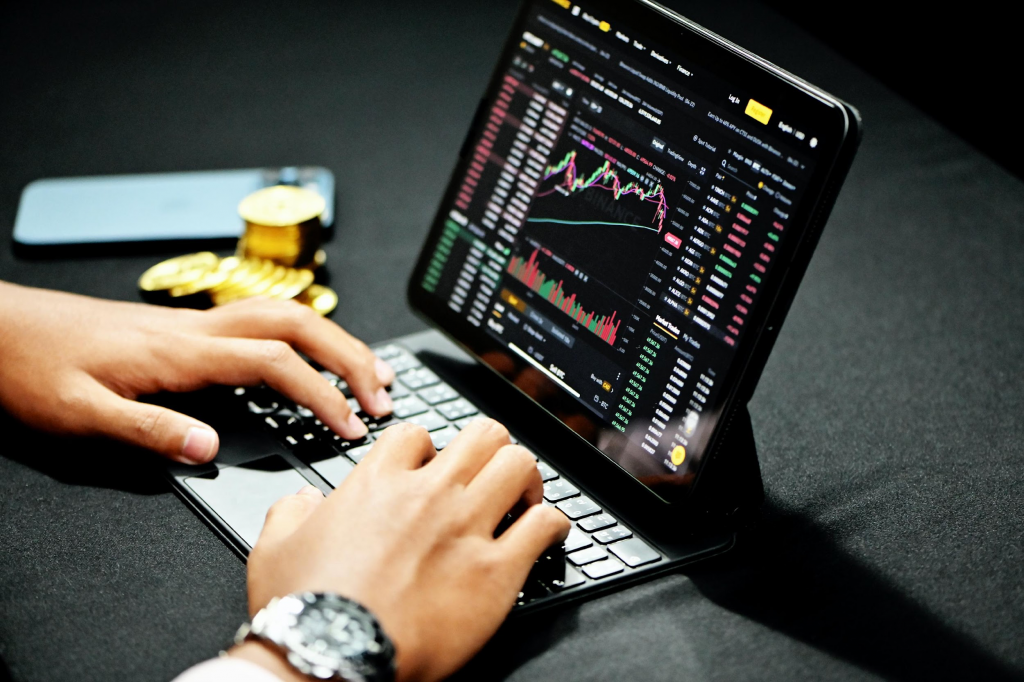 Only simple buying and selling of cryptocurrencies in America are legal. Everything works well as long as crypto platforms are used as exchanges. Digital assets are classified as commodities, not an official currency. Therefore, only Bitcoin Futures Derivatives are allowed to be traded in margin trading.
Only a few platforms have licenses to trade in mild leverage. First and the most prominent among them is undoubtedly the Kraken, which offers 5x leverage for all trading pairs. Admittedly, that's a tiny amount compared to leverage in other countries, but better anything than nothing.
Why is it not allowed on many exchanges?
---
The biggest thing that hinders this type of trade in the USA market is the possession of licenses. The most complicated thing is that every American state has its own laws and financial regulations that brokers must respect. You will admit, it is a bit difficult.
Until this legal problem is resolved and unknown when it will be, brokers do not have the opportunity to offer their services to American citizens legally. As it was said, this also applies to American citizens who live outside the USA.
Although there are stories that traders from the USA have thought of solving this problem in their favor by using VPNs with IP addresses of other countries for margin trading, this is also an illegal action, and the consequences can be borne.
Best USA crypto margin exchanges
---
Here is a list of the best margin trading exchanges in the USA. Unfortunately, the list is short because only a few crypto platforms provide this service.
KuCoin Futures
---
With more than 10 million users and over 6 billion in daily trading volume, KuCoin is rightly in the top 5 crypto exchanges in the world. U.S. residents can use some of KuCoin's services even though this exchange is not registered and regulated in the U.S.
KuCoin is one of the rare crypto exchanges that still allow U.S. traders to access its platform, but it is risky to do so. First, if the U.S. finds that you are using unlicensed exchanges, your assets could get frozen. Next, KuCoin doesn't provide the same support to accounts without KYC in the case of fraud, theft, or hacking.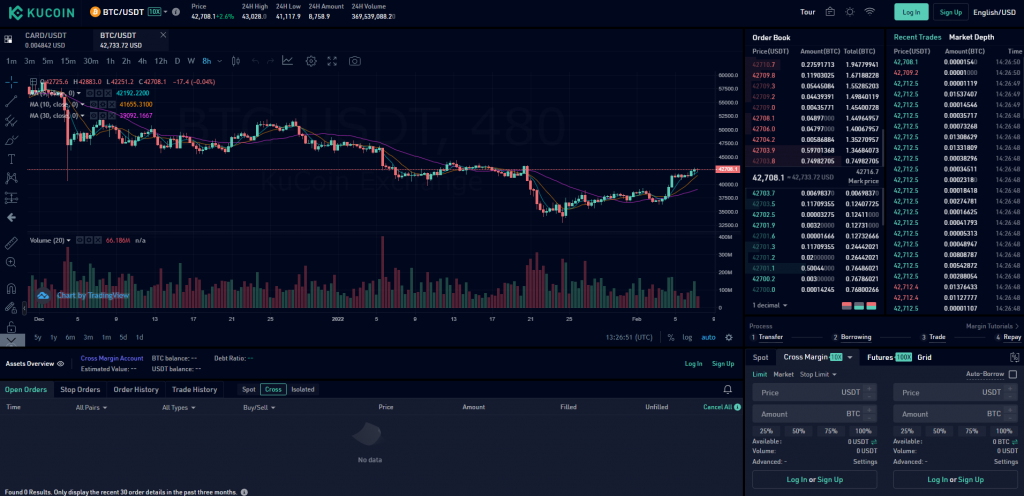 So if you're a U.S.-based trader, proceed with great caution.
Leverage
---
On KuCoin, you can set leverage up to 20x on regular assets (between 1x and 20x). For popular coins such as Bitcoin and Ethereum, leverage can also be increased up to 100x.
Supported coins
---
KuCoin Futures supports more than 100 cryptocurrencies including Bitcoin (BTC), Ethereum (ETH), Solana (SOL), Cardano (ADA), Ripple (XRP), Fantom (FTM), Polkadot (DOT), Terra (LUNA), ChainLink (LINK), Avalanche (AVAX), and many more.
Fees
---
KuCoin exchange has a maker-taker fee model (maker trading fee – 0.02 %, taker trading fee – 0.06 %).
Pros and Cons
---
PROS
Low fees
Mobile App (Android and iOS)
No forced KYC
10+ M users
CONS
Not licensed in the U.S.
Hacked in 2020
Kraken.com – Crypto Exchange & Margin Broker
---
Founded in July 2011 and based in the USA (California), Kraken is one of the oldest cryptocurrency trading platforms in the world. The fact that Kraken has never been hacked makes this exchange one of the most secure in the business. It has 4+ million users all over the world. It offers over 90 cryptos that you can buy, sell and trade.
Besides the USA, Kraken is available in more than 170 countries worldwide. It is registered under FinCEN in the U.S. Even though it is based in the U.S., New York, and Washington residents are excluded from trading on this platform. It is an easy-to-use exchange and an ideal platform for secure, safe, and fast transactions.
Leverage
---
On Kraken, trading pairs can be leveraged up to 5x. This allows US traders to make decent profit margins.
Supported coins
---
There are more than 30 cryptocurrencies that you can trade BTC, ETH, USD, or EUR. Some of them are ADA, ALGO, AAVE, BCH, ATOM, DOGE, XTZ, and many more.
Fees
---
This exchange has a typical maker-taker fee model. Fees on Kraken range from 0 to 0.26 %. There is also an Opening (0.02%) and Rollover fee (up to 0.02%, per 4 hours).
Note: 28 days is the maximum period that US traders can hold open positions with Kraken. Suppose you don't close such a position yourself in time. In that case, at the end of the 28th day, Kraken will automatically liquidate your position without notice.
Pros and Cons
---
PROS
Available almost worldwide
Mobile App (Android and iOS)
High security
Various payment methods
CONS
Slow account funding
Medium fees
No tax support
Coinbase Pro
---
GDAX is a cryptocurrencies trading platform launched by Coinbase in 2016, and in 2018 it got rebranded into Coinbase Pro. Today, Coinbase and Coinbase Pro are connected but separate platforms owned by the same company. Yet, they are used by different types of traders and users.
Coinbase Pro is aimed at traders who want to trade digital assets for-profit and prefer a cutting-edge trading environment. Margin trading on Coinbase Pro used to be available in 23 US states FL, TX, IL, AK, OR, CT, NJ, VA, GA, AR, NH, MA, NE, KS, ME, SC, NC, OK, CO, UT, WY, WI, and WV.
Leverage
---
As we see it above, margin trading used to be available on Coinbase Pro. US traders could trade with a maximum leverage up to 2x for LTC/USD pair up to 500 USD, BTC/EUR pair up to 3,000 EUR, and up to 3x leverage on ETH/USD and BTC/USD pairs, with a limit of 10,000 USD.
Pros and Cons
---
PROS
CONS
No margin trading
Customer support could be better
Not beginner friendly
Other exchanges with VPN (risky)
---
Unlike KuCoin, most of the other exchanges with high leverage strictly ban U.S. residents. Because of that, American traders try to find alternative ways to access those platforms. And they do so with the use of VPN.
By using IP addresses from countries that are allowing trading with high leverage, the U.S. trader can use the restricted platform and make sure not to get caught. From a technical point of view, VPNs hide your IP address and your location. At the same time, VPN encrypts your internet traffic in a way that no one can tell where you are, who you are, or what you are doing.
It is suspected that VPN technology is used quite frequently by crypto traders. So now, let's look at three exchanges that U.S. residents can use using a VPN (attention, risky!)
Bybit
---
Founded in 2018, Bybit quickly became one of the fastest-growing crypto trading platforms. It has over 2 million registered users. Currently, KYC verification is not mandatory on Bybit.
The platform offers perpetual contracts for 4 digital assets: Bitcoin BTC, Ethereum ETH, Ripple XRP, and EOS. Depending on the derivative contract you want to trade, the amount of leverage on Bybit will be different. For BTC/USD, leverage is up to 100x, while on the remaining three assets, Bybit offers leverage up to 50x.
Bybit uses a maker/taker fee structure. Unlike on most other exchanges, makers on Bybit don't pay any trading fees. Nevertheless, they will instead earn a rebate for providing liquidity. In addition to this, this exchange charges position funding fees.
| | | | | | |
| --- | --- | --- | --- | --- | --- |
| Contracts | Leverage | Maker Rebate | Taker Fees | Funding Rate | Interval for Funding Rate |
| BTC/USD | 100x | -0.0250% | 0.0750% | 0.0100% | every 8 hours |
| ETH/USD | 50x | -0.0250% | 0.0750% | 0.0100% | every 8 hours |
| EOS/USD | 50x | -0.0250% | 0.0750% | 0.0100% | every 8 hours |
| XRP/USD | 50x | -0.0250% | 0.0750% | 0.0100% | every 8 hours |
Binance Futures
---
Launched in July 2017, Binance quickly became the world's largest centralized crypto exchange, with more than $15 billion in daily trading volume. It has over 50 cryptocurrency trading pairs available for futures trading.
Binance provides its users with one of the highest available leverage in the crypto sphere. This platform allows max leverage 125x on BTCUSDT Perpetual. On other assets, leverage varies depending on the chosen asset and the tier of the user. Binance has a maker-taker fee structure that is divided into two classes – the flat trading fee and the tiered model.
Margex
---
Margex is a cryptocurrencies exchange platform based in Seychelles, and it was founded in 2020. Some of the Margex key features are High levels of security, Proprietary software against price manipulations, a Referral program, Up to 100x leverage, and No KYC verification. On the other hand, this platform has a limited offer of trading pairs. There are only six trading pairs, to be precise.
Margex offers trading pairs of the most popular cryptos with USD:
BTCUSD,
ETHUSD,
LTCUSD,
EOSUSD,
XRPUSD, and
YFIUSD.
At Margex, the leverage can be set from a minimum of 5x up to 100x. In addition, Margex is trying to lure traders by providing one of the lowest fees in the business. The fees are based on the maker/taker model.
| | | | | | |
| --- | --- | --- | --- | --- | --- |
| Pair | Maker fee | Taker fee | Funding/Long | Funding/Short | Funding interval |
| BTC/USD | 0.019% | 0.060% | 0.0574% | 0.050% | 8 hours |
| ETH/USD | 0.019% | 0.060% | 0.080% | 0.078% | 8 hours |
| EOS/USD | 0.019% | 0.060% | 0.035% | 0.033% | 8 hours |
| LTC/USD | 0.019% | 0.060% | 0.110% | 0.106% | 8 hours |
| XRP/USD | 0.019% | 0.060% | 0.075% | 0.070% | 8 hours |
| YFI/USD | 0.019% | 0.060% | 0.040% | 0.0386% | 8 hours |
FAQs
---
Can you leverage trade on Kraken in the USA?
---
Trading with leverage is available on Kraken, with 5x leverage. Unfortunately, these services of the Kraken are denied to the residents of New York and Washington state.
Can you trade with leverage on FTX US?
---
Only qualified traders can trade margins on FTX US. This actually means that the threshold for trade must be met. Once the user account becomes qualified, customers can access up to 10x the leverage in spot markets on this platform.
Where can I trade BTC with leverage?
---
Many platforms and brokers on the market offer high profits when trading Bitcoin with leverage. Some of them are: BitMEX, Bybit, Prime BIT, Binance, KuCoin, Kraken, Bitfinex. The value of max. leverage is different, but it is mostly 100x.
Can you leverage trade in the US?
---
CFDs are usually traded with high leverage, so this type of trading is not allowed in the USA. The most effective platforms for CFDs trading with high leverage are ByBit, PrimeXBT, and BitMEX. They are forbidden for US residents even if they live outside the borders of the USA.
Who Lends To Margin Traders & Why Do They Engage In Margin Trading Of Cryptos?
---
Crypto traders who want to give it a try in margin trading and do not have enough funds can borrow money from a broker to invest in the business of trading financial assets. This amount represents the collateral for the loan from the broker. Lenders benefit from lending to traders who need it because they receive interest earned from the loan. We need to mention that marginal trading is hazardous.
Why are US Americans not allowed to trade on BitMEX, Bybit, PimeBit, and other well-known Brokers with high Leverage?
---
There are several reasons for this, but it is essentially about the legislation and the financial institutions that set it up. Commodity Futures Trading Commission (CFTC) is a financial institution regulating the market for leverage products. In addition, there is the National Futures Association (NFA), which is responsible for regulating trade in derivatives in the United States.
Trading crypto platforms must be registered with the NFA to operate, and the CFTC sets leverage limits for various products. Authorities cannot categorize cryptocurrencies because they and their tokens do not belong to products regulated by agencies. As a result, crypto trading platforms are allowed as long as they are engaged in exchanging cryptocurrencies, and everything else is prohibited.
Why are there so few Trading Platforms for Bitcoin Margin Trading in the USA?
---
The reason is that companies engaged in this activity need specific licenses and permits to do business from each USA state, and they can cost an absolute fortune. For example, Kraken has costly licenses to conduct its trading products. In addition to them, there are requirements that Kraken must meet regarding fees, transactions, and more. Many brokerage firms cannot achieve this.
Why is there little Leverage on Bitcoin Trades in the USA?
---
Although 100x leveragedBitcoin margin trades are allowed in other countries, trading with only 5x leverage is permitted in America. This again applies to the expensive licenses we mentioned above. Although the Kraken is licensed for this type of trade throughout the United States, Washington, and New York are the only ones still not allowed this type of trade. Again, the assumption is that this is due to the high prices of the necessary licenses.
Read also:

CaptainAltcoin's writers and guest post authors may or may not have a vested interest in any of the mentioned projects and businesses. None of the content on CaptainAltcoin is investment advice nor is it a replacement for advice from a certified financial planner. The views expressed in this article are those of the author and do not necessarily reflect the official policy or position of CaptainAltcoin.com