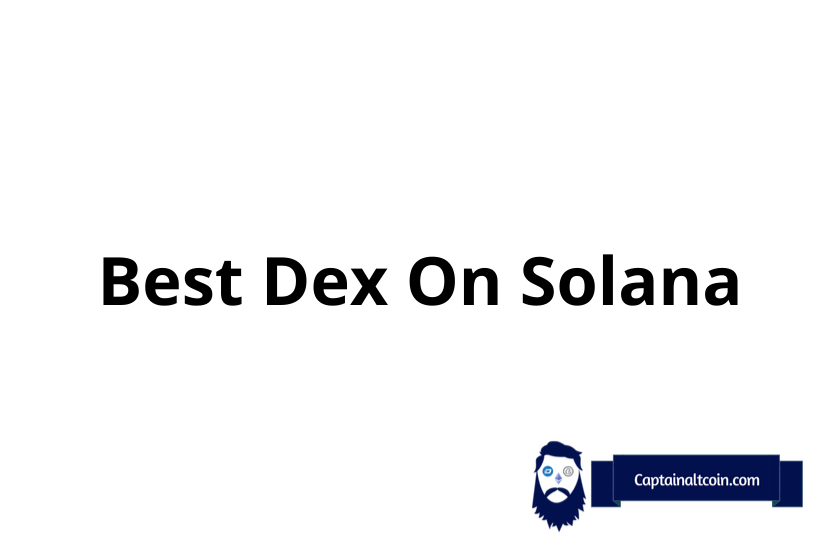 What is Solana?
---
Solana is another ecosystem-building blockchain that is a lot faster than what we had in the market. It is fast, reliable and also very secure. It supports up to 50 thousand transactions per second which makes it incredibly cheap. It can also support NFTs, DeFi's, dapps, and many other things that blockchains like ETH support. This allows SOL to be much more efficient than ETH can provide.
This caused people to move away from ETH to SOL. And subsequently, it also helped SOL price to skyrocket. NFT markets booming this year helped SOL a lot as well. With more and more collections starting in SOL, it is only getting more popular. Today we will look into Decentralized Exchanges in the SOL ecosystem.
What are Dexes?
---
Decentralized Exchanges (also known as swaps in many places) are P2P token exchanges where people swap tokens. Liquidity farmers provide the tokens for both sides, and people can swap tokens easily. This way whenever one side gets heavier, the price changes accordingly. It is a method where nobody deposits any money anywhere, and it happens from one wallet to another without security risk.
It became a very popular method of exchange in the past year. In the midst of many exchanges getting "hacked" or exit scamming, not depositing your funds was a welcomed innovation. SOL is not absent from the DEX world, in order to swap tokens in the SOL network, people use SOL dexes in order to swap these tokens as well. SOL is a newer ecosystem compared to ETH, which is why there are no clear leaders in the SOL dex world either.
Raydium
---
With a staggering 1.7+ billion dollars locked and 17+ billion dollars volume, Raydium is one of the biggest DEX in the entire SOL network. It has 170+ thousand followers on Twitter and is one of the most talked-about ones in the community. It offers the option of double earnings in the yield farm part which attracts investors. If you invest in Ray-Atlas LP then you earn both RAY and ATLAS together.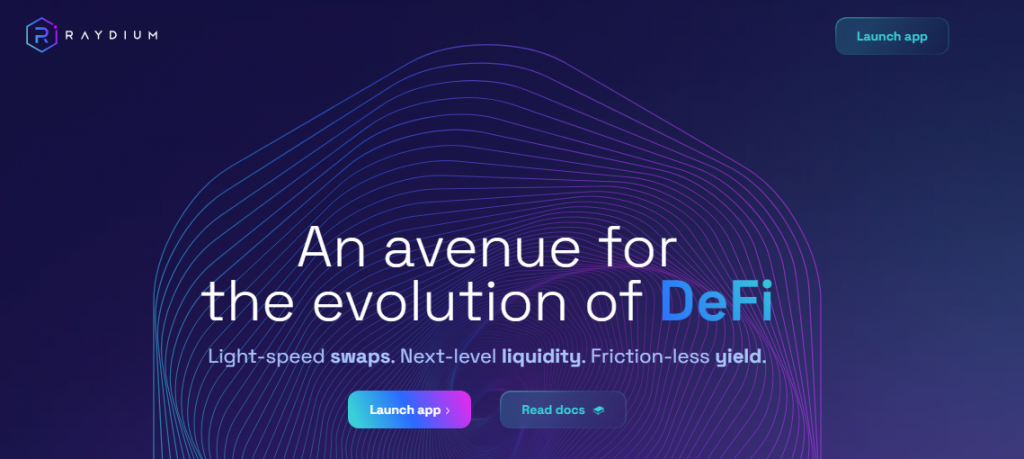 Security if Raydium is highly trusted as well, and it can be connected to almost any known big wallet. There is also a dropzone as well where people can launch their own collections as well. This way they help the NFT world in the SOL network while providing a platform for creators. With a launchpad as well, they offer IDOs in the SOL ecosystem too, which gains a lot of attention each time they do it. All of these are proof of how Raydium is a preferred destination for SOL investors.
Read also:
Serum
---
Investing in Serum tokens and using Serum DEX are approached slightly differently in the community. As usual, you do not have to be an investor of the token just because you want to swap there. Many people do not feel like tokenomics of Serum token is there a bit of a problem with more and more tokens unlocked at certain intervals. As long as there is a good amount of swap going on, that is not a problem, but this requires a lot more swap to occur in order to avoid this problem.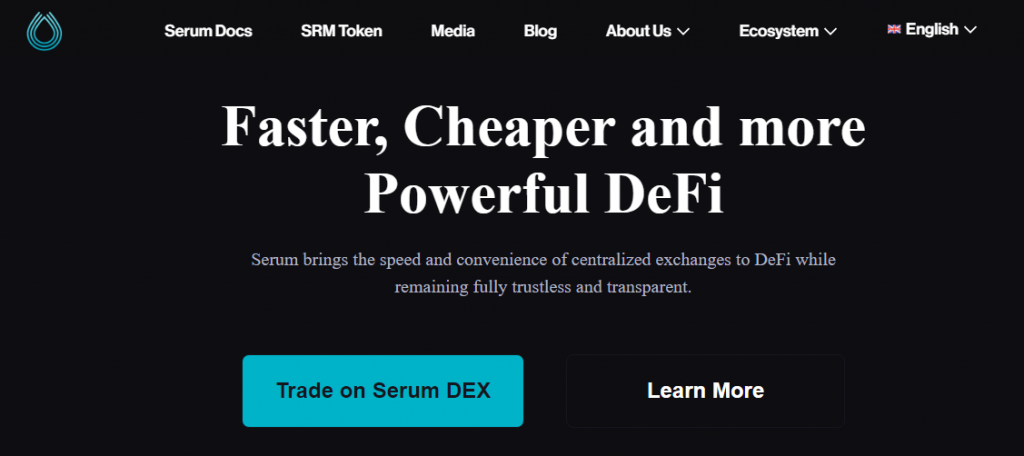 At the end of the day, it is incredibly fast, the fastest I have ever seen offers a lot of products, and is as secure as it gets. This is why the DEX part is beloved by the community. As long as you are feeling comfortable in the SOL network, you should definitely check SERUM at least once and feel the speed. It will be hard to crack anywhere else in the DeFi world. With the combination of Serum and Solana, we are talking about size and speed we have not seen in crypto before.
Of course, it hasn't been tested yet, but in theory, it should support over a billion dollars each minute. That type of volume without any problems would be a first in the crypto world. The volume is seen today in other chains but causes congestion and high fees. This is the reason why people are moving towards SOL lately, given enough attention, it could beat any other chain at speed and size.
SolanaDex
---
SolanaDex would normally not be on our list if it was a brand new project. However, it has been around for nearly a year and has nearly zero complaints. With just 20 followers on Twitter and barely any volume, it could be understood if people looked over it.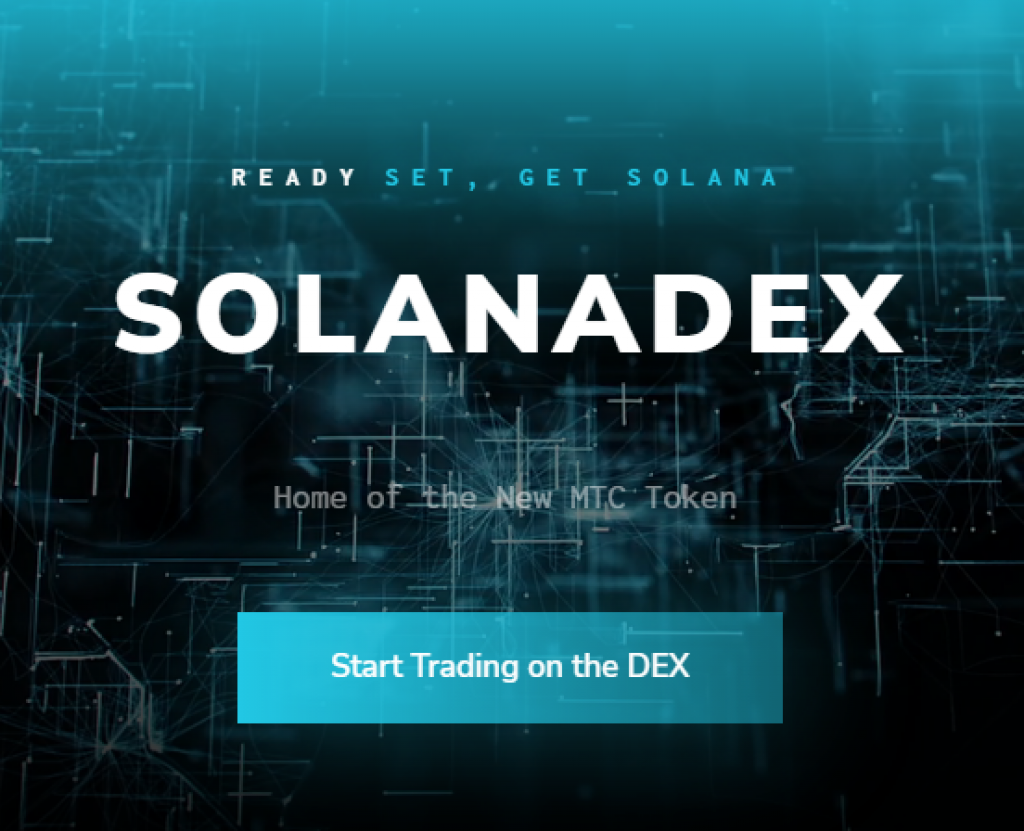 However, we wanted to mention it in honor because it is rare to have a DEX in crypto with zero complaints. It may not be popular, however, it would also not upset anyone who uses it.
TerraLunaDex
---
Terra is an algorithmic stablecoin, and the basis terra.money is a big payment system gateway. Thanks to terra.money anyone could own a collection of stablecoins combined into one and payments could be done in scale. The main aim is to make sure blockchain technology could be used to buy/sell products and services, providing a better alternative to current payment methods.


TerraLunaDex and Mirror are the places where they provide a DEX service as well. They are another community favorite for SOL, with 130+ thousand Twitter followers and even a strong 8+ thousand Reddit group, they get a lot of attention. You could also get shares of known companies using terra as well, which provides a fresh innovation to the crypto world as well.
Orca
---
Orca got its start on the Twitter replies section, Reddit moonshot subreddits, and many other community-shilled places. It wasn't a very big project funded by whales, but people who wanted to join the ecosystem. With some love from the community, they have grown bigger than expected. It has a good amount of liquidity and a good selection of yield farms.


This allows people to still get in early when it is not billions of dollars, but swap enough that there is no high slippage fee. Orca token itself is at a good place for now, and that offers good investment opportunities as well. You can farm SOL/ORCA for a great return.
Conclusion
---
The SOL ecosystem may not be as old as ETH, however, it is providing a much better experience. It is faster and cheaper, a blockchain without a high fee is exactly what investors are looking for. This opens the door for many DEXs to offer both good returns for investors and cheap/fast swaps for traders.
There are big names like Raydium and Serum, as well as new up-and-coming ones like Orca and Terra, or a smaller alternative like SolanaDex. It all depends on what you prefer, and what you are looking for in a DEX. However, considering the volume and locked value are very important two figures in a DEX, it would be easier to start with bigger names for your first Solana DEX experience.

CaptainAltcoin's writers and guest post authors may or may not have a vested interest in any of the mentioned projects and businesses. None of the content on CaptainAltcoin is investment advice nor is it a replacement for advice from a certified financial planner. The views expressed in this article are those of the author and do not necessarily reflect the official policy or position of CaptainAltcoin.com