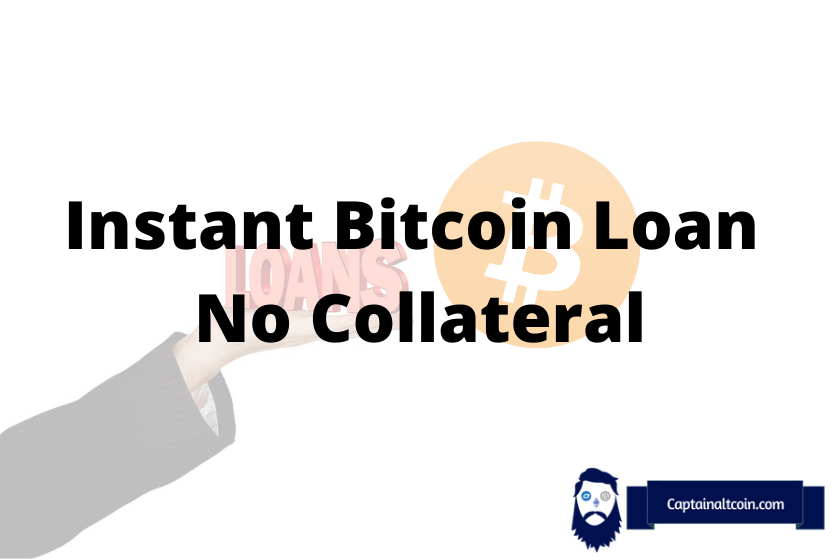 New opportunities are constantly emerging for investors and enthusiasts alike in the crypto world. One such opportunity is the ability to secure loans using Bitcoin and other cryptocurrencies as collateral. This innovative approach to lending is making waves in the financial sector, offering a viable alternative to traditional loans.
Whether you're looking for a Bitcoin loan without a deposit, an instant Bitcoin loan with no collateral, or simply exploring the realm of crypto loans without collateral, this guide will provide you with all the information you need.
The concept of crypto loans is simple yet revolutionary. It allows individuals to leverage their cryptocurrency holdings to secure fiat loans, thereby providing a solution for those in need of liquidity but unwilling to part with their digital assets. This form of lending is gaining popularity due to its unique features such as no KYC requirements, no credit checks, and flexible terms.
However, like any financial venture, it's essential to tread with caution. Understanding the pros and cons, the platforms available, and the safety measures in place is crucial before diving into the world of Bitcoin loans. Read on to discover how you can navigate this exciting new frontier in finance.
Quick summary – Bitcoin Loans
| Content | Details |
| --- | --- |
| 💰 Pricing | Varies depending on the platform and the amount of collateral provided. |
| 📝 Features | Bitcoin loans are available from several platforms. They require collateral and KYC process. Some platforms offer loans without KYC and collateral, but these are likely scams. |
| 👍 Pros | Bitcoin loans allow you to unlock funds without selling your assets. They are easy to access and can be obtained quickly after completing KYC. You can also earn interest by lending your Bitcoins. |
| 👎 Cons | Bitcoin loans without collateral or verification are not possible on legitimate platforms. There are many scams in the Bitcoin loan industry. |
Can You Get an Instant Bitcoin Loan With ZERO Collateral?
---
When you start researching Bitcoin loans, you might see advertisements like "Instant Bitcoin Loan No Collateral." However, potential borrowers should know that obtaining a bitcoin loan without collateral is NOT POSSIBLE. Also, a bitcoin loan without verification is not possible on centralized platforms that pay out in fiat. You can get a BTC loan without collateral on DeFi platforms like Aave, Compound or Curve. However, the loan will be in crypto coins, not in fiat.

Since there is not much awareness about how the Bitcoin loan industry functions, many scammers prey on inexperienced borrowers, many scammers may even try to offer free, instant Bitcoin loans with no collateral to try and steal your existing Bitcoin.
Get Bitcoin Loan Without Collateral
---
Let's take a quick look at the two best ways to get bitcoin loans without KYC and collateral. After that, we will go through each of them in more detail and some of their competitors.

Minimum loan of just $100
Loan-to-Value ratio up to 90%
high interest rates for 
savings accounts
 (up to 12%)

No KYC & Credit check
64+ coins available
Flexible terms
Top-tier security
Earn daily compound interest on savings
How to Get Crypto Loans Without Collateral
---
As we mentioned above, there is no legit way of getting a bitcoin loan without collateral.
However, here is a serious way to apply for a bitcoin loan. You borrow against your crypto via one of the regulated and registered companies we list in the table below:
| | |
| --- | --- |
| Bitcoin Lending Program | |
| Nexo. [Most Recommended – best rates] | Get Loan Now |
| YouHodler [Recommended for EU users] | Get Loan Now |
Just like the original purpose of bitcoin was to be permissionless, meaning you don't need to apply and plead with someone to allow you to use it, bitcoin loans are conceptualized similarly but with some differences.
Traditional bank loans come along with tones of paperwork and checks you need to pass before receiving them while bitcoin loans are much more simple and easier to get. The only thing you need for a bitcoin loan is a collateral and a legit lending platform that will give you USD or some other fiat currency for that crypto collateral.
Be sure you do your homework and research the hell out of all loan providers (this article is here to help) before starting the process. Many bitcoin loan providers (just google BitConnect or Lendconnect or Davorcoin and gazillion others) have scammed people out of their hard-earned money before.
Many people ask about the opportunity of getting an instant bitcoin loan without collateral and verification but that is not possible on any legit platform we reviewed. You have to go through the KYC and put in collateral in order to get a crypto loan on these services.
However, you can get a crypto loan without verification on some DeFi platforms like Aave, Yearn Finance or Curve.
Best Crypto Lending Platforms
---
Quick summary – Best Platforms to Get a Bitcoin Loan
| Platform (💼) | Features (📝) | Pros (👍) | Cons (👎) |
| --- | --- | --- | --- |
| CoinRabbit 🐇 | No KYC & Credit check, 64+ coins available, flexible terms, top-tier security, earn daily compound interest on savings. | Simple and fast way to get a bitcoin loan. Offers flexible terms and a wide variety of coins. | Low interest rates |
| YouHodler 🏦 | Provides crypto-backed loans in fiat currencies and stablecoins. Offers one of the highest LTVs in the market – 90%. | Supports a lot of coins, high LTVs, wide limits on borrowing amounts, fast approval process. | Suffered a data breach with customer data exposed to hackers. |
| Crypto.com Exchange Lending 🔄 | Allows users to get an instant loan using various cryptocurrencies as collateral. High loan-to-value (LTV) ratio up to 50%. | High security and compliance standards, regular interest payments, good customer service. | In-app live support can be slow |
Coinrabbit
---
CoinRabbit's main advantages (for table):
No KYC & Credit check
64+ coins available
Flexible terms
Top-tier security
Earn daily compound interest on savings
CoinRabbit is the simplest and fastest way to get a bitcoin loan. Service doesn't require KYC or any personal information. All you have to do is go to the CoinRabbit homepage, enter the amount of collateral and click "Get Loan". After confirming you'll receive your loan in a few minutes.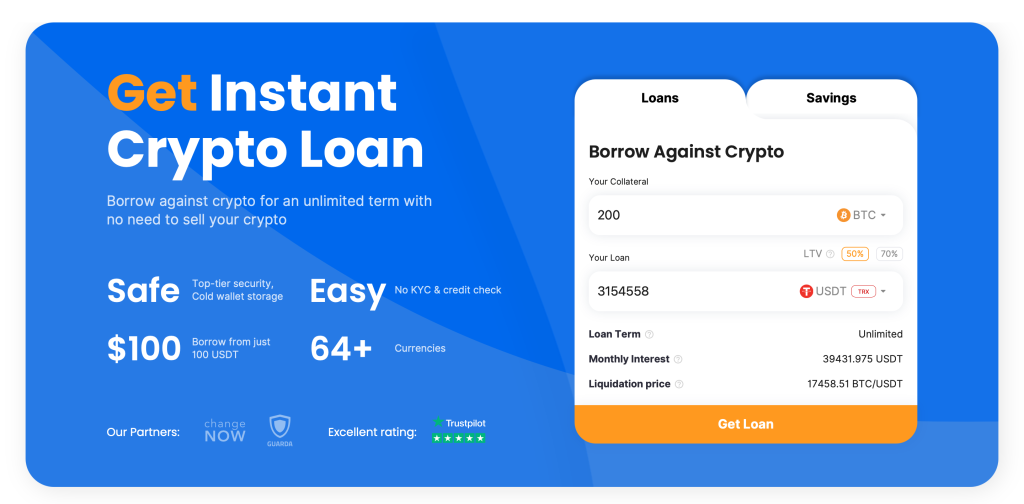 The company offers flexible terms. A crypto loan can be repaid at any time.
CoinRabbit is the fastest coin adoption service on the market. Service provides more than 62 coins and 5 stablecoins, and the list is constantly growing. Some coins like ZIL, SHIB, DGB, and NANO are available only on CoinRabbit.
Customers can choose their LTV – 50% or 70%. The higher LTV the more funds they can borrow, so it's a great thing to be able to choose that LTV suits you most.
If you are looking for passive income, for crypto savings account CoinRabbit offers 10% compound interest. You can earn crypto interest daily, and withdraw funds anytime you want.
Despite the simplicity of use, CoinRabbit pays a lot of attention to security. Service has a risk-control system that monitors all operations. All the funds are stored in the system of cold wallets. Besides, you can always protect your account with 2FA additional protection.
Visit CoinRabbit to learn more about the service
Blockfi crypto backed loans
---
Went bankrupt, no longer available.
BlockFi filed for Chapter 11 bankruptcy on November 28, 2022 after reaching an agreement earlier in the year to be purchased by FTX. Unfortunately, the digital currency exchange collapsed due to a dramatic downturn in the crypto market and as a result, BlockFi found themselves entangled in their own financial difficulties. According to their filing documents, they cited FTX's collapse and volatility in the crypto markets as primary causes of their bankruptcy proceedings.

YouHodler
---

YouHodler is a fintech startup that provides crypto-backed loans in fiat currencies and stablecoins. Unlike Blockfi that supports only 3 coins, YouHodler's bitcoin lending system has a broader offering of popular cryptocurrencies including BTC, ETH, LTC, BCH, XRP and XLM among others.
Aside of the support for a lot of coins, YouHolder takes pride in their LTVs as they offer one of the highest LTVs in the market – 90%. This means that if you put up 10 BTC as a collateral, you can take out a loan worth 9 BTCs.
Through their other product called bitcoin loan no collateral, they enable borrowers to hold their digital assets while accessing necessary funds.
YouHodler has wide limits when it comes to the amounts of money you can borrow – from as little as $100 to a maximum of up to $30,000 for a duration of 1 to 6 months.
The platform is very innovative with their products and a line of credit on recurring basis for indefinite time period is very popular. Being a bitcoin loan no credit check, the platform uses a straightforward application process for all kinds of borrowers with fast approval process.
Once you are approved for a loan on YouHolder, you can make an instant withdrawal via your credit card or through a crypto withdrawal.
Here is how to access funding from the lender:
Visit YouHodler by clicking here and click on "Open Account"
Sign up for an account by providing your email address and password
Transfer crypto assets to your wallet on YouHodler to serve as collateral
Verify your identity through the platform's automated KYC procedure
Once they reflect in your account, approval for the loan takes mere seconds and the lender releases funds almost instantaneously.
As for its security, the platform is an approved member of the Blockchain Association, an independent self-regulatory organization (SRO) and a provider of External Dispute Resolution (EDR). However, a stain on their reputation was a database leak from July 2019 when crypto loans platform left millions of records containing private financial data from thousands of users exposed online, researchers found.
Pros:
One of the highest LTVs in the market
Offers a wide variety of digital assets to choose from
You can get a loan in fiat or stablecoins
Borrowers can get recurring lines of credit
Cons:
Low loan limit
suffered a data breach with customer data exposed to hackers
Crypto.com Exchange Lending
---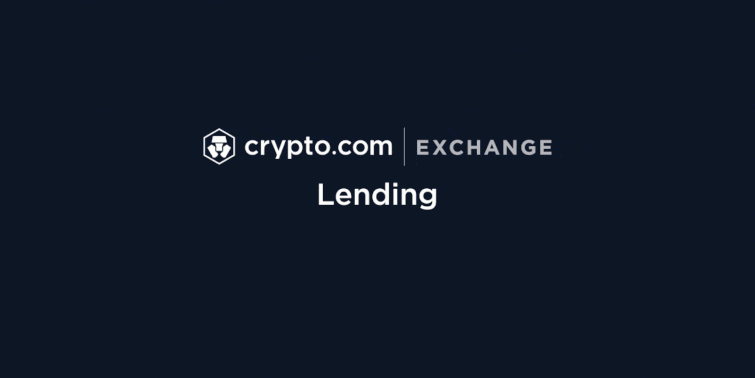 Crypto.com is the pioneering cryptocurrency platform established in 2016, complied with the highest security and compliance standard in the industry with the Cryptocurrency Security Standard (CCSS), ISO 27001:2013, ISO/IEC 27701:2019, and PCI: DSS 3.2.1 (Level 1) which made Crypto.com be the first crypto company to own all of these certificates at the same time.
Interest is paid like clockwork every week, customer service is good, app is great.
They get audited by Bureau Veritas and have obtained ISO/IEC 27001:3013, the first crypto company to achieve that certification. They've partnered with Ledger for their cold storage of funds.
Crypto.com Exchange Lending allows users to get an instant loan quickly and easily by using CRO, LTC, BTC, ETH, XRP, USDC, USDT, VET, LINK and DOT as collateral high loan-to-value (LTV) ratio up to 50%. You can choose to repay the loan partially or in full at any time within 12 months.
Celsius Network
---
Went bankrupt, no longer available.
Celsius Network, one of the largest cryptocurrency lenders in the United States, announced a freeze on all customer account withdrawals and transfers in June 2022 due to "extreme market conditions." This caused an uproar among its customers, who were unable to access their collateral, and the company filed for bankruptcy soon afterwards.
A bankruptcy judge has since ruled that Celsius owns users' interest, but this move has done little to quell the chaos. Customers remain unable to withdraw their assets, while many fear they won't get any of their money back. The whole situation has been a difficult one for users of Celsius Network – not only have they been locked out of their accounts, but also left without clear answers about what will happen next or when they will be able to access their funds.

Why Bitcoin Loans?
---
As the value of bitcoin increases, the economic opportunity you leave behind by holding your bitcoins is very high. Say you need some extra cash but don't want to sell your Bitcoin; a Bitcoin loan will allow you to unlock some funds from your portfolio without the need to sell your assets.
Another major reason for getting bitcoin loans is the ease of access, and less time is taken. You can get the loan within minutes after completing your KYC on any platform. As a bitcoin enthusiast, this is also a healthy trend for the whole bitcoin ecosystem.
Earn Interest on Your Crypto
---
If you don't require a loan, you can also lend your Bitcoins for interest. Long-term bitcoin holders can benefit a lot from lending their bitcoin assets. Instead of keeping your bitcoins idle, you can generate extra passive income by lending your assets to prospective borrowers.
It's important to be very careful while choosing which platform to lend your Bitcoins. Many overnight pop-up bitcoin exchanges try to scam their users and are not safe for your assets. So, make sure that the platform is reputable and has been functioning for at least the past five years.
Conclusion
---
Bitcoin has created a tremendous transformation in the way we transfer money from one person to another. Bitcoin loans are a useful way for investors to free up some cash from their portfolios without having to sell their assets. While finding an instant bitcoin loan no collateral may not be possible, many alternative options do exist. Anyone thinking about taking a Bitcoin loan should take extra effort in finding a suitable platform. When we consider the past 10 years, bitcoin has been in a growing trend. Taking a Bitcoin loan may be suitable for anyone who is holding and needs some extra cash but doesn't want to sell their assets.
In case you are looking for more crypto loan platforms, below is our list of reviews:

CaptainAltcoin's writers and guest post authors may or may not have a vested interest in any of the mentioned projects and businesses. None of the content on CaptainAltcoin is investment advice nor is it a replacement for advice from a certified financial planner. The views expressed in this article are those of the author and do not necessarily reflect the official policy or position of CaptainAltcoin.com