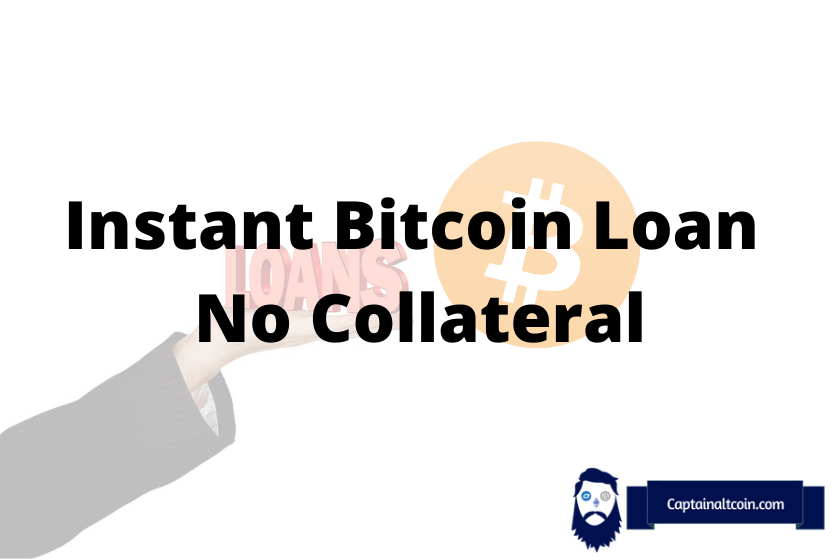 Getting a loan from a traditional financial institution is getting harder, and loan applications go through intense scrutiny before sanction. In order to obtain a loan, borrowers have to cross many hurdles such as having a good credit history, high civil score, substantial collateral, and many other issues. Even after meeting all of these requirements, the probability of getting a loan is often slim to none.
If you are a Bitcoin holder, you don't have to worry about these hurdles since you can get instant loans using your bitcoins as collateral. Making Bitcoin loans more popular over the last few years. Over the years, Bitcoin has become an asset that can be used as a store of value. But not many people know that they can use their idle bitcoins to get instant loans.
Get Bitcoin Loan Without Collateral
---
Let's have a quick look at the 3 best options to get Bitcoin loans without KYC and collateral. After that, we will go through each of them in more detail and some of their competitors.

No KYC & Credit check
64+ coins available
Flexible terms
Top-tier security
Earn daily compound interest on savings

Registered and insured company
Loan approval without traditional credit checks
Zero fee trading

Minimum loan of just $100
Loan-to-Value ratio up to 90%
high interest rates for 
savings accounts
 (up to 12%)
Can You Get an Instant Bitcoin Loan With ZERO Collateral?
---
When you start researching Bitcoin loans, you might come across some advertisements like "Instant Bitcoin Loan No Collateral." However, potential borrowers should be aware that obtaining a bitcoin loan without collateral is NOT POSSIBLE.

Since there is not much awareness about how the Bitcoin loan industry functions, many scammers prey on inexperienced borrowers, many scammers may even try to offer free, instant Bitcoin loans with no collateral to try and steal your existing Bitcoin.
How to Get Crypto Loans Without Collateral
---
As we mentioned above, there is no legit way of getting a bitcoin loan without collateral.
However, here is a serious way to apply for a bitcoin loan. You borrow against your crypto via one of the regulated and registered companies we list in the table below:
Just like the original purpose of bitcoin was to be permissionless, meaning you don't need to apply and plead with someone to allow you to use it, bitcoin loans are conceptualized similarly but with some differences.
Traditional bank loans come along with tones of paperwork and checks you need to pass before receiving them while bitcoin loans are much more simple and easier to get. The only thing you need for a bitcoin loan is a collateral and a legit lending platform that will give you USD or some other fiat currency for that crypto collateral.
Be sure you do your homework and research the hell out of all loan providers (this article is here to help) before starting the process. Many bitcoin loan providers (just google BitConnect or Lendconnect or Davorcoin and gazillion others) have scammed people out of their hard-earned money before.
A lot of people ask about the opportunity of getting an instant bitcoin loan without collateral and verification but that is not possible on any legit platform we reviewed. You have to go through the KYC and put in collateral in order to get a crypto loan on these services.
However, you can get a crypto loan with no verification on some DeFi platforms like Aave, Yearn Finance or Curve.
Best Crypto Lending Platforms:
---
Coinrabbit
---
CoinRabbit's main advantages (for table):
No KYC & Credit check
64+ coins available
Flexible terms
Top-tier security
Earn daily compound interest on savings
CoinRabbit is the simplest and fastest way to get a bitcoin loan. Service doesn't require KYC or any personal information. All you have to do is go to the CoinRabbit homepage, enter the amount of collateral and click "Get Loan". After confirming you'll receive your loan in a few minutes.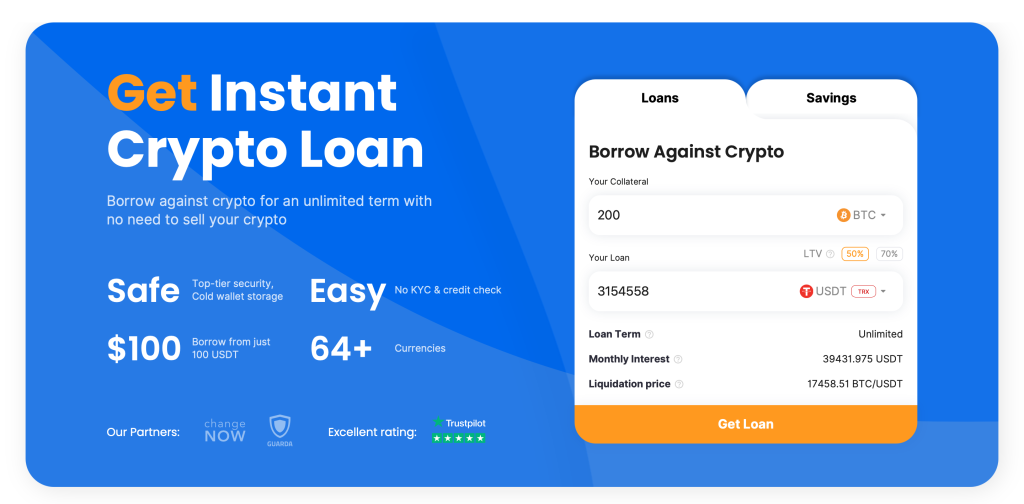 The company offers flexible terms. A crypto loan can be repaid at any time.
CoinRabbit is the fastest coin adoption service on the market. Service provides more than 62 coins and 5 stablecoins, and the list is constantly growing. Some coins like ZIL, SHIB, DGB, and NANO are available only on CoinRabbit.
Customers can choose their LTV – 50% or 70%. The higher LTV the more funds they can borrow, so it's a great thing to be able to choose that LTV suits you most.
If you are looking for passive income, for crypto savings account CoinRabbit offers 10% compound interest. You can earn crypto interest daily, and withdraw funds anytime you want.
Despite the simplicity of use, CoinRabbit pays a lot of attention to security. Service has a risk-control system that monitors all operations. All the funds are stored in the system of cold wallets. Besides, you can always protect your account with 2FA additional protection.
Visit CoinRabbit to learn more about the service
Blockfi
---
BlockFi is a New-York based startup launched in 2017 that captured the headlines as they got VC support from Coinbase Ventures and marketing push from popular crypto personas like Anthony Pompliano.

As any service, Blockfi has its own advantages and drawbacks so we will focus on both sides of the medal and let you decide which one tips the balance. Blockfi has developed a very appealing bitcoin lending system for both sides of the loan process: lenders and loan takers.
Blockfi is especially interesting for lenders as, for deposits under 10 BTC, Blockfi offers 6.2% interest rate on BTC and 3.3% on ETH for lenders, compounded. This is the best crypto interest rate currently in the industry. Plus, they require no minimum deposits, no matter the size of your crypto wealth, you can lend it out via Blockfi.
As for the borrowers, the interest rate is a decent 4.5%.

As for the negatives, Blockfi's biggest minus is limited number of coins you can lend – only BTC, ETH and GUSD (Gemini USD, a stablecoin created by Gemini). Blockfi is the best choice for big lenders as their interest rates decreases to 2.2% for deposits larger than 10 BTC and to only 0.2% for deposits of 100 ETH or more.
Blockfi is not FDIC insured, but Gemini — their wallet provider and de-facto coin holder– has a strong track record for security.
YouHodler
---

YouHodler is a fintech startup that provides crypto-backed loans in fiat currencies and stablecoins. Unlike Blockfi that supports only 3 coins, YouHodler's bitcoin lending system has a broader offering of popular cryptocurrencies including BTC, ETH, LTC, BCH, XRP and XLM among others.
Aside of the support for a lot of coins, YouHolder takes pride in their LTVs as they offer one of the highest LTVs in the market – 90%. This means that if you put up 10 BTC as a collateral, you can take out a loan worth 9 BTCs.
Through their other product called bitcoin loan no collateral, they enable borrowers to hold their digital assets while accessing necessary funds.
YouHodler has wide limits when it comes to the amounts of money you can borrow – from as little as $100 to a maximum of up to $30,000 for a duration of 1 to 6 months.
The platform is very innovative with their products and a line of credit on recurring basis for indefinite time period is very popular. Being a bitcoin loan no credit check, the platform uses a straightforward application process for all kinds of borrowers with fast approval process.
Once you are approved for a loan on YouHolder, you can make an instant withdrawal via your credit card or through a crypto withdrawal.
Here is how to access funding from the lender:
Visit YouHodler by clicking here and click on "Open Account"
Sign up for an account by providing your email address and password
Transfer crypto assets to your wallet on YouHodler to serve as collateral
Verify your identity through the platform's automated KYC procedure
Once they reflect in your account, approval for the loan takes mere seconds and the lender releases funds almost instantaneously.
As for its security, the platform is an approved member of the Blockchain Association, an independent self-regulatory organization (SRO) and a provider of External Dispute Resolution (EDR). However, a stain on their reputation was a database leak from July 2019 when crypto loans platform left millions of records containing private financial data from thousands of users exposed online, researchers found.
Pros:
One of the highest LTVs in the market
Offers a wide variety of digital assets to choose from
You can get a loan in fiat or stablecoins
Borrowers can get recurring lines of credit
Cons:
Low loan limit
suffered a data breach with customer data exposed to hackers
Crypto.com Exchange Lending
---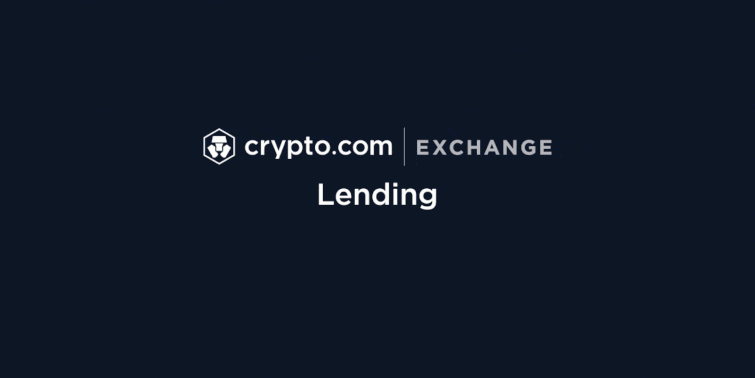 Crypto.com is the pioneering cryptocurrency platform established in 2016, complied with the highest security and compliance standard in the industry with the Cryptocurrency Security Standard (CCSS), ISO 27001:2013, ISO/IEC 27701:2019, and PCI: DSS 3.2.1 (Level 1) which made Crypto.com be the first crypto company to own all of these certificates at the same time.
Interest is paid like clockwork every week, customer service is good, app is great.
They get audited by Bureau Veritas and have obtained ISO/IEC 27001:3013, the first crypto company to achieve that certification. They've partnered with Ledger for their cold storage of funds.
Crypto.com Exchange Lending allows users to get an instant loan quickly and easily by using CRO, LTC, BTC, ETH, XRP, USDC, USDT, VET, LINK and DOT as collateral high loan-to-value (LTV) ratio up to 50%. You can choose to repay the loan partially or in full at any time within 12 months.
Celsius Network
---
Celsius is different to other lending sites by having their own utility token CEL, that is that gives Celsius users exclusive benefits like better interest rates (discounts of up to 30%), priority status, community membership etc. Just like all other crypto lending platforms, it requires no credit check and approvals are very fast, almost instantaneous.

Rates for both borrowers and lenders are very attractive and depend on the coin and amount you use for the loan or collateral.
For borrowers, rates start at 4.95% and the interest rate offered depends on your loan-to-value ratio. The more collateral (crypto) you use, the lower your interest rate. Check out our borrowing page for more information.
Your coins could be earning up to 12% APY if you are a lender (highest rates are paid for stablecoins like Tether or Paxos). The only thing you need to do is to send them to your Celsius Network wallet and approve them for lending. Celsius claims that 80% of their revenue is shared with the lenders and not shareholders.
Minimum loan amount starts at $1500 and LTV rates vary, from 25% to 50% of the collateral.
Celsius Network partnered with BitGo to secure user assets that are stored in the cold wallets of the company. However, Celsius does not directly offer insurance on your deposits but BitGo does. BitGo's insurance covers digital assets that are held in cold storage up to the amount of $100M.
Why Bitcoin Loans?
---
As the value of bitcoin is increasing, the economic opportunity you are leaving behind by holding your bitcoins is very high. Say you need some extra cash but don't want to sell your Bitcoin; a Bitcoin loan will allow you to unlock some funds from your portfolio without the need to sell your assets.
Another major reason for getting bitcoin loans is the ease of access, and less time is taken. You can get the loan within minutes after completing your KYC on any platform. As a bitcoin enthusiast, this is also a healthy trend for the whole bitcoin ecosystem.
Earn Interest on Your Crypto
---
If you don't require a loan, you can also lend your Bitcoins for interest. Long-term bitcoin holders can benefit a lot from lending their bitcoin assets. Instead of keeping your bitcoins idle, you can generate extra passive income by lending your assets to prospective borrowers.
It's important to be very careful while choosing which platform to lend your Bitcoins. Many overnight pop-up bitcoin exchanges try to scam their users and are not safe for your assets. So, make sure that the platform is reputable and has been functioning for at least the past five years.
Conclusion
---
Bitcoin has created a tremendous transformation in the way we transfer money from one person to another. Bitcoin loans are a useful way for investors to free up some cash from their portfolios without having to sell their assets. While finding an instant bitcoin loan no collateral may not be possible, many alternative options do exist. Anyone thinking about taking a Bitcoin loan should take extra effort in finding a suitable platform. When we consider the past 10 years, bitcoin has been in a growing trend. Taking a Bitcoin loan may be suitable for anyone who is holding and needs some extra cash but doesn't want to sell their assets.
In case you are looking for more crypto loan platforms, below is our list of reviews:

CaptainAltcoin's writers and guest post authors may or may not have a vested interest in any of the mentioned projects and businesses. None of the content on CaptainAltcoin is investment advice nor is it a replacement for advice from a certified financial planner. The views expressed in this article are those of the author and do not necessarily reflect the official policy or position of CaptainAltcoin.com