PrimeBit Review – New P2P Crypto Derivatives Platform with 200x Leverage



PrimeBit Review – New P2P Crypto Derivatives Platform with 200x Leverage
High Leverage of up to 200x on many pairs.
Very Fast trade execution.
Acceptable fees
Auto-deleveraging.
99.9% of assets on PrimeBit are held in Cold Wallets preventing hacks and theft.
Loyal to the original ethos of cryptocurrencies, Primebit is the new P2P derivatives exchange that requires no KYC and doesn't act as a counterparty in your trades.
As you read this Primebit Profit review, you will surely raise your eyebrows at some unique features this platform offers and, if you are an experienced trader with years of trading under your belt, you're definitely going to like it.
Primebit Profit offers an option to do a whopping 200x leverage trades, the unrivaled margin in the industry, and has no barrier to entry – there is no minimum amount you need to deposit. It runs on a popular MT5 platform.
So what is PrimeBit Profit?
---
As I said in the introduction part, this is a new crypto derivatives exchange that runs on an MT5 platform, requires no KYC at registering, and offers 200x for three contracts it currently offers:
The company is young, established in 2019, and located on the exotic island of Saint Vincent and the Grenadines. Even though they are a new kid on the block, the internet is full of overwhelmingly positive reviews and feedback from their customers. For now, we can safely state that PrimeBit is a legit exchange.
Just like with other unregulated exchanges, PrimeBit Profit is not available for crypto traders from the United States due to the active US Securities Act of 1933. PrimeBit also does not support the following countries: Canada, Japan, Algeria, Afghanistan, the Bahamas, Botswana, Cambodia, Crime and Sevastopol, Cuba, Ecuador, Ethiopia, Ghana, Iran, Iraq, Myanmar, North Korea, Pakistan, Serbia, Sri Lanka, South Sudan, Sudan, Syria, Tunisia, Trinidad and Tobago, and Yemen.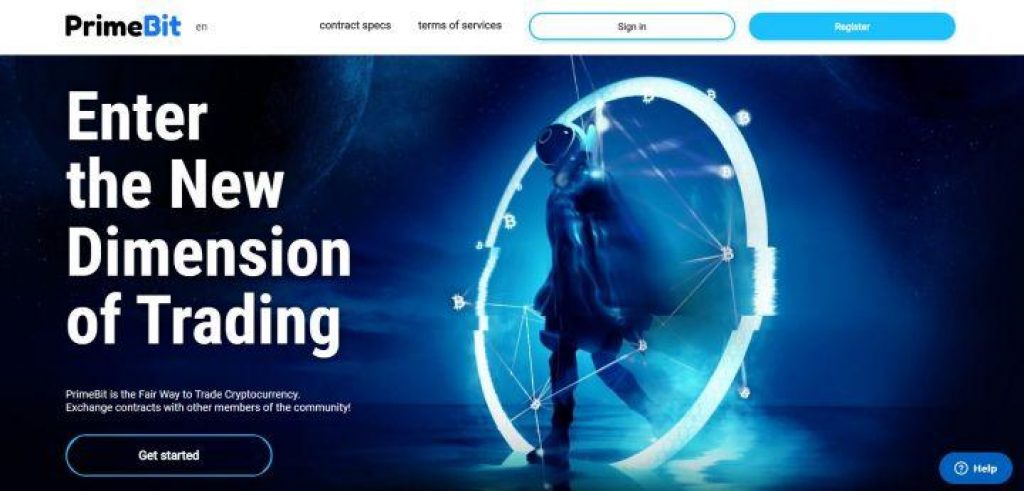 What does P2P mean?
---
It means that you don't trade against the exchange, which is often a surface for manipulations (just check the complaints of traders against one of the most popular margin exchanges in crypto – BitMex), but directly with other crypto traders.
This also eliminates the honey-pot for the hackers since the exchange holds no funds, it doesn't act as a market maker or insurance fund. Thanks to this structure, unlike other Contract for Difference (CFD) exchanges, it doesn't take your money when you hit a certain liquidation threshold if you have enough BTC to fund it.
But, how does PrimeBit earn money?
---
With this exchange, your counterpart is another, regular trader like you. He will create your profits or losses, and PrimeBit makes money via trading fees it charges for creating the trading structure.
Get used to PrimeBit via their free demo account
---
This is especially important for new traders – there is a full-featured demo account where you can trade with imaginary money and test out all the options and functionalities the exchange offers.
PrimeBit major features
---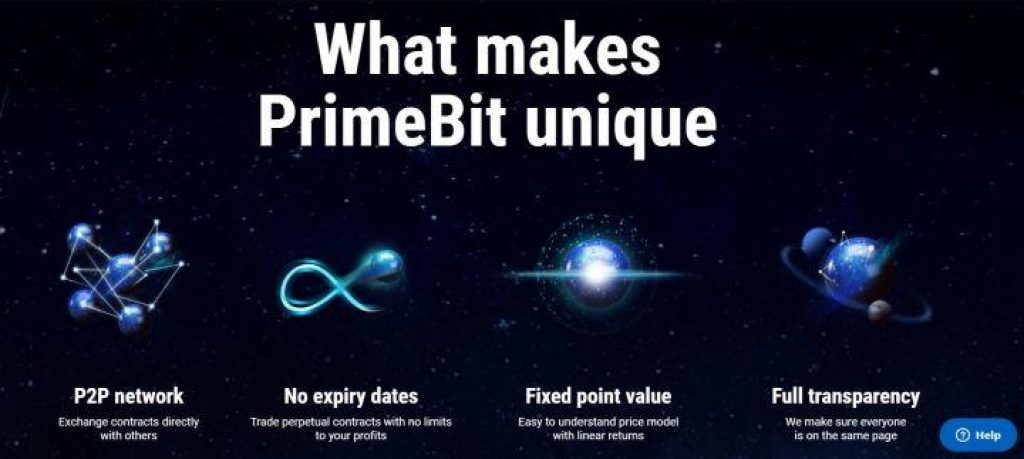 leverage of up to 200x – the highest leverage in the crypto industry
Runs on a popular MetaTrader 5 desktop and web application
No KYC, no minimum deposit – Register in minutes, deposit your coins, and trade perpetual contracts without any limits to your profits.
Fair Price Marking – a mechanism to allow smooth trading on volatile assets even with high leverage
No expiry dates

 – trade perpetual contracts with no limits to your profits

Fixed point value – easy-to-understand price model with linear returns
A lucrative affiliate program that offers up to 20% revenue share for the referring partners
PrimeBit Trade Calculator for easy computing of the basic parameters of an order you consider making.
Payouts are linear, and its spot indexes are calculated using the price of four major and trustworthy exchanges – Bitsamp, Coinbase, Kraken, and Gemini.
user funds are held in cold storage
You can use profits from existing trades to open new trades
How to start – signing up on PrimeBit
---
Signing up on PrimeBit is a breeze since it requires no personal data, just your email address that needs to be confirmed after you submit it.


Once you do that, you will land on the main dashboard screen where you can deposit BTC right away. In order to start trading, you'll need to log in to the Meta Trader 5 app (you will need to download it first) or web trader platform using your funded account number and password, and you're ready to place your first trade.
Btw. the whole process of starting with PrimeBit and generally, anything you would want to know about the platform is covered on their very detailed tutorials section of the website.
Please note that there is a demo account that you can take for a spin before depositing real money. This demo account (demo MT5) is a mirror of a live account and you can open an unlimited amount of demo accounts to test the platform and your strategy.
New PrimeBit Web Trader
---
The new PrimeBit WebTrader is a big update for the platform as it is now optimized to work perfectly on any device with no need to install any software.
You can plan your trading strategy on your desktop device and execute those orders from anywhere in the world wirelessly with your smartphone.
The new Web Trader interface is clean and well organized giving you an overview of open and pending orders, order book, your profit or loss (PNL), and your position in the auto deleveraging (ADL) queue.
PrimeBit Fees and contracts
---
As already explained above, PrimeBit earns its money from the maker fees and doesn't take any portion of the funding fees, which have to be paid every eight hours.
The well-known and established forex platform, MT5, has advanced charting tools that you can use to analyze the markets, and it also integrates seamlessly with a number of third-party applications.
Below is a detailed overview of fees and other contract details:
| | | | |
| --- | --- | --- | --- |
| | BTC/USD | ETH/USD | LTC/USD |
| Contract type | Simplified perpetual contract | Quanto perpetual contract | Quanto perpetual contract |
| Maker fee | -0.0250% | -0.0250% | -0.0250% |
| Taker fee | 0.0750% | 0.0750% | 0.0750% |
| Payout | Linear | Linear | Linear |
| $1 price change value | 0.0001 BTC | 0.0001 BTC | 0.0001 BTC |
| Settlement | No expiration | No expiration | No expiration |
| Max leverage | 200x | 200x | 200x |
| Reference price | BTC/USD spot index | ETH/USD spot index | LTC/USD spot index |
| Spot index weighting | Bitstamp,Coinbase,Kraken, Gemini | Bitstamp,Coinbase,Kraken, Gemini | Bitstamp,Coinbase,Kraken, Gemini |
| Spot index weighting | Equal weighted | Equal weighted | Equal weighted |
| Funding interval | Every 8 hours | Every 8 hours | Every 8 hours |
| Minimum contract size | 0.0001 BTC | 0.005 BTC | 0.01 BTC |
| Liquidation reference | Fair price | Fair price | Fair price |
| Contract loss mechanism | Auto-Deleveraging system | Auto-Deleveraging system | Auto-Deleveraging system |
PrimeBit review: The Contract
---
We mentioned that contracts offered on PrimeBit (currently offers 3 contracts) are perpetual. But what does that mean?
It means that they have no expiry date, and can be held "forever" (as long as you can pay the funding fees every 8 hours).
By using this type of contract, PrimeBit removes time value from the pricing equation and makes it much easier for the contracts to track the price of the underlying tokens directly.
All contracts are priced in USD but settlement happens in BTC with a fixed price of a contract and funding fees.
The funding fees for the contracts are determined by a premium/discount index that traders can view at any time.
PrimeBit security
---
It is a fairly new exchange, so it was never hacked. As mentioned above, 99% of user funds are kept in offline, cold wallets. This reduces the hacking possibility to a minimum.
PrimeBit also implemented all best practices and security measures from the industry, like data encryption and 2FA authentication.
Additionally, the trading platform runs on a popular trading application MetaTrader 5, which comes with the following security measures:
Data encryption. All data sent between PrimeBit and the server is encrypted using 128-bit keys.
Server and extended authentication. All clients and trade servers must confirm their authenticity to ensure that they are who they claim to be. Also, it is possible to enable extended authentication for additional protection against unauthorized access.
Configuration files protection ensures that it is impossible to connect to the trade server using stolen Config files. All configuration files storing connection settings and accounts and encrypted.
Password protection. All password entering fields are protected against being viewed via various hacking applications.
Account and information database encryption. Meta Trader 5 protects all account and information databases from being used on other platforms using top-grade encryption.
PrimeBit usability and design
---
PrimeBit didn't develop its own trading platform but decided to use the established and familiar trading platform MT5. MetaTrader 5 is very user-friendly with powerful features – a combination that will please even the most demanding users.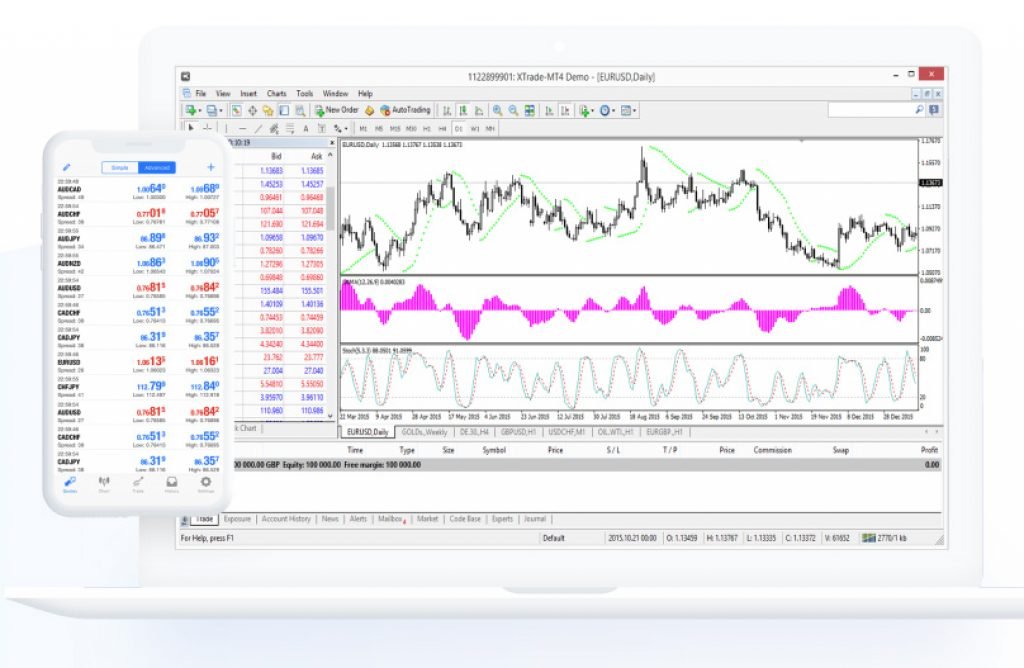 Here are some of the things that MT5 offers traders:
Custom Charts MT5 has advanced charting tools that traders find useful. You can adjust the timeframe and the kind of chart, which is a nice feature to have. There are also a number of indicators that are built into MT5, which is very handy for trading in any market.
Order Types MT5 has loads of customizable order types as a standard feature. You will be able to set limits and trailing orders with MT5, which isn't the case at many crypto exchanges. Trailing stop-loss orders ensure that you can lock in profits in a crypto market that is moving quickly, and not have to live at your trading terminal.
Layouts If you want to change how your trading interface is displayed, MT5 gives you loads of options. You can make the market that you trade the largest chart, and change how the symbols are displayed in the info box as well. There are loads of options, and MT5 makes it simple to view information the way you want.
PrimeBit review: final words
---
PrimeBit is bringing a new paradigm to the world of crypto derivatives trading. It is an innovative broker that introduces some new features, along with offering standard options on steroids (leverage of up to 200x).
The number of contracts is a bit low for now, but that will probably change in the future as the platform grows and expands to add more contracts.
High leverage, fair and fixed pricing, transparent fees, perpetual contracts, and peer-to-peer trading make it one of a kind platform. Additionally, it is highly secure, user-friendly, and can be accessed on multiple devices.
PrimeBit alternatives
---
If you are not fond of Primebit, here is a list of potential crypto margin exchanges that can be good alternatives:
PROS
High Leverage of up to 200x on many pairs.
Very Fast trade execution.
Acceptable fees
Auto-deleveraging.
99.9% of assets on PrimeBit are held in Cold Wallets preventing hacks and theft.
CONS
no chat support
accepts only bitcoin deposits
not regulated

CaptainAltcoin's writers and guest post authors may or may not have a vested interest in any of the mentioned projects and businesses. None of the content on CaptainAltcoin is investment advice nor is it a replacement for advice from a certified financial planner. The views expressed in this article are those of the author and do not necessarily reflect the official policy or position of CaptainAltcoin.com