Ethereum (Ether) was invented by Vitalik Buterin in 2013 and it quickly surpassed the market cap of all other cryptocurrencies – except for Bitcoin. The price of 1 ETH was less than $10 at the start of 2017. Since this time, Ethereum has grown at an incredibly rapid pace and the price at one point reached higher than 40 times its 2017 starting price.
This incredible price growth, combined with a wider understanding of the potential of Ethereum, has generated many new investors looking to purchase Ethereum.
What is Ether?
Ether is the currency of the Etherium platform that will be required by anyone wishing to build upon or use the Ethereum platform. Ether has grown in value by dozens of times since the beginning of the year. Some analysts believe the cryptocurrency market still has new heights to achieve in the weeks and months to come. Ether can be traded around the web and mined, just like Bitcoin. Most people, when referring to the currency, use the term Ethereum instead of Ether, and that's why it can get so confusing.
The total supply of Ether and its rate of issuance were determined by the donations gathered on the presale of the currency or ICO that was conducted in 2014. Here are the results:
60 million Ether was created to contributors of the presale.
20% (12 million Ether) of that was created for the development fund for early contributors, developers, and the Ethereum Foundation.
5 Ethers are created every block, which is about 15 to 17 seconds, to the miner of the block.
2-3 ethers are sometimes sent to another miner if they were also able to find a solution but his/her block wasn't included (this is called uncle/aunt reward)
The founders of Ethereum state that Ether is not a currency as much as it is "crypto-fuel". This means that Ether is a token that has one main use – to pay for the Ethereum platform. This means that you probably won't be able to purchase stuff with Ether online, but you can still trade it and invest in it in hopes its price goes up. Ether is less suitable for non technical people because it is less "mature" than Bitcoin at the moment.
How to Buy Ethereum with credit card
The easiest way to purchase Ethereum would be through one of the popular Ethereum exchanges. Over the last few years, cryptos have soared in popularity so there's been no shortage of new businesses looking to facilitate exchanging them. With so many choices to choose from, our goal is to help you find the best exchange for your specific needs.
Ethereum wallets are separate topic – you can read more about it in the linked article.
Top 7 Best Ethereum Exchanges
Rank
Site
Available

Cryptocurrencies

Buy Options
Fees
Visit Site
1
Coinbase
BTC, ETH, LTC
Bank Transfer,

Credit Card

Low
Visit Coinbase
2
Gemini
BTC, ETH
Bank Transfer
Very Low
Visit Gemini
3
Cex.io
BTC, ETH, BCH

DASH, ZEC

Bank Transfer,

Credit Card

Low-High
Visit CEX.IO
4
Coinmama
BTC, ETH
Credit and Debit Cards
High
Visit Coinmama
5
Bittrex
250+ Trading Pairs
Cryptocurrency
Very Low
Visit Bittrex
6
Kraken
BTC, ETH, LTC, DASH,

XRP, 10+ More

Bank Transfer
Very Low
Visit Kraken
All of these cryptocurrency exchanges do the same thing (facilitate purchasing and selling cryptocurrencies). However, they operate differently. We have outlined 3 groups of exchanges to make things easier to understand:
Group A (Kraken, Gemini, Coinbase, and CEX.IO) – buy ethereum with bank transfer or credit card
This first group of cryptocurrency exchanges allows users to trade cryptocurrencies and fiat currencies (USD, EUR, GBP, etc.) on an open market. These platforms function similarly to traditional stock and forex exchanges, allowing users to make stop, market, limit, and even margin trades.
These exchanges can be complicated for beginner users. On the other hand, they typically have the lowest fees of any group.
These platforms typically have limited deposit and withdrawal methods for fiat currencies, most commonly offering bank transfers and bank wires.
Group B (Coinmama, CEX.IO, and Coinbase)
This group of cryptocurrency exchanges operates more like "online cryptocurrency retail stores". Rather than have their users make trades on a market, they directly facilitate the purchase and sale of cryptocurrency with their users, which creates a more beginner friendly process than group A exchanges.
In addition to bank wires/transfers, these sites also allow users to make purchases with debit and credit cards.
These platforms are typically thought of as the easiest ways for beginners to purchase and sell Ethereum. However, they charge higher fees than Group A exchanges.
Group C (Poloniex and Bittrex) – The last group of exchanges work similarly to Group A exchanges. However, the difference is that they only offer cryptocurrency trading, which means that on these exchanges you can only trade cryptocurrencies for other cryptocurrencies. This group of exchanges does not offer the ability to purchase or sell cryptos with fiat currency (USD, EUR, GBP, etc).
3 Most Beginner Friendly Methods for Purchasing Ethereum
Today, more and more investors are becoming interested in adding Ethereum to their portfolios, and numerous startups looking to help customers purchase and sell cryptos have sprouted in response to the increased demand for Ethereum and other cryptos. Here are 3 of the most widely trusted and recommended beginner-friendly sites to purchase Ether.
1) Coinbase
Coinbase offers functions that serve as training wheels for beginners and it is our top recommendation for newcomers looking to buy Ether.
Coinbase was launched in 2012 and it aimed to create an easier way to purchase and sell Bitcoin. It's important to note that unlike traditional cryptocurrency exchanges, Coinbase directly facilitates the exchange of cryptocurrency to its users. Coinbase comes with a variety of advantages over other cryptocurrency exchanges:
You can use credit cards and debit cards for instant Coinbase purchases. However, your limits will be substantially lower than if using a bank transfer.
On Coinbase you can lock in prices for your first order faster than on most cryptocurrency exchanges. Rather than waiting for deposits to clear, Coinbase locks in your price when you initiate an order. Once your deposit has cleared, you will receive the amount of cryptocurrency you bought, at the set order price.
Your guaranteed price and fees are clearly stated at the time of your order, which means that you don't have to deal with complicated market interfaces.
Coinbase added Ethereum support in 2016 and their Ethereum services now come with the same benefits as their original Bitcoin service.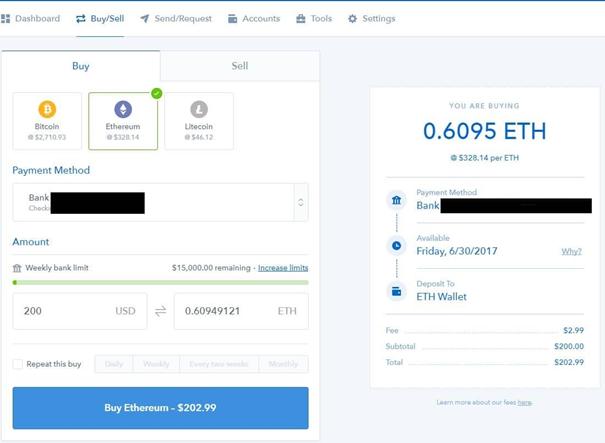 We strongly recommend storing your cryptocurrency in a wallet that you have full control over. However, Coinbase offers one of the most secure online wallets currently available that can be used to store, send, and receive Ethereum.
In addition to being easy to use, Coinbase is also one of the most trusted names in cryptocurrency industry and they have received numerous investments from big-name venture capitalists. The company is based out of San Francisco, and as a U.S. based digital asset exchange, they are also compliant with all required regulations and laws. Coinbase is notably valued at $1.6 billion and it has helped over 11 million users in 32 countries exchange more than $20 billion in digital currency.
2) CEX.io
CEX.io is headquartered in London and represents another long-trusted method of purchasing cryptocurrency.
The company was initially started in 2013 as both a cloud mining service provider and Bitcoin exchange. In 2016, the company ended their cloud mining service and added Ethereum to their platform. CEX.io has recently added Zcash and Dash to their platform.
CEX.io works with countries worldwide and offers both a full exchange, as well as easy buy/sell methods. The platform accepts deposits and withdrawals with bank transfers and credit cards, and they also give verified members higher credit card limits than Coinbase.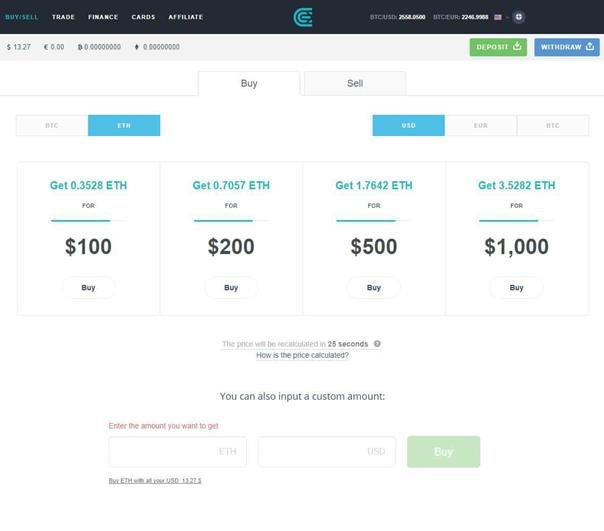 The downside to CEX.io is its potential higher fees. Still, CEX.io is a good option for users in locations not supported by Coinbase, or users wanting to make large purchases with credit cards.
3) Gemini
Gemini was founded in 2015 by Tyler and Cameron Winklevoss. They've quickly built a great reputation, despite being around for less time than some competitors. Gemini is headquartered in New York and also operates in Europe, North America, and Asia. As a New York based company, they are regulated by the New York State Department of Financial Services.
Unlike Coinbase, Gemini operates as a more 'traditional' cryptocurrency exchange, which means that users can use the site to trade with other users on their market. The website functions like a traditional forex or stock platform.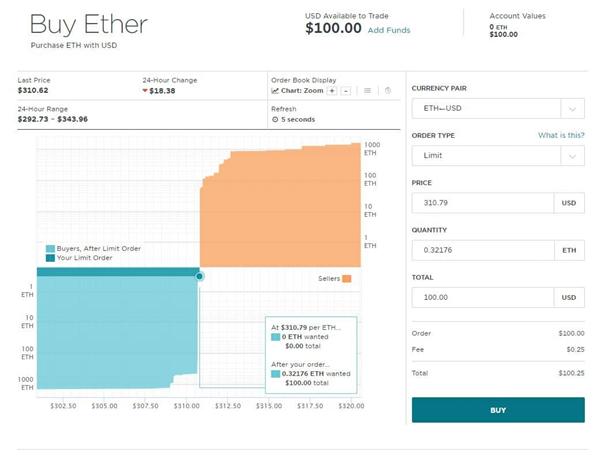 Gemini users can trade Ethereum, Bitcoin, and US dollars. Unfortunately, deposits and withdrawals are available only via bank wire and bank transfer. However, the platform allows you to begin trading while your deposits are still processing, which gives users the ability to lock in purchase prices faster than almost all other traditional exchanges. Like other "Group A exchanges", Gemini also still comes with the very low fees.
In our opinion, Gemini is slightly less beginner friendly than Coinbase. However, their team has done an amazing job designing an interface that's easy to use.
More Cryptocurrency Exchanges
One of the above three exchanges are most likely your best option for purchasing Ethereum for the vast majority of you reading this article.
Coinbase – Most trusted and easiest to use crypto exchange.
CEX.IO – Very high credit card buying limits compared to competitors.
Gemini – Relatively beginner friendly and very low fees.
With that said, we realize everyone has different needs, so here's more sites that allow you can buy Ethereum.
Bittrex
As previously mentioned, Bittrex does not currently have options for users to deposit fiat currencies and they only offer trading of cryptocurrencies for other cryptocurrencies. Bittrex is not for those people who are buying cryptocurrency for the first time.
With that said, Bittrex offers over 250+ trading pairs, denominated in Bitcoin, Ethereum, and Tether markets. If you already own Bitcoin, you can use Bittrex to trade your Bitcoin for Ethereum, or many other lesser known altcoins. Bittrex has established itself as one of the premier exchanges for serious traders, and is also a favorite among frequent traders and cryptocurrency speculators.
They offer very low fees and solid customer support. Bittrex was founded in 2014 and is located in the United States.
Coinmama
Headquartered in Slovakia, Coinmama is another great option for those who are looking to purchase large amounts of ether with credit cards. This site allows users to buy both Bitcoin and Ethereum.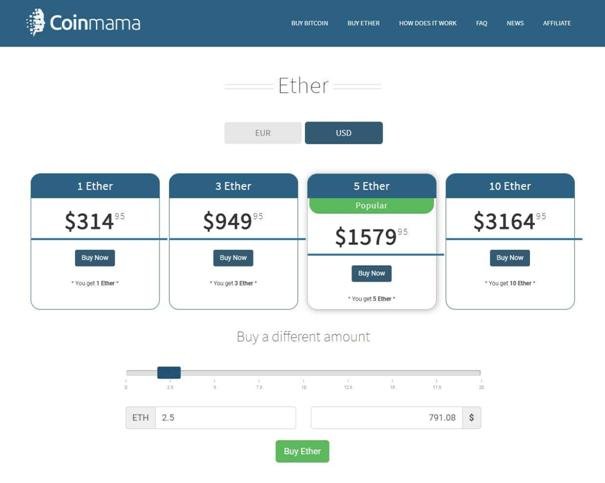 Unlike CEX.io and Coinbase, Coinmama does not offer a wallet service. This means that you will have to provide an Ethereum address from a separate wallet where your Ether can be sent. This is the reason why we view Coinmama as a less beginner friendly option than the other two exchanges.
Like CEX.io, Coinmama has rather high fees. Check the credit card section below to compare credit card fees between exchanges.
Kraken
Based in San Francisco, USA, Kraken is another nice option for those looking to trade fiat currencies for Ethereum or other cryptos. Established in 2011, Kraken allows users to make fiat deposits through bank transfers and wires. The exchange also offers far more altcoins to trade than Gemini and Coinbase.

The company has built a solid reputation in the cryptocurrency community over the years. They do however seem to have more complaints about their poor user interface and also about slower customer support than most of their competitors.
Kraken does not offer as many cryptos to trade as Bittrex. However, they do offer trading for the following cryptocurrencies:
Bitcoin, Bitcoin Cash, Ethereum, Ethereum Classic, Monero, Zcash, Dash, Litecoin, Ripple, Dogecoin, Stellar, Augur, Tether, Gnosis, Iconomi, Melon, and EOS.
How to Buy Ethereum with a Credit Card
Many cryptocurrency beginners hope to make their first purchase using a credit card. Unfortunately, very few exchanges currently available accept credit cards. For the ones that do, credit cards open the door for high fees, chargebacks, and fraudulent purchases.
However, there are a few nice exchanges that accept credit cards.
*CEX.IO fee estimates are for "Buy/Sell" FOK orders, but when trading on their exchange fees are lower.
Ethereum Buyer's Guide FAQ
Unfortunately, we do not have enough time to answer every individual question readers have when it comes time to make their first Ethereum purchase, but we have answered many of the most common questions asked by Ethereum beginners.
How Do You Rate Exchanges?
When reviewing and rating exchanges, our goal is to answer the most common questions crypto traders have about exchanges, which lead us to primarily focusing on the following factors:
Available Cryptos
Deposit and Withdrawal Methods
Fees
Community Opinion
Customer Support
Beginner Friendliness
The final rating number is a combination of all 6 of these factors. For example, Bittrex may be higher rated than GDAX. However, that does not mean that Bittrex is better site for YOU. Bittrex's rating is increased by their abundance of available cryptos to trade. However, they rate lower than GDAX in deposit and withdrawal methods because they do not offer fiat payment methods. The point is that you should actually read our reviews so that you can make an informed decision and get most out of them.
It's important to note that our reviews are written by a handful of reviewers. Our reviewers do their best to research and speak to facts. On the other hand, it would be impossible to say that opinion does not play at least some part into our reviews (and most online reviews in general).
What's the difference between Ether and Ethereum?
Well, Ethereum is the network, and Ether is the currency or value token of the network. Technically, the currency is not called Ethereum. However, the term is often used interchangeably to describe both the network and the currency. For this reason we too use the term "Ethereum" interchangeably.
Do I have to Purchase an Entire Ether?
Of course not! Ether is divisible to 1018. No exchange will allow you to buy .000000000000000001 Ether (worth a fraction of a US cent). On the other hand, most exchanges will allow you to deposit as little as $10.
How Should I Store My Ether?
There are two main reasons why is typically not recommended that you store large amounts of any cryptocurrency on an exchange long-term:
Most online exchanges are controlled by central authorities (businesses) which control your cryptocurrency wallets, because you do not have access to your wallet's keys. That's why it's strongly to store cryptocurrency in a wallet that you have full control over.
Whenever an exchange account or cryptocurrency wallet is hosted online, it creates an opportunity for hackers to breach the account. For this reason, you should always make sure to enable 2-Factor Authentication (2FA) and use secure password. It's important to note that SMS text 2FA is typically not recommended, and instead, apps like Authy and Google Authenticator are thought to be far more secure.
Should I Buy / Is it too Late to Invest in Ethereum?
Ethereum is still in a very early stage of its development, so whether or not you should invest in it is ultimately a question you have to answer for yourself. As with any investment, you should do your own research and invest wisely.
If Ethereum ever reaches the true potential, it would FAR exceed today's prices.

CaptainAltcoin's writers and guest post authors may or may not have a vested interest in any of the mentioned projects and businesses. None of the content on CaptainAltcoin is investment advice nor is it a replacement for advice from a certified financial planner. The views expressed in this article are those of the author and do not necessarily reflect the official policy or position of CaptainAltcoin.com