Margex Review – Fees, Deposits, Withdrawals & Security Explained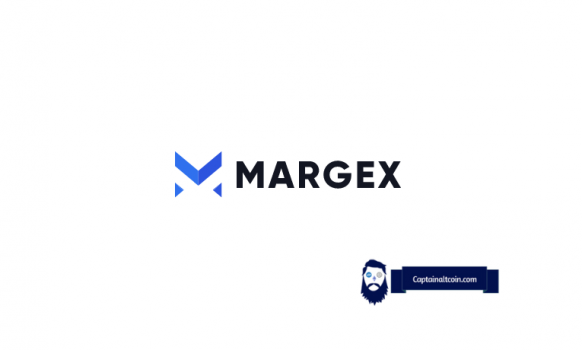 Margex Review – Fees, Deposits, Withdrawals & Security Explained
lowest fees in the industry
high leverage
no KYC
fast matching machine
MP shield - protection against flash crashes
Trading on a margin is growing in popularity among crypto traders. Among the features, these traders look for the most are platform stability, anonymity, and big leverage. Margex derivatives exchange, a new cryptocurrency margin trading service, built-in these features as their cornerstones. In this Margex review, we will go through all the important offerings and unique advantages that separate Margex from its established competitors.
In the beginning, we can say with high certainty that this new player has a lot to offer and will definitely rock some boats and give the big guns a run for their money.
So, let's enter the trenches and see what is under the hood of the Margex crypto exchange.
Margex review: Key Features
---
Right off the bat, let's highlight the essential hallmarks of the Margex exchange:
It offers 100x leverage
It requires no KYC
It features a proprietary MP Shield – a system that protects traders from illiquidity and price manipulation like the flash price crashes that liquidates short or long positions, often conducted on competitor platforms
It has a super-fast matching machine that can handle 100k transactions per second. That is on average 4x faster than what competitors offer.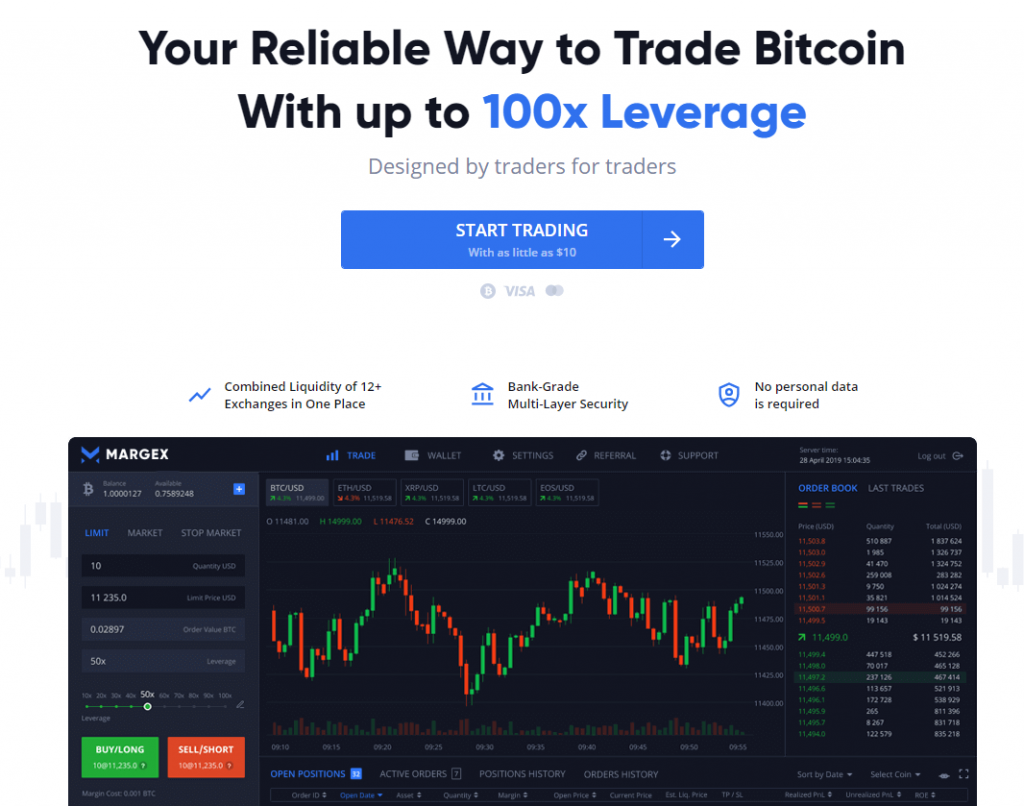 Moreover, Margex also offers a referral program allowing a flat commission rate of 40% with transparent statistics and daily payments in BTC.
Trading interface
---
What I liked about Margex is its concise and straight-to-the-point approach. In everything – from their documentation and knowledge center to the trading interface.
There is no clutter, surplus information, or pesky banners popping out of every corner. Everything is simple, intuitive, and easy to handle. If you already dealt with margin exchanges, you will know to appreciate the spick and span look of the Margex dashboard.
The left-side widget shows your balance, order types, and leverage. We will talk more about the order types below but it is worth mentioning that Margex does support take profit and stop-loss orders, a huge profit securing mechanism that lacks on some of the more popular platforms.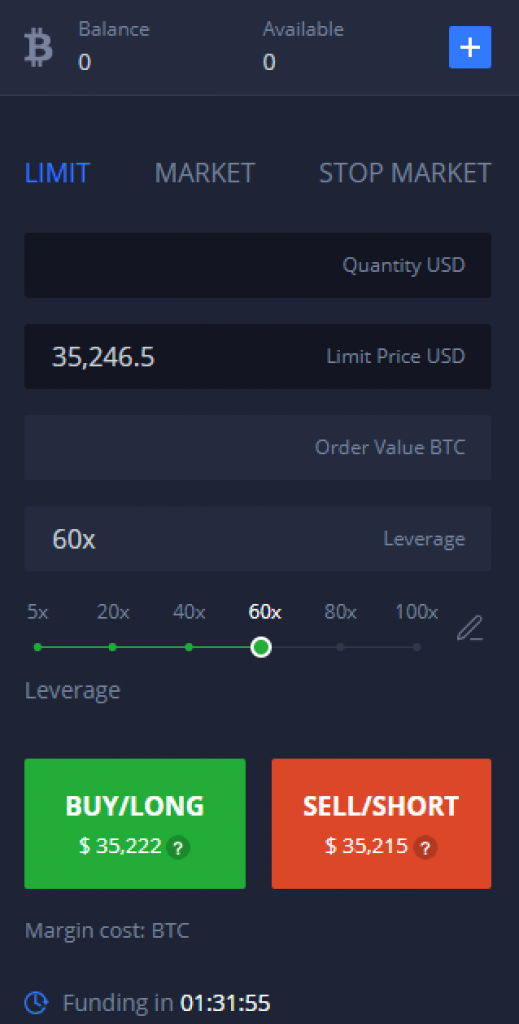 The center part is filled with the main features: a familiar, feature-rich trading chart powered by TradingView (a huge plus) and right below it overview of all active and past orders and positions.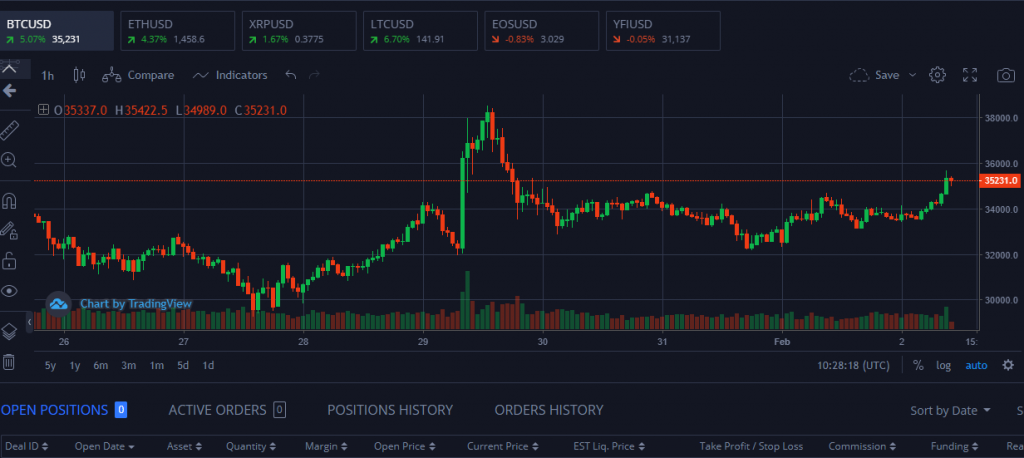 The right side widget displays the orderbook and last trades tabs.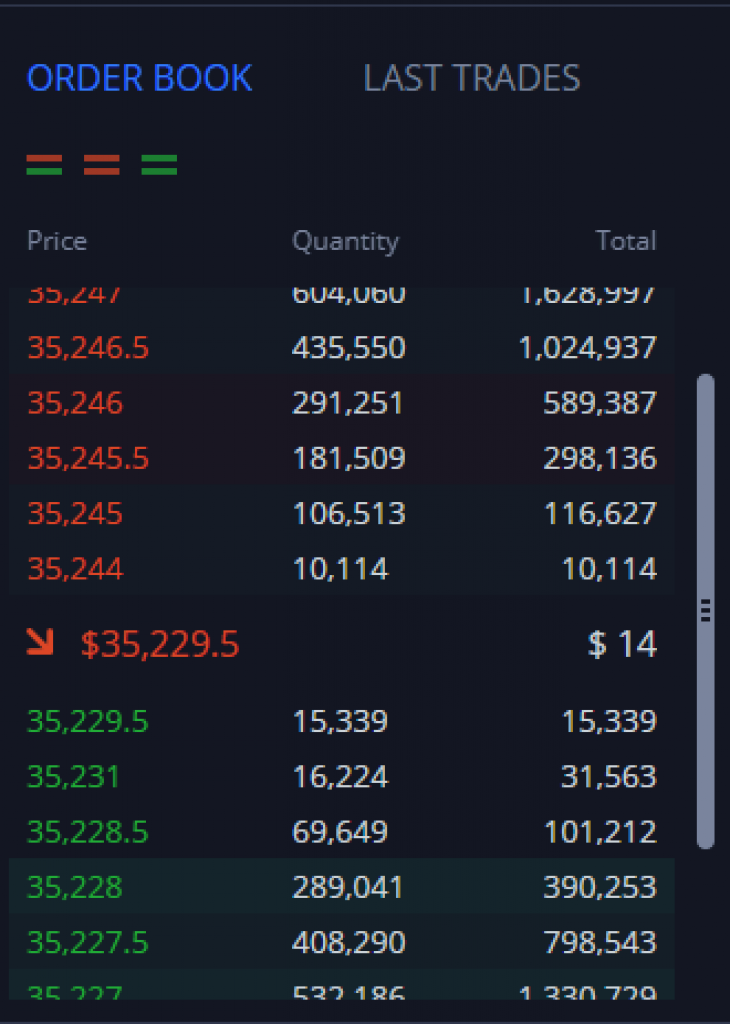 What can you trade on Margex
---
Margex currently offers trading pairs of the most popular crypto coins with USD.
BTCUSD
ETHUSD
XRPUSD
LTCUSD
EOSUSD
YFIUSD (exclusive trading pair, listed only on Margex).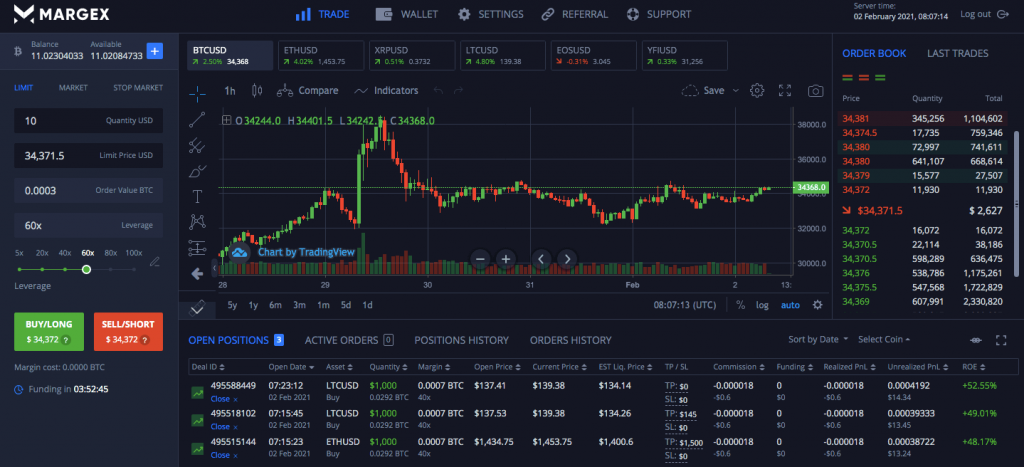 Margex Deposit & Withdrawals
---
Like many similar exchanges, Margex is also a bitcoin-only platform when it comes to withdrawals. However, you can deposit funds with either bitcoin or fiat, thanks to their integration with Changelly, a service where you can buy crypto with credit and debit cards.
But please do note that the exchange natively supports only bitcoin deposits. The Changelly widget is a separate third-party service that is embedded in the Margex dashboard for user convenience – the actual process of buying crypto with fiat is done outside of the Margex platform.
Another rule worth highlighting is the withdrawal process. It is done once per day at 13:00 UTC.
KEEP AN EYE ON THIS:

It is unregulated and has 100x leverage which, if used, means you are gambling and not trading. If you are inexperienced user, beware of this and don't use more than 2x leverage on your positions.
Margex Fees
---
As you would expect from a new challenger that is serious in its endeavor to take on the incumbents, Margex made sure to lure traders with the lowest possible fees, blowing most of its competitors out of the water.
The fees are based on the maker/taker model, as is the standard among the crypto margin exchanges. Maker and Taker fees are 0.019% and 0.060% respectively for all trading pairs. Funding occurs every 8 hours, just like it does on BitMex and other competitors.
| PAIR | MAKER FEE | TAKER FEE | FUNDING/LONG | FUNDING/SHORT | FUNDING INTERVAL |
| --- | --- | --- | --- | --- | --- |
| BTC/USD | 0.019% | 0.060% | 0.0574% | 0.050% | 8 hours |
| ETH/USD | 0.019% | 0.060% | 0.080% | 0.078% | 8 hours |
| EOS/USD | 0.019% | 0.060% | 0.035% | 0.033% | 8 hours |
| LTC/USD | 0.019% | 0.060% | 0.110% | 0.106% | 8 hours |
| XRP/USD | 0.019% | 0.060% | 0.075% | 0.070% | 8 hours |
| YFI/USD | 0.019% | 0.060% | 0.040% | 0.0386% | 8 hours |
The trader will only pay or receive funding if he holds a position at funding times.
The funding you pay or receive is calculated as:
Funding = Position Value * Funding Rate
When the Funding Rate is positive, longs pay shorts. When it is negative, shorts pay longs.
For reference, here is a table of competitive trading fees charged by other derivative platforms active in the cryptocurrency industry:
MP Shield
---
This is Margex's own invention, a price manipulation protection mechanism.
In a nutshell, MP Shield is a prevention tool that protects Margex traders from price flash crashes that have caused heaps of outrage among BitMex traders over the years as the platform would regularly suffer those events which led to hundreds of millions of USD losses by the traders.
Margex explains how this MP Shield™ works like this:
An asset's price on Margex is dependent on the combined liquidity of 12+ different providers
Margex does not offer illiquid assets with prices that are artificially inflated via false and misleading statements, which are made in order to sell these cheaply purchased assets at a higher price (know as Pump and Dump)
AI-based algorithmic technology by Margex continuously monitors the consistency of received price feeds from each liquidity provider
In order to provide fair and equal trading opportunities for all traders, Margex continuously monitors all suspicious trading activities.
Order Types
---
Margex offers the following order types:
Limit order
Market order
Stop Market order
Protective Stop Loss and Take Profit
We won't be explaining these in too much detail since we assume our readers know what all of them do. But we will commend Margex for featuring the important protective orders like SL and TP.
Security – Is Margex Safe? Is Margex legit?
---
Margex utilizes the very best of cryptocurrency and bank-grade security standards. 100% of the assets are stored in cold offline wallets (cold wallet), while you can secure your account via the 2FA. There is no IP whitelisting, which can be considered a minor deficiency. But there is an email notification system that shoots out an email about every activity conducted on your account.
US citizens
---
Americans are not allowed on Margex (surprise, surprise).
Why do so many crypto exchanges forbid US citizens to open accounts with them?
The answer is only three letters short: S, E, and C (the Securities Exchange Commission). The reason the SEC is so rigid and ban-friendly is that the US does not allow foreign companies to solicit US investors unless those foreign companies are also registered in the US (with the SEC). If foreign companies solicit US investors anyway, the SEC can file a lawsuit against them.
Alternative for the Margex USA traders is
Kraken
.
Final Verdict
---
Before we wrap this Margex review up, let's make a short brief of the whole article:
Margex is a true refreshment in the crypto derivatives space. The platform offers low fees, high leverage, and security standards. It also protects its traders from unfair liquidation price and requires no KYC.
The only negatives are the fact that it is a new platform and little or no data is available on the company behind the platform.
Margex Alternatives
---
If you are not fond of Margex, here is a list of potential crypto margin exchanges that can be good alternatives:
FAQs
---
PROS
lowest fees in the industry
high leverage
no KYC
fast matching machine
MP shield - protection against flash crashes
CONS
new platform
anonymous company behind the platform

CaptainAltcoin's writers and guest post authors may or may not have a vested interest in any of the mentioned projects and businesses. None of the content on CaptainAltcoin is investment advice nor is it a replacement for advice from a certified financial planner. The views expressed in this article are those of the author and do not necessarily reflect the official policy or position of CaptainAltcoin.com