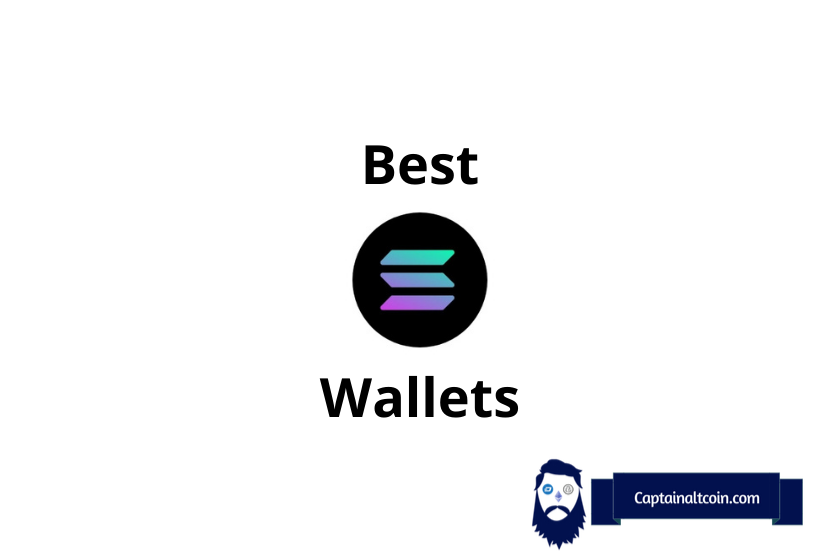 With the rapid growth of decentralized finance (DeFi) and non-fungible tokens (NFTs), the need for secure and reliable Solana wallets has never been more crucial. In the ever-expanding world of cryptocurrency, choosing the right wallet can make all the difference.
Today, we bring you the top 5 picks for Solana wallets in 2023. From the leading multi-chain Phantom Wallet to the ultimate hardware security of the Ledger Nano S Plus, these wallets offer a range of features to cater to your specific needs.
Let's dive in and explore the best Solana wallets for DeFi, NFTs, and more.
Best Wallets for Solana
---
Before we go into details of the best Solana wallets, let's have a quick look at 3 best options and after that, we will go not only though each of them more thoroughly, but some of its competitors as well.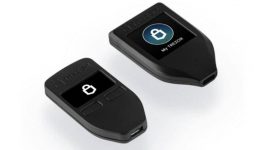 Inexpensive hardware wallet with screen
Screen offers verification and extra protection
Established
Best Solana (SOL) Wallets
---
In this article, we'll be going through the greatest Solana wallets and help you pick the one that is best for you. So, whether you own Solana and are considering your options for a safe wallet or whether you're new to it, wanting to get your feet wet, follow along.
Official Solana Wallets
---
SolFlare Wallet (web, desktop)
---
Easy to use yet feature-rich, this non-custodial wallet is designed to be accessible to everyone regardless of the level of experience. This is a community created wallet, especially for Solana. It supports sending and receiving the native tokens SOL as well as SPL tokens, which is Solana's ERC-20 equivalent. Funds can be staked to earn passive income. It is also compatible with NFT.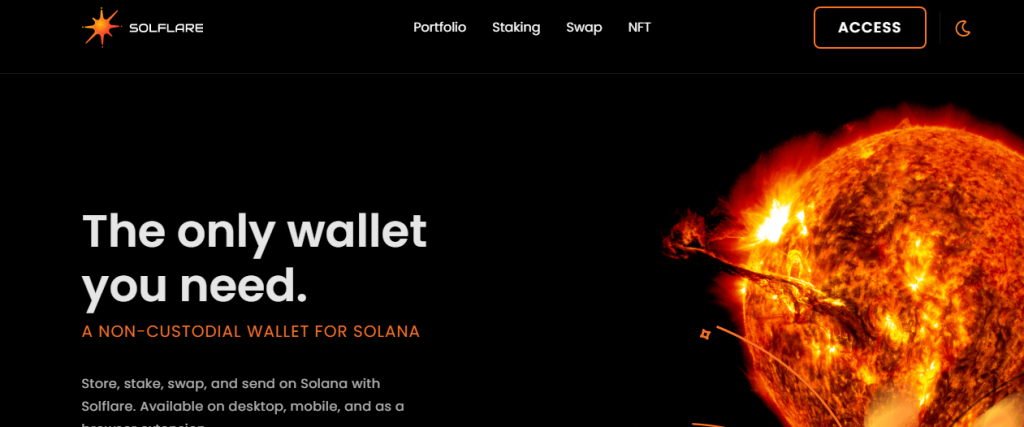 The private keys are stored in an encrypted Keystore File or on a Ledger hardware wallet. (SolFlare did away with Keystore files in a recent update in favor of Mnemonic phrases.)
Note that Windows users seem to have some issues when connecting to the Ledger Nano X. Both SolFlare and Ledger are aware of this and are working on it.
SolFlare is available on desktop and as a browser extension. Mobile app coming soon!
Phantom Wallet (web wallet, chrome extension)
---
Phantom is a browser extension based wallet with a simple well-designed interface for Solana that can be installed on your browser of choice. It is a non-custodial wallet with support for Web3.


You can store, send and receive tokens on the Solana blockchain. There's also a built-in DEX to meet all your swapping needs. Phantom allows staking SOL and there's support for NFT too.
Phantom can connect to a Ledger and be used as a tool to manage Solana and SPL tokens.
SimpleHold
---
SimpleHold is a newer, non-custodial wallet launched by a reputed instant crypto swap platform, SimpleSwap. It works as a mobile and web wallet with support for over 50 cryptocurrencies, NFTs and hardware wallets.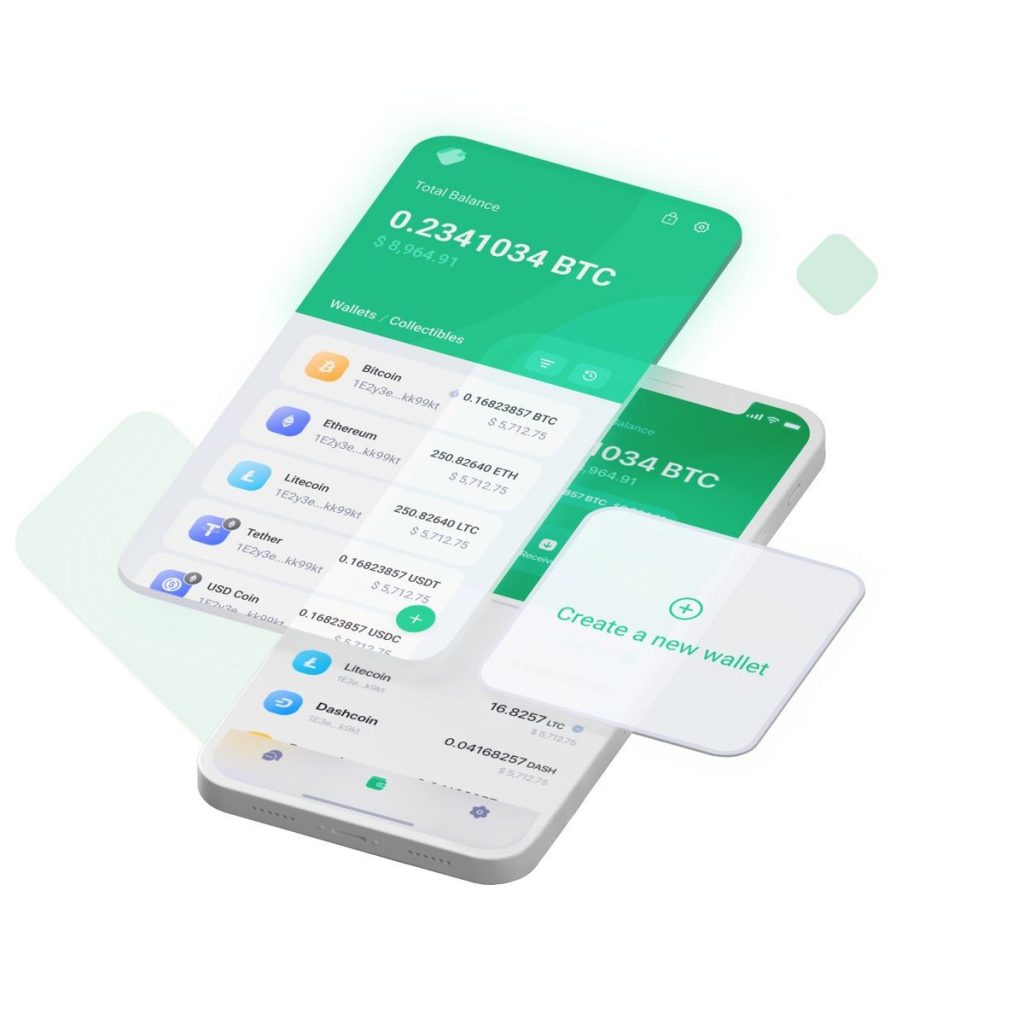 It also has a built-in support for SimpleSwap so you can swap coins for cheap, directly from the wallet dashboard.
SimpleHold works with all major browsers, including the favorite browser of all crypto enthusiasts Brave Browser. Main pros of the wallet are simple and beginner-friendly interface. A con is lack of the ability to stake coins from the wallet (as of March 2022).
Software wallets
---
Software wallets are apps that run on a desktop or a smartphone and give you complete control over your digital assets. No one other than you gets to decide what to do with your assets. But that means security is also completely your responsibility. Software wallets offer a convenient way to manage cryptocurrencies.
Atomic Wallet (mobile & desktop)
---
Available on a variety of operating systems, this non-custodial wallet supports over 300 cryptocurrencies and doesn't require sign-up or verification for basic wallet functionality.
The atomic wallet lets you buy cryptocurrencies using your bank card, although the fee seems to be quite high. If trading crypto-crypto pairs interests you, you'll be glad to know that you can do so with just a simple click right from your Atomic wallet. There are more than 10 assets, including SOL, that you can stake and earn passive income.
Exodus (mobile & desktop)
---
Crypto has always been a thing for tech-inclined folks, Exodus has a goal of changing that. From pixel-perfect icons to subtle sounds, this wallet boasts an elegant user interface, something that is still a rarity.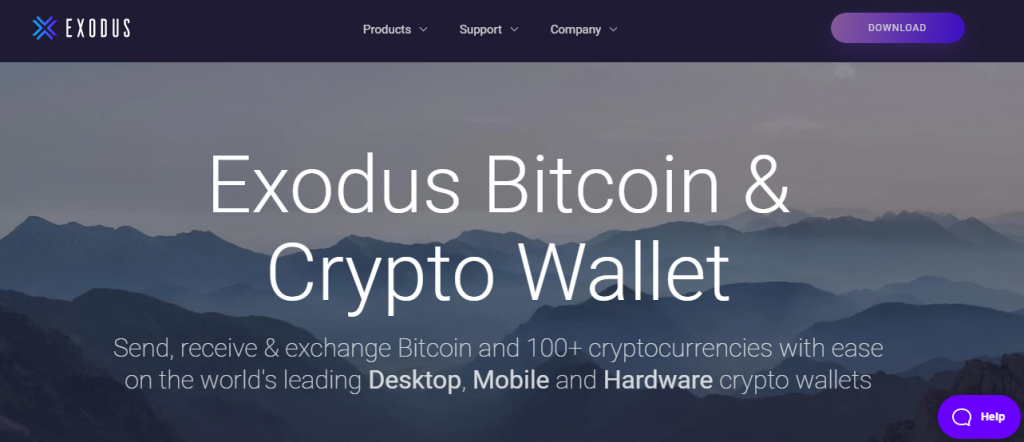 Exodus is a non-custodial wallet available on both desktop and mobile devices. It can hold more than 130 crypto assets. There is no sign-up or verification required. Exodus has a built-in exchange that allows exchanging between a growing number of assets. Apart from that, there are also apps for staking (SOL available for staking) and compound finance for earning passive income. Exodus can also be paired with a Trezor hardware wallet.
Exodus has excellent 24/7 customer support, should you get stuck.
Trust wallet (mobile)
---
This is a great wallet for someone wanting to carry their crypto on a smartphone. It is a completely open-source non-custodial wallet – something many crypto folks appreciate. In 2017, Binance, a big name in the crypto world, acquired Trust wallet and made it their official wallet.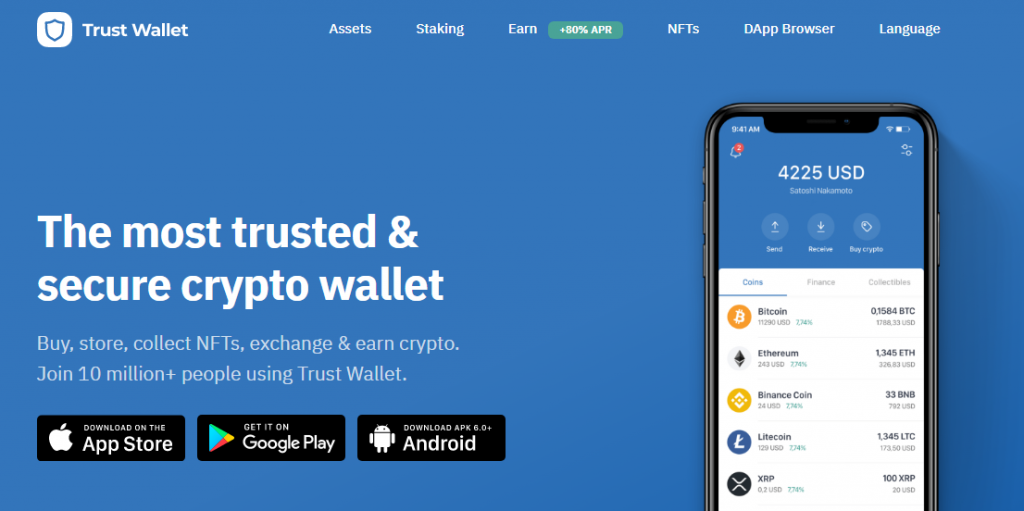 Trust wallet supports 53 blockchains and 1M+ assets so you'd be hard-pressed to find a coin you can't store here. With Trust wallet, you can create multiple wallets (up to 15). Coins can be bought right from the wallet using a bank card and there's a DEX for trading crypto pairs. Trust wallet has a fully-featured, mobile-optimized Web3 browser for all your DApp needs.
This wallet has a dedicated place for NFTs but there is no word on support for Solana based NFTs yet.
Trust wallet also allows staking a select few assets, however, Solana can't be staked yet.
Math Wallet (mobile & web)
---
Math wallet may be a lesser-known wallet compared to others on the list but that doesn't mean it's a slouch. This non-custodial wallet has support for multi-chain tokens and DApps. There is a nice looking portfolio page that lets you see your assets at a glance.
Math wallet is available on mobile and as a browser extension. It can connect to a Ledger hardware wallet. There's also a cloud wallet that allows swapping between a few crypto pairs.
Coin98 (mobile & web)
---
Coin98 is an all in one Defi platform. This wallet is a non-custodial decentralised wallet that allows the creation of both single-chain and multi-chain wallets. Both SOL and SPL tokens are supported here. Coin98 has a whole ecosystem of products that allow features like cross-chain token swap and sending tokens to multiple wallets.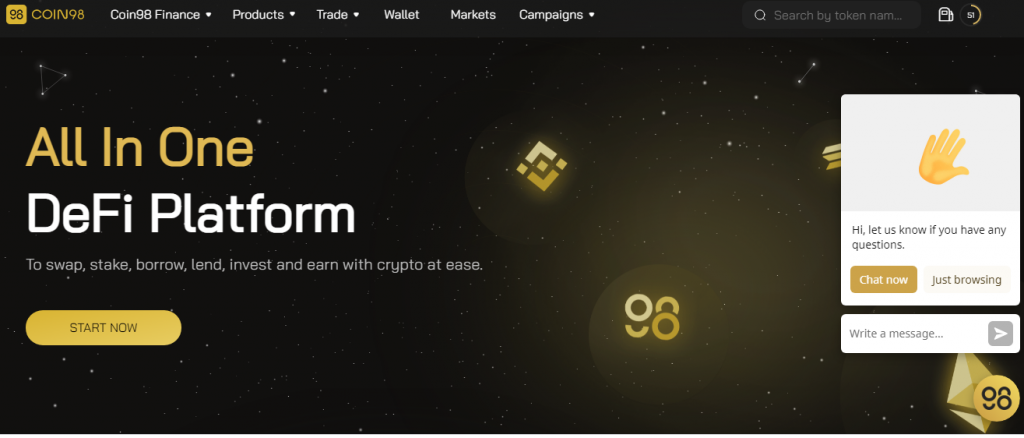 Coin98 Wallet provides an "Always-Connected" experience, supporting users to access numerous Defi services across various blockchains – thanks to the integration of various DEXs and a Web3 browser. Users can also connect their centralized exchange via API key and manage their portfolios.
Online wallets (exchanges)
---
Centralized cryptocurrency exchanges often provide users with a wallet. These are online wallets and allow for quick trading on the exchange. However, users don't have full control over their funds so it is best for users to not have a large sum on these.
Binance
---
If you have spent any time trading crypto, you must have heard of Binance, it's among the largest when it comes to centralized exchanges. It's fast, simple and has huge liquidity.
Users of Binance can easily buy Solana using their card or bank transfer. Once bought, they can store and stake SOL on their Binance account. Binance's trading platform allows trading between Solana and many other cryptocurrencies, margin trading is also available. There's an option to set recurring buys to purchase crypto on a regular basis.
Note that Binance requires KYC for full functionality.
Binance is not available in the United States. There is however Binance.US made specifically for there.
Binance has 24/7 live chat customer support in 8 languages. Although, according to some users, there can be long delays.
Kucoin
---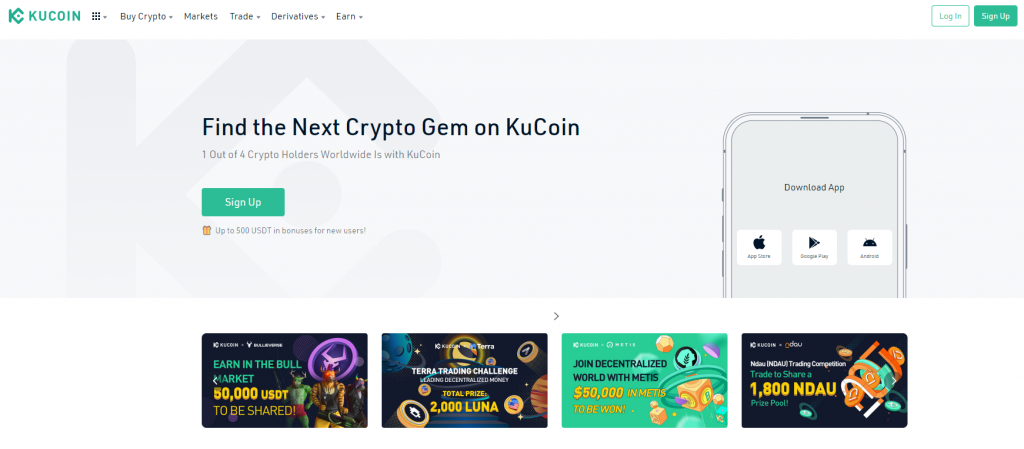 Kucoin – another large centralized exchange – recently got support for Solana. You can now deposit Solana on Kucoin. There isn't an option to buy Solana using fiat, however, SOL/USDT pair is available on spot.
Kucoin fees are among the lowest when it comes to withdrawing your crypto and KYC is not mandatory, however, the withdrawal limit will be 5 BTC per 24 hours.
Kucoin is an unregulated exchange – this can put off many. Some crypto enthusiasts, however, like the fact of it being unregulated since it seems similar to the idea of decentralization.
Kraken
---
With the mission of accelerating cryptocurrency adoption, Kraken is another one of the largest and oldest exchanges out there and is regarded as one of the best places to buy and sell cryptocurrencies by many. Kraken's name comes up often when talking about the safest global exchanges out there.
Kraken requires verification to do anything. There are multiple levels of verification. Basic verification lets you deposit and trade in cryptocurrencies. Fiat trading requires another level of verification. Margin trading is available with certain geographic and eligibility limitations.
Solana recently got listed on Kraken. Users can deposit and start trading SOL. Staking it would allow you to earn passive income from Solana that is sitting in your account. Margin trading for SOL is not yet available.
Hardware wallets
---
Hardware wallets are small, encrypted portable devices that store private keys offline, mitigating the risk of assets being stolen during cyber attacks. They are the safest wallets out there. Hardware wallets are not free though, unlike all other wallets on this list, but would you expect a physical device to be free? They are also not as convenient as other types of wallets.
Ledger
---
Ledger is a small device shaped like a thumb drive with a small screen. It comes in two versions – Nano S and Nano X, Nano S being the cheaper ($59) one and Nano X being the more expensive ($119) but more feature-packed one.
Ledger wallets use Secure Element chips and are certified for a high level of security. They run a proprietary OS called BOLOS.
You can store and stake SOL by installing the community developed and supported Solana app.
Trezor
---
In 2011, SatoshiLabs came up with the world's first hardware wallet – Trezor One (49 EUR). They later came up with the next generation Trezor Model T (159 EUR). Both look like a keychain, connect via USB and have a screen. Model T has a larger screen with touch.
Both models run on open source code and support 1000+ assets. Unfortunately, however, the support for Solana isn't there yet.
Read also:
Frequently Asked Questions

CaptainAltcoin's writers and guest post authors may or may not have a vested interest in any of the mentioned projects and businesses. None of the content on CaptainAltcoin is investment advice nor is it a replacement for advice from a certified financial planner. The views expressed in this article are those of the author and do not necessarily reflect the official policy or position of CaptainAltcoin.com