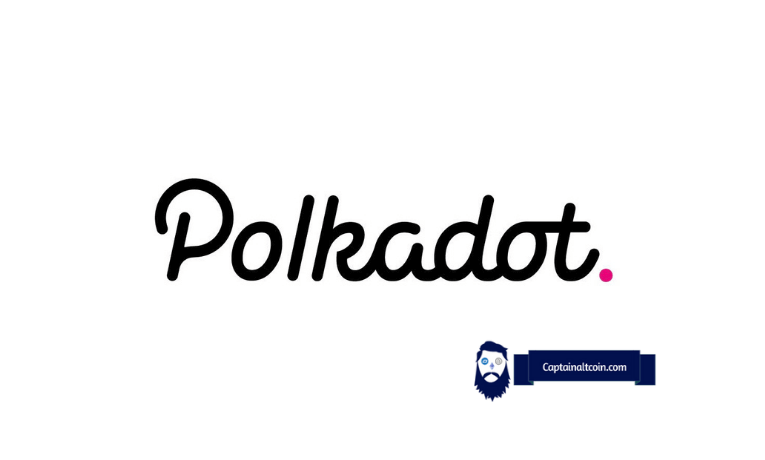 News and chats have been going around Polkadot for quite some time now, and today I will be glad to tell you about this cryptocurrency
At first, what is Polkadot exactly?
---
Polkadot is unique crypto, designed by Gavin Wood, co-founder of Ethereum. It was designed to act as a bridge, it's connecting different blockchains. Polkadot allows any app developer to establish their own blockchain that can communicate with other ledgers, rather than operating apps through smart contracts, relatively short pieces of code, which are operated on, for example, the Ethereum blockchain. It allows customers to quickly and simply create a blockchain using their Substrate framework.
Having your own blockchain is great, but most projects will only be able to use it if they can connect with the greater blockchain community. A blockchain project would need to build significant infrastructure on its own to do this safely and effectively, and many initiatives have failed because they were unable to provide the necessary seamless connectivity.
Also, Polkadot's native token, DOT, can be used to stake, or validate, transactions on the network or connect new transaction chains, in a similar way to Ethereum's ether token.
You can buy Polkadot on Binance, Kucoin, Cex.io or Coinbase. You can store it on Ledger Nano X, Polkawallet, Guarda.
Top projects built on Polkadot
---
Except for Polkadot's own token, there are some other projects, built with Polkadot and Substrate.
Kusama
---
Kusama is a scalable network of specialized blockchains created with Substrate and the Polkadot codebase. The network provides an experimental development environment for companies looking to move quickly, where developers can experiment and determine the effectiveness of their code and blockchain applications, innovate on Kusama, or prepare for Polkadot deployment. Gavin Wood, the founder of Polkadot and the co-founder and former CTO of Ethereum, established Kusama in 2019.
Developers can profit from a less rigid management structure as well as lower-wage requirements on Kusama than they would on Polkadot due to Kusama's usage of trial and error artificial intelligence.
They also feature such a thing, called Crowdloaning – it is a mechanism designed to promote decentralization through parachain by distributing tokens to users in exchange for their delivered assets, a method similar to Ethereum liquidity mining. In a Crowdloan, supporters' DOT or KSM is managed using an automated procedure embedded into the network's programming. In technical words, the chain's runtime logic uses the "crowdloan.contribute" extrinsic to allocate the DOT or KSM to the auction for the parachain. This is a unique transaction that allows token holders to contribute to a Crowdloan without transferring or relinquishing possession of their tokens to a third party

Acala
---
Acala is an all-in-one DeFi hub. Acala is an Ethereum-compatible platform that enables financial apps to leverage smart contracts or built-in protocols while also providing out-of-the-box cross-chain capabilities and solid security. A trustless staking derivative (liquid DOT), a multi-collateralized stablecoin backed by cross-chain assets (aUSD), and an AMM DEX are among the financial applications available on the platform, all of which have micro gas costs that may be paid in any token. One Acala dollar equals one US dollar.
The Polkadot-based projecthas recently integrated tools such as MetaMask, Truffle, and Waffle, allowing developers to build the same user experience as on Ethereum.

Moonbeam
---
Moonbeam is a developer-focused blockchain that aims to be compatible with Ethereum's existing development tools and network. It accomplishes this by offering a complete EVM implementation, a Web3-compatible API, and bridges to existing Ethereum networks. On the Polkadot network, Moonbeam will also be a parachain. That implies it will benefit from the Polkadot relay chain's shared security and will be able to merge with other Polkadot-connected chains (once that functionality is available on Polkadot). Moonbeam has two available utility tokens:
Glimmer (GLMR) is the Moonbeam Network's utility token, which is based on the Polkadot network and acts as a developer-friendly parachain. Moonbeam, often known as "Canarynet," will debut after Moonriver.
Moonriver (MOVR) is the utility token for Moonbeam's Kusama deployment, which acts as a "CanaryNet" for the Moonbeam Network. As a result, Moonriver's token utility characteristics will be similar to Moonbeam's.

PolkaFoundry
---
PolkaFoundry is a framework for creating borderless and seamless DeFi and NFT decentralized apps on Polkadot. PolkaFoundry aims to be the most convenient platform for developers to construct DeFi and NFT DApps, as well as a platform for distributing DApps to a larger audience. PolkaFoundry intends to do so by using Polkadot's interoperability and scalability while also including several DeFi-friendly services into the platform. PolkaFoundry also puts a lot of effort into making its DApps' UX and features simple to use, which helps them gain widespread acceptance.
The PolkaFoundry native token, PKF, is used to pay for PolkaFoundry services and transaction fees, as well as payments for PolkaFoundry's partners' services. Staking and governance are also supported by PKF, allowing users to get a share of block rewards while simultaneously participating in the on-chain governance process, earning additional advantages for voting on proposals.
PolkaFoundry supports EMV, allowing DApps to migrate from Ethereum. The founding goal of PolkaFoundry is to make blockchain's benefits available to the general public by making its goods and services available to those who aren't involved in the cryptocurrency industry. PolkaFoundry chose Polkadot as the foundation for their platform. It promised a rapidly expanding ecosystem that was secure, scalable, and interoperable.
According to PolkaFundry, the most significant barrier to blockchain adoption is the complexity of the user experience on most platforms and dApps. The average person has difficulties engaging with many crypto initiatives since their user interfaces were not built for mainstream customers. Many dApps have a small active user base because wallets, private keys, currencies, exchanges, and other concepts require understanding and might be difficult for new users. Polkafoundry has spent years researching DApp UXs and incorporating that expertise into the PolkaFoundry UX to make the platform simple to use for both novice and experienced users.
Homa Protocol
---
The Homa protocol's primary objective is to address the issue of staked asset illiquidity. The Homa protocol is introduced establishing a staking pool, that tokenizes users' staked assets as L-Assets (e.g., L-DOT as locked DOT), which users may invest in or use in other apps. Staked DOT becomes L-DOT in the Homa Protocol. On the Polkadot network, L-DOT is liquid and transferable across all chains. L-DOT can be redeemed for underlying DOTs at any moment, with the option to redeem immediately or sooner.
While staking through the Homa Protocol, L-DOT holders will still be able to pick whose validators they nominate their DOTs to. L-DOT holders should also be able to participate in Polkadot's on-chain governance, according to the Acala team, however, the present voting system does not enable multiple vote records from a single address. To tackle this challenge, the Acala team is collaborating with the Polkadot team. On Polkadot, L-DOT holders are still susceptible to slashing. Validators, on the other hand, are chosen on a daily basis by L-DOT holders, which means they may vote out poor validators rapidly.
In conclusion
---
"Polkadot development is on track to deliver the most robust platform for security, scalability, and innovation" – as developers say on their own website. And after hours of researching and digging into this project, I must agree with that. Polkadot and projects, based on it are truly offering an amazing, unique experience for users and developers.
Polkadot has so far outgrownpopular Bitcoin in 2021 due to its incredible price fluctuations. In fact, in May 2021, it hit an all-time high of 49 dollars. DOT began the year at nine dollars before additional searches due to a bullish run. It will surely be a great investment, as this is objectively the most promising and modern project among cryptocurrencies and blockcheain. Take care!

CaptainAltcoin's writers and guest post authors may or may not have a vested interest in any of the mentioned projects and businesses. None of the content on CaptainAltcoin is investment advice nor is it a replacement for advice from a certified financial planner. The views expressed in this article are those of the author and do not necessarily reflect the official policy or position of CaptainAltcoin.com