VCC Exchange Review – Fees, Supported Countries & Coins, Deposits & Withdrawals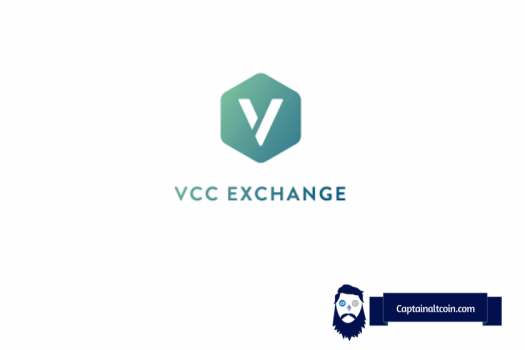 VCC Exchange Review – Fees, Supported Countries & Coins, Deposits & Withdrawals
Various services and features available on the exchange
Innovative and unique services such as "learn and earn" and direct trading
Fees are pretty fair and low
Available in more than 200 countries, including the US
Fiat deposits available
✅ Available on web, iOS, and Android
VCC Exchange Overview
---
The Crypto market is on the bull run now! The fact that the market passed $3 trillion in value made all crypto players more satisfied. There is no doubt that more and more people are entering the market and most of them face a vital decision – what type of exchange is most suitable for my goals?
Not an easy task, trust me.
There are literally hundreds of crypto exchanges nowadays and most of them offer pretty similar features and services and this is exactly why it is not as easy as it sounds to pick an exchange you will use for investing, or trading in crypto. In this article, I will take a close look at one of the exchanges that got our attention due to its high volume and the wide specter of features.
The name of the exchange is VCC.
VCC exchange is a centralized cryptocurrency platform located in Singapore and Vietnam. The exchange had an official launch back in May 2019, so it is still a relatively new player on the crypto market. The exchange started expanding from Singapore and Vietnam to the rest of the world ever since, I can without much hesitation confirm that VCC is the global crypto platform.
The team around VCC exchange apparently knew what they are doing and established an exciting exchange with a lot of interesting services and features. Later in the article, I will break each one of them.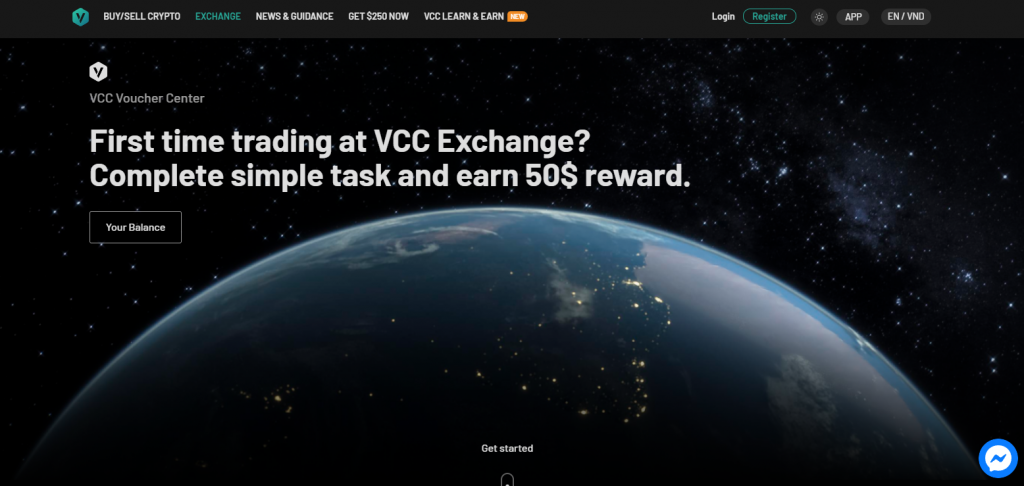 Creating an account on VCC is pretty straightforward. Once you confirm your email, another security code will be sent that you need to enter in order to "confirm the device" you are using. This is a step that I have not seen on VCC's competitors, but it can be a good sign since it is an additional step in increasing the security of the platform.
The user's interface seems fine, but it is not incredible. There are dark and bright themes you can choose from in the top right corner of the homepage. Furthermore, you can link your Facebook account with the platform and start chatting with VCC's customer support easily if you have any questions or issues.
Besides being a crypto exchange and one of the crypto trading platforms, VCC is also focused on blockchain startup crowdfunding such as IEO and incubation programs. The exchange itself was Invested by large funds such as Signum Capital, Axiom Associates. Their core competencies are mainly focused towards technology and user experience.
Interesting fact: VCC is used by millions of users worldwide and is considered a transparent exchange. Furthermore, VCC Exchange revealed recently that with its mobile app and website users will have access to the full liquidity pool of the Bittrex technology platform.
Services & Features
---
As mentioned above, VCC offers its users a variety of services and features you should use if you want to be a successful crypto trader and investor. Let me break each one and go to the vocal points of the VCC exchange.
Buy/Sell crypto
---
The "buy/sell crypto" button is located in the top left corner of the exchange. The whole section is divided into three parts – P2P trading, Credit/Debit card, and E-wallet.
P2P trading
---
P2P crypto trading is the system of buying or selling crypto assets between two or more peers directly without any intervention of third parties or any central governance. Peers can set their regulatory norms, payment method, price range, and even the other parties.
Once you open this section on VCC, you will be prompted to agree on their terms and conditions and then to set up the Two Factor Authentication (2FA) system. Three coins are available for purchase – Tether (USDT), Ethereum (ETH), and Bitcoin (BTC).
You need to set quantity, rating (ascending or descending), and fiat currency (the only available is VND, Vietnamese national currency. This is a negative thing in my opinion since the fiat tab is useless for everybody but people from Vietnam.
Credit/Debit card
---
The credit and Debit card option to buy crypto is pretty much self-explanatory. VCC exchange offers its users to buy USDT, ETH, MATIC, or BTC with international payment cards and receive assets directly to VCC Exchange wallet.
Once crypto is in your VCC wallet, you can start trading on VCC exchange or transfer them to your personal wallet such as MetaMask for example.
When you select a cryptocurrency you would like to buy, a new pop up window will appear, as seen below.

As you can see, the VCC exchange accepts both VISA and MasterCard. Keep in mind though that you need to finish the verification process before buying crypto on VCC. But, more about that later.
E-wallet
---
In this section, you can buy crypto assets if you have funds in local e-wallets. All you need to do is to connect your e-wallet with the exchange and select the cryptocurrency you would like to buy.
Exchange
---
VCC is a cryptocurrency exchange so the "exchange" section is the vocal feature of the platform. It is divided into four parts:
Spot Trading
Futures Trading
Direct Trading
API Documentation
Let me break each one.
Spot Trading
---
Spot trading is a popular crypto trading method in which you can trade assets with other traders in real-time. As the name suggests, tradings are (most of the time) settled immediately or "at the spot". The exchange like VCC acts as a "middle man" between buyers and sellers.
VCC's spot trading tab looks pretty well organized. You can compare BTC, ETH, and USDT against various cryptocurrencies and decide what orders you want to place. There is also the "favorites" tab where you can add favorite pairs to your watchlist and check them instantly later.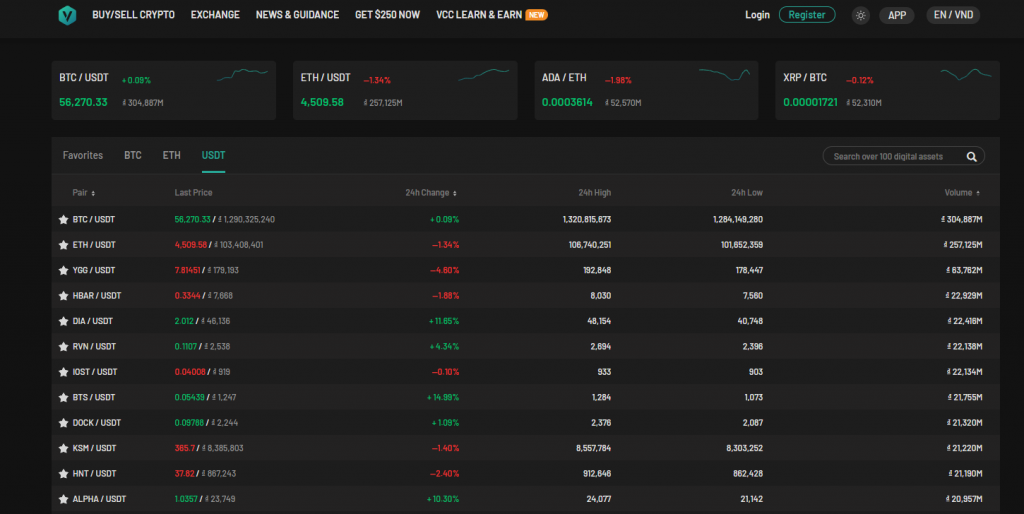 Futures Trading
---
Futures trading has not been established yet by VCC since there is a "coming soon" message when you try to open this tab. So, unfortunately, I can't tell you much about the feature itself on the VCC exchange.
For those of you now familiar with futures trading, it is a method of speculating on the price of assets, including cryptocurrencies, without actually owning them. Futures trading allows to bet on a digital currency's future price.
Direct Trading
---
Direct trading is an exciting feature that I usually do not see on other exchanges, but VCC offers this type of trading to its users.
You simply buy or sell crypto with someone you know. VCC offers four cryptocurrencies you can buy or sell here and those are BTC, ETH, XRP, and USDT. The info you need to enter is the buyer/seller's email and amount in BTC (for example) and it is compared with VND.
Buy and sell buttons are green and red colors respectively. Make sure to read the terms and conditions of the feature below on this page. The most important thing to note from there is that "individual/institutional clients from Singapore, the United States, Cuba, Crimea, Iran, North Korea, Syria are not available to use this service."
This vocal point of direct trading is to know your partner since the order is not reversible or appealable once complete.
VCC learn & earn
---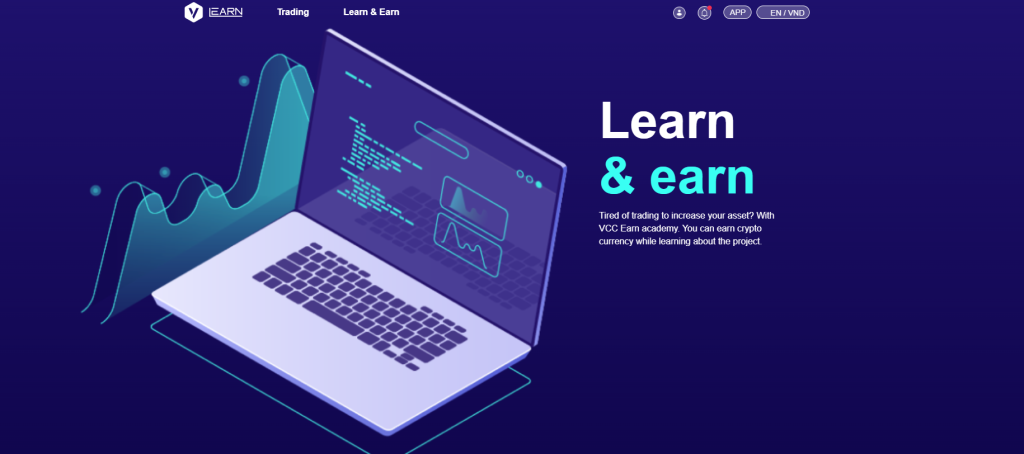 VCC Learn & Earn is a new feature on the VCC exchange. It still has a "new" badge on the button. Yet another innovative and unique thing about the VCC platform that I rarely saw on other exchanges.
As the name of the feature suggests, you can earn cryptocurrency while learning about the project. The whole process consists of three steps:
Learning and getting knowledge about the project. For example, you can learn about Vite and Alpaca Finance projects on VCC at the time of writing
Take the quiz. "Put your new knowledge to the test."
Receive the token you learned about. Sounds exciting, doesn't it?
VCC Exchange Supported Coins
---
When it comes to VCC exchange and buying and selling crypto, the platform supports only BTC, ETH, and USDT which is understandable.
However, when it comes to trading, the platform supports more than one hundred cryptocurrencies such as XRP, BNB, VITE, TROY, or SOL.
The negative side of the VCC exchange is that I have not seen some important coins on VCC's list such as Terra, Polkadot, Cardano, Litecoin, or Avalanche. When I say important, I mean they are top20 in the world as per market cap.
VCC Exchange deposits & withdrawals fees and methods
---
The withdrawal fee is 0.0002 BTC per BTC-withdrawal on the VCC exchange. This fee seems pretty fair since it is below the industry average (around 0.0006 BTC). The withdrawal fee for ETH is 0.01 ETH per ETH-withdrawal.
VCC exchange does support both crypto and fiat deposits which is a big plus for the platform since complete beginners can make their first steps into the rapidly growing crypto universe.
VCC exchange does not have any deposit fee, so it is cost-free.
VCC Exchange Trading Fees
---
VCC exchange has a trading fee of up to 0.2% of the trading volume (for each trade on BTC, ETH, or USDT markets). The fee is the same for both makers and takers. This amount can go as low as 0.088% depending on your trading volume of the last 30 days.
Does VCC Exchange have mandatory KYC?
---
I have not noticed that KYC (Know Your Customer) verification system is mandatory, you can use all features on the exchange once you create an account, verify your email, and set up
SMS Authentication.
What is also worth noting is that VCC exchange does not support KYC verification on the web version, you have to download a standalone mobile app to perform KYC.
VCC Exchange supported countries
---
VCC exchange is a global platform available in more than 200 countries. Trust me, there is a very low chance that you are somewhere in the world where the VCC platform can't be used.
Are US investors allowed on VCC Exchange?
---
A big part of the crypto exchanges does not allow US citizens to use their platform due to the SEC (the Securities Exchange Commission). However, VCC is one of those exchanges that is available in the US since its citizens can open their app and register without any issues.
Does VCC Exchange have Fiat Deposit?
---
Yes, the VCC exchange doest have a fiat deposit via wire transfer and credit cards.
Does VCC Exchange have a Native Token?
---
No, the VCC exchange does not have a native token. 
Is VCC Exchange legit and safe?
---
I would say that the VCC exchange is legit and safe. They prompt users to set up at least two authentication methods such as Google Authentication, email, or phone number. All of these increase security modifications.
VCC Exchange scam accusations (on Reddit)
---
I did find some scam accusations on the Reddit platform about the VCC exchange, but those were related to the lack of KYC verification systems. I believe the situation has changed since. However, it is still a negative side that the platform does not support KYC verification on the web version.
Conclusion
---
VCC exchange is a cryptocurrency exchange that offers many features and services (some of them are pretty unique). You will find everything you need on the VCC exchange to become a successful crypto investor and trader.
To be completely honest, the VCC exchange is one of the best crypto platforms I have investigated recently (and believe me, I investigated a lot of them). However, please do your own research before deciding whether to use VCC exchange or not.
At this point, it is good to note that all opinions and suggestions written in this article are not considered financial advice.
Pay attention to their KYC process as it is buggy and you will need a lot of patience to go through it.
If you are not fond of VCC exchange, make sure to check out our guides on other cryptocurrency exchanges:
FAQs
---
Deposits & Withdrawal Methods
8
PROS
Various services and features available on the exchange
Innovative and unique services such as "learn and earn" and direct trading
Fees are pretty fair and low
Available in more than 200 countries, including the US
Fiat deposits available
✅ Available on web, iOS, and Android
CONS
KYC verification system is not available on the web version
Email and SMS verifications can be buggy
Leverage and futures trading features are still not available

CaptainAltcoin's writers and guest post authors may or may not have a vested interest in any of the mentioned projects and businesses. None of the content on CaptainAltcoin is investment advice nor is it a replacement for advice from a certified financial planner. The views expressed in this article are those of the author and do not necessarily reflect the official policy or position of CaptainAltcoin.com