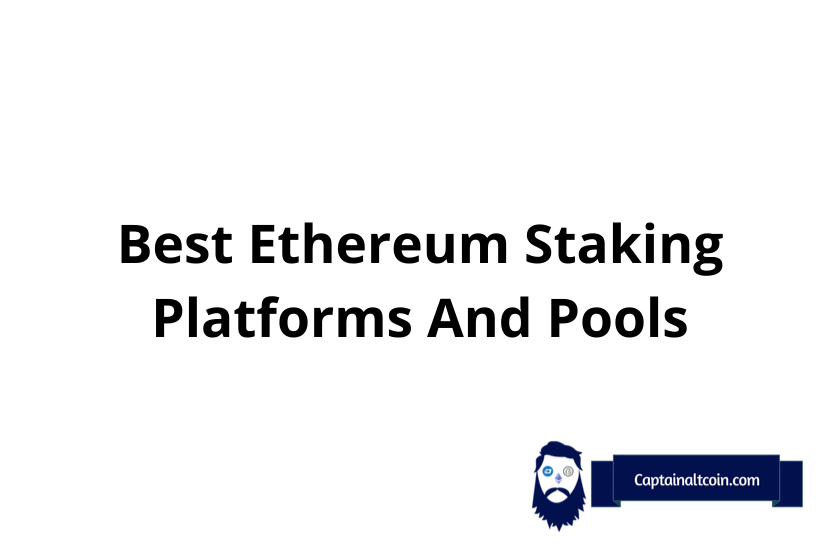 Staking on the Ethereum network is a new advantage that comes with its transition from proof-of-work to proof-of-stake consensus.
Ethereum staking involves one locking away their ETH tokens for a set amount of time or indefinitely. In return for locking away their coins, these holders are given more Ethereum for their trouble, making it A profitable move for the holders. This is similar to leaving your money in a bank account and letting it accrue interest. The difference here is that the staking rewards come at a much faster rate than interest in a bank account, and then rather than earning interest on a fiat currency, such as the US Dollar, you are earning it on Ethereum.
Rocket pool
---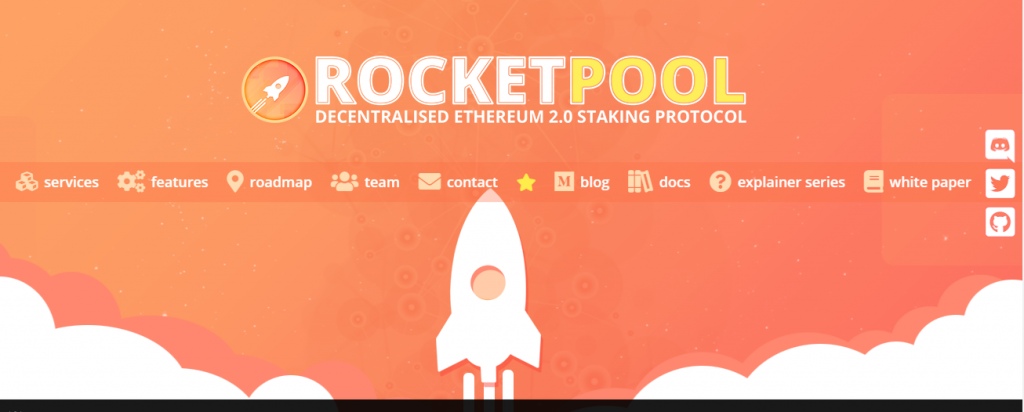 Rocket Pool is a decentralized staking network for Ethereum that helps people to stake their Ethereum without needing the standard deposit of 32 Ethereum, and the required Ethereum is just 0.01 to deposit with the pool and start earning your ETH. Rocket Pool stakes its customers' funds on the Beacon chain, which is the first layer of Ethereum 2.0 to be delivered to the community. When staking on the Ethereum blockchain, you are required to keep your funds staked until the release of Ethereum 2.0, though Rocket Pool has managed to provide a solution to this problem. Rocket pool allows you to withdraw your tokens early for a 5% fee. Rocket Pool lets you withdraw your tokens at any time in exchange for their native rETH tokens. They also provide great support to those unfamiliar with the Beacon chain, taking care of all the technicalities.
Rocket pool protocol
---
Rocket pool is "the base layer protocol for ETH 2.0 staking, in a decentralized and trustless manner. The protocol is usable by stakers of all shapes and sizes, allowing anyone to stake ETH on the decentralized network with full autonomy. RocketPool's mission is to create a solution that adheres to the rise of decentralized finance, keeping the platform away from centralization and working for a better future for the financial system. This combats the current centralization issues on the network as some staking options take up a large amount of the network.
Staked
---


Staked is a platform that provides staking services for Ethereum 2.0. Staking on the Ethereum 2.0 network is much more complicated and convoluted, which is where Staked steps in. They are a platform specialized in helping the bigger players stake, such as exchanges, whales, and institutional investors.
Staked offers yields of 7% to 20%, depending on the amount of ETH staked in the 2.0 Network ecosystem. They provide an easy-to-understand UI for stakers, who can then easily manage their funds. In order to start working with Staked, you need to contact them through a form available on their website. Once again, showing that they are aimed toward larger clients rather than the average cryptocurrency investor.
Ankr
---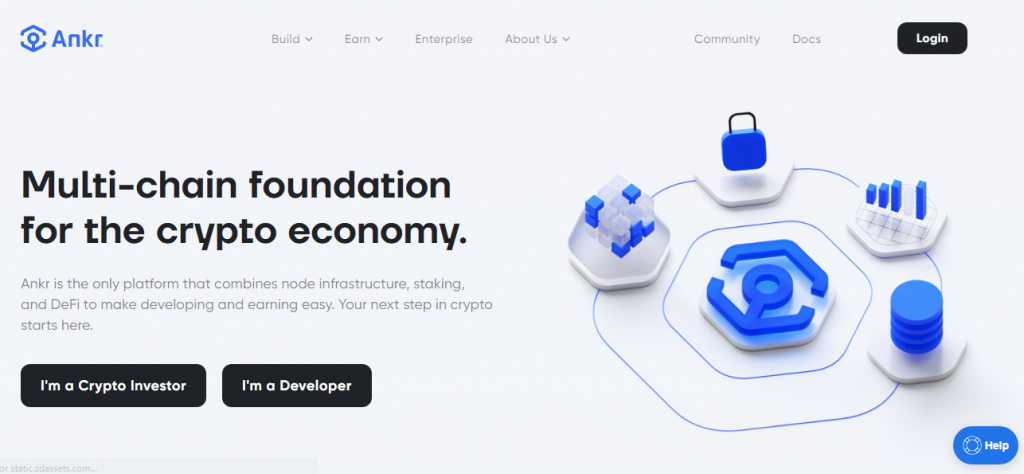 Ankr is another staking solution for investors. They claim to have the "best user experience and the highest level of safety". They also claim to provide some of the more lucrative reward schemes. The minimum deposit with Ankr is 0.5 ETH, which is quite high for a staking pool. They take care of all the distribution, all you have to do is send your funds, secondly, they can be moved around without having to wait till transactions are enabled on ETH 2.0.
Ankr offers their users just over 5% yearly return on their ETH, this isn't as big as some other pools, though combined with the price rise of ETH, it can mean a great return on your investment.
Ankr's staking token aETHc is supported by a plethora of popular cryptocurrency platforms, such as UniSwap, SushiSwap, MetaMask, OnX, TrustWallet, and more!
Blox
---
Blox is an Ethereum staking platform that has a few unique features that set it out against the competition. One of these is that they are the first Ethereum staking tool that is non-custodial, this means that you keep both the private and public key to your crypto wallet, and Blox keeps none. This is especially good when it comes to keeping your funds safe, as it means Blox has absolutely no control over your funds, even if they wanted to. It also keeps you safe from hacks on Blox. As the classic saying goes in the crypto space, "not your keys, not your coins."
To prove their reliability, they are an open-source project that has been audited publicly, giving them another badge of trustworthiness if the no-keys weren't enough. They also never enforce reward sharing, letting you keep all of your funds earned in their staking program.
Blox states that on their platform, there is the potential for earning up to 18% annually, but this decreases through time as more Ethereum is staked on the ETH 2.0 network.
The main drawback with Blox is that you need to stake a minimum of 32 Ethereum in order to use their services, this is currently valued at just under 100,000USD.
Allnodes
---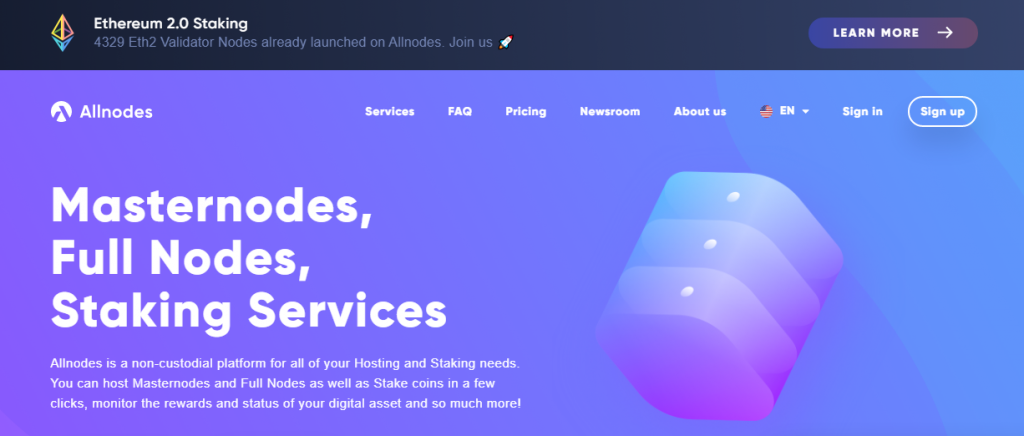 Allnodes is another staking service that requires a minimum deposit of 32 Ethereum. They also offer to stake in a range of other popular cryptocurrencies, including Cardano, Polkadot, Solana, Polygon (Matic), Avalanche, and more. The current ROI offered through their platform is 6%, they offer a non-custodial platform, allowing you to keep your keys and, therefore, your crypto completely safe. They also offer multiple levels of sophisticated protection. They have hosted over 18000 nodes through their service, and this helps to show their high levels of trust and experience in the industry.
They offer their services to you for a minimum of only 5$ a month! A small price to pay for what could possibly be a great investment.
Lido
---


Lido is a popular staking service that was founded in April of 2019. Lido's main selling point is that there is no lockup period whatsoever, this is in comparison to other staking services requiring you to wait until ETH 2.0 or enforcing strict time settings of 1 – 12 months. Lido users will receive the "stETH" token, which is pegged to their ETH and can be used like ETH to earn yields and lending rewards. The current Lido staking reward is 5.4% per year. This is quite competitive, beating Coinbase and other services out there. Of course, as more people stake in ETH 2.0, this number will likely decrease. stETH can be further deposited into other staking services, with Curve Finance, for example, offering over 10% APY!
Staking ETH 2.0 on exchanges
---
In addition to the staking services, we have previously discussed. A number of different exchanges have also started providing their own staking services. This makes it a lot easier for those newer to crypto, as they can stick with platforms that they are familiar with and don't have to venture out and risk being scammed or misled by other parties.
Coinbase
---
Coinbase is one of these exchanges to start offering staking products to their customers, with their maximum APR available on ETH being 5%, generally on the lower side, though this is unsurprising considering their history with high transaction fees. One big bonus with Coinbase, which encourages its accessibility, is that you can start with as little as $1, as most platforms require a lot more to start staking. Coinbase doesn't allow you to send or spend your staked Ethereum until the appropriate update in ETH2.0.
Coinbase also offers to stake on a few other coins, including Algorand, Cosmos, Tezos, and more.
Kraken
---
Kraken exchange also offers Ethereum staking to their clients, and they expect to offer their customers an APY of 5-7% per year, though, like Coinbase, you will not be able to unstake your tokens until the release of ETH2.0 that allows you to do so.
Considering this, Kraken does allow you to trade your staked ETH for unstaked ETH, effectively allowing you to do so. Though this functionality is not available to those in the US or Canada.
Binance
---
Binance is the third exchange-based Ethereum staking platform on this list. They offer their stakers just over 5%. Like Kraken and Coinbase, Binance does not allow you to withdraw your staked funds until the ETH 2.0 update. Some have speculated that a good way to get into Ethereum staking on Binance is simply by purchasing their staking token BETH, as it is slightly cheaper than the cost of normal Ethereum, this can also be done in other places, such as Kraken.
What is Ethereum Staking
---
Ethereum staking is the practice of depositing 32 ETH to activate validator software. Through doing this you are responsible for storing data, transaction processing and the production of new blocks for the blockchain. These validators are needed to keep the network safe for everyone involved and in return, net you Ethererum for depositing your funds and helping to improve the Ethereum network. These returns are fully reliant on you fulfilling your duties as a validator node. If you act maliciously, fail to validate or go offline, you can lose your validator benefits.
When being a sole validator and staking 32 ETH, you won't be able to withdraw your rewards until Ethereum 2.0 is fully rolled out and new versions deployed. The update allowing withdrawal will commence during the merge of the Mainnet and the Beaconchain.
👉 If you have less than 32 ETH to stake, this is where Staking-As-A-Service platforms come in. Like some of those we mentioned above, they pool together the funds of many smaller stakers and lock those funds away, allowing smaller stakers to gain the benefits on their behalf, for a small fee of course. The advancement of these Staking-As-A-Service platforms has led to offerings of withdrawals through the platform, and this lets users withdraw their funds early for a fee, making it even easier for users to get involved in staking their Ethereum.
Staking on the Ethereum network is necessary as it means that once Ethereum 2.0 is released, the network will run smoothly. By staking your Ethereum, you process transactions and run the network, this is why those using the network pay fees, as the fees are then used to pay the stakers.
This Proof-Of-Stake system is much more energy efficient than Bitcoin's Proof-Of-Work system, which relies on intense, high-powered mining rigs sucking up huge amounts of electricity in order to function.
How to choose the right Ethereum Staking Platform
---
Choosing an Ethereum staking platform depends heavily on the motivations behind staking your Ethereum. If you are in crypto mainly for the knowledge, technology, and pushing decentralized technology, it will make the most sense to choose RocketPool as that's what they believe in, and their practices reflect that. If you are a newer cryptocurrency trader (token holder), you may be more comfortable with Coinbase or another crypto exchange staking system that removes all the hustle.
ETH Staking Pools
---
If you want to stake on Ethereum but don't meet the required 32 Ethereum to stake, you can stake your ETH in what is known as a "pool". This is where Staking-as-a-Service comes in, as they handle everything for you and stake your coins on their behalf in crypto exchange for either an ETH or USD fee. There are many different pools out there, giving you a large amount of choice when deciding who to stake with. These pools compete by offering different pricing rates and ROI on their user's staked funds.
Ethereum Solo Staking Platforms
---
Ethereum Solo staking platforms set up and manage all the technicals of staking for you just like any other staking platform for you, though the benefit of solo staking platforms is that you get to keep your private keys and, therefore, full control over your staked coins. This is referred to as a "non-custodial staking platform". Most of these platforms take costs in the form of a monthly fee.
FAQ
---
Read also:

CaptainAltcoin's writers and guest post authors may or may not have a vested interest in any of the mentioned projects and businesses. None of the content on CaptainAltcoin is investment advice nor is it a replacement for advice from a certified financial planner. The views expressed in this article are those of the author and do not necessarily reflect the official policy or position of CaptainAltcoin.com