Gate.io Exchange Review – How Good Is This Cryptocurrency Exchange?



Gate.io Exchange Review – How Good Is This Cryptocurrency Exchange?
Excellent for low-cap gems
Huge number of features
Adding new services quickly
The list of new cryptocurrency exchanges seems to be growing by the day. Since the popular and active exchanges right now aren't perfect and sometimes have problems, new exchanges are popping up everywhere and trying to offer solutions that will please even the most demanding customers.
One such trading site that positioned itself as an alternative to the exchanges currently dominating the cryptocurrency market is Gate.io.w
Gate.io
is a king of low cap gems. The exchange has built its name as a go-to place for gem hunters. As soon as the new, hyped project launches, you can bet your wife it will be listed on Gate.io first (out of centralized exchanges).
| Feature | Description |
| --- | --- |
| Supported Crypto Assets | Over 1,400 coins |
| Availability | Not available in U.S. and Canada. Limited access in U.K., Netherlands, France, Germany, and Italy. |
| Ideal Users | Advanced traders who want to trade lesser-known coins |
| Fees | Maker-taker model with discounts for holding GateToken (GT) or using it to pay fees |
| Features | Margin, options, crypto lending, and staking. |
| GateToken (GT) | Trading discounts based on holdings and use for paying fees |
| Security | KYC required. Two-factor authentication and distinct withdrawal password. Bug program. Some assets held in cold storage. |
Gate.io became fully operational in 2017 and is currently owned by Gate Technology Inc., based in Virginia, United States. Their website is available in English and Chinese, signaling their intention to attract and serve investors that live in English/Chinese speaking countries or are themselves versed in those languages.
Their website is accessible worldwide except in the United States, which requires extensive legal terms to be met before a similar institution can operate there.
Gate.io has become one of the fastest-growing platforms with a leading Initial Exchange Offering (IEO) platform, numerous crypto assets, margin trading with leverage, and other advanced financial services. The platform interface feels cluttered despite having a powerful trading engine and is not the best place to start for inexperienced investors.
Despite their somewhat lackluster legal backing, the cryptocurrency exchange has grown steadily and currently serves over 3.3 million customers.
Gate.io has centered its strategy of breaking through on the cryptocurrency trading markets by offering its users easy access to a number of hard-to-find coins and up-and-coming projects.
Gate.io is a cryptocurrency exchange that positions itself as an alternative to the exchanges dominating the market.
It offers over 1,400 coins and a variety of advanced financial services, including margin trading, perpetual contracts, options trading, crypto ETFs, leveraged tokens, flash token swaps, lending, borrowing, mining, and staking.
Gate.io has a cluttered interface and is not recommended for inexperienced traders.
The exchange is available worldwide except in the US and Canada and has its website in English and Chinese.
Gate.io has a KYC requirement, two-factor authentication, and distinct withdrawal password, but remains an unregulated exchange.
The registration process is free and relatively simple, and the exchange supports credit card purchases or bank transfers for fiat. It allows access to 800+ cryptocurrencies with over 1500 crypto-to-crypto trading pairs.
Gate.io's fees are in the lower ranges of similar platforms, but more expensive for some withdrawals compared to other exchanges.
The exchange has a solid mobile app for both iOS and Android users.
Gate.io remains an unregulated exchange, and customer service ratings are below average.
Gate.io is suitable for trading lesser-known coins and up-and-coming projects and is a good temporary solution for purchasing coins that aren't available anywhere else.
Main features
---
It is hard to count them all without losing half a day of our time. Gate.io has been almost as fast as the industry leader, Binance, in adding new features and innovating.
🦾 As for the trading, aside from the classic spot trading, they have added also:
Margin trading
perpetual contracts
crypto ETFs
options trading
leveraged tokens
flash token swaps
🦾 That is not all as the whole other section dubbed Finance is also full of different features and services. There you can:
lend your crypto
loan crypto
mine crypto (both classic mining of proof of work coins and liquidity mining of proof of stake coins).
🦾 Additionally, Gate.io has launched an NFT marketplace where you can find the hottest NFT projects to buy as well.
🦾 Finally, Gate.io also has its own copy trading marketplace where you can follow other successful and experienced traders and copy their moves. Something similar to what eToro and PrimeXBT Covesting offer.
Registration
---
The registration process is free and relatively simple, pretty much the standard procedure in the exchange industry. After clicking on the "new user signup" link placed below the login form for existing users, you will be redirected to the website's signup page.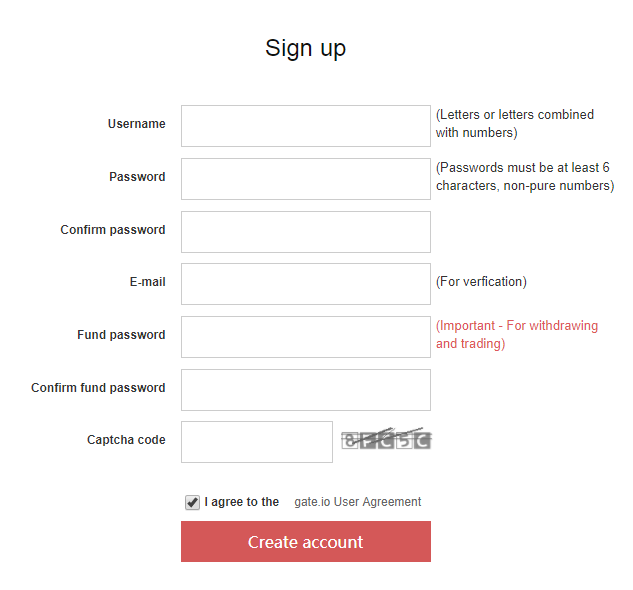 On the sign-up screen, you will be asked to enter your username, email address, an account password, and fund password which will be used to confirm your transactions.
Make sure to use different passwords for your account and your funds, as the sign-up page will not allow you to create an account if they are the same. After that, you will need to fill out the Captcha and tick the User Agreement box. If you have filled out all the sections correctly, clicking on the create account will do exactly that. All you'll have to do now is to click on the registration e-mail that will be sent to the address you provided and your basic, VIP-0 account will become operational.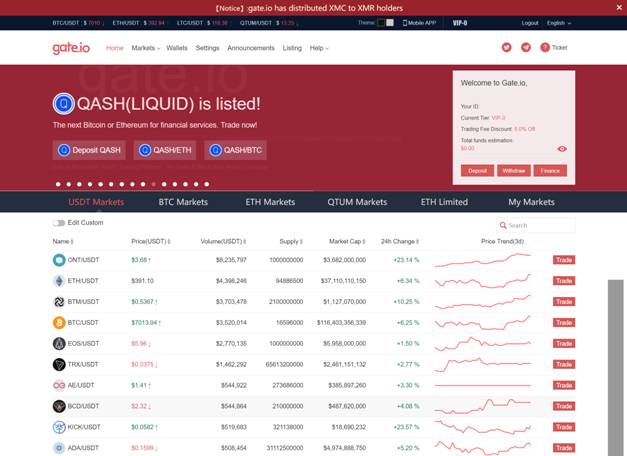 How To Trade on Gate.io?
---
To start trading on Gate.io you will need to navigate to the trading screen, either by clicking on the trade button next to the currency shown on the home page or by finding the desired currency from the drop-down menu and then clicking the trade button under your preferred cryptocurrency market. Once you select what you want to trade, the trading screen will open.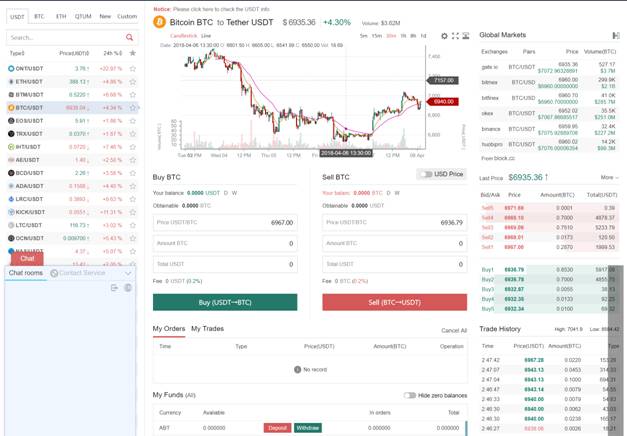 The left column contains tabs for BTC, ETH, USDT, and QTUM. Clicking on one of these tabs will list out which cryptocurrencies you can trade for the selected coin.
The central part contains the graphical representation of your selected currency's price history. Beneath it is indicators that can be used for identifying trends and future price movements. Some of the most basic ones like MACD, RSI, ATR, fast STO, and slow STO are present; this should satisfy the average trader. Naturally just looking at the graph and the indicators won't tell you much. If you click on the small gear above the graph you can switch into a "tools" mode, which will allow you to start charting and performing TA on the graph.
Under the graph segment, you can notice the Buy and Sell boxes, as well as your open orders and past trades further below. Just below that is a "My Funds" section, containing information about the way your exchange balance is divided.
The right column contains information about the global markets, showing the prices that other exchanges are trading at. Finally, below that, you can find the current buy/sell prices and trade history.
The website offers you limited trading options. You name your desired price and amount and when there is a matching opposite order, your order will be filled or partially filled. The partially filled order will remain active until it is completely filled out with the marching orders. It is possible to cancel an open order by accessing the Open Order page from Wallet> Open Order. More advanced trading options (like leverage trading) aren't available on Gate.io; for those, you will have to check an exchange like Kraken or Bitmex.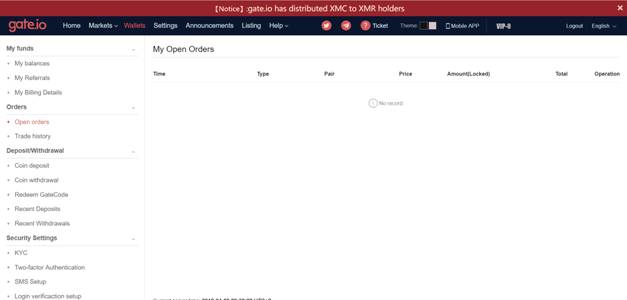 Then the asset "locked" in the order will be returned to your available balance.
Supported Cryptocurrencies
---
Gate.io allows its customers access to 800+ cryptocurrencies with over 1500 crypto-to-crypto trading pairs. The trading instruments are grouped into 4 categories: USDT Markets, BTC Markets, ETH Markets, and QTUM Markets, per coin which you can trade them. There is also an option to create a custom coin group, via the My Markets feature.
Deposit & Withdrawal Methods
---
You can buy crypto on Gate.io directly for fiat via credit card purchases or bank transfers. They accept USD, KRY, and EUR as two main fiat currencies. Aside from that, you can deposit any of the 800 supported coins and have them in your crypto wallet as soon as the transaction is confirmed on the respective blockchain.
How to Deposit Crypto on Gate.io
---
1. Log in to your account and then click  Wallet to access the wallet page Where you can view the wallet status for each coin and access the Deposit or Withdrawal or trade page of the coin.
2. Search for the coin you want to deposit
3. Click the Deposit button of the coin entry to access the deposit page to generate the deposit address for you.
4. Use this deposit address (copy it or scan the QR code bar) on your crypto wallet or another exchange to send the coins to Gate.io.
Gate IO Fees
---
The fees at Gate.io are as pictured below. There are no deposit fees, while withdrawal fees are calculated individually for every currency. These fees are dependent on users' VIP status, which is set based on the monthly and daily trading volume shown in BTC.
| 30-Day Volume | Maker Fee | Taker Fee | GT Discount Maker Fee | GT Discount Taker Fee |
| --- | --- | --- | --- | --- |
| $0 – $60,000 | 0.2% | 0.2% | 0.15% | 0.15% |
| $60,000 – $120,000 | 0.185% | 0.195% | 0.139% | 0.146% |
| $120,000 – $240,000 | 0.175% | 0.185% | 0.131% | 0.139% |
| $240,000 – $500,000 | 0.165% | 0.175% | 0.124% | 0.131% |
| $500,000 – $1,000,000 | 0.155% | 0.165% | 0.116% | 0.124% |
| $1,000,000 – $3,000,000 | 0.145% | 0.155% | 0.109% | 0.116% |
Here's how Gate.io's withdrawal fees compare with a withdrawal fee charged by its competitors:
| Coin / Withdrawal Fee | Gate.io | Bithoven | Binance | HitBTC | Poloniex | Bittrex |
| --- | --- | --- | --- | --- | --- | --- |
| Bitcoin (BTC) | 0.001 BTC | 0.0015 BTC | 0.0005 BTC | 0.001 BTC | 0.0005 BTC | 0.0005 BTC |
| Ethereum (ETH) | 0.003 ETH | 0.0428 ETH | 0.01 ETH | 0.00958 ETH | 0.01 ETH | 0.01ETH |
| Litecoin (LTC) | 0.01 LTC | 0.053 LTC | 0.001 LTC | 0.003 LTC | 0.001 LTC | 0.01 LTC |
| Ripple (XRP) | 1 XRP | 6.38 XRP | 0.25 XRP | 0.509 XRP | 0.15 XRP | 1 XRP |
| EOS (EOS) | 0.1 EOS | 0.01 EOS | 0.1 EOS | 3.7 EOS | Free | Unlisted |
| Monero (XMR) | 0.05 XMR | 0.09 XMR | 0.0001 XMR | 0.09 XMR | 0.015 XMR | 0.0001 XMR |
| Tron (TRX) | 0.1 TRX | 150.5 TRX | 1 TRX | 290.5 TRX | Unlisted | 1 TRX |
| Tether (USDT) | 3 USDT | 20 USDT | 4.7 USDT | 45 USDT | 10 USDT | 5 USDT |
As you can see, Gate.io is the best exchange when you withdraw certain coins like USDT, ETH, or TRX but it is somewhat more expensive for withdrawing XMR, XRP, or BTC.
When it comes to taker and maker fees, Gate.io is on the more expensive end of crypto-to-crypto exchanges. Exchanges like HitBTC, Binance, and KuCoin might be cheaper for trading a large volume of bitcoin and altcoins. However, it is still cheaper than trading on a platform like Bittrex.
| Exchange | Maker fee | Taker fee |
| --- | --- | --- |
| Gate.io | 0.2% | 0.2% |
| Bithoven | 0.2% | 0.2% |
| HitBTC | 0.1% | 0.2% |
| Binance | 0.1% | 0.1% |
| Poloniex | 0.08% | 0.2% |
| KuCoin | 0.1% | 0.1% |
| Bittrex | 0.25% | 0.25% |
Besides, Gate.io rewards its most active traders with useful trading fee discounts. Here is its volume-tiered discount fee schedule for traders who exchange 3 BTC and more worth of cryptocurrency monthly. The discount applies to the standard 0.2% trading fee.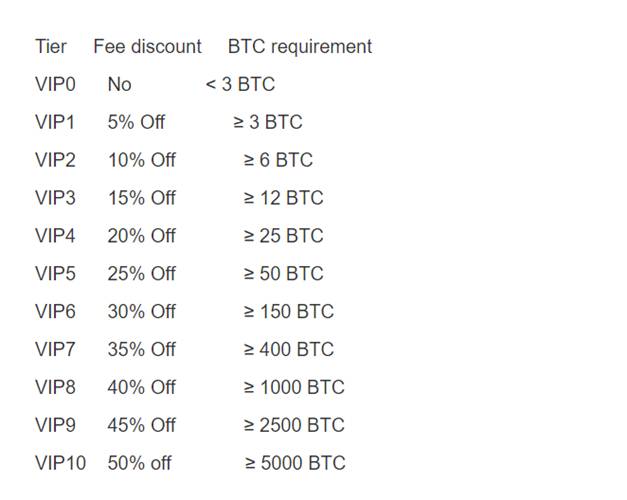 For most coins, the fee is charged per transaction; regardless of the actual amount, you are withdrawing. You will be notified of the minimum/maximum withdrawal limit for a coin whenever you wish to make a withdrawal. In addition, the maximum withdrawal limit is not necessarily equal to your daily limit. Your 24-hour daily limit can be raised and if you require a larger daily limit; to do so, you will have to submit a ticket to the support team.
Gate.io advantages
---
Gate.io looks to copy some of the best qualities that the top exchanges out there offer while implementing a few improvements which should make it stand out from the current batch of exchanges. Some of those qualities will be:
Functionality
---
The trading platform itself is similar to what other industry giants offer. A number of useful features such as an order book, trading history, and charting are included on their website. While there are platforms out there that offer a more polished experience, the website is functional and suitable for any trader. Gate.io also offers a solid mobile app for both iOS and Android users.
Low Fee
---
The fees that Gate.io charges its users are in the lower ranges of similar platforms. There is a single set fee of 0.2% that applies to all on-platform trading. As for withdrawals, the fee is calculated individually for each token.
Security
---
The security standard of the exchange has been raised very high. Their hot wallet which is used to store client funds is supported by a system of cold wallets and cold storage. Does Gate.io require KYC? Yes, clients are subjected to the KYC standard. To perform the KYC verification you need to access your account and then click Wallet/KYC to upload your photo card and required information.
There is also a second tier of verification (KYC 2) which can be accessed after completing the first one. Client accounts are secured by using two-factor authentication and recombination of passwords. A standard login password is used in order to log into your Gate.io account. A rarely before seen addition is the so-called "fund password" which is used to access crypto trading and asset withdrawals.
There is a "Bind IP" option which ensures that the website remembers the last IP you were logged in from. The two passwords are required to be different; any user who checked the "Bind IP" option on the login page should also take note to enter their passwords from a single device, as otherwise, the website might detect IP issues.
Gate.io remains an unregulated exchange.
Customer Support
---
The website offers a FAQ feature and a New User Guide designed to help with any potential issues that a new user might come across. If your issue isn't discussed in the mentioned sections, you can submit a ticket that will be addressed and responded to appropriately. Communication with the support team can be done either in English or in Chinese.
They also have an active Twitter account and a Telegram group for all your support and communication needs. However, they haven't managed to escape the dreaded faith of low customer service ratings, as the average rating of the exchange on various online support forums is below 3/5. This should be taken with a grain of salt; the fact with these ratings is that people who have had a negative experience will gladly comment on it, whereas those who had a normal one most of the time simply won't be bothered to do the same.
Final thoughts – Gate IO Review
---
Gate.io is an old and established platform that boasts a wide variety of crypto pairings accompanied by competitive fees. Their website is functional and does its job well, offering better options than the websites of some more popular competitors.
The cluttered and overwhelming interface may be a drawback for noob traders. It is currently positioned as an exchange that people go to when they want to trade a coin that hasn't started trading on more established platforms.
Knowing the history of hack attacks on exchanges, it might be best to never keep your funds stored on the exchange for longer periods of time. If you are feeling adventurous and want to purchase a coin that isn't available anywhere else, Gate.io should be a good, temporary solution for your needs.
FAQs
---
PROS
Excellent for low-cap gems
Huge number of features
Adding new services quickly
CONS
Gray area when it comes to regulations
Low number of supported fiat currencies

CaptainAltcoin's writers and guest post authors may or may not have a vested interest in any of the mentioned projects and businesses. None of the content on CaptainAltcoin is investment advice nor is it a replacement for advice from a certified financial planner. The views expressed in this article are those of the author and do not necessarily reflect the official policy or position of CaptainAltcoin.com