CoinCorner Review 2022: Fees, Verification, Features, and Safety



CoinCorner Review 2022: Fees, Verification, Features, and Safety
Cashback retail scheme
Long history and solid reputation
Headquartered in the Isle of Man, CoinCorner is an old-school on-ramp for people wanting to get into crypto. It was started in 2014 as a channel for buying Bitcoin with cash from the UK. This was quite early in cryptocurrency history and where others have faltered, they have managed to stay the course.
CoinCorner has expanded its services over the years and has grown its customer base to over 200,000 people. We'll take a look at what they offer and how it all works.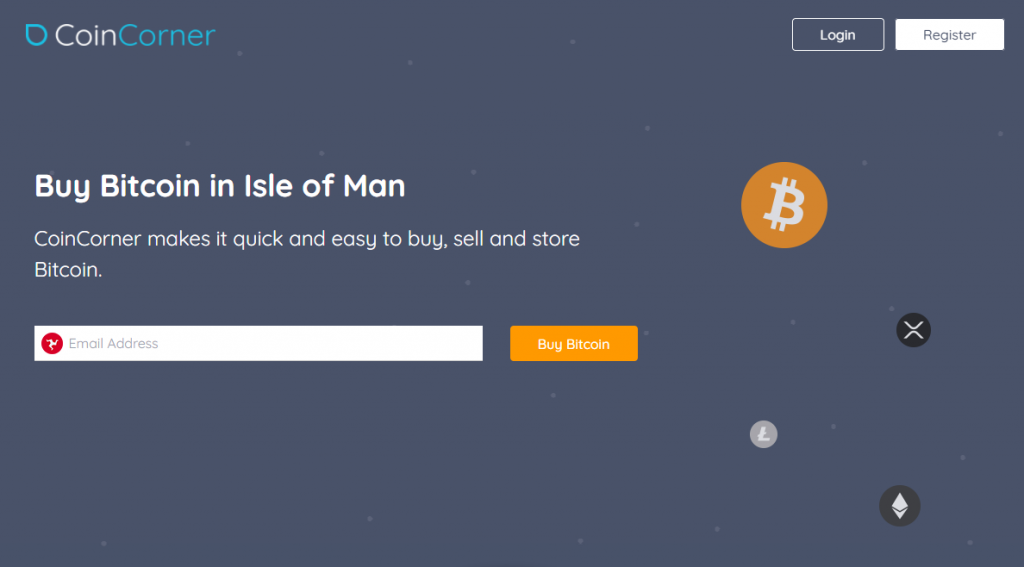 How Does the CoinCorner Exchange Work?
---
Sign up to buy and sell cryptocurrency with GB Pounds and Euros. There aren't many choices. You can buy Ether (ETH), (Bitcoin (BTC), or LiteCoin (LTC) with either GBP or EUR, and sell it back again. You can transfer BTC to and from your CoinCorner wallet, and that's about it.
There are other peripheral features, but from a crypto platform perspective, there's really not much to it.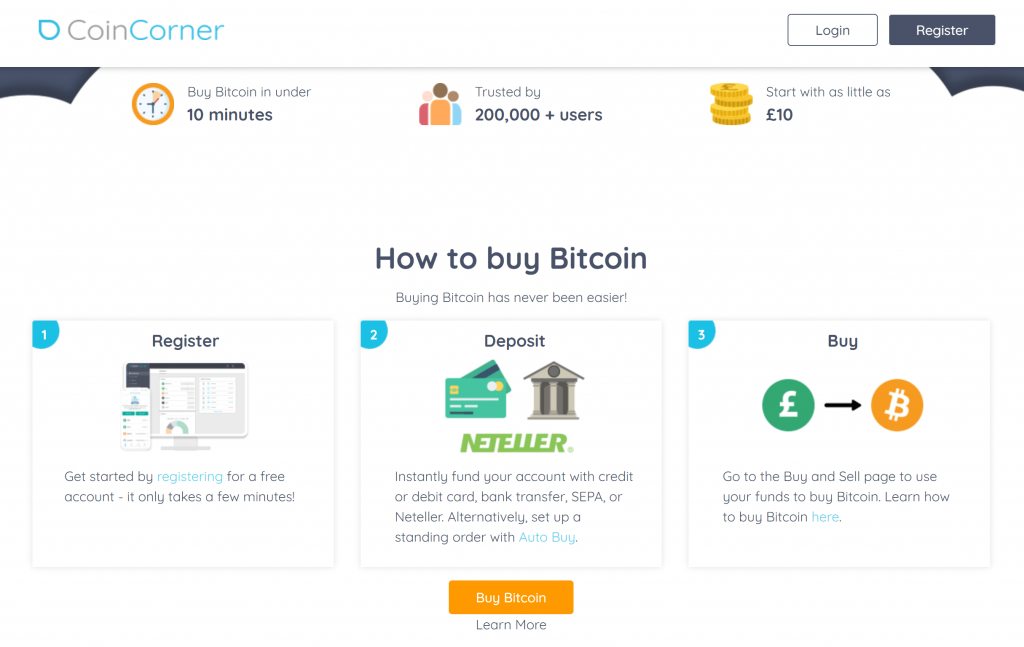 What Cryptocurrencies Does CoinCorner Support?
---
You can only buy BTC, LTC, and ETH which isn't a great selection. Once you have your desired coin, you could transfer it to another crypto exchange to trade. This begs the question, "Why you would buy your crypto on CoinCorner in the first place?" Let's see if we can find an answer.
Supported Countries
---
Originally, CoinCorner was intended as a way to buy Bitcoin from within the UK. Currently, they offer services to customers in 45 countries but you can use only GBP and Euros to buy your crypto.
CoinCorner is non-commital about Americans, stating that US citizens "may not be eligible." Either way, they would need access to a GBP/EUR account to buy crypto from CoinCorner.
Fees & Limits
---
Purchase costs are relatively high. For example, the buy price of BTC on CoinCorner at the moment of writing was equivalent to $56,181. I took a snapshot of other exchanges at the same time and found the following simultaneous prices were –
Binance $55,486 = CoinCorner – $695
Coinbase $55,609 = CoinCorner – $582
Kraken $55,552 = CoinCorner – $629
So you can see that you're paying more than a one percent premium on the spot rate to buy your BTC from CoinCorner. There are no trading fees as there's no trading – just a buy and sell price separated by a spread. That's where CoinCorner makes most of its money. At the time of writing, CoinCorner's slice of the action worked out as follows –
Bitcoin +2.2%
Ether +1.84
LiteCoin +1.81
Given the inflated purchase price plus the spread, it's not the cheapest way to acquire your cryptocurrency. You can still send Bitcoin to and from your CoinCorner wallet and the standard network fees apply.
My UK Debit and Credit cards were charged an extra 2.5% deposit admin fee with no limit. If you were depositing £100k, that would be an extra £2,500 admin fee! UK Bank transfers did not incur a fee and you can set up a monthly standing order from your UK bank. CoinCorner will accept the monthly payment and automatically purchase bitcoin for you.
There are no upper limits for withdrawals via bank transfer but beware, foreign GBP bank transactions incur a fee of £25 with a minimum withdrawal of £30. There's a £1 fee for UK GBP bank accounts with a minimum withdrawal of £5.
According to the website, Euro-based bank deposits are totally free with no upper limit, and the minimum deposit is €5. You can also use NETELLER and debit/credit cards. Withdrawals to UK banks take around 1-3 days to arrive. All the details are here.
Is CoinCorner Regulated?
---
Being based in the Isle of Man, CoinCorner is regulated by the IOMFSA (Isle of Man Financial Services Authority). There are certain territories around the world that license and regulate gambling and high-risk financial companies more readily than others. Malta, Gibraltar, and the Channel Islands are the territories of choice for UK companies.
Ask yourself this – if you ever needed the regulatory authorities to become involved, would you even be able to find these territories on the map? I'm not knocking the Isle of Man. It's a lovely place where I used to holiday as a child. But in terms of regulatory protection, it's more akin to a maritime flag of convenience. A very liberal financial regulatory system and strict privacy laws are how the Isle of Man makes its money.
The population of the Isle of Man is a mere 85,000, yet they seem to have over 100,000 registered companies. I think you get the picture.
Is CoinCorner Safe?
---
Yes, generally. There is however concern about their dormant account policy. CoinCorner reserve the right to charge £10 per month should you not log into your account for 24 months. This continues until your account balance is zero.
Searching the web for news articles, I could find no evidence of CoinCorner ever being hacked. There was one failed attempt that was foiled, and nobody lost any crypto. Being spawned in 2014, I'm sure that year's Mt. Gox exchange hack inspired CoinCorner's approach to security. They are battle-hardened and whatever they do, it has worked so far.
Is the CoinCorner Wallet Safe?
---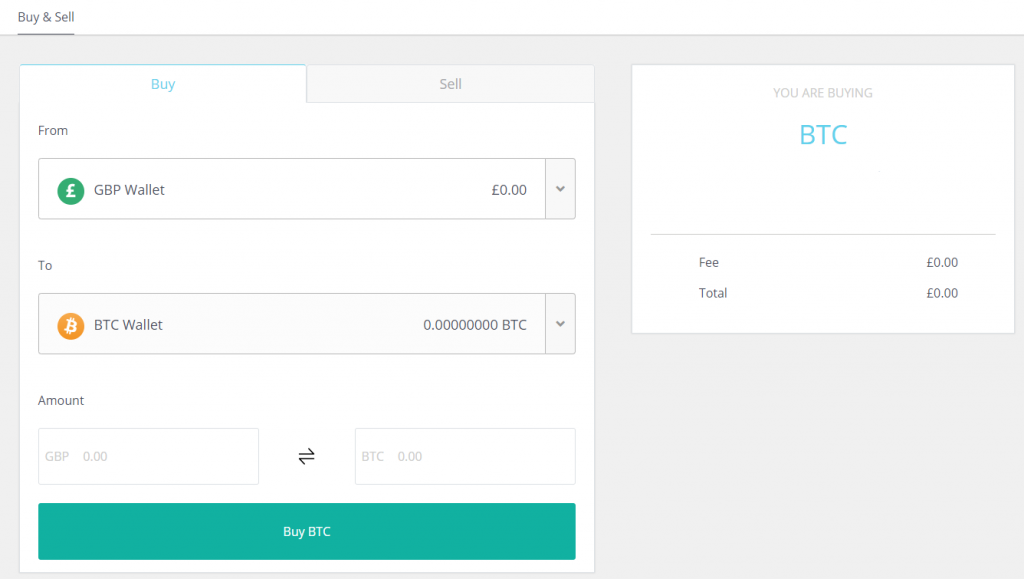 Any time you do not hold your private keys, you are taking a risk. For modest amounts, this should be fine, but for life-changing quantities of crypto, you should always store your assets in a private wallet.
CoinCorner maintains custody of your keys, so their wallet is not a long-term storage solution. Three things to look for in a secure wallet are Hierarchical Deterministic (Seed Phrase), Multi-Signature, and Open-Source Software. CoinCorner's wallet has none of these, just standard 2FA protection. If CoinCorner was a new organization, this might ring alarm bells.
I notice they do offer a separate Multi-Sig cold storage option, but this type of custody arrangement is normally for high-value customers.
But again, CoinCorner is eminently trustworthy, so the only question is about security. Having survived right from the wild-west days of crypto without ever being hacked, I would say a confident "Yes!"
I still wouldn't let any serious amounts of my crypto linger too long in their wallet, however.
Does CoinCorner Have an App?
---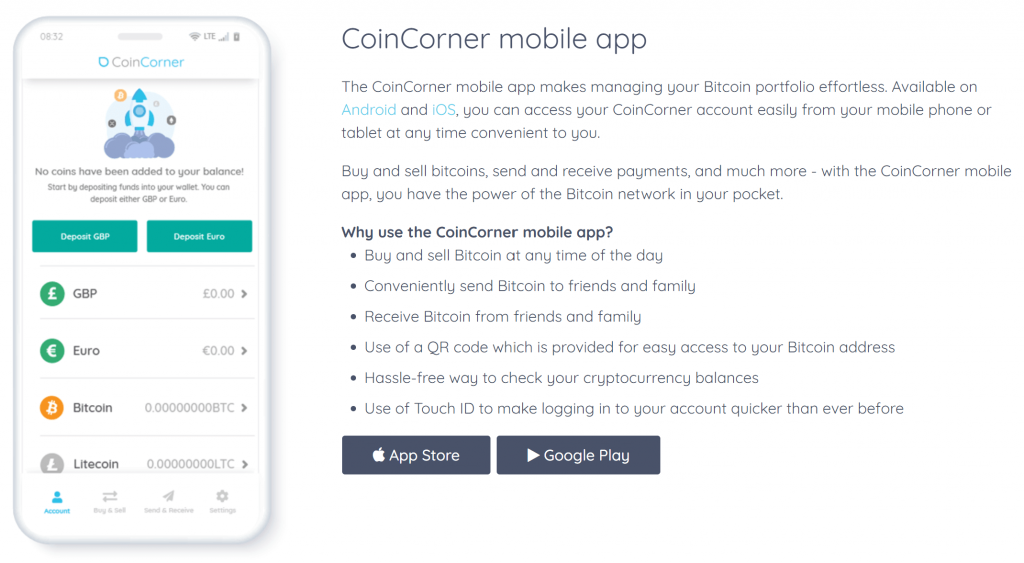 Yes, they have an app for both Android and iOS from which you can access the buy/sell and send/receive functions. CoinCorner doesn't have many features so neither does the app. I suppose one feature unique to the mobile version is scanning QR codes.
The app offers a shopping rewards feature paid in Bitcoin, whenever you buy from affiliated stores. You can browse the app's directory of retail outlets and shop through the app, or you can install a browser extension that will inform you if you are owed a reward.
The list of participating stores is pretty impressive with some big brand names. There's also a product search feature. The cash value tends to be around 3-5% of the checkout total, but there are some special deals and promotions.
Is CoinCorner's Customer Service Reliable?
---
Yes, they have a reputation for being prompt and polite. Mind you, there's not much to go wrong. The first port of call is clicking the Submit a Request button. Just enter your email address, the subject. and your query.
This support page also has a search bar where most questions are answered. Ironically, there was no entry for how to contact support, but I figured it out in the end.
Why We Recommend Kraken Over CoinCorner
---
Kraken is a full-on crypto exchange compared to CoinCorner which is essentially a cryptocurrency on-ramp. CoinCorner is fine if you just want to buy Bitcoin and send it to your wallet. It's a little more expensive than Kraken but it's very straightforward. That's the only advantage of CoinCorner.
There is literally nothing that CoinCorner does that Kraken doesn't do with crypto. Kraken is bigger and better – more coins, real trading, a larger community, better liquidity, more types of trade, deeper integration with the world in general. CoinCorner isn't in the same league as Kraken these days. Things have moved on.
Conclusion
---
At the most fundamental level, CoinCorner does what it claims, reliably and securely. If simplicity is important and you live in Europe or the UK, then perhaps the price premium is worth it. If the wider world of cryptocurrencies interests you then look elsewhere.
It's 2021 and we should be investigating level 2 solutions, DeFi, staking, and Web3.0. Gen Z crypto-heads need to be in NFTs, and gaming plays. Even the Crypto Grandma likes to buy a bit of Cardano or Chainlink now and again. Overall, there just aren't enough options from CoinCorner to make me want to use them.
FAQs
---
Did CoinCorner previously support Ripple (XRP)?
---
Yes. CoinCorner's board decided to go "Bitcoin Only" and as a result delisted XRP. In mid-December of 2019 CoinCorner CEO Danny Scott announced that they would focus exclusively on improving the Bitcoin industry.
Well, it's now May 2021 and It seems they have had a change of heart as LiteCoin and Ethereum are now supported.
Does CoinCorner need ID?
---
Yes, once you have exceeded your initial deposit limit, you will need to supply documentation to deposit more. Similarly, they will need to authorize your account before you make a withdrawal. You need to send them proof of address and proof of I.D., sometimes a selfie, and in rare cases a hand-written note with a code they send you.
Below are top crypto exchanges that could be a good substitute for CoinCorner:
PROS
Cashback retail scheme
Long history and solid reputation
CONS
Poor selection of cryptocurrencies
Dormant accounts are charged monthly fees
Not a real exchange

CaptainAltcoin's writers and guest post authors may or may not have a vested interest in any of the mentioned projects and businesses. None of the content on CaptainAltcoin is investment advice nor is it a replacement for advice from a certified financial planner. The views expressed in this article are those of the author and do not necessarily reflect the official policy or position of CaptainAltcoin.com