Coinbene Review – Fees, KYC, Limits & More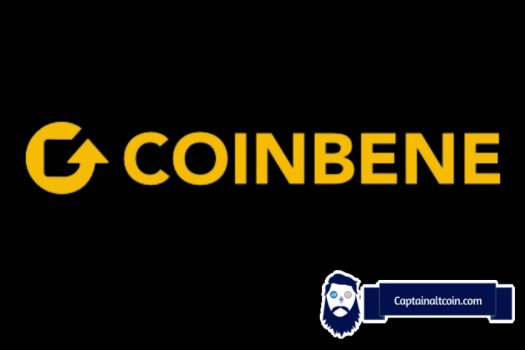 Coinbene Review – Fees, KYC, Limits & More
Supports multiple languages
Easy to use platform
Competitive fees
No deposit and withdrawal fees
Nice User Interface
CONI token benefits
Based in Singapore, CoinBene is a crypto exchange that offers users a simple-to-use platform for crypto-to-crypto trading. According to the words of the Central Bank representatives, Singapore is a crypto-friendly region and the country is considered positive about cryptocurrencies and blockchain technology in general. The company also has offices in Hong Kong, Malaysia, India, Brazil, and more.
CoinBene Overview
---
CoinBene was launched in 2017 and is available to users in 150+ countries and various languages, including English, Portuguese, Vietnamese, Malay, Spanish, or Korean. However, the default language is Chinese. The exchange made its rapid rise to a consistent top 30 exchange by 24-hour trade volume an impressive feat. The platform is relatively straightforward to use, offers a range of trading pairs, has a familiar exchange interface, and has a mobile application that can be downloaded for free on AppStore or Google Play. Also, the platform has more than 170 cryptocurrencies with which one can trade.
Another neat feature offered by CoinBene is a self-service listing model, which ensures greater efficiency, more transparency, and better service. This provides a straightforward process for high-quality projects to get listed.
How to Get Started on CoinBene?
---
Creating an account on CoinBene is relatively fast and simple as there is a guideline taking the user through the sign-up process on the platform's sidebar. Here are the steps on how to register your account.
Click Sign Up on the upper-right corner of the homepage.
Fill in the form with your Email Address and chosen password, which must be between six and 20 digits, including letters and numbers. The option to sign up using your email is the default. However, there is also an option to sign up with your cellphone. To do this, click on "Cellphone" below the blue "Sign Up" button and on the right.
Go to your email account, where you will see a message for email verification.
Click the Email verification link to verify your account.
You are now successfully registered in the CoinBene exchange and ready to start trading.
CoinBene Website
---
The website is designed simple enough and features the essential information users need to utilize the platform. In the main navigation bar, you can see categories for the exchange, download the APP, the guide FAQ, and information about Coni. Links with helpful information, such as "What is Coni?" and "Operations Guide Introducing", can be found below the main navigation bar. The latest announcements are placed right below this.
The options for logging in or registering for an account are placed in the upper right-hand corner. To the right of this, there is an option to change the language.
The cryptocurrency pairs are divided into three different tabs (depending on whether they involve USDT, ETH, or BTC), with each row displaying the most important information of the cryptocurrency, such as the name, the symbol in a pair, the last price, the reference price, the percent change, the change in numerals, the 24-hour trading volume, and the operation. Also, in the immediate top-right corner of the listings, you can find a search function to make it easier to find your chosen pair.


CoinBene Deposits
---
To deposit funds into your CoinBene account, follow the steps below:
Log into your account.
Click on settings placed on the left side of your account page, and ensure you have double verification set up, meaning that both your email and cellphone are set.
There is an "Assets" option below "Settings." Click on the "Assets" and choose "Deposit." Click on the link and then select the token you wish to deposit.
You will then see a deposit address, both listed out and as a QR code.
You can use either of these to deposit the desired amount of coins by sending them to the address.
The deposit will appear in the "Deposit Records" section on the same page.
It's extremely important to note that you should deposit the crypto-coin you specify since each altcoin will have its address, so if you accidentally send cryptos to an address designed for another crypto, the funds will be lost. The CoinBene Exchange will have no responsibility for any of your losses.
The "Withdraw" option can be found directly below "Deposit" under the "Assets" section.
CoinBene User Interface
---
The website is designed in a manner simple enough for any user to navigate it easily. It follows a format that most cryptocurrency investors are used to, meaning that they will find most information exactly where they expect it to be. The interface provides multiple cryptocurrency trading pairs. CoinBene offers BTC, ETH, and USDT trading and the three columns display the coin in the pair, the value, and the percentage change.
The graph is a candlestick chart with the ability to add dozens of indicators to help users with their trading strategy. Users can also hover over any point to view specific values for the open, high, low, and close, along with the specific date and time. They can also add or remove MACD, RSI, and KD indicators.
There is a settings button on the candlestick graph, which lets you adjust override minimum tick, scales, backgrounds, colors, borders, wicks, scale location, and time zones. You can also use the button to change the style to bars, hollow candles, Heikin Ashi, line, or area charts.
There is also the form to buy or sell the crypto in question. Buy is marked with green color, while sell is in red.
Coni Token
---
A CoinBene exchange review also has its own native ERC20 token, namely Coni (Ticker symbol: CONI). Coni has multiple benefits for native token holders, including 40% profit sharing, exclusive discounts on the trading fee of up to 70%, and other benefits. This model is to incentivize users trading at the exchange to buy a large amount of Coni. If you exceed the ownership threshold required, you will receive a 50% discount on all trading fees during year 1, a 20% discount on all trading fees during year 2, and a 10% discount on all trading fees during year 3 (no discount from year 4).
Coni has a total supply of 1 billion and the founders say that it is a fixed value. Of the total Coni, the team held 40% for feature development, technical maintenance plus upgrades for CoinBene, and research support. The rest 60% of Coni tokens are divided in the following manner:
30% is allocated for an airdrop for participants.
10% is reserved for the investor protection fund.
The final 10% is reserved for marketing.
One more thing worth noting is that the charting is provided by TradingView, a platform that provides charting software and social networking for active traders. The interface also features multiple language options, such as Chinese, English, Vietnamese, Portuguese, Spanish, Malay, and Korean.
CoinBene Fee Structure
---
Fees for trading cryptos are set at 0.1% across the board when using major trading pairs. This fee is significantly below the global industry average of 0.25%, which gives CoinBene a competitive advantage as low trading fees render the exchange more attractive to the average user.
Users can also pay an even lower trading fee, which is possible if they hold a sufficient amount of Coni. The Coni token cuts trading fees in half, to only 0.05%. It's also important to note that fees are the same for market makers and takers.
What sets CoinBene apart from many similar exchanges currently available is the fact that you only have to pay mining fees when you withdraw your funds, which is a clear advantage for the CoinBene exchange over many exchanges that charge hefty fees for withdrawals, which de-incentivizes you to move your funds from the exchange to personal wallets.
As you can see, the fee structure at this platform constitutes a competitive advantage against the majority of other top cryptocurrency exchanges currently available. It may even makes this trading platform the best crypto exchange site for you.
CoinBene Mobile Apps
---
CoinBene has mobile apps for Android and Apple, for those who prefer to trade on the go. Instead of finding the apps in the relevant application stores, they can be downloaded via the CoinBene website from the "Download APP" page on the main navigation bar. This will take you to a page with links for both, a link for Android, and a QR code to scan for Apple, and in this case, you will have to go through a manual install. Although this process is simple enough to do, it may pose a possible security risk, so it's easy to question why these extra steps are even necessary.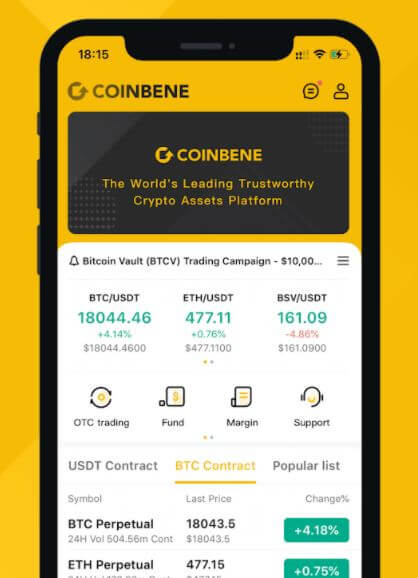 Supported Cryptocurrencies
---
This crypto exchange lists many coins and trades them with the basic pairs BTC, ETH, and USDT. Based on the pairs listed on the homepage, there are 50 pairs involving ETH, 31 involving USDT, and 24 involving BTC. When it comes to the plethora of assets available at CoinBene, the most known coins are Bitcoin, Bitcoin Cash, Ethereum, Ripple, Litecoin, and OmiseGO. However, some of the usual suspects, such as NEO, NEM, Cardano, Dash, Monero, IOTA, Stellar, and so on, are not present at this exchange.
Supported Countries
---
CoinBene is available in 150+ countries, but it doesn't currently allow US investors to participate. The reason for excluding US investors is primarily regulatory reasons since the US-legal regime imposes obligations on many companies accepting funds from US investors. Other countries with restrictions include China, Cuba, North Korea, Syria, Iran, Sudan, Bangladesh, Bolivia, Ecuador, and Kyrgyzstan.
CoinBene Customer Support
---
CoinBene offers a variety of customer support contact options, but they don't have a customer support phone line. There are QR codes for Telegram and WeChat support on the exchange homepage as well as customer support options on Twitter and Weibo. Customer support is also available via email but many customer reviews online state that this type of support is slow to respond. Also, English language support isn't the best.
CoinBene Security
---
CoinBene takes a proactive approach when it comes to security. The platform conducts the KYC checks on the first withdrawal of crypto funds, so make sure you are compliant with the exchange's terms and conditions if you decide to use this option. You'll also have to provide basic personal information, such as your email and official identification, which could take several days to get approval.
The exchange has also signed a strategic technology partnership with Komodo, a blockchain-based platform that provides security, scalability, interoperability, and adaptability. This was done to prevent 51% of attacks and improve the crypto ecosystem's overall security through the implementation of parts of what Komodo has to offer in terms of security. The latter uses a proprietary technology called delayed Proof of Work (dPoW), a security mechanism designed by the Komodo project. It is a modified version of the Proof of Work (PoW) consensus algorithm that makes use of the Bitcoin blockchain's hash power as a way to enhance network security.
Additional security is provided using Google Authenticator, a software-based authenticator by Google that implements two-step verification services using the Time-based One-time Password Algorithm and HMAC-based One-time Password algorithm, for authenticating users of software applications. This security feature can be downloaded both on your laptop and your mobile. Once activated, Google Authenticator will send a code to your device to verify that it is indeed the user itself who is trying to access the account.
Google Authenticator
---
To get additional security via Google Authenticator, follow the steps below:
Download the application for Google Authenticator on your smartphone, via either the Google Play store or the Apple App Store. The links to this application can also be found on the "Guide FAQ" page on CoinBene.
Click the "+" icon found in the upper-right corner.
Choose to "enter this key" or "scan the barcode."
Google Authenticator will create a six–digits–long verification code.
Enter the code. Note that Google Authenticator codes expire in just 30 seconds, so if you run into some problems, try synchronizing the times on your computer and smartphone. All future security actions and login attempts will require a new Google Authenticator six–digit code, which changes every 30 seconds.
It's highly recommended to save the QR code or key when you bind Google Authenticator, which will make it possible to connect the security program on a new phone if you lose your current smartphone or get an upgrade.
Conclusion
---
CoinBene is a Singapore-based crypto exchange that only deals with digital assets. The platform does an amazing job at providing a market solution that addresses crypto traders' biggest complaint: high exchange fees. By offering zero-fee withdrawals (except for mining fees) and low fees on trades, the CoinBene exchange continues to be successful in gaining user adoption and competing in the exchange market. The website is simple, clean, and easy to use and follows a similar design and layout to other exchanges.
To conclude, while CoinBene is home to significant trading volume, a great fee structure, and an intuitive interface, the exchange lacks transparency in its operations and the team behind it, leading to certain problems in the future.
Coinbene alternatives
---
Other crypto exchanges to check out:
FAQs
---
Useful Links
---
PROS
Supports multiple languages
Easy to use platform
Competitive fees
No deposit and withdrawal fees
Nice User Interface
CONI token benefits
CONS
Lack of transparency and information on the company
Leverage not available
No fiat currencies accepted

CaptainAltcoin's writers and guest post authors may or may not have a vested interest in any of the mentioned projects and businesses. None of the content on CaptainAltcoin is investment advice nor is it a replacement for advice from a certified financial planner. The views expressed in this article are those of the author and do not necessarily reflect the official policy or position of CaptainAltcoin.com