If Bitcoin is the king of cryptocurrencies, Ethereum is definitely the queen.
Available since 2013, Ethereum has been one of the most promising altcoins which has grown over 2000% within just last 6 months. It's basically a decentralized platform for developers to build apps on top of.
Invented by Vitalik Buterin, Ethereum can be used to codify, decentralized, secure and trade just about anything – company governance, crowdfunding, financial exchanges, domain names, voting, contracts and agreements of most kind, intellectual property.
Ethereum differs from Bitcoin in that it can operate not only as a currency but is also a facilitator of smart contracts. This allows that Ethereum platform to be used to create applications across a wide range of industries and services.
This has made Ether (the currency of the Ethereum platform) a hot cake in the cryptocurrency market.
Ether (ETH) is proudly the most promising altcoin currently available, and because of this, you probably want to get ahold of some ETH tokens.
Coming back to the topic, there are many ways to purchase Bitcoin. However, purchasing Ethereum is not an easy task because the technology is still in evolution.
In most cases, people purchase Bitcoin from Coinbase and then transfer it to exchanges such as Bittrex or Poloniex to convert them into Ethereum (ETH Token). However, this is really a hectic task, which might take a really long time, and you'll possibly need to wait days for everything to go through.
But what's the point of purchasing Ethereum if the process takes several days to complete? If you are familiar with the crypto space, then you probably know that waiting too long defeats the whole purpose of purchasing cryptos.
However, there is a shortcut!!
You need not wait too long for your Ether (ETH) tokens, because you can purchase them directly if you have a MasterCard/VISA credit or debit card.
Most cryptocurrency exchanges accept only cryptocurrencies or wire transfers. However, as the whole ecosystem has matured, some have also started accepting credit and debit cards.
Want to find out what is the best offline wallet for ethereum? This article is for you.
So, without further delay, here is the list of available options for buying Ethereum online safely and securely using your debit or credit card:
4 Best Websites to Buy Ethereum with Credit/Debit Card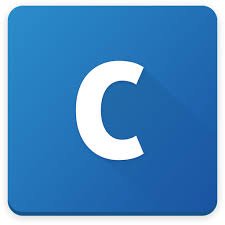 Headquartered in San Francisco, California, is almost certainly the most popular cryptocurrency exchange to buy and sell Ethereum, Bitcoin, and Litecoin. At Coinbase you can also instantly purchase Ethereum (ETH) via MasterCard/VISA credit and debit cards, provided that they serve your country.
Currently, Coinbase operates only in 32 countries (mainly in Europe as well as the USA and Canada). Check here to see if their service is available in your country.
If it is, follow these steps to create an account:
Provide photo ID verification for KYC and AML purposes (this can be done by scanning a copy of the photo ID, or by taking a photo of the ID with your phone).
On the Payment Page (on the right-hand side), Click on '+Add Payment Method'
Choose Card and add the credit/debit card details.
Accept and allow Coinbase to make two small test transactions.
You will receive two transactions between 01 and 1.99on your selected card in your local currency. After that, log in to your card statement account and note the amount of those transactions.
Enter the amounts transacted in your Coinbase account under Payment Page.
Once your card is successfully added, you should see a window that says "Credit/Debit Card Added" and a Buy Digital Currency button.
A digital currency can now be bought using the Buy/Sell page anytime via your card.


Now that you have successfully added and verified your card, follow these steps to buy Ethereum (ETH) on Coinbase:
Go to Dashboard and select
Click the Buy/Sell
Select the amount of Ethereum you want to purchase.
Choose Cardfrom the payment method's drop-down menu.
Confirm the order is correct and click Complete Buy
And that's it! Ethereum (ETH) will be delivered to your account within a couple of minutes.
Coinbase Fee: Coinbase charges a standard fee of 3.99% on all credit/debit card purchases, regardless of where you are based.
Check here and here if you have more queries regarding payment methods and fees.
Important Note: Coinbase states that they provide a fully insured platform and that most of their cryptocurrency is stored offline. However, we would strongly recommend that any purchases that you make on Coinbase (and other platforms discussed below) are transferred to your personal Ethereum wallet.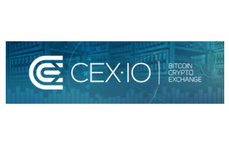 Founded in 2013, CEX is a UK-based exchange supports the instant purchase of Ethereum (ETH) via Visa/MasterCard credit and debit card. CEX.io has been operating since 2013 and they have a huge reputation in purchasing and selling Bitcoin and now they have also started support for Ethereum.
CEX operates in most countries, including 24 US States, and offers a user-friendly interface as well as being available as a mobile app.
Follow these simple steps to buy Ethereum:
Click on Cards and enter your credit/debit card details.
Verify your credit/debit card (card verification requires the user to take a selfie with the card).
Select the amount of Ethereum (ETH) you want to buy/sell.
Exchange your currency for Ethereum (ETH).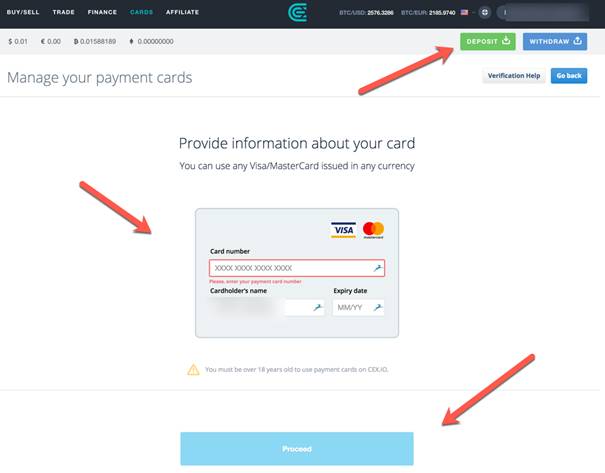 Credit and debit card verification can take up to 48 hours, but after that, you can buy ETH instantly. That's why it's highly recommend that you keep your card configured in CEX even if you don't have immediate plans to purchase Ethereum.
And don't worry! Your card details will be safe and secure with CEX.io.
As I already said, CEX Team might ask you to submit your selfie along with the ID. Do not hesitate to do it because this is for your security as well. Also, we need to give you a heads up: if the quality isn't good enough for the compliance officer, another selfie may be requested!
Check this video guide on how to link a credit/debit card on CEX.IO:
CEX.io is another fast way of purchasing ETH, but unlike Coinbase, CEX allows you to purchase ETH and BTC anywhere in the world. However, the exchange rates are quite high on this platform and the fee on deposit and withdrawal varies for various debit/credit cards as well as the fiat currency. Go through the fee structure so that you are not surprised while making the final payment.
CEX.io Fee Structure: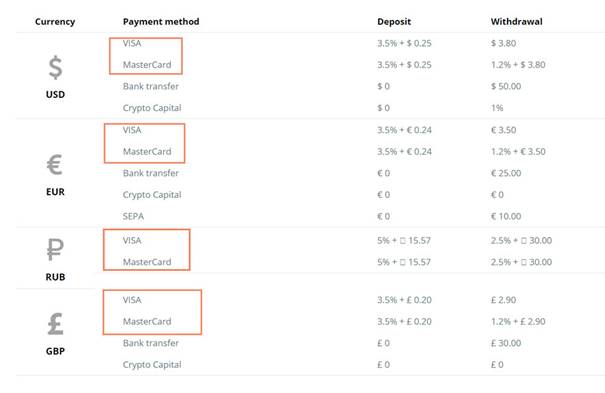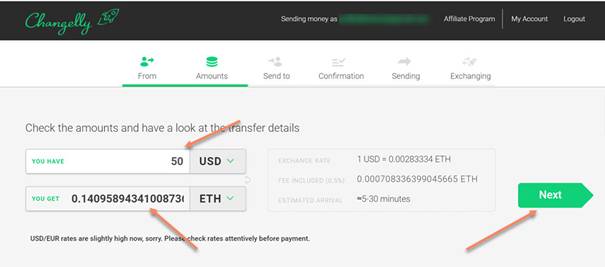 Changelly is an instant cryptocurrency exchange site that is very easy to use and requires only email verification to carry out transactions. At the end of 2016 they started supporting purchasing of BTC/ETH and other cryptocurrencies using a debit/credit.
This platform is extremely famous for converting cryptocurrencies, which means that if you have some BTC or any other altcoin, you can instantly get yourself Ethereum.
On the other hand, if you don't have any cryptocurrency, you can still purchase ETH using your VISA/MasterCard debit or credit card.
This site accepts any currency of any country in the world (USD/EUR/GBP/INR/etc.) and then calculates it in its USD equivalent. Check here to find USD to ETH exchange rates.
Follow these steps to buy ETH on Changelly:
Select USD to ETH and click on 'Exchange' button
Create a new account
Verify your account
Click on "Confirm & Make Payment" button
Pay the amount with your credit/debit card.
Important Note: If you are buying with your credit/debit card, Changelly has purchase restrictions depending on what country you are based in.

One more thing worth noting is that the fees are notably higher than other exchanges when it comes to credit and debit card transactions.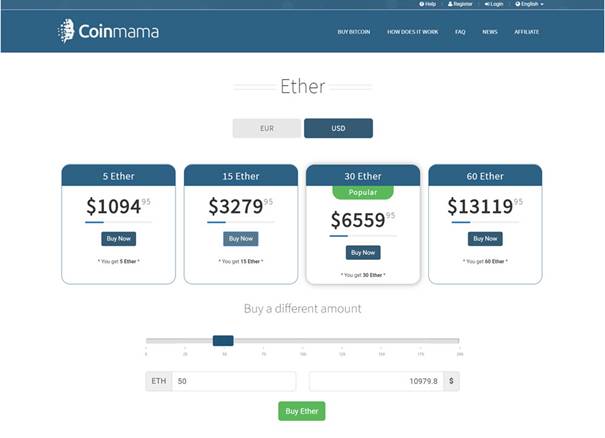 Headquartered in Slovakia, Coinmama is another exchange that lets you purchase Ethereum using credit/debit cards. Coinmama is a very reputable exchange that currently operates in 226 countries worldwide, and is available in 24 US States. Check here to see if they provide service in your country.
Coinmama has been working in the cryptospace since 2014 and is currently only available as a website, with no mobile app available.
Unlike other exchanges, Coinmama doesn't have an inbuilt BTC/ETH wallet, which means that you will need to have created an Ethereum wallet to which the exchange can send your Ethereum once it's bought.
Coinmama provides a bonus feature in comparison to other exchanges on the list. It lets you purchase ETH/BTC without verification through a Level 0 verification system. This level requires you to only fill in your personal details, including your address, phone number, ZIP code, city, and state. You can purchase up to $/€ 150 of Ethereum via a VISA/MasterCard credit/debit card using this feature of Coinmama. However, you will need to verify your identity using photo ID for KYC / AML purposes if you want to purchase any further amounts.
If you want to increase your purchasing limit, you can verify yourself from here. You can also buy ETH from this link.
However, this all comes with a cost, as Coinmama's transaction fees are quite high, with a 6.15% fee paid to Coinmama per transaction with an additional 5% being charged on each credit/debit card transaction.
Conclusion
Any of the above exchanges offer a respected and reputable service for buying Ethereum with your credit/debit card, and there is no harm in registering with a number of the exchanges discussed above, having a look around their site, and seeing if it suits you. Choosing the best platform for you may come down to where you are based, the fees payable, or may simply be a matter of your own personal preference based on the outlay of the site or app.
Hopefully, the information provided in this article will help you in deciding which exchange platform is the best for you.
I will keep this post updated with all the new sites that allow buying ETH using a credit and debit card.

CaptainAltcoin's writers and guest post authors may or may not have a vested interest in any of the mentioned projects and businesses. None of the content on CaptainAltcoin is investment advice nor is it a replacement for advice from a certified financial planner. The views expressed in this article are those of the author and do not necessarily reflect the official policy or position of CaptainAltcoin.com