Coinbase and Bitstamp are two of the oldest crypto exchanges and both have been in business for 5+ years. They are also two of the most well-regarded platforms, and are fully licensed in either the US (Coinbase) or EU (Bitstamp).
In this Coinbase vs. Bitstamp comparison, we'll go over everything from the key features of each platform, how those features compare, and the advantages and disadvantages of trading on each.
Coinbase vs. Bitstamp: Key Information
| | | |
| --- | --- | --- |
| |   |   |
| Site | Visit Coinbase | Visit Bitstamp |
| Company Launch | 2012 | 2011 |
| Company Location | California, USA | Luxembourg |
| Site Type | Easy Buy/Sell Methods | Cryptocurrency Exchange |
| Available Cryptocurrencies | Bitcoin (BTC), Ethereum (ETH), Litecoin (LTC) + 20 others | Bitcoin (BTC), Ethereum (ETH), Litecoin (LTC), Ripple (XRP) |
| Buy/Deposit Methods | Bank Transfer, Credit Card, Debit Card, Cryptocurrency | Credit Card, Bank Transfer, Cryptocurrency |
| Sell/Withdrawal Methods | Bank Transfer, PayPal, Cryptocurrency | Cryptocurrency, Bank Transfer, Credit Card |
| Fees | Medium | Medium to High |
| Security | Great | Good |
| Community Trust | Great | Good |
| Customer Support | Good – 24/7 email, chat according to American working hours | Good – 24/7 Live Chat |
| Countries Supported | 33 Countries | Worldwide |
| SEPA Deposit | Free | Free |
| SEPA Withdrawal | 0.15 EUR | 0.9 EUR |
| Mobile App | Yes | Yes |
| Beginner Friendly | Yes | No |
Company History
Coinbase was founded in San Francisco in 2012 by Brian Armstrong and Fred Ehrsam. They have serious backing from the likes of venture capital firms and many trustworthy investors, including Blockchain Capital, Digital Currency Group, Union Square Ventures, Alexis Ohanian (Reddit Co-Founder), Bank of Tokyo, and Andreessen Horowitz. Coinbase is generally considered a safe option for crypto investing because it has been in business for 5 years and complies with all US regulations for financial institutions, at both a federal and state level.
Bitstamp was founded in 2011 as a European alternative to then-dominant cryptocurrency exchange Mt. Gox. The company is backed by Pantera Capital, a leading cryptocurrency VC fund owned partly by Benchmark, Ribbit Capital, and Fortress Investment Group. The company was founded by Damijan Merlak and Nejc Kodrič in their native Slovenia. However, they moved to the UK in April of 2013, and then to Luxembourg in 2016. One more thing worth noting is that Bitstamp undergoes annual audits by one of the "Big Four" audit firms, and is generally transparent about their compliance and operations.
Available Cryptocurrencies
Probably the largest exchange today, Coinbase only offers 3 cryptocurrencies (Bitcoin (BTC), Ethereum (ETH), and Litecoin (LTC)), which means that this is probably not the exchange for you if you're interested in more exotic altcoins.  That said, they have discussed adding more coins in the future (they plan to support Bitcoin Cash (BCH) on January 1st) and previewed what may be their list of potential additions.
Bitstamp offers a similar range of cryptos with trading pairs for Bitcoin (BTC), Ethereum (ETH), Litecoin (LTC), and Ripple (XRP), with plans to add more new pairs going forward.
Bitstamp also recently began facilitating withdrawals of Bitcoin Cash. However, trading pairs have been delayed which was blamed on recent Chinese regulatory actions. Given the fact that Bitstamp traded only Bitcoin for six years and that support for ETH, LTC, and XRP were all added in 2017, it does seem like there's momentum toward adding support in the future.
Supported Countries
When it comes to the number of countries where Coinbase is supported, a total of 32 countries are available for you to turn to, including the United Kingdom, the United States, Greece, Hungary, Ireland, Italy, Jersey, Belgium, Bulgaria, Czech Republic, Denmark, Latvia, Netherlands, Norway, Liechtenstein, Malta, Monaco, Australia, Austria, Finland, Canada, Croatia, Cyprus, Poland, Portugal, Spain, Sweden, Switzerland, San Marino, Singapore, Slovakia, and Slovenia. It's important to note that Coinbase also offers Bitcoin storage in 190 countries across the world.
Bitstamp is available worldwide for crypto trading, but if you want to purchase Bitcoin with Debit/Credit card, then it is available only for a few countries. Bitstamp allows the users of following countries: EU-28 countries, Serbia, Turkey, Andorra, Moldova, Switzerland, Norway, Monaco, Montenegro, Brunei, New Caledonia, Guadeloupe, Isle of Man, Faroe Islands, Åland Islands, Gibraltar, Iceland, Greenland, Liechtenstein, Taiwan, South Korea, Australia, New Zealand, San Marino, Hong Kong, China, Singapore, South Africa, Chile, Kuwait, Cayman Islands, Japan, Argentina, Brazil, Israel, Puerto Rico, Peru, Madagascar, Mozambique, Qatar, Saudi Arabia, India, Lebanon, the Bahamas, Bahrain, French Polynesia, Dominican Republic, Curaçao, Dominica, Jordan, Barbados, Réunion, Jamaica, Paraguay, Ecuador, Trinidad and Tobago, Martinique and Sint Maarten.
Fees
If you're just looking to buy BTC, ETH, or LTC on the main Coinbase site, Coinbase charges a 3.99% fee for purchases made with credit or debit cards (the money is available right away), or a 1.49% fee for cryptocurrency purchases made with bank accounts or Coinbase USD wallets (the funds are available in 5 to 7 days). Once you've bought your tokens of choice, you can transfer them to other BTC/ETH/LTC addresses for free. However, you will have to pay network transaction fees.

In 2014, Coinbase created a Global Digital Asset Exchange (GDAX), which utilizes a maker-taker model for fees. If you want to place a new order on the exchange it is free to do so. However, completing on order already listed on the books will cost you a fee between 0.3% and 0.1%, depending on how large your recent trade volume has been.


Bitstamp fees can be quite reasonable for those users who live in EU. Euros can be deposited through a SEPA transfer with zero fees, and only a 0.90 EUR on withdrawals. International wires are low too with only a 0.05% deposit fee with a minimum of 7.5 USD/EUR and 0.09% withdrawal fee with a minimum of 15.00 USD/EUR, and it takes 2-5 business days to be completed. A notable feature of Bitstamp is direct cryptocurrency deposits or withdrawals are free. Just don't deposit with a credit card because fees then start at 8%, and even if you deposit more than $5000 the fee is still 5%.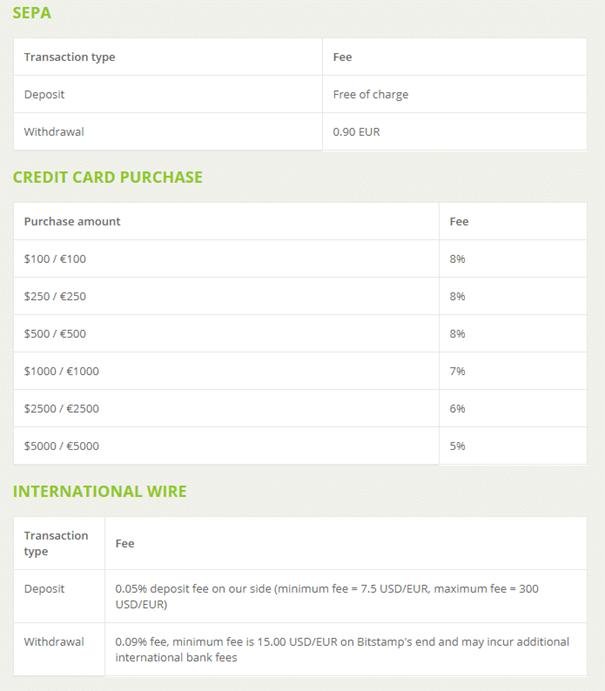 If you are on the "taker" side of a trade, then trading fees are comparable with GDAX. Unfortunately, there is no discount for placing orders or being a "maker". This means that on balance the fee structure is somewhat worse at Bitstamp. The fact that all maker fees are 0% at GDAX encourages liquidity. This means that you could potentially be trading at wider bid/ask spreads for the same trading pair at Bitstamp.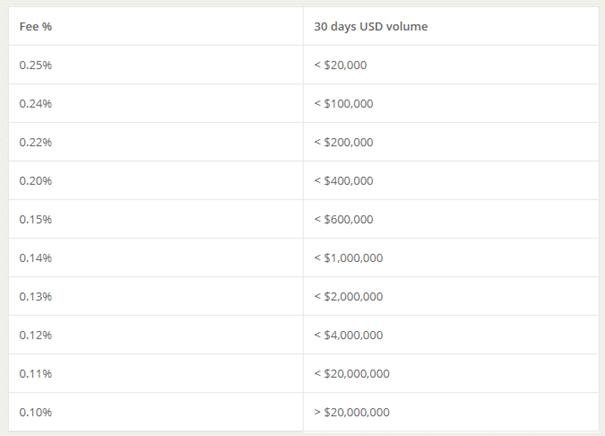 Safety and Security
Coinbase abides by strong security measures and has never been hacked in its 5 years of operations. 98% of customers' cryptocurrency funds are stored in secure offline cold storage, protecting their funds from hacks. These cryptocurrencies are held on multiple hardware wallets and paper wallets, and these wallets are then stored in vaults and safety deposit boxes around the world. The remaining portion of cryptocurrency is stored online and is fully insured by a syndicate of Lloyd's of London. They also offer two-factor authentication (2FA), email notifications and use PGP email encryption.
Bitstamp is considered extremely reputable and reliable. Bitstamp keeps around 98% of all of its coins in cold wallets and offers 2FA that connects a user's account to a mobile device, and a password, which needs to be changed every 90 days. Bitstamp also offers email and SMS alerts, and uses PGP (Pretty Good Privacy) data encryption. It should be noted that, on January 4, 2015 it suffered a security breach and the crooks have stolen up to 19,000BTC, worth about $5.1 million at the time.  The incident put a big dent in Bitstamp's reputation, but the company decided to rebuild the platform entirely in order to restore the trust of the clients. It's important to note that no Bitstamp customers lost any money in the hack because the company did the right thing and took the loss on themselves. Since the hack in 2015, things have been relatively smooth for Bitstamp and they have not had any major security issues since.
Customer Support
Coinbase has a great reputation for customer service, with guaranteed 24 hour email response time, which is much quicker during the work week. They also offer instant chat support and they have recently added phone customer support, which is a first for major crypto exchanges. This is a great step toward bringing the crypto industry toward normal business standards.
Bitstamp also has great customer service for a crypto exchange and they typically respond within an hour and they are ready to go an extra mile to help resolve user's issues. Bitstamp has customer complaints that you can find online like any crypto exchange. However, it's worth noting that many times these complaints are answered directly by Bitstamp support and that  have earned the respect of many users by giving honest replies to support tickets and working overtime as well as hiring additional staff to handle the workload in times of need. Most complaints are related to accounts being closed after deposits that were unusually large for those users. However, in all cases, it seems the users received full refunds.
User Experience
Coinbase is one of the leading digital asset exchanges and it is a great site for those who are just getting started investing in cryptos. Coinbase's user interface is well-designed, easy to use and as intuitive as PayPal or your online banking site. You can deposit USD with an ACH transfer, with a credit/debit card, wire transfer, or from your bank. Also, if you already own BTC, ETH, or LTC, you can transfer them directly to Coinbase. After users have verified their Coinbase accounts, they can either make a direct purchase of Bitcoin, Ethereum, or Litecoin or they can transfer funds to their USD wallet and buy cryptocurrency later.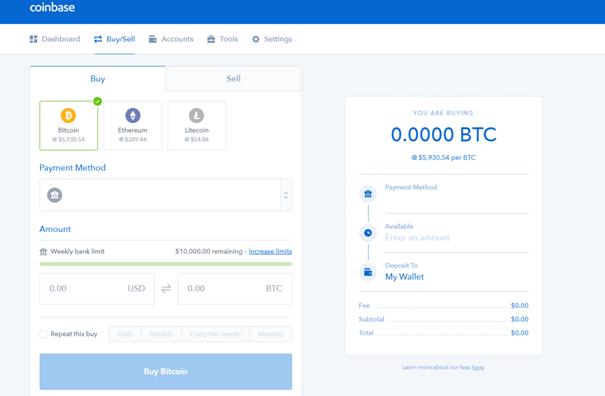 The company also offers fantastic mobile products for iOS and Android. These apps are probably the best Bitcoin exchange apps on the market today and they provide full functionality of the website-based exchange. Coinbase also operates a full cryptocurrency exchange called GDAX – a platform for trading a wide variety of digital assets and a direct exchange of Bitcoin and Ether for fiat currency. GDAX is primarily meant for professionals with high volumes because it requires you to have significant assets (>$5M in discretionary investments) to access margin trading and other advanced features.
Bitstamp is the most well-known European cryptocurrency exchange as well as one of the most reliable Bitcoin exchanges nowadays. The company was founded in 2011, which means that it is also one of the oldest crypto exchanges online. The website's interface looks simple and clean, and it's very easy to find your way around even if you are the first-time visitor. The trading screens could be somewhat intimidating and may seem pretty technical to a beginner. Bitstamp also has a great Fiat/BTC graphs and one of the best live trading view interfaces.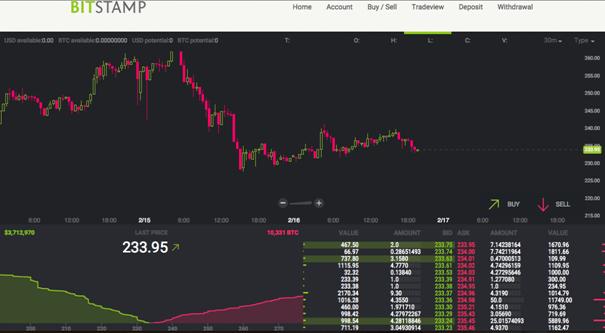 Verification at Bitstamp is more of a hassle and verification process usually takes about 2 hours, if you have all the necessary documents. . You can verify identity by submitting scanned image of your national ID, passport or driver's license together with a bank/utility statement. A PDF of your bank statement and a quick phone picture of your ID will do the trick. However, many investors aren't comfortable with the idea of sharing so much personal information with their exchange.
Public Opinion
Coinbase offers the most robust security in the entire Bitcoin exchange market and is generally considered one of the safest and most reliable crypto exchanges.  In the question "What is the most trusted crypto exchanges?" Coinbase is ranked 2nd among all exchanges.
Bitstamp is one of the most reliable cryptocurrency exchanges out there. The company received a lot of good press when it became the first nationally-licensed crypto exchange in the world. Because the EU has a "passport" program for financial services companies, therefore, with the Luxembourg license, Bitstamp will be licensed in all 28 European countries starting on July 1, 2016. Since then Bitstamp has enjoyed popularity among many Europeans cryptocurrency traders and has gained a lot of credibility as the safe option for European investors, much like Coinbase has in the United States.
Bitstamp vs Coinbase: Conclusion
Coinbase and Bitstamp are both upper-tier exchanges in the cryptocurrency world, and each of them have their pros and cons, so you need to do your homework before getting started.
If you're just starting out with Bitcoin and looking to invest small amounts, you may be more comfortable using Coinbase. On the other hand, if you're looking to invest large amount of money ($1.5K plus), then you should go with Bitstamp.
Coinbase vs Bitstamp
Coinbase Pros
Easy to use and beginner friendly
Safely stores customer funds
Has lower fees than "easy buy" competitors
Purchase cryptos faster than most exchanges
Simple and modern website
High liquidity
Regulated and trustworthy company
You can purchase cryptos with Credit Cards and Debit Cards (In addition to bank transfers)
Coinbase Cons
Has slightly higher fees than most exchanges
May track how its users spend their cryptocurrency
Puts investors before users
Prepaid credit cards are not allowed
Coinbase wallets are less secure than a wallet you control yourself
Bitstamp Pros
Fast and easy to use
Accepts Credit Cards and Bank Transfers
Good reputation
98% of coins are kept in cold storage wallets
Nice trading platform
High volume and liquidity
Bitstamp Cons
Only supports BTC/FIAT trades
Slightly higher fees if trading lower volumes
Offers few alternative coins
8% fee on credit card buys

CaptainAltcoin's writers and guest post authors may or may not have a vested interest in any of the mentioned projects and businesses. None of the content on CaptainAltcoin is investment advice nor is it a replacement for advice from a certified financial planner. The views expressed in this article are those of the author and do not necessarily reflect the official policy or position of CaptainAltcoin.com