Paxful Review – Is It Legit or a Scam Platform?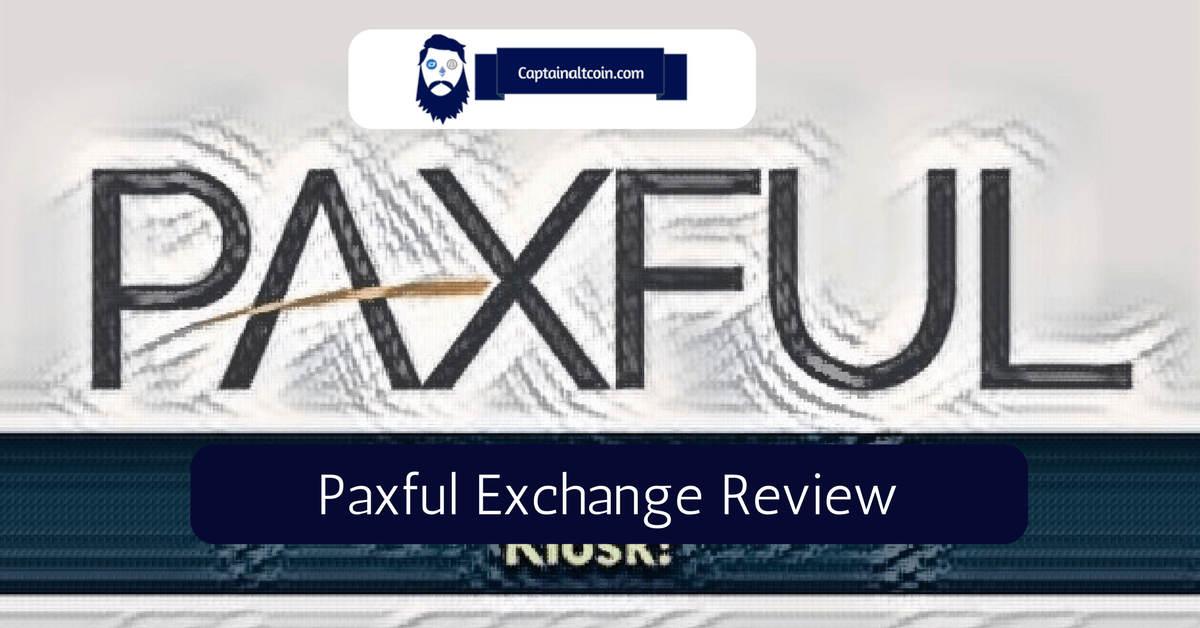 Paxful Review – Is It Legit or a Scam Platform?
A huge number of payment options
You can buy all possible coins
Today, I'm going to review the platform that supplies this kind of service – Paxful (the "Uber of Bitcoin"). It got that name because of its versatility, simplicity, and affordability.
Today, when it comes to purchasing Bitcoins you usually go to a Bitcointrading platform (e.g. Bitstamp and Kraken) or a Bitcoinexchange (e.g. Coinbase and Coinmama). However, some of these crypto exchanges just don't cut it – either because of their geo-restrictions (for example Coinbase doesn't accept people from many countries) or their accepted payment methods.
In this case, you can always use networks of Bitcoin sellers from around the world that allow almost anyone to buy Bitcoins. This network can be best described as "the eBay of purchasing Bitcoin".
The company was founded by Artur Schaback and Ray Youssef in the summer of 2015 and is based at 3422 Old Capitol Trail, Wilmington, Delaware. Paxful is a peer-to-peer Bitcoin marketplace that became widely known after they helped sex workers to accept Bitcoinas a payment system after MasterCard and Visa stopped lending their services to Backpage.
| | |
| --- | --- |
| CEO: | Ray Youssef |
| Headquarters: | New York, NY |
| Founders: | Ray Youssef, Artur Schaback |
| Founded: | 2015 |
| Customer service: | +1 (865) 272-9385 |
What is Paxful? At its core, Paxful is very similar to Localbitcoins, where anyone in the world can trade fiat for Bitcoinor vice versa. The state of New York is the only exception and jurisdiction where they cannot operate because they do not have the required BitLicense.
As I already said, the site is not focused on a specific region. However, some countries like the USA, Russia, India, Nigeria, and China are highlighted on their homepage, in the "How to buy Bitcoin in …" sections.
Paxful helps to connect buyers and sellers to easily exchange Bitcoin, accepting more than 300 variety of payment methods that include Facebook Messenger, Apple Pay, gift cards as well as more traditional methods like your debit card, online wallet, or cash.
How to setup an account on Paxful?
---
Setting up an account on the site is a very straightforward process and can be done in two ways: by filling directly the registration form available on their website, or automatically, after providing an e-mail not yet registered in their database during the checkout in a purchasing process. Users are also asked to click the confirmation link sent to the registered email and to set two security questions.
It's important to note that users can alternatively verify their mobile phone number and activate SMS notifications. They can opt for being notified of a broad range of activities related to their account via email. However, only alerts about critical movements are sent via SMS.
Notifications that are sent via email are not encrypted. They even send passwords as plain text. An automatically assigned password is given to users that register as they purchase Bitcoin. Also, they are not forced to change it after they first log in.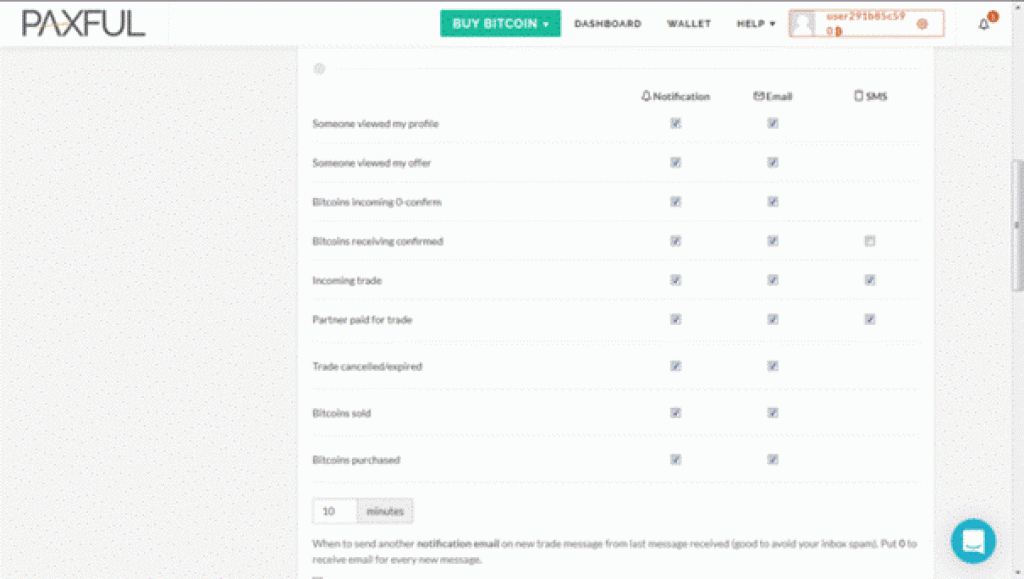 Ease of use
---
I've found the user interface to be completely intuitive and clean. It offers an intuitive distribution of the options and a minimalistic menu and adapts smoothly to any screen size.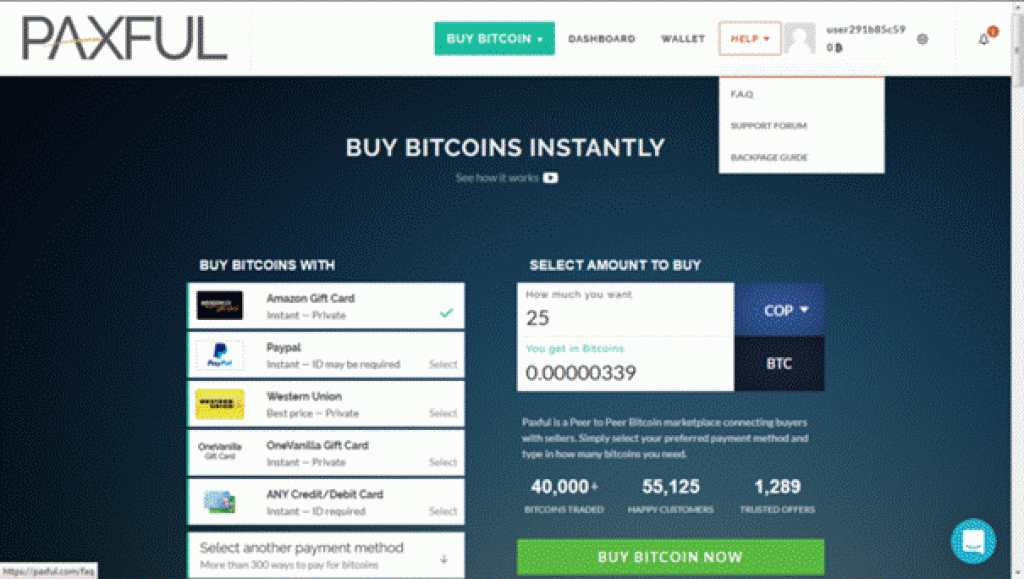 Every important feature is clearly labeled, so there's no confusion regarding how to get started, whether you want to purchase Bitcoins or sell them.
Within your account dashboard, you'll find easy-to-read buttons that'll direct you to where you need to be to set up 2-factor authentication, or buy BTC, send, or receive them.
Paxful fees
---
Paxful has a couple of peculiarities when it comes to fees. First, Bitcoin buyers on Paxful do not pay any fees at all. Instead, fees are charged to Bitcoin sellers. Second, there is no set fee charged by Paxful. Instead, the fee is determined by the seller. And then Paxful charges the seller 1% of the amount of the transaction.
It is also crucial to pay attention to the exchange rates because the fee can be very high. In fact, sellers set the exchange rates at rates higher than the centralized exchanges such as Binance and KuCoin. They use the method to recover part of the 1% charged for selling their coins on the platform.
It is also important to be on the lookout because the exchange rates could change before completing your transaction. Therefore, compare the exchange rate and ensure to only work with the seller charging a lower fee.
Payment Methods
---
Bitcoin is a digital currency, so all transactions are delivered into your Paxful e-wallet.
You can use one of more than 300 payments options to buy Bitcoin, including:
To see a full list of payment methods that sellers can choose to accept visit Paxful's website.
How does Buying Work on Paxful.com?
---
Technically, you can purchase with any currency and pay with a wide variety of methods ranging from credit cards/debit cards and bank transfers to a broad number of cash deposits and gift cards. Perhaps, in practice, there are no offers for all the possible combinations because the site works in a P2P fashion. As an example, a quick search for offers in Korean Won or Fijian Dollar yielded no results.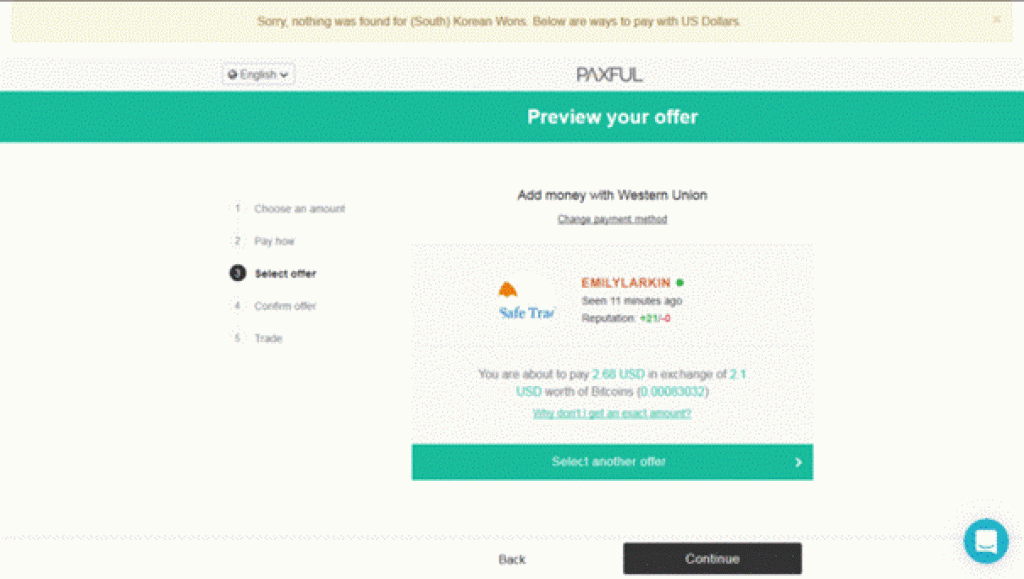 The site is open to buying with any digital currencies. However, only Bitcoin may be sold. The supposedly cool thing about Paxful is that there are no fees for the buyer. However, it's a bit naive to say that there are no transaction fees because most sellers just portray these fees inside their exchange rate. It should be taken into account that for uncommon payment methods the conversion rate is usually far lower than the market price. In other words, this means that the buyer pays a commission to the seller.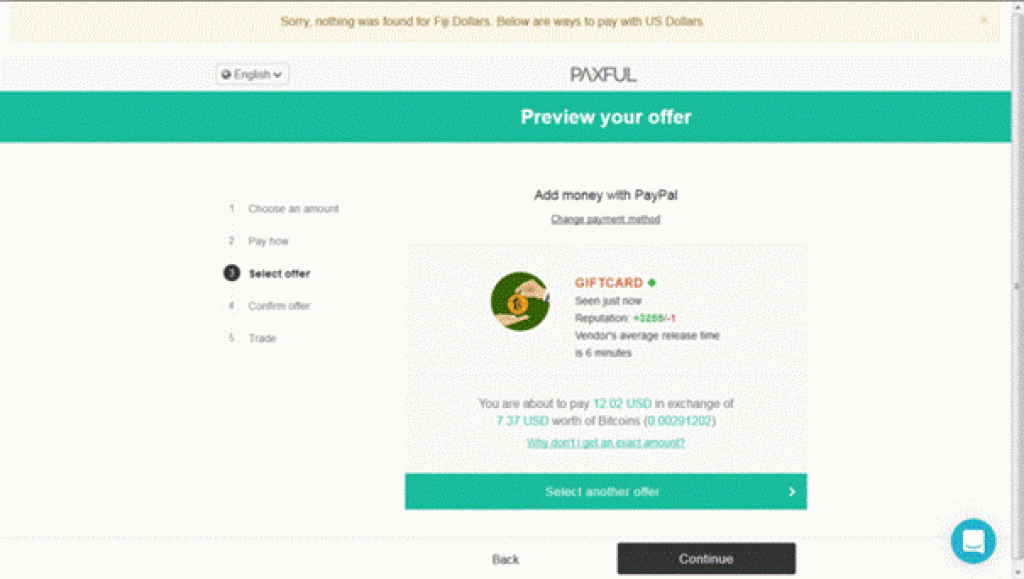 We received this generous offer because we were not able to buy with FJD: receiving barely 61% of what we would pay in USD.
How does Selling work on Paxful.com?
---
0.001 BTC is the minimum amount that Paxful allows any vendor to offer, no matter their verification level. The site takes 1% of the total sale amount from the seller, taken automatically from the user wallet, and sent into escrow along with the amount to be purchased by a client during a trade.
The site has an internal reputation system. This system allows users to rate their experience with each other during a trade. Once a particular vendor has reached 50 trades with more than 20 different partners and if he has high responsiveness and his success score is over 33%, he can apply to become a verified vendor. The feature is only available to Europeans, Australians, Canadians, and Americans. The verification process takes up to seven days. Also, the requirements have had slight changes since the platform launch. Check the corresponding entry on the Paxful knowledge base here to read more about the process.
Supported Countries
---
Paxful operates in more than 100 countries all around the world, giving you many options when it comes to currencies that you can trade for Bitcoin.
Paxful Customer service
---
There's also an ever-present "Help" section that is clearly visible, within which a relatively comprehensive FAQ is included. Additional aids for the user include a 24/7 live chat and a support forum.
The forum itself seems quite active and threads on the forum receive replies often. However, perhaps some of the answers are not as relevant as one would want.
Regarding the Paxful live chat support, a small caption indicates that replies take 10 minutes on average. However, it is not actually a live chat, you wait much longer for a representative to answer.
Paxful Escrow
---
Paxful offers a secure escrow service for Bitcoin transactions. Once you have picked out a seller you want to use and the offer is accepted by the Bitcoin seller, the coins are automatically moved into escrow.
This means that the seller can no longer cancel the trade and that the buyer has a set amount of time to make the payment. If the payment is made within the set time frame, then the coins are transferred to the buyer.
Sometimes buyers do not execute the trade within the timeframe. If this is the case, then all that happens is that the seller gets their Bitcoin returned to their wallet.
In the case the transaction is confirmed by both the buyer and the seller, then the swap is completed. Also, you should know you can open up a dispute if you feel there is something wrong and this will be looked at by Paxful, who will act as the moderator and award the bitcoin to whoever is in the right.
Is Paxful legit and safe?
---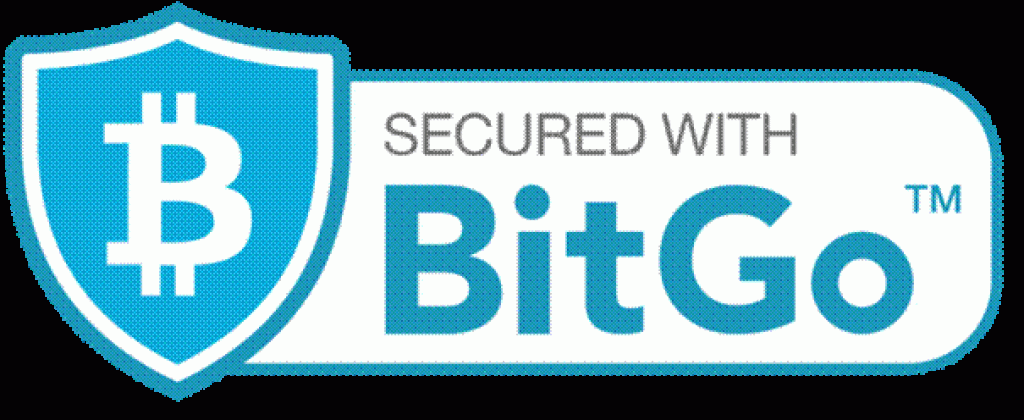 Paxful has solid security measures in place to safeguard the Bitcoins in your wallet and they also partnered with BitGo in order to secure its hot wallet by using multi-sig.
These measures, which are standard at the most reputable Bitcoinexchanges, include security questions, two-factor authentication, SMS verification, and heavily-encrypted servers.
Keep in mind that these measures aren't impenetrable and that a talented, motivated hacker can still potentially get into your account. There are no reports the site has been ever hacked. However, according to Cointelegraph, one of its founders was recently arrested on weapons and drugs charges.
The site also has a review system, which is similar to the ones used at Amazon and eBay. This system is a good way to identify trustworthy and reliable sellers because you can tell, at a glance, how many transactions a seller has completed, as well as the number of positive and negative comments left by buyers.
Paxful.com Scams?
---
The Paxful forum is full of scam accusations against other users. Someone also posted a thread on Bitcointalk, warning about the modus operandi of those scammers.
There are also some accusations on Bitcointalk against the site itself that claim funds to have disappeared from wallets with no reason given by customer support. Here is one started by the legendary users irfan_pak10, and a second one started by also legendary user kashish948, both active members of the forum. Someone suggested on one of those threads it was BitGo's fault, yet the reputation of Paxful seems to be mixed.
Paxful added a "reviews" section to their site as a strategy to improve their image. In this section, positive reviews from their own users are highlighted. The page is just another testimonial page. Its credibility is no higher than that of the company itself.
Paxful vs Localbitcoins
---
Localbitcoins is the platform that popularized this type of peer marketplace for buying crypto and it is Paxful's leading competitor. The gap between the two is narrowing as Paxful grows at a faster pace than LB.
Paxful offers a better fee structure, has more payment options, and offers a higher limit of buying for non-verified customers ($1500 vs $1000 on LBC).
LocalBitcoins charge a trading fee of 1% to users who create advertisements, in other words, makers pay a 1% trading fee. Takers do not pay any fees.
Paxful charges a 0.5-5% trading fee depending on the payment methods (0.5% for Bank transfers) to sellers. There are no fees for Buyers. However, the withdrawal fee or the fee to send BTC to external wallets is 0.00005 generally on LocalBitcoins while 0.0005 on Paxful.
Conclusion
---
Paxful became known thanks to a particular niche and has been loyal to its vision. All things considered, Paxful is quite a powerful platform and is considered to be a fair alternative for "normal people" to buy and sell Bitcoin.
PROS
A huge number of payment options
You can buy all possible coins
CONS
A lot of scammers
KYC is mandatory

CaptainAltcoin's writers and guest post authors may or may not have a vested interest in any of the mentioned projects and businesses. None of the content on CaptainAltcoin is investment advice nor is it a replacement for advice from a certified financial planner. The views expressed in this article are those of the author and do not necessarily reflect the official policy or position of CaptainAltcoin.com