FTX Review – Fees, Pros & Cons Covered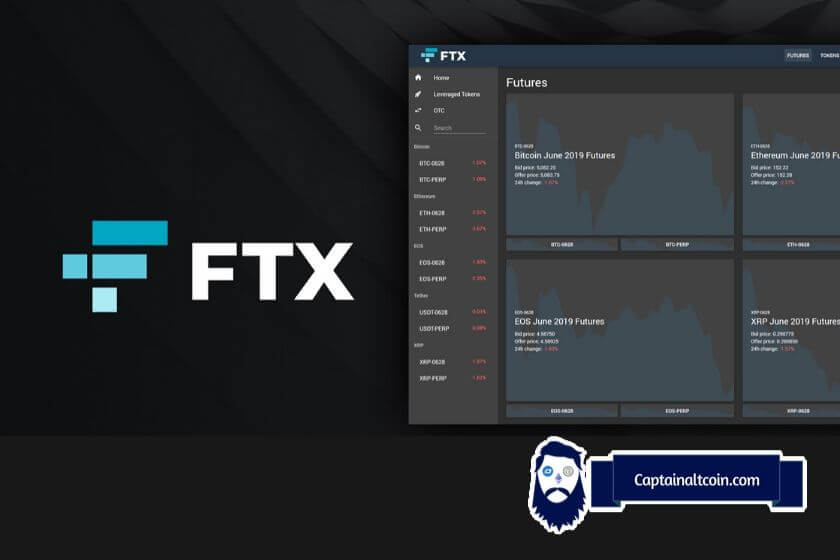 FTX Review – Fees, Pros & Cons Covered
small fees
large choice of trading options
innovative market approach
trustworthy level of security
mobile app for both Android and iOS
no reported scams or hacks
8/9/2023 Update
FTX, a major cryptocurrency exchange, filed for bankruptcy in November 2022 after losing billions in client funds. The collapse followed the failed acquisition attempt by rival Binance and investigations into potential criminal misconduct.

As of April 2023, FTX had recovered over $7.3 billion in assets as it looks to its future. The company is negotiating options for restarting its exchange and intends to file a bankruptcy restructuring plan by July, though many details remain unsettled. FTX is also fielding interest from potential buyers, but future ownership remains uncertain amid ongoing recovery efforts.
As the cryptocurrency market becomes one of the most coveted new instruments in the financial world, new trading platforms are popping up like mushrooms. FTX Cryptocurrency Derivatives Exchange is a new player in the market of cryptocurrency margin trading platforms, with some new features to offer. Through this detailed review, we will analyze the FTX pros and cons, strengths, weaknesses, fees, security, and usability of this derivatives trading platform.
| | |
| --- | --- |
| Available contracts | Futures and leveraged tokens |
| Trading Fees | 0.02% maker, 0.07% taker |
| Available coins | 15 perp. swaps, 45 leveraged tokens |
| KYC/AML | Required to withdraw $1,000+ |
| Excluded countries | USA, Crimea, Cuba |
| Customer Support | Email and Telegram. Good Help Center. |
What is FTX?
---
FTX is a cryptocurrency exchange with a focus on crypto derivatives with a catchy slogan" made by professional traders, for traders". A high leverage token and index offer separates FTX from its competition and makes this platform recognizable in the financial market. Experienced traders are especially fond of it.
FTX was established in May 2019. and is owned by FTX Trading LTD, a company incorporated in Antigua and Barbuda and operated by Alameda Research. However, FTX exchange operations are based in Hong Kong.
Being operated by a high-profile financial player gives FTX a certain level of reputation, but FTX still has a relatively small daily trading volume of $50 million, and is still far away from its direct competition, like BitMEX and Deribit. However, this is just a current state, and FTX is on an expansion route and in the future plans to be at least at the same level as them, if not bigger. thanks to the variety of options it offers
The main advantage of FTX is the fact it offers perpetual swaps for 15 digital assets, while BitMEX and Deribit offer only two. FTX also has a significant offer of tradeable indexes like the altcoin index, and leveraged offers for almost 50 assets.
FTX trading experience
---
The homepage of FTX.com looks like small chaos of piled options, and it will take some time for new users to get used to it. However, more active and advanced traders prefer this type of interface, as it is quick and has an excellent overview of all trading options.
The adjusting of the leverage is simplified by using a field for entering a margin input, and the required leverage is automatically calculated. That's a handy solution, which Deribit also uses in their interface. FTX has an option of 14 languages to choose from, as well as a day/night option of the page settings, which will be helpful to night-owl traders.
FTX KYC and Verification
---
FTX has a rule of verifying your identity in case you want to withdraw more than $1000, and that's a practice that BitMEXand Deribitdon't have. This is a minus in the eyes of those who prioritize their anonymity while it can be a huge plus for traders who put regulatory transparency above their anonymity.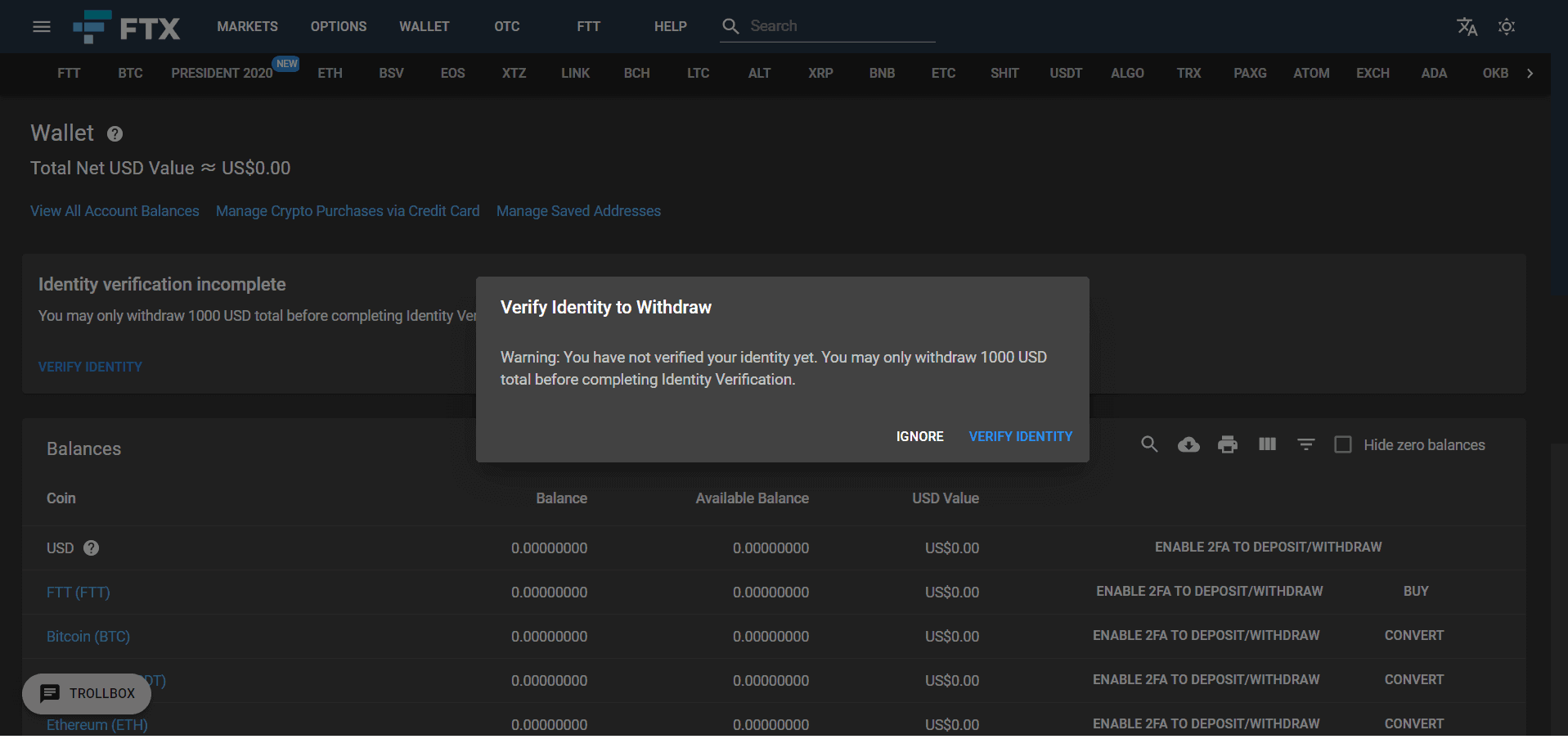 You will need to fill out a standard form to verify your identity, including your source of the funds, proof of residence, and a scan of your ID documents, like a passport or a driving license. Verifying these documents takes usually less than 12 hours and after that, you may proceed to deposit funds into your personal account, without any further restrictions.
FTX contracts and coins offered
---
FTX trading platform has one of the widest variety of trading options on the cryptocurrency market. Their crypto derivatives trading options consist of:
Perpetual futures
bitcoin options,
MOVE contracts
spot trading
leveraged tokens
OTC desk
⚡️ Futures trading
---
The "futures" menu offers a plethora of perpetual swaps. The standard offering of popular coins (BTC, BCC, ETH, BNB…) is enriched by adding rather rare and unusual products, for instance, the "Shitcoin index (SHIT)", or a US president 2020 option.
The default leverageof 10x is set on all accounts, but you can adjust it manually and slide it up to 101x leverage. Although tempting, this option is not recommended for beginners, as it basically equates to gambling.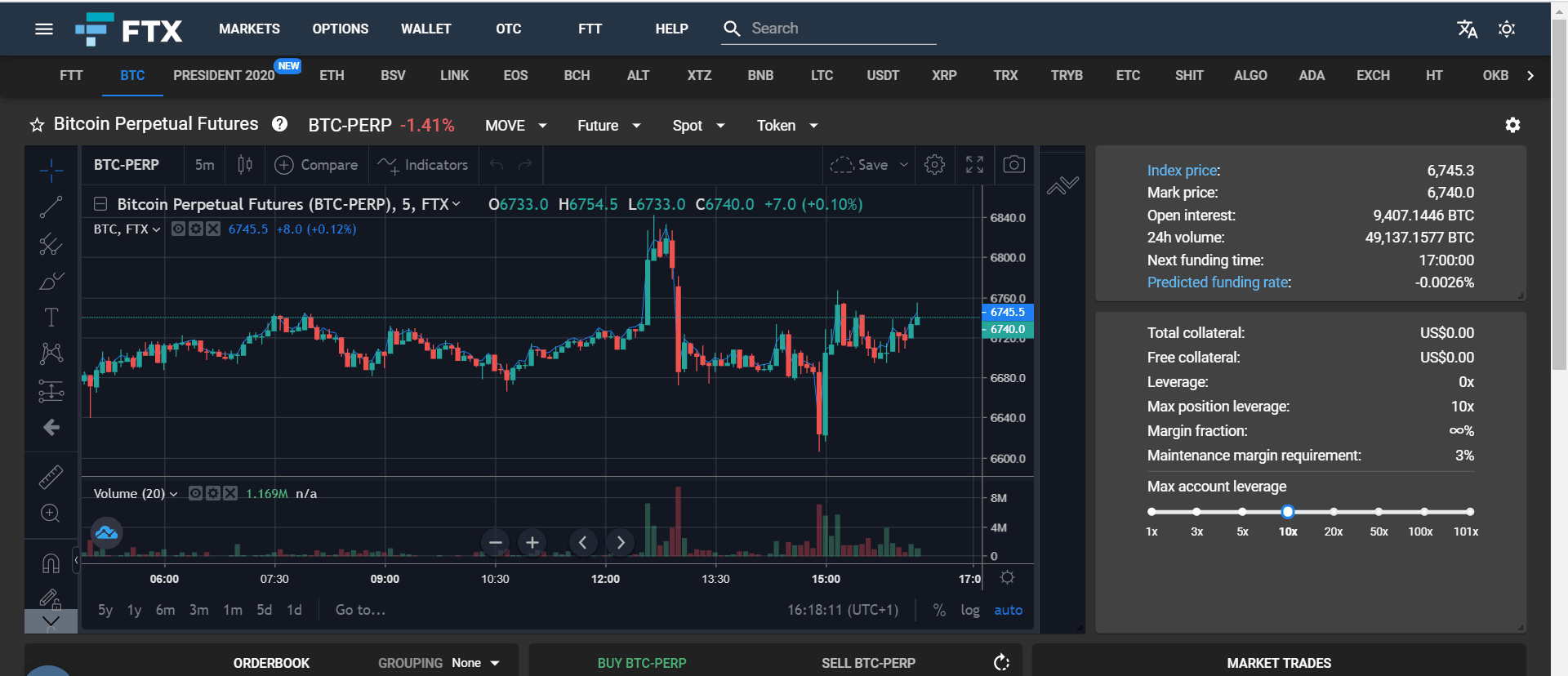 ⚡️ Options
---
FTX was one of the first cryptocurrency exchanges to offer Bitcoin options. Unlike Deribit, FTX doesn't have an option order book. FTX uses a design solution, where the user chooses the exact option to trade, call/put, the strike price, the expiration date, the quantity, and whether he is buying or selling. After choosing all the options, the user requests a quote, and after 10 seconds, the offer for his design will appear, and he can accept or decline it.
With this solution, FTX can offer highly customizable options to fit every user's preferences.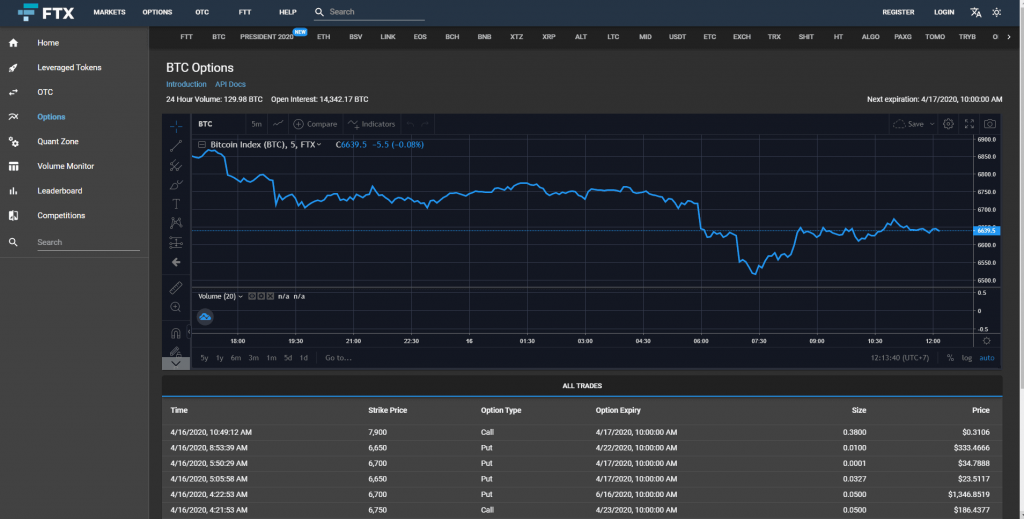 ⚡️ MOVE contracts
---
MOVE contracts are somewhat similar to futures; except instead of expiring to the price of a token, they expire to the amount its price moved. They basically represent the absolute value of the amount an asset moves in the set time interval. There are three types of MOVE contracts: daily, weekly, and quarterly. The MOVE contract value is determined by the absolute value of the BTC value moves, up or down.
⚡️ Spot trading
---
Spot trades are market-matched orders for a specific asset. The most active spot trading pairs are BTC/USDT and BTC/USD, while less popular BTMX and PAXG are in the tail position.
⚡️ Leveraged tokens
---
The "leveraged tokens" tab also offers you a wide variety of trade options, with popular options like BTC/USD and ETH/USD making a few million in daily volume. Less popular options like Cardano (ADA), BiLira (TRYb), or BitMax (BTMX) have a low to no trading volume. Leveraged tokens come in different options you can toggle on the menu, and we will use Ethereum (ETH) as an example.
ETHBEAR – 3x Short Ethereum Token
ETHBULL – 3x Long Ethereum Token
ETHHALF – 0.5x Long Ethereum Token
ETHHEDGE – 1x Short Ethereum Token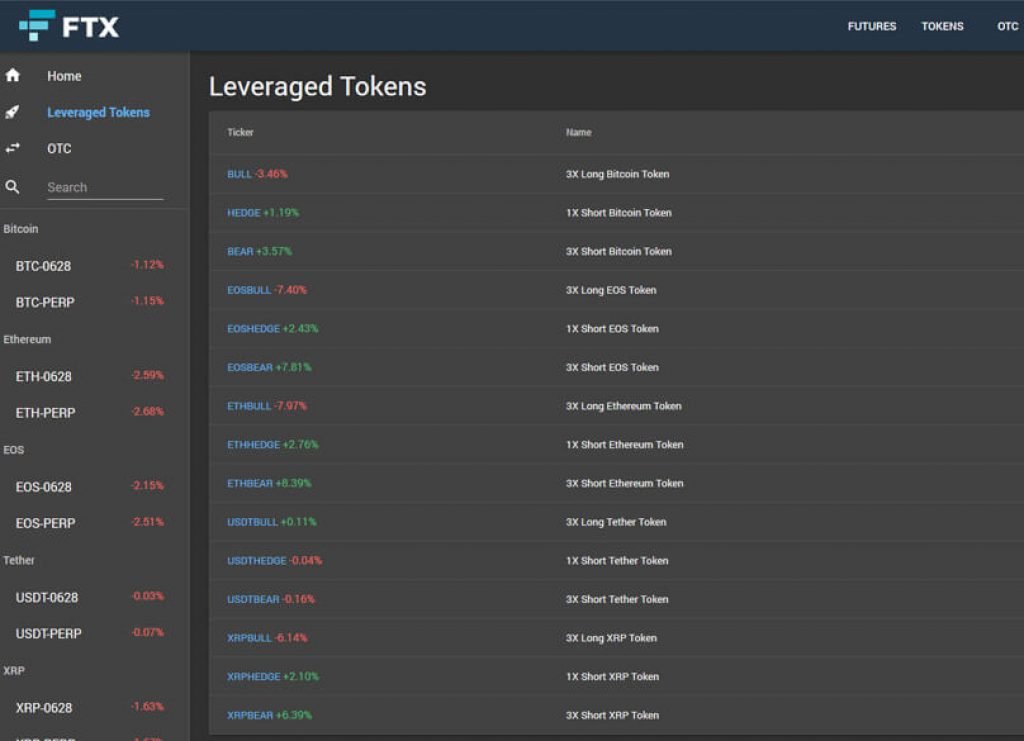 ⚡️ OTC desk market
---
The over-the-counter option takes place on the FTX portal, and you can get instant OTC quotes for most of the major coins there. You use the same account as for the FTX futures, KYC approved, and you can start using their services. FTX OTC supports transferring the funds from the FTX wallet to the FTX OTC wallet, and vice versa.
⚡️ Oil futures
---
This is a new trading option on the FTX exchange where you can trade the OIL100-0525 contract that expires at the spot price of WTI oil. In particular, a contract expiring on day X will expire to the published Cushing, OK WTI Spot Price FOB here for day X, plus 100.
FTX adds $100 to each contract in case the spot price goes negative.
FTX fees
---
FTX has no deposit or withdrawal fees, as well as no trading fees on futures settlement, OTC trading, or conversions in your wallet. Other types of fees are based on the user's 30-day volume of trade.


If you want to reduce the fees, consider purchasing the FTT coin, the exchange token of the FTX platform. The platform puts a lot of faith in the FTT coin and plans to make it the backbone of its ecosystem. You can check the discount available for the current FTT holders on this table.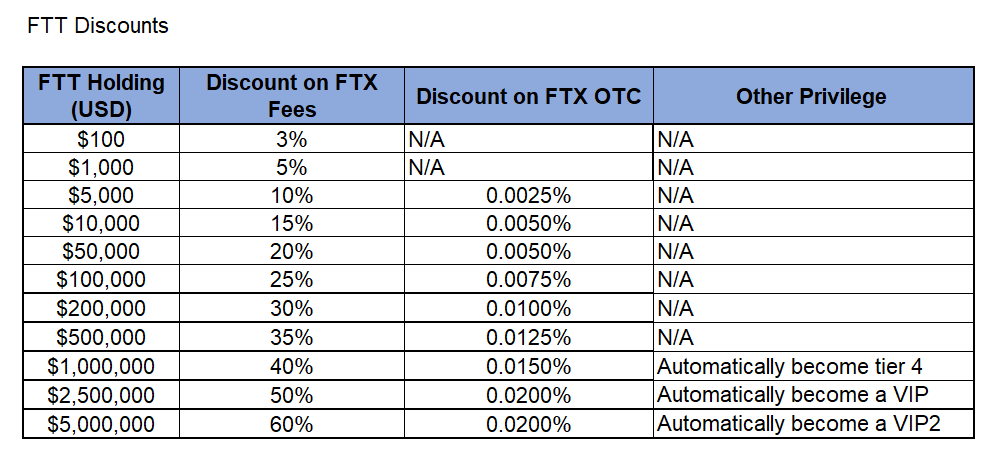 The platform takes low creation and redemption fees of 0.10%, and daily management fees of 0.03% for leveraged tokens. By using the leverage of 50x, trading fees increase by 0.02%, and leverage of 100x or higher increases the trading fees by 0.03%. The fee gap is paid to the insurance fund. The amount of the fees for MOVE contracts depends on the price of the underlying index, not the price of the MOVE contract.
FTX maker-taker fees are among the lowest in the trading industry, in the same range as Bybitor Phemex.
FTT Token
---
Purchasing the FTT token (FTX's native token) will lower these fees even more, and give you certain privileges. You can also access their VIP program for high-volume traders, and almost zero the fees.
FTX Token (FTT) is the native token of the FTX ecosystem. It is the core of FTx's incentive scheme that aims to increase network effects and demand for FTT and decrease its circulating supply.
FTT is also listed on Binance, BitMax, CoinEx, Huobi, and Bitfinex!


Quant Zone
---
This is another great feature on the FTX exchange that allows you to create custom automated trading strategies using your own insights and indicators. You can also make a product out of your strategy and earn fees when other experienced traders use it.
Is FTX trustworthy and legit?
---
Although one of the newest cryptocurrency exchanges on the crypto market, the FTX has managed to build a reputation as a safe and trustworthy place to trade. The platform supports the two-factor authentification, but sadly, no IP addresses whitelisting, and that's a downside. However, three major factors assure the stability and trustworthiness of the FTX platform.
⚡️ Alameda Research
---
The biggest credit for FTX's high level of trust goes to the fact the platform is operated by Alameda Research. The Alameda Research is an absolute authority trading firm that manages over $100 million in its digital assets and has a daily trade between $600 million and $1,5 billion.
⚡️ The FTX team
---
Sam Bankman-Fried: CEO and Founder
Gary Wang: CTO and Founder
Dan Friedberg: General Counsel
Jen Chan: CFO
Constance Wang: COO
Darren Wong: CMO
Michael Burgess: Head of Partnerships
The FTX team is composed of young and talented highly educated experts. Graduates from prestigious universities like MIT and Berkley, with large business names like Google, Facebook, Deutsche Bank, PayPal, and Credit Suisse listed in their CVs, this team looks like it can handle any market challenge. Also, they have a high level of social conscience. In the last year, the FTX platform, its affiliates, and its employees have donated over $10 million to charities and people in need.
⚡️ List of partnerships
---
The FTX platform is a partner or has collaborated with many respectable names in the cryptocurrency industry like Alameda Research, BUSD, Fenwick and West, CoinGecko, and many more. Partnership with this level of companies is a sign of high business quality and reassures the users that the FTX platform can be trusted.
FTX customer support
---
The platform has an excellent help center, with numerous FAQ articles and regularly updated blog posts. This level of dedication to the user's needs is extremely rare in the crypto world, and something they should be proud of. Also, their Telegram community (11 languages supported) and direct support communication via email is quick and helpful. The average support response is usually less than a few hours. Just remember, they are situated in Hong Kong, so the working hours are different, and that is important if you are from Europe.
Does FTS support USA users?
---
FTX does not allow US customers to use their platform because of the strict financial laws in place in the USA. This is true with most crypto exchanges. USA traders should look into unregulated platforms like BitMEX, ByBit, PrimeXBT, or PrimeBit if they want to play with leverage and margin trading. An even better solution for the USA crypto traders is to go to Kraken, a regulated and well-established financial broker that offers leveraged trading on popular cryptocurrencies.
How to start trading on the FTX
---
As we said, the interface acts a bit confusing to the new users, but the registration part is as easy as it can be. Follow these steps and make your first trade in no time.
⚡️ Sign up
---
You just need to fill out the forms for your username and password.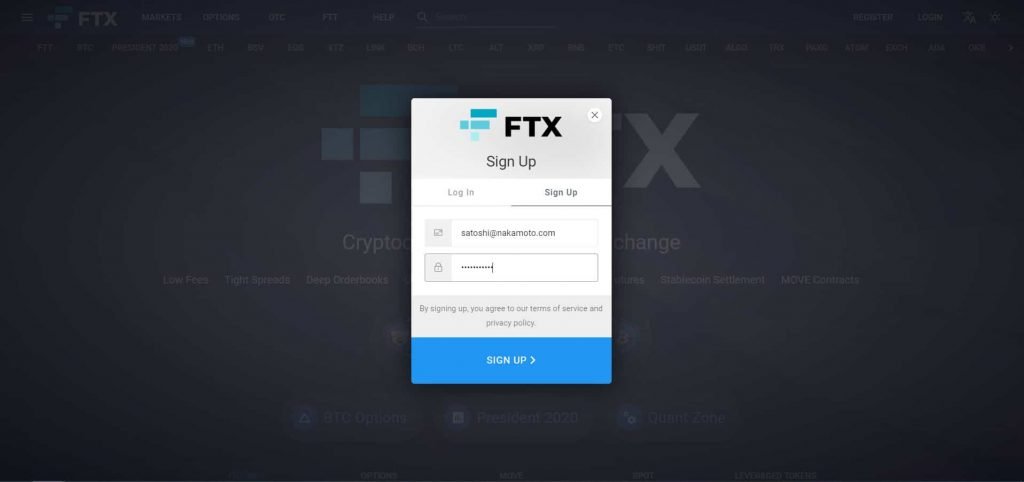 We emphasize that you should choose a unique and strong password, as well as for your other online activities. After signing up, the link will redirect you to the FTX.com homepage. For more serious users, that plan to withdraw more than $1000, a KYC verification process is required.
⚡️ FTX Deposit funds
---
FTX offers a variety of deposit options:
stablecoins (TUSD, PAX, and USDC)
Bitcoin, Bitcoin Cash, Ether, Litecoin, Tether, and all of its leveraged tokens.
fiat currencies – USD, EUR, AUD, GBP, HKD, SGD, CAD, ZAR, etc.
You can send your fiat currencies via bank wire transfer or credit cards.
This variety of choices also separates FTX from BitMEX and Deribit, as they only offer deposits in Bitcoin and Ether. To make your first deposit, click the "wallet" section, and choose your preferred currency. Click "deposit" and a pop-up window will appear, with the required address. Depending on your currency choice, sometimes it takes up to 30 minutes for a change of balance to take place.
⚡️ Start trading!
---
Choose your favorite option to trade. The options are almost endless, and the platform keeps adding new features to satisfy all the users' needs. One of the newest and quite interesting options is the crude oil future contracts.
List of prohibited countries
---
The United States of America,
Cuba
Crimea and Sevastopol
Iran
Syria
North Korea
Antigua and Barbuda.
Conclusion – FTX exchange review
---
The FTX platform has won us with innovative market solutions, as well as a variety of trading options. There are a few minor flaws to be fixed, but overall, FTX is a safe place for new and seasoned cryptocurrency traders to display their trading skills and earn money. Its surprising liquidity and constant growth make FTX one of the pretenders for the top positions on the market.
FAQs
---
FTX alternatives
---
If you are not fond of FTX, here is a list of potential crypto margin exchanges that can be good alternatives:
PROS
small fees
large choice of trading options
innovative market approach
trustworthy level of security
mobile app for both Android and iOS
no reported scams or hacks
CONS
UI is not user-friendly for new clients
USA citizens not allowed
no IP whitelist option

CaptainAltcoin's writers and guest post authors may or may not have a vested interest in any of the mentioned projects and businesses. None of the content on CaptainAltcoin is investment advice nor is it a replacement for advice from a certified financial planner. The views expressed in this article are those of the author and do not necessarily reflect the official policy or position of CaptainAltcoin.com