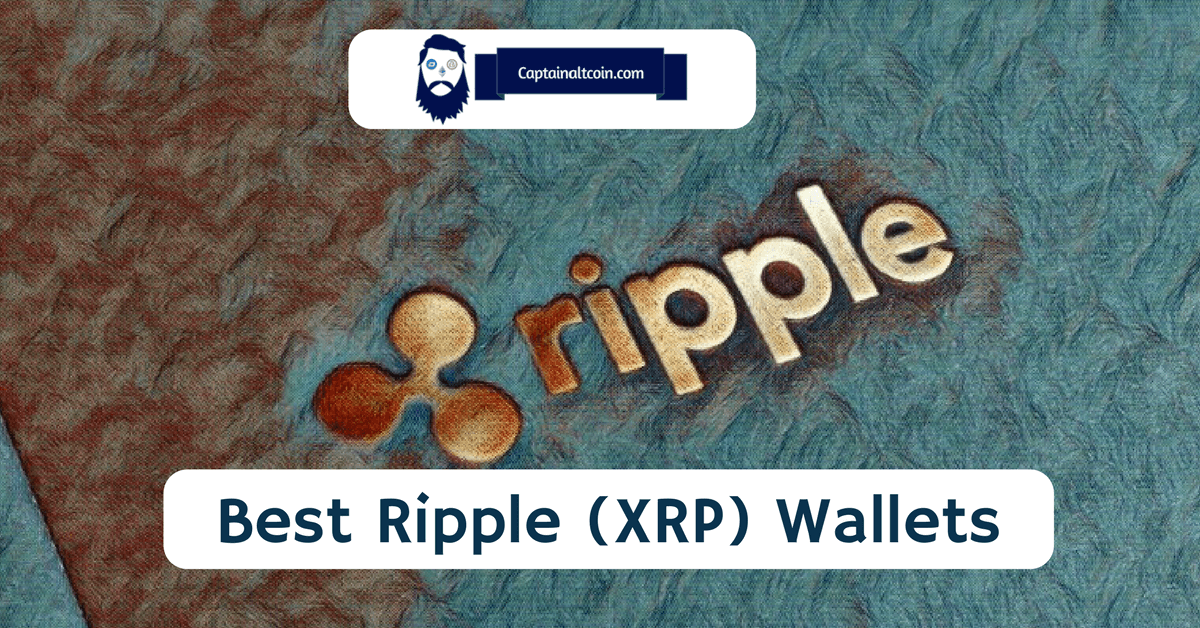 The digital currencies are getting popularity day by day, and the reason behind their popularity is the increase in the price.
Ripple (XRP) is currently the third highest cryptocurrency in the market by market cap, and even though, the price action was negative in the last two years, XRP holders still firmly believe that their tokens will "moon soon". That is why they need to check what is the best Ripple wallet they can get to safely store XRP tokens.
The Ripple coin was the first digital currency that was invented in 2004, and is known as the reasons behind all the other digital currencies. However, it went public late in 2012.
Today, Ripple is one of the best cryptocurrencies to invest in. There are many reasons behind the popularity of Ripple coin. One of them is its investors which includes Google and many other popular names. These popular names bring the trust factor in the eyes of investors for Ripple, and that's the reason why the investors who cannot afford BTCprefer to buy XRP and invest their money in this currency.
You may have a couple questions if you are planning to buy Ripple (XRP):
How to buy Ripple (XRP)?
Where to store your XRP?
This guide will help you understand everything you need to about Ripple wallets and how to choose THE best XRP wallet for your needs.
I have drilled down on the best Ripple wallets currently available in the market. These wallets are secure, safe, and trusted by other cryptocurrency enthusiasts like you.
Let's begin with how you can buy XRP.
How to buy Ripple (XRP)?
---
Here are the exchanges from which you can get Ripple :
Binance (exchange with highest liquidity, you can get XRP in exchange for other crypto coins)
CEX: If you want to instantly buy XRP with your credit/debit card, this is the best solution as of now.
Coinbase – absolute leader when it comes to fiat currencies to crypto transactions – safest option if you live in a country that is supported.
Here is our full guide on how to buy Ripple – XRP.
XRP Wallets Overview: Things To Know Before Choosing Your Ripple Wallet
---
Note: You have to be very careful when choosing a coin wallet for your digital currencies because they are not registered under the law of any country. You may lose all of your money in no time if you choose a wrong Ripple coin wallet. That's why it's very important to spend time to get an understanding of different Ripple coin wallet to protect yourself from the fraud and scam.
You need to know one important thing before I share about top wallets for XRP.
Ripple wallets require you to have 20 XRP to book your wallet address.
This means that if you add 1000 XRP to your Ripple wallet, 20 XRP will be used to book the wallet address, which is one reason you don't want to use multiple wallets for XRP (unless required).
So if you don't want to end up losing 20 XRP on various wallet addresses, you should choose the right wallet from day one.
Here is a quick rundown of best Ripple wallets, categorized by their type
Best XRP Hardware Wallets
Ledger Nano S
Ledger Nano X

CoolWallet S
Best XRP Mobile Wallets for Android & iOS
Toast Wallet
Abra Wallet
Ethos Wallet
Edge Wallet
Cryptonator
Wirex
Best XRP Wallets for desktop
9 Best Ripple Wallets
---
Ledger Nano S (Hardware wallet)
---
The Ledger Nano S is a hardware wallet that has been designed for the digital currency, and has recently added support for XRP.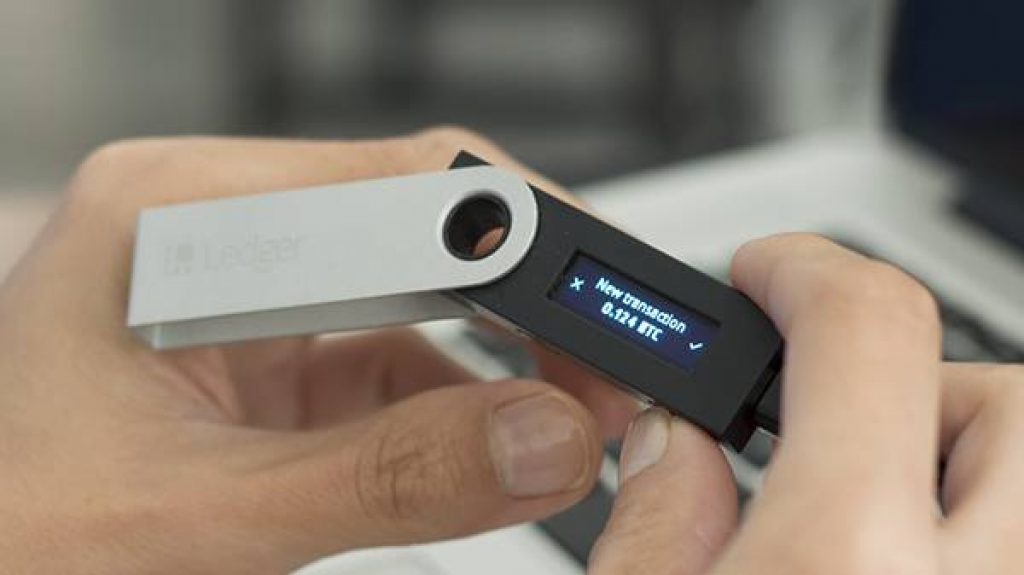 Unlike other wallets that have been developed for digital cash, this wallet actually has a physical appearance. The wallet can be touched and carried in the pocket, which means that you can have XRP coin in your pocket and the best for Ripple hardware wallet.
Being a hardware wallet, the Ledger Nano S is one of the best ways to store your cryptocurrency. It offers ease of use, great security, and you can carry it with you anywhere.
By look, this wallet looks like a USB device. However, it can store unlimited XRP in it with no limit. Simply attach it to your laptop, computer or even mobile and use your Ripple coin as you wish.
I strongly recommend Ledger Nano S because it supports many popular cryptocurrencies including: XRP, Zcash, Stratis, ETH/ETC, BTC, Dash, etc.
In the box, you will receive the wallet The Ledger Nano S, a USB cable, recovery sheet, and introduction. There are also some other accessories to make it easy for you to use the wallet.
The developers have added extra security features to the wallet to make it more secure and safe for the users. In case someone steals your wallet or you lose it, then the person can't get access to your Ripple coin without your permission. The manufacturer has added the option to make the wallet more secure, simply by allowing you to set a password.
The Ledger Nano S has the ability to automatically make the backup of your account to keep it safe for you. This means that you can easily get the access to your account if you lose your wallet or someone steals it from you.
The wallet features small built in display that will allow you to see your transaction in real time, and by this, you can confirm that the transaction really took place. The company has also added the physical button to make it feel safer for the users. Through this button you can confirm the transaction.
You can order your Ledger Nano S from the official site here. It will take 4-7 days to have it delivered to your doorstep.
Toast Wallet
---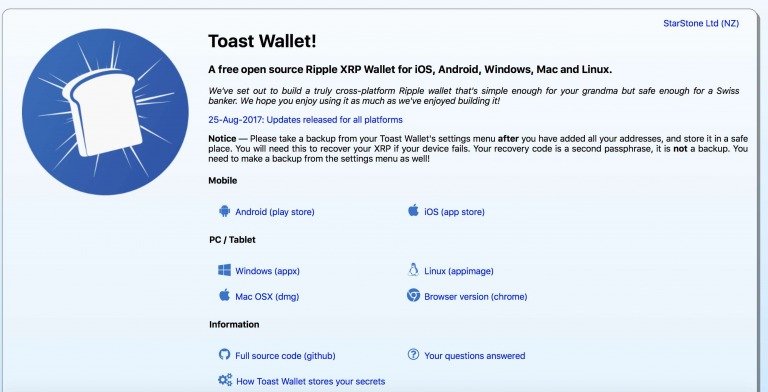 Toast Wallet is a an open-source Ripple (XRP) wallet which is free and anyone can use it to store Ripple. It has both desktop and mobile wallet versions.
Toast Wallet is one of the most popular wallets among Ripple users. It is a safe and robust wallet and we have highlighted some of the top features below:
1-Cross Platform solution
Most of the smaller wallets usually come out with a solution only for one platform and OS which is not the case with Toast Wallet. It is available to download for all wordlwide popular platforms, desktop and mobile: Windows, Android, Linux and even iOS.
This wallet is unique for its Linux OS support and it fits best with the ethos of cryptocurrencies as decentralized, open-source systems (since Linux is also open-source).
2-User-friendly
Toast obviously hired a good UI designer as it is one of the easier to use wallets out there. The users have not to go through different steps to store Ripple like in other wallets.
3-No Fees
Another advantage of Toast Wallet is that it free and fee-less wallet but you do need to have 20XRP reserve to process your transactions.
Atomic Wallet
---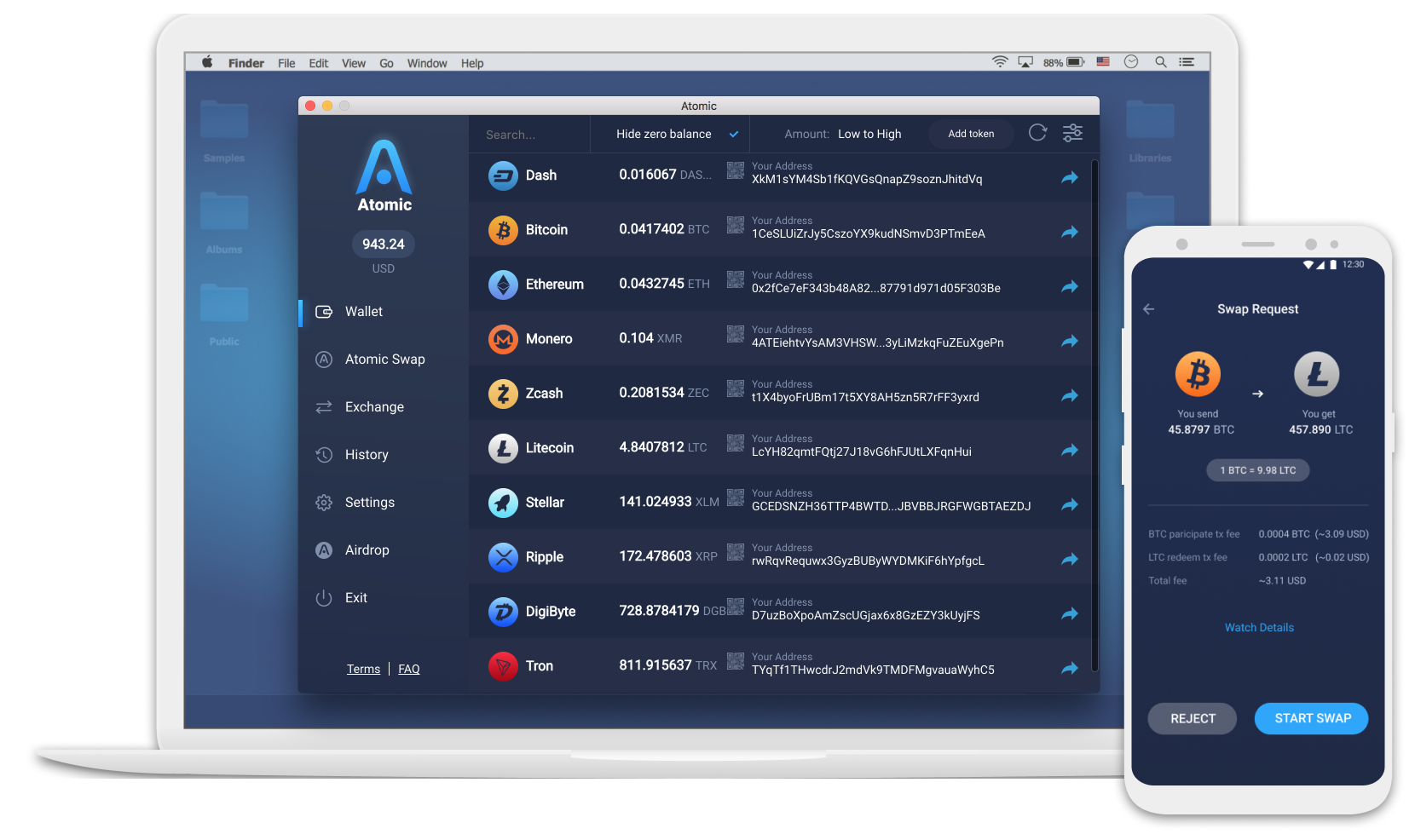 Atomic Wallet is a new multi-asset custody-free solution for secure storage and management of BTC, ETH, XLM, XRP, LTCand over 300 other coins and tokens. The crypto assets and features are regularly updated. Private keys are securely encrypted on a user's device, so one has full control over their funds.
The desktop app is available for Windows, MacOS, Ubuntu, Debian and Fedora, Android and iOS.

Atomic Walletis a secure all-in-one, non-custodial cryptocurrency storage with a smooth and comprehensive interface. The wallet supports Atomic Swaps, a cutting-edge feature that helps users significantly save on fees. Atomic wallet also enables users to buy cryptocurrency with USD and EUR and exchange their digital assets at the best rates via Changellyor ShapeShift.

CoinPayments
---

CoinPayments is a cryptocurrency payment website that allows you to store Ripple tokens and other digital currencies online in their wallet, and it works in same way as your physical bank works. The company is registered and based in Canada. It is known as one of the most authentic and legit cryptocurrency payment platforms. CointPayments is one of the fastest and largest payment networks, and today there are more than 296,000 vendors in 182 countries, who are now accepting CoinPayments as a method to accept of payment from their customers. With the help of CoinPayments, you can buy anything from anywhere or even withdraw your Ripple coins in your bank.
You will be able to use CoinPayments as a ripple wallet to store Ripple along with many popular crypto assets and upcoming altcoins (they accept more than 75 different types of altcoins) with one account. Their transaction fee is only 0.5%, and this fee is same for all types of investors. The CoinPayments does not limit you to only exchange and invest your altcoin through their network, but they also allow you to use your fiat currencies for online shopping purpose too.
The wallet service has some fee. However, there is no fee on the personal deposits on the wallet. It is 100% free. The wallet withdrawals are also 100% free until you are not using it as a method of payment while shopping online or using it for the commercial items.
Unlike other XRP wallets mentioned in this resource, you need to add the destination tag to receive XRP on coinpayments wallet.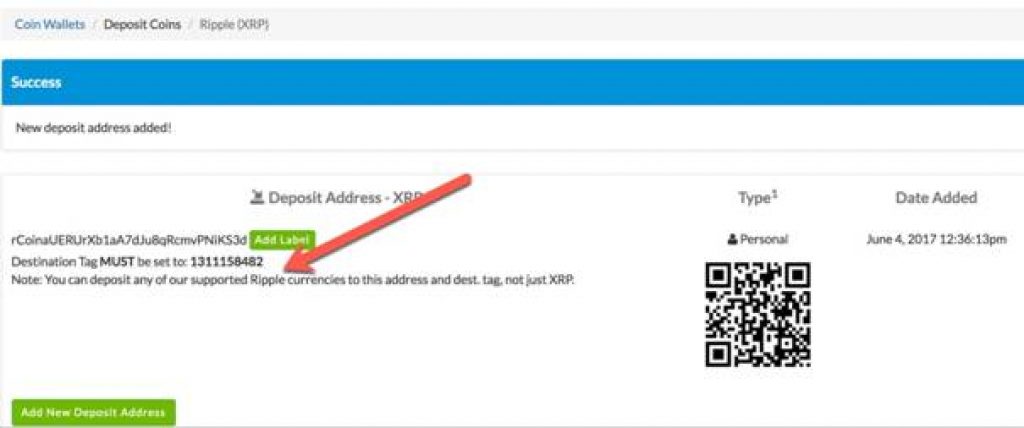 It is important to note that CoinPayments is supported by the popular altcoin security website called BitGo. BitGo is usually known for the BTC paymentsonly. However, on CoinPayments, you can use this service for any type of digital currency including Ripple Coin. This makes the process of transaction and payment very fast, and when it's fast, it means that you can invest your money instantly. Also, if you see the increase in the price, you can sell your coin.
Also, this multi sig technology provides complete protection of your funds, which means that no transaction can be made without the approval of the account owner.
For short term parking, CoinPayments is a solid solution for storing your XRP coins.
Exarpy (Web Wallet)
---
Exarpy is a newer wallet that supports storing XRP tokens. One big drawback is that the wallet is not free – it charges a fee of 0.025 XRP per transaction.
It is a fast and convenient way to handle your XRP funds but remember that this is a hot-wallet so you should not store a significant amount of Ripplein it.
Lastly, you can make as many XRP crypto wallets you want because there is no fee for making those wallets. (20 XRP deposit is a must though). Also, this is a pure web version, so you can access your wallet from any browser or any device very easily.
Cryptonator (Mobile & Web Wallet)
---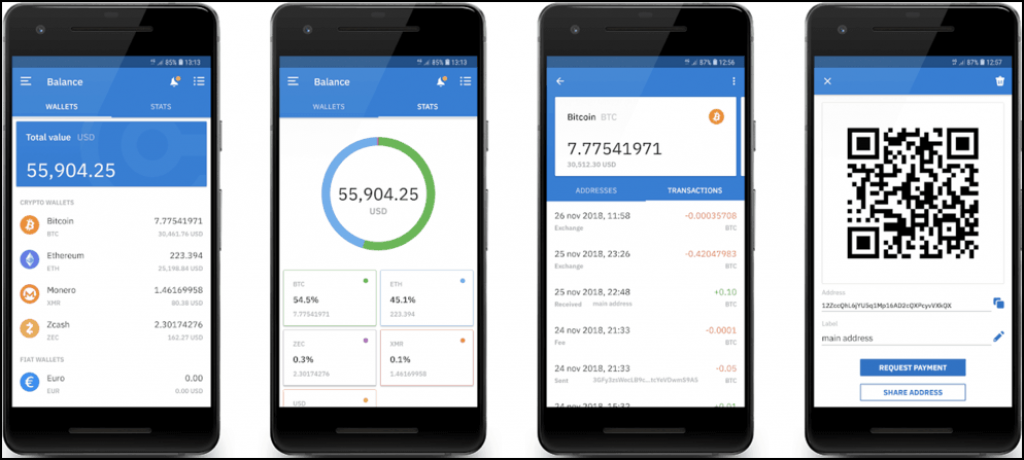 Cryptonator is a hot, custodial wallet (you are not controlling your private keys) so I would advise against using it for storing bigger amounts of XRP coins.
With Cryptonator you can store more than 10 cryptocurrencies including Ripple and you can trade Ripple for other cryptocurrencies in the app itself.
Cryptonator has an Android as well as a web app of its platform available for you.
Checkout Cryptonator Wallet Now
Wirex (Mobile & Web Wallet)
---


Wirex is actually a crypto card provider that also offers a custodial wallet solution (they control your private keys) to hold your XRP coins.
The service comes with mobile and web app and a card – by using Wirex mobile app and web apps one can securely store, receive, and send four cryptocurrencies (Bitcoin, Ethereum, Litecoin, , XRP).
The service offers couple of benefits like crypto cashbacks and is safe to use since it is a licensed by UK financial authorities.
Gatehub
---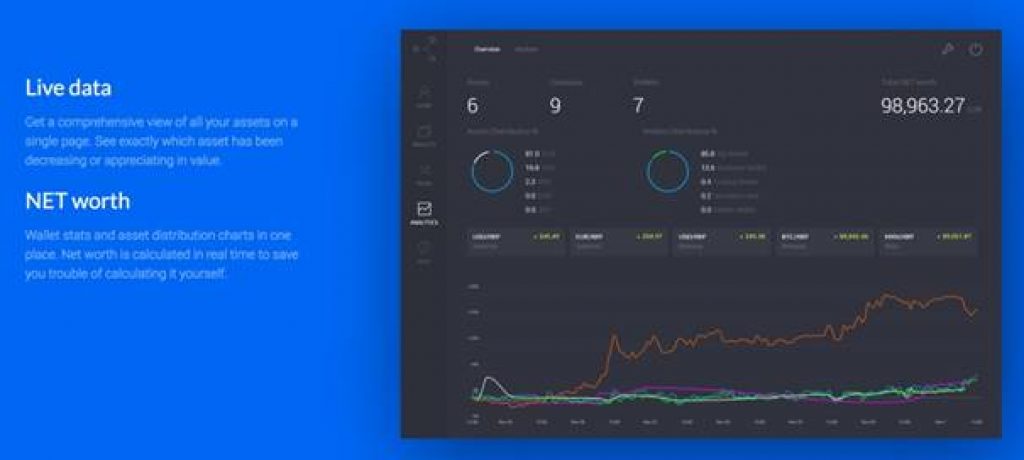 Gatehub is a popular website that deals with several popular digital currencies including XRP and BTC. Investors trust on Gatehub most because Ripple coin has mentioned it in the list of their wallet. Here is a full gatehub review.
Gatehub allows you to store XRP and as well as purchasing them using USD or Euro, and the process of depositing money and purchasing Ripple coins on Gatehub is very easy and fast. They allow their users to buy Ripple coin by paying money directly through a bank. However, unfortunately, you need to buy BTCfirst and then convert it into other digital currencies.
Read our updated guide on best cryptocurrencies to mine.
You can start by creating an account on Gatehub. The next step is to do the KYC and activate your account.
NOTE: It's very important to write down the recovery key on a piece of paper and save it in a safe place. This is the only way to recover your XRP wallet in case you ever forget your Gatehub password.
Once you have activated your account, you can deposit your funds (in Euro or USD) and buy XRP directly from Gatehub.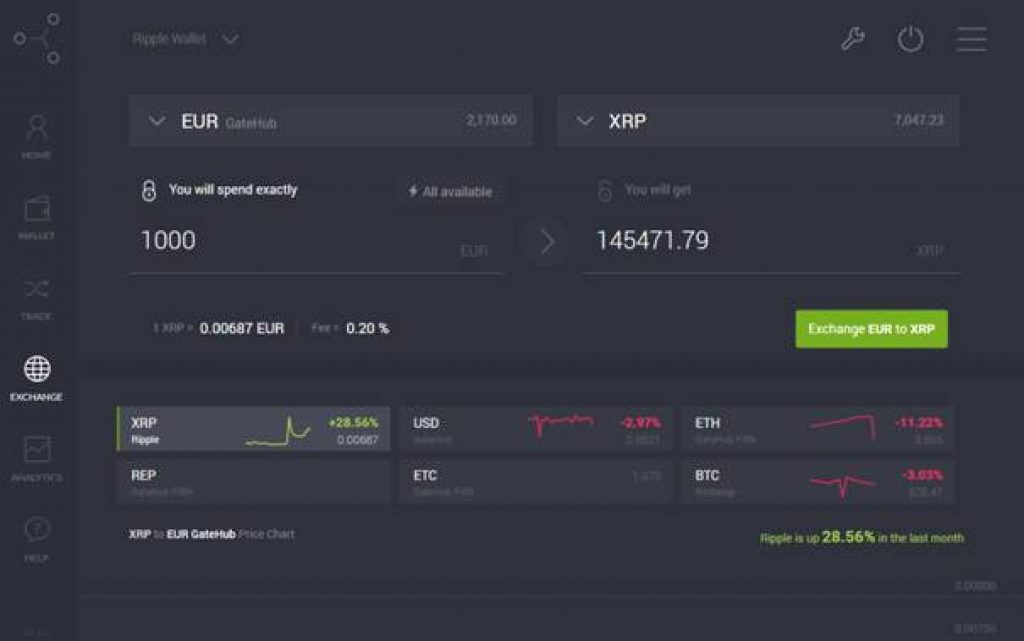 The interface is pretty neat and easy to use. You won't have any problems understanding how to use the Gatehub website. The wallet shows a complete history of the payments. It also shows the exact amount which you have used to buy Ripple coins.
The Gatehub's analytics stats show stats by graphics, which makes it easy for the users to understand and operate their wallet account. The analytics section also shows the real-time rate of XRP, USD, and other currencies, which makes it very easy for the users to invest their money on right time.
Binance
---
If you want to get XRP right now, you can get an XRP wallet using Binance.
However, you should not store your XRP for more than 1-2 days on an exchange (any exchange). The reason for that is that exchanges can shut down or go into problems at any time and put you at risk of losing your stored coins.
The platform gives users access to a robust set of trading tools, charts and security features. The exchange was created by experienced professionals in the cryptocurrency space, and the most recognizable name behind this project is that of Changpeng Zhao, former CTO at OKCoin. Read a full review of binance exchange here.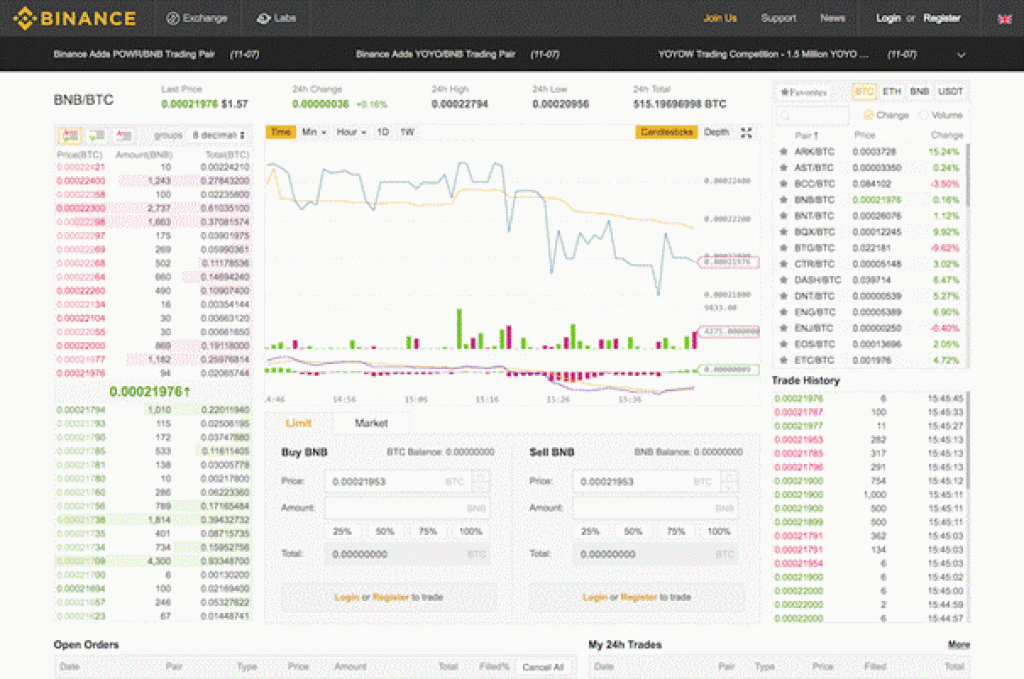 When I needed to get ahold of XRP urgently, I used Changelly to convert my bitcoinsinto XRP. I store my XRP on my Binancewallet.
These XRP can be transferred to the Ledger Nano S (or any other hardware wallet that supports XRP).
Check out Binance
Summary – Best Wallet for Ripple
---
With time, I expect more popular wallets to integrate XRP. This will make it easier for us to store Ripple.
However, for now, these are the top Ripple wallets available in the market.
I would recommend you to just order Ledger Nano S hardware wallet if you are someone who is investing in cryptocurrencies. This wallet ensures that you remain in total control of all of your coins.
---
If you are hardcore crypto-fanatic, you probably hold some of these coins as well. Here are the wallet solutions for them:

CaptainAltcoin's writers and guest post authors may or may not have a vested interest in any of the mentioned projects and businesses. None of the content on CaptainAltcoin is investment advice nor is it a replacement for advice from a certified financial planner. The views expressed in this article are those of the author and do not necessarily reflect the official policy or position of CaptainAltcoin.com