BitMart Review – Is BitMart Scam or Trustworthy?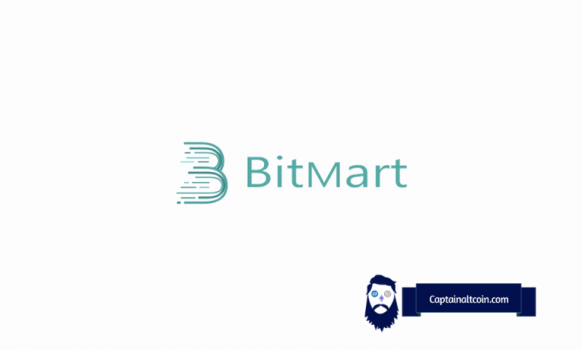 BitMart Review – Is BitMart Scam or Trustworthy?
Fast to list new small-cap coins
Offers competitive fees
Supports a wide variety of coins
Offers well-designed and intuitive interface
Supports fiat purchases
Has US MSB license
BMX Token Benefits
Are you looking for a reliable, secure exchange to trade and store your digital assets? BitMart is one of the leading exchanges in the crypto market that provides an easy, intuitive and safe experience for users worldwide.
It's important to research any exchange before investing to understand its safety measures and fees. In this article, I will provide a comprehensive review of the Bitmart exchange, deeply diving into features such as security protocols, services provided, fees, customer service, and more.
Lastly I will give my opinion on whether I believe it is worth using Bitmart exchange to store digital assets.
Intro
---
Launched in 2017, BitMart is a digital asset exchange/cryptocurrency exchange that has adopted an advanced multi-layer and multi-cluster system architecture to ensure the system's security, stability, and scalability. Sheldon Xia, a fan from New Jersey, started the exchange. It now has more than 600,000 customers in more than 180 countries and more than 123 markets.
BitMart has offices in China, South Korea, and the United States. Its main office is in the Cayman Islands. BitMart currently offers both fiat-to-crypto and crypto-to-crypto trading for coins and utility tokens only. They also expanded their spot trading offering by adding futures trading, lending, and staking.
BitMart is becoming increasingly popular as a platform for derivatives trading. With its crypto futures and margin trading options, users are given the opportunity to leverage their investments with added financial power. With BitMart's "Standard", "Advanced", and "Margin" trading services, investors can take advantage of their innovative offerings to optimize their earnings potential. 
The platform currently offers multi-coin and multilingual support now available in English, Simplified Chinese, Japanese and Vietnamese with future expansion to other major languages.
As I already said, BitMart was created by cryptocurrency enthusiasts. It officially came into existence in March 2017 when it built an international team with departments for marketing, operations, and tech. BitMart created its investment token in January 2018 and completed a global roadshow in February 2018, where it visited cities worldwide.
BitMart is a great place to find low cap gems that are yet to be listed on larger exchanges.
Is BitMart legit? BitMart officially launched its spot crypto trading platform in March 2018. A month later, the company registered with U.S. regulators and as a Money Service Business (MSB), and it is overseen by the Financial Crimes Enforcement Network (FinCEN).
How to Sign up for BitMart?
---
Signing up for BitMart is simple. To create your account, follow the steps below:
Go to BitMart official website
Click on "Get Started" on the upper right part of the page, which then redirects you to the registration window.
You can create your account by using your email address or your phone number.
If you choose email signup, enter the details such as your email I.D. and create a new password.
Click on the checkbox asking for age verification.
Click "create account".
In case of an invitation, enter the code.
You will get a verification email with a link to the registered email I.D. that validates an authentic user.
Re-enter password and code, and then you can proceed with trading.
It's important to note that BitMart Login requires an account to be certified. All new accounts can withdraw the equivalent of 2BTC per day without verification of their account. If you need more, then you can get your account verified by uploading copies of your I.D., Passport, or Driving License. Once you complete this step, you will have access to 100BTC withdrawals per day.
BitMart User Interface
---
The user interface was designed to be user-friendly and straightforward. The Exchange page shows the information to trade cryptocurrency as well as a spot to do so. The interface features all the crypto pairs on the left side, divided into categories based on whether they include BTC, ETH, or USDT.
On the right, there are the order books for buying and selling crypto, and in the middle of the page you can find the relevant information on pricing and changes. You will see the open orders, order history, and trade history tabs at the bottom of the page.

BitMart Mobile App
---
The company has been rated as user-friendly since users do not need a computer to access the platform. BitMart's platform can be accessed on mobile phones throughout its application which is comprehensive and allows you to perform all the tasks available on the web browser version. The app has excellent performance and an aesthetically pleasing design and is available to download in all operating systems such as iOS and Android.

Supported Countries
---
BitMart provides its services to users in over 180 countries worldwide, including the U.S., the U.K., South Korea, and most European countries. It's worth noting that BitMart is one of the few crypto exchanges that allow U.S. citizens interested in trading cryptos to invest in the platform.
However, some U.S. states don't let their citizens to use the platform's services, including Connecticut, Georgia, Hawaii, New Mexico, New York, and Washington. The platform is also not available in the following countries: Afghanistan, China, Congo, Cuba, Democratic People's Republic of Korea, Eritrea, Iran, Iraq, Ivory Coast, Kyrgyzstan, Lebanon, Libya, South Sudan, and Sudan.
Supported Currencies
---
As mentioned, BitMart's cryptocurrencies are divided into four markets BTC, ETH, BMX, and USDT. At the time of writing, the exchange supported 242 trading pairs and 131 cryptos, including Bitcoin Cash, Dash, 0x, Bitcoin S.V., QTUM, Litecoin, Chainlink, NEO, EOS, Tron, Zcash, and many others. In the future, the platform plans to list more coins.
To encourage its expansion, BitMart offers a form for those who want to list their coins on the platform.
BMX Token
---
The platform also has a crypto token of its own, namely the BitMart Token (BMX), based on the ERC20 standard. This token can be used on the BitMart platform in voting to get new projects listed and qualify for a discount on the trading or transaction fee charged. These native tokens of the BitMart exchange can also be used to earn trading fee dividends via BitMart's Mission X community listing market. Besides, the total supply of BMX tokens started out at 1 billion tokens, out of which 30% were allocated to the public offering, 30% to the founding team, 20% to community expenses, 10% for early adopters and 10% went to whitelisted investors.
There is also a repurchase mechanism for BMX, where the BitMart team intends on using 20% of its profits each quarter to buy back and burn BMX, until 50% of the total BMX supply is left.
BitMart Fees
---
BitMart's has a very competitive offering concerning both trading fees and withdrawal fees. The BitMart fee structure is based on a Maker/Taker model (takers are the one who takes an existing order from the order book, while makers make the orders that get taken). The fees are charged differently for "ordinary" and "professional users".
Ordinary users
Default Fee: Maker 0.2500% / Taker 0.2500%, but if you use BMXs to pay your transaction fees, a 25% discount to your trading fee will be applied.
Trading fees are determined based on trading volume over a 30-day period (in BTC) and BMX balance.
At 00:00 AM (UTC) every day, your trading volume over the past 30-day period and your current BMX balance are evaluated. Your Tier level and corresponding maker/taker fees are updated one hour later.
| Level | BMX Holding | Use BMX deduction |
| --- | --- | --- |
| LV1 | BMX ≥ 0 | Maker: 0.2500% Taker: 0.2500% |
| LV2 | BMX ≥ 5000 | Maker: 0.2250% Taker: 0.2250% |
| LV3 | BMX ≥ 100,000 | Maker: 0.2000% Taker: 0.2000% |
| LV4 | BMX ≥ 250,000 | Maker: 0.1750% Taker: 0.1750% |
| LV5 | BMX ≥ 500,000 | Maker: 0.1500% Taker: 0.1500% |
| LV6 | BMX ≥ 1,500,000 | Maker: 0.1250% Taker: 0.1250% |
| LV7 | BMX ≥ 2,500,000 | Maker: 0.1000% Taker: 0.1000% |
| LV8 | BMX ≥ 5,000,000 | Maker: 0.0750% Taker: 0.0750% |
Professional Users
Pay Fee With BMX (35% Off)
| Level | Trade Volume (30d) & BMX Holding | Fee Rate |
| --- | --- | --- |
| Pro1 | BTC ≥ 150 & BMX ≥ 500,000 | Maker: 0.0600% Taker: 0.0650% |
| Pro2 | BTC ≥ 200 & BMX ≥ 1,000,000 | Maker: 0.0550% Taker: 0.0600% |
| Pro3 | BTC ≥ 250 & BMX ≥ 2,500,000 | Maker: 0.0500% Taker: 0.0550% |
| Pro4 | BTC ≥ 500 & BMX ≥ 5,000,000 | Maker: 0.0450% Taker: 0.0500% |
| Pro5 | BTC ≥ 1000 & BMX ≥ 10,000,000 | Maker: 0.0350% Taker: 0.0400% |
| Pro6 | BTC ≥ 5000 & BMX ≥ 15,000,000 | Maker: 0.0300% Taker: 0.0350% |
| Pro7 | BTC ≥ 10,000 & BMX ≥ 20,000,000 | Maker: 0.0250% Taker: 0.0300% |
| Pro8 | BTC ≥ 15,000 & BMX ≥ 25,000,000 | Maker: 0.0200% Taker: 0.0250% |
| Pro9 | BTC ≥ 25,000 & BMX ≥ 50,000,000 | Maker: 0.0150% Taker: 0.0200% |
Deposit & withdrawal fees
The deposits made are completely free, while withdrawal fees vary depending on the coin and are regularly adjusted according to their respective blockchain network fees.
Also, those who are using BMX coin to pay for their trading fees, will be entitled to a 25% discount. One more thing worth noting is that Simplex fees are 5% per transaction or 10 USD, whichever is higher.
Types of Services That BitMart Offers
---
✅ BitMart allows for Spot Trading, which is the most common type of trading on the exchange. The platform chooses superior blockchain digital crypto assets in this type of trading.
✅ Users of BitMart can also perform futures trading, OTC trading, and fiat gateway at one stop. Future contract trading is provided via individual asset types. However, there is an intermediary service platform for C2C and B2B trading modes for individuals and businesses, making it possible for users to complete transactions that span multiple platforms within a single click.
✅ The platform also offers "perpetual swaps", which refer to a kind of derivative that is similar to traditional futures trading contracts and can provide high leverage. BitMart Staking is another type of trading. It was released in Feb 2020 and it is the process of holding funds in a cryptocurrency wallet to support the operations of a blockchain network. Holders are rewarded for merely depositing and holding coins on the platform, while users will receive staking rewards without any staking fees involved. The only BHD, ALGO, DASH, ATOM & QTUM staking is currently allowed on the platform.
BitMart will also connect major trading platforms worldwide, allowing for borderless transactions, which will allow users to complete transactions that span multiple platforms within a single click.
✅ On January 24th, 2020, BitMart has released a new financial product called "BitMart Lending", a financial product based on digital assets. Each project has its investment term and yield, and it is entirely up to users to engage in this investment. The crypto assets and interest will be unlocked and distributed into users' BitMart account on the redemption date.
✅ BitMart exchange also plans to expand their service or product offering to include OTC trading, decentralized trading as well as whole-network trading, which will help traditional businesses to obtain digital capitalization.
✅ You can also stake a dozen of PoS coins via BitMart without paying any fees to BitMart.
BitMart Deposits and Payment Methods
---
Buying cryptos on the BitMart crypto exchange is relatively simple. BitMart now accepts fiat payments along with cryptocurrency, which means that, to get started using the exchange, you will need to send some crypto to the exchange via their deposits page or make a purchase using the available fiat options.
When it comes to depositing options, BitMart offers users a variety of ways to fund their accounts. You can use your credit or debit card or Apple Pay, or even bank and wire transfers. Plus, you can take advantage of third-party partners such as Legend Trading (which accepts ACH bank account transfers), MoonPay (accepts debit cards/credit cards)! and Simplex (accepts debit cards/credit cards/Apple Pay).
Bank and wire transfers are also supported, but only for BTC and ETH, while Mimos, Alipay, and UniPAY are only available for USDT. MoonPay, credit card, and Apple Pay are available only for BTC, ETH, BCH, LTC, EOS, and XRP purchases, while Paxful, WeChat, Alipay, PayPal, and Gift card purchases are only available for Bitcoin.
To make a deposit, send any of the coins or tokens which are available to trade on the exchange, choose your currency and click the "Deposit" button to generate an address to send to.
BitMart Lending & Crypto Interest Up To 40%
BitMart has jumped on the crypto lending wagon to offer crypto-backed loans and high-interest savings accounts to earn interest on digital assets which are extremely popular and profitable for crypto holders. BitMart lending offers up to whopping 40% annualized interest rates on digital assets and stablecoins such as USDC.

The lending program offered by BitMart offers several lending options available such as 15, 30, 90, 180, and 365 days to lock in and accrue interest, regardless of how the cryptocurrency market performs.
The annualized interest rate of 35% on popular assets such as Bitcoin, USDT, and Ethereum is much higher than reputable crypto lending platforms such as BlockFi and Celsius.
BitMart Staking to Earn Rewards
BitMart has launched a staking service to earn rewards on cryptocurrencies such as DASH, QTUM, EUM, BHD, and ALGO. Similar to lending digital assets to receive high-interest benefits, staking coins such as ALGO offers an estimated yield of 15% per year. It is important to note the BitMart staking rewards are calculated daily and distributed monthly, so the estimated earnings can vary.
While we are at it, here is a list of other top places where you can stake your coins.
BitMart Customer Support
---
BitMart can only be reached via email support@bitmart.com. The team can be reached every hour of the day, and on their website, they mention that they will get back within 3 days of dropping the mail. There is also a detailed FAQ section with most of the common questions about trading and account use.
This is the warning we mention in our title:
BitMart is one of the many crypto exchanges that sprung up in 2017 and it stacked quite a few fraud allegations during this time. We are not saying that you should blindly trust people yelling scam at the slightest problem they encounter with a crypto service, but we STRONGLY ADVISE against putting any significant amount of money on this type of exchanges (relatively new, semi-anonymous founders, off-shore based with no clear regulative status).

On the other side, they are known to be very quick in listing low-cap coins before they are known to the wider crypto audience. This makes Bitmart a must-have tool in the toolset of gem hunters and full-time crypto guys.
BitMart Security Features – Is BitMart Safe?
---
BitMart holds less than 0.5% of user assets in a hot wallet for daily trading operations. In order to prevent losses from external hacks, the rest of 99% of user assets is kept in offline cold wallets, which require multiple signatures from a number of high-level members.
Accounts feature 2FA authentication, which is one of the best ways users can secure their accounts. 2FA is a mechanism that connects your account to your mobile phone via an app, and manual verification of each log-in is required from that point onwards.
Also, as a measure of security, passwords are stored in a converted form through a process known as hashing, which helps to secure passwords because a hash cannot be decrypted back to its original form. Also, all of the users' personal information, including I.D. numbers, names, and identity document scans, is encrypted and securely stored.
The company also claims to have implemented many other security features, including protection against DDOS attacks, automatic backup of the database, and SSL-secured (https) protection. One more thing worth noting is that In May 2018, the company announced that they had registered BitMart Exchange as a Money Service Business (MSB) under the Financial Crimes Enforcement Network (FinCEN), which signifies that the platform is ready to embrace the most stringent regulations.
Conclusion of BitMart Exchange Review
---
BitMart is among the newest cryptocurrency exchanges on the market, but has a user-friendly and straightforward trading view and is regulated to operate in the U.S. This crypto exchange features a competitive fee range for its trading services and supports various coins and fiat purchases. The platform is available across all devices and can be accessed via your web browser, mobile browser, Android, iOS, Mac OS, or P.C., which makes it useful to everyone around the world.
Overall, BitMart is very easy to use and its platform is intuitive to use and well laid out. The BMX token is a welcome addition and the fact that the company behind BitMart has officially registered as a Money Service Business (MSB) with U.S. regulators, is another proof of the legitimacy of the business behind the exchange.
FAQs
---
BitMart Alternatives
---
If you are not fond of BitMart reviews, here is a list of potential crypto exchanges that can be good alternatives:
Useful Links
PROS
Fast to list new small-cap coins
Offers competitive fees
Supports a wide variety of coins
Offers well-designed and intuitive interface
Supports fiat purchases
Has US MSB license
BMX Token Benefits
CONS
Relatively new platform
Sporadic allegations of fraud and funds locking

CaptainAltcoin's writers and guest post authors may or may not have a vested interest in any of the mentioned projects and businesses. None of the content on CaptainAltcoin is investment advice nor is it a replacement for advice from a certified financial planner. The views expressed in this article are those of the author and do not necessarily reflect the official policy or position of CaptainAltcoin.com