Nicehash Review – Is NiceHash Legit & Safe To Use? Is It Still Profitable?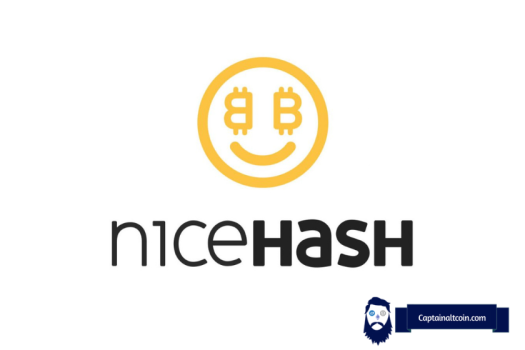 Nicehash Review – Is NiceHash Legit & Safe To Use? Is It Still Profitable?
Zero restrictions on defining the size of hashrate acquired by NiceHash users
The platform supports various popular hashing algorithms from other avenues such as QuickMiner
Users can use the NiceHash wallet to store cryptocurrencies in cold storage
Designed to be easily used
Low fees
Even though trading cryptocurrencies is currently one of the most popular activities in the community to make a profit, there are a huge number of enthusiasts who find mining much more interesting.
However, finding the right place to mine can be a gruesome process, especially if you are a beginner. While cloud mining might seem like a reasonable solution, you should know that it is mostly provided by private companies.
Wouldn't it be much better if you could buy and sell computing power instead?
Well, with NiceHash, you can do exactly that.
NiceHash is one of the world's leading and most popular crypto mining platforms and it is known for its variety of advanced features and competitively low fees. With almost a decade of experience, NiceHash has built quite a name for itself in the crypto community, and no one can deny that it deserves the recognition.
In this article, we will explain what NiceHash is, and how it works, go over its different features, talk about its fee structure, and answer some of the most popular questions regarding the platform.
What Is NiceHash?
---
NiceHash is a Slovenian-based platform that provides trading, mining, crypto exchange, and hashing power services.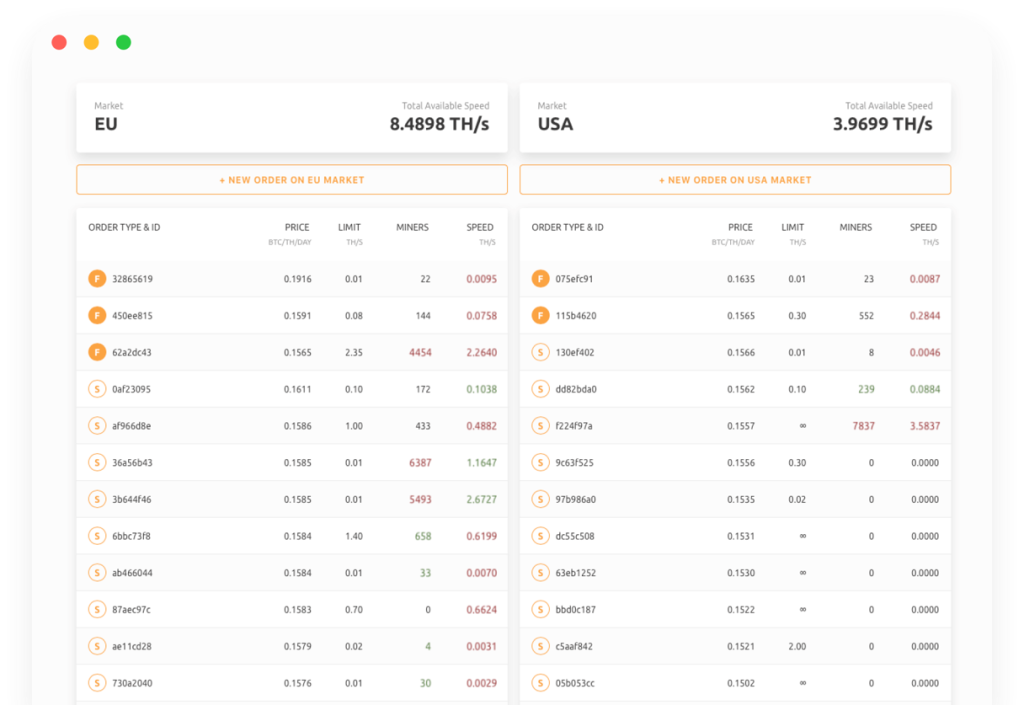 It is one of the leading companies when it comes to crypto hash power due to the very competitive hash rates. NiceHash has more than 300,000 active users, over 3.5 million received orders, and more than 180,000 Bitcoins paid out.
Founded in 2004, NiceHash is also one of the first companies that introduced hash power brokerage, and unlike the usual cloud mining platforms that are operated by private enterprises, NiceHash is an open shop.
This means that anyone can utilize its software to transform their computer into a mining rig, without having to go through any sorts of identity checks.
One of the main advantages of NiceHash is that it enables unique and practical crypto mining to users. This is because it integrates robust mining software that can generate a desired hash rate to acquire cryptocurrencies. The software itself uses the advanced algorithms developed by NiceHash.
Through the use of computing and graphical processing power, users can mine Bitcoin quickly and efficiently. Additionally, the crypto exchange services are also pretty great. The platform supports more than 50 cryptos and allows traders to exchange coins and FIAT currencies for crypto.
The vast majority of NiceHash's servers are located in Europe and the United States. However, due to legal reasons, citizens living in the US, Pakistan, and China still can't use the platform.
Lastly, each registered user on NiceHash receives a secure BitGo wallet that they can use for Bitcoin deposits.
TL;DR
---
Here is a quick summary of NiceHash's main pain points:
NiceHash is a Slovenian-based company founded in 2014.
The platform offers trading, mining, and crypto exchange services.
It is the market leader when it comes to hash power brokerage.
Some of its most notable features include low fees and cutting-edge mining software.
US, Pakistan, and China citizens can't join the platform.
The platform supports 50+ cryptocurrencies.
NiceHash operates as an open shop.
How Does NiceHash Work?
---
The main goal of NiceHash is to provide enough hash power to the users, which ultimately helps them acquire more profits through crypto mining. Users can take advantage of the advanced algorithms to solve blockchain calculation problems.
By mining BTC, ETH, and other cryptos, traders can save up a lot of money and influence the overall cryptocurrency circulation system. In essence, NiceHash allows users to become active nodes in one of the available blockchains.
Additionally, the platform operates similarly to cloud mining software. Users can build a backbone network for mining by using the cloud mining functions of the platform.
Something that sets NiceHash apart from other platforms is that it primarily focuses on mining instead of trading. The vast majority of the crypto transactions that take place on the platform are from hash power and computing power.
One of the long-term goals of NiceHash is to create an advanced mining pool for crypto markets.
Nicehash profitability – Is Nicehash worth it?
---
The cloud mining model isn't very popular in the "hardcore" mining/crypto community. Regular miners don't like it because it's competition and there have been cases in the past where malicious individuals bought hash power from these markets and performed 51% attacks on smaller PoW coins.
There's the notion that mining through pools and cloud mining services helps centralize the networks of PoW coins (which were originally intended to stay decentralized). This is a real problem that mining/crypto communities will need to deal with eventually. Also, companies that provide cloud mining services today are either plain scams or work through a somewhat predatory business model which earns you, the hash power seller/buyer, significantly less money than the "mine with your own hardware" model would have.
Ultimately your relationship with cloud mining will depend on your stance on decentralization and how casually you want to approach the whole mining process. If you prefer a more hands-on, decentralized approach and have the required funds, you can purchase your own equipment and learn the ropes yourself. Owning the hardware has its advantages; first of all, you get to keep everything you mine.
Additionally, if for some reason you don't want to mine anymore, you can sell the equipment for what will likely be a small loss and recoup most of your initial investment. Chances are you'll end up with more than you entered the mining game with. The downside is that you need a much higher initial capital to start mining and you will definitely need to worry about running costs of electricity and hardware maintenance.
More casual miners might consider using cloud mining services as they are well suited for people who don't want to deal with the downsides of regular mining. With NiceHash, you (NiceHash Miner) can either rent out your hardware for certain compensation or purchase hashing power and direct it at a profitable coin of your preference for mining gains.
Ultimately this means that you, the buyer, can start mining cryptocurrency with little initial investment; all you need is to purchase a contract and set up a Bitcoin wallet. It also means that you, the seller, can contribute to the mining process in a space dominated by ASICs and mining pools.
Besides the downsides we named above, you need to keep in mind that you are dealing with an unregulated international market when buying hash power on NiceHash or any similar marketplace; if something goes wrong, your funds are as good as gone. Namely, we refer to the hack NiceHash suffered in 2017 which saw $62 million worth of coins disappear from the website. As such, be sure to carefully weigh out the risk/reward factors that come with each cloud mining platform before you purchase a contract from it (coin price, mining difficulty, contract price, contract time, platform reputation, etc).
NiceHash Features
---
Now that you know what NiceHash is and how it works, it's time we take a look at some of the platform's most notable features.
Live Marketplace
---
The live marketplace feature is where traders can connect with one another, specifically hashing power buyers and hashing power sellers.
Firstly, the buyers choose which crypto they want to mine, the pool in which they will mine it, and then set the price that they are willing to pay.
Once the order is finalized, it's forwarded to all the NiceHash users that are currently selling mining power.
Sellers provide computing power to the buyers and later get paid for the service.
NiceHash OS – NHOS
---
NiceHash OS (NHOS) is an operating system that is installed through a USB flash and it's fueled by computer memory.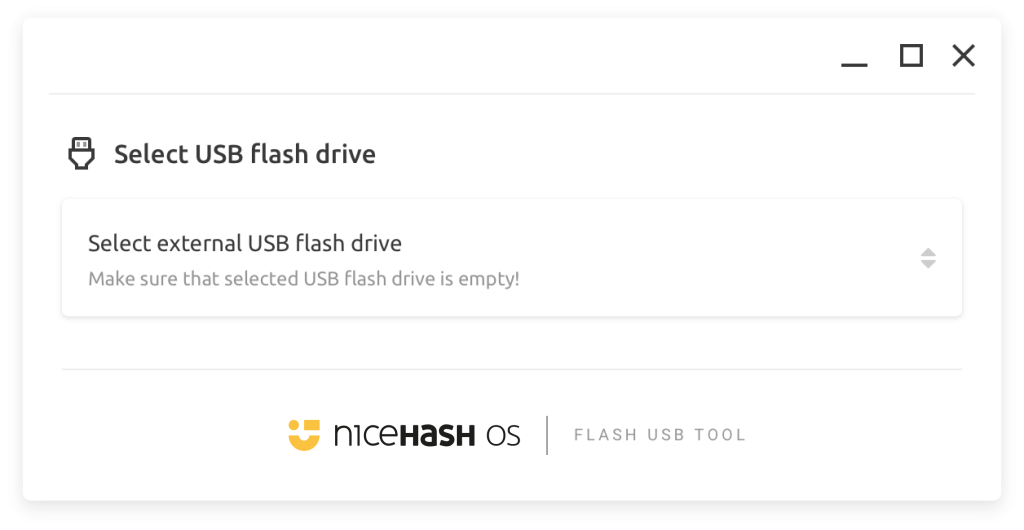 Once you install it, you will gain access to all the tools and drivers you need to fully set up the mining machine. Using NiceHash OS is recommended in case you have a dedicated mining rig or if you want to run larger crypto mining operations.
NiceHash OS is completely free and users can install an infinite amount of mining rigs.
Hashing Power for Buyers
---
NiceHash, software mining features, allow users to buy various cryptos such as Bitcoin, Ethereum, etc.
The mining software builds a pool that consists of minors that can manage and execute the various operations. They can set a fixed price for their coins and then pay for it by creating different orders.
Machines that are operated by miners can help users buy their desired cryptos. This feature allows buyers to obtain their wanted crypto at a lower price by paying a small percentage to NiceHash for its services.
To put it simply, managing the advanced hash algorithms and mining functions is much simpler if you use NiceHash's mining software.
Hashing Power for Miners
---
Becoming a professional crypto miner on NiceHash is fairly simple compared to other platforms.
The hash power from NiceHash's mining operations can help with solving the Miner software tasks efficiently and at a quicker pace. It's also extremely easy to connect mining hardware with the software by using the feature. Users with 'average' PCs can develop backbone networks to help manage NiceHash's stratum servers.
Also, users that fulfill different buying orders can use the hashing power to generate a higher income.
ASIC Mining
---
NiceHash also has ASIC machines that you can use for crypto mining; they integrate much stronger mining hardware that can enhance the users' ROI (return on investment).
ASIC miners are computerized devices that utilize ASICs for mining Bitcoin and other cryptocurrencies. In most cases, ASICs are optimized for computing only one function.
Cloud Mining
---
Another notable feature of NiceHash is Cloud mining.
Cloud mining allows you to calculate your mining profit and it helps you achieve your desired daily payouts. It's considered an 'easy pay' feature. You can use the feature to acquire free mining contracts and receive rewards for conducting various cloud mining operations.
NiceHash uses cloud mining to generate higher revenue through enhanced mining hardware.
Contract-less Crypto Trading
---
Contract-free crypto trading is one of the features that appeal most to users. This is because they can be a lot more flexible when trading since there are no smart contracts involved.
Traders can operate freely without having to oblige to any type of contract limits. Also, because there are no contracts, users avoid facing any inherent flaws that might show up in them.
If the smart contracts aren't designed and coded properly, hackers can exploit them and steal the trader's crypto assets.
Mining Pool
---
The mining pool is one of the things that allow NiceHash to operate the way it does.
It consists of both professional and beginner crypto miners, and thanks to their help, the pool can generate the hashing power needed for mining. Also, due to the mining pool features, users can receive a collective hash rate, which is much higher compared to an individual hash rate.
Every user that is in the pool can benefit from the rewards and additional revenue streams. Plus, the reward distribution is transparent and fair for all the included members.
CPU/GPU Mining
---
GPU mining is one of the most recent features released on NiceHash and it includes using GPU cards to solve complicated math problems. Additionally, users can take advantage of graphic cards to verify electronic payments.
This feature is still not that common on crypto exchanges, which is why many traders opt for NiceHash. They can create digital coins only through the processing power of their graphic card.
No matter how powerful the GPU is, it can help with the math problems and provide an enhanced output for the platform's crypto mining process.
In case you have a high-quality GPU, you can perform repetitive works instantly, diversify mining functions, and even multi-task for better results.
NiceHash Lightning Network
---
The primary goal of NiceHash's lightning network is to solve Bitcoin's scalability issues.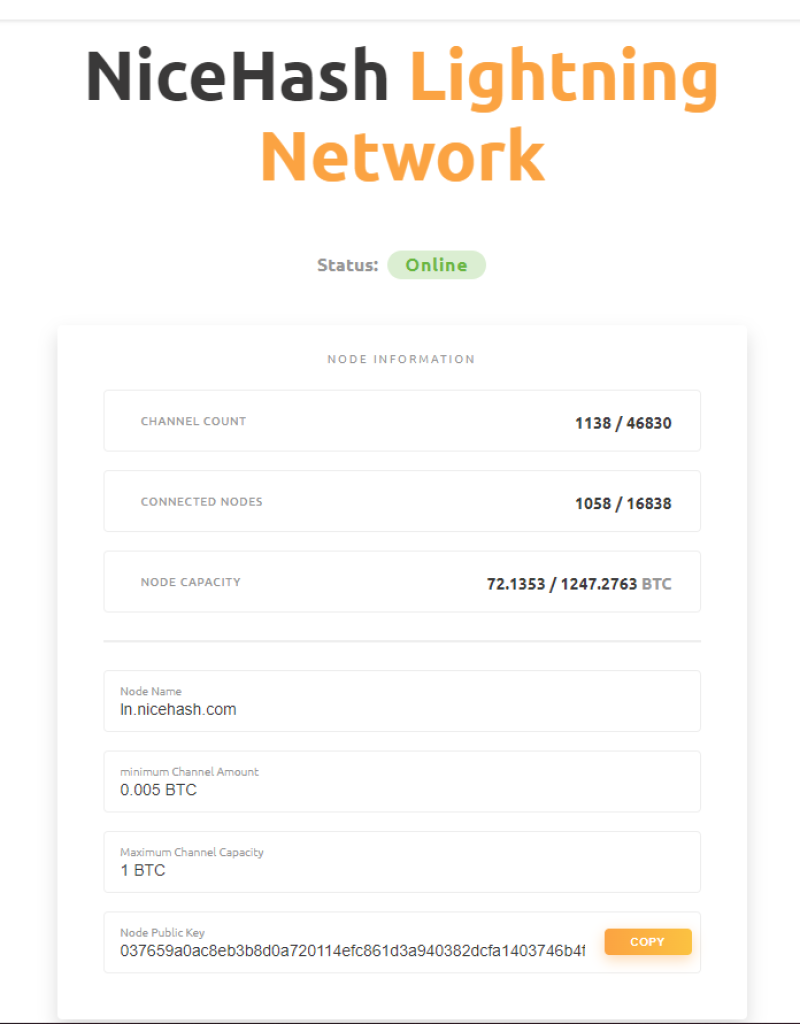 To put it simply, the lightning network operates as a second-layer protocol on the Bitcoin blockchain and it provides users with quicker transactions and lower trading fees.
Also, it allows users to build smart contracts and make transactions instantly. Transactions that take place within the contract are executed outside of the blockchain.
NiceHash Accepted Payment Methods
---
NiceHash supports a variety of different payment methods, including credit/debit cards, wire transfers, e-wallets, and crypto payments.
According to online reviews, credit card payments are the slowest and they come with the highest fees, while wire transfers and e-wallets work are considered the best for fiat currency payments. Depending on which payment method you choose, the fees will significantly vary.
The payment method that is considered the safest is through crypto wallets like TREZOR or Exodus.
How to Withdraw From NiceHash
---
One of the big upsides of NiceHash is that there aren't any hidden fees included.
Withdrawals are automatic and occur each time a user reaches the set payment threshold. Earned funds can be transferred via any crypto exchange and you can later withdraw them to your card.
If you want to make a manual withdrawal to a specific address, you should go to 'My Wallet' and click on 'Withdraw'.
Type in how much you want to withdraw in the form and provide the appropriate address.
Next, click on the 'Review Withdraw' button to make sure everything is correct.
What Can You Mine on NiceHash?
---
On NiceHash, you can mine coins via GPU, CPU, and ASIC. Each of these machines supports different coins and algorithms.
There are currently more than 100 coins that users can mine, including some of the most popular ones like Bitcoin, Ethereum, Litecoin, Dogecoin, Raven, Monero, etc.
What Algorithms Are Supported on Nicehash?
---
NiceHash supports more than 30 algorithms, including some of the popular ones like Scrypt, SHA-256, X11, X13, and Keccak.
The platform publishes historic data for all of these algorithms, which helps users figure out their average profitability in a daily, weekly, or monthly time frame.
What Pools Work Good with NiceHash?
---
Some of the most compatible pools are:
Supported Countries
---
NiceHash supports almost all countries, with Europe being its main target. European citizens don't face any type of restriction when using NiceHash.
However, there are some countries that still can't use the platform due to legal issues. These include Afghanistan, Botswana, Cambodia, Iran, Ghana, Panama, Pakistan, Syria, Zimbabwe, Vanuatu, Yemen, Uganda, and the USA.
NiceHash Security
---
The security measures on NiceHash are considered to be very high-quality.
There is a two-factor authentication (2FA) process that provides traders with an extra security layer, which is also extremely helpful in case someone tries to 'force' their way into your account.
Withdrawing funds is also very safe and the NiceHash wallet is widely known as one of the most reliable wallets in the industry. When making a new order on the app, the platform uses SMS authentication.
Additionally, everything from the wallet and title to the web page and content is secured with SSL encryption. However, you should be aware that in December 2017 NiceHash was attacked by hackers and they lost around $64 million in cryptocurrencies.
Since then, the developers have introduced lots of new security measures to prevent the incident from reoccurring. Compared to other crypto platforms, NiceHash is considered extremely safe and reliable.
NiceHash Mobile App
---
The NiceHash mobile app can be downloaded for free on both Android and iOS devices.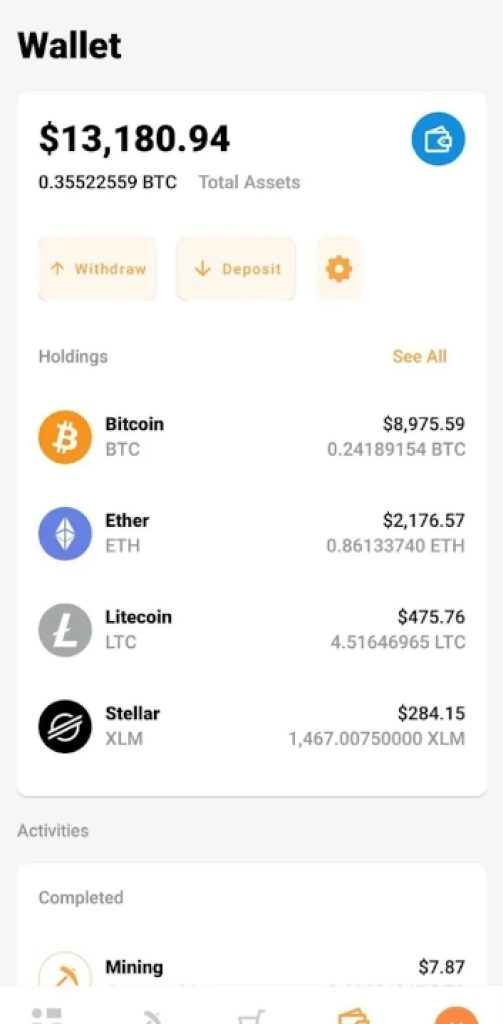 You can use the app to better manage your wallet, but you can't make any crypto trades through it or use the smartphone's hardware for mining. Also, the app provides users with access to Rig Manager.
Hash power buyers can use the app for making new orders, canceling them, and checking out their activity history. While the app is definitely useful, it is rated 3.5 stars on Google Play, which means that there is lots of room for improvement.
NiceHash Payouts
---
NiceHash pays all of its miners in Bitcoin.
Miners receive Bitcoin each time the algorithm recognizes they made a valid share. If you've made 0.0001 BTC, NiceHash schedules payouts every 4 hours.
They can also stop mining anytime they want and the platform will make sure that all the valid payouts are made. NiceHash doesn't include any long-term contracts, instead, miners simply agree to participate.
The Bitcoin you earn from mining can be traded and withdrawn in all the standard ways.
Is NiceHash Regulated?
---
NiceHash is registered as a corporate entity under the name NiceHash Ltd and it is licensed under the laws of the British Virgin Islands.
Because of this license, NiceHash can collect, use, and protect the personal information of all of its users. The company is regulated by the European Union Commission, which is one of the most notable regulatory institutions in Europe.
Since it was founded in 2014, NiceHash already has years of experience in the crypto mining industry and there is no doubt that it is completely safe to join. Also, NiceHash's algorithm is regulated by EU crypto institutions as well and it is deemed legit.
Read also:
NiceHash Fees
---
Depending on your usage, you will face different fees on the platform. While they are fairly similar to other crypto exchanges, you should know exactly what you will be charged.
Let's break them down.
NiceHash Mining Fees
---
The mining fees on the platform look like this:
Mining fee – 2%
Buyer's order creation fee – 0.00001 Bitcoin
Buyer's order completion fee – 3% of the spend amount
Instead of charging a pool fee, NiceHash charges 2% for each mining payout. Additionally, the developers of the mining software will also charge you in most cases, unless you use the NiceHash Excavator in the QuickMiner interface.
NiceHash Wallet Fees
---
For external wallet payouts, the fee stands at 3%.
Maintaining an internal wallet doesn't come with any additional fees, which makes them a much better solution than external wallets. To receive external weekly payouts, users have to earn 0.001 BTC at a minimum. They pay the standard service fee of 2% to this amount, plus an extra 3% because they are using the external method.
NiceHash Withdrawal Fees
---
Depending on the currency you want to withdraw, the fees are going to be different.
The minimum withdrawal amount is 10 EUR (for Euro balances).
For Bitcoin withdrawals, NiceHash charges 0.00000369 BTC, depending on blockchain conditions. This applies to the 0.001 BTC minimum we talked about. However, if you use Coinbase, the withdrawal is free for 0.0005 BTC transactions. In the NiceHash Lightning Network, the minimum is 0.0001 BTC and the withdrawal is also free.
To check out the complete withdrawal fee list, you should head over to NiceHash's official website.
NiceHash Deposit Fees
---
Deposit fees are charged for each currency in case users don't meet the required minimum for free deposits.
For Bitcoin deposits between 0.00001 and 0.0005, the platform charges 0.00001 BTC. This means that you shouldn't deposit any less than 0.00001 BTC since the fee will leave you with nothing.
Euro deposits are free at a minimum of 1 EUR.
NiceHash Exchange Fees
---
The exchange fee structure is pretty simple and it is based on the user's lifetime activity on the platform.
At a lifetime trade value of 1,000, both the maker and taker fee is 0.5%. As your lifetime trade value grows, the fees get lower.
NiceHash Alternatives
---
While NiceHash is undoubtedly one of the best crypto exchanges for hash power, that doesn't mean that you can't find some suitable alternatives for it.
Some of the most famous ones are MinerGate and Kryptex.
MinerGate is a crypto mining service that was launched in 2014. Currently, users can mine Bitcoin Gold, Ethereum, Monero, ZCash, and Ethereum Classic on it. Notably, MinerGate is one of the first-ever platforms to offer combined mining services, which means you can mine various currencies at the same time and not lose the hash rate.
Kryptex was launched in 2016 and it also works as a crypto mining platform. To join Kryptex, users need at least a 64-bit Windows computer. Currently, Kryptex supports 7 currencies for mining, including Monero, Expanse, Beam, Ravencoin, Grin, Ethereum, and Ethereum Classic.
Both of these platforms provide users with a simple way to mine cryptos and organize the process efficiently.
Kryptex is a bit 'minimalistic' and it doesn't include many advanced features, while MinerGate is regarded as the better alternative with both low fees and a variety of services.
FAQs
---
PROS
Zero restrictions on defining the size of hashrate acquired by NiceHash users
The platform supports various popular hashing algorithms from other avenues such as QuickMiner
Users can use the NiceHash wallet to store cryptocurrencies in cold storage
Designed to be easily used
Low fees
CONS
Alternative payment methods are slow and charged with high commissions
Remote mining with NiceHash is not suitable for long-term crypto investments
Trading services are limited to users who select BTC-only payment methods

CaptainAltcoin's writers and guest post authors may or may not have a vested interest in any of the mentioned projects and businesses. None of the content on CaptainAltcoin is investment advice nor is it a replacement for advice from a certified financial planner. The views expressed in this article are those of the author and do not necessarily reflect the official policy or position of CaptainAltcoin.com