Nicehash Review – How To Use Nicehash and Is It Profitable?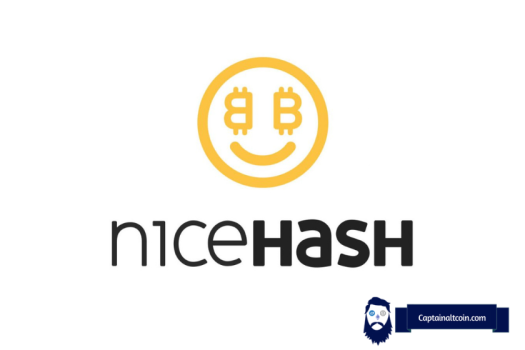 Nicehash Review – How To Use Nicehash and Is It Profitable?
Zero restrictions on defining the size of hashrate acquired by NiceHash users
The platform supports various popular hashing algorithms from other avenues such as QuickMiner
Users can use the NiceHash wallet to store cryptocurrencies in cold storage
Designed to be easily used
Low fees
Mining cryptocurrency is a risky but potentially very profitable endeavor. Downloading mining operations software for a certain up-and-coming coin can pay off big time in the long run; early Bitcoin miners who got into it while the difficulty/price was at early 2010's levels are the best witnesses for that.
Those people ended up quite happy with their decision to make the effort and learn how to set up a mining node and start "wasting" electricity and computer equipment on validating Bitcoin transactions. We see similar stories today to a lesser extent with various other altcoins whose early adopters/miners can still sometimes score healthy returns on what they invest in the mining process.
However, there is a significant subsection of crypto enthusiasts who would like to "get in on the mining action" without going through the hassle of purchasing multiple high-end GPU mining rigs and learning how to set up/operate them. Some of these people might even consider becoming proper miners if the beginner learning curves weren't as steep as they currently are.
Such individuals are often routed towards cloud mining marketplaces, spaces that let you employ what little scarce knowledge/resources you have and actually start mining cryptocurrency with them. One such marketplace, which we'll be taking a closer look at today, is called NiceHash.
How does Nicehash work?
---
NiceHash is an online crypto-mining marketplace that connects sellers and buyers of computer hashing power. Buyers want to rent out hashing power from this marketplace and use it to mine a certain cryptocurrency. Sellers are the individuals we described in the intro, people looking to provide their computer's hashing power through the marketplace in exchange for compensation.
The entire economy of this marketplace is "powered" by Bitcoin, with buyers using it to purchase the hashing power and sellers getting compensated in Bitcoin for their resources. This is an important thing to understand; you don't get paid in cryptocurrency you decide to mine/your hardware is pointed towards but in Bitcoin.
The project was funded in 2014 and is currently owned by its creators Marko Kobal and Matjaz Skorjanc. The service NiceHash provides is cloud-based, which basically means that the company allows you to rent mining power in exchange for a fixed fee and a share of the revenue you'll make while mining. This way you can mine remotely, without having to buy the expensive hardware or master the complicated nuances of mining yourself.
This trade of hashing power is done through mining contracts: a buyer will select the cryptocurrency he wants to mine, set the price they want to pay for the seller's hash power and place an order on a cloud mining market. The order will then be fulfilled (if there is interest in it) by the hash power sellers.
Sellers (aka miners) can run the NiceHash Miner software or connect their mining hardware (ASICs) or just regular PCs to NiceHash stratum servers and fulfill the buyer's order. As payment, the buyer will get the Bitcoin counter-value of the cryptocurrency he wanted to mine and the seller will be compensated in Bitcoin for each valid contribution he made to the mining process. The graph below explains how this process works on NiceHash.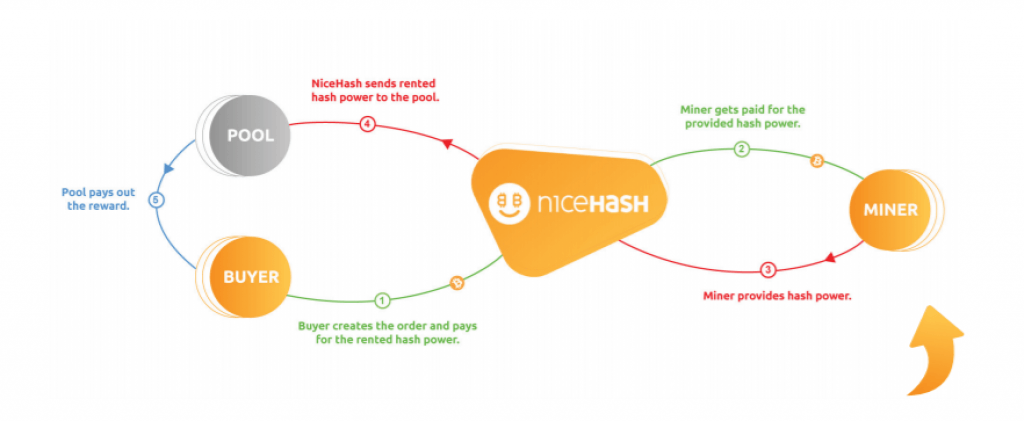 There is a total of 34 mining algorithms supported by the service, including SHA-256 (Bitcoin's algorithm), DaggerHashimoto, Sia, CryptoNight, Blake, Equihash, and Scrypt, Keccak, Lyra2RE and 2REv2, X11, X13, X15, and others.
The number of mining pools that can be mined on is also significant, as all mining pools that follow stratum protocol specifications are supported.
Buyers can start buying/using hash power once they create an account on the NiceHash website while sellers have the option to remain anonymous. The service operates from Europe under the "NiceHash" name while their USA servers operate under the name of WestHash. The servers are located in Amsterdam, San Jose (USA), Hong Kong (China), Tokyo (Japan), Chennai (India), and Sao Paulo (Brazil).
An important part of renting out your hardware is the profitability you can expect from it. NiceHash offers a built-in profitability calculator which checks the potential earnings that you can achieve with certain hardware and your current electricity costs. The list of hardware supported is a long one, ranging from Intel/AMD CPUs, over Nvidia RTX 2080Ti's/AMD Vega 64's to Innosilicon A9+ ASICs, with plenty of weaker devices in between.
A quick look at the profitability list will tell you that CPU mining is basically worthless at the moment, while your best bet will be to have some of the newer ASIC devices in your arsenal.
Your calculations can be made for a period of one day, one week, and one month. One thing to note is that the profitability you get from the calculator isn't always an accurate reflection of what you'll earn, as the variables which determine this value tend to be very unstable. As such, short-term crypto cloud mining contracts are much less risky than long-term ones.
How To Setup Nicehash
---
In order to become the buyer of hash power, you'll need to create an account on the NiceHash website. The process is simple; enter an e-mail and a desired password on the registration page, confirm your e-mail, and log into your NiceHash account.
You can also stake your crypto coins to earn passive income. Learn more about best staking coins here.
With your new account, you'll get an internal NiceHash Bitcoin wallet which you can use to deposit or withdraw BTC. Sellers use this wallet to receive their hash power renting payments; keep in mind that you can't withdraw amounts lower than 0.001 BTC. There is a difference between payments and withdrawals on the NiceHash service which is explained in detail here.
Buyers can fund their internal wallets with BTC and use these coins to purchase the hashing power. Both groups can use an external wallet for their respective dealings on NiceHash but will need to be aware that different payment schedules and thresholds for withdrawals are applied in they decide to do so. Using the internal NiceHash wallet as NiceHash Miner also gives you access to rig monitoring and on-website technical support.
Becoming a Buyer/Seller
---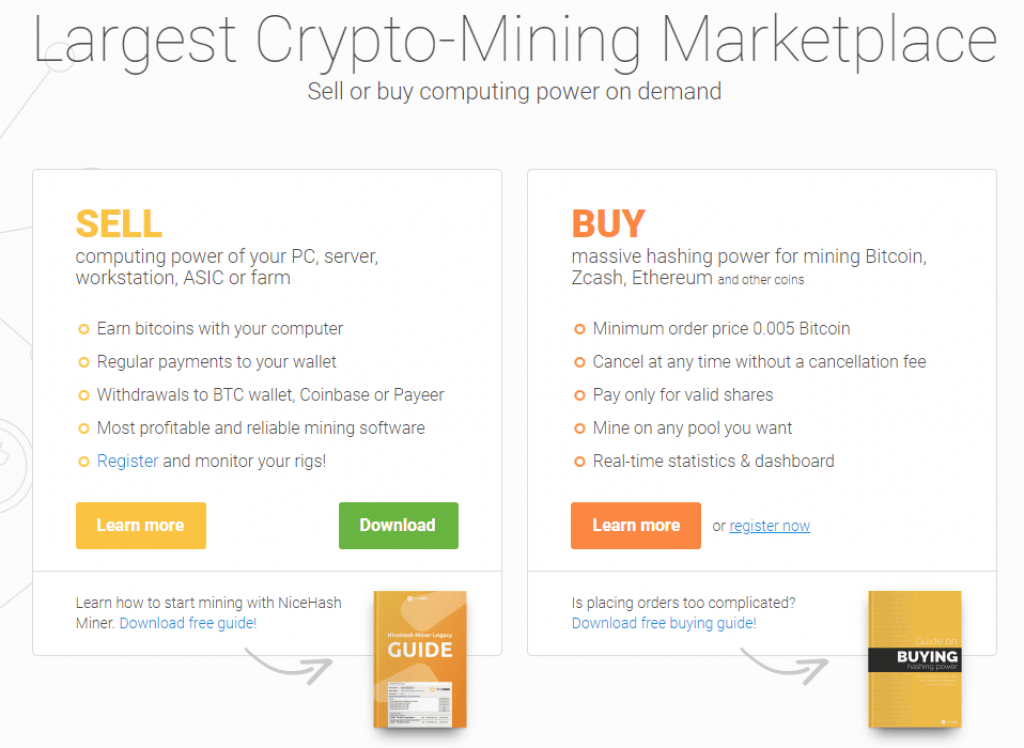 NiceHash lets you purchase hashing power with as little as 0.005 BTC of the initial investment. Buyers can create contracts for periods of less than a day or for longer than a day. The prices of the contracts depend on the market price of a coin and the total mining difficulty of the related algorithm. NiceHash offers a regularly updated pricing list on their website. Buyers can also create two types of contracts:
Standard bidding contract, which lets you tweak the price at the value you want. This can backfire as the market can outbid you and eventually make you increase your price.
Fixed contract, where the price is set higher than in the case above but is fixed for the duration of the contract (limited to 24-hour long contracts). Suitable for those who don't want to set the prices themselves.
The process of buying hash power from the website goes as follows:
Register an account at NiceHash.
Deposit a minimum of 0.005 BTC + related fees to your NiceHash wallet.
Pick a coin you want to mine and pick a pool that mines it (register if needed)
Save the pool data to your NiceHash list of pools (the algorithm, Stratum server, port (some pools have special NiceHash port), worker username, and worker password)
Verify the pool with the NiceHash Pool Verifier.
Place a new order on the marketplace. Pick your algorithm and select either the EU marketplace or the U.S. marketplace when placing your order. Each has its own pricing for standard and fixed orders. Once you decide how much you're willing to pay the order begins, with your fees and orders being paid out from your connected BTC wallet.
Go to your pool and check your earnings. Note that NiceHash is only responsible for delivering hashing power to the mining pool; they are not responsible for the number of rewards received from the pool or the payouts.
This is just a quick summation of the process. NiceHash offers a detailed buyers guide which you can check out here for more information.
The process of selling hash power is as follows:
Have some computer hardware capable of mining (providing hash power)
Download the NiceHash mining software
Register an account so you can deposit your mining profits
Run the mining software
Check out the website's introductory page for this service here.
Nicehash also has a mobile app, for Android and iOS. On the go, you can easily manage your NiceHash account with that mobile app.
Nicehash Fees and Referral Program
---
NiceHash doesn't provide its services for free. The fees for buyers include a non-refundable 0.0001 BTC fee for new orders and a 3% fee on what you spend on buying hashing power. Sellers face a slightly different fee structure:
Payouts for balances less than 0.1 to external wallet: 5%
Payouts for balances greater than or equal to 0.1 BTC to external wallet: 3%
Payouts for balances greater than or equal to 0.001 BTC to NiceHash wallet: 2%
Withdrawals from NiceHash internal wallet to an external wallet are subjected to the withdrawal fee, which depends on the withdrawn amount and withdrawal option. Withdrawals are manually confirmed once per day between 10:00 AM – 1:00 PM CET. Deposits to the NiceHash wallet are subjected to the deposit fee, which depends on the deposited amount.
NiceHash has a referral program that lets you refer other people to the marketplace for a prize. This prize includes a 5% revenue share of what NiceHash earns from the referred customer plus a small fixed reward of 0.000005 BTC. We tried to cover the most crucial features of the service in this article but there's much more to learn about NiceHash; a good place to start learning is the website's help section which contains plenty of information for both the seller and the buyer.
Nicehash profitability – Is Nicehash worth it?
---
The cloud mining model isn't very popular in the "hardcore" mining/crypto community. Regular miners don't like it because it's competition and there have been cases in the past where malicious individuals bought hash power from these markets and performed 51% attacks on smaller PoW coins.
There's the notion that mining through pools and cloud mining services helps centralize the networks of PoW coins (which were originally intended to stay decentralized). This is a real problem that mining/crypto communities will need to deal with eventually. Also, companies that provide cloud mining services today are either plain scams or work through a somewhat predatory business model which earns you, the hash power seller/buyer, significantly less money than the "mine with your own hardware" model would have.
Ultimately your relationship with cloud mining will depend on your stance on decentralization and how casually you want to approach the whole mining process. If you prefer a more hands-on, decentralized approach and have the required funds, you can purchase your own equipment and learn the ropes yourself. Owning the hardware has its advantages; first of all, you get to keep everything you mine.
Additionally, if for some reason you don't want to mine anymore, you can sell the equipment for what will likely be a small loss and recoup most of your initial investment. Chances are you'll end up with more than you entered the mining game with. The downside is that you need a much higher initial capital to start mining and you will definitely need to worry about running costs of electricity and hardware maintenance.
More casual miners might consider using cloud mining services as they are well suited for people who don't want to deal with the downsides of regular mining. With NiceHash, you (NiceHash Miner) can either rent out your hardware for certain compensation or purchase hashing power and direct it at a profitable coin of your preference for mining gains.
Ultimately this means that you, the buyer, can start mining cryptocurrency with little initial investment; all you need is to purchase a contract and set up a Bitcoin wallet. It also means that you, the seller, can contribute to the mining process in a space dominated by ASICs and mining pools.
Besides the downsides we named above, you need to keep in mind that you are dealing with an unregulated international market when buying hash power on NiceHash or any similar marketplace; if something goes wrong, your funds are as good as gone. Namely, we refer to the hack NiceHash suffered in 2017 which saw $62 million worth of coins disappear from the website. As such, be sure to carefully weigh out the risk/reward factors that come with each cloud mining platform before you purchase a contract from it (coin price, mining difficulty, contract price, contract time, platform reputation, etc).
Read also:
Is Nicehash legit and safe?
---
The jury is still out on NiceHash or any other cloud mining service provider. Hash rate sellers can count on a steady trickle of Bitcoin from providing their resources; their profitability will largely depend on related electricity costs and on the contracts they accept. Hash rate buyers will probably not have the same experience with the service, as the variables are simply too many for newbies to achieve any consistent profits.
The internet is full of negative experiences of people who thought they could simply throw money into a cloud mining service provider and direct the hash rate at a coin they randomly heard about on Reddit.
You might get lucky this way, but that luck will eventually run out. If you are interested in gambling on crypto-related matters, you'll likely be more successful if you place your money on an exchange and long/short a cryptocurrency with 100x leverage (please don't do this if you have no idea what any of those terms mean). Whether you decide to cloud mine, mine with your own hardware, or gamble your money on an exchange, you'll need to put in work to achieve optimal results.
Parting thoughts – Is Nicehash good?
---
NiceHash lets you sell your hashing power whether you are a simple gamer kid who wants to put his PC's high-performance GPU to work and earn some crypto on the side or an ASIC-owning "pro" looking to earn Bitcoin by giving someone else the ability to mine cryptocurrency. At the same time, it lets individuals who don't want to run massive power-hungry mining rigs borrow hash power and aim it at a desired cryptocurrency/mining algorithm/mining pool.
Ultimately, cloud mining services like this one work best when used to either help veterans mine cryptocurrency in a low-cost, remote manner or teach newbies about key terms/practices they'll need to master before moving onto the veteran status themselves.
If you are comfortable with mining for someone else, don't mind the fees, have access to cheap electricity, and are looking for a more automated mining experience altogether, NiceHash might be worth a try.
PROS
Zero restrictions on defining the size of hashrate acquired by NiceHash users
The platform supports various popular hashing algorithms from other avenues such as QuickMiner
Users can use the NiceHash wallet to store cryptocurrencies in cold storage
Designed to be easily used
Low fees
CONS
Alternative payment methods are slow and charged with high commissions
Remote mining with NiceHash is not suitable for long-term crypto investments
Trading services are limited to users who select BTC-only payment methods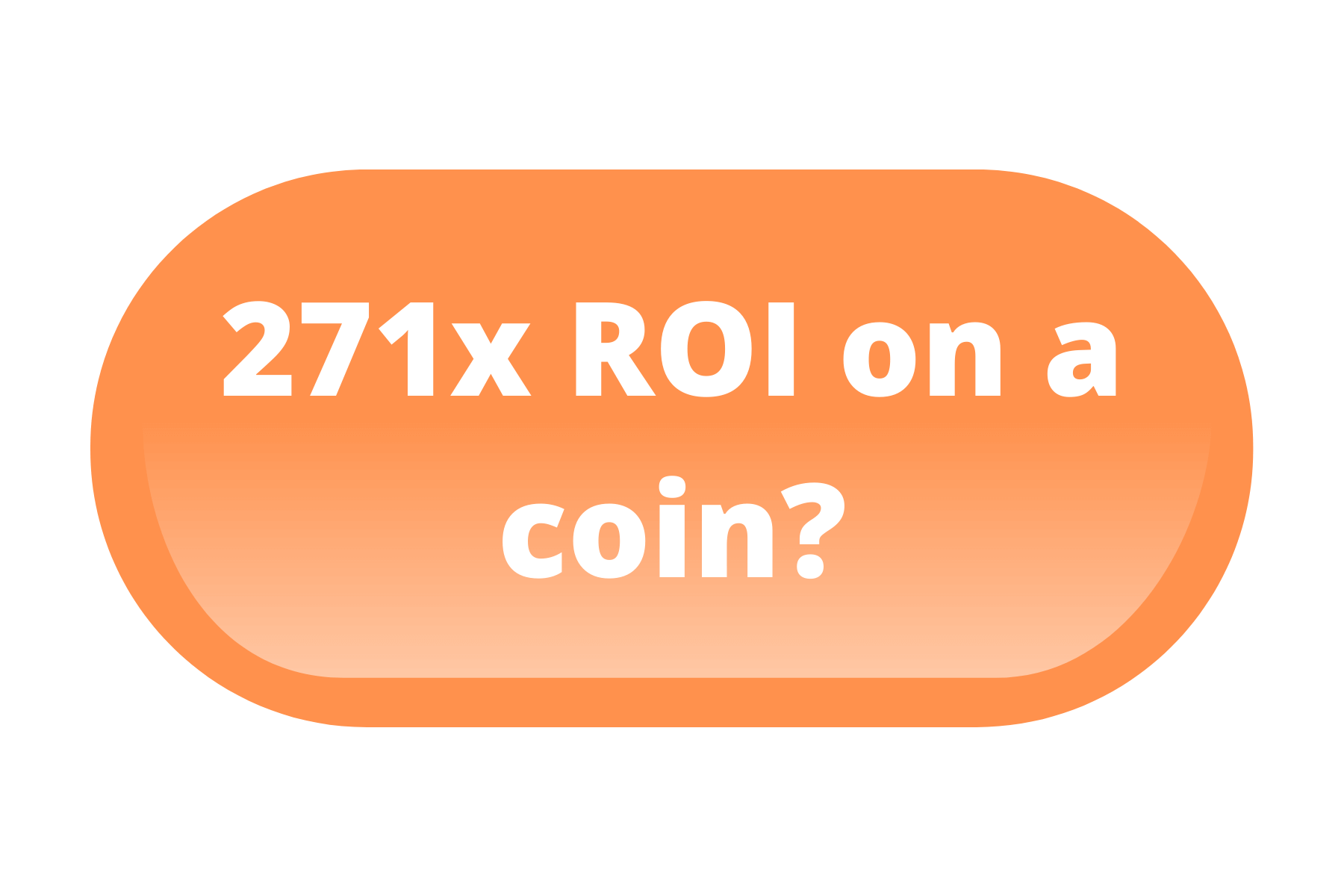 CaptainAltcoin's writers and guest post authors may or may not have a vested interest in any of the mentioned projects and businesses. None of the content on CaptainAltcoin is investment advice nor is it a replacement for advice from a certified financial planner. The views expressed in this article are those of the author and do not necessarily reflect the official policy or position of CaptainAltcoin.com