StormGain Miner Review – Is Stormgain Mining Legit or Scam?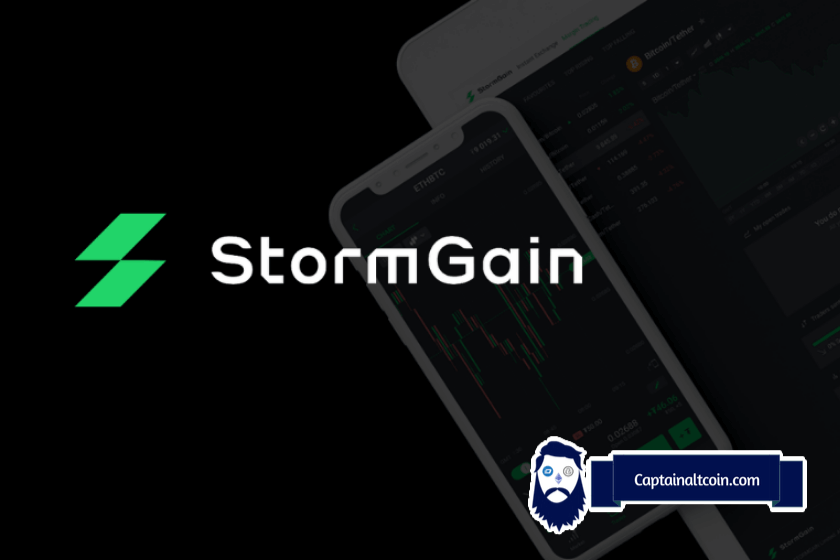 StormGain Miner Review – Is Stormgain Mining Legit or Scam?
free mining rewards
easy to install and use
We all remember the UFC games in 2019/2020 where StormGain offered sponsorship. As a new entrant in the crypto exchange industry, StormGain is seemingly gaining a wide following and a positive reputation.
In this guide, we unearth the ins and outs of this interesting new service by Stormgain – the free bitcoin miner.
Let's dive right in!
But before we do that – here is a quick link to the full Stormgain review we did a while back.
StormGain is a cryptocurrency trading platform that offers a Cloud Miner tool to users. Here are some details about the StormGain Cloud Miner tool:
StormGain Cloud Miner allows users to mine their own cryptocurrency from their phone or device, without the need for expensive mining equipment or high electricity bills.
StormGain Cloud Miner is hosted on StormGain's remote cloud servers, meaning it does not use the user's device's resources, such as CPU or battery.
StormGain Cloud Miner is completely free, unlike other cloud mining services that require upfront fees or investments.
StormGain Cloud Miner rewards users with freshly mined coins directly into their StormGain wallets, which can then be used to trade on the platform or withdrawn as profit.
StormGain Cloud Miner rewards users with a mining bonus, which is a virtual currency that can be used to increase available funds and improve trading profits.
StormGain Cloud Miner mining speed increases depending on the user's Loyalty Programme status, which is related to their trading volume.
I have also heard speculation that StormGain Miner may be using a reward system that rewards users with cryptocurrency without actually mining, similar to other reward sites for crypto. However, I have not been able to verify this claim.
Compared to other cloud mining apps like Cryptotab, StormGain Miner seems to be a legitimate way to mine cryptocurrency from a mobile device. However, I caution that free cloud mining is a myth and that the hardware costs more than the rewards. It's important to manage your expectations when using apps like these.
Overall, I am cautiously optimistic about StormGain Miner. While there are some concerns about the legitimacy of the app, I have personally been able to use it to mine and trade cryptocurrency.
What is StormGain?
---
Founded in 2019, StormGain is a UK-based crypto exchange and leverage broker firm. The platform has over 120,000 users, and it operates in more than 100 countries globally. Is StormGain legit? The company is still not regulated but has gained a big user base worldwide. The platform is very simple and user-friendly with various innovative tools and many altcoins to trade with.
Besides trading, StormGain has expanded its service offering to a cloud mining tool that allows its users to mine bitcoin without investing in expensive hardware. Furthermore, The Cloud Miner tool and the profitable Loyalty Program are two interesting features of StormGain. The platform makes sure to that the majority of users' holdings are stored in cold wallets.
How Does StormGain Miner Work?
---
StormGain offers this miner app as a free tool for the users that register on their crypto trading platform. You can mine your crypto by simply installing the app and clicking on the run the miner button. So there is no worrying about your devices' electricity bills, cooling, maintenance, and battery life. Unlike other miners, StormGain's cloud mining is free, making it ideal for beginners.

You also don't have to enter into long-term commitments to mine cryptocurrency with StormGain. You just run the app when on-demand, whenever you choose to do it.
So what is the catch? Why would Stormgain let you earn bitcoins by using their resources without paying for anything?
Well, it is an incentive for users to register and trade on their crypto trading platform as that is the main goal of all crypto traders.
To mine on the StormGain platform, you need to have a high trading volume. The more crypto you trade on the exchange, the higher your chances of earning free Bitcoin through the cloud miner. If you use the StormGain application often, you also stand a high probability of mining free crypto.
So, it is kind of an acquisition avenue for StormGain as their power-users can get some of the paid fees back through this miner app.

Besides StormGain mining, you can also trade different cryptocurrencies on the StormGain platform. You can also perform instant crypto swaps using instant exchange. With this feature, you get to change one altcoin to another seamlessly without going through swap platforms such as ChangeNow or Changelly.
Noteworthy, StormGain also has a multi-currency wallet that can store up to 6 coins. The wallet is safe and includes two-factor authentication and security encryption. You can quickly download the wallet on the official website and complete a registration form. Please note that this is a custodial, online wallet that is not recommended for long-term holding.
The platform offers an incentive to all users who hold their currency in the wallet. You can earn up to 12 percent interest on your funds by simply having them in the wallet without even trading. You can then withdraw the accumulated interest after 30 days in the form of USDT.
StormGain also has a demo account that allows users to experiment without making any deposits. The platform will enable beginners to test everything without incurring any costs.
It's also important to note that you can top up your account using credit cards like Visa and MasterCard. A flat fee of 5 percent applies for all purchases you make using a credit card or debit card.
How Do I Start Mining with StormGain Miner?
---
To get started on StormGain miner, you need to register on the official website. Registration requires your email and a password only. You will then have to verify your account using a link sent to your email.
With your account set up, navigate to the Bitcoin miner page. You'll see a huge green button marked as "Activate." Click on the button and wait for 4 hours so that you can see your mining reward. Repeat these steps as you increase your mining speed and trading on the exchange platform. Keep in mind that you need to be a holder of crypto assets in your external crypto wallets. Furthermore, you can also deposit real money to your StormGain account.
StormGain's cloud mining service looks to be more rewarding than other conventional cloud mining platforms and this is what all advanced traders like to see.
Conclusion of StormGain Mining Review
---
StormGain miner is a cloud-hosted mining tool that doesn't cost users any money. You also spend less on electricity, maintenance, and replacement of batteries. You can mine Bitcoin when using the mobile application, and you also stand a high chance to mine if you have a high trading volume on the exchange. This guide details everything you need to know about StormGain.
FAQs
---
PROS
free mining rewards
easy to install and use
CONS
you can earn only tiny amounts of BTC
tied to your trading volumes, the more you trade, the more you will "earn" with mining

CaptainAltcoin's writers and guest post authors may or may not have a vested interest in any of the mentioned projects and businesses. None of the content on CaptainAltcoin is investment advice nor is it a replacement for advice from a certified financial planner. The views expressed in this article are those of the author and do not necessarily reflect the official policy or position of CaptainAltcoin.com