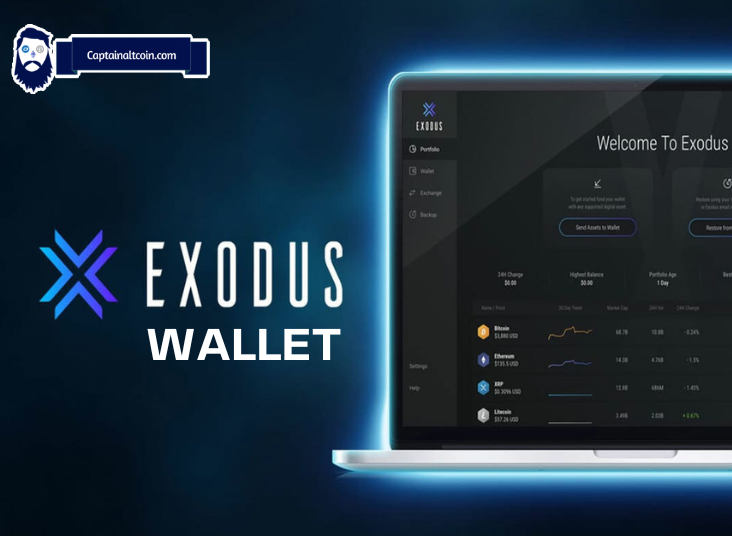 In this guide, we'll be examining one of the most popular and user-friendly software wallets — the Exodus wallet. In our Exodus wallet (software wallet) review, we'll go through all relevant topics around this hot wallet – how to get started with the program, what coins you can store on Exodus, what security features are available, and a comprehensive list of its pros and cons.
By the end of this Exodus Bitcoin wallet review, you will be well equipped to download and install Exodus and use it to send and receive different cryptocurrencies through the wallet. You will also know how to use its built-in exchange features, how to back up the wallet, and which use cases Exodusis good for and which it is not so good for.
Exodus is a multi–cryptocurrency wallet that provides easy to use User Interface and was officially launched on July 29, 2016. Being one of the newest wallets for storing coins on the market, it gives you options to access and transfer your cryptocurrency funds. Exodus is a non-custodial wallet that provides excellent support as well as extensive control over crypto assets.f
Being software connected to the internet, it has more security risk issues than hardware wallet alternatives such as Ledger or Trezor.
Exodus crypto wallet review – supported coins
---
You can keep your Aragon, Augur, BAT, Bitcoin, Bitcoin Cash, Civic, Dash, Decred, District0x, EOS, Ethereum, Ethereum Classic, FunFair, Gnosis, Golem, Litecoin, OmiseGo, Qtum(ERC20) SALT all in one place and easily calculate and organize your savings with their pie chart portfolio. You can also use unsupported ERC20 tokens by following our guide written further below this review.
The development team at Exodus is providing constant support for new coins. To find a list of coins on their roadmap you can click here.
Exodus design and features
---
With a beautiful and intuitive design, the strongest suite Exodus has is its User Interface. The user interface is plain and simple. It was designed for people who have never used an exchange. It is possible to execute each possible transaction by following step by step process. During the design process, nothing was left to a chance taking it so far that each and every icon perfectly fits with the rest of the layout.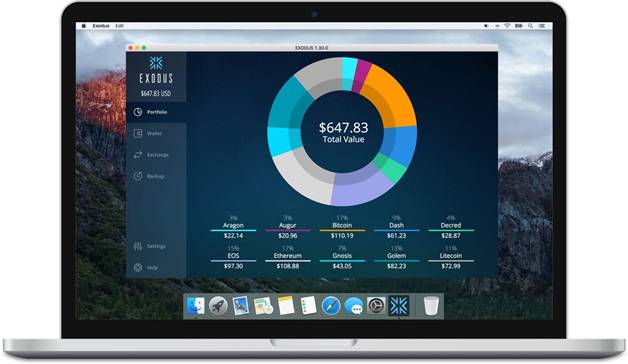 Exodus exchange
---
The Exodus wallet has added another great function to their wallet – a built-in trading platform by integrating Shapeshiftwithin their interface.
This way you can swap one digital currency for another very quickly and easily without leaving the Exodus Wallet. But do bear in mind that the fees are a bit higher than what you would pay on exchanges like CoinBase and Bittrex, but convenient costs.
So How Does It Work?
---
Exodus contains three integral parts:
Multi-digital asset wallet
Portfolio
Exchange
Wallet's interface and ease of use are very impressed with its sleek, simplistic design, which makes navigating different altcoins a breeze. You select "wallet" and then click through the various crypto assets including – Bitcoins, Litecoins, Dash, Ether, Dogecoins, and even EOS.
This is also where you can check your balances, and transactions, and send and receive funds. You can easily filter your transactions by "sent", "received" and "exchanged" which is a helpful option to keep things organized.

One of the features that sets Exodus apart from a lot of its competition is the visual compound pie chart. This displays all of your diversified crypto assets in an easy-to-view circle allowing Exodus users to track the value of their blockchain assets, in real-time, as market conditions fluctuate. It also shows the percentage breakdown of each digital asset you own and the associated dollar value.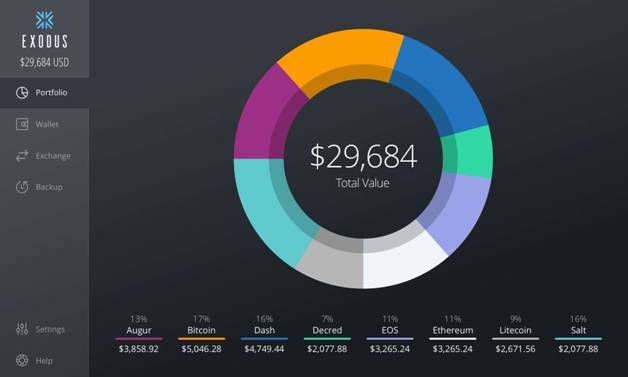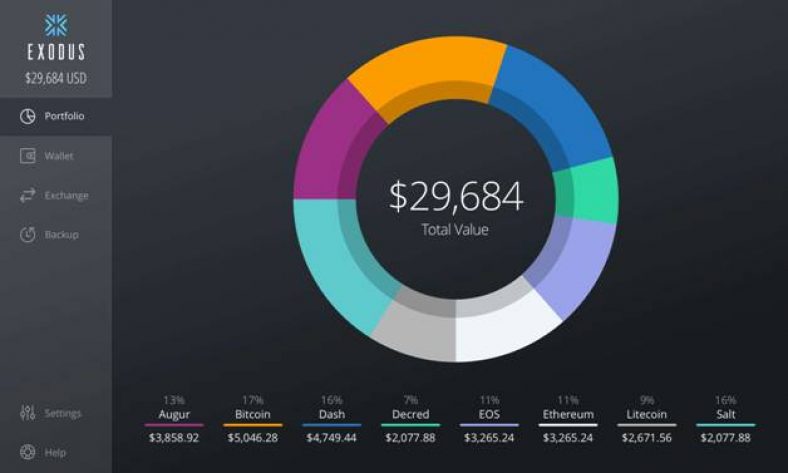 Exodus is the first desktop multi-asset wallet with ShapeShiftbuilt-in. This means that you can crypto exchange directly in the wallet without the need for use of the exchange. The amount you are going to receive in the trade is clearly shown in both crypto and fiat values including the current spread of the transaction. The wallet is built in a way to give you a clear overview of transactions made.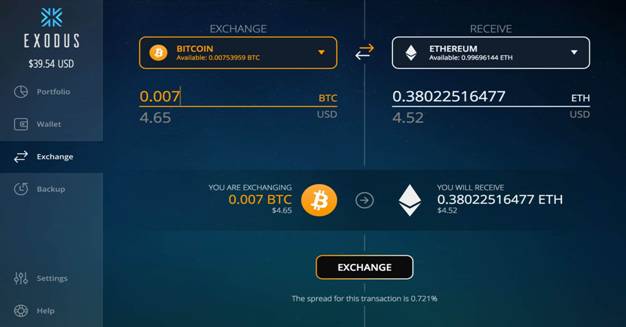 In case you lose access to your computer or you need to restore your account for any given reason, there are several options on how to access your funds again.
The most simple way is to use the option one-click email restore system. During the opening of the account, an email is sent to you with a backup link to restore your account. So if you are in need of restoring your access just click on this link and enter your password to complete the restoring process.
When opening your account you will also be given a 12-word passphrase. Be very careful not to forget or lose the passphrase. In case you can not enter your email or you forget your password, you must enter the passphrase to regain access to your Exodus account. There is no alternative to getting access to your account if you do not have the passphrase.
Each network fee is calculated automatically by the Exodus Wallet.
Is Exodus wallet safe?
---
Taking into consideration that Exodus is not 100% open-source, you are basically giving your trust to the developers and the management teams by using their wallets. On the other hand, company's CTO, JP Richardson is very trustworthy inside the development community, having developed over 190 open-source libraries.
Being launched only in July 2016, there was not enough time to implement all the security features, security features that are included by many other wallets available on the market. First of all your blockchain assets are fully encrypted but secured with bare password protection. Secondly, there is no 2FA (two-factor authentication) which means that if you unknowingly download any malware or other malicious software you will be more exposed to a security breach. 2FA adds an extra layer of security to a wallet by requiring another user to sign a transaction before it is broadcasted into a blockchain.
The development team of Exodus is aware of its security shortcomings and is doing its best to solve these challenges with hardware providers.
In the meantime, they are actually recommending that you use some other wallet with multi-sig (like Copay) or a hardware component (like Ledger) in case you are planning on holding huge amounts of blockchain assets.
Exodus Support Team
---
The support team has been highly rated. Exodus' support site has a knowledge base with over 100 articles on various topics, explaining in detail the features, fee structure, and troubleshooting. There are also 17 other general topics. There is also an extensive list of FAQs with included videos in case you need more detailed help.
In case you can not find what are you looking for at the support site, you can easily contact the support team through email. It has been reported by numerous users that they had a great experience working on the issues with the support team. The support team gives prompt answers and devotes itself to the full resolution of the issues.
Final thoughts
---
If you are a fan of great designs and awesome user experiences this could be your new favorite cryptocurrency wallet. Exodus wallets have taken attention to details to a whole new level by giving you a unique experience. Customer support is great and prompt, they offer a transparent roadmap and multi-coin support and it is easy to see why the users are loving it.
It is going to be interesting to see how this company will continue to grow as they increase security levels and add more functionalities to the wallet.
PROS
Simple to use interface
Over 150 cryptocurrencies are supported.
Integration with exchanges and decentralized finance (Defi)
CONS
There are no custom network fees for altcoins.
---
If you are a hardcore crypto-fanatic, you probably hold some of these coins as well. Here are the wallet solutions for them:

CaptainAltcoin's writers and guest post authors may or may not have a vested interest in any of the mentioned projects and businesses. None of the content on CaptainAltcoin is investment advice nor is it a replacement for advice from a certified financial planner. The views expressed in this article are those of the author and do not necessarily reflect the official policy or position of CaptainAltcoin.com