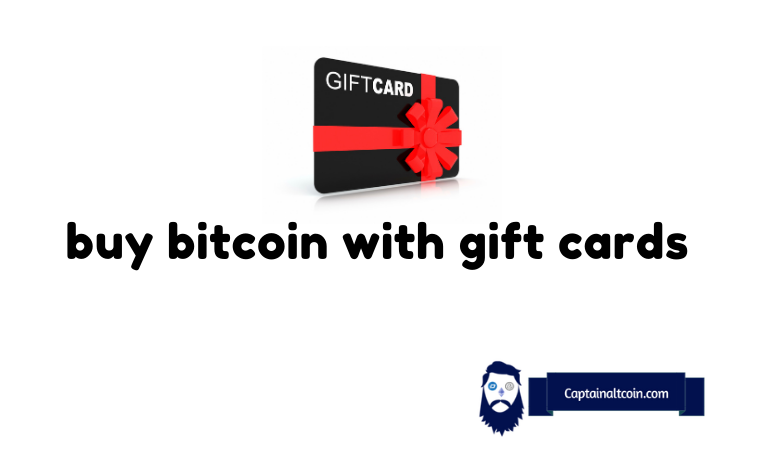 Bitcoin, and cryptocurrencies for that matter, have slowly gained a reputation for being at the forefront of the next industrial revolution. It is awesome that the total number of Bitcoin (BTC) that can exist at any given time is 21 Million, with the last Bitcoin estimated to be mined in 2140. Perhaps this explains why everyone wants to invest in some, there might be no better time to do so than now.
Despite the fact that almost everyone wants to acquire some Bitcoin, it can get extremely hard to do so, especially for minors and people from certain regions. Even though there are numerous channels that one can use to do this, the process still remains unavailable for some people. Your average investor looks for a medium that is both easy and convenient and, most importantly, inexpensive, which can be incredibly hard to find.
In this article, we explore one convenient and unconventional method of purchasing Bitcoins through gift cards. We will not only explain why this method is great but will also list down popular platforms that you can use to convert gift cards to Bitcoin, alongside their advantages and disadvantages.
Let's get right into it!
Read also:
How to convert a gift card to Bitcoin?
---
Let's have a quick look at the 3 best options where you can convert your gift card to Bitcoin. After that, we will go through each of them in more detail and a few of their competitors.

Paxful replacement, former Paxful users integrated directly into the platform
No fees for buyers, 1% fee for sellers
More than 400 payment methods
Safe escrow service with fast customer support
Disclaimer text….

Low fees (no fees for buyer and 0.1% fee for seller)
No transaction limits
No minimum deposit
Safe and fast transactions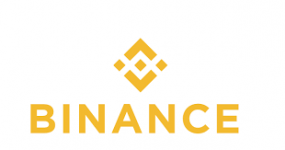 Support for more than 70 local fiat currencies
Low fees (0% for takers and 0%-0.35% for makers)
More than 700 payment methods
Where can you buy bitcoins with gift cards?
---
Kucoin P2P – fastest way to buy crypto with gift card
---
KuCoin P2P Fiat Trade provides fiat-to-crypto conversion service under peer-to-peer trading with zero transaction fees, fast settlement, secure transactions, professional and reliable merchants, and multiple payment methods globally and regionally. Kucoin supports the purchase of crypto with 50+ fiat ​through P2P, credit cards, etc.
KuCoin's P2P marketplace allows users to purchase and sell cryptos, including BTC, ETH, LTC, and more. Just like other P2P exchanges, KuCoin P2P also accepts a wide variety of payment methods. Using fiat currencies like USD, EUR, GBP CAD, IDR, AUD, etc., customers can acquire crypto on the platform from other users. There are a bunch of payment options to choose from, including gift cards, PayPal and Payoneer, as well as bank transfer and other options.
In order to use Kucoin P2P marketplace, you need to bind a phone number and do a KYC process.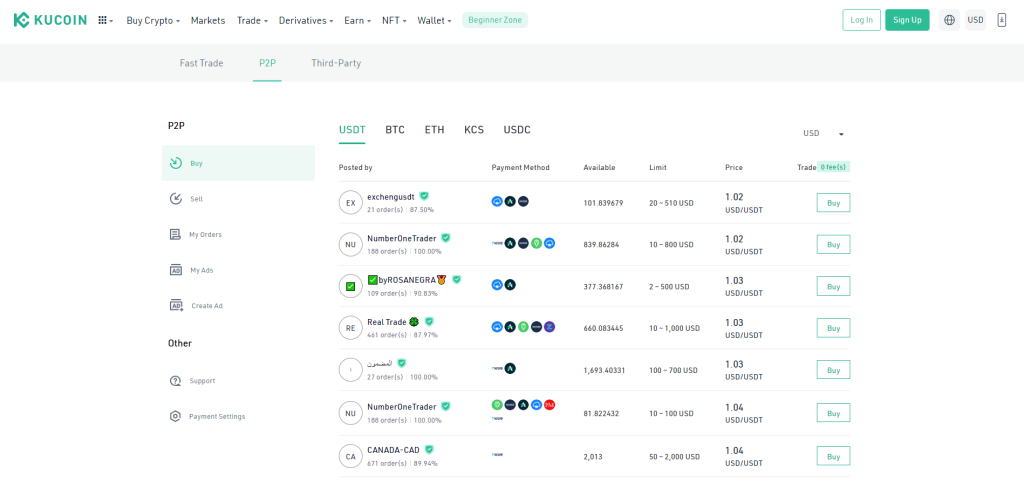 Pros ✅
No fees
Exchange crypto with fiat, credit/debit card, or digital asset
A lot of listed coins
Beginner-friendly
Cons ❌
The exchange is centralized.
Not regulated
ByBit P2P – second best site to trade gift cards for bitcoin
---
Bybit P2P is a cryptocurrency trading platform that allows users to buy and sell cryptocurrencies with other users directly, without the involvement of a third party. Bybit P2P offers a secure and efficient way to trade cryptocurrencies, with a user-friendly interface that makes it easy for beginners to get started.
There are many ways to pay on the platform, such as bank transfers, online payment systems, and cash deposits. Bybit P2P also has a number of security features, like two-factor authentication and cold storage for storing cryptocurrencies offline, to protect users' money and personal information.
Bybit P2P supports more than 25 fiat currencies and over 300 payment methods, including debit cards, credit cards, and in-person cash payments.
Overall, Bybit P2P is a reliable and convenient platform for buying and selling cryptocurrencies peer-to-peer.
Binance P2P
---
Binance P2P is a secure, peer-to-peer (P2P) trading platform offered by Binance, a leading cryptocurrency exchange. This platform allows users to directly connect with buyers and sellers of cryptocurrencies and facilitates fiat payments using various payment options that are tailored to the users' preferences.
Binance P2P provides users with the ability to exchange six cryptocurrencies: Bitcoin (BTC), Ethereum (ETH), Binance Coin (BNB), Binance USD (BUSD), Dai (DAI), and US Dollars (USD). These cryptocurrencies can be exchanged with more than 55 local currencies and over 150 payment channels, providing users with a wide range of choices.
Binance P2P offers several advantages to its users, including:
Zero fees: Binance P2P does not charge any fees for its services.
Flexible payment methods: Users can choose from various payment methods, such as bank transfers, mobile payments, cash deposits, and more.
Escrow service: Binance P2P provides an escrow service that ensures that both parties in a transaction meet their obligations.
High liquidity: Binance P2P offers high liquidity, ensuring that users can quickly find a match for their orders.
Integration with the Binance ecosystem: Binance P2P is integrated with the Binance ecosystem, allowing users to seamlessly transfer funds between their Binance accounts and their P2P wallets.
Fast transactions: Transactions on Binance P2P are fast and can be completed within minutes.
Global and local promotions: Binance P2P offers global and local promotions, providing users with additional benefits and incentives.
Community and customer support: Binance P2P has a strong community and customer support system, ensuring that users can get help whenever they need it.
Anonymity: Binance P2P allows users to trade anonymously, protecting their privacy.
Users of Binance P2P need to be aware of specific risks, such as P2P scams aimed at stealing assets or private information. To protect themselves against these risks, Binance recommends that users read their articles on "4 Common Peer-to-Peer Trading Mistakes to Avoid" and "Binance P2P: Trade Bitcoin Safely With Tips From the Pros."
Additionally, Binance provides tips to protect users from scammers when trading P2P, including:
Knowing your customer (KYC) regulations
Regularly checking haveibeenpwned.com for potential leaks
Never sharing login details with a counterparty
Avoiding trades that sound too good to be true
Trading with users who have positive feedback and high completion rates
Cancelling the trade if users think that the trade counterparty is a scammer
Paxful
---
Perhaps one of the most popular platforms at the moment, thanks to its countless payment options, Paxful is a peer-to-peer platform, thus enabling you to trade directly with sellers or, if you are a seller, engage directly with buyers. This makes the platform quick and very easy to use.
The platform has a plethora of payment options to choose from, such as PayPal, bank transfer, credit or debit card, cash, and gift cards- which are one of the most popular payment methods on the platform.
The platform allows you to buy Bitcoins with gift cards worth as low as $1. The site also accepts a wide variety of gift cards such as Bestbuy, H&M, iTunes, Google Play, Hotels.com, Xbox, Uber, Amazon, and numerous others.
On the flip side, being a peer-to-peer marketplace, one needs to be wary of fraudsters and scammers.
Purse.io
---
This platform is rather unique in its operations, primarily because to trade your Amazon gift card for Bitcoin, you have to purchase goods for other users on Amazon.
Purse, like LocalBitcoins, only accepts Amazon gift cards.
Further, unlike with Paxful, where gift cards have to be imprinted with their exact denominational value, Purse allows you to exchange even a fraction of your gift card for Bitcoin.
Basically, Purse functions by allowing you to pay for another person's order on Amazon in exchange for Bitcoins while allowing the original shopper to spend their Bitcoin. Upon receipt of a confirmation that the purchased products have arrived at the original shopper, your Bitcoins are released to you from an escrow account.
Read a full Purse review here or visit the site by clicking here.
Coincola
---
Coincola is lauded for, quite literally, its lack of boundaries. The platform allows its users to buy Bitcoin, and several other cryptocurrencies, using their local currencies. This is regardless of the location of a user, implying that the Platform can be used anywhere in the world.
On top of this, the platform allows users to exchange gift cards from merchants such as Google, iTunes, Amazon, and numerous others for Bitcoin.
Prestmit
---
Prestmit is based in Nigeria, where cryptocurrencies have continued to gain more and more popularity. The platform allows users to convert gift cards from merchants such as eBay, Google Play, Amazon, and Apple to the local currency-Nigerian Naira- or Bitcoin.
To use the platform, users must first confirm the current rate of their gift card from an agent via Whatsapp. Once you have uploaded your card, the Platform guarantees payment within minutes
Cardxcoin
---
Despite the platform still being on a beta launch, Cardxcoin's vision appears to be quite promising. The platform shall allow users to trade in unwanted gift cards for Bitcoin, promising to provide offers of up to 80% of the total value of the gift card.
At the moment, the platform is accepting gift cards from platforms such as iTunes, Best Buy, Walmart, Target, and numerous others.
Read also:
Gift Card Exchanges
---
Trading gift cards for Bitcoinis a simple way to obtain Bitcoin without the hassle of investing through an exchange. For anyone who is having trouble buying Bitcoin, this method provides a simple yet effective solution. For example, one can exchange their unwanted Walmart gift cards for Bitcoin, what's great is that gift cards from most retailers can be exchanged for cryptocurrency.
If you are interested in buying Bitcoin with gift cards, the first step is to have some gift cards to exchange. We have outlined below some of the best online marketplaces you can utilize to obtain gift cards at great rates.
eGifter
---
eGifter is a marketplace that allows users to purchase gift cards at surprisingly low rates. A standout feature of the site is its unique points system, this rewards system has been a fundamental part of the growth of the marketplace. Whenever a user purchases through the eGifter platform they are given points. Points can be saved and used to get a discount on future purchases.
Another great feature unique to the platform is the group gifting initiative. This setup allows a buyer to create a group gifting project, all members of the group can then contribute towards paying for the gift card that has been chosen by the group.
eGifter accept a wide range of payment methods. Payments can be made through credit cards, debit card, Bitcoin, and a range of ewallets including PayPal.
The best feature of this platform is that they will save all your gift card details on site. This means that if you forget or lose your gift card code, then you always have a backup on the site.
All in all, eGifter is a great marketplace, however, they only offer gift cards for a limited number of retailers.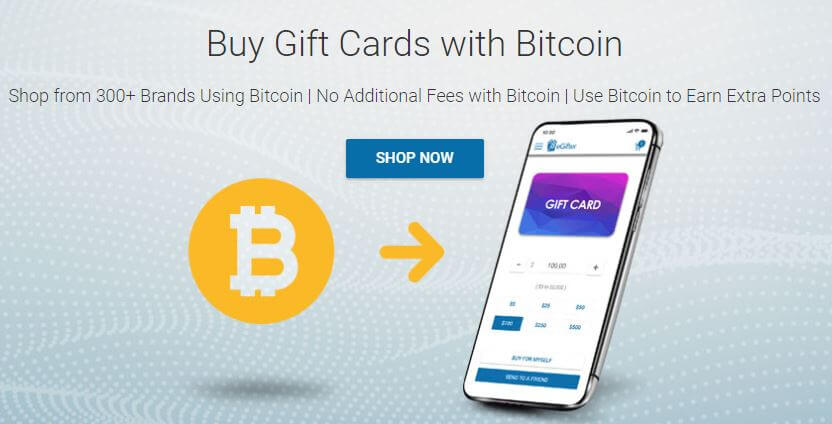 CoinCards
---
CoinCards is a great gift card exchange that is made for Canadians. With over 100 Canadian retailers and some great exchange rates, this is the go-to marketplace for anyone living in Canada. The website is rapidly growing in popularity, making it easier to find great deals.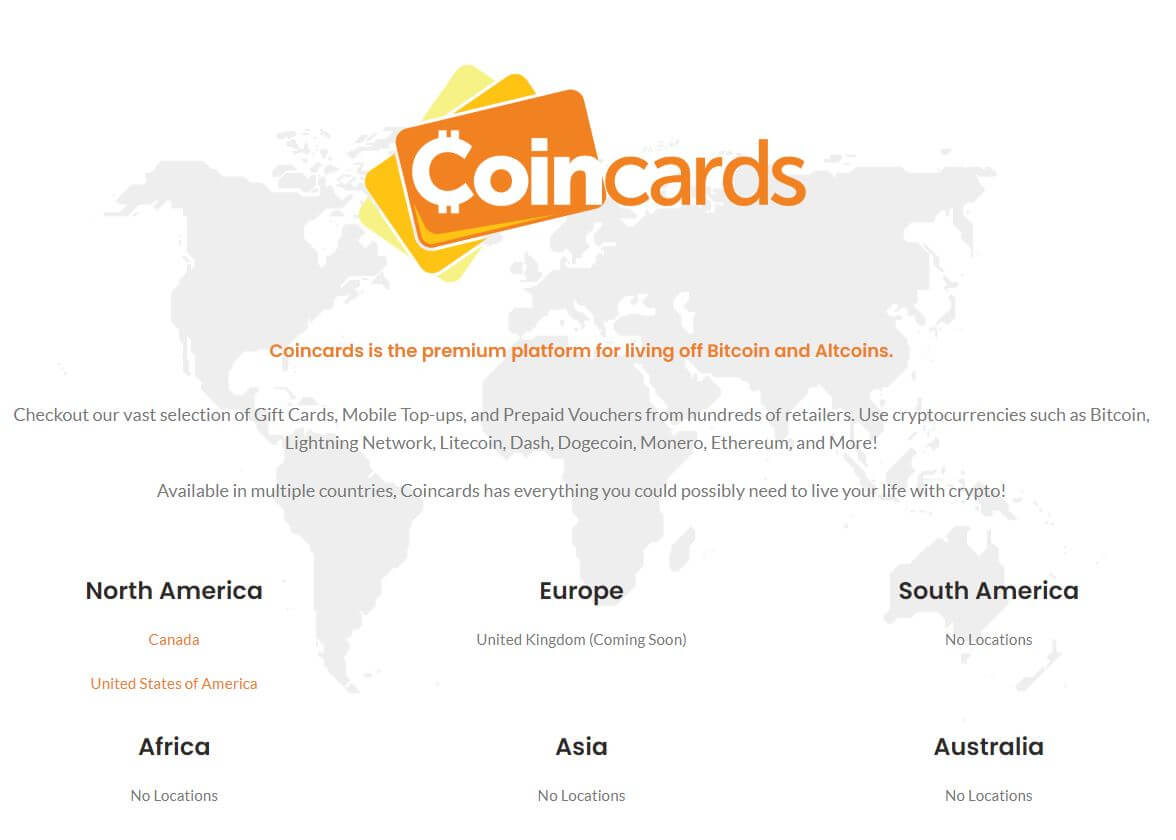 Gyft
---
Gyft is arguably the best gift card exchange out there as they offer the most variety when it comes to the gift cards on offer, they also boast a multitude of payment options (such as credit or debit card).
The platform saves all of your gift card codes on the platform, meaning that you won't have to worry about losing your gift cards.
Gyft is currently available in the USA. Members from other parts of the world will be able to access the site through the use of a VPN. We recommend using Gyft as they seem to have the largest range of retailers out of all of the exchanges that we have looked at.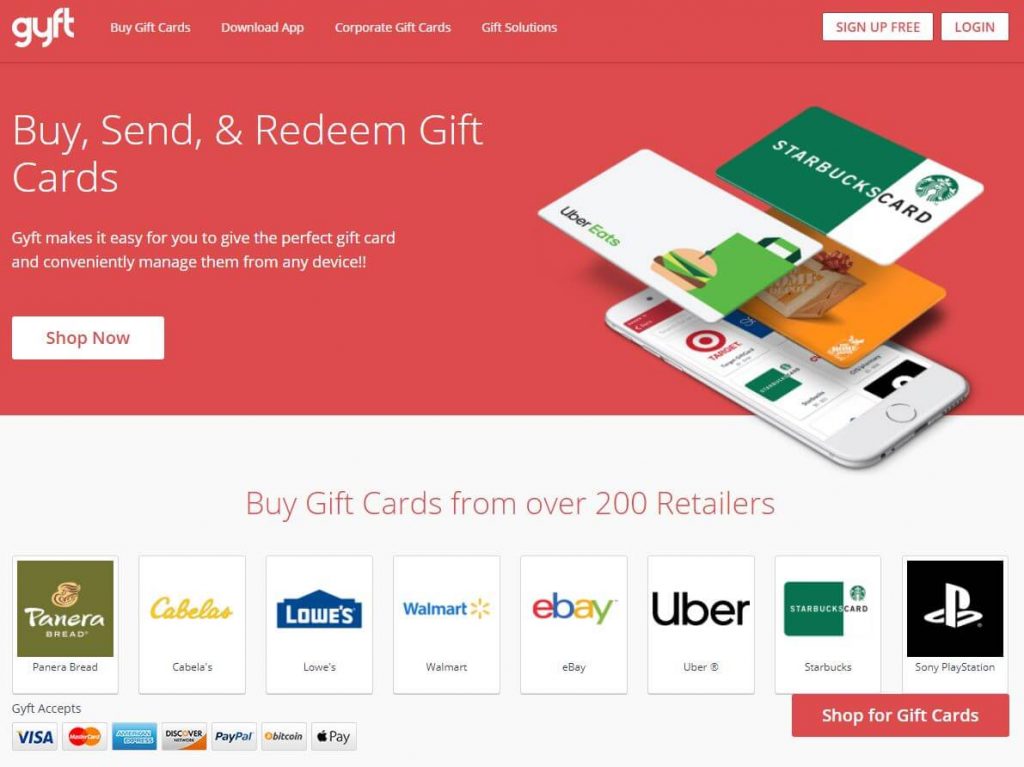 How to Exchange Gift Cards for Bitcoin
---
Now that we've outlined the best way to get a hold of some cheap gift cards, it's time to exchange them for some Bitcoin. The best way to trade your gift cards for Bitcoin is through the use of what is known as a peer-to-peer marketplace.
LocalBitcoins and Paxful are the two most popular peer-to-peer Bitcoinmarketplaces. Both of these sites work in the same way, however, LocalBitcoins seems to have a larger community, we recommend you check them out before using Paxful.
After making an account on your marketplace of choice, you will need someone willing to accept gift cards as a payment method. Finding a seller that accepts gift cards is easy, both LocalBitcoins and Paxful allow you to search by payment method. Simply select gift cards as a filter when searching, and you will be shown a list of sellers looking for gift cards in exchange for Bitcoin.
As this is a peer-to-peer platform, each individual seller sets their own price. It's also important to note that sellers will have a reputation on the site, it's important to read what other users have to say about each seller in order to help you find someone who is reliable.
Once you have found a reliable seller, you need to start a trade. As soon as a trade is initiated, the sellers Bitcoin will immediately be debited and placed into escrow. After the sellers Bitcoin is with the escrow service, you need to provide them with your gift card information.
As soon as the seller receives the gift card information, the Bitcoinwill be available on the marketplace itself or in any wallet that you have linked to the site.
LocalBitcoins and Paxful are quite popular, however, that doesn't mean you should trust every seller on the platform. There are some things that you should take into consideration before working with a new seller. It's important to always check the sellers past transaction history to ensure that all of their previous sales have been legitimate. We also recommend that you take screenshots of each step when making a transaction, this will be extremely useful if there are any problems and will help customer support deal with the claim.
It's also important to communicate with the seller before making any payments. The chat doesn't have to be personal, but communicating in a professional manner will help you build a positive reputation on the platform and may even get you a better deal. Don't be worried about asking the seller any questions you may have.
If at any time during the transaction you have second thoughts, or if the transaction doesn't feel genuine, then you can instantly cancel the transaction and find another seller.
Buy BTC with a gift card – Are these sites safe?
---
Most of the sites detailed herein are peer-to-peer, meaning that buyers and sellers engage directly with each other, thus increasing the chances of being defrauded. While the sites might offer you extra security features such as an escrow service, it is important that you take extra measures to protect yourself from scammers. After all, the fact that you are not using your gift card does not mean you should lose it to a fraudster.
One sure way to ensure the safety of your transaction is by critically going through the feedback rating of any potential seller. If the negative ratings outweigh the positive ones, it might be wise not to engage them.
Ensure to ask all relevant questions before you upload or provide your gift card details. Further, if at any one point you have doubts about a seller you are engaging with, do not be afraid to cancel the transaction, better safe than sorry!
Most importantly, do not upload or provide your gift card details until you are absolutely sure you want to proceed with the transaction.
Conclusion
---
Now that you are armed with platforms you can use to convert your unused gift cards into Bitcoin, all you need to do is choose one and sign up, which should be pretty easy.
FAQ
---

CaptainAltcoin's writers and guest post authors may or may not have a vested interest in any of the mentioned projects and businesses. None of the content on CaptainAltcoin is investment advice nor is it a replacement for advice from a certified financial planner. The views expressed in this article are those of the author and do not necessarily reflect the official policy or position of CaptainAltcoin.com