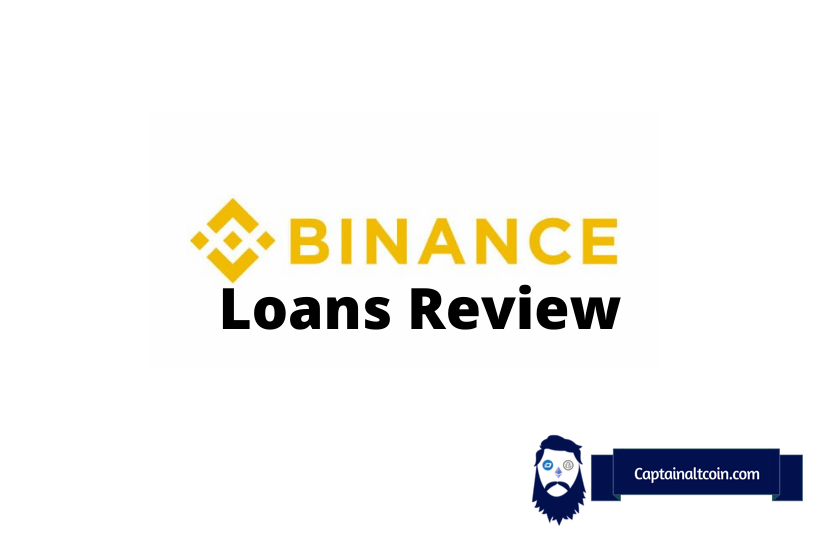 Binance Loans Review
---
Taking out loans from conventional banks these days can be a time-consuming and arduous process. The conditions that are set for the users are becoming stricter, and even if you get a loan from a bank, there are various fees and hidden costs that will be very expensive in the end. Just to mention, according to the Federal Reserve report, the average interest rate for credit cards was around 16%, and the average borrowing rate was around 5% for BTC eventually.
Crypto loans are perhaps more convenient here compared to banks because they are more affordable, more cost-effective, and do not take much time in terms of the duration of the loan process.
In this article, you will read about Crypto Loans as a service provided by Binance, one of the leading and largest exchanges in the world.
What Are Crypto Loans?
---
Crypto loans are a type of loan with the opportunity to put a certain amount of cryptocurrency that you own as collateral when borrowing money. Collateral digital currencies in that period cannot be used in terms of transactions, withdrawals, and trading. They are then, so to speak, reserved, and if the loan is not repaid, they are no longer on your property.
Who can borrow on Binance Loans?
---
This is very simple. Anyone who has an open account on Binance and thus enough funds for collateral has the opportunity to make a crypto loan.
There is a "Finance" section on the home page of Binance's site, and by clicking on it, 3 options appear, including "Crypto loans". After clicking on it, you enter the amount and currency you want to borrow, as well as the collateral and repayment period. After confirming the information, you need to click on "Start Borrowing Now", and that's it.
What crypto can I borrow on Binance Loans?
---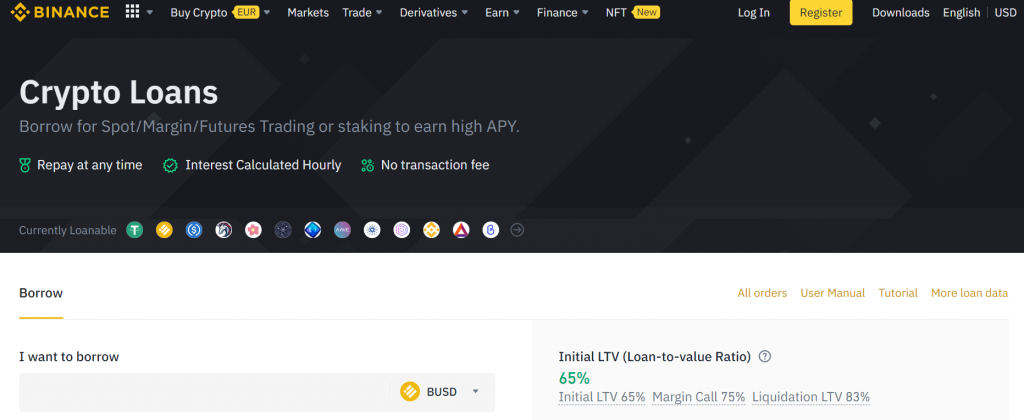 Considering that Binance is the leading exchange in the world, it is not surprising that there are over 60 cryptocurrencies on offer that you can borrow, and among them are BTC, BUSD, USDT, USDC, ADA, DOGE, ETH, LTC, SOL, ZEN, etc.
What crypto can I use as collateral?
---
There are over 30 cryptos that can be used for the purpose of collateral, and some of them are ETH, XRP, DODO, CHR, etc.
How long are the Loan Terms?
---
There are 5 options of loan terms on offer – 7 days, 14 days, 30 days, 90 days, and 180 days. Depending on which time period is chosen, the interest rate and repayment amount differ. The longer the repayment period, the higher the interest rate.
How is the interest calculated?
---
Interest is calculated per hour, and if the time period is shorter than one hour, it is calculated as a full hour.
The interest rate is determined in accordance with the selected loan term.
How do I repay the interest and principal?
---
When repaying, the interest is returned first and then the principal.
Can I make a full repayment before the due date?
---
Of course, you can. The crypto loan can be repaid before the expiration of the repayment period, as well as after the expiry of this period, but that's not recommended. If it is repaid before the deadline, then the interest is calculated according to the loan hours.
How to Repay Crypto Loans on Binance
---
There is an "Outgoing Orders" on the account where all loans appear. By clicking on it, there is a "Repay" button where you can select the percentage of debt for repayment or just enter the amount you want to repay. After that, click on "Confirm repayment," and the entered amount will be deducted from your wallet.
On the other hand, you can repay the loan by selecting the "Repay With Collateral" option, and after confirmation, the amount will be deducted from the collateral, and the rest returned to your wallet.
Crypto Loans Without Collateral – Is That Possible?
---
One of the biggest shortcomings of the DeFi is considered to be loans without collateral because excessive collateral is the biggest obstacle for those who would like to enter this scope and do not have the initial capital for collateral to take a loan.
Experts say that with the unlimited possibilities of the ETH blockchain, everything would be successfully realized because that network is suitable for innovative technologies and alternative lending possibilities.
Goldfinch is a decentralized platform that provides crypto loans where no collateral is required. Although there is a detailed explanation, in short, borrowers enter into agreements with sponsors where they give collateral that is not cryptocurrency. Goldfinch protocol instead of collateral has a mechanism called "trust by consensus".
Besides that,AAVE is a platform that provides semi-collateralized loan services. The working principle is such that one user can "delegate" his collateral to another, which means that the user can borrow more than the amount his collateral can bear.
All this is still working in the process, but there is no doubt that a solution will be found soon. Otherwise, with the advent of unsecured protocols, lending measures will be tightened, which will certainly harm potential borrowers.
What is the Transaction Fee for Binance Crypto Loans?
---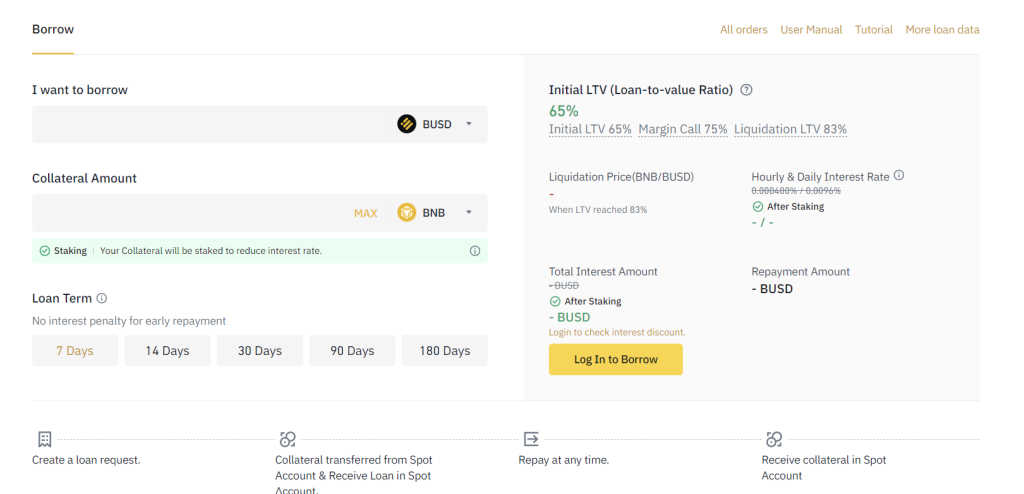 There is no transaction fee for Binance crypto loans, just interest that depends on the loan term, and it is calculated within a selected time period.
If liquidation occurs, then an additional 2% will be charged on the total amount borrowed.
Other Crypto Lending Platforms Besides Binance
---
Apart from Binance, there are other crypto platforms that provide crypto loan services. Although Binance provides quality services of trade, exchange, buying and sale, and even lending, other platforms have their positive sides in this sector.
Coinbase is also a platform that can match Binance in terms of crypto loans, and since it was founded in the USA, it is available to U.S. residents to whom Binance is not available. In addition, with its reputation and simplicity, it is highly ranked in the crypto world.
Celsius is also a well-known crypto lending platform. Apart from the fact that there are no fees for lending or cryptocurrency transactions, the interest rate is 1% per annum.
CoinLoan is one more trusted crypto platform. You can change the cryptocurrency for cache by staking the cryptocurrency as collateral.
Other crypto lending platforms should be mentioned, such as DeFiRate, MoneyToken, YouHodler, AAVE, MakerDAO, Blockfi,and Compound.
Read also:
[Quick_offer id="122116″]

CaptainAltcoin's writers and guest post authors may or may not have a vested interest in any of the mentioned projects and businesses. None of the content on CaptainAltcoin is investment advice nor is it a replacement for advice from a certified financial planner. The views expressed in this article are those of the author and do not necessarily reflect the official policy or position of CaptainAltcoin.com