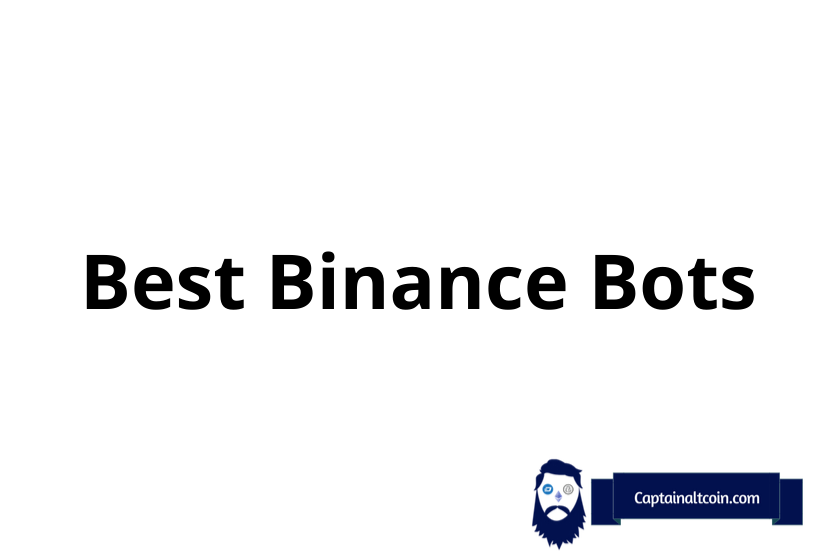 Summary (TL;DR)
---
Binance has it own trading bots (spot grid bot, futures grid bot and TWAP) that can be found under the tab 'strategy trading' in their mobile app.
However, other crypto bots work with Binance as well and the best among them are: Pionex, Bitsgap, Coinrule, CryptoHopper and 3Commas.
Please note that all the exchanges (Binance as well) connect to your trading platform using API keys, and therefore it is not possible to make withdrawals from your trading exchange.
Best Trading Bots for Binance
---
Let's first have a quick look at the 3 best bots for the Binance exchange and after that, we will go through each of them in details and some of their main competitors.

complete FREE to use
has over 18 different bots
it doesn't connect to Binance but it does source liquidity from Binance as their official partner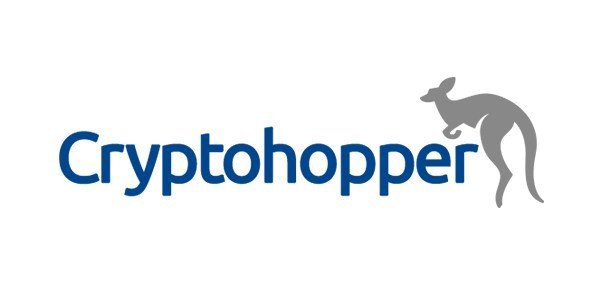 Easy to navigate and setup
More than half a million users
Lots of exciting and useful features such as strategy designer, marketplace, signal Telegram bot, etc.
What are Crypto Trading bots?
---
Before we get into explaining the best Binance trading bots, we have to understand what a crypto trading bot is.
Crypto bots are defined as systems established to automize your crypto trades. The definition perhaps sounds simple, but I would not say it is as simple as it seems. If you want to automize your trades, you have to write a code for your trading strategy.
However, many crypto platforms provide this service for you. In other words, if you are not a fan of coding, then these platforms will make your life easier and help you make your crypto trades automatic.
Do you want to trade and try to make some profits, but you do not have much time or energy to invest in crypto trading? Then, trading bots are made for you!
How does trading bot work?
---
Alright, now we understand what a crypto trading bot is. Let's explain how it works.
A team of coders and traders combine their ideas to create a code for the trading strategy. The code allows the bot to automatically trade, open and close positions based on the strategy.
The main advantage of crypto bots is that they exclude entirely human emotions, which can sometimes be dangerous for traders. Of course, these bots are not 100% reliable (like with most other things in the crypto world), but they can save and earn you money more often than not.
Even if you are a great crypto trader, you cannot do it for 24 hours every day, right? So that's where crypto trading bots become very interesting.
What is Binance
---
As already mentioned, Binance is one of the most popular crypto platforms. Hard to argue, considering the number of features and things you can do on Binance, but also in terms of volume. It is based in Hong Kong.
One of the recent reports that Binance published said that the platform now has over 7.9 registered users.
One of those features is that Binance supports using crypto trading bots. In this article, we are going to take a close look at some of the best ones.


5 Best Trading Bots For Binance
---
We come to the central part of this article – a close look at the five best Binance trading bots. So, let's go into the details. 
Pionex – best trading bot for Binance (free)
---
Pionex is the first free, integrated crypto trading bots exchange worldwide. It's got 18 different bots, from the basic ones to the super advanced leveraged bots and structured products.
Pionex has no monthly fee, but only a 0.05 percent rate as a trading fee. Pionex's trading fee is below market's average.
In a single trading pair, you can make up to 30 bots. This is more than enough for the average trader. This is great for grid trading since you can cover many price ranges unlike with other bots that stop trading once the price is outside the set price range.
Some of the more popular Pionex bots are DCA bot, DCA Martingale bot, spot grid, reverse grid, futures grid, Pionex arbitrage bot (profits on coin price volatility by buying short futures positions while keeping the same amount in the spot market. It makes money from the interest paid for holding margin short positions).
Bitsgap
---
What is Bitsgap?
---
When you think about crypto trading bots, probably one of the first names that come to mind is exactly Bitsgap. This bot is widely considered as one of the most popular trading bots and has been in the crypto world since 2018.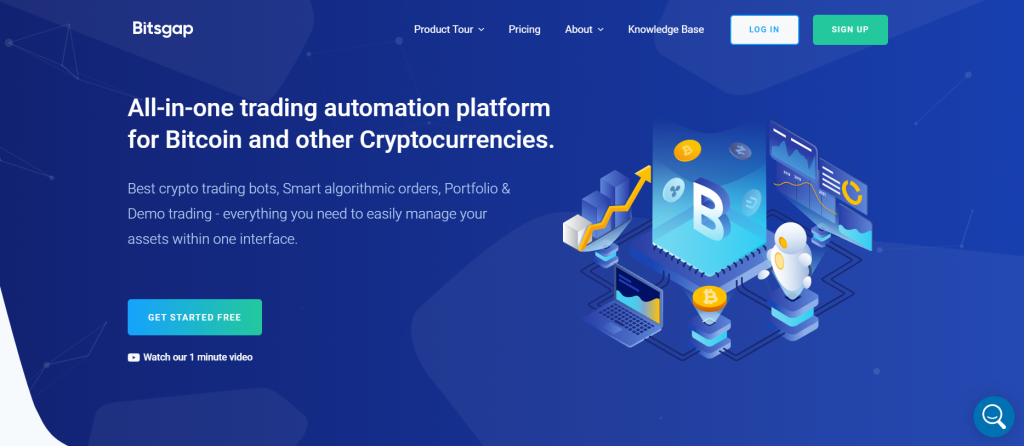 The main purpose of the bot is to make your trades go smoothly. You can use all of your trading accounts in one place on Bitsgap, it does not matter how many you have.
Bitsgap Binance Futures Trading bot
---
Binance futures trading bot is one the most recent projects by Bitsgap. The platform offers you to create a "combo" bot that includes both GRID bot and DCA Trading bot. Furthermore, this platform allows you to use various other features, such as the shadow and snipper modes, TWAP, arbitrage trading bot, etc.
As the platform's name says, Binance futures trading bot allows you to buy or sell an asset at some fixed price in the future.
Trading terminal
---
Trading terminal is another exciting feature established by Bitsgap.
Bitsgap's trading terminal consists of two or two panels (right and left). A decision-making right-side panel that users can use to execute orders and see their available balance (on a selected cryptocurrency exchange), and a left-side panel with relevant cryptocurrencies infographics.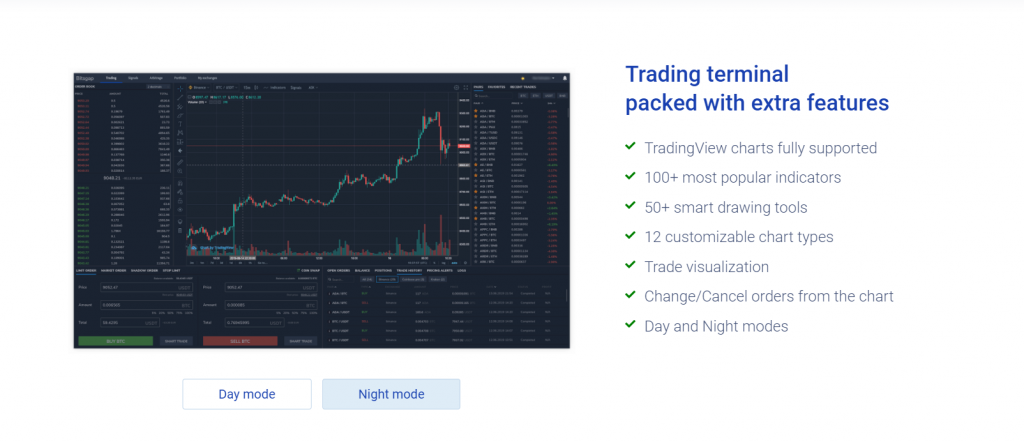 Bitsgap demo
---
A Bitsgap demo is an option on the platform that you can use to simply test the Bitsgap bot before using it and see if it suits you. This option is rare among crypto trading bots, so it is a big plus for Bitsgap.
Grid trading bot
---
Grid Trading's goal is to help you have a stable trading profit by simply buying and selling orders at predefined price intervals. In addition, it allows you to take advantage of market prices fluctuations fully. If you want to automate Grid Trading Strategies, Bitsgap Grid trading bot is something you should consider.
Bitsgap Signals
---
Bitsgap also offers signals as an option to see the opportunities on the market and get returns. The purpose of the signals is to keep you updated about significant market changes. You will be immediately notified if the platform sees price anomalies.
Bitsgap Pricing
---
Bitsgap offers its users three different monthly plans – Basic ($19/month), Advanced ($44/month), Pro ($110/month).
The difference in prices is there due to the variety of features each plan offers. For example, you can see these varieties below:

Is Bitsgap legit?
---
Bitsgap is not a scam platform. It is completely legit and safe. Otherwise, it won't be so popular among crypto traders. One thing to note about Bitsgap is that the bot itself is not allowed to make any withdraws, which means that your funds are safe and secure in your respective wallet.
Bitsgap: Pros and Cons
---
Pros:
Efficient customer support ✅
Great portfolio management method ✅
Trading terminal, signals, and demo features ✅
25 supported exchanges ✅
Option to import pre-configured trading bots ✅
High-quality Grid and DCA strategies ✅
Cons:
No Android or iOS apps. You have to use only the website ❌
When you compare it to other similar bots, it has limited features ❌
CryptoHopper
---
What is CryptoHopper?
---
Cryptohopper bot was created by two brothers from Netherland back in 2017, so it is still a relatively young automated crypto trading platform. However, CryptoHopper is also an easy-to-use system. The platform offers both automatic and semi-automatic trading. Let's look into some of the features Cryptohopper bot offers.
Market-Making bot
---
An exciting feature on Cryptohopper is its Market Maker bot. The bot allows you to place your limits for buy and sell orders, and the purpose is to keep the market liquid.
By placing these orders, the order book of the exchange will change, making the spread smaller. This action will reduce the distance and make the market more liquid.


Strategy designer
---
Another exciting section on Cryptohopper is called strategy designer. This is the part where traders are offered to personalize their professional analysis setting. You can see a set of indicators that you can use to detect and configure a wide variety of trading indicators.


The paper trading mode
---
The paper trading mode on Cryptohopper allows you to use the bot like you usually would. With this mode, you can add fake fund deposits to your paper trading account. The method helps you to get a feeling of what trading will be like with different amounts.
CryptoHopper Signals Telegram bot
---
If you are a fan of the Telegram app, then the Crypto Telegram bot is made for you. This bot can automate the trading strategies of traders who refer to crypto signals telegram channels.
The reputation of the CryptoHopper Telegram bot is that it is safe and profitable. Therefore, my most vital suggestion is to use this bot if you are a trader who does copy trading or has an existing brokerage account.
MarketPlace
---
The platform also offers a Marketplace for third-party service providers in categories, signals, templates, apps, and trading strategies.
The signals on the marketplace are provided by trading professionals who often operate through Telegram channels.
CryptoHopper Pricing
---
Cryptohopper offers its users three types of plans: Explorer Hopper ($19/month), Adventure Hopper ($49/month), and Hero Hopper ($99/month).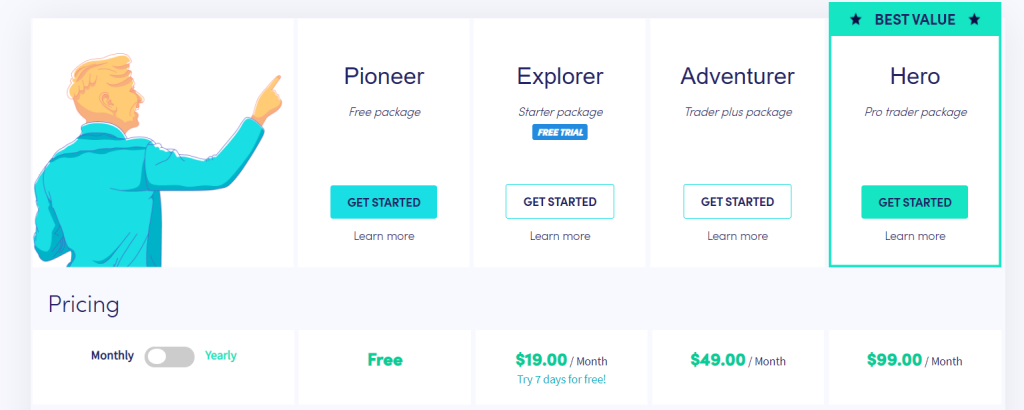 Furthermore, CryptoHopper does offer a 7-day free trial period that you can use to get to know the platform and decide whether you want to use it or not. There is even a possibility to get a 30-day free period, but only if you sign up via a referral. The plans can be purchased on a monthly level, and on a yearly one as well.
Is CryptoHopper safe?
---
Cryptohopper is an entirely legitimate trading bot that can (with some hard work and a bit of luck) potentially help its users earn a profit by trading crypto. The bot will not charge any fees based on your profit, only the monthly amount for your chosen plan.
They have been on the market for more than three years and have never caused any severe issues to their users. Therefore, we can conclude that Cryptohopper is a safe platform.
CryptoHopper: Pros and Cons
---
Pros:
Easy to navigate and setup ✅
Lots of exciting and useful features such as strategy designer, marketplace, signal Telegram bot, etc. ✅
Free version available ✅
Nice user interface ✅
Good marketplace ✅
A decent number of supported exchanges (Kraken, Bittrex, Binance, Kucoin, etc.) ✅
Cons:
Have to pay extra for signals ❌
Pricy plans ❌
No number for customer support ❌
Coinrule
---
What is Coinrule?
---
Coinrule is another automatic crypto bot trading platform. Coinrule offers a variety of tools that you can use to set your trading strategies or choose from the templates. Let's look at some of the best features of Coinrule.
150 Different rules to create your unique trading recipe
---
I have already mentioned Coinrule offers various tools that can help you create an efficient trading strategy. However, what happens if you do not have time or concentration to create the strategy on your own?
In that case, Coinrule offers 150 different trading templates that you can use as trading strategies. This feature is particularly useful for beginners in the crypto trading business.
Backtesting
---
Backtesting utilizes chronicled information to test a trading system. It assists you with checking how these systems act in specific market situations. Though it isn't required, they will still recur the same way as they did before. The genuine outcome relies upon the execution prices that can never be forecasted.
It is worth noting that Coinrule does not support backtesting directly. However, you can use third-party services, such as TradingView.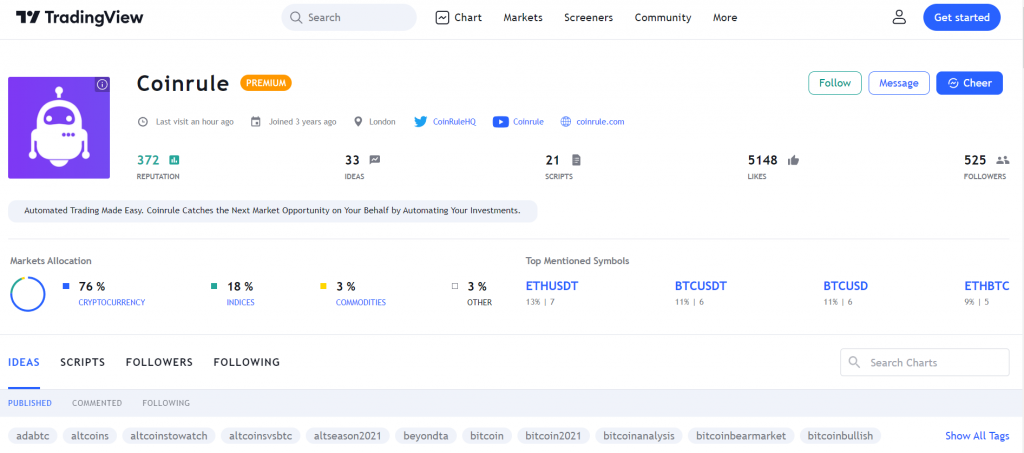 Supported exchanges
---
Coinrule supports over 10 major cryptocurrency exchanges via API key connections. Some of those supported exchanges are Bitstamp, Bittrex, Coinbase Pro, Binance, BitMEX, Kraken, and Poloniex.
Coinrule Pricing
---
Coinrule offers a completely free plan. However, keep in mind that the cost-free plan has limitations when compared to paid plans. Free account supports only one exchange, two demo/live rules, as well as only seven template strategies.
The prices for the paid plans go from $39.99 to $249.99 (per month), based on the features available. The price for any plan can be lower if you choose to pay for a yearly membership.
Is Coinrule Legit?
---
Well, of course, it is legit! Coinrule is considered transparent, honest, and fair with its clients. The platform tries to motivate its customers to take needed precautions in order to avoid market risks and be familiar with the trading threats and trends.
Furthermore, Coinrule is a safe and secure platform. Some of the options you can use to increase security are two-factor authentication, SMS notifications, and secure API.
Coinrule : Pros and Cons
---
Pros:
Easy to use platform ✅
The greater part of major exchanges supported ✅
Free to use (to some extent though) ✅
150+ guideline templates suitable (suitable for beginners) ✅
Nice range of pricing plans ✅
Cons:
No direct backtesting ❌
No Android, or iOS apps ❌
CryptoHero
---
What is CryptoHero?
---
CryptoHero is a new player in the crypto trading market but already one of the leading automated crypto trading tools. The platform connects with leading crypto exchanges and helps you automate your trading.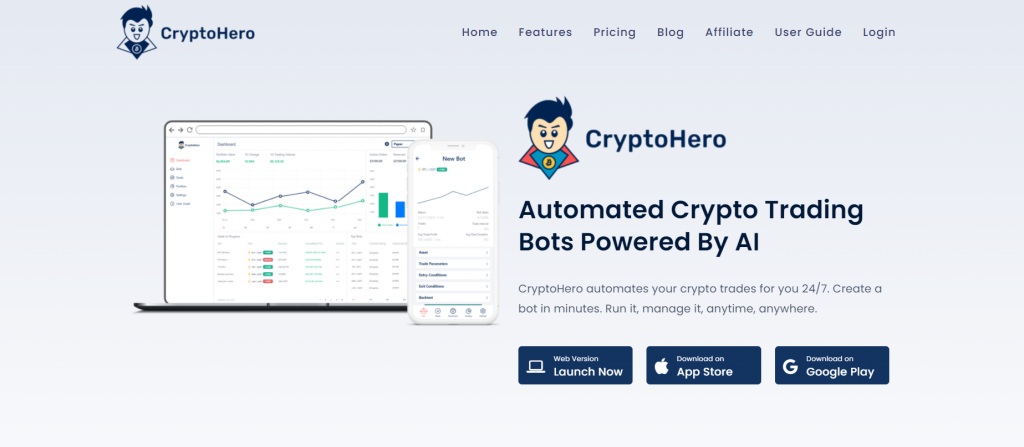 The popularity of the bot has grown recently, but what makes this bot so popular among traders? Let's look at some of the features CryptoHero offers so that we can better understand how the platform works.
AI optimized bots
---
One of the best features on CryptoHero is that it supports AI optimization and is capable of managing several accounts at the same time.
Once you have finalized setting your parameters for trading and chose trading strategies, the AI optimized bots run simulations and send you information about the best opportunities in the market. In the end, exit when the condition is achieved.
Top bots on Dashboard
---
This section is shown on the top of the dashboard where you can see top-performing bots during the selected period of time. You can click on these bots and simply copy their settings to create a bot for a particular market.
Supported exchanges
---
The platform supports leading crypto exchanges such as Binance, Kraken, Coinbase Pro, Huobi, KuCoin, Bittrex, Gate.io, and many others. You can also manage multiple accounts on CryptoHero.
CryptoHero Pricing
---
CryproHero offers 3 types of plans to its users: a Basic one (Free), Premium ($13.99/month), and Professional ($29.99/month). The price of the plans can be lower if you choose to pay for a yearly subscription, and you will also get 2 months free. To be honest, a yearly subscription is probably the best option.


To better understand the differences in features based on the plan you choose, please see here.
CryptoHero: Pros and Cons
---
Pros:
Free version available (use it until you decide whether you want to use the platform or no) ✅
Supports AI optimization and backtesting ✅
Offers various technical indicators that you can use to customize the trading ✅
Cons:
You can connect up to 5 exchanges at the same time (even with the most expensive plan) ❌
A maximum of 40 active trading bots can be used (not suitable for trading professionals) ❌
HassOnline
---
What is HassOnline?
---
HassOnline is considered one of the oldest crypto trading bot platforms. HassOnline is focused on Bitcoin trading. It is easy to use and helps you create a trading strategy for your bot even if you are not an experienced trader.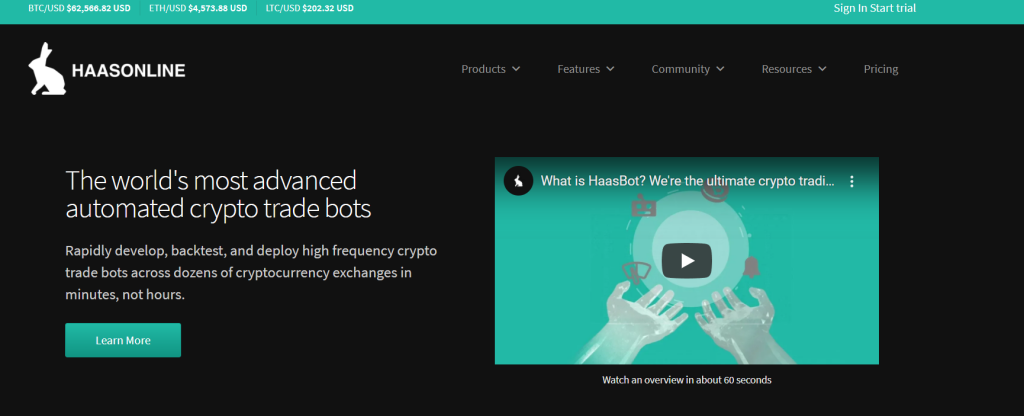 The platform has some exciting features, so let's look into some of them to understand better how HassOnline works.
TradeServer
---
This feature is particularly useful for experienced traders. It helps you to go from traditional markets (such as Forex for example) to the cryptocurrency market. TradeServer allows you to connect more than 20 trading platforms with HaasOnline.
HaasScript
---
If you like coding and creating your own signals in trading, HaasScript will be interesting to you. This feature is a crypto scripting language and it supports more than 600 commands.
Backtesting
---
HaasOnline supports backtesting. You can test your strategies and see if they work before you invest any real money.
HaasOnline Pricing
---
The interesting part about HaasOnline's pricing is the fact that you need to pay for a subscription in Bitcoin. There are three types of plans – Beginner, Simple, and Advanced.
Furthermore, you can choose between the 3-month, bi-annual, and annual plan durations. You can also get a discount on the yearly subscription plan.
Is HaasOnline Safe?
---
HaasOnline is one of the oldest trading platforms in town and since they are on the market for so long and never caused any major issues to their users, we can conclude that it is a safe platform. The team around HaasOnline tries to create the most secure trading software system.
HaasOnline: Pros and Cons
---
Pros:
Various types of trading strategies
Nice features such as backtesting, TradeServer, or HaasScript
Special attention on safety, and security
Even though they do not have a free trial, the platform does offer a demo mode
Supports backtesting
Cons:
Fees are charged in BTC
No free trial
If you are a beginner, Haasonline might be overwhelming
What are the Binance API trading bots rules?
---
Binance offers a set of rules for API trading bots. If you break any of these rules, you can be restricted from adding to your positions or even opening new asset positions violating the rules.
Binance API trading rules can be seen below:

Trading bot support Binance
---
If you have any kind of issues with the trading bot, feel free to contact your bot provider and see if they can help you. If that doesn't help, then please check the Binance FAQ section and see if you can find the solution there.
Finally, if you still haven't resolved the problem, you can contact Binance chat support and leave them a message.
Binance Trading Bots: Conclusion
---
Each bot we have looked at in this article has something specific, and an interesting feature that others don't.
Bitsgap offers a future trading bot, while CryptoHero offers an AI-optimized system. Furthermore, Coinrule has more than 150 templates with trading strategies. CryptoHopper offers Telegram signals trading bot, and HaasOnline supports backtesting, TradeServer, and HaasScript.
Based on your preferences and desires in trading, you can choose the best possible bot you will use on Binance.
Frequently Asked Questions
---
Read also:

CaptainAltcoin's writers and guest post authors may or may not have a vested interest in any of the mentioned projects and businesses. None of the content on CaptainAltcoin is investment advice nor is it a replacement for advice from a certified financial planner. The views expressed in this article are those of the author and do not necessarily reflect the official policy or position of CaptainAltcoin.com