Coinbase Loans Review – LTV, Collateral, Rates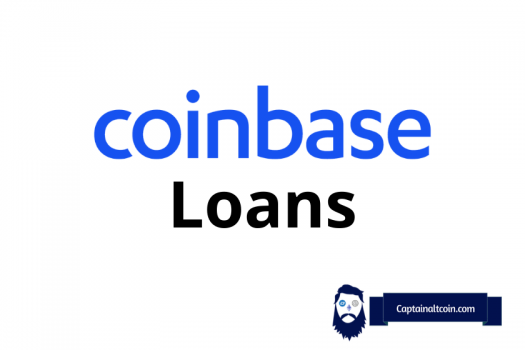 Coinbase Loans Review – LTV, Collateral, Rates
Offers a cost-effective way to borrow money with no loan origination fees or paydown charges
Withdrawing is straightforward
You may have seen the recent headlines about Coinbase offering million-dollar loans against Bitcoin. This is important – it's how rich people have always done it – they borrow against their hard assets but never sell them.
We take a look at what's on offer from Coinbase and discover how this is very different from a regular bank loan. Regular folk now have access to high-quality, non-predatory financing. Really, this could change your life – and this is how.
Your Questions about Coinbase Loans
---
These loans are radically different from the bank loans you apply for at your retail bank. There's no credit check and apart from your KYC details (Know Your Customer), Coinbase isn't interested in your story. As long as you hold the Bitcoin, you can borrow against it. There's no interest rate apartheid here, every qualifying resident is welcome.
We've answered the most common questions and dug into the risks and rewards so you don't have to. There is some technical stuff you need to understand as your crypto assets are at risk if things go wrong, so let's start at the beginning.
What are Coinbase loans?
---
Coinbase loans are secured loans for which the borrower provides collateral in the form of cryptocurrency. They're cheaper than unsecured loans because there's no risk to the lender. You either pay your interest or forfeit your crypto assets.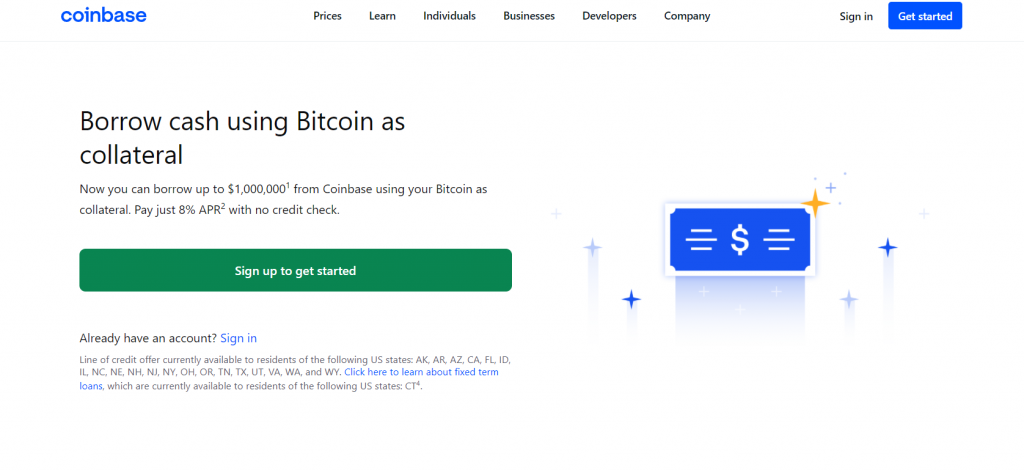 Who can access Coinbase loans?
---
Adult Coinbase customers from a growing number of US jurisdictions can apply. So far the list of states includes Arizona, Arkansas, Alaska, California, Florida, Idaho, Illinois, North Carolina, Nebraska, New Hampshire, New Jersey, Ohio, Oregon, Tennesse, Texas, Utah, Virginia, Washington State, and Wyoming. 
What about terms, interest rates, and fees?
---
Coinbase has kept the fee structure simple. There are none. There's currently a nominal interest rate of 8% with a variable APR (Annual Percentage Rate) calculated against the Overnight FED Rate, plus a "small" margin. Compared to bank loan rates for people with a low FISASCORE, it's a very cost-effective way to borrow money with no loan origination fees or paydown charges.
Coinbase loans are interest-only with no late fees. The small print tells us that a maximum term of 2 years may be imposed at Coinbase's discretion. Hopefully, this is only for distressed or delinquent accounts, otherwise, this might not be a long-term solution to your borrowing requirements.
What is LTV and why is it important?
---
LTV is your Loan To Value Ratio – the amount you decide to borrow against your assets. Coinbase allows you to borrow up to 40% of the value of your Bitcoin assets. You can borrow less, of course, but why is the maximum 40%?
Imagine if you borrowed 100% of the value of your Bitcoin and there was a huge downswing in the BTC price. You would no longer hold enough BTC to cover your loan value and that could trigger a liquidation of your BTC held as collateral. At the very least, you'd have to add to your collateral or pay down part of the loan to make up the shortfall.
This is why Coinbase only lends 40% of the value of your assets, in the hope that it will never happen. Of course, you could play it safe and borrow a smaller fraction of your BTC value. The lower the LTV ratio, the less risk of disaster, and the cheaper the loan should be… Coinbase?
Which tokens can I use as collateral?
---
At the moment, Bitcoin is the only collateral Coinbase accepts. Other platforms will let you collateralize almost any token, but this can be very risky as they tend to be far more volatile making liquidation more of a possibility. Even with its average 170% yearly range, BTC is still regarded as being a relatively stable cryptocurrency.
When and how will I receive my funds?
---
Once agreed, your loans funds are credited to your bank account via ACH bank transfer, or to your PayPal account.
When are my repayments due?
---
You must meet the monthly minimum interest payment but the principal can be paid off at any time you like. As long as you maintain your interest payments and your LTV ratio stays healthy, there's no obligation to repay the loan within a fixed time – other than the Demand Clause which allows a 2-year minimum term option for Coinbase.
How do I make my monthly interest payments?
---
Using the cellphone app, tap your loan to view its status. Click Make Payment and follow the instructions.
On your laptop, sign into the "Borrow" homepage and click on "Portfolio." Click the "View Details" button to see your loan summary. From here you can make a payment.
Use your Binance account dollar balance for the quickest, easiest payments. External bank accounts must be linked to your Binance account before you can pay by bank transfer or debit/credit card. This can take time and paperwork, depending on how obstructive your bank is.
How can I withdraw my collateral?
---
Once you repay the loan, your collateral will be released and become available for withdrawal. The standard Coinbase rules apply. On a computer, you navigate to the "Cash Out" tab under "Assets." You select the recipient account. Click "Continue" and once you've doubled checked everything, click "Cash Out Now."
The mobile app is similar – head to "Cashout" then enter the amount and where it's to be sent. Hit "Preview Cash Out" and when you are happy, click "Cash Out Now"
What about early payments?
---
There are no penalties nor rebates for paying your Coinbase loans off early, as there's no fixed-term. You keep paying the interest as long as you have the loan.
What are the risks of a Coinbase loan?
---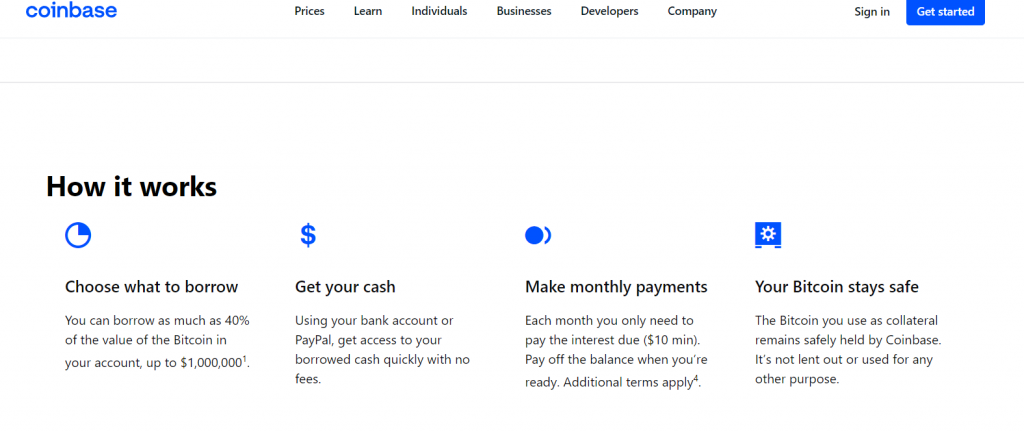 So, I can take out reasonably priced, unsecured loans, with no credit check? And I can hang on to my assets as well? It sounds too good to be true! There're a few dangers of which we need to be aware.
Read also:
When and why do I need to add more collateral?
---
Should your LTV ratio hit an unhealthy level, you will need to add to your collateral or pay down a portion of your loan. You can read about LTV ratios and Loan Health here. A healthy loan rating is above 70% with the alarm bells ringing at between 40-60%.
In summary, once you fall below 40% Loan Health you will be asked to increase your collateral or make a cash payment. If you don't comply, your BTC will be sold to bring your Loan Health back to a safe level of 50%. Coinbase DO NOT liquidate your entire position. They only sell enough of your collateral to cover the immediate shortfall.
PROS
Offers a cost-effective way to borrow money with no loan origination fees or paydown charges
Withdrawing is straightforward
CONS
Only Bitcoin supported for loans

CaptainAltcoin's writers and guest post authors may or may not have a vested interest in any of the mentioned projects and businesses. None of the content on CaptainAltcoin is investment advice nor is it a replacement for advice from a certified financial planner. The views expressed in this article are those of the author and do not necessarily reflect the official policy or position of CaptainAltcoin.com