Blockfi Review: Pros & Cons, Fees, Security Examined


Blockfi Review: Pros & Cons, Fees, Security Examined
Earn compound interest on Bitcoin and Ether deposits
Fast liquidity without cashing out of cryptos
Loan approval without traditional credit checks
Fully Regulated in the US
Backed by Major VC firms like Coinbase, Sofi, Fidelity among others
no early withdrawal penalty
Zero fee trading
No matter how pessimistic or even dismissive traditional finance experts are about cryptocurrencies, the industry is burgeoning. If you own solely bitcoin or some other altcoins and no fiat, you have access to almost all traditional banking products and services like lending, borrowing, interest rates, investing portfolios, etc.
The sector of cryptocurrency lending and borrowing is booming and today's subject of our review is BlockFi – one of the leading bitcoin lending platforms on the market right now. It is definitely number one in the USA, while it does have serious competitors in YouHodler, NEXO, and Celsius Network elsewhere.
Our Blockfi review will cover all important aspects of Blockfi, the platform's advantages and drawbacks, who is best suited to use it, and how much can you really earn with Blockfi and similar sites.
What is Blockfi?
---
Blockfi is a new generation of blockchain-based platforms for wealth management. It offers loans in different currencies backed by collateral in the digital crypto asset. A collateralized loan is a type of borrowing where a client stakes an asset against the funds they are receiving. Once your loan is paid off, you get your crypto back (denominated in the coins you made the collateralization, meaning any price gains are yours to take, just as if you held the coins in your own wallet).
You can put your crypto to work for you by lending it via the platform OR you can borrow some money from them by collateralizing your crypto holdings.
Now, let's move to the main part of this Blockfi review.
Blockfi – Who is behind the platform
---
BlockFi is a New York-based company with an official address at 201 Montgomery Street, Second Floor, Suite 263, Jersey City, New Jersey 07302.
The company raised over $60 million in funding back in August 2017 by the pair of Zac Prince and Flori Marquez.
BlockFi got investment support from a slew of well-known investing firms including ConsenSys Ventures, Kenetic Capital, SoFi, Mike Novogratz's Galaxy Digital, and Morgan Creek Capital (Morgan Creek was the driving force behind this, along with other notable investors such as Winklevoss Capital and CMT Digital).
Blockfi team
---
Founder & CEO, Zac Prince led business development teams at a broker-dealer company called Orchard Platform.
Co-Founder & VP of Operations Flori Marquez has experience working on building a $125MM portfolio for Bond Street (acquired by Goldman Sachs). She was a Head of Portfolio Management, Flori managed all operations from point of origination through to default and litigation.
Chief Risk Officer, Rene Van Kesteren spent over 15 years at BAML as a Managing Director of ML Professional Clearing / Prime Brokerage.
What products does Blockfi offer?
---
Officially, Blockfi now offers 4 separate products, as they added trading capabilities to their platform recently. These products are:
crypto loans
Blockfi interest accounts
Trading
Institutional services
Crypto loans
---
This is the core business for BlockFi. They provide USD loans collateralized by your digital crypto asset.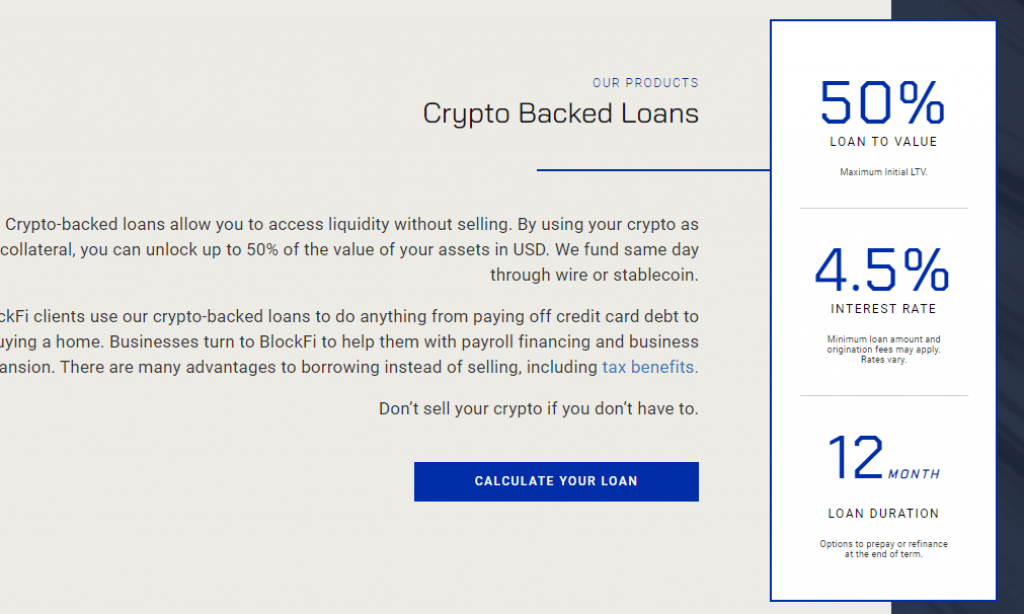 How does it work?
---
You signup and apply for a loan which is a 2-minute process. If you are approved (which can take as little as 90 minutes to be done), Blockfi gives you USD and you give them Bitcoin (BTC), Ether (ETH) , or Litecoin (LTC) as collateral and security that you will repay it. You can loan up to 50% of the value of your deposited assets (LTV values range from 20% to 50%; LTV is a loan-to-value ratio).
The interest rate starts at around 4.5% with a 12-month standard loan duration, although BlockFi also includes options to prepay or refinance at the end of the loan term.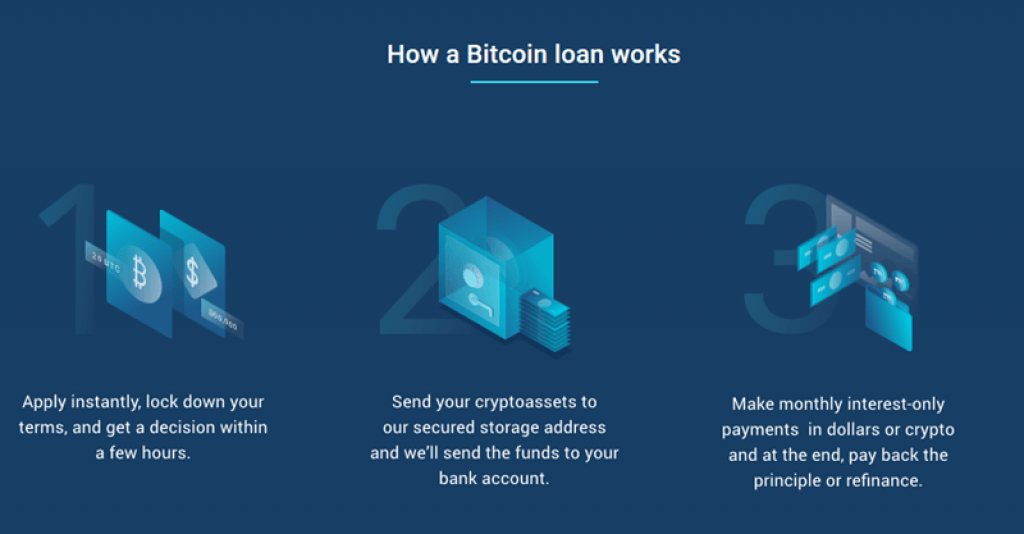 Who can apply for a Blockfi crypto loan?
---
Before taking out a cryptocurrency loan on Blockfi, you will need to go through KYC and provide personal and social security information along with your financial history. In order to be approved, you'll have to meet certain requirements and these include:
A minimum of $15,000 in crypto assets
No liens on assets (including tax liens)
No bankruptcies
What are the advantages of crypto loans on Blockfi?
---
The main advantage is you don't have to sell your coins if you hit a rough patch and urgently need money. You can then store your cryptos with Blockfi, apply for a loan, use it to douse the financial fire, and then get your crypto back once you are in better financial shape and repay the loan.
You essentially "lose" only the interest rates you pay for the loan.
What can you do with a crypto loan?
---
Anything you can do with a regular, bank loan. Money is money – once you have it, you can do whatever you please: buy a home, buy a car, fund a business, travel the world, pay off some other debt, etc.
How to apply for Blockfi crypto-backed loan?
---
You can apply for loans on Blockfi website by inputting your requested loan amount, what cryptocurrency you want to stake, and KYC/AML information for identity verification purposes.
Your credit score will not be affected if you apply for BlockFi loan as they do not pull hard or soft checks on the client's credit.
The BlockFi team will then receive your application and review it. They usually get back to you within one business day.
If you are approved (high chances you will be, unless you are into something shady), Blockfi will send you a loan offer with information on how it was calculated and other important details. If you accept it and file an application, you can expect a decision within 2 hours.
What affects your chances of getting a crypto loan with Blockfi?
---
Blockfi takes into account the loan amount, your credit history, and your location when deciding on your application. Not all offers are the same and these three factors influence the conditions you will receive as well.
You can find the most up-to-date rates on our loan calculator page.
Blockfi charges interest rate + origination fee (around 1-2% on average). Both of these depend on the above-mentioned criteria.
What does Blockfi offer look like?
---
Once you apply and go through the review process, Blockfi sends the offer that contains a couple of major points:
origination fee
interest rate
amount of crypto collateral you need to put up and stake
LTV (loan to value) which ranges from 20% to 50% on Blockfi platform. A lower LTV will require more cryptocurrency to be posted as collateral, and a higher LTV will require less.
If you accept the offer, you will need to send the required crypto collateral to Gemini, who acts as a custodian for Blockfi funds (Gemini is a licensed and insured custodian for the amounts held off up to $100 million)
BlockFi's crypto loans are interest only loans, so you only need to pay interest over the term, and can repay in full at any time with no prepayment penalties. If you decide to pay off your loan early, you won't be required to pay interest on the remaining length of the loan. (Click here to learn more about early crypto loan repayments)

Blockfi interest account
---
The second main product of Blockfi is their interest account or BIA. You can securely store any crypto of your choosing at BlockFi (actually in Gemini wallets as Gemini is their custodian) and receive interest paid monthly in cryptocurrency. This is one of the best bitcoin savings accounts on the market right now.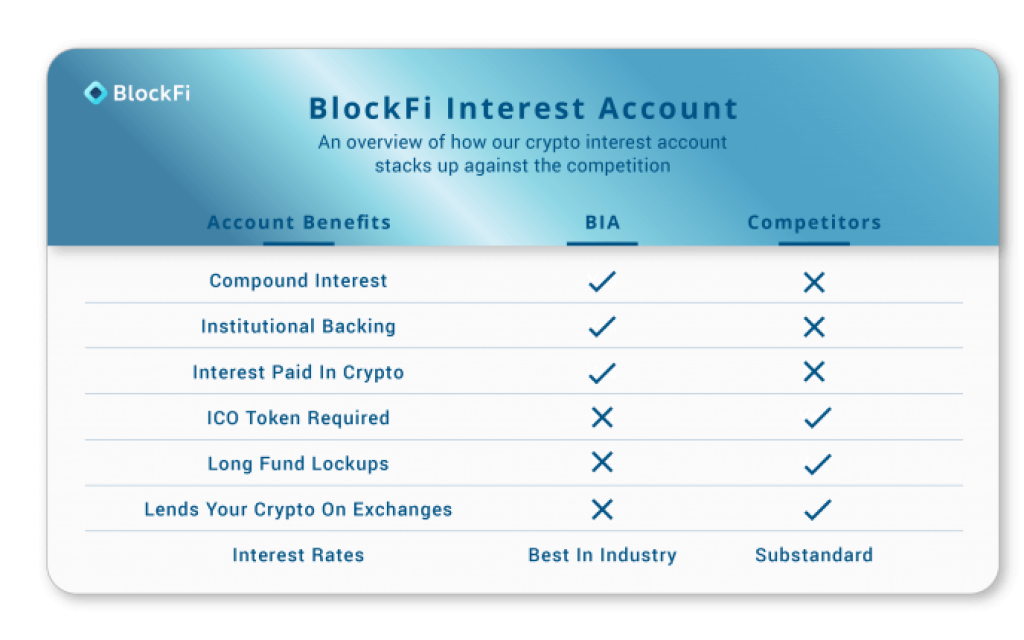 The interest rate is paid into your account every month (in the currency you deposited on Blockfi) and it is also compounding monthly.
There is no minimum or maximum deposit for the BlockFi Interest Account. As for the rates, here is a tabular overview of APY (annual percentage yield):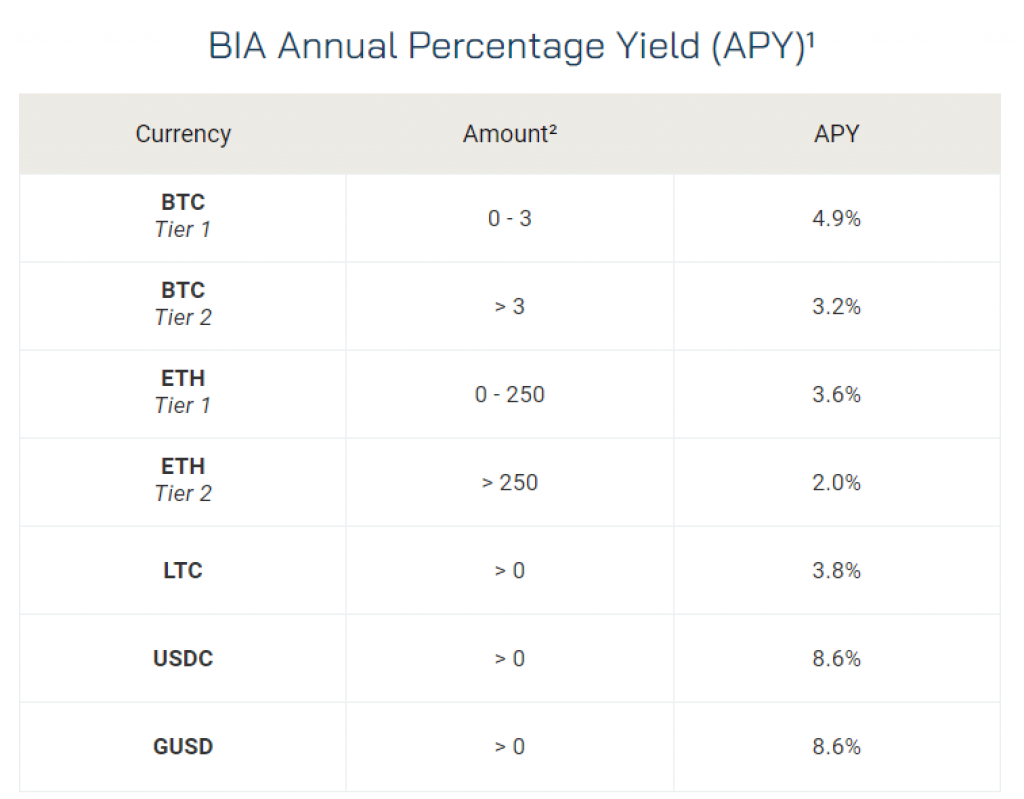 How can you open BIA?
---
The BlockFi Interest Account is generally available to anyone over the age of eighteen. However, the BIA is not available to the inhabitants of nations sanctioned by the US or on any watch lists. Furthermore, the Interest Account is not available to anyone in the European Union or the states of New York, Connecticut, and Washington.
How to Earn Interest in Crypto?
---
Let's say you deposit 1 BTC on Blockfi with a goal to earn passive income from your crypto holdings through interest rates from BlockFi. If the interest rate is the usual 6% and compounds every month, then if you deposited on February 28, you will have an updated balance of 1.005 BTC at the end of March. This process repeats month over month until the client decides to withdraw their funds.
Provided that the interest rate and deposited crypto's price remain unchanged, the client who deposits 1 Bitcoinon February 28, 2019, will see their overall holdings increase to a value of 1.062 BTC (+6.2%) over a 12-month period.
You can even get paid in a different currency than the one you deposited by utilizing Blockfi's Interest Payment Flex. This means that if you deposited BTC but want to get paid in a stablecoin like GUSD or USDT, you can do it.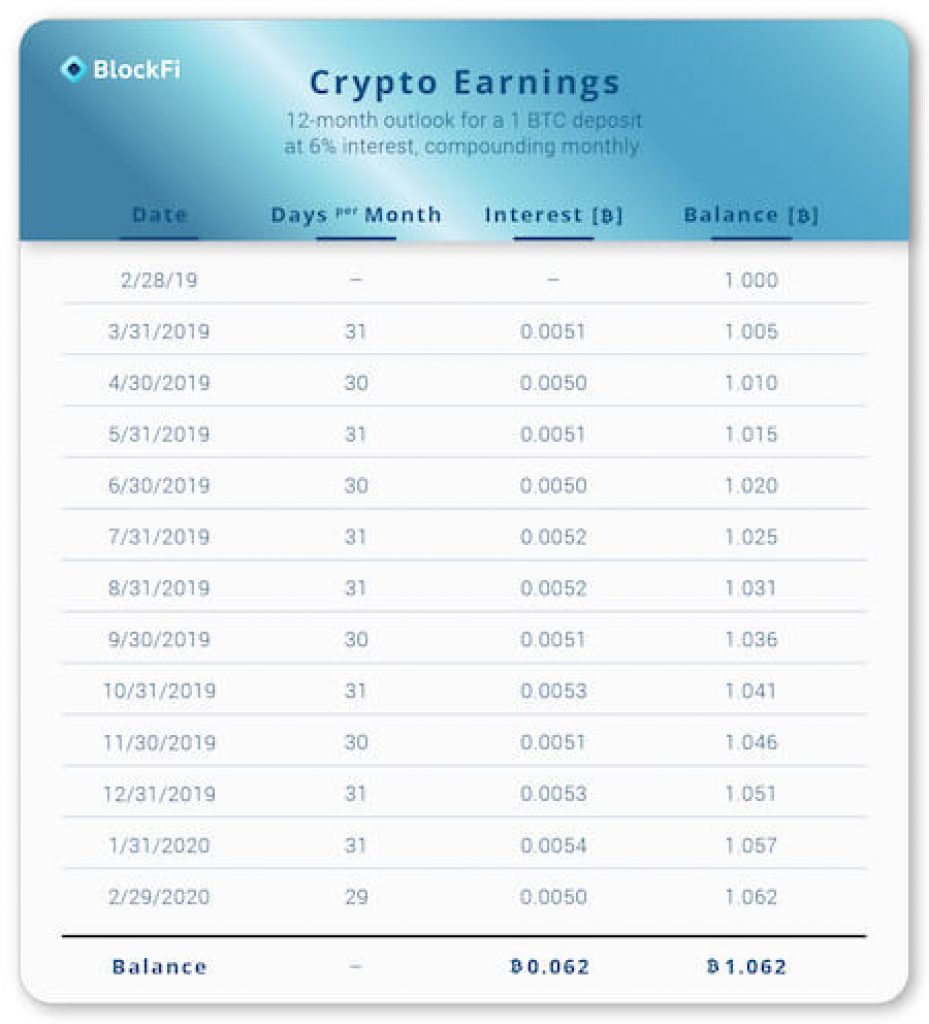 The minimums and maximums for the BIA
---
Blockfi requires no minimum or maximum deposits for their interest accounts. However, only deposits over 0.5 BTCand 25 ETHearn interest.
There is an upper limit as well. Blockfi pays approx. 6.2% annually for balances between 0.5 BTC – 25 BTC and 25 ETH – 250 ETH. Anything above those limits will see an interest rate diminish to 2%.
Does the BlockFi Interest Account have withdrawal fees?
---
Blockfi offers one free withdrawal per month per client. After that, their primary custodian Gemini passes on a withdrawal fee of either 0.0025 BTC or 0.0015 ETH.
Blockfi trading
---
BlockFi now offers a feature allowing users to seamlessly trade between BTC, ETH, LTC, USDC and GUSD on the platform at zero cost. A great addition for those interested in converting their GUSD interest into BTC to stack sats even more efficiently. (Read More)
The BlockFi wallet allows you to store and trade cryptocurrency on the BlockFi platform, but it is not an interest-bearing account.
Crypto loan stipulations
---
BlockFi loans start at a 4.5% interest rate with an additional origination fee of around 1% to 2% and generally have a duration of 12 months. In addition, the loan-to-value (LTV) ratio determines the amount of crypto collateral needed to be deposited before taking out a loan, and BlockFi offers LTVs up to 50% with BTC, ETH, or LTC accepted as collateral.
BlockFi loans are interest-only and clients are expected to only pay interest during their monthly payments, with a lump sum payment for the remaining amount being required at the end.
What are the benefits of using Blockfi?
---
Well, just like with any lending and borrowing – if you are a lender with money, you put that money to work for you and that is the main selling point and benefit of Blockfi. You can get a passive money income stream through their interest rate, which runs at around 6.2% annually.
Another benefit is that a BlockFi loan does not trigger a cryptocurrency capital gains tax event and, in some circumstances, the interest paid on your loan may be tax-deductible against certain types of investment income. Selling your crypto can also trigger tax consequences, making a loan an option very desirable.
Blockfi is quite flexible with repayments, as their loans are interest-only loans, so you only need to pay interest over the term, and can repay in full at any time with no prepayment penalties.
Is Blockfi regulated and who can you turn to in case of legal issues?
---
Since you will be giving over the control of your coins to a third-party (Blockfi), it is crucial to make sure that Blockfi is a legitimate, insured, licensed, and regulated business. BlockFi is categorized as a secured non-bank lender and offers US Dollar loans that are backed by a crypto asset and operates under Article 9 of the Uniform Commercial Code which governs secured lending.
The company also files UCC-1 financing statements with each of its borrowers' states.
The funds are stored with the famous cryptocurrency exchange Gemini, which has an impeccable track record when it comes to security and data protection. Gemini is a New York trust company licensed by the New York State Department of Financial Services and a fiduciary under §100 of the New York Banking Law and held to specific capital reserve requirements and banking compliance standards. Gemini also has digital asset insurance coverage and is SOC 2 Type 1 security compliant on its exchange and custodian platform.
Additionally, Blockfi cooperates with a 3rd party loan servicer that is set up to guarantee the execution of loan contracts.
Blockfi is currently available in 35 US states while accepting Bitcoin, Ethereum, Litecoin, and Gemini's stablecoin GUSD as collateral options.
What happens if your crypto assets appreciate or in the case of blockchain forks?
---
You keep them and can access them after you repay the loan. Additionally, in case of forks or airdrops, Blockfi will return any additional coins that occurred during the loan term as long as Gemini, their custodian supports that coin.
How Does BlockFi Work?
---
Blockfi is a mirror of a traditional bank loans sector: you can deposit coins and yield interest (around 6.2% annually, on average) or you can apply for a loan that is secured by your crypto assets.
You apply, get approval, get an offer, accept it, send your crypto to Gemini wallets to serve as collateral, and get USD in return that you can then spend to your liking. You pay interest on the loan every month and, once done, repay the loan amount in full using BTC, ETH, or fiat currencies.
In the event of any issues, BlockFi can take possession of the equivalent amount of cryptocurrency needed to pay off the rest of the loan.
In case your cryptocurrency collateral loses in value (due to high volatility in crypto markets), you will get notified by Blockfi that you need to top up your collateral or risk being liquidated if the LTV value falls below certain thresholds.
For example, anyone taking out a loan against $100,000 worth of Bitcoin is eligible for a loan amount of $50,000 due to BlockFi's loan-to-value ratio of 50%.
If the price of Bitcoin falls by 30% and the collateral drops to $70,000 in value, the loan proceeds of $50,000 are equal to 70% of the value of the collateral as 50,000 divided by $70,000 comes close to 70%. This threshold causes a trigger event to take place, and upon notification by BlockFi, you have 72 hours to contribute more collateral in order to further support your loan.
What is the LTV range on Blockfi?
---
LTV (loan-to-value) ratio is the ratio that determines the amount of crypto collateral you need to put up in order to take out a loan. LTV ranges from 20% to 50% on Blockfi platform.
For example, in case you stake 10 BTC and get an LTV of 50%, that means that you can get a loan in value of 5 BTC, denominated in Gemini stablecoin or USD.
How does the Loan Process Work?
---
The BlockFi team has outlined the following 9-step process:
Create an account at https://app.blockfi.com/signup
Click on the Loan tab
Click Apply and fill out the application.
You will receive a decision less than 24 hours
Review your loan offer and sign the loan agreement
Transfer collateral to BlockFi's secure storage wallet
You then receive your loan the same day in USD via a wire to your bank account or stablecoin to your wallet address of choice.
Make interest-only payments monthly using USD, BTC, ETH, or LTC
Pay off the principal in one payment at the end of the term or refinance at current rates

If you have a problem, customer service at BlockFi solves the problem in less than 24 hours.
How does Blockfi make money?
---
The core business for BlockFi is lending and borrowing in both directions and earning from a spread. They make money by borrowing capital at a certain rate (the interest rates it pays to users) and lending it a higher rate (the interest rates it offers for BTC/ETH/GUSD loans).
A BlockFi blog post notes that the company primarily works with institutional counterparties to offer them liquidity. These borrowers consist of:
Traders and investment funds seek arbitrage trading opportunities in a fragmented marketplace.
Over-the-counter (OTC) market makers that connect buyers and sellers that prefer not to transact over public exchanges, often at a steep mark-up.
Other businesses need an inventory of cryptocurrency to provide their clients with liquidity.
Important questions: Is Blockfi safe to use? Is Blockfi legit? Is Blockfi insured?
---
We did thorough research on Blockfi across the internet and didn't find evidence that would indicate that Blockfi is not safe. They actually make a point out of their meticulous attention to user funds' safety, both in the technical and legal sense.
Your crypto assets are stored with Gemini, Blockfi's primary custodian, and a licensed depository trust.
Gemini operates as a trusted company licensed by the New York State Department of Financial Services. Gemini is a fiduciary under §100 of the New York Banking Law and held to specific capital reserve requirements and banking compliance standards. Gemini also has digital asset insurance coverage and is SOC 2 Type 1 security compliant on its exchange and custodian platform.
Your crypto is held in cold storage, and offline wallets which eliminate the risk of classic cyber and hacker attacks and fund loss.
Once the funds are transferred to Gemini, the funds will not be accessible to you until the loan has been paid off.
According to the Blockfi team themselves, they got you covered in all imaginable scenarios:
BlockFi gets hacked?: "Gemini is BlockFi's primary custodian and BlockFi doesn't hold private keys directly. Gemini keeps the vast majority of its assets in cold storage and is insured by Aon. Gemini is a licensed custodian and regulated by the NYDFS. They recently received SOC2 Type 1 compliance audit from Deloitte for their custody solution. We encourage users to read more about Gemini's security. "
A user account is compromised?: "Since inception, BlockFi has not lost any customer funds. In the event that a user's account is compromised, which our security protocols have caught in the past, we freeze the individual's account for one week. Then, we conduct a Videoconference with the affected individual to verify their identity. We can then change their email address and password, so they can regain control of their account."
Suddenly everyone defaults on their loans?: "When we lend crypto assets to generate yield, we have an extremely thorough risk management and credit analysis process. We only primarily lend to large, well-capitalized, institutional borrowers, or to counterparties willing to post collateral and provide the ability to margin call them on a 24/7 basis."
"What that means is, if we are lending $1M worth of BTC to Firm XYZ, Firm XYZ collateralizes the loan (typically ~120%) by giving us ~$1.2M USD. If the loan were to then enter margin call and the borrower was unable to provide additional collateral (default), we would use their USD collateral to buy crypto."
"We have actively lent since January of 2018, including throughout multiple periods of high volatility, without any losses across our entire lending portfolio. BlockFi is bound by NDA's to discuss terms of specific borrowers/rates."
Is BlockFi Suitable for Beginners?
---
Well, if you hold enough crypto to take out a loan or lend it via Blockfi interest account, you are probably savvy enough to manage Blockfi.
If Blockfi is too much for you, then you probably don't have the required minimums for BIA or crypto collateral anyway.
What I want to say is – Blockfi is easy and intuitive unless you are a complete noob.
So Blockfi does fit better with more experienced business or crypto people who had at least some exposure to the whole loans and crypto terminology, conditions, and requirements.
Blockfi – red alerts to consider
---
Even though Blockfi advertises as a blockchain-powered business that handles cryptocurrencies that are inherent by nature (or at least the bigger ones are), Blockfi is still a textbook example of a conventional, centralized company which is clearly reflected in its terms of service. Even the interest rate on BIAs isn't fixed and can be changed every month.
They also state that you effectively hand over the ownership of your funds to them so they can "pledge, repledge, hypothecate, rehypothecate, sell, lend, or otherwise transfer or use any amount of such cryptocurrency separately or together with other property, with all attendant rights of ownership".
This gives BlockFi the right to manage your funds in any way they deem appropriate and on top of this, there's no guarantee you will get any new assets generated from a hard fork, and interest accounts are also not covered by insurance against losses.
Furthermore, the company's business model requires BlockFi to operate on fractional reserves for their cryptocurrency holdings much like a traditional bank. As they choose to sometimes sell and lend cryptos in order to generate additional fiat, the volatility of cryptocurrency prices can lead to adverse results as borrowers on their platform only repay the USD value of their loan.
However, the company may have more leeway to operate given that most loans last for 12 month periods, and they can expect the minority of their users to demand sudden access to their crypto deposits.
Blockfi expansion and future plans
---
BlockFi started with crypto-to-USD loans but plans to expand its services and products offering in an attempt to bring all products and services from the traditional financial sector into the world of cryptocurrencies. They are about to launch a crypto credit card with cashback rewards (rewards credit card) – here is more on the BlockFi card.
Conclusion
---
Yes, Blockfi is centralized and not to the taste of some cryptocurrency purists as it doesn't fit the decentralized ethos of cypherpunks and cryptocurrency as a broad social movement.
However, it is still a very useful service, especially for people who hoarded crypto when it was cheap and have a lot of it today. They can now, quite literally put that crypto to work and reap the benefits of passive income thanks to Blockfi interest account.
Anyone interested in taking out a crypto-backed loan is required to have at least $15,000 in Bitcoin or Ethereum which is out of the reach of most crypto investors. In addition, you must deposit at least 0.5 BTC or 25 ETH to accrue interest in a BlockFi Interest Account.
Despite some limitations and requirements, BlockFi offers eligible individuals and corporations an alternative way to raise capital and allows them to generate funds without having to liquidate their crypto holdings. The company is transparent, and regulatory compliant, and also provides financial products will reasonable fees and interest rates.
However, the complete control they hold over their clients' assets, and their modus operandi of selling and/or trading assets for profit make Blockfi best suited to investor and trader profiles with a high appetite for calculated risk.
It's also a good legal tax avoidance tactic for crypto holders in the US that live in states that charge capital gains tax as BlockFi enables customers to generate funds without cashing out their holdings and becoming liable for capital gains taxes.
PROS
Earn compound interest on Bitcoin and Ether deposits
Fast liquidity without cashing out of cryptos
Loan approval without traditional credit checks
Fully Regulated in the US
Backed by Major VC firms like Coinbase, Sofi, Fidelity among others
no early withdrawal penalty
Zero fee trading
CONS
Centralized service
mandatory KYC
Interest rate not fixed
Fractional reserve business model
Limited Number of Free Withdrawals
Limited Number of Supported Coins
Interest Paid Monthly

CaptainAltcoin's writers and guest post authors may or may not have a vested interest in any of the mentioned projects and businesses. None of the content on CaptainAltcoin is investment advice nor is it a replacement for advice from a certified financial planner. The views expressed in this article are those of the author and do not necessarily reflect the official policy or position of CaptainAltcoin.com