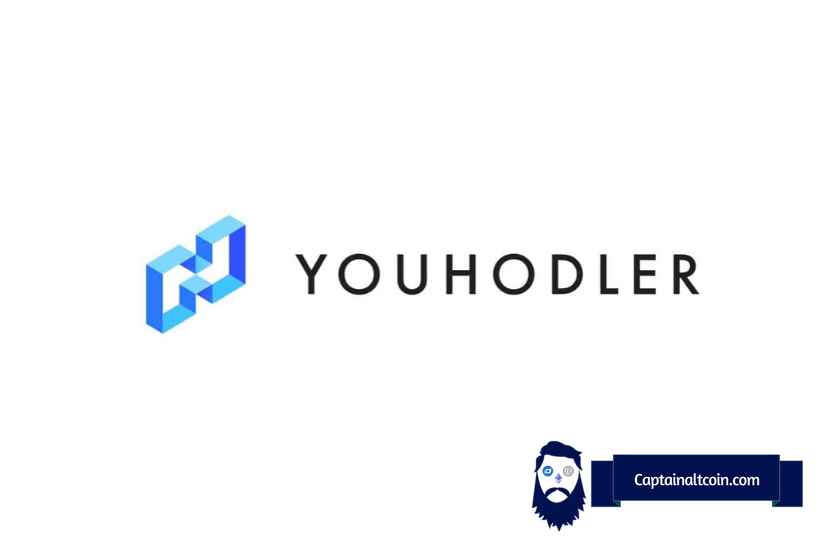 YouHodler is another crypto lending platform that is gaining a lot of exposure and popularity in the last couple of months. So we decided to give it a thorough inspection and this is the result of it: our YouHodler review.
YouHolder is mirroring lending and borrowing business model from traditional banks: you can earn interest rate (of up to 12% on certain coins) or borrow money by putting up your crypto holdings as collateral with a LTV of up to 90%.
If you are from the US, you should check Blockfi, since YouHodler crypto-backed loans are not available in the USA.
| | |
| --- | --- |
| Location | Lausanne, Switzerland |
| Supported Countries | Worldwide, except USA and other exceptions |
| Loan to Value ratio | up to 90% |
| Interest rates | from 3% |
| Fiat currency | USD, EUR, CHF, GBP |
| Minimum deposit | 0.1 BTC, varying for other currencies |
| Credit score | no credit checking |
What products does YouHodler offer?
---
YouHodler provides two core products with additional two, supplemental products. Main YouHodler products are:
crypto loans
crypto savings accounts (interest accounts)
Two supplemental products that YouHodler added to their arsenal are:
Let's move on with this YouHodler review by examining closely all four products and how they work.
Crypto loans on YouHodler
---
Crypto loans are, as their names implies, loans that you can get by collateralizing your digital, crypto assets. YouHodler allows 20+ different coins to be used as collateral:
Bitcoin, Ethereum, BinanceCoin, Ripple, Stellar, Litecoin, Bitcoin Cash, Bitcoin SV, Dash, EOS, Chainlink, Augur, Basic Attention, Ethereum Classic, TRON, Cardano, Monero, Tezos.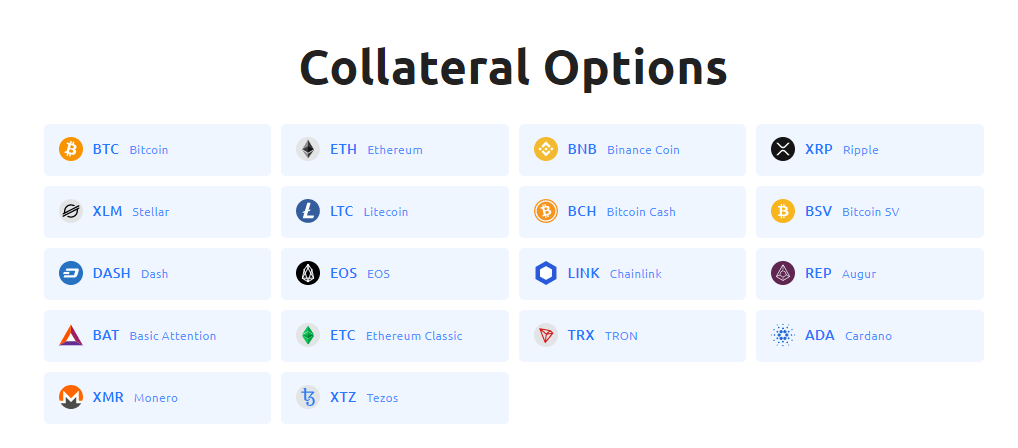 Depending on the token you choose as collateral, you will be able to select one of the following plans with the following loan terms:
30-day loan term:  3% loan fee, 90% LTV, -5% price down limit (PDL) aka margin call
60-day loan term: 5% loan fee, 70% LTV, -25% PDL
120-day loan term : 9% loan fee, 50% LTV, -40% PDL
All loans can be reopened indefinitely. Users just need to pay the loan fee to reopen another 30 days, 60 days or 120 days. Also, customizable loan plans are available upon request.
User receives the agreed loan amount in the chosen fiat currency instantly; fiat currencies to choose from are EUR, GBP, USD. You can also take a loan out in Bitcoins or stablecoins.
You can withdraw you funds from YouHodler using one of these 3 options: Bank wire withdrawal via SEPA and SWIFT.
Credit card withdrawal to your MasterCard or VISA.
Crypto withdrawal: buy any crypto or stablecoins using their integrated crypto exchange.
Since there are no credit checks, the approval process is quite fast.
How Crypto Backed Loans Work?
---
It is really easy to take out a loan on YouHodler, in 4 easy steps:

Transfer crypto to your YouHodler crypto wallet
Get a crypto loan and withdraw funds – Your loan approval take seconds and you quickly receive cash in EUR, USD, GBP (coming soon), USDT or BTC. You can withdraw your loan with SEPA or SWIFT, credit card or in some cryptocurrency or stablecoin.
You can get your crypto collateral back anytime by repaying your loan (via one of the above mentioned ways: bank wire, CC or stablecoins)
Manage your loan by using YouHodler's iOS or Android app or web interface.
Managing your loan
---
Since crypto prices move swiftly and strongly in both directions, you can fine-tune your LTV (loan to value ratio) by topping up your collateral with the Extend PDL option (in case of crypto prices drop) or taking out more cash via the Get more cash option (in the event crypto prices appreciate and your LTV ratio decreases).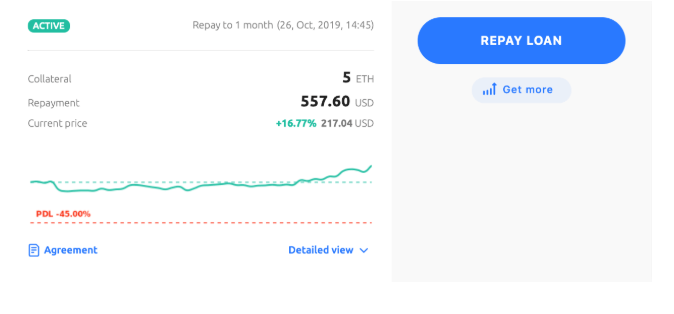 You can also adjust the loan duration through the "My loans" tab in the YouHodler app. On a loan that has 3 days or less to its expiration date , the user will see a Reopen button appear. After tapping the "Reopen" button, the Reopen conditions present themselves to the user. You will need to repay the Interest fee and pay a + 1% service fee. If the reopen parameters are acceptable to you, you click the REOPEN LOAN button and extend your loan.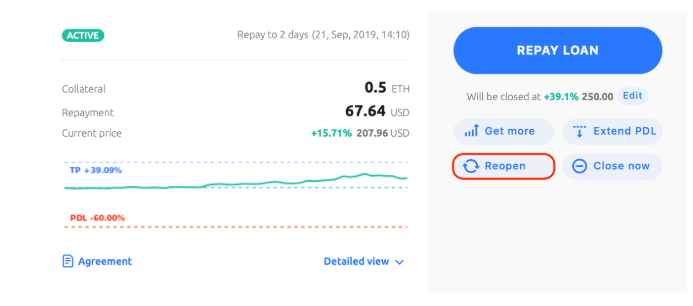 You can also set a close price level where you instruct the app to sell your collateral surplus for you, automatically repay the loan and transfer the profit to you. This option is called Take Profit. This close price can be edited at any time through the "My Loans" page.
Close now option allows you to close the loan whenever you want but you will have to pay a 1% service fee for this plus fulfill the following requirements:
repay the uutstanding loan;
repay the collateral amount left;
Earn crypto with YouHodler's crypto savings account
---
YouHodler is a great option for hodlers to earn money by depositing your cryptocurrencies into YouHodler wallet and allowing them to borrow it to their users while paying you the interest rate for that service.


You can do this in three simple steps:
Crypto deposit or fiat – YouHodler pays interest on BTC, BNB, USDT, USDC, TUSD and PAX deposits. You can earn 12% on EUR, earn 12% on USD, earn 12% on GBP. Minimum deposit is 0.1 BTC, varying for other currencies
Earn interest on crypto – As the funds land into your crypto Savings Account, your first earning months starts with the following interest rates:
12% APR on all stablecoins
4.8% APR on BTC
3% APR on BNB
Turbocharger
---
This is a YouHodler proprietary turbo loans option, where you can set in motion a cascade of loans that the app automatically makes for you. You set the initial collateral and number of loans the platform should create: from 3 to 10.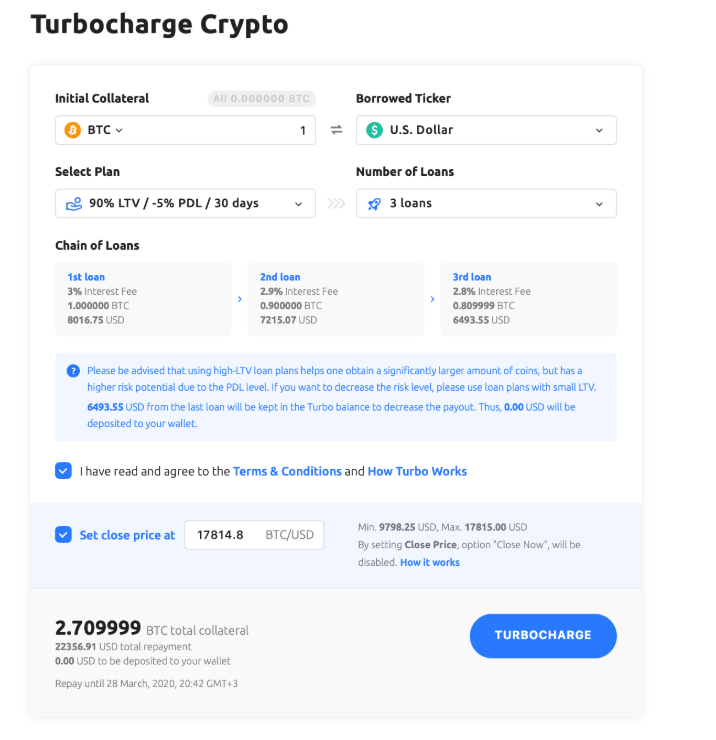 Why would you do this?
Well, if you predict a bull run and crypto price growth, you would want to have as much crypto as possible to profit more. Essentially, you are loaning cash to yourself and buying more crypto with it.
You set a take profit price so the app can sell automatically in the event your cryptocoin appreciates. Once that happens, YouHodler will pay fees, collateral and transfer the rest of the profit to you.
How to make a turbo loan?
---
After you click the "TURBOCHARGE" button, YouHodler automatically uses the fiat that was lent to buy more crypto without any fee (limited offer) to use as the collateral for the next loan in chain. Furthermore, the interest rate on each loan reduces with every additional step added.
Turbo Loan allows you to multiply your crypto assets using a chain of loans – you take out a loan in cash, buy more crypto for that cash, then do another loan in cash and buy more crypto – it is essentially margin trading model where you bet on a crypto price appreciating. But you need to keep in mind your price down limit, which is the trigger level where the platform will start closing your loans and selling your collateral to protect itself from a loss.
MultiHodl
---
Multi HODL makes use of the so called barbell investing strategy. It combines the best of both worlds in investing. You can keep the majority of your funds in safe, stable and profitable savings accounts while using small portion of your funds to invest in risky trading activities with the potential for high profit.

With MultiHODL you keep 80-90% of your crypto assets in the safe savings account where you earn up to 12% interest rates (on stablecoins, less than that on BNB and BTC).
The rest of your funds, 10-20% will be used for taking out a chain of loans (similar to turbocharger) and investing that money into risky crypto assets that can blow up or break down. You set your conditions for risk (for example, how much can your chosen portfolio drop in price before you stop your losses and close positions).
In case of a crypto bull run, your coins value will multiply and the profit will go directly to your account. In the case of a decline in prices, you will get your initial fiat or crypto deposit back minus the factual loss.
This way you only risk small portion of your portfolio and expose yourself to a huge upside and an acceptable downside.
Supported countries – Is Youhodler available in US?
---
YouHodler is available worldwide with couple of exceptions: YouHodler does not accept customers from USA, Iraq, Pakistan, Bangladesh and Republic of China.
YouHodler and KYC
---
You need to go through a standard identity verification procedure in order to eligible for a loan on YouHodler. This is the case with almost all centralized crypto loan provides like Blockfi, Celsius and others.
Benefits of crypto loans on YouHodler
---
Well, just like with any lending and borrowing – if you are a lender with money, you put that money to work for you and that is the main selling point and benefit of YouHodler. You can get passive money income stream through their interest rate, that runs up to 12% annually.
YouHodler is available 24/7 and you can repay and close your loan whenever you want.
Additionally, it requires no credit checking and doesn't affect your credit score.
Read also:
YouHodler crypto exchange
---
This is a new feature on the platform where you can swap your coins into any of other supported coins on YouHodler. This is convenient if you deposit in BTC and want to take out a loan against stablecoins or vice versa.
YouHodler fees
---
Deposit
---
Bank wire – 0 (except USD SWIFT – 25 USD fee per deposit, EUR SWIFT – 25 EUR fee per deposit)
Credit card (loan repayment) – 4,7% (1 USD/EUR minimum)
Crypto – 0
Stablecoins – 0
Min deposit amount:
by crypto – 5 USD in crypto equivalent
by bank wire – 100 for USD; 100 for EUR; 100 for CHF and GBP
Withdraw
---
Fiat:
Bank wire: USD (SWIFT) – 1.5% (min 70 USD) / EUR (SEPA) – 5 EUR, EUR (SWIFT) – 55 EUR / GBP,CHF – 0.15% (55 GBP / 55 CHF min)
Min withdrawal amount:
by bank card – 2 USD / 2 EUR
by bank wire – 500 for USD; 50 for EUR; 500 for CHF and GBP
Crypto/Stablecoins:
You can check the actual withdrawal fees of any available coin in the withdrawal form of your wallet.
Min withdrawal amount – 5-50 USD in crypto/Stablecoins equivalent depending on the withdrawal currency
Loans
Min loan amount – 100 USD
For other details please use this loan form
Close now fee – 1% from the overdraft amount
Reopen – Interest fee + 1% service fee (from the borrowed amount)
Extend PDL – 1.5% from the additional collateral
Increase LTV – 1.5% from the increased amount
Turbocharge
---
Min loan amount – 100 USD
For other details please use this loan form
Close now fee – 1%
MultiHODL
---
Savings
---
General conditions
The min deposit amount to start earning the interest is 100 USD (in crypto equivalent)
MAX – 100k overall on all currencies
Settlement period – 7 days
YouHodler vs Blockfi vs Nexo vs Celsius
---
They have a nice graphic, showcasing YouHodler's advantages over its main rival: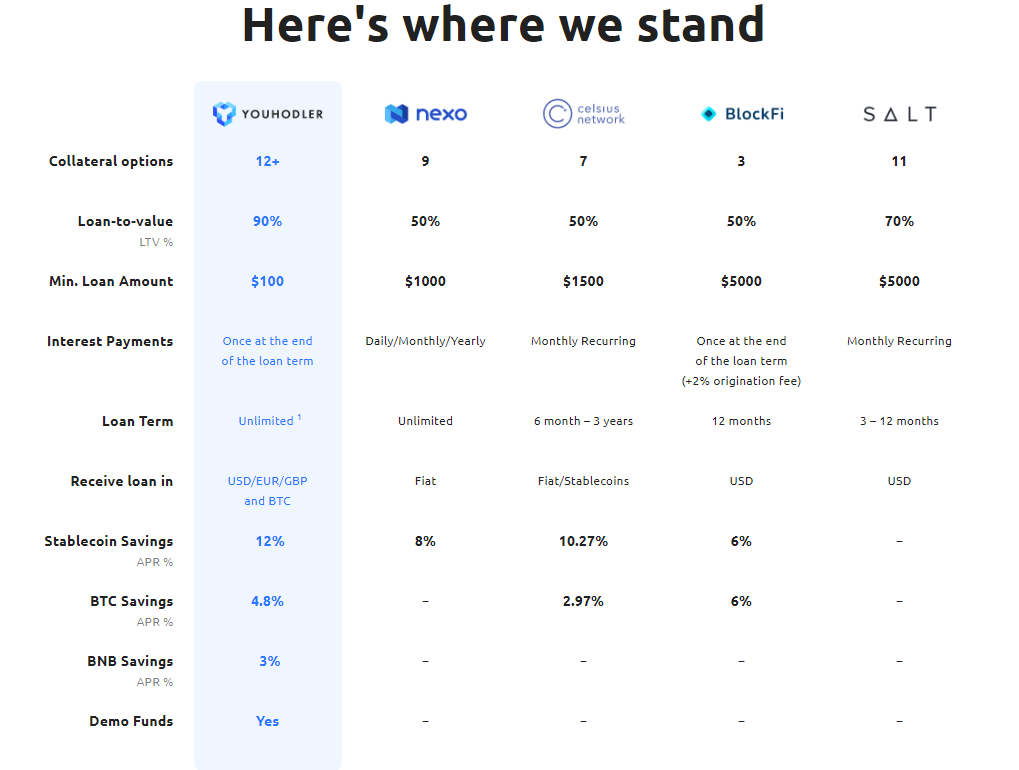 Is YouHodler safe to use?
---
Is YouHodler scam or legit?
No worries, it is a legit company, regulated and registered in a "serious" country. However, in technical terms, YouHodler is much riskier than Blockfi, its main rival that stores funds with Gemini, that acts as a licensed trust company with $100 million insurance fund. $100 is the minimum loan on the platform.
YouHodler on the other hand, has only a self-created fund with only $1 million in it that would cover potential money losses of user funds. Additionally, the funds are often kept in hot wallets, exposing them to higher risk of hacker attacks. So these two facts are important to remember when making the decision.
Insurance
---
YouHodler has partnered with Ledger Vault to offer you an insured pooling solution for cryptocurrencies for the amounts up to $150 million. The pooling service will provide coverage for all digital assets stored at Ledger Vault.
Cold wallets offer several advantages over hot wallets. For example, you can store your funds offline without worrying about hacking attacks. Cold storage is the biggest line od defense available nowadays.
With Ledger you get an extra layer of security by backing up your keystore files to their servers.
On the legal front, YouHodler stands much better.
YouHodler complies with EU laws and has extensive and strict legal obligations to uphold. Each loan deal made on the platform is automatic but constitutes a legally binding contract that falls under EU laws.
Additionally, YouHodler is an official member of the Blockchain Association, the independent and self-regulated crypto subgroup of the larger Financial Commission. This Association ensures all YouHodler customers have an outlet for dispute resolution outside of the YouHodler platform. If at any time, YouHodler fails to meet your expectations, they can submit a complaint to the Association and receive a quick, unbiased and non-binding resolution.
YouHodler terms & conditions
---
YouHodler works like a pawnshop – you sell them cryptocurrency, they give you cash in return. It's a crypto lending platform. And that is the loan issuing part. Once you want to repay the loan, you buy your crypto back from them minus the fees and interest rates.
As for the legal side of the business, every single "loan" on the platform is supported by an individual, automated agreement, where the user and YouHodler agree on all key parameters:
term
interest
currency
price down limit
etc.
Useful links:
What happens if you can't repay your loan in time?
---
If you do not have the opportunity to repay a loan in time, YouHodler will extend the loan up to 14 days max before it will be closed.
 Сalculation of "Extension Fee" (per day)
---
We will calculate 1% from the loan overdraft amount. It can be seen in the details of the loan in the "Actual loan balance" field;
Convert it to the loan collateral currency by initial price rate;
Deduct this amount from the loan collateral.
Loan will be closed if
---
The extension process lasted for 14 days;
Collateral for the loan cost less than the overdraft amount (by initial price rate).
Conclusion – is YouHodler legit and safe place to get a bitcoin loan?
---
All data we gathered during our research indicate that YouHodler is a legitimate business with a useful service.
Is it for everyone?
---
No, not really. It is best suited for people with lots of idle crypto sitting around in static wallets – they can put it to work and earn some nice interest rates via YouHodler.
It is also a great app for those investors who have a high tolerance for risk as they can make a lot of money with YouHodler's Turbo loans, which is a risky endeavor.
YouHodler is not the best solution for people who need long-term loans as their interest rates balloon to unacceptable risk levels. However, for a quick fix and instant money source – YouHodler is a great, easy to use solution.
If you are from the US, you should check CakeDefi, since YouHodler is not available in the USA.
PROS
Minimum loan of just $100
Loan-to-Value ratio up to 90%
16 supported cryptocurrencies
high interest rates for savings accounts (up to 12%)
CONS
High interest rates on long term loans
no insured custodian of user funds
Not available in the USA

CaptainAltcoin's writers and guest post authors may or may not have a vested interest in any of the mentioned projects and businesses. None of the content on CaptainAltcoin is investment advice nor is it a replacement for advice from a certified financial planner. The views expressed in this article are those of the author and do not necessarily reflect the official policy or position of CaptainAltcoin.com