Coinloan review – Is CoinLoan Safe & Legit?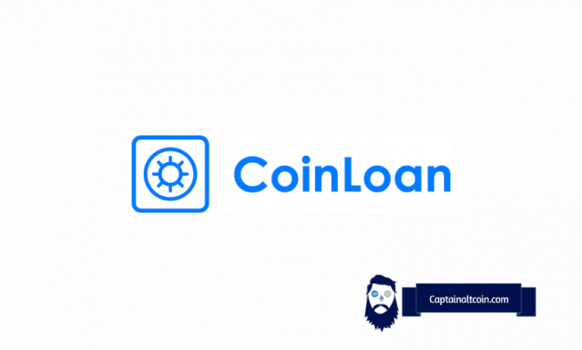 Coinloan review – Is CoinLoan Safe & Legit?
Loans are secured by LTVs of at least 70% at most
High interest rates on investments, better than banks
Supports a wide range of currencies
Easy to use and understandable
Lets you exchange currencies on the site
Are you looking for a way to earn a passive income with your crypto holdings or need to borrow money without selling your precious coins?
Look no further than the rapid rise of crypto-based loan services like Coinloan. With these platforms, you can earn interest on your crypto assets or use them as collateral for a loan.
As the world of Bitcoin and other cryptocurrencies continues to grow, traditional institutions like banks and lenders are getting in on the action. In this article, we'll explore the nature of Bitcoin lending and take a closer look at one of the major players in the crypto lending space, Coinloan.
CoinLoan Overview
---
💰 Interest rates:
CoinLoan offers competitive interest rates for crypto and fiat with no withdrawal or deposit fees, but you need to stake CoinLoan tokens to earn the best interest rates and pay origination fees on loans.
The platform offers a crypto interest account that supports over 20 assets, including Euros, Great British Pounds, and USD Coin (USDC), with interest rates ranging from 3% to 12.3% APY.
📋 Features:
CoinLoan allows users to earn, borrow, and trade crypto with its three main features: earn, borrow, and trade. It also has a mobile app for Android and iOS.
It also allows users to take out crypto-backed loans, where you don't need to sell your cryptocurrencies to get cash. You can borrow up to 70% LTV ratio and pay a low borrowing fee of 1% of the loan principal amount.
CoinLoan Trade lets you make crypto-to-fiat and crypto-to-crypto trades with no withdrawal fees. It supports SEPA, Visa, Mastercard, SWIFT, and AdvCash.
CoinLoan operates worldwide and offers customer support via email, Telegram group, Reddit community, and phone.
👍 Pros:
CoinLoan offers a versatile platform to manage digital assets with its all-in-one ecosystem.
Competitive interest rates for crypto and fiat, and affordable loans with a variety of term lengths.
No withdrawal or deposit fees.
👎 Cons:
CoinLoan interest accounts support fewer assets than competitors like Celsius.
You need to stake CoinLoan tokens to earn the best interest rates, which cost around $30, and pay origination fees on loans.
CoinLoan Trade supports fewer assets than exchanges like Coinbase and Binance.
🔒 Safety and Security:
CoinLoan works with BitGo to provide digital asset insurance and holds most assets in cold storage to reduce the risks of hacks and loss. It also requires KYC verification and enables two-factor authentication.
💬 Customer Service:
CoinLoan has a 24/7 customer support line, email support, and a Telegram group and Reddit community for its members to ask questions and share relevant news. The platform has a 4.5-star rating on Trustpilot.
🔎 Overall:
CoinLoan is a versatile platform for managing digital assets and offers competitive interest rates for crypto and fiat. It is a reliable option for users looking to earn passive income or take out crypto-backed loans. However, it supports fewer assets than its competitors, and users need to stake CoinLoan tokens to earn the best interest rates.
CoinLoan is a secure online peer-to-peer lending platform that allows borrowers to take out loans against their crypto assets and lenders to invest in the loan process. It's not just another "borrow money with cryptocurrency" type of service – it provides comprehensive loan management system with full transparency and an easy-to-use portal. With its low rates, large variety of collateral options available to borrowers and no credit check required for taking out loans from CoinLoan, this platform will appeal to both individual and corporate borrowers who wish to borrow using their crypto holdings as collateral.
In order for a borrower to take out a loan from CoinLoan, they must first fund their account with either Bitcoin or Ethereum or any other accepted cryptocurrency. The minimum deposit period is 24 hours before the funds can be used as loan collateral. Once funded with crypto assets, the funds can then be withdrawn in either fiat currency or stable coin currencies like USDT for the requested amount of time (maximum 36 months). The borrower pays a borrowing fee plus interest on the nominal amount borrowed over the agreed loan period.
How the Platform Works
---
In short, CoinLoan works by providing people in need of finance with money from third-party investors.
Investors will sign-up to CoinLoan and deposit either fiat currencies or cryptocurrencies into their Interest account, from here they will earn interest every month. This money is then used by CoinLoan to finance crypto-backed loans for borrowers. These borrowers use their cryptocurrency holdings as collateral in order to secure the loans. Once the loan is paid back, the borrower receives their cryptocurrency that they previously pledged.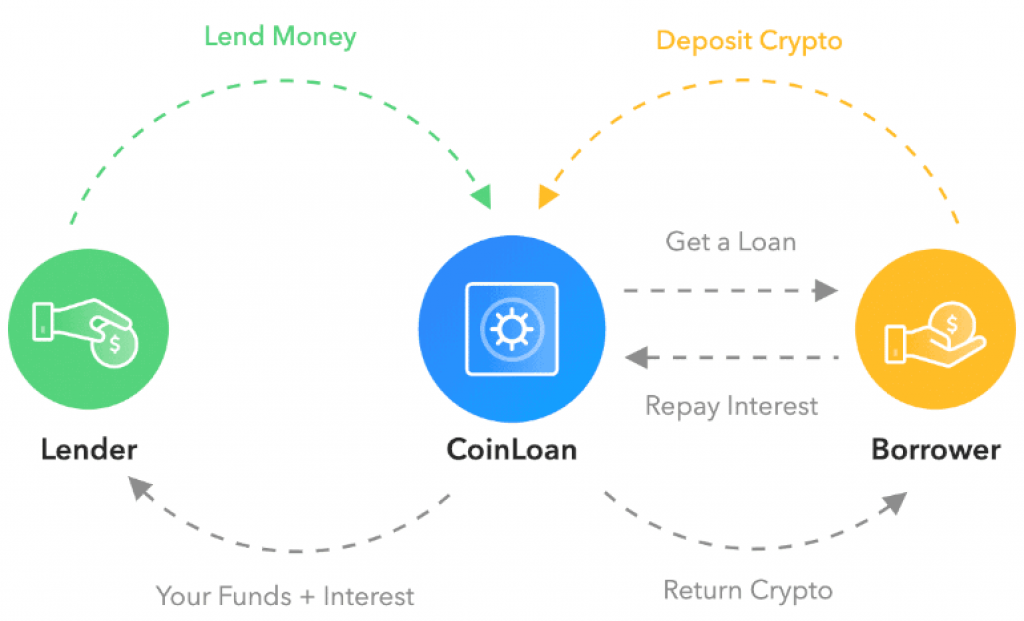 What Are Crypto Loans (Bitcoin Lending)?
---
Crypto-backed loans are another form of investment for those in the cryptocurrency space. Investors or "Lenders" will supply borrowers with fiat currency or cryptocurrency, either through the use of a third party or just straight to the borrower. The borrower will supply the lender with cryptocurrency as collateral for their loan, this way the Lender can use the cryptocurrency to pay themself should the borrower not repay the loan. The borrower pays back the loan with interest which is how investors earn their money.
What is Crypto (Bitcoin) P2P Lending?
---
Peer to Peer lending is a system in which an individual becomes a "lender". These users receive interest on their money as it is supplied to borrowers who pay back with interest. This interest is then split between the middleman and the lender.
P2P marketplaces and websites bring together people and entities who need finance, and those who are looking to make interest on their money. On some website and services, the lender themselves decides who their money goes too, though in most cases it is spread out at the website's discretion.
These services are beneficial to lenders and borrowers as those seeking interest on their money can earn more than a traditional interest account. And those in need of short-term finance have a quick alternative to traditional methods.
The difference between typical P2P lending and crypto P2P lending is that in order to secure their instant loans, borrowers must submit an amount of cryptocurrency to receive their money. This is a popular choice for borrowers as they don't want to sacrifice their cryptocurrency investments in order to stay afloat.
CoinLoan Main Features
---
CoinLoan features three main services.
✅ The first of these services is lending people money. People in need of finance are able to lock up their cryptocurrency in exchange for short-term finance, these loans can we worth as much as 70% LTV and are a great way for people to quickly access the financial power of their cryptocurrency.
✅ The second is their Interest account. This is where investors can deposit savings in order to earn a monthly interest. The website pays this interest to investors using the interest they earn on the loans they have given out. Investors can also earn money by creating loan requests that people can make use of, though your funds aren't withdrawable till the loan has been paid off.
✅ Lastly, CoinLoan allows you to crypto exchange your coins for others, negating the need for you to visit an exchange when changing your coins, this means you can limit fees and keep investing your currency.
✅ The interest rates vary by crypto selected and loan terms are 6 months up to five years.
Types of investments available at CoinLoan
---
There are two types of investment available at CoinLoan, these are the interest account and through creating your own individual loan offers.
The interest account is quite simple, you deposit your coins or fiat currencies and gain a fixed interest rate every month, this rate is dependent on the currency. These can then be withdrawn at any time.
The other kind is to create individual loan requests which will then be fulfilled by borrowers, these can be a bit more confusing, though you will not have to do any verifying yourself, making the process still rather simple. You will have to wait for the loan to be paid before you can withdraw though.
Using Coinloan as a Borrower
---
Most people will come upon a point where they suffer from financial hardship, and some of these people will be cryptocurrency users and investors who would normally have to sell their coins in order to make ends meet. This can be hard for a lot of people as they have an attachment to their coins and believe if they sell them, they will miss out on price increases and other financially beneficial events attached to them.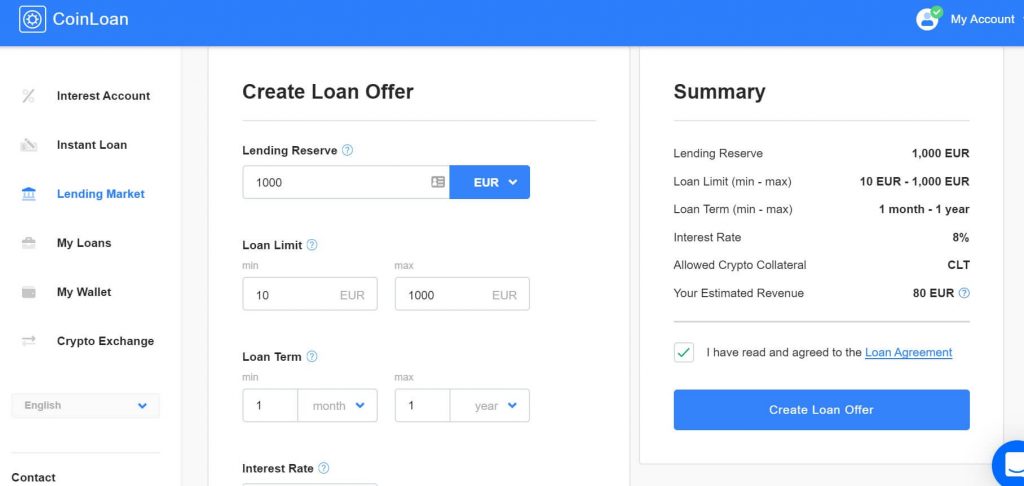 How CoinLoan fixes this issue is by letting borrowers take out a loan using their cryptocurrency as collateral. This way, the investor can get the help necessary to support themself and their family, whilst not losing out on their investment as it will be returned to them once the loan repayment is fulfilled.
Another very large issue faced by borrowers is their credit score, a bad credit score is often the decider between whether or not a borrower will be eligible for finance. CoinLoan does not require your credit score at all! By utilising a 70% LTV ratio, they are confident that they will have their loans paid back, meaning they have faith in their borrowers so long as they submit the collateral they've agreed upon and fulfil KYC verification.

CakeDefi
Up to 25% APR on stablecoins
Supported Cryptocurrencies
---
CoinLoan supports quite a wide array of cryptocurrencies considering the service that it offers. When depositing your coins into the Interest Account make sure you view the interest rate as it differs between coins.
CoinLoan supports Bitcoin, Monero, Wrapped Bitcoin, Litecoin, Chainlink, Bitcoin Cash, Ethereum, Ripple and Pax Gold. CoinLoan also supports a range of stable coins, these are USD Coin, Binance USD, Dai, TrueUSD, Tether and Paxos.
Interest Rates
---
As a borrower, CoinLoan issues loans with an interest rate with as low as 4.5%. This is a rather low rate for a short-term loan, especially as CoinLoan does not require a good credit score in order to issue you finance. The interest rate change is in accordance with the LTV of the loan.
How are my Coinloan Funds Paid?
---
Your coinloan funds are paid back to you in whatever currency you used to enter them. Meaning if you are earning interest on Bitcoin, it will be repaid in Bitcoin.
LTV Risks and Falling Behind on Repayments
---
In order to ensure security of investor's funds, CoinLoan operates at a 70% LTV ratio. This means that in order to take out a loan, your "collateral" or the Bitcoin that you give to CoinLoan in order to receive the loan, must be worth at least 30% of the total value of the loan. This helps to incentivise repayment from borrowers as they don't want to lose their cryptocurrency, if they fail to repay then that collateral may be used in order to pay the investor/lender.
Using Coinloan as an Investor
---
⚡️ Step 1: Open an Account and Confirm Your Identity
The first step to investing your coins on CoinLoan is creating an account. To do this, simply click on the sign-up button on the top left of the screen and begin filling out the information. This should be fairly straight-forward as Coinloan aims to make the user experience as easy as possible.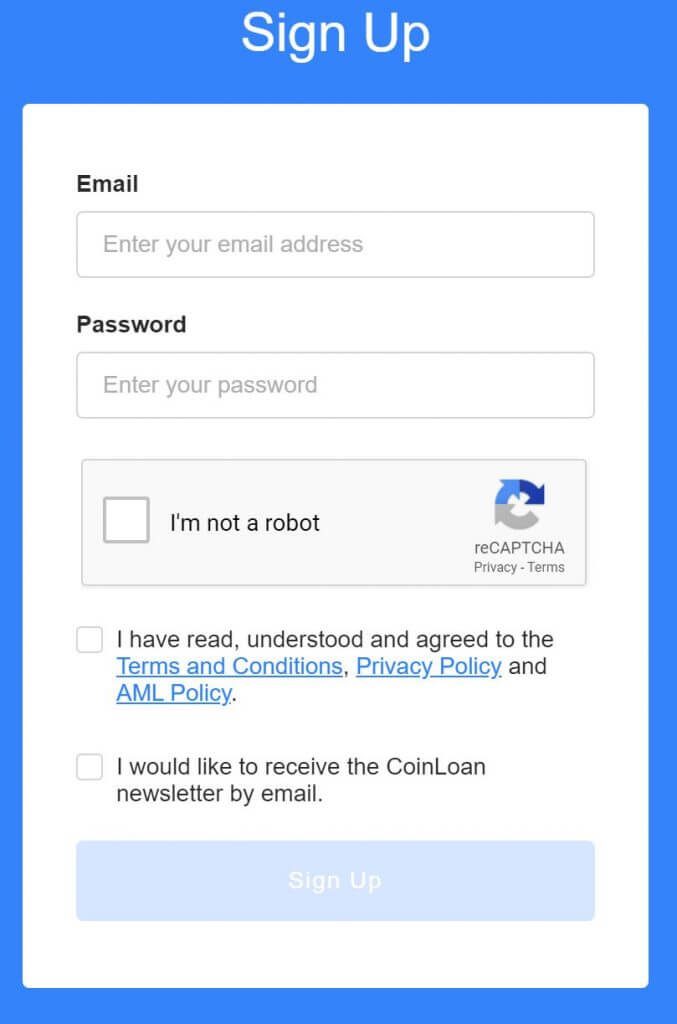 ⚡️ Step 2: Deposit Funds
The next step is to deposit your funds on to the site. To do this, find the tab which reads "Interest Account" and select the coin you wish to deposit. Send your coins to the address on screen and begin earning interest on your coins!
It is also possible to create individual loan offers though this can be a slower method of lending.
⚡️ Step 3: Earn interest on your coins through the "Interest Account" or Loan
Once your coins are deposited in CoinLoan's "interest account", they will begin to earn interest on the 1st of every month, though your funds are retrievable at any time. Once you are satisfied with your earnings you can retrieve them free of fees and time restrictions!
When it is through a loan offer, you must wait till your coins have been paid to you for you to withdraw them.
⚡️ Step 4: Withdraw your coins
Simply select the withdraw option to withdraw your coins and enjoy the interest you've earned!
Coinloan Interest Account
---
The CoinLoan interest Account is where investors deposit their fiat currencies and cryptocurrencies in order to earn interest on them. The Interest account pays out its interest to investors on the first of every month, without fail. CoinLoan is responsible for the repayment of the loans and therefor all you have to do is sit-back and let your interest accumulate.
By purchasing and then staking CoinLoan's native token (CLT) you are able to earn higher interest on your coins, up to a 2% increase.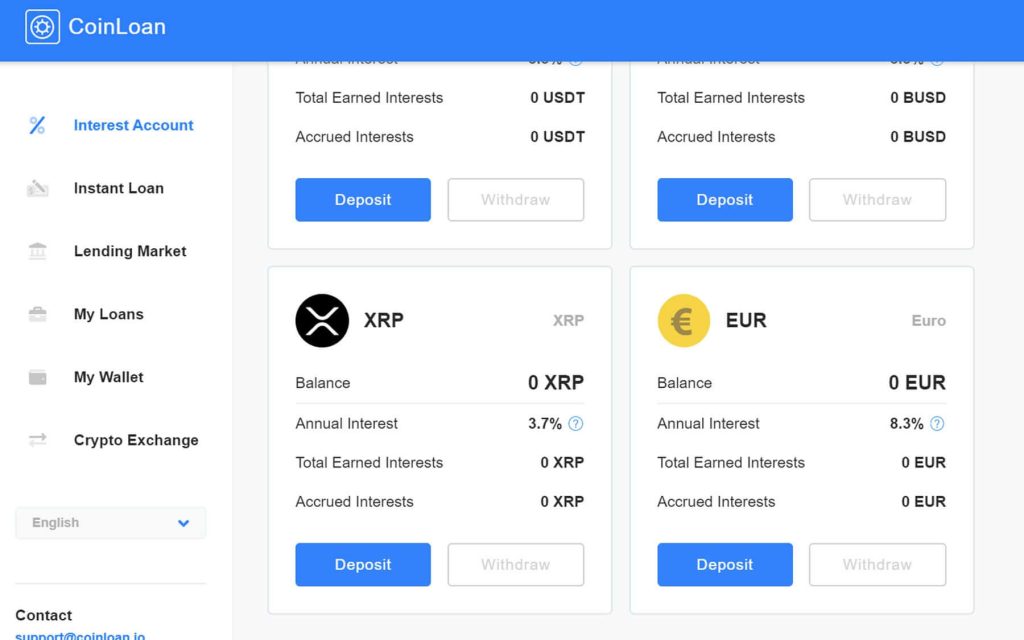 Is CoinLoan Legit/Safe?
---
CoinLoan has a great array of security features which ensure the safety of your funds. In order to make sure that your coins are inaccessible to hackers, they make use of two factor authentication, cold storage wallets, a protected infrastructure, biometric security and more. By utilising these protocols and operating with such a high level of precaution, they are able to effectively protect the funds from attack.
CoinLoan promises to pay lenders their interest regardless of the results of the loans their money is used to fund. This is because CoinLoan uses investor finance as it chooses and is therefore responsible for whether or not you see your money again, this means that you can rest assured that the recurring interest will be deposited into your account each and every month without fail.
CoinLoan is licensed under the Estonia Financial Authority, making it a licensed financial institution. This means that CoinLoan must abide by KYC (Know Your Customer) regulations and other procedures in order to ensure they are in compliance with European and other international legislation and regulations.
Who owns the platform?
---
CoinLoan was founded in 2017, when business partners Alex Faliushin and Max Sapelov wanted to create a way to access the financial value of cryptocurrency digital assets in times of needs, without having to sacrifice your holdings. From this idea, CoinLoan was born.
CoinLoan is operated under the legal title "ExFinance OÜ" and registered in Estonia.
Co-Founder and CEO of CoinLoan, Alex Faliushin, is currently responsible for the running of Coinloan.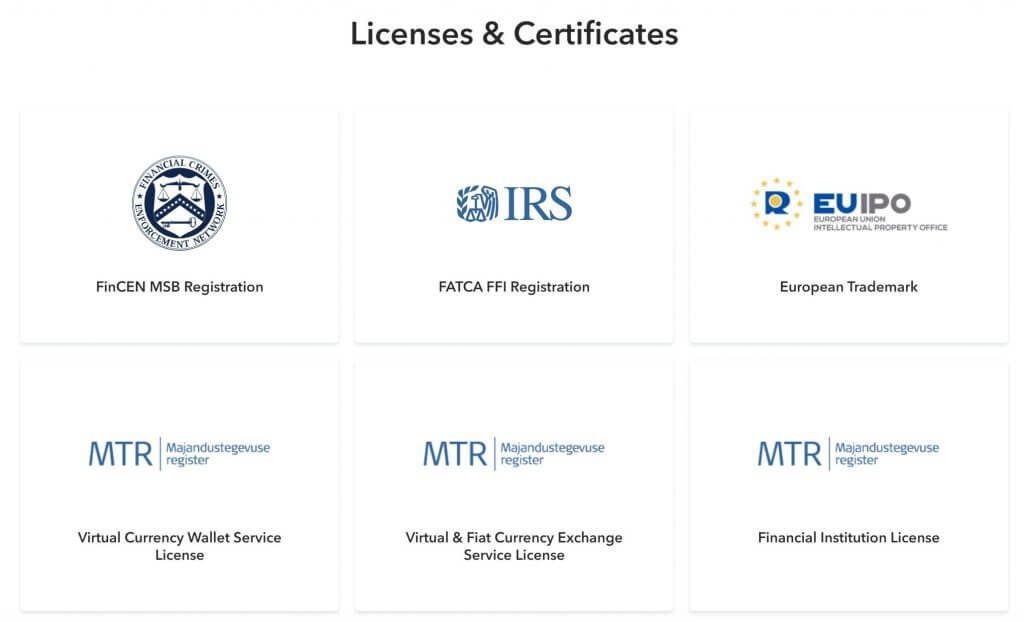 How Fast Can You Withdraw Your Money from CoinLoan?
---
When using the Interest account, CoinLoan lets investors withdraw their money at any time, meaning you can instantly take back your funds for another use in case of an emergency. It is worth noting though that interest accumulates on the first of every month, so you may want to try and time your departure from the service in time with this to get the most out of your money.
If you are offering individual loans, then these must be paid back for you to receive the funds. This makes them a riskier option as you run the risk of there being problems with repayment.
CoinLoan Review Summary
---
In conclusion, CoinLoan is a platform that has made it its mission to provide an easy-to-understand place where cryptocurrency investors can store their coins and gain a high interest on them, without any of the hassle that comes with exchanges and fees etc, and a place where those in need of financial help can seek out a loan to help them through tough times, without havering to sacrifice their investments. CoinLoan is a successfull crypto lending platform and a one of the peer lending platforms.
CoinLoan has certainly achieved its mission, with interest rates higher than bank's savings accounts, the ability to use a multitude of different currencies, including cryptocurrency and fiat loans, along with a silky-smooth user layout which can help guide you through the process, no-matter your level of cryptocurrency experience.
Coinloan alternatives
---
Blockfi is, of course, the leading crypto loans platform and surely the top alternative to Coinloan.
Other than Blockfi, there are other popular platforms that offer bitcoin-backed loans like YouHodler, Nexo, Celsius Network, MultiHodl, SpectroCoin Loans, Crypterium, Binance Loans etc.
Take a look at our head to head battle of Blockfi vs Nexo vs YouHodler.
FAQs
---
PROS
Loans are secured by LTVs of at least 70% at most
High interest rates on investments, better than banks
Supports a wide range of currencies
Easy to use and understandable
Lets you exchange currencies on the site
CONS
Minimum deposit for investors
Doesn't directly support the USD as a fiat currency.
No Buyback guarantee

CaptainAltcoin's writers and guest post authors may or may not have a vested interest in any of the mentioned projects and businesses. None of the content on CaptainAltcoin is investment advice nor is it a replacement for advice from a certified financial planner. The views expressed in this article are those of the author and do not necessarily reflect the official policy or position of CaptainAltcoin.com